Arts
June 7, 2007
Wintergreen Children Create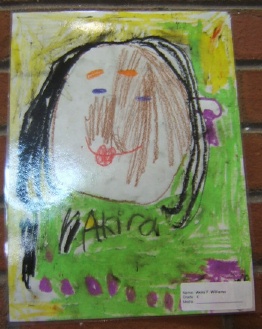 Paintings of funny faces, trees, castles and more are on display in the lobby outside Thornton Wilder Hall. The artists are students at Wintergreen Interdistrict Magnet School. Their wonderfully creative and colorful work will stay up through June 22. Definitely worth a peek. -- Photos/Sharon Bass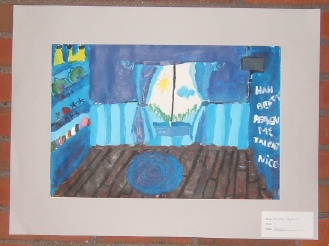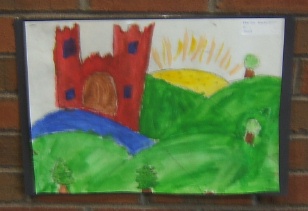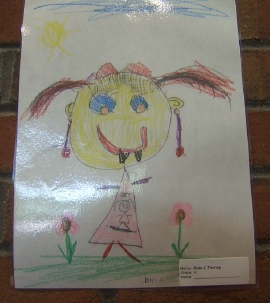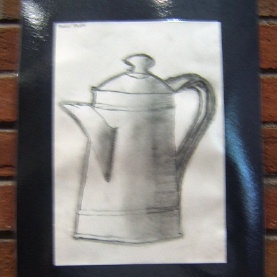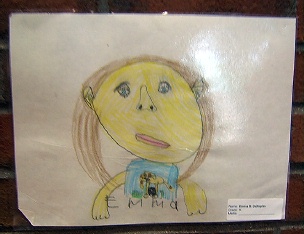 ---
May 3, 2007
'Succeed' Succeeds!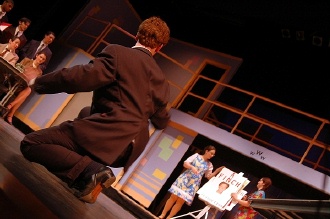 Mike Dinneen gives an executive presentation in Hamden High School's "How to Succeed in Business."
Story and photos by Ethan Long
2007 marks the 10th anniversary of the current Hamden High auditorium, and the Mainstage Ensemble is hard at work putting the finishing touches on its latest musical, "How to Succeed in Business Without Really Trying."
After a year's absence since 2005's "Blood Brothers," director Eric Nyquist is ready to showcase his second musical at Hamden High. As an actor himself, he finds tons of ways to spark up student performances.
Twelfth-grader Mike Dinneen plays the lead in "How to" -- Pierpont Finch, a man who wants to succeed in business. Kelly Reilly, who played his mother in the last musical, now plays his love interest, Rosemary Pilkington. Emma Downing, whose brother recently played Jesus in the middle school's "Godspell Junior," plays Hedy Larue, a woman who gets by on her beauty and sin. Josh Benson plays the rival, Bud Frump.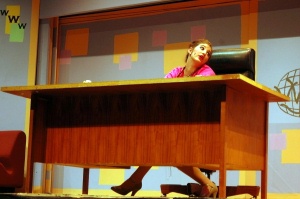 Emma Downing as Hedy Larue.
Hamden High musicals have always been one of my favorite things about our school. They're always fantastic, and this year I am a part of one. I get to play the baritone saxophone.
David Syzdek conducts the pit orchestra in "How to." He began teaching in Hamden in 2003, then decided to take two years off to get a master's degree at UConn. Recently returned, he has set up a band parents organization that helps raise funds. In March, he began teaching the musical score to the student actors. Working side by side with Mr. Nyquist are vocal teacher Richard Hicks and choreographer Julie Strong. The musical numbers in the play have become something spectacular.
Hamden High has a tech theater course that teaches students how to build sets, control lights and soundboards, and manage a show. When you see the show, you will be amazed by the amount of work the tech crew has done. The set is a two-floor transformer with Star Trek-esque doors, at least from my point of view. Cityscapes in the background set our building in a city, possibly New York, making this show very big business. Designed by Mark Villani, a props man from the Yale Repertory Theater, the set was built with help from a generous donation from Home Depot. Rumor has it that when the town fire marshal came to check it out, he had to evaluate it as a house instead of a set. Because of this, many safety measures are being taken to make sure that everything is 100 percent safe.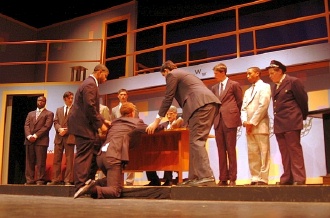 JB Biggly's office.
The sound setup is very nice, but since the middle school's musical was last week, we've been fighting over who gets what. But now we have everything synced up and hooked up to the auditorium's fabulous sound system.
Costumes are a huge part of the illusion that we are in a 1960's New York business building. If an actor is supposed to be a businessman, he can't be wearing a heavy metal shirt or sweatpants. He needs a suit. The main costume designer, Sam Normad, gave kids the chance to show off their stuff as they designed costumes. Junior Jessica D'Eugenio designed a hot Paris original dress. Pirate suits, tacky secretary dress and golf outfits are everything you need to wear in order to succeed in business.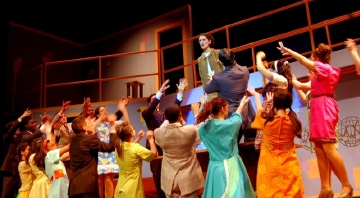 Students dance in the "big number."
The show was written by Frank Loesser. "How to Succeed" is a satire of the 1960's business world. Hilarious jokes -- still funny today -- mixed with music you won't get out of your head make this musical a must-see. With the great directing, acting and storyline, this is a show you must succeed in getting to. See it before your boss does.
Performances are held in the Hamden High School auditorium on the parkway side of the building, from May 3-5 at 7:30 p.m., with a a matinee on Sunday, May 6, at 2 p.m. On Sunday, all senior citizens will be admitted for $5. All other tickets are $10 reserved and $12 at the door. For reservations, please call 407.2040, ext. 3102.
Ethan Long is a Hamden High junior who pens the column "HallwayStories" for the HDN.
---
April 25, 2007
'Godspell Junior'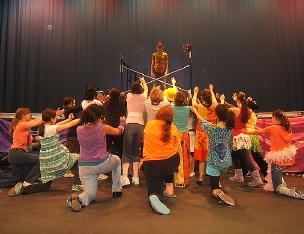 Hamden middle school students shine in gospel musical
Visuals and words by Sharon Bass
The new middle school's first-ever musical tells the story of Jesus Christ -- according to the gospel of St. Matthew -- in glorious color, sound and rhythm. Called "Godspell Junior," it is a delightful truncated version of the hit Broadway show (1971-1977) and 1973 movie of the same name -- sans the junior -- made for children 8 to 14.
Based on Tuesday's dress rehearsal, it's sure to be a crowd pleaser.

Click arrow to hear the middle school cast sing "We Beseech Thee."
Theater teacher Tim Brown directs 25 students in this hip tale of Jesus' messages of peace, love and tolerance and ultimate crucifixion. The on-stage energy the kids create is contagious. And those familiar with Stephen Schwartz's tunes, such as "Day by Day," will likely find themselves humming along.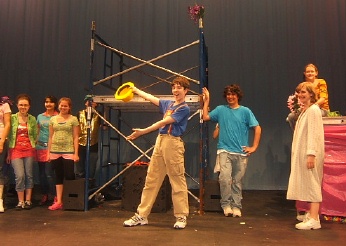 Kevin Downing as Jesus.
Kevin Downing plays Jesus; Giuliano Torelli plays John and Judas; and the ensemble includes Abbey Davidson, Abby Gullo, Alex Shettleworth, Angelica Garcia, Ari Kagan, Caitlin Hansen, Francesca Torelli, Hillary Perrone, Jenna Sujdak, Jill Clough, Julia Estrada, Keshia Woods, Linsey lozada, Linette Duluc, Liz Remy, Megan Jordan, Morgen Campbell, Nicole Mora, Noah Chevan, Raquel Gayle, Sara Winnick, Sylvia Scahill and Tiffany Roca.
Performances are April 26-28 at 7:30 p.m. in the middle school auditorium. FMI, call 407.3140. Don't miss it.

Cast sings "Day by Day."

Jesus is crucified. Cast sings "Prepare Ye."
---
April 13, 2007
Full House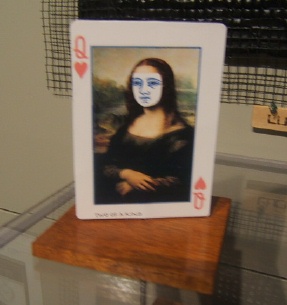 A piece of Mark Simon's "Two of a Kind" exhibit.
Museum "challenge" draws packed crowd
Words and pictures by Sharon Bass
It was bumper-to-bumper traffic inside the Eli Whitney Museum last night for the 13th annual Leonardo Challenge. Patrons came pouring in to gaze and be amazed at what artists made out of the basic playing card, this year's object to reckon with. They saw huge hanging sharks, unwearable clothing, little houses, three-dimensional wall hangings and a lot more, all cleverly developed and titled using a play on words.
The card manifestations -- all donated to the museum by the artists -- were silently auctioned to raise money to give children from lower-income homes a chance to participate in the wonderfully inventive classes the museum offers.
The goal was $50,000 and it was unknown last night how much was taken in.
Museum director Bill Brown said he came up with the card idea because there are 13 unique cards in a deck and this is the 13th challenge.
Commenting on the wide spectrum of art on display he said, "It's obvious that cards are loaded with powerful meaning."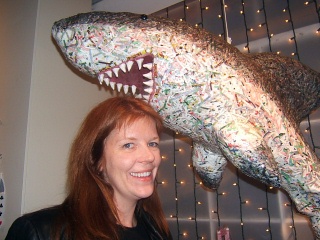 Mielke's "CardShark."
Farmington mixed-media artist and "gluist" Amy Mielke made a 3-foot, 35-pound shark of fiberglass and 13 (there's that number again) packs of playing cards, which she titled "CardShark."
"The whole concept of a card shark is not only vicious but playful at the same time," she said.
Mielke sculpted the shark's teeth out of clay and used the gemstone obsidian for the beady black eyes. She said it took her 40 hours and $200 to create the sea creature. "It was a blast. It was really fun," she said.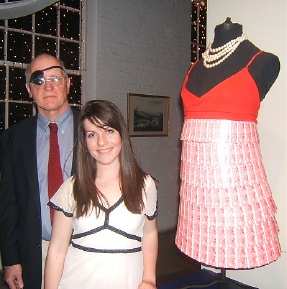 Director Brown with Mahler-Haug and her "Power Suit." The skirt is made from cards.
Alex Mahler-Haug of Branford ended up with "Power Suit." Not her initial idea, but she allowed the project to drive her.
"My original inspiration was a flapper's dress. But when I finished, it became a power suit," she said.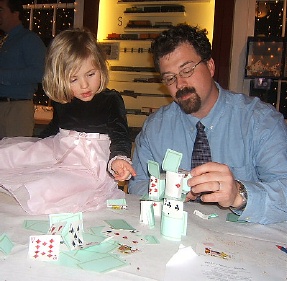 Brown's granddaughter Lorelei Goodall, 4, and her father, Duncan Goodall, play with the object at hand.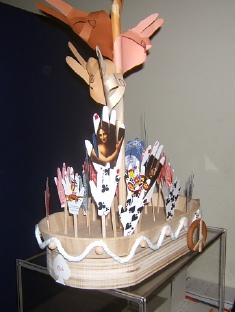 "All Hands on Deck," by Polly Fiddler.
The JFM Foundation is the challenge's lead underwriter. The works will be displayed through May 6. The museum is located at 915 Whitney Ave., on the Hamden-New Haven line. FMI, call 777.1833. Truly a unique experience not to be missed.
---
March 14, 2007
Young at Art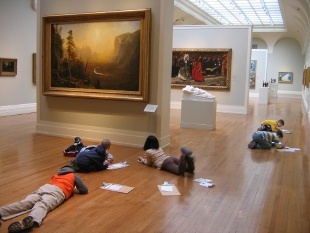 Inspired by the masterpieces around them.
Story and photos by Betsy Driebeek
Bear Path second-graders visited the Yale University Art Gallery Tuesday morning. With sketchbooks and pencils in hand, the children were encouraged to become one with the environment.
Art teachers Molly Letitia (Bear Path) and Melissa Gonzalez (Ridge Hill) created activities for the kids to help acquaint them with the art.
"All of the activities were developed to make the art museum experience meaningful to students. The only way to do this is to encourage students to slow down and really spend time looking at and responding to works of art in a personal way," said Letitia
In the modern art gallery, works by Van Gogh, Monet and Picasso were pointed out.
"It's important for students to respond to art in an authentic museum setting," said Letitia. "In the art room we have many splendid reproductions that students look at and discuss every day. But it is a different experience altogether to view a reproduction of an African mask than to see the actual work of art. The thickness of Van Gogh's paint and the energy of his brush strokes can be better appreciated in person."
With small viewfinders -- pieces of cardboard with a rectangular hole in the middle -- the students were asked to focus on a small section of a painting and draw it. Once finished, they shared their work with fellow students who tried to guess where the small snapshot fit in to the larger picture.
In the early American portrait gallery, the children worked in pairs to find characters that looked like they were having interesting conversations. They wrote dialogue using the paintings' surroundings as tools for their speech.
In the American art gallery, which is filled with landscape paintings, students were asked to imagine themselves in the settings and write a postcard to someone they care about.
"How would you describe this place? What is the weather like? What does it sound like? Do you enjoy this place? What have you been doing or what might you do next?" Letitia coached them.
The African gallery was the last stop and the only with three-dimensional art such as sculptures.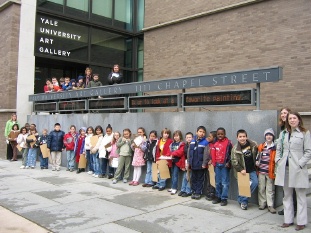 Bear Path second-graders stand outside the Yale Art Gallery.
---
February 28, 2007
'High School Musical'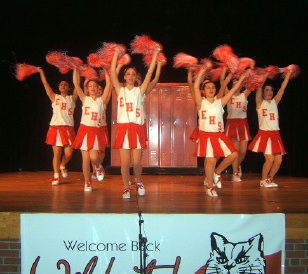 Story and visuals by Sharon Bass
You'll see a lot of "Grease," a little "Chorus Line" and a touch of Shakespeare in the Whitney Players' latest production "High School Musical," debuting tonight at Thornton Wilder Hall.
Taken from the hit Disney Channel movie and written for the stage last summer, the Hamden theater company delivers another fun blast of song and dance. Last night was final dress rehearsal for the cast of 42 teens and three adults.

Bill Adams as Ryan and Melissa Kaufman as Sharpay in a hot duet. Click the arrow to watch them sing and dance.
Its success, however, is no surprise with director Cindy Simell Devoe at the helm. Twice a year she turns Thornton Wilder Hall into a little Broadway with her uncanny ability to choose the right actors for the right parts, the right choreographers, the right musicians and the right script. Her "High School Musical" should not be missed, and apparently it won't. Already, three of the six performances are sold out.
Assisting Simell Devoe is 18-year-old Megan Treichel of Hamden, who said she helped out during auditions and then couldn't let go. She's a freshman at UConn in Storrs and comes home every week to work on the show.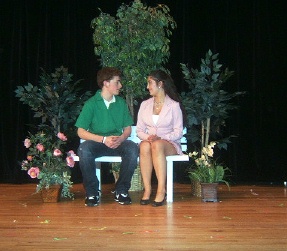 Hamden High students Michael Dinneen and Emma Downing as Troy and Gabriella.
"High School Musical" is a musical about a musical. The setting is East High School in Albuquerque, N.M., where kids are vying for parts in the high school winter show, "Juliet and Romeo." Enter new student Gabriella, elegantly and capably performed by Hamden High junior Emma Downing. Labeled a brainiac (kids are classified as brainiacs, thespians or jocks) by her fellow students, she is convinced to audition for the show. However, that ticks off thespian Sharpay, deliciously played by Melissa Kaufman, an '06 Hamden High grad, who plots to keep Gabriella from upstaging her.
Sharpay's partner in crime is thespian Ryan, performed by Bill Adams, a real-life Iraq War vet and Southern Connecticut State University nursing student. Gabriella is teamed up with jock Troy, aka Michael Dinneen, a Hamden High senior. The two met over the summer at a karaoke contest and are as different as night and day (hello "Grease"), except they both love to sing. Troy decides to audition as well.

Basketball players dribble to music. Click arrow.
However, his dad is East High's basketball coach and is not too thrilled his son is becoming part thespian. He needs Troy for an all-important game, even though the team never wins.
Both Adams and Dinneen have strong voices and seem comfortable and natural on stage. Cheerleaders dressed in red are the chorus line, a perfect complement to the show. Huge kudos go to choreographers Joan Christensen of Joni's Dance Center (on Shepard Avenue) and Jackie Ianniello.
Like Simell Devoe's other smash hits, "High School Musical" is full of energy and pizzazz. A definite crowd pleaser. As actor Annie Lisa, who shares the role of the drama teacher with Rebecca Newman, tells her class: "Remember, you can only be limited by your own imagination." Simell Devoe doesn't seem to know those limits. Enjoy!

End of Act 1.
"High School Musical" will be performed at Thornton Wilder Hall in the Miller Library Complex at 2901 Dixwell Ave., from Feb. 28 through March 4 at 7:30 p.m.; Saturday matinee at 2 p.m. Tickets are $10 in advance; $12 at door. The March 1 and 2 performances are sold out and the others are quickly going. FMI, please call 248.8766. The production is co-sponsored by the Hamden Arts Commission.
---
February 27, 2007
'Telling a Lie is Bad'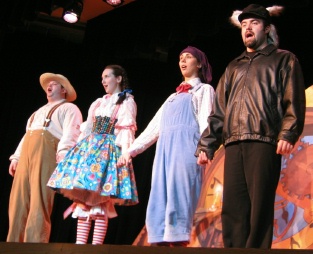 Connecticut Opera Performers (left to right) tenor Michael-Paul Krubitzer as Geppetto and the cat; soprano Sarah Callinan as Olympia the windup doll and the mysterious blue lady; mezzo soprano Meredith Ziegler as Pinocchio; and bass-baritone Scott Elliott as Dr. Dulcamara and the wolf, on stage at Thornton Wilder Hall. Photo/Betsy Driebeek
By Betsy Driebeek
A little wooden puppet was musically brought to life at Thornton Wilder Hall Saturday afternoon for about 120 pintsized kids during two performances by the Connecticut Opera.
"An opera," began musical director and pianist Christopher Devlin of the Hartford-based company, "is a story set to music and these artists are going to sing [this one] to you."
It was that classic story of an old woodcutter named Geppetto who wishes for a son and lovingly carves himself a wooden puppet complete with moving arms and legs.

"Shall I name you Finsterwalt?" Geppetto asked.
"Pinocchio," the audience yelled out.
"Portnoy?" Geppetto continued.
"Pi-no-cchi-o," the audience repeated.
Geppetto thought again, "Wolfgang?"
"PINOCCHIO!" the kids shouted out.
"All right then, Pinocchio," said Geppetto succumbing to the audience's suggestion.

The 45-minute operatic performance held the young audience captive. Four performers portrayed seven characters, who ultimately taught the importance of always telling the truth.

"My favorite part is when Pinocchio didn't tell a lie because telling a lie is bad and not telling a lie is good," said 4-year-old Elizabeth of Hamden.
Tyler, 7, of Bethany said, "My sister lies a lot, but her nose never grows."

Ridge Hill School kindergarten teacher Lisa Carlson praised Hamden's wealth of entertainment. She said she brings her family from Woodbridge to library performances and the summer concert series. "All of these shows put on at the library are wonderful educational opportunities and language experiences for children. It is so reasonable to come here. Everyone should take this opportunity," she said.

"Pinocchio" was presented by the Hamden Arts Commission as part of its 19th annual Saturday Afternoon Family Entertainment Series. Additional support came from Quinnipiac University and the Hamden Public Library.
---
February 16, 2007
Local Produce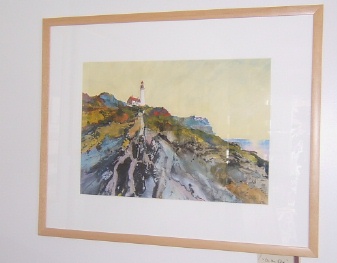 Watercolor by Susan Nally.
Story and photos by Sharon Bass
Serene, scenic paintings by two award-winning members of the Hamden Art League are on exhibit at Dorka's, a Whitney Avenue gift shop. David Cain, 78, a lifelong artist, describes his style as semi-Impressionistic. Susan Nally, 53, just got into painting about six years ago. For both, it's an obsession as well as a passion.
"Painting keeps me sane," said Cain, who lives in Centerville Village behind the Miller Library. He said he's listed in Who's Who in American Art and has shown his work in Mexico and Europe as well as close to home. During the Korean War, Cain said he taught art while in the Army and later on at high schools in Costa Rica, Mexico and the United States.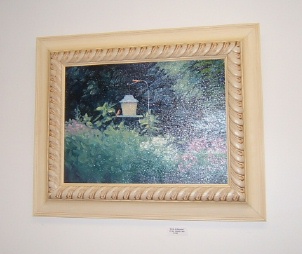 Oil by David Cain.
"It's an obsession with me," said Cain, who uses oil paints and pastels. "Now that I'm old I don't paint outside. I don't like the bugs. I don't like the weather. I don't like the changing lights." But he still likes painting.
Nally is a retired radiologist who practiced in Dallas, Texas. She grew up in Seymour, Conn. When she moved back to the state, to Hamden, eight years ago, Nally said she chose not to stay in medicine and was eventually drawn to the Creative Arts Workshop in New Haven.
"I decided to see if I had a functional right brain," the doctor said. "Being in medicine you're more of a left-brain person, which means more analytical. And drawing is really more of a right-brain thing. And then I got obsessed. If I don't paint every day I'm at the very least thinking about what I'm going to be painting."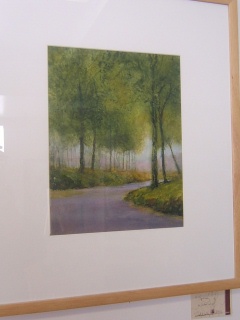 By Susan Nally.
Nally won the art league's Best in Show last April and again in December. She is the league's treasurer.
She uses watercolors and untraditional paper, such as Yupo, a synthetic that is water-resistant and results in brighter colors. And draws a parallel between radiology and art. "Radiology is very visual. It's all images all the time. It's nothing but images," Nally said.
Cain's and Nally's paintings will be on display through the end of March at Dorka's, 2285 Whitney Ave. FMI, call 230-2327.