Hamden's 70th Memorial Day Parade
May 29, 2006
Marching for Memories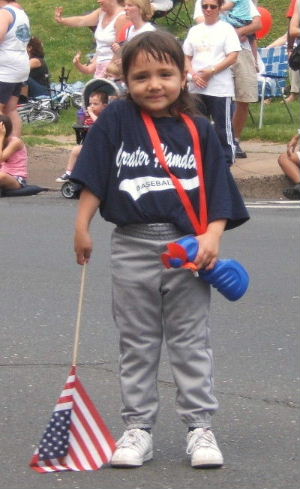 Story by Sharon Bass; photos by Sharon Bass, Betsy Driebeek and David Driebeek
Some veterans' faces were bright red. Some stopped for water and rest. They were dressed in full uniform -- long sleeves and all -- and the weather was hot and sticky with bursts of bright sunshine. But marching in Hamden's 70th Memorial Day Parade yesterday was apparently far more important than comfort.
An estimated 2,400 made the trek from Hamden High to Old Memorial Town Hall, as the nearly 6,000 who lined Dixwell Avenue waved them on.
Vets, old and young, schoolchildren, athletes, dancers, cheerleaders, Hamden fire and police and a host of community and veterans' groups made for an impressive lineup, entertaining the crowd while reminding folks of the deceased who fought in American-involved wars.
Memorial Day parades didn't used to be so festive, said Abner Oakes, chair of the Hamden Veteran's Commission. They began as a simple and more somber event with the sole purpose to put flowers and flags on veterans' graves.
"I think it's now a way to honor veterans and [have] a community affair. It's something everybody looks forward to. I couldn't believe how many kids were marching," said Oakes, who organized this year's parade with fellow Commissioner Tom Slater. The parade cost the town $5,000 to hire bands and buy flags for cemeteries.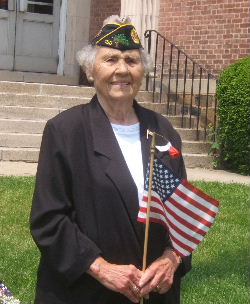 This year saw Hamden's first female grand marshal, Bernice Scaramuzza. The 85-year-old was a corporal in the Marines from 1944-1946. Her late husband, Joseph Scaramuzza, was in the Navy. The couple moved to Hamden 58 years ago.
"I'm just so honored. I'm just so honored," Scaramuzza said about marking her spot in local history as the first woman marshal. "Anything for veterans I'm willing to do." She is also a member of the Veterans' Commission. During World War II, she said she assembled and repaired airplane propellers in Quantica, Va.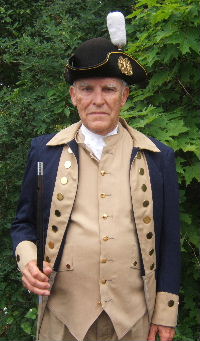 Another notable town vet, George Meinsen was dressed in his wool gabardine getup to march with the Lancraft Fife & Drum Corps. He had marched in Hamden's first Memorial Day parade in 1936 when he was a boy, and said he hasn't missed many since.
"This is like my 600th parade. I go to at least 15 a year," said Meinsen, 82, who lives on Treadwell Street and served in World War II. Over this holiday weekend, he said he and his Lancraft group also joined North Haven's and Seymour's parades.
"I was a drummer before World War II," he said. "Now I play the fife. Basically it's a dedication to this drum corps, which has a huge history." The grandfather of 19 said the corps has performed in Chicago, Virginia, Pennsylvania, Massachusetts and Switzerland.
Snapshots of the Parade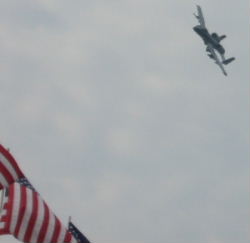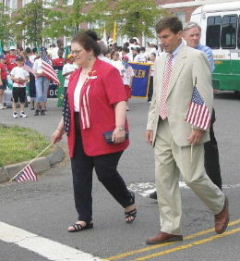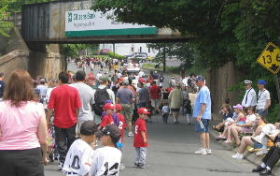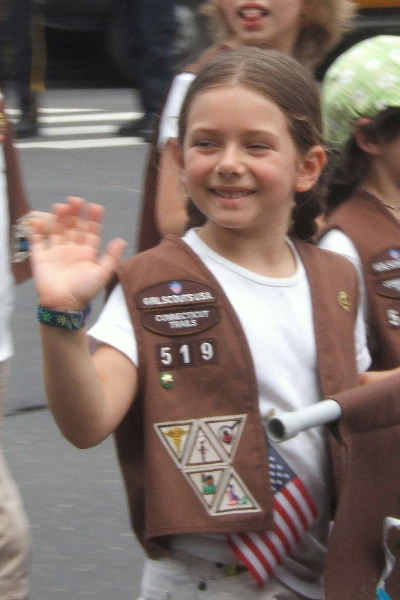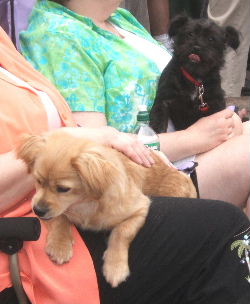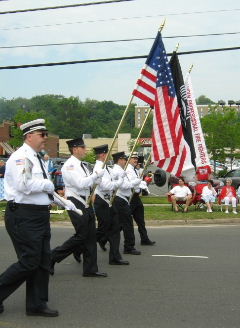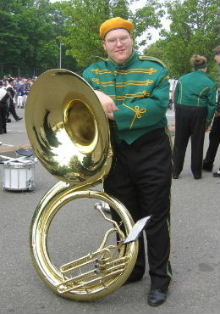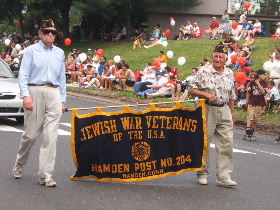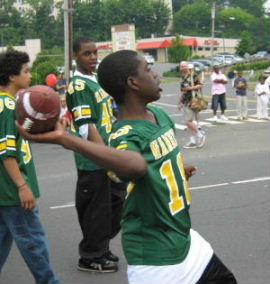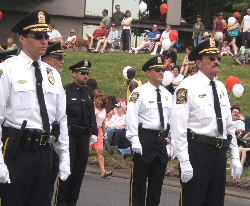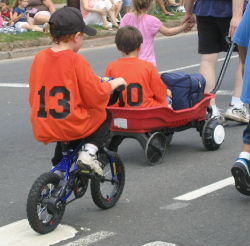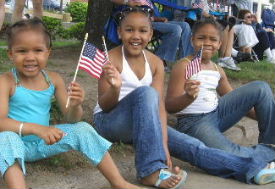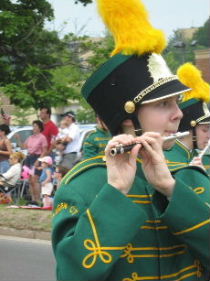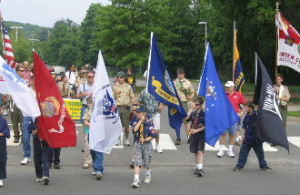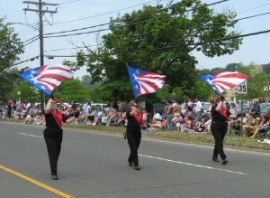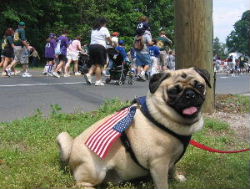 Who Marched (in order of appearance)
American Legion Post #88 Color Guard
Hamden Veterans' Commission
New Haven Gaelic Highland Pipe Band
Hamden Fire Department Color Guard
Hamden Fire Department
Hamden Volunteer Fire Department
Hamden Legislative Council
Hamden State Representative Delegation
Hamden Middle School Band
Greater New Haven Chapter #2 DAV
Veterans of Foreign Wars Post #10321
Greater New Haven Korean War Veterans #204
American Legion Post #105
AMVETS Post #9
Jewish War Veterans Post #204
Marine Cadets of American Company A 1st Battalion
Connecticut 29th Colored Regiment
Lancraft Fife and Drum Corps
Army National Guard Vehicle
Hamden Police Department Color Guard
Hamden Police Department
Knights of Columbus
Commodore John Barry Assembly Color Guard Day Spring Lodge #30
Hamden Figure Skating Club/Team Esprit
Hamden/North Haven YMCA
Women's Club of Hamden
Relay For Life
Hamden Commission on Disability Rights & Opportunities
Bashta's Martial Arts
Miss Connecticut's Outstanding Teen, Melanie Sanches
Teen Miss East Mountain, Ashley Membrino
Teen Miss Sprague, Lucy Fernandez
Hamden Girl Scouts and Brownies
Hamden Boy and Cub Scouts
Hamden Youth Soccer Association
Greater Hamden Baseball Association
Elm City Banjo Society
Hamden Republican Town Committee
Hamden Elks Lodge
Clear Channel Radio
Hamden High School Cheerleaders
Hamden High School Band
Dance Unlimited
Hamden Youth Hockey
Hamden High School Dance Team
Hamden Youth Lacrosse
Hamden Heronettes
Hamden Father's Football & Cheerleaders
Connecticut Alumni Drum & Bugle Corps
Miss Greater Hamden, Brooke Kellee Rivero
Miss North Haven Preteen, Shelby Johnson
Little Miss Junior Hamden, Eliza Kanner
Greater New Haven Stroke
Revolutionary Soldier, Craig Reynolds
Paradise Country Club Float
Joni's Dance Center
Hamden Father's Baseball/Softball Association
Academy of Kempo Martial Arts
United Methodist Church
School Bands from Bear Path, Helen Street, West Woods