The Highville Charter School Story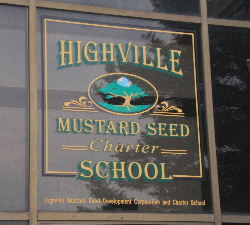 Articles from Jan. 28, 2008, to present
---
April 3, 2008
Blumenthal Steps In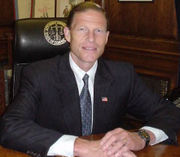 Attorney General Blumenthal. Courtesy photo
By Sharon Bass
As the Highville Charter School landlord prepares his suit against the town for lifting his property-tax exemption, the attorney general said Wednesday he will be talking to the mayor today or tomorrow about the tax-status change.
"This issue seems to be one of local discretion but I will contact local officials to hear what reasons they have for this action," said AG Dick Blumenthal. He said he knew nothing about it until yesterday when called for comment.
Highville parents have lauded Blumenthal for working hard with them last year to save their school from collapsing, due to financial mismanagement and dishonest tactics of the previous director and his board of directors.
"I am very proud of the partnership we formed with Highville parents and others. And we will continue to fight on behalf of students and families at Highville," the attorney general said.
Asked if he thought the state might give Highville more money if it has to pay property taxes, Blumenthal said he didn't want to comment further. "I had not received any official word of this decision so I want to learn what the reasoning is for it," he said.
Highville administrator Ed Favolise said taxes would run close to $200,000 and could severely impact the small school which operates on a roughly $3 million annual budget. The two 130 Leeder Hill tenants -- Highville and New Haven Public Schools -- would have to pay the tax bill as stated in their leases.
In landlord Ira Saferstein's draft suit against Hamden, there are two counts. One, that his property is still protected as tax-exempt under a 2000 town ordinance. The ordinance says if the property is sold or is no longer used for its tax-exempt purpose, it goes on the tax rolls.
Though Saferstein acquired the building last year, he maintains that neither of the above is true.
According to the working lawsuit: "The Ordinances provide, among other things, that "[t]he tax exemption shall expire when the property is sold or no longer used exclusively for its tax exempt purposes. The Property has not been sold since the enactment of the Ordinances and the Property continues to be used exclusively for the tax-exempt purposes described in the Ordinances."
The second count says the $10.8 million assessment slapped on Saferstein's property is too high and unlawful. He took his complaint to the Board of Assessment Appeals last month but his petition was denied.
"The valuation of the Property placed thereon by the Assessor was not that percentage of its true and actual value on the Assessment Date but was grossly excessive, disproportionate and unlawful."
Saferstein's attorney, Paul De Genaro of the Bridgeport firm Willinger, Willinger & Bucci, plans to file in New Haven Superior Court within 60 days.
---
April 2, 2008
Another Bump for Highville


130 Leeder Hill Drive. File photo
The charter school's landlord plans to sue town for stripping its tax-exempt status; Highville official calls town's action "unconscionable"
By Sharon Bass
It's always something.
If it's not your school director being removed for alleged embezzlement and other wrongdoing, it's the state keeping you in limbo about whether your school will survive, or it's the town declaring that your school building is a fire trap and students must be moved to the old middle school.
You survive the antics of the school director, Lyndon Pitter, who started the Highville Charter School at 130 Leeder Hill Drive a decade ago. The state works with you in a rollercoaster of a struggle to keep the school open. The town backs down from its fire-trap stance and Highville -- which could wind up having more lives than a cat -- is right where it's always been. Again.
Now the little charter school of 300 kids (90 live in Hamden) has been given another challenge. The Henrici Administration wants to put the Leeder Hill building, a nonexempt property because its sole use is for public education, on the tax rolls. That means Highville, a state charter school, would have to take as much as $200,000 a year from its roughly $3 million annual budget to pay the Hamden taxes and New Haven, which uses two-thirds of the industrial building, would be on the hook for the rest. A message left for Mayor John DeStefano yesterday afternoon seeking comment was not returned in time.
"We've survived just about everything possible. The children are getting a good education. Things are going smoothly. And then out of nowhere comes this tax burden that very well might close the school," said Ed Favolise, a Highville administrator. "Or the program would have to be curtailed significantly." He said that could mean laying off teachers, increasing class size, cutting fulltime preschool and kindergarten to part time and eliminating Spanish in all grades.
The school's landlord, Ira Saferstein of Titan Capital in Westport, said he's suing.
Within the next 60 days, Saferstein said he plans to file suit in superior court against the town for the tax-status change and the current property assessment of $10,831,240 (that's 70 percent of market value on which taxes are based). He claimed the property is worth much less.
Saferstein has what's called a "triple net lease" with his school tenants, meaning that any extraneous costs to the landlord have to be paid by the tenant. Like property taxes.
In March, he asked the Board of Assessment Appeals to lower the assessment. He was denied.
"The town will end up paying unnecessary legal fees to defend its position and run the risk of wasting money in a losing effort," said Favolise. He said he appealed to Chief Administrative Officer Scott Jackson in January. "He got back to me and said basically there isn't anything that can be done," Favolise said.
Councilman Curt Leng has gotten involved in the Highville tax-status battle. A longtime school supporter whose wife teaches there, Leng said he didn't know why the administration decided to tax 130 Leeder Hill and didn't know if other nonprofits in Hamden, such as the many Quinnipiac University buildings, are now also being taxed.
"I absolutely think Highville should be an exception because it educates Hamden students and saves town money," he said. "I think the success of the school is undeniable."
In 2000, the town council passed "An Ordinance Establishing An Exemption of Property Leased to a Nonprofit Organization Connecticut General Statutes Section 12-81(58)." 130 Leeder Hill was included.
But when the building changed hands to Saferstein in 2007, the tax-exemption provision expired. Town Attorney Sue Gruen wrote in a Feb. 23, 2008, letter to Saferstein's Bridgeport attorney Charles Willinger, that the ordinance granting tax-exemption status is no longer valid. "At this time, the Town will not be proposing an ordinance granting tax-exempt status for the current owner and therefore the property is considered taxable," wrote Gruen.
"My understanding is the town has the option for providing tax exemptions for nonprofits and that we have provided that exemption to the Highville Charter School for 10 years," said Leng. "Considering how hard the Highville School rallied last year to keep the school open, as well as officials such as the state's attorney general, I would hope that Hamden wouldn't end up being a hindrance to the school's progress."
The town administration does not return calls from the HDN.
Another concern, said Favolise, is how a tax bill might affect Highville's chance to get its charter renewal, due this July, from the state Board of Education. One criterion is financial stability.
"The ironic thing here is if they close us down all of the students from Hamden that are here would be going back to the Hamden school system. We're looking at 90 students from Hamden if we close down," said Favolise. It costs about $13,000 per pupil in Hamden, he said.
School Superintendent Fran Rabinowitz said putting the 90 students (who are in grades preschool through seventh) in Hamden schools could require hiring more teachers.
"Even among eight elementary schools and the middle school, it is a large amount of students coming into our schools that we would need to accommodate," Rabinowitz said. "I'd have to review where the transfer patterns would be. My guess is there will be a concentration at some of the schools." Hamden has 6,900 students.
"The Highville community has done everything conceivable to have this school survive and now to have the town chop our legs out from under us without any rhyme or reason is unconscionable," said Favolise. "It's a disservice to the community but most of all it's a disservice to the children."
---
March 27, 2008
Highville Jumps to Save Hearts*



Fourth-graders hard at work Wednesday.
Story and visuals by Sharon Bass
The winds got pretty gusty yesterday morning, at times spitting blinding dirt into the air. But the kids jumping rope outside Highville Charter School jumped on.
"I feel good because we're helping people who actually need it," said Highville fourth-grader Najhea Smith.
She's talking about folks with sick hearts. For the first time, the Leeder Hill Drive school is taking part in the American Heart Association's Jump Rope for Heart, said gym teacher Jessica Mills. Daily gym class this week for all students means jumping rope and learning tricks. The children tell family, friends and neighbors about their participation in the Jump Rope effort and ask for donations. For every $1,000 raised, the school gets $100 toward gym equipment.
There are other benefits, said Mills. It teaches kids about community involvement and gives them a way to say thank you for saving their school.
"All their parents and the community gave so much to us and the kids to keep our school open, that it was a way for the children to give back," she said of last year's turmoil at the school with disgraced former director Lyndon Pitter and his board.
Mills said some kids have gone beyond jumping to raise money for heart disease. A third-grade girl recycled bottles. Two sisters, one in seventh grade, the other a preschooler, went around their neighborhood asking for donations carrying a box filled with their stuffed animals. When someone donated, the girls offered them an animal.
The fourth-graders skipping rope outside yesterday had the same attitude about helping people in need.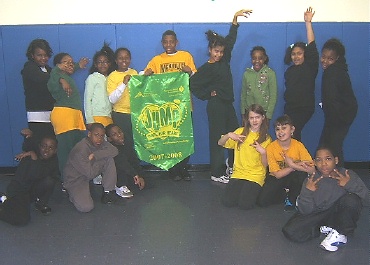 Just in after jumping rope for 50 minutes, the fourth-grade class poses with a little 'tude in the gym.
"For me it's actually an honor because my grandfather had two strokes and he's not paralyzed or anything," said fourth-grader Korina DeFelice.
"A relative in my family had a stroke and it makes me so proud that I'm helping people that have heart problems," said Cierah Moreau.
Jahleel Rogers echoed. "It makes me feel happy that I get to help people with heart diseases. At home, I help my mom and dad with different things," he said
"It keeps you healthy and it's good for your heart," said Anasia Dortche.
While new at Highville, Jump Rope is old hat for gym teacher Mills. "I actually did it through my grade school years and I loved it," she said. "The kids are so excited. I thank them for their dedication and positive attitudes."
*Highville's Ms. Kim came up with the headline to this story, and the fourth-grade class unanimously voted it in.
---
January 28, 2008
The Little School That Could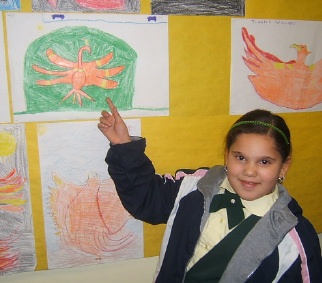 Skyy Quintana points to her rendition of the new school mascot: the immortal phoenix.
Highville's mid-year report card
Story and photos by Sharon Bass
After a ferocious battle that went from 130 Leeder Hill Drive to Hartford Superior Court, the state was able to wrest control last year of the Highville Charter School from the hands of destruction: former disgraced director Lyndon Pitter and his loyalist board of directors. (Scroll down this section and click here for background stories.)
School opened late this academic year. On Sept. 10. But the surviving parents say it was well worth the fight and the wait. Today, they say, the school is doing just fine and their children are thriving. They got what they fought for.
When retired educators Bill Troy and Ed Favolise temporarily took over the Leeder Hill Drive school on July 23, 2007, they did so amidst a wave of anger and mistrust. Parents had grown quite weary by that time after being fed a steady stream of broken promises and lies from Pitter and his crew. They were also frustrated with the state for getting conflicting answers as to whether the school would go on. One day it was a go. The next, a red light.
Now parents say they're very pleased with Troy and Favolise, who were supposed to leave last Thanksgiving when a principal was to be hired. The administrators said they'd stay until at least June.
"I'd like them to stay even longer than that. Ed Favolise and Bill Troy have given 100 percent of their time and effort to make the school a better place," said parent Toni Foreman, one of the leaders in rescuing the school last year. "They seem to know the kids' names by heart. They definitely care. The old board, we had so many inconsistencies. We didn't know from one day to the next. Now we have more stability."
Parent Cynthia Quintana, whose daughter is in her third year at the school, couldn't have agreed more.
"Troy and Ed know every child. They know them by their name," she said. "They're doing a fabulous job. The atmosphere is totally different. I am very happy."
Quintana also praised the new board. "It was a delight that we could actually sit down at the meeting [Jan. 23] without the screaming and animosity [from Pitter's board]," she said. "We have big visions of what we want to do with the school."
Thirteen of the 19 teachers are new. There are 276 students; the max is 300. About one-third of the children are first-timers.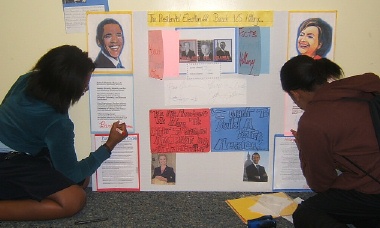 Highville sixth-graders Jenadra Harvey (left) and Cameo Collins put the finishing touches on their Obama/Clinton poster. The girls were to argue for and against the Democratic presidential candidates at school last Friday.
Dealing with the aftermath
Highville is still on probation, stemming from the alleged wrongdoings, such as embezzlement, by Pitter and his former wife, Nadine Pitter, and inappropriate decisions made by his board. Troy said he hopes the probation will soon be lifted as the school's five-year charter is up for renewal this spring.
Messages left with the state Department of Education last Friday were not returned.
Another gift the prior administration left behind is $1.1 million of indebtedness to vendors, NewAlliance Bank and staff, the administrators said. The new corporation assumed the debt and got it negotiated down to $334,000 in Hartford Superior Court, said Troy. It must be paid off by June 30, 2012, with no interest. Only employees will receive100 percent of what they're owed, he added.
It's a bird!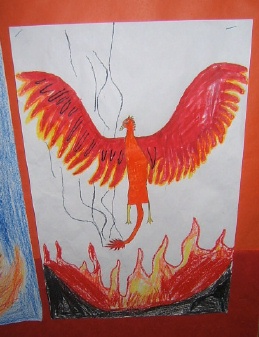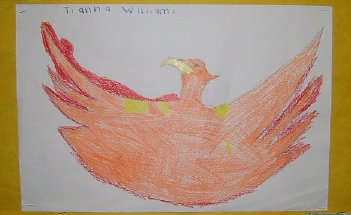 "We're committed. We have a vested interest," said Favolise of why he didn't leave last November. "We recreated this from the ashes we inherited to the point where the new symbol for the school is the [mythological] phoenix -- the bird that arose from ashes. It never dies." (The former symbol was the mustard seed tree; "Mustard Seed" was part of the original corporation's name.)
A student competition was recently held for the design of the phoenix. The winning picture (not yet announced, but already chosen, said Troy) will be put in the lobby, on sweatshirts, T-shirts and gym uniforms. And one picture will be chosen from each class to adorn the classroom door.
What's new?
"If somebody asked today what is the biggest difference from May 2007 to today, it's that everything is transparent," said Troy. "We needed to establish the credibility of the school.
"We became the black sheep of charter schools because of what happened," he said. "The children were the ones not taken into consideration by the old corporation."
"We had to recreate everything," said Favolise, such as personnel files, evaluation instruments and financial reports. He said student data is missing from the last five years.
The men said the school has drawn many volunteers since its new incarnation. Hamden Hall students, for example, come on a regular basis to work with children who need remedial help and to assist teachers.
Spanish has been expanded to grades one through seven. The after-school program now offers Spanish, dance, fine arts, music and a steel band is to start soon.
"In the past, it was more a babysitting service," said Troy.
Also brand new is the Parents & Staff Advisory Council, similar to a PTA. Parents and the board discussed it for the first time at the Jan. 23 board meeting and decided to establish the council.
"I think basically the school is on the threshold of greatness," said Favolise.