Hamden Sports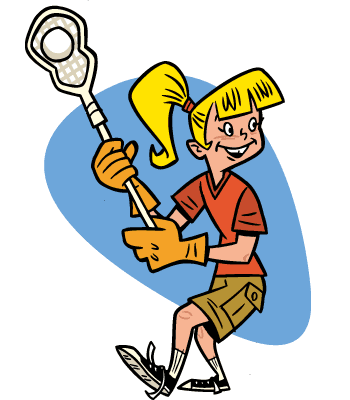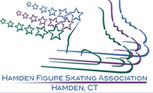 ---
August 26, 2008
Midgets Open with a Foursome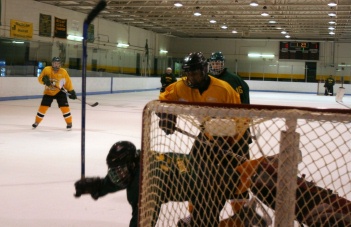 Mike Pierne scores.
Story and photos by Edward C. "Ned" Burt Jr.
It's hockey season in August as the Hamden Midget Green Team started their season with an exciting split of four games in the Cromwell Tournament this past weekend. Hamden started strong against a big South Windsor Team. The select squad, made up mostly of prep school players, was no match for the hard-skating Hamden squad.
Matt Morgan got the team going on a nice backhanded goal in the first period. Assists went to Mike Berezecky and Jim Burt. Steve Sorrentino then laid a big hit on a South Windsor player as Scott Walsh tapped the pass to the hard-rushing Mike Pierne. Pierne deked into the defensive zone and top-shelved a backhander while flying across the crease for a 2-0 Hamden lead.
CJ Carignan made it 3-1 early in the second on a rebound of his own shot. South Windsor had scored to make it a sole-goal game, when the smooth-skating center man hit home with a pretty backhander of his own. PJ Vakos and Dave Findley picked up helpers on this goal.
Findley then scored with assists to Carignan and Vakos and the rout appeared to be well under way. South Windsor had other ideas, however, and made it a 4-3 game with just 15 minutes to play. Morgan rang the bell again with Berezecky and AJ Gemmell picking up assists.


A Mike Berezecky goal.
Berezecky then joined the hit parade as Burt and Morgan picked up the assists to make it 5-3. Hamden was down a man and Anthony Avitable showed why he is one of the best goalies in the state by making save after save. Burt rewarded his goaltender's fine play by stealing the puck in center ice and skating past one defender to score a shorthanded goal and bring the lead to 6-3.
Pierne and Carignan scored again, with Walsh and Carignan each picking up another assist.
Hamden then lost two games in a row to the powerful Mid-Fairfield and Comcast teams. Pierne scored in the Comcast game with an assist to Sorrentino. The team lost Morgan to a hard hit to the head in that game. Morgan had scored another goal in the Fairfield loss as did Pat McGovern. McGovern had two goals in that game including a beautiful unassisted score. Walsh, Burt and Dan Cusano had assists.
The final game was Hamden's best of the year. They had back Mark Fracasso, John Teulings and hard-hitting Dan Wheeler, all of whom had been on vacation. The team played the Colonials -- a powerful out-of-state team that was undefeated in the tournament before facing Hamden.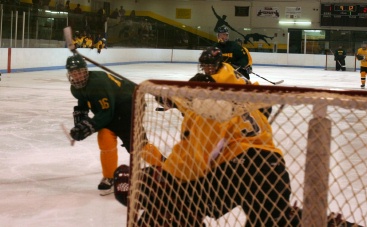 CJ Carignan scores.
Avitable was incredible in net. Nick Castaldi and the entire defense played well and the team came together in the absence of Morgan to play a fine, hard-skating game.
Hamden was trailing 1-0 in the third when Burt dug the puck out from behind the net and hit Vakos, who touch-passed the puck right away to Walsh who banged it home to knot the game at 1-1. Two minutes later, Cusano feathered a beauty of a pass over one defender's stick and under another's legs to Berezecky streaking down the slot, and the rugged winger slammed it home to put Hamden up 2-1.
Avitable next came up big as the defense played tough in front of the net for Hamden's thrilling 2-1 win.
---
June 15, 2008
Local Player Lombardozzi Feted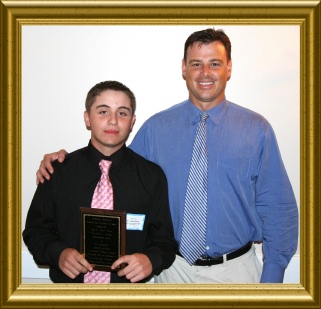 MJ Lombardozzi with coach Tony Deangelo.
Story and photos by Edward C. "Ned" Burt Jr.
The Southern Connecticut Diamond Club held its annual awards banquet last week at Monticello's Restaurant in Meriden. The club honors high school players selected by their respective coaches. Hamden High senior MJ Lombardozzi was this year's selection by head coach Tony Deangelo.
"MJ epitomizes what it means to be a team player," said Hamden resident Sam Burrell, longtime coach and mentor to athletes throughout the area. "He plays hard, smart and is always there to cheer on his teammates." MJ was joined at the dinner by his coach and proud parents, Mark and Deb.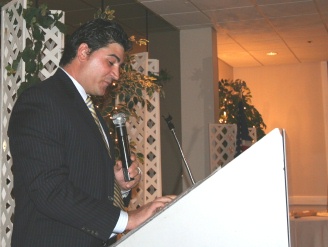 Mike O'Keefe speaks at the dinner.
Hamden native and former Triple A professional ballplayer Mike O'Keefe was the featured speaker. Mike had a brilliant athletic career at Notre Dame of West Haven and Providence College before playing professional ball for seven years. He operates the Mike O'Keefe Baseball Academy on Sanford Street.
Several players from local high schools were honored as were teams and coaches. Speakers included Hamden residents Tony Mentone, Rev. Owen Sanderson and Burrell. Todd Mathewson, a former Hamden Little League and Clark University star who's currently active in Frozen Ropes baseball operations, and Hamden resident Tim Shea were also at the banquet.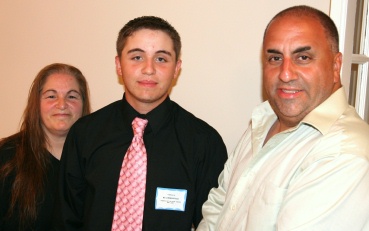 MJ flanked by parental units Deb and Mark.
The event is held every year to honor those players with the John "Whitey" Piurek "There is no 'I' in Team" Award, for their unselfish fine play and sportsmanship. Piurek, the dean of Connecticut baseball coaches, coached at West Haven High for decades.
"This is the most prestigious team award a kid playing high school baseball in Connecticut can receive," said Mentone who along with wife, Rose, and local umpires and coaches organizes and runs the affair. "The kids who won this year are all deserving and should be proud of their accomplishments."
---
May 24, 2008
Extreme Golfing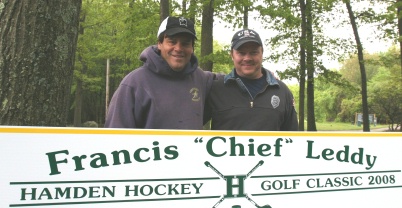 Bill Veneris with Brian Leddy.
The weather was all over the place at the Leddy Tourney
Story and photos by Edward C. "Ned" Burt Jr.
One hundred and 10 golfers descended upon Laurel View Country Club for the annual Francis "Chief" Leddy Golf Tournament May 22. The tournament benefits the Hamden High School Hockey Program. Coach Bill Veneris greeted everyone as they arrived at this mountainside resort course. Golfers were treated to tees, balls and jackets as volunteer parents made sure that the duffers were ready to go out on the course.
Wayne and Robbie Stone from Glenwood, Johnny Nolan from Nolan Monuments, Bob Ugolik from A&E Glass, Rick Ciardiello from Eli's, Dan Bush from Hamden Sports and a host of other local personalities joined the festivities. The weather went from 65 and sunny to cold, blustery winds and at times rain.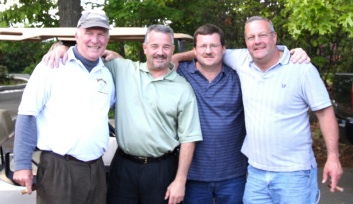 Ned Burt, Steve Cavanaugh, Jack Sutfin and FredMiller.
"I put my jacket on, I took my jacket off. And I just kept on repeating that for half the round," said remarked Steve Cavanaugh of Biltmore Construction. "One hole I'd be dressed for winter and the next I was down to my swimwear it was so hot. I started to feel like a schizoid stripper."
The day flew by. Golf was followed by a fine dinner and award presentations.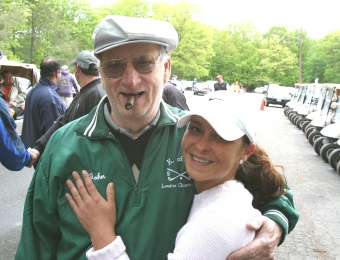 John Coassin and Lisa Landino.
Some of the kids from this year's hockey team were also honored. Pat McGovern won the Sniper Award for most goals; Mike Sanca received the Chief Leddy Scholarship Award for the senior who excels both academically and athletically; Sean O'Sullivan was given the 7th Player Award voted on by his teammates as the player who went above and beyond expectations; Ron Esposito received the Most Inspiring Player Award; Mike Pierne earned the Best Defensive Forward Award; Tom Roche received the Alfred Sullivan Jr. Award for his determination, grit and courage; and Scott Teulings received the Rotary Club Award for his sportsmanship, dedication and commitment to the team.
"It was a fun day," said golfer Fred Miller. "I just wish I hit the green on 10 with my drive."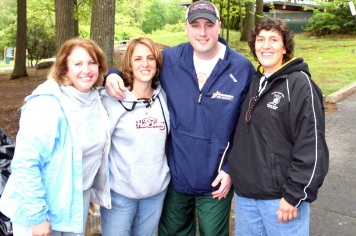 Peg McGovern, Vasso Pierne, Allie Aloi and PattyAnnVakos.
And with that lament and a puff on his stogie, Fred, like so many others, trudged off to the clubhouse for refreshment, merriment and more golf stories to share with fellow supporters of Hamden High Hockey.
---
May 17, 2008
Story and photos by Edward C. "Ned" Burt Jr.
The Hamden freshman team beat Fairfield Prep 10-6 in an exciting game at the Hamden High Field May 15. Hamden jumped out to a 4-0 lead early with aggressive base running. The team did not hit the ball out of the infield yet turned infield hits, walks, errors and wild pitches into the early lead.
"Small ball was working today," said Coach Joe Weber. "It was great to see the way the kids ran the bases and turned nothing into something. Well done."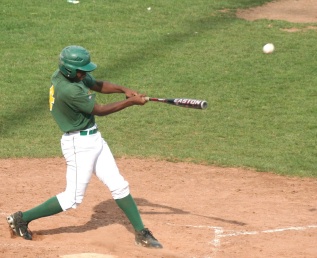 Jordan slams one.
Nick Velardi, Jason Miller and Mike Franco pitched well but the Fairfield team would not go away. The Prep shortstop hit a gigantic homerun onto the highway to bring them back to 4-3 in the third inning. Hamden then used its speed and base-running guile to tack on another run.
PJ Scott hit a looping single to right field with two outs in the fourth with Jim Burt on first base. Burt took off at the sound of the bat and didn't stop until he had slid home safely from first on Scott's single.
"Those long legs sure do cover lots of ground quickly," said legendary youth baseball coach Paul Scott. "What a great hustle play. Nice job."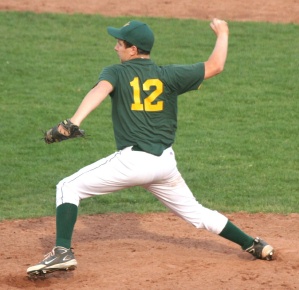 Mike Franco fires pitch.
CJ Carignan then made a heads-up defensive play by backing up first on an overthrow, and the catcher gunned down the runner at second base to kill a Prep rally the next inning. Carignan came into pitch the seventh and secured the Hamden victory.
Scott picked up another RBI, Don Pfeiffer ripped a two-out double for two ribbies and Adam Martinez, Matt Altieri, Carignan and Franco all had hits. Jordan Teague also contributed with a long RBI double to left off the wall.
Hamden's season is winding down as the freshman team has had a successful campaign standing at 9-3 heading into their final games.
--------------------------------------------------------------------
Hamden Trounces East Haven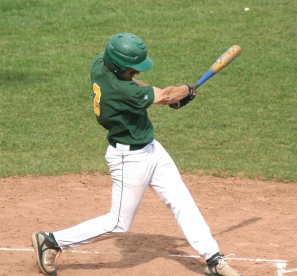 PJ Scott lines double against East Haven.
Story and photos by Edward C. "Ned" Burt Jr.
The Hamden freshman team trounced host East Haven 13-3 on May 13. The team scored eight runs with two outs in the third inning. Mike Franco and PJ Scott had two hits each with Franco ripping back-to-back doubles off the left field fence and over it. He ended the game with three ribbies.
Matt Altieri crushed two hits including a double off the left centerfield fence. "I'm so happy for Matt," said Doug Franco. "The kid was hurt at the beginning of the year and now is playing. And playing well."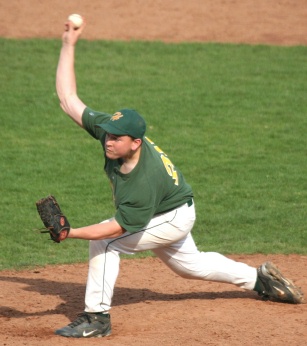 Jason Miller fires pitch versus East Haven.
Brian Rothbard exploded with two line drive hits. Don Pfeiffer had a big game as the strong lefty pelted two shots to right field for a double and a triple. Anthony Martinez, Justin MacGregor, Ben Rego and Jim Burt also had big hits for Hamden.
Scott, Jason Miller, Tanner Givens and Franco combined to pitch the Green Dragons to victory. Givens made a reaction catch of a line drive that was back to him at the mound quicker than Jordan Teague runs the bases. Justin Miller, Mike Frazier, Anthony Diaz and Adam Martinez also had good games.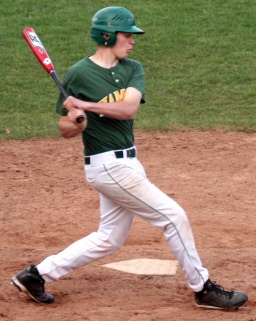 Don Pfeiffer clubs a double.
-------------------------------------------------------------------
Poor Sports Beat Hamden


Ben Rego rips shot against Shelton.
Story and photos by Edward C. "Ned" Burt Jr.
The Hamden freshman team lost a contentious game May 12 at Shelton, 5-3, as the host team was anything but gracious. The wind was blowing at the old, dismantled Nike Missile Base but an explosion seemed one more dirty play away.
"I have never seen that in all my years in baseball," fumed Paul Scott. "That pitcher was so dirty he got thrown out of the game for knocking a runner over on a routine tag play at first base. He should've been thrown out the inning before when he purposely stomped on our first baseman's foot."
Several of the Shelton kids appeared to have inhaled too many fumes from the Nike Missile Base. They were jawing all game at the Hamden players, and their coaches, parents and umpires did little to stop it. It was a disgusting exhibition of poor sportsmanship from start to finish.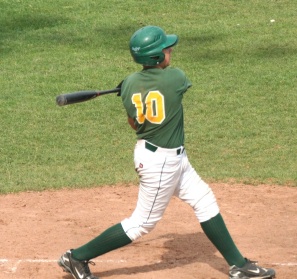 Tanner Givens rips one.
Don Pfeiffer and Jordan Teague pitched strong games for Hamden. Teague, CJ Carignan, Mike Franco, Justin MacGregor, Jason Miller, Adam Martinez, Anthony Diaz and Pfeiffer were the hitting stars for the Green Dragons. Carignan and Franco had RBIs and Teague had a stolen base. Jimmy Burt, MacGregor and Ben Rego combined to make a nice 6-4-3 double play late in the game.
"I'm very happy with the effort put forth today," said Coach Weber. "The game could have gone either way."
-------------------------------------------------------------------
Story and photos by Edward C. "Ned" Burt Jr.
The Connecticut High School Coaches Association held its 44th annual dinner at the Aqua Turf Club in Southington May 15. Coaches were honored by their peers as the best in their sport during the 2007-2008 academic school year. Hamden High's Bill Veneris received the distinction as best boys' hockey coach in the state.

Veneris, who has been Hamden's head coach for close to a decade, and one of the owners of Rainbow Cleaners in town, led the Green Dragon squad to a 17-4-1 record this past year. The team made it to the quarterfinals of the state championship playoffs before going down to defeat 4-3 in its final game. The team set the state record for power ranking points and played against every team that qualified for the Division I playoffs.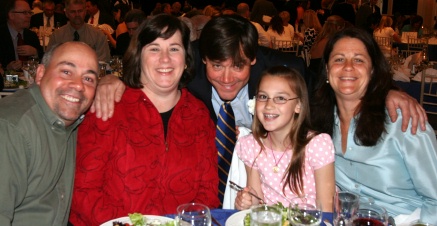 Bill Veneris' fam. (From left): Brother Gary and sister-in-law Meg Gagliardi, the coach, daughter, Mary, and wife, Liz.
Linda Wooster, the former woman's athletic director at Quinnipiac University and still a front-office person in its athletic department, was one of the speakers at the sold-out banquet attended by over 600 people. Veneris' Hamden squad was well represented by players and school coaches alike.
---
May 8, 2008
Hamden Trashes Hand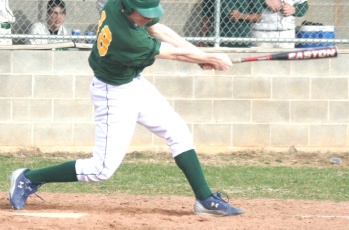 Jimmy Burt rips hit against Hand.
Story and photos by Edward C. "Ned" Burt Jr.
The Hamden freshman team bombed Hand 16-0. Hamden was led by the pitching of PJ Scott and CJ Carignan. The entire team had strong games at the plate. Jordan Teague hit a monstrous double in the first inning off the wall in left field. It was one of three hits and four runs he scored on the day. Teague has been banging the ball all year for the Hamden squad.
Carignan had a triple as one of his two hits and scored three runs. Jimmy Burt had two hits and 2 ribbies. Matt Altieri had two hits and scored two runs in his first game of the year after being out injured.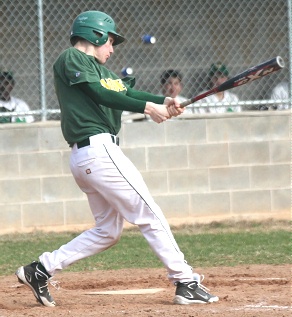 CJ Carignan also rips one for Hamden.
"It's great to see Matt be able to play," said Coach Joe Weber. "We were afraid we had lost him for the year with his injury. He's worked hard to rehab and looked real good for his first game back."
Tanner Givens kept up his hot hitting with two hits. Givens has given the team clutch hitting to date. Justin Macgregor, Brian Rothbard and Ben Rego each had a hit, scored a run and had an RBI to top off this 21-hit explosion.
"Rego is one of the smartest baseball kids we have on the team," said Coach Weber. "And the kid will do anything you ask of him. He's a real gem. And that goes for the Rothbard kid as well."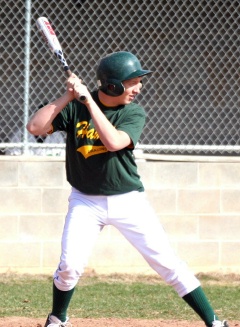 Mike Franco waits for the pitch.
Jason Miller, Nick Velardi and Mike Franco also had multiple-hit games for Hamden. The Hamden team could do no wrong against the undermanned Madison squad that was missing many of their players to school vacation.
Scott and Carignan -- both southpaws -- combined for the three-hit shutout. Scott had 8 Ks and Carignan picked up 2 Ks in one inning of relief. Anthony Garcia, Mike Frazier and Adam Martinez had good games also. Donny Pfeiffer, the big, hard-throwing lefty out of St. Rita's, also had a strong game.
Next up for Hamden is Lyman Hall.
---
May 1, 2008
Best Local Ball in Years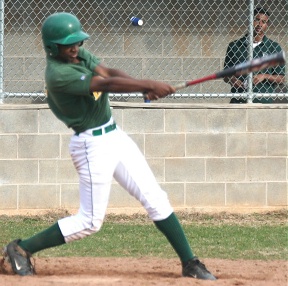 Jordan Teague whacks another one.
Story and photos by Edward C. "Ned" Burt Jr.
PJ Scott got the Hamden freshmen team going with a lead-off double against Fairfield Prep and before the first inning was over, the Green Dragons led 6-0. Scott's double was followed by a double by CJ Carignan, which was followed by hits from Jason Miller, Nick Velardi and Mike Franco.
Scott pitched for Hamden and the hard-throwing lefty won his second game of the year.
"This is the best freshman baseball team Hamden has had in years," said Coach Joe Weber. "I have talent and depth. The pitching has been phenomenal and the hitting is picking up as the weather gets better. The defense is solid but I still see room for improvement. It should be an interesting year."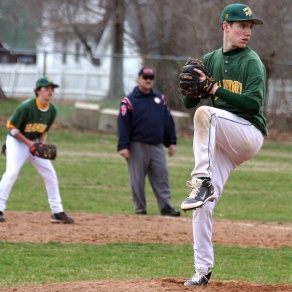 CJ Carignan fires as Ben Rego covers first.
Jordan Teague had a hit and RBI; Adam Martinez had another solid game; and Justin MacGregor hit the ball hard as did Don Pfeiffer and Tanner Givens. Jimmy Burt had a solid game behind the plate with a nice throw out of a kid trying to steal third.
"This team has kids who have played with and against each other for years," said longtime youth coach Doug Franco. "It is simply great to see them get a chance to all play together. Velardi, Scott and Teague have been pitching well with Carignan in relief. And they haven't even pitched Pfeiffer, Givens and that kid named Franco yet. The team is loaded."
Miller has also been solidly pitching for Hamden and has been a bull at the plate. "The kid reminds me of Harmon Killebrew," said an elder Paul Scott, who has been around Hamden Youth Baseball as long as there has been dirt at Bassett Field. "He is solid, strong and has that compact swing with so much power in it. He seems comfortable at the plate, and man has he been fielding and pitching well, too."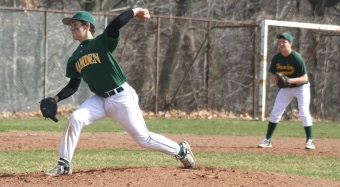 PJ Scott delivers as Mike Fanco covers third.
Matt Altieri and Brian Rothbard remain out injured. Ben Rego, Anthony Garcia, Mike Frazier and Adam Martinez also had good games.

Next up for Hamden is a strong Hand High School of Madison, and then vacation week ends with a game against Lyman Hall at Legion Field this Friday.