Hamden Snapshots, 2007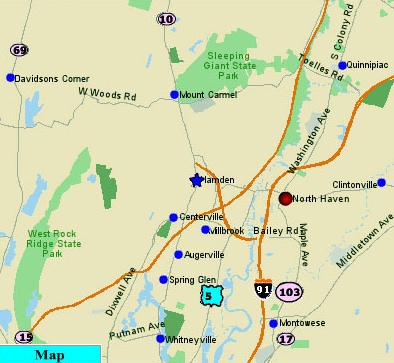 /\/\/\/\/\/\/\/\/\/\/\/\/\/\/\/\/\/\/\/\/\/\/\/\/\/\/\/\/\/\/\/\/\/\/\/\/\/\/\/\/\/\/\/\/\/\/\/\/\/\/\/\/\/\/\/\/\/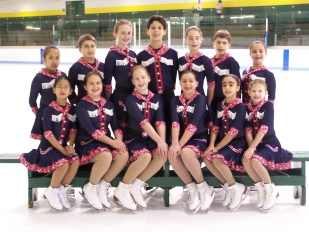 In early January, Team Esprit, representing the Hamden Figure Skating Association, won the Gold Medal in the Open Juvenile category at the Eastern Synchronized Skating Championships held in Providence, R.I.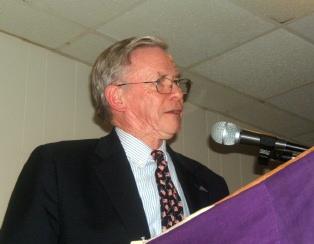 Veteran extraordinaire Abner Oakes was named citizen of the year by the Hamden Elks on Jan. 20.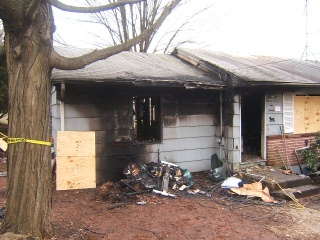 Early morning Feb. 2, Norman Stewart, 63, died in his 290 Four Rod Road home in the town's first fatal fire in three years. Stewart was a retired North Branford cop.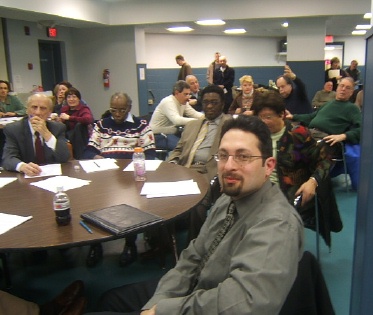 On Feb. 23, the Democratic Town Committee nominated a new Board of Ed member to replace Jennifer McGrady-Heath. Newcomer Adam Sendroff (pictured), who was heavily supported by the Henrici Administration, beat longtime educator Rose Mentone 30-20. The Board later unanimously voted in Sendroff.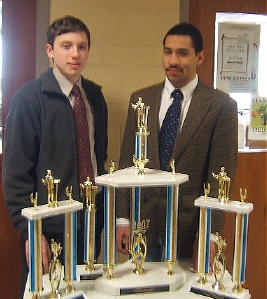 The Hamden debate team won the state finals Feb. 23 at Stamford High School. Seniors Eric Kirchner and Khalid Lum (pictured above) took first place at the Connecticut Debate Association State Finals.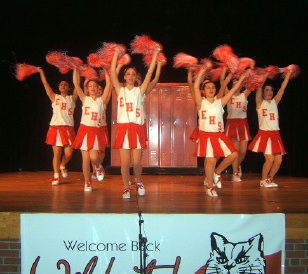 The Whitney Players' sold-out production of "High School Musical" debuted Feb. 28 in Thornton Wilder Hall.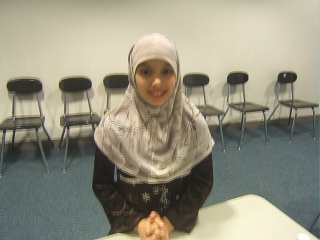 "I don't really like it," Noura Nasser, a Spring Glen fifth-grader, said of mandating school uniforms, during a volatile March 21 "uniform" meeting at the high school. Most parents in the packed room echoed Nasser's sentiment about the controversial uniform effort, spearheaded by Assistant Superintendent Portia Bonner. The idea was put to bed and hasn't resurfaced.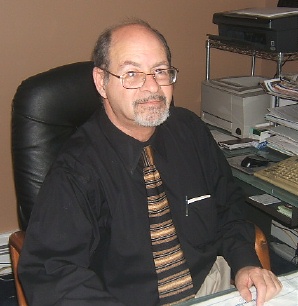 Neil Gorfain (pictured), longtime volunteer deputy director of the Emergency Management Office, learned on March 15 that Mayor Craig Henrici cut his $2,500 annual stipend from the 2007-'08 budget. The Legislative Council restored the stipend. (On Nov. 16, Fire Chief Dave Berardesca fired the 30-year volunteer.)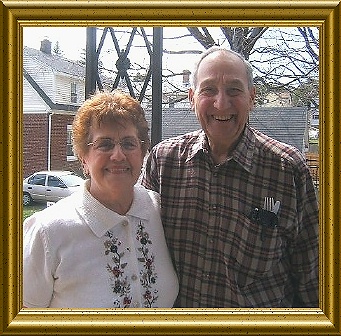 Former Councilman Pat and Gloria Corso celebrated their 60th wedding anniversary on March 26. "You try to make the marriage work. You both gotta give in and have to be stubborn," said Gloria. "I make my point and so does he. We had some rip-roaring arguments, believe me."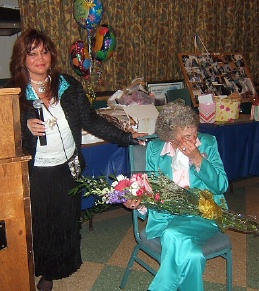 Animal control officer Jean Murray (pictured crying, with former assistant Gina Cahill) was thrown a retirement party at the Elks Club April 22. She hit the Hamden dog beat in 1979. Roughly 150 people came to honor her and wish her well.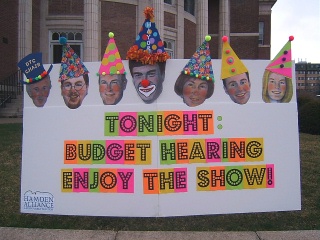 A new group arose to fight escalating taxes. On April 16, Hamden Alliance for Responsible Taxation demonstrated its opposition to the mayor's proposed '07-'08 budget -- which was $10 million more than the previous year -- by dressing up as hobos and clowns and wearing Mayor Craig Henrici masks, right before the public budget hearing that night.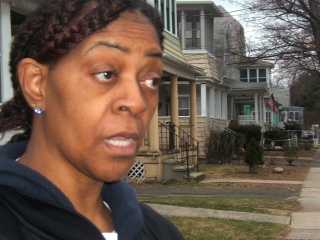 Hamden's first homicide of 2007 occurred on April 18. Patricia Austin, 45, was stabbed to death in her 52 Fourth St. home, while her two sons were in school. "I saw her body laying there [front porch of 52 Fourth], and I was screaming so loud," said next-door neighbor Priscilla Ashley (pictured). "Imagine you run out your house and see someone laying dead with blood all over the porch?"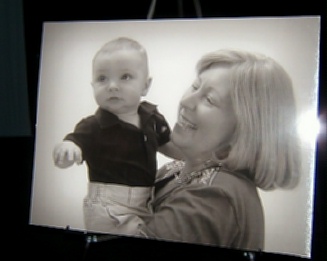 School Superintendent Alida Begina (pictured with grandson) passed away April 19, after a courageous and private fight against cancer. After announcing her retirement two months earlier, Begina, 57, said this to the HDN: "I always loved school and I loved learning and I think it was that passion that led me to education. That I could share that same love and desire to people who want to learn and even learn beyond their formal schooling ... I've taught Latin, English and Spanish. I taught a little ancient Greek as a club. Then I did some staff development curriculum for ACES. And then I did some central office work in two districts, New Britain and Bethel. And then I became a superintendent. I'm going to leave my options open. I'm not sure what I'll be doing. I'll definitely be spending time with my grandson. It's a unique experience."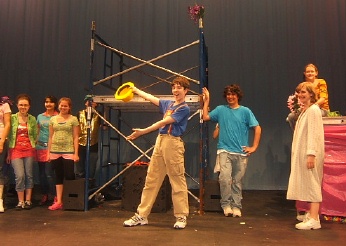 The new middle school auditorium was musically christened April 26, when students performed "Godspell Junior," a truncated version of the popular musical about the story of Jesus Christ. Pictured is Kevin Downing as Jesus.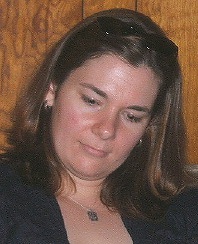 Kelly McCarthy announced June 21 she would run again for the 5th District council seat. The Green Party member lost to Democrat Willie Mewborn in '05, but drew 40.3 percent of the vote. (Due to family illness, McCarthy dropped out of this year's district race.)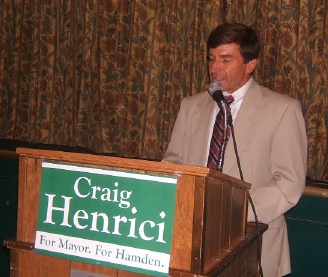 Inside the Hamden Elk's Lodge on June 3, Mayor Craig Henrici announced his intention for Term II. Attorney General Dick Blumenthal was one of many state and local Democratic politicians to attend. Blumenthal said of Henrici: "Craig has the courage to make a decision and stick to it. At a time when some of our political leaders have been ethically challenged, you can trust him and believe in him. He fights for the public interest. You can never be doubtful of his integrity."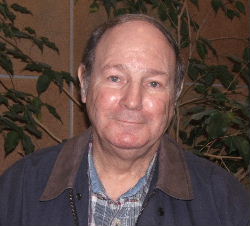 Former Republican Mayor and Councilman John DeNicola Jr., 72, died July 6. He was mayor from 1985-'87. At his jam-packed funeral service at Torello & Son Funeral Home, former Democratic Mayor Carl Amento said: "I always admired him. I thought he was a kind, generous person."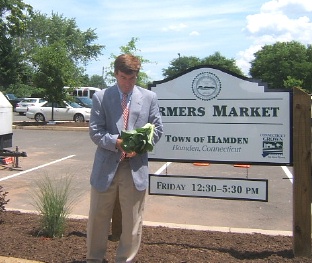 The town's first farmers market opened for biz on July 13, on the Miller Library parking lot. It is one piece of the administration's plan for the adjacent Town Center Park. Mayor Craig is pictured cutting a head of lettuce in lieu of the common ribbon.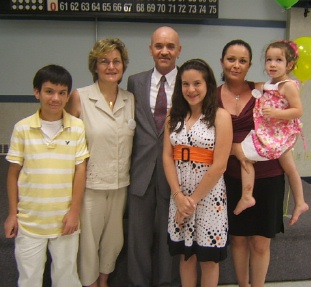 Democrat Paul Jacques (pictured with family) kicked off his campaign for an at-large council seat at the Knights of Columbus July 19. Feeling he didn't have a shot at getting party endorsement, he ran as an independent in the general election and lost.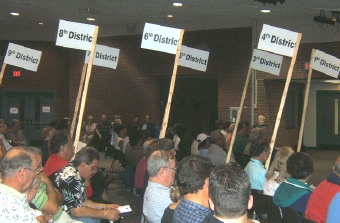 On July 23, local Democrats held their nominating convention in Thornton Wilder Hall. Eighth District incumbent Mike Germano was the only candidate on the machine slate not to get nominated. Instead, his district committee chose John DeRosa (pictured second from left, reading something).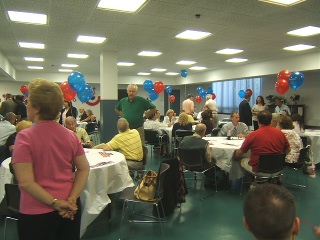 Republicans had their convention in the Miller Senior Center July 24. They easily endorsed all candidates but left the 5th District council seat vacant, which some say may have cost Republican mayoral candidate Ron Gambardella the (very tight) election.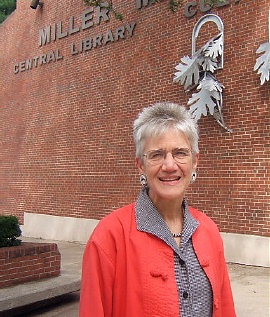 Associate Library Director Judy Lhamon retired on Aug. 24. The 61-year-old Whitneyville resident said she wanted to travel the country. Remarking on the importance of libraries, Lhamon said: "I think I and many other people come to the library for signs of hope and community. It nourishes my soul."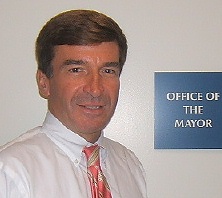 In the first week of September, the Hamden Daily News sent the first of several Freedom of Information requests to the town for Mayor Craig Henrici's business mileage logs. The HDN received the logs on Dec. l3. They showed from July 2007 to November 2007, Henrici drove 5,183 miles and was reimbursed $2,446.51. However, federally mandated information -- such as destination and date of each business trip, which prove the claims -- was not filled out. The Internal Revenue Service said the town should investigate for potential fraud and embezzlement.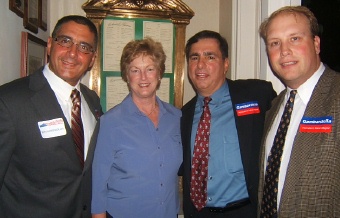 A mighty hefty turnout was seen for mayoral candidate Ron Gambardella's Sept. 7 fundraiser at Colonial Tymes. It didn't hurt that the guest of honor was Gov. Jodi Rell, who came to give her political blessing to the Republican candidate. Pictured from left are Gambardella, Rell, Republican Town Committee Chair Mike Iezzi and Board of Ed member Austin Cesare.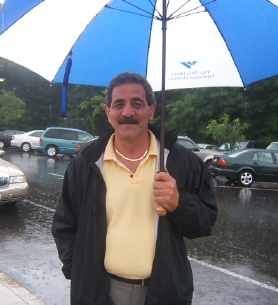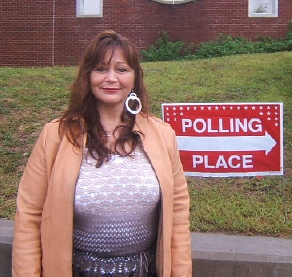 On 9/11, Primary Day, two Democratic incumbent council members lost their re-election bids to newcomers. John DeRosa (pictured) took the 8th District from incumbent Mike Germano by seven votes (219-212), and Gina Cahill (pictured) prevailed over Councilman John Flanagan in the 2nd by eight votes (115-107). The outcomes were seen by many as a sign of a weakening Democratic machine.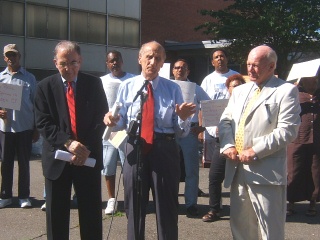 Hamden state delegates -- Sen. Martin Looney, Rep. Peter Villano and Sen. Joe Crisco (pictured) -- held a press conference on Sept. 25 in front of the old middle school to lambast Gov. Rell's threatened veto of the state bond package. (Rell did go on to veto it.) In that package was money to begin cleaning up the Newhall area, including the middle school, where soil contaminants were discovered in 2000. "This is one of the greatest injustices to a group of people," said state Sen. Crisco (D-17 ).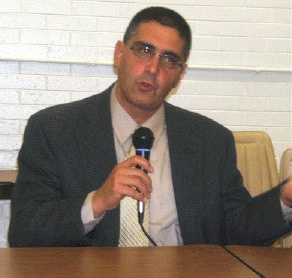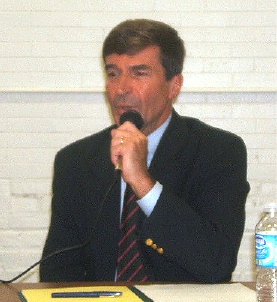 The '07 mayoral candidates did their first debate Oct. 3. About 100 folks came to watch Democratic Mayor Craig Henrici (pictured right) and Republican challenger Ron Gambardella (pictured) duke it out at the Keefe Center. It was sponsored by the Greater Hamden Plains/Wintergreen Civic Association.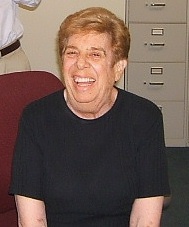 Longtime, local Democratic figure and confidante to many, Gloria Sandillo suffered a fatal heart attack on Nov. 2. She served on the Board of Education and was town clerk and executive director of the Hamden Chamber of Commerce. Sandillo is remembered as a "political giant" and a loyal friend.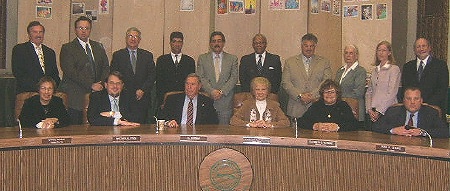 Election Day, Nov. 6. Democratic Mayor Craig Henrici beat Republican challenger Ron Gambardella by a narrow 651 votes: 6,749-6,098. In 2005, Henrici took office by nearly 8,000 votes. Residents seemed most disgruntled over getting two tax hikes -- one an historic high -- in as many years. Pictured is the newly elected Legislative Council at its first meeting on Nov. 26. Seated, from left: Carol Noble, Matt Fitch, Al Gorman, Council Clerk Evelyn Parise, Betty Wetmore and Craig Cesare. Standing, from left: Jack Kennelly, Curt Leng, Jim Leddy, Mike Colaiacovo, John DeRosa, Ozzie Brown, Gabe Lupo, Kath Schomaker, Gretchen Callahan and Jim Pascarella.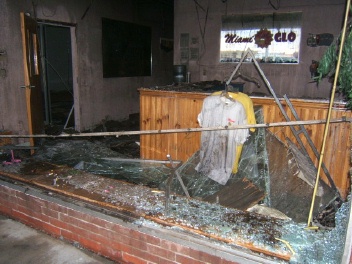 On the morning of Nov. 18, fire broke out in Miami Glo (pictured) in the Hamden Plaza. No one was hurt but seven shops along that strip were badly damaged and had to be vacated. One of those businesses, Connex Credit Union, is temporarily leasing space in Memorial Town Hall.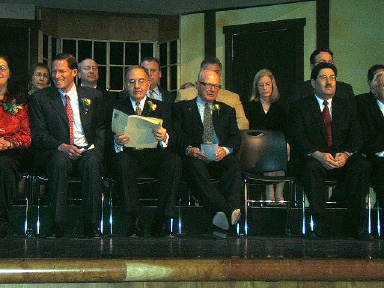 The turnout was pretty light at the Nov. 25 municipal inauguration in the high school auditorium (estimated at under 200). Mayor Craig Henrici, Town Clerk Vera Morrison, the 15 Legislative Council reps (12 Dems, three Repubs) and three Board of Ed members (the nine-member Board has scattered terms) were sworn in for another two years.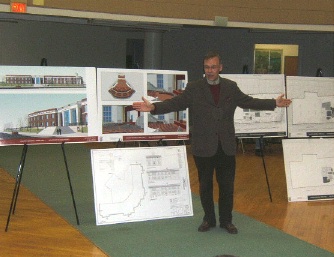 On Dec. 3, the Legislative Council was shown drawings of what the new police headquarters would look like. The $20-million-plus building would be attached to the southern end of Memorial Town Hall. (The current 55-year-old headquarters on Dixwell Avenue has been in abysmal shape for years.) Middletown architect Jeff Bianco (pictured) said the project could break ground next summer and would take 20 or so months to complete. Initially skeptical of putting a new headquarters at that site, Police Chief Tom Wydra said after seeing Bianco's design: "It's beyond my wildest dreams. The plans you saw tonight changed my mind."