August 12, 2008
Swinging for Frank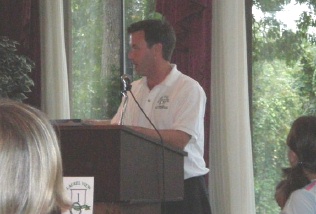 Oldest son, Christopher Cesare, speaks at yesterday's benefit dinner. Courtesy photos
By Sharon Bass
The 2008 Frank P. Cesare Memorial Golf Tourney drew more than 130 golfers to its annual fundraising event Monday, at the Laurel View Country Club. In recent years, the money has gone to gifts for the Hamden police, such as a cop dog and a cop bike. It's unclear what this year's tourney will buy for the local blue.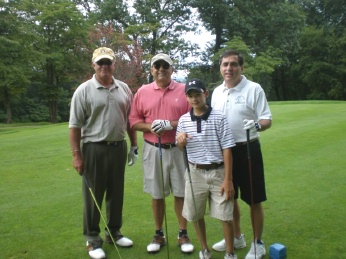 Foursome (from right) Mike Iezzi, Glenn Mallory, Tyler Carangelo and Peter Pappas.
Frank Cesare was a well-known Republican councilman. He died in May 2000 while playing golf in New Haven. Since then his daughter, Heather, and sons (in chronological order) Christopher, Councilman Craig, Board of Ed member Austin and Republican Town Committee member Jon have organized the golf event with a little help from their friends. This year, those friends were former HRTC Chair Mike Iezzi and retired Police Chief Bob Nolan, the co-chairs.

The Cesare clan: Jon, Christopher, Heather, mom Carolyn, Craig and Austin.
---
May 19, 2008
Everything My Pup Learned She Learned in Kindergarten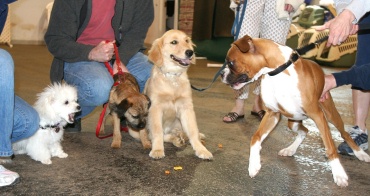 The May '08 graduating class.
By Edward C. "Ned" Burt, Jr.
"Puppy what!?" I asked my wife when I heard her say something about kindergarten. "You've enrolled Lucy -- our new 4-month-old golden retriever -- in school? Are you nuts?"
Typically male, I stuck out my chest and exhorted: "I've had dogs all my life. I've trained them myself and I will do it again. I'm not going to any puppy kindergarten."
And there began just another of those conversations that husbands are destined to lose. We know it the moment it starts. It just takes us a while to come to grips with it. If you're a smart husband, you come to grips fast. You surrender. You survive. And after almost a quarter-century of marital bliss, I knew that I would surrender quickly. And I did.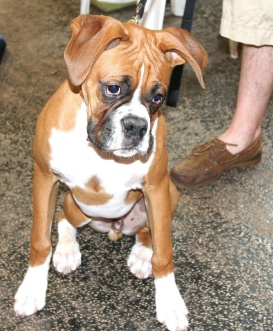 Tyson, one of Lil's grads.
That night, about six weeks ago, after more pee on the kitchen floor, more nips on the hand and more lunges towards the countertop, I came around to the idea that maybe puppy kindergarten would help. Sunday evenings. An hour a week for six weeks at Paws 'N Effect at Corporate Ridge off Sherman Avenue in Hamden.
Do you know how much a man likes his couch on Sunday afternoon? I had to give this up to take the dog to school? And I did. Like a faithful little puppy-hubby I took leash in hand, treats in pocket and shuffled off to Lil Clark's class with several other dogs and their human moms and dads in tow.
YO-YO had mom Grace and a charming nameless dad. Harry had David and Ginger. Tyson had Ed and Cheryl. And Lucy had Chris and me. We had surrendered ourselves to Lil Clark and her magical ways with our puppies.
Lil told us what to do and helped us when we needed it. She gave us the information we needed and the support to help teach us how to train our dogs. Support? Does one really need support to train a dog?
Why don't you just ask Cheryl that after Ed left her for the ballpark one weekend and she had energy-charged Tyson to handle alone. Tyson is a strong boxer pup, and he was tugging his mom around that night as if he was walking her and not the other way around.
Cheryl looked up at Lil. She looked up at the rest of us. All the while getting tendonitis in her wrist from this 60-pound piece of muscle tugging her around the room. A look of despair crossed her face as it did each and every one of us at one point while we were learning how to manage our pups.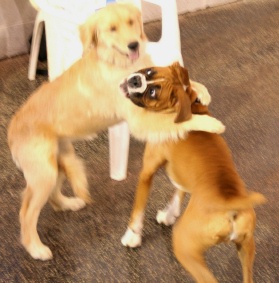 Taking a break from their studies, Lucy and Tyson dance.
You all want your dog to do well. Sometimes they perform obediently and sometimes they do not. And at puppy kindergarten you start to sweat because at times you feel your dog is the only one who will not sit on command, won't come when you call it, or tugs you the opposite way no matter which way you pull on the leash.
And that's why Lil Clark's support was so meaningful to us all. She would assist us and stick with us to make sure we got our dog under control and did what we had to do to make it pay attention to our commands. Of course upgrading the treats from hard biscuits to fine turkey squares did help at times. Tyson became YO-YO when the turkey treats came out.
I sprinted to the rest of the sessions. I sprinted because what I learned and witnessed was amazing.
Lil says give the dog a treat, say a key word ("Yes!") and you'll see instant improvement. The dog will freeze upon hearing the word and look for the treat. The dog could be nipping at your hand, ready to lunge onto the counter, or be gnawing at your favorite chair's leg. "Yes!" stated loudly would freeze our Lucy just like Sesame Street's theme song would freeze our first born as a young baby. Mesmerized is too weak of a description. Just follow up the "Yes" with a little treat and you are on your way to a better behaved dog.
"Sit." You get a treat. "Come. " You get a treat. "Down." You get a treat. And then you get to "Go to bed" and so many other wonderful commands that I found myself a total convert of puppy kindergarten. It is simply the best method to teach your dog and I have Harry (Border terrier), YO-YO (the stud puddle) Lucy and Tyson (a boxer, of course) to prove it.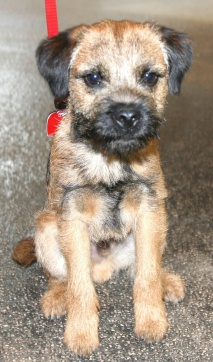 Harry poses for his graduation pic.
My friend Paul Ruocco even trained his dog where to go to the bathroom using this method. I think I will leave that one alone.
So, whether it's adorable, handsome Harry who won the pushup contest, or tough-as-nails Tyson who thankfully has youthful human parents in Ed and Cheryl to help him develop, or YO-YO who didn't check out the other dogs in class, but let them admire his good looks, or our own Lucy who is an adorable, mischievous pup, puppy kindergarten is the tops.
My wife tried using the "Yes" command on me but thus far I have failed. Yet, at graduation I felt whole again as I stood watching one dog after the other gets its diploma and toy.
As the dogs graduated last Sunday, I stood there with my camera in hand and said to my wife, "I am 53 years old and am taking pictures of dogs graduating from puppy kindergarten." Ed Eckert, Tyson's human dad, responded, "You have arrived." And you know what? He was right.
---
May 14, 2008
Sandillo's Love Aids Student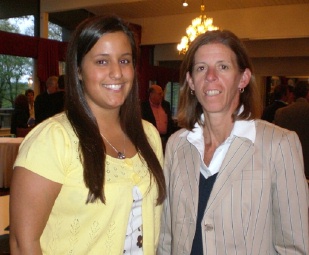 Hamden High senior Alyssa Casertano (left) accepts the Gloria C. Sandillo scholarship award from Laura Sandillo, daughter of the late Sandillo. Courtesy photo
By Tony Mentone
Gloria Sandillo was a stalwart Democrat for many years. Although she could be feisty at times, she built up many friendships because of her forthright attitude and honesty. Sandillo worked for Congressmen Bob Giaimo and Bruce Morrison; she served on various town boards and commissions; and was a member of the Hamden Board of Education as well as a former town clerk.
When she suddenly died last November, Democrats looked for a way to honor her. It was decided that because of her love of education, a scholarship would be established in her name.
At the Democratic fundraiser held on May 9 at the Laurel View Country Club, the first scholarship in her memory was awarded to Alyssa Rae Casertano. She is a senior at Hamden High and will attend Western Connecticut School of Nursing.
When her grandmother was treated for cancer, Casertano was so impressed with the care her grandmother received she decided to become an oncology nurse.
In her essay that she presented to the Sandillo scholarship committee, Casertano stated: "Since I was a sophomore I wanted to be an oncology nurse/practitioner. I believe that I can make a difference in people's lives and that that is why I was put here on earth. I love to help people and make them feel good about themselves. I never want money to dictate my choices in life regarding my career goal especially. I know what I want and I will be more than happy in the field."
Her essay goes on: "My dedicated volunteer service has served as a primary factor in why my life has been impacted the way it has. Rather than spreading myself thin to take part in various types of community service, I decided to commit to two of my passions. When my grandmother was going through head/neck cancer, I started to volunteer in the Father Michael J. McGivney Center for Cancer Care within the Hospital of St. Raphael. That is where she was treated with radiation. She told me how wonderful the staff was -- so special and compassionate … I am certain that they are my heroes and people I would like to be like when I grow up.
"Another thing that's greatly impacted my life is my local Relay for Life, a charitable event by the American Cancer Society. I started walking as a participant in honor of my grandmother. As years went by I got more and more involved. I currently serve as team captain of my team 'Live Laugh Love '08' and the Youth Team Development Co- chairperson on the planning committee of Hamden/North Haven.
Donations can be made to the Gloria C. Sandillo Scholarship by sending to Rose and Tony Mentone, 541 Hill St., Hamden, CT 06514.
---
May 7, 2008
By Sharon Bass
Everyone has finally left Wiley alone. The town. The state (after the attorney general ruled last week that the 2-year-old former stray has a rightful owner). And now it's something else for the mixed Husky, who comfortably resides with local groomer Gabrielle Scirocco.
Monday morning Scirocco said she took Wiley to the vet to be neutered and get the rest of his shots. But he couldn't be fixed. He was diagnosed with heart worm and Lyme disease. And it's not yet known how advanced the heart worm is.
"I'm just beside myself. Every time I turn around, it's something," said Scirocco, proprietor of Hot Diggity Dog on Whitney Avenue. "He's gone through so much already. I don't know how bad this is. Is he going to live? She [veterinarian] doesn't know how serious it is."
Scirocco said Wiley's medical costs, perhaps for life, could be pretty meaty. "If he lives, he might have to monitored and medicated for the rest of his life. My shop's been compromised. I hope it's treatable. I hope he lives," she said.
Upon adopting him last month, she said she knew he had "common" worms (not heart worm), like most strays and animals from shelters. Otherwise, Scirocco said he seemed healthy. "At least he wasn't showing symptoms," she said.
Wiley became an instant local celebrity after the HDN published a story on April 26 about his predicament. Town Animal Control Officers Chris Smith and Steve Gimler had unsuccessfully tried for eight months to catch the dog. A family on Thomas Street had been caring for him all along, and then late last month asked Scirocco to help train Wiley. The groomer fetched the dog, brought him back to her place and all hell broke loose. Smith and Gimler insisted on taking Wiley to the North Haven Animal Shelter, even threatening to arrest Scirocco if she didn't hand him over. Scirocco felt the shelter would traumatize the pup. She had him vaccinated and registered him with the town making her the legal owner. However, state animal control didn't view her as the owner and insisted the dog be taken to the shelter, until Attorney General Dick Blumenthal was asked for his opinion, which put an end to the ordeal.
"He's a good boy. He's just so sweet. Everybody loves him and now he's sick," Scirocco said.
She's waiting to hear how bad the heart worm is. Stay tuned.
---
April 5, 2008
Sharkey Opposed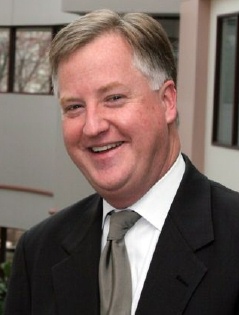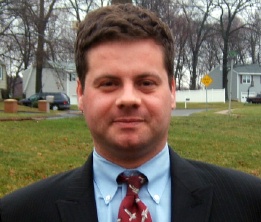 Rep. Brendan Sharkey Matt Corcoran Photo/Sharon Bass
By Sharon Bass
(Disclosure: Matt Corcoran is a Hamden Daily News advertiser. The HDN first learned Friday of his intention to run for public office.)
Four-term state Rep. Brendan Sharkey (D-Hamden) might very well have his first-ever Republican challenge this November. Political newcomer Matt Corcoran, an attorney who lives on Whitney Avenue, plans to take him on.
Corcoran gave Sharkey a failing grade in getting school money from Hartford. And the Republican said he is determined to see the three strikes bill, just killed in committee, become law.
"I don't believe the Hamden taxpayers get their fair share from Hartford. We're getting approximately 50 percent back on the money we send to Hartford," said Corcoran, 31, who was elected to the Hamden Republican Town Committee in February. "All we receive from Hartford are more and more mandates. I feel I can do an effective job working with the Democrats up in Hartford and also with Gov. Rell."
Sharkey said he knew nothing about Corcoran or his intention to grab his seat, but said it's healthy to be challenged. He credited his efforts in helping pass campaign finance reform -- which gives qualified candidates a set amount of public money for their campaigns -- to seeing more people, like Corcoran, run for office.
"My opponent is the beneficiary of my vote that enables more candidates to run," said Sharkey. "I was an early supporter of campaign finance reform, which is in part designed to encourage more candidates to run for office. And if Mr. Corcoran wishes to do that, godspeed."
Corcoran will try to get public financing. He needs to raise $5,000 from Hamden residents to qualify for the $25,000 candidates seeking state office can get. One of Corcoran's campaign aides, Austin Cesare, said a fundraiser is being planned for late June.
It won't be an easy run for Corcoran. Sharkey is a seasoned pol, is fairly well known around town and belongs to the "right" party: In Hamden, Registered Democrats number close to 14,000; registered Republicans, about 4,300. Sharkey serves the 88th State Assembly District, which is all Hamden.
This would be Corcoran's political debut. He is a Quinnipiac Law School grad with a solo practice in Middletown, and a member of the Hamden Chamber of Commerce and the Connecticut Pro Bono Legal Network, a volunteer organization of lawyers who assist the disadvantaged.
Sharkey, also an attorney, first won his seat in 2000 against Republican state Rep. Al Adinolfi (who ran two years later after redistricting created a new seat, and is the only Republican in the Hamden state delegation).
In response to criticism that he's been ineffective in getting Hamden much-needed school dough from Hartford, Sharkey said nonsense. This fiscal year, he said, Hamden received the largest increase in educational cost sharing funding in greater New Haven.
"It's true that this year Hamden is enjoying a 13 percent increase in ECS, largely due to my advocacy on Hamden's behalf," said Sharkey. In '08-'09, he said, Hamden is to get "another 5 percent increase just in ECS. And through my advocacy other grants that Hamden has not had and is getting, such as school readiness [preschool]."
Sharkey said he's working on legislation to allow municipalities to levy property taxes on colleges and hospitals that have been tax-exempt. "There is a lot of interest in considering the idea," said Sharkey, who sits on the Finance, Revenue and Bonding Committee.
"I think it's always healthy to be held accountable to the voters so I don't believe in taking a challenge lightly, but I believe my constituents understand I've worked hard on their behalf and I'm proud of the record I'm running on," said Sharkey.
Corcoran, who moved to Hamden in 2005, said he will work closely with Cesare on the campaign. "I'm very excited. I just love getting involved in politics. Since I started getting involved in the town, it's just been terrific for me," he said.
Local Republicans say they are buoyed by Ron Gambardella's close race against Mayor Craig Henrici last year. Henrici won his first term in '05 by over 8,000 votes. In the '07 race, he won by 651.
"I think it's great that we have someone to run against Sharkey this election because he's gone unopposed. We have a viable, young candidate to give the Hamden voters a choice," said newly elected Republican Town Committee Chair Sarah Morrill. "He seems like he's a very intelligent, well-spoken individual."
Corcoran announced his intention at the RTC's April 3 meeting.
"Particularly coming off the heels of Ron's campaign, it shows that Hamden Republicans are still vital," said Morrill. She noted the party is "actively recruiting candidates to go up against [state Reps. Peter] Villano and Cameron Staples."
Cesare acknowledged it would be a tough race for Corcoran but said it seems Sharkey is losing some of his Democratic support.
"It will be an uphill battle against Sharkey but definitely doable, considering Sharkey's track record," said Cesare. "We see within his own party, for instance at the PTA Council forum in January, that there's frustration about his inability to deliver for Hamden. I see firsthand the implications of Mr. Sharkey's inability to get proper state funding for local education.
"Mr. Corcoran is a fresh face and has new ideas for Hamden and the state Legislature," Cesare continued. "I would hope the Democrats who expressed their dismay at the PTA Council meeting will look to Mr. Corcoran to bring change to Hartford."
Democratic Town Committee Chair Joe McDonagh called Sharkey a "valued and valuable state representative. I think he's done a great job. But I think it's wrong to leave anyone unchallenged and I'm glad the Republican Party is doing that. People pay a lot more attention when someone's running against him."
McDonagh agreed state aid to Hamden is lacking but said it's not the delegation's fault.
"Even though it's hard for us to understand, the delegation that Hamden sends to Hartford truly has increased significantly the state aid for education," he said. "We're still being shortchanged and I don't want to ever indicate otherwise."
---
March 27, 2008
By Sharon Bass
The Hamden Journal would have celebrated its 10th birthday April 1. Instead, it's just announced its funeral.
Publisher Tom Nash said the reason is geography, not money.
"It was on the outer edge of our territory and we wanted to put our resources we were putting into the Hamden Journal into other parts of our newspaper operations," said Nash. "It's one of our smaller papers."
Last fall, Nash's Hersam Acorn Newspapers, headquartered in Ridgefield, bought a chain of weeklies and shoppers, including the Journal, from Hometown Group. Nash said his company's portfolio includes 19 weekly papers in Connecticut, a weekly and a shopper in New York state and two shoppers in Massachusetts and Vermont.
Asked if the Journal was fiscally sound, the publisher said, "It's none of your business. But as I was saying earlier, it was doing fine. It's a smaller paper. The change isn't financial, it's more about our territory."
Hersam's closest paper to Hamden is the Amity Observer.
Kate Ramunni of Hamden was the Journal's first editor, but just for the first three months of its existence. She left to work for her current employer, the Connecticut Post.
"I'm very sad to see that it's gone. I'm disappointed to see that they've discontinued it," she said
"I grew up in Hamden so it was like coming home, covering Hamden. And there was also so much going on," said Ramunni. "There was never a problem finding stories. I was covering the budget, which was just as controversial as it is today."
The good news is there will be no layoffs, said Nash. There is actually just one fulltime Hersam staffer, editor Marla Hoffman, who worked exclusively for the Journal. Nash said Hoffman will edit the Monroe Courier.
He described the Journal as a "traditional community weekly. It was a starting place for beginning editors."
"Hamden's been good to us as a community. It's a large community and virtually impossible to cover with a single editor and be thorough," said Nash. "Over the years we've done a good job in Hamden. The Hamden government has been good to us. We're a legitimate newspaper treated with respect in the community. We're sorry to have to walk away. Sometimes in business you have to make these types of decisions."
---
February 18, 2008
Green Soup in Ham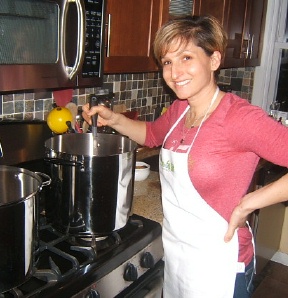 "The Soup Girl" in action. Photo/Sharon Bass
By Sharon Bass
One of Jessica Hazan's first words was "oup." She'd say it when her mother took out the big pot to make matzo ball soup. That was about three and a half decades ago in an apartment in Queens, N.Y.
Fast forward to today in a lovely Hamden, Conn., home. Hazan, a former special ed teacher and mother of two small boys, is making lots of "oup" and delivering the soul-nourishing victual to people's doors. She calls herself (and her new biz) "The Soup Girl."
"I love the chopping. I strive for the perfect chop," said Hazan, 35, who moved to Hamden in 2003 with her family. "I always loved soup. It's a meal for me. It's a perfect meal."
The Soup Girl also cares about the environment. She said she uses mostly organic ingredients and cardboard containers and composts. One of her cars is a Toyota Prius hybrid (don't ask about the other), and on her Soup Girl website she runs a monthly green-tip contest. The winner gets a small "oup."
"What fascinates me is people who don't love cooking," said Hazan as she served this reporter her homemade Thai coconut chicken and Tuscan white bean soups with a side of very plump spring rolls with dipping sauce.
The Thai broth took the ribbon -- rich and so creamy and wonderfully spiced. The spring rolls and dipping sauce were also great and tasted really fresh. Hazan makes the rolls with sautéed mushrooms, ginger, garlic, peanuts, nice chunks of shrimp, cilantro and black sesame seeds wrapped in rice paper. While somewhat dwarfed by the Thai coconut, the bean soup was very good and packed with vitamins.
Hazan changes the menu weekly. There's always one vegan and three other soups -- "I don't do a lot of meat. I use free-range organic chickens and eggs," she said -- as well as spring rolls, salads or chicken burritos. And whatever else strikes her fancy.
"I did chocolate tarts for Valentine's Day," she said. For Presidents Day, "soup that reminds me of old men." Like her grandfather who ate matzo ball soup. And split pea soup, which conjures up the image of "two old men at a diner," she said.
A pint goes for about $6; a quart, $11. Delivery is free. Ordering is done only through e-mail at orders@thesoupgirl.com.
"I always thought I'd be cutting myself short if I didn't pursue something culinary," said Hazan, who claimed to never follow a recipe.
Soup Girl is throwing a tasting party at Curves on Dixwell Avenue on March 5 from 4:30 p.m. to 6:30 p.m. Look for the Thai coconut.
a
a
a
a
a
a
a
a
a
a
a
a
a
a
a
a
a
a
a
a
a
a
a
a
a
a
a
a
a
a
a
a
a
a
a
a
a
a
a
a
a
a
a
a
a
a
a
a
a
a
a
a
a
a
a
a
a
a
a
Custom Index Tabs
Medical Shelving
High Density
Medical Filing