May 16, 2008
Break a Leg, Scalzo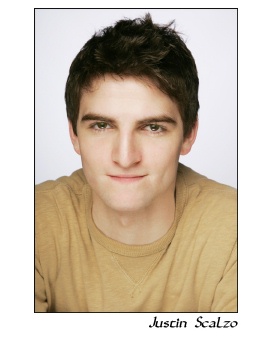 By Sharon Bass
Pretty good chance you'vee seen Justin Scalzo. He's been a regular on the Hamden stage for years. Now at 19, the 2007 Hamden High grad has gotten noticed in the big city of New York, where aspiring thespians often spend decades getting nowhere.
Scalzo appears to have the package to get somewhere: talent, good looks, high enthusiasm, big passion, dogged determination, idealism and a downright great attitude. A production company apparently thought he was the right stuff.
After two auditions, the "Oh my God, it feels so surreal" hometown boy landed a lead role in a TV pilot called "Jersey." He said filming should start in a couple of weeks, on location in New Jersey.
"It's a serious show," said an exuberant Scalzo, who's studying theater at Wagner College on Staten Island. "It's about relationships and how they change over time and how they grow. It's real life, you could say. Real life is funny. Real life is tragic."
Scalzo knows about tragedy. His mom, Bilinda Scalzo, died 13 years ago when he was just 6.
Scalzo's story
The young actor said he got bitten by the bug when he was 9. His Uncle Sal and Aunt Paula took him to the Alliance Children's Theater in West Haven for an audition.
"They asked me if I sang and danced. I said no," said Scalzo, but he was cast anyway as an apparition in the "Emperor's Nightingale."
After that, he grabbed all the stage time he could.
He stayed with the children's theater for six years and -- in what turned out to be quite fortuitous -- stayed in touch with his former director. (More about that in a bit.)
"I had a really good run with them and then I started with the high school," Scalzo said.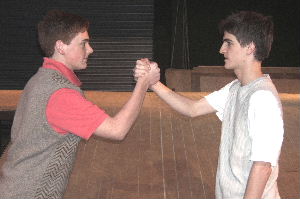 Scalzo (right) in Hamden High's 2006 "Blood Brothers." File photo
At Hamden High, Scalzo worked with theater director Eric Nyquist. He fondly looked back on his years with him.
"Some of my favorite roles with him were Mickey Johnstone in 'Blood Brothers,' Rev. Hale in the 'Crucible,' and I got to end out my career in 'Tartuffe,'" in the lead role, he said.
At the same time, Scalzo performed in several Whitney Players Theater productions, starting in 2004 playing a sailor in "Anything Goes." The next year he was the scarecrow in "The Wiz."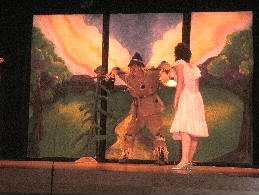 Scalzo, the scarecrow, in a 2005 Whitney Players show. File photo
Also at the same time, Scalzo worked with Julian Schlusberg at the Foote School summer theater camp, where he played among other roles Pippin in "Pippin."
"I'm infested by the bug," said Scalzo. "To have a passion like this, it really just drives me to want to succeed. And I think it's really important to have that drive in this business because you are your business. It's all about you in this business. I look at it [acting] as a really positive escape. Julian Schlusberg always said it allows the audience to escape out of their lives and into another life."
The family
Justin Scalzo is the youngest of four siblings and the only one not into sports. His brothers, Jason and Jarrod, and sister, Marissa, were athletes in school. He is the artist.
"My family is the biggest support, the best fans and they're the most caring people around me. There's a lot of love," he said.
Everyone in his immediate family graduated from Hamden High School, including his parents, John Scalzo of West Shepard Avenue, and his late mom, Bilinda. John is a longtime baseball coach for Hamden Fathers'.
Justin said his dad's girlfriend, Elissa Lupi, a civics teacher at Hamden Middle School, has also made an impression on his life. "She stepped in and definitely contributed to my upbringing," he said.
"I need this show"
Armed with a supportive family and a fiery desire to make it in the biz, Scalzo moved to New York City last year to attend Wagner. Between classes, he reads "Backstage," the weekly publication of casting calls, and goes on auditions. His background has been mostly in musical theater. But Scalzo said he's more into serious dramatic roles now. He's been trained by the Stanislavski method of acting, which teaches students to really feel the role, not pretend.
This is also his first foray into film. "It's funny because my high school teacher Eric Nyquist always said that I would be doing film," he said.
That former director
That former director from Alliance whom Scalzo stayed in touch with? Well, this past January, she -- Carla Carbone Pero -- became his manager.
"She's always been a really big believer in my talent and just a very helpful friend and she knew the business," said Scalzo.
That same month, he said Pero got him an audition for a TV pilot casting young people.
"You know, in their 20s. I went in on my birthday with very little voice because I was sick. I waited in line for about two hours. I went in for a five-minute audition. I left. Six weeks later Carla called and said you'll never guess but you have a callback for 'Jersey.' I went in for the callback and two weeks after that, they called and offered me the role."
That was at the end of April.
What's it all about, "Jersey?"
Scalzo's new boss is 50/60 Productions, based in Morris Plains, N.J. In the pilot drama Scalzo plays "Shea," one of the lead roles.
"He's nothing like me, which is interesting. I look around at the other characters and see some of my high school friends in each of them," he said.
Filming will be on weekends throughout the summer, he said. Meanwhile, in the true method-actor spirit, Scalzo is preparing himself internally. He hasn't yet seen a script.
"Each of us as actors are in our personal character-creation phase and we're trying to figure out what makes these characters tick. That's what I'm doing."
After the pilot is shot, the producers will peddle it. Scalzo said it will likely be bought by a cable TV station.
"It's still very surreal to get this far, this fast," said the young, hungry actor, who a year ago was about to graduate Hamden High.
Scalzo said he's coming home today for the summer. He plans to get a job in town and spend his weekends being "Shea" in Jersey.
---
April 7, 2008
The women kept their word when they billed their April 5 concert: "Indulgences: an evening devoted to the good things in life." For that it was. A night of sinful eating and beautiful and whimsical live music.
The Hamden-based Another Octave: Connecticut Women's Chorus held its spring concert/fundraiser last Saturday at the Unitarian Society on Hartford Turnpike.
Prior to the 8 p.m. concert, supporters were treated to wine and coffee, baked brie, beef kabobs, tiny fruit tarts and chocolate everything from pastries, cookies, cakes and a chocolate fountain for strawberry dipping. There was also a silent auction.
While patrons munched, chorus members took turns entertaining the crowd with solo acts. Lydia Smith-Franks, the artistic director and Hamden resident, played a lovely flute. Her assistant director is Melinda Walwer, also of Hamden. The chorus has been around since 1989.
Food and romance dominated Saturday's performance. The 14 sopranos, including retired Assistant Library Director Judy Lhamon of Whitneyville, and 17 altos drew a nearly packed and very friendly audience. Many of the women knew each other as well as the chorus members.
The singing was superb. The women put a lot of theatrics and humor into their repertoire. And the result is one entertaining, high-spirited evening.
Keeping with the "Indulgences" theme, Another Octave performed such songs as "Banquet Fugue," "I Want it Now," "Java Jive," "Candy" and "Embraceable You."