May 27, 2008
Taxpayers Deserve Vote on Police Station
Over the past several months, the town of Hamden has been abuzz about the Henrici Administration's plans to construct a police station at Memorial Town Hall. The mayor's removal of a vocal critic of the plan from the Town Building Committee, a perceived lack of consideration of alternate sites and criticism of the preliminary building plan itself have been voiced throughout the community.
On the other hand, supporters of the plan contend that the project will revitalize downtown Hamden and return Memorial Town Hall to its rightful place as the focal point of the town center.
While this debate unfolds, solutions to these problems can also be found at the state level, which would provide citizens with a greater voice in the project.
Given that the new headquarters will be a significant expenditure, the people of Hamden deserve the opportunity to vote on whether such an expense should be incurred. While under very limited circumstances state law permits taxpayers to bring a lawsuit to halt a bond issue, a more democratic way is available.
In February of this year, Gov. Rell proposed a law that would require any municipal property-tax increase exceeding 3 percent to be put before town voters through a referendum. Predictably, state Democrats belittled this commensense approach to controlling escalating property taxes. I wholly support Gov. Rell's plan and believe that a referendum would go far in giving Hamden taxpayers the voice they deserve.
Not only would the taxpayer have the ultimate say in any major construction project, but local officials would also need to earn the support of the people in formulating major projects, like the police station. It is difficult to imagine that critics and the public at large would be excluded from the debate if they held the ultimate authority on the project.
The people of Hamden deserve better and a referendum requirement on bond issues would return the spending power to where it belongs -- the taxpayer.
Republican Matt Corcoran is running for the 88th State Assembly District seat this November. The Hamden resident practices law in Middletown.
"Guest Column" is open to readers of all ages. It's a place to voice opinions on virtually anything. Click here to begin speaking your mind.
---
May 22, 2008
Michele Helou
The defense of the current plans for a police headquarter addition at Memorial Town Hall, including the mayor's open letter in the May 8 Hamden Chronicle, was overwhelming. Telling the straight truth takes relatively less ink and effort. Getting the truth, now, that does take some work. Here's what I know.
State Historic Architect Susan Chandler has reviewed and given preliminary approval for a $200,000 Historic Restoration Grant for the existing Memorial Town Hall building. This money is allocated for exterior masonry repair and elevator installation. She has not "endorsed" this "project" and Mayor Craig Henrici should retract his inaccurate statement.
The Kaestle Boos feasibility study recommended site No. 8, the northeast corner of Dixwell and Mather streets, for a new police headquarters and produced a schematic site design.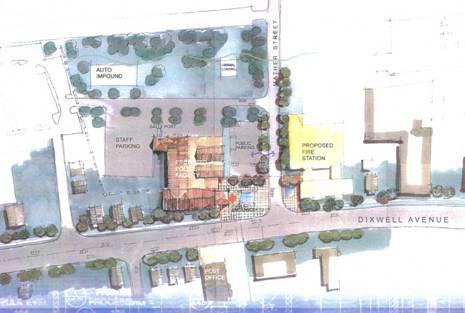 Site #8 – Dixwell & Mather Streets – The Kaestle Boos Recommended Site for Police HQ
The KB study site No. 2 is the current police site on Dixwell Avenue and is described as starting approximately 300 feet from Whitney Avenue. Follow-up studies completed by Harrall Michalowski & Associates (below) did look at taking down the existing HQ and expanding the available acreage by purchasing the adjacent Fezza Building and School Street Properties. Neither a Town Hall addition nor destroying the historic Miller Memorial Library building was ever considered an acceptable option.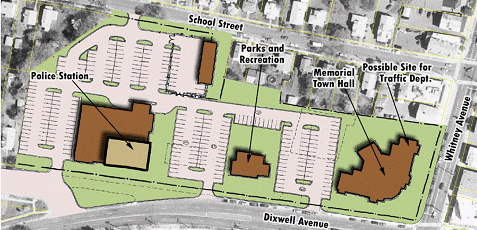 Harrall Michalowski & Associates – Kaestle Boos - Site #2 Town Center - Follow-up Study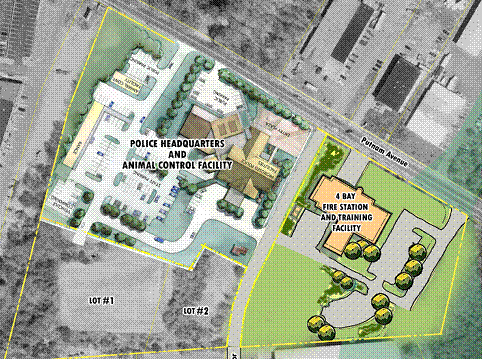 Harrall Michalowski & Associates - Putnam Avenue Recommendation
The HMA study also looked at the Putnam Avenue site for both fire and police (above). Any of these three options would be infinitely superior, more expeditiously built and more affordable than the current proposed plan. The mayor and his team have ignored all of these recommendations.
The reason for studies and discussing options is to move forward with expensive and complex efforts in the smartest, most cost-effective way possible. No independent study has ever proposed ripping open a wall of Memorial Town Hall, pasting on an addition, upgrading a 1924 building to meet stringent police building code standards, bulldozing half of town center for an expensive parking garage, and effectively spending what looks like over $10 million extra to salvage 6,000 square feet of Town Hall space. I don't know why, perhaps because it is totally ludicrous.
Ninety-eight out of 99 architects surveyed would think the proposed addition will be ugly and desecrate our national landmark. The 99th is the architect who is designing it with a $2 million fee. Beauty and ugly are not always subjective. This applies, of course, to architecture as well as to politics.
The request for proposals for a construction manager does not ask for a full competitive bid or guaranteed maximum price and it is worded so that it may not be possible to add this requirement. Even after the town spends $1M to finalize drawings, we still won't know the cost. We'll know the cost after it's built. This kind of construction management arrangement is how a $25 million project climbs to $50 million. Hamden has no guaranteed revenue from state or federal sources -- the guaranteed revenue is from the taxpayer. Since everyone knows there's no limit to what the council will spend politically, brace yourself.
The process is closed. The public was not allowed input or comment until April 28 -- after the site selection and design were completed. The building committee meetings are open for public viewing only -- never public comment or suggestion. When an acquaintance of mine, an architect with 20 years of building experience, saw constructability problems and wanted to ask questions at the March 27 Town Building Committee meeting, he was told to sit down. In general, it seems, when anyone on a committee or commission questions the administration's intentions, they are removed. This intimidation, which often extends to people's livelihoods, dissolves the credibility and invalidates the professional judgment of everyone involved -- including, in this case, the mayor's own staff and members of the Town Building Committee, the Energy Use and Climate Change Commission, the Planning and Zoning Commission and the Historic Properties Commission. Public welfare and safety are not protected. There is no check, no balance, no democracy.
As many are starting to understand, this project is not easily or expeditiously build-able and is not affordable. Going forward is disrespectful to Hamden taxpayers and our police officers alike who have been patiently waiting for their building and given only this one awful option.
The mayor can spin it all he wants. His office and the man on deck for it are arrogantly flying blind and they want no one's guidance. And there's a one million dollar gamble that they will crash.
Michele Helou, Associate AIA (American Institute of Architects)
LEED AP (Leadership in Energy & Environmental Design Accredited Professional), is a Hamden resident and an outspoken critic of the current police plan.
"Guest Column" is open to readers of all ages. It's a place to voice opinions on virtually anything. Click here to begin speaking your mind.
---
November 26, 2007
You Can Write About Anything: Hamden
The following poem was written by Jane Heil, a Hamden native who now resides in New York City.
1. Grading the grade-school teachers
You can write about anything; didn't you know? That's the secret behind the wall of secrets. Putnam Avenue Grammar School with its gray floors In Whitneyville, which was part of Hamden, in Connecticut. 1945: the dusty school yard, Miss Joslin the imposing, pouter-pigeon principal With her jangling keys; Gentle Miss Pedersen for kindergarten, Miss Zeek, who was cruel, and made Kathy Johnson wet her pants in class; Miss McVery, Miss Morley, Mrs. Geer with a red chignon And long red nails that could dig deep into your arm If she needed to make a point. Mrs. Lockett, of World History fame. Miss Danzilio, a little bow-legged, but a whiz in math. Mr. Allen, so full of jokes and "Say Dough-Mahj." What was that? We didn't have a clue: too bad. Mr. Beecher, blond and reticent, old Connecticut name. Miss Hamerman, my favorite, who let me write silly school plays And let the class perform them. I read my Pocahontas satire to the class. She said, "You ought to read this to the school yourself, Jane." Instantly, her likeness claimed an honored place
In the vast museum of my heart.
2. Rapin' Ralph
Ralph, who in eighth grade after school Lured me to his empty two-family house on Augur Street And tried his best to rape me--not that I knew the word Or what it meant. Do you ever think of that day, Ralph, Selling your cars in New London now, the desperate wrestling, My fear, when I realized this wasn't just a game, That you aimed to do something horrible to me, Even though that stupid smile stayed pasted on Your handsome, empty face? That ended our little group of friends: you, me, Robert, Linda. We could never climb to the blueberry patch on Mill Rock again
And pick berries, and sit in the sun and try to smoke.
3. The Basement Darkroom
The intensity of it all. The poetics of space remembered. The interior of the house, each tiny room, The basement where Dad made a darkroom for me, His photographer daughter, developing at twelve. The ancient trunks and dresses there. The delicate blue satin Dance dress from Mom's other life, before us. The pink chiffon skirt; I loved it so much. I wore it to third grade because I just had to, In spite of Miss Morley's warning. She made me sit in the corner all afternoon just because I loved dancing, and chiffon,
And the way it made me look when I twirled and swirled in it.
4. The Flowers he Planted
And outside, the tiny flowered rows: pansies, Iris, tulips, lily of the valley, Forsythia, all planted by my father To beautify our path. I hold the beauty and the trauma All together in my mind. I will have to carry them seething To my grave, or until Alzheimer's gets me
Like it got my mother forty years after we left there.
5. Naming Traumas
Shall I name the traumas? Well, there was Ralph, of course, And Miss Morley, Pal Lynch and her gang of girls: Seventh-graders accosting me in the stairwell, Saying I was too friendly with the boys, stunning me into silence. I was trapped there, cornered, ambushed. Twenty years later She phoned. She was friendly, pleasant, A daughter in tow, no husband, ever--and that was a big Catholic deal
In 1970.
A mixed bag.
A dog, hit by a car on Augur Street, There in the street, dying. I edged a little closer, realized suddenly It was Chrissy, our own black cocker spaniel. Horrified, I raced home. Why didn't I stay, speak a few kind words to a dying dog? I was young then, and easily frightened. Our favorite small jungle, at Lamkin Street; the vines we swung on And the tiny hut we built to crawl into. They were building a house there; the workers had left a Wheelbarrow at an acute angle. Ann Cummins stood above us, me and my Little brother and, smiling viciously, she pushed the wheelbarrow Over, onto my brother's hand, crushing it. Is there such a thing as an evil child? I wonder, even now. I hear his cries as we run to our house And the three operations that weren't going to help. And my guilt; he was my little brother. These things happen. Mothers aren't always there. Children sometimes
Do these things. His hand was crushed forever that day.
6. Giles Street
This poem keeps going on. It's about a town And a school and a neighborhood, a hilly street of small houses (Small at the bottom; larger at the top): Italians, Danes, Poles. I see all those houses in their places on my street, And the different families in them: The man who beat his children, The German-Jewish refugees, The Marionis, the Capronis (he was a farmer, really. Later, he bought a farm in Mt. Carmel, and died When his tractor hit a rock and flipped.)
The soda magnate.
The Yankee child molester who had a famous ancestor, A famed Nineteenth-Century minister, A major guy in Puritan New Haven, Backbone of the city,
A big mucky-muck at Yale.
The two old sisters, The physicist with the slightly Nazi wife, The good-looking Jewish dentist, The Hispanic physician. Quite a distinguished group: a little U.N. I remember every face,
Every child, and nearly every parent.
Mrs. Marioni, who was very kind to me, And gave me the run of her house. She and her husband always fought. "He married me for my hips," she told me. What could that possibly mean? She's ninety-one now, living in a retirement home
In Hamden. I should visit.
7. Walking to School
The path to school. I walked it four times every day. I could take Putnam Avenue Or Augur Street, and any of the short neat streets that formed a grid. I could stop at the penny-candy store with the two kind owners, Or not. I saw them on vacation at the beach one day, and was distressed: what right had they To come from behind the counter and take a short vacation? child's mind Needed them in their proper place, in the store forever, Like they are now. Where was I? Oh, the town. Our little section of it. The hills, the predators, the kindly neighbors, The sense of life beginning. The impatience of it all. My father saying, in an angry voice, "You are much too sensitive," and me not writing any poetry
For fifty years or so. Didn't want to be too sensitive, after all.
Now at sixty-two I'm making the attempt. You see what happens: there is a rush, a flood An outpouring, like the wild torrents of rivers in March. Here is mid-century Connecticut that was dammed up, Trapped in wordless memory all these years. I try to tame and shape it, Try to remember that you can write about anything: My father, the flowers, the school, the rooms, The children, the rapist, the paths one took, The teachers every year, the shape of a street in the '40s and '50s The kind of a neighborhood In one of the towns
In Connecticut.
-- Jane Heil 2002
"Guest Column" is open to readers of all ages. It's a place to voice opinions on virtually anything. Click here to begin speaking your mind.