Scenes from Summer Camp
..................................................
Hamden kids are communing with nature, creating arts & crafts, swimming, taking field trips, discovering the laws of science, boning up on sports, performing skits, learning tae kwon do, making new friends, finding old pals and more at the many summer camps around town. The HDN is capturing moments of these local campers in action.
..................................................
... Stories and photos by Betsy Driebeek ...
........................................................
July 13, 2006
Brooksvale Nature Camp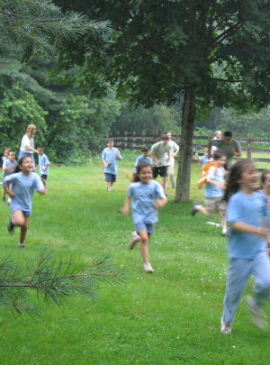 Counselors and campers pretend to be horses.
Imagine a 400-acre classroom filled with native wildlife and plants where trails and ponds await the explorers' feet and curiosity?
Naturalist Tom Parlapiano, known as "Ranger Tom" to the campers, said the Brooksvale Nature camp offers just that. It introduces children to the natural things that live there. Many creatures found on hikes are brought back to the meeting area for further study, and then released. The camp is one of many run by Hamden Parks & Recreation.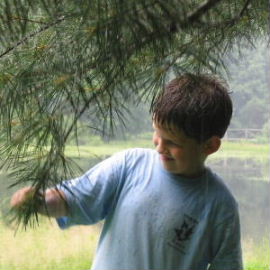 Liam Driscoll gives himself a "nature" shower by shaking branches.
Parlapiano gave a lesson on the little brown bat yesterday. Janet Lavorgna, wife of park ranger Vinny Lavorgna, talked about frogs and their enemies. The children pretended to be frogs while Lavorgna became a hawk or snake and tried to capture them. Afterwards, during a light drizzle, she took them on a short hike to the park's farm area.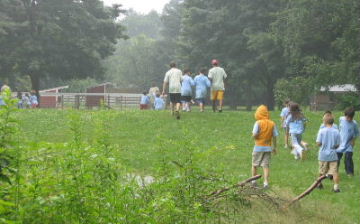 Hiking down to the domestic animal yard.
Wednesday was the sixth day of camp for the 6- to 8-year-olds. They were asked what creatures they had seen on their hikes. One by one they answered: sheep, a hawk, lots of toads, tree frogs, bullfrogs, a ringneck snake, a garter snake, minnows, a water scorpian, turtles, tadpoles, dragonfly larvae, wild and domestic rabbits, a woodchuck or groundhog and spiders.
For more information about Parks & Rec camps, call 287.2579.
.........................................................
July 15, 2006
On the final day of "Rockets and Robots" camp, it was time to launch the rockets the kids had created during the week. Counselor Kristin Corsino told them the rules: "Keep your distance around the cones, and only the launcher chases toward their own rocket for retrieval."
The camp, held at Quinnipiac University, is run by Mad Science of Fairfield and New Haven counties.
When camper Alessandra was ready to have her rocket launched, the children counted down from 10, as usual. But when they got to "BLAST OFF," nothing happened. While the rocket and launch equipment were being tweaked, the kids hung on to "two, two, two, two, two," waiting to say "one, blast off," again.
After Alessandra's eventual and successful launch she said, "That was great!"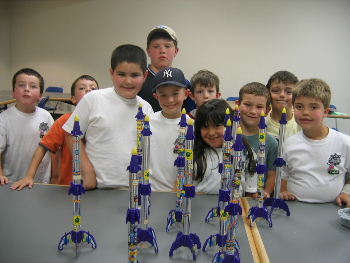 Besides creating rockets for launch day, the campers created their own galaxies and cooked chocolate and graham crackers with solar power. They said they learned that rockets only blast off with fuel, some rockets have parachutes and all planets rotate around the sun.
Asked what they learned in robot class, the kids said: "Robots can be remote controlled." "Robots can be controlled by sound and by touch." "We had a soccer robot that when you pressed a button a ball came out and when you pushed another button the robot went forward and back." "When a robot hits walls it backs up."
.........................................................
July 17, 2006
Little Dragons Senior Camp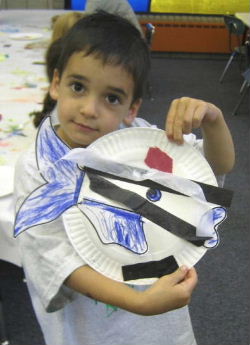 Jack shows off his fish of a plate.
Fifteen campers, ages 3 to 5, were asked what they like best about Little Dragons Senior Camp. Most popular answer? "P-L-A-Y-I-N-G."
Held at Shepherd Glen School and run by Parks & Rec, the camp squeezes a lot of activities -- as well as "playing" -- into the three half-day weekly sessions.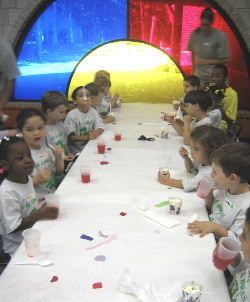 Jell-O time for the seniors.
During one recent morning, the senior campers were seen working at three craft tables, making sand art, paper plate fish and colorful, three-dimensional collages. When done, they had play period. But soon enough it was time to wash hands and snack on multi-colored, multi-flavored Jell-O topped with a spritz of whipped cream.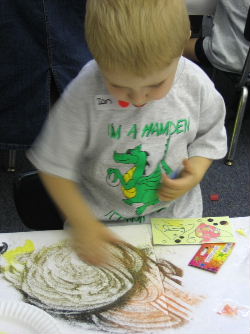 Ian creates sand art.
Next, the children went to the gym to meet John Bashta of nearby Bashta's Martial Arts. He comes in weekly to introduce the kids to tae kwon do. Bashta led them in stretching before they proceeded to do some kicks and shouts. His instructions were gentle and humorous.
Games, water activities, science adventures and music round out the playtime for these little campers.
.......................................................
July 18, 2006
About 200 Green Dragons made their way to the Shepherd Glen playground on a 90-degree July day. There were sunny and shady spots and a "counselor Shawn with a hose" spot.
The third- through fifth-grade campers jump roped, played baseball and basketball and straddled monkey bars. However, the one thing that was happening all over that playground was friendships.
Camper Scott flat out said, "All my friends are here."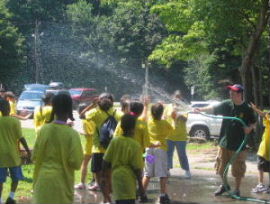 Counselor Shawn's hose spot.
Asked what their favorites are at the Parks & Rec camp, Jen said she liked the field trips, especially the ones to Lake Compounce, the Bronx Zoo and Ocean Beach Park.
Tavia liked the hip-hop dancing.
Katie liked swimming.
Mike liked kickball and knockout -- a form of basketball.
And Kevin liked softball.
"The counselors are very nice and they really understand us. They act very mature for their age," Kyreisha said. "They are not just doing this for the money, they really enjoy what they are doing."
.......................................................
July 21, 2006
When 130 coed campers entered the Quinnipiac University Athletic Center one recent morning they grabbed a ball -- base, basket, nerf, foot, soccer -- and joined a group or played solo. There were also frisbees and hula hoops. It was free time in an open space the size of four gymnasiums until "Coach" Bill Mecca blew his whistle to begin another day at the All-Sports Academic Camp.
It began with a field trip to play miniature golf. The 7- to 9-year-olds played nine-holes, the 10- to12-year-olds, 18.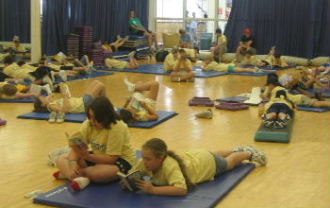 After golf, the campers had lunch and then it was time for academics. Children retrieved books and journals they brought from home and went into the "quiet room" for about 45 minutes. Younger kids who needed help with reading went into the "semi-quiet room." Then there was 15 minutes of open mic time, where campers could talk about what they read -- or tell a joke.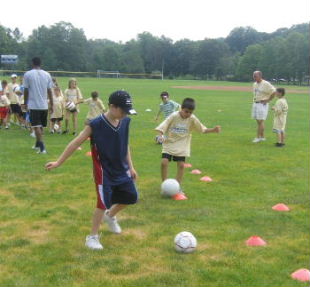 The camp offers baseball, softball, field hockey, soccer, frisbee, tennis, basketball, lacrosse, track and field, cheerleading and hip-hop dancing.
........................................................
July 24, 2006
Having just recovered from Hawaiian Day, Parks & Rec Munchkin and Rascal campers were celebrating Mexican Day. It was part of "Around the World at Camp" week at Ridge Hill School.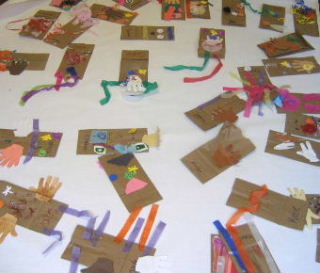 About 200 campers crafted their own piñatas out of small paper bags using tissue paper, glitter, crayons, rubber shapes, hand cutouts and glue -- lots of glue. Some bags were actually glued shut, which made it hard for counselors to drop in peanut-free treats.
The Rascals listened to a book about the Mexican and Latin American cultures. A few children brought in sombreros from home, ready for the requisite Mexican Day hat dance.
Afternoon snack was a big hit -- nachos and salsa. OK, some of the Munchkins ran to the water fountain after tasting that first bite of salsa, but others really scooped it up.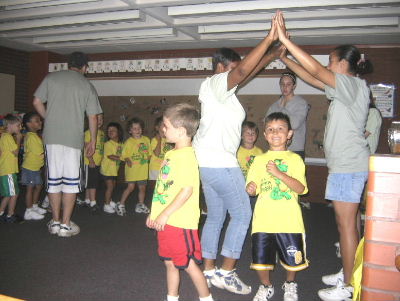 Going through London Bridge.
.......................................................
July 25, 2006
The Whitney Workshop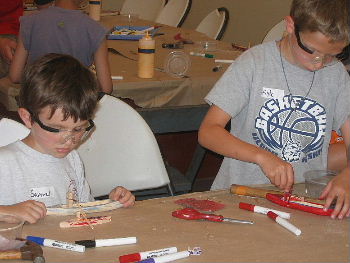 Samuel and Kyle work on their cargo boats.
The sky was blue, the breeze was slight and the humidity was low. It was a nice day for a cruise. Ah, but having a boat would help. Kids attending "The Art of Toy Boats" and "Paint and Paddle" at the Eli Whitney Museum were taking care of that boat detail with their own two hands.
The Eli campers, who were 6-8, each got little wooden boats to decorate. With sandpaper and glue, they went to work. When they were done, they wrote their names on the bottom of their boats along with the name and telephone number of the Eli Whitney Museum.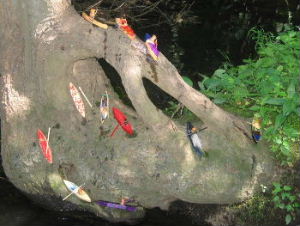 Little handpainted boats about to float downstream.
It was time to set them free. In a calm area under the covered bridge, the tiny boats were released down the Mill River and perhaps be found by some lucky child farther downstream.
While their first creations disappeared, the kids went back inside to make another -- a cargo ship with lots of neat shapes to choose from. This one would go home but not before having a go at the museum's outdoor water lab.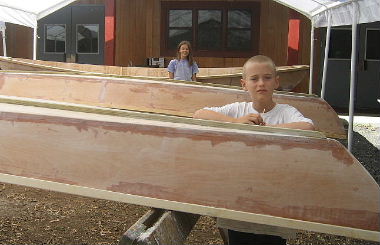 Katie stands in front of her boat. Tyler stands behind his.
In another area on the museum grounds, boats were being built by kids12 and older. These boats would not only end up in the Mill River, but so would their builders who would be sitting inside of them. Instructor Mike Dunn said each boat comes with a lifetime guarantee.
Tyler, 12, said he came to the workshop because "my family lives near the water, and we don't have a boat so I just figured ..."
.......................................................
July 27, 2006
Little Dragons Junior Camp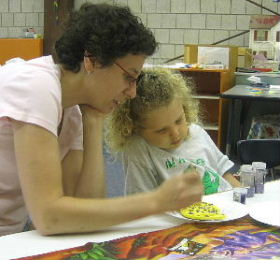 Cynthia and Sophie Van Duin.
Camp isn't just for kids at Parks & Rec's Little Dragons Junior Camp. These 2- to 4-year-old campers team up with their adult "camp-anions" for most activities.
"I love the crafts," said Cynthia Van Duin, who accompanies her 3-year-old daughter, Sophie, twice a week. "There's glue, paint -- let them go wild. We just don't do that at home."
And wild the children went one recent morning-- with glitter. Pouring more glitter on their glue-dabbed papers than the glue could possible hold. Adults and children were sparkling from head to toe with tiny specs of the shiny stuff and everyone, save the oblivious kids, was talking about it.

"The fact that moms participate, that's why we chose this camp. There is nothing else to do in town that's 'mommy and me' during the summer. Also, it gets her used to being with other children that are not her brothers," Van Duin, said.
The adults joined their campers for circle time and songs, free play and snack.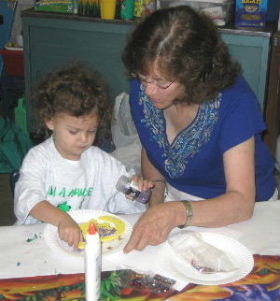 Adrianna Puklin and her grandma Geraldine Curulli.
Geraldine Carulli, grandma to Adrianna Puklin, almost 2, said she was also glad her granddaughter got to be with other children while still keeping in close proximity. At camp, Adrianna loves to dance and play outside and in the pretend kitchen, Carulli said.
......................................................
July 31, 2006
The prominent ramp inside Ridge Hill Elementary School served as a great track for Grand Prix racing cars built by kids at the Science Adventures "Physics Grand Prix" camp, offered in conjunction with Hamden Parks & Rec.
"Every piece on the cars had a little science story. The most important piece was the wiring," said counselor Sharon Papcin. "Most of the children [ages 5-11] did all the wiring themselves. They learned about closed circuits and open circuits."
While waiting for their racing heat, the campers worked at two pit stops. In one, they were blowing up balloons and attaching them to small plastic cars. The released air of the balloon acted as an engine, sending the cars zooming. In the other pit stop, small electrical cars were racing on a track complete with loop-the-loops. Papcin said both pit stops demonstrated Newton's law that "for every action there is an equal and opposite reaction."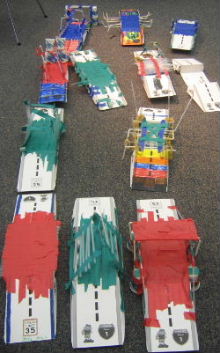 Campers also built automobile bridges (in picture above) out of cardboard, straws and tissue paper. Although they learned about beam, suspension and arched bridges, many children said they got creative and placed more importance on beauty than function. The bridges were on display for parents to view after they cheered on the racers.
......................................................
August 1, 2006
Camp Mountain Laurel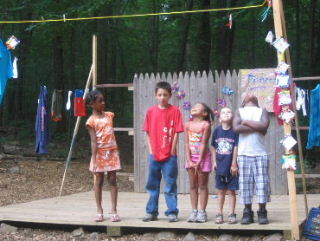 Campers on stage: "Whatchalookinat?" "I don't know what you're lookin' at, I just have a stiff neck."
It was dinner and entertainment night at the YMCA's Camp Mountain Laurel, hidden in the woods off Downes Road.
The weather was perfect for the campers and their families to eat outdoors. Afterwards, some kids took their families around the grounds to show them where daily camp activities take place. Others played impromptu games of basketball and volleyball.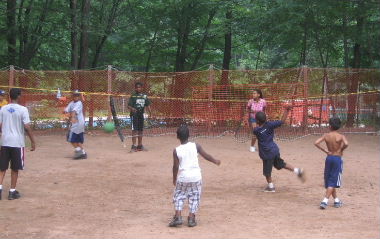 Then it was show time in the outdoor amphitheater. With the help of theater counselor Kathi Grassi, the campers had prepared skits, dances and songs.
The audience seemed amused by the "Bubble Gum," "Doctor's Office," "Elevator" and "Whatchalookinat" skits. The "Camp Mountain Laurel Idol" had two competing dance teams. One did the "Cha Cha Slide," and the other a country-line dance. The youngest kids performed the "Boogie Woogie Washerwoman," a song-and-dance number.
For the grand finale, campers, counselors and camp director David Freedman gathered on stage to sing the Camp Mountain Laurel song.