How Sweet It Is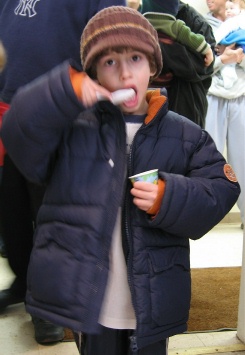 Five-year-old Zachary Hazan of Hamden enjoys his cold maple treat.
Story and visuals by Betsy Driebeek
Every year, folks gather at Brooksvale Park in early March to take part in its maple-sugaring day. On that day, they learn the history of collecting and cooking maple sap and watch how it is done today.
March 11 was the park's eighth maple event, which drew about 105 people. As is customary, Ranger Vinny Lavorgna entertained the young and old with a story about a Native American hunter, that might have occurred about 8,000 years ago right here in New England.

Click arrow to hear ranger Vinny Lavorgna compare store-bought syrup with Brooksvale Park's natural stuff.
The hunter, frustrated at not being able to catch a deer for dinner night after night, threw his hatchet into a nearby tree. A short time later it was discovered that something sweet was flowing from the hole made by the hatchet.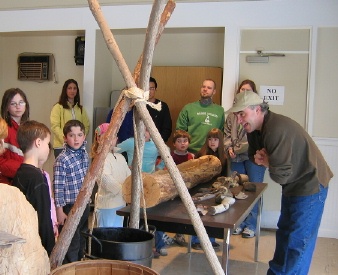 Ranger Vinny engages the kids as he takes them back in time.
The Native Americans learned to heat the liquid, or sap, in log troughs with hot stones that evaporated the water and extracted the sweet-tasting syrup.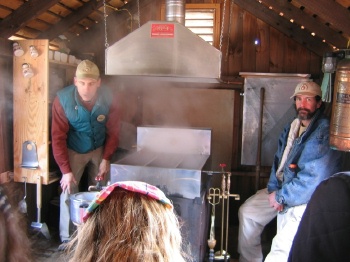 Ranger Tom Parlapiano, hidden by the steam of boiling sap in the sugar shack, explains the process to the group. Brooksvale Park's own sugar master Clay Ruck is at right.
The tree that the hunter nailed was a maple, of course, and Brooksvale ranger Tom Parlapiano pointed out that there are many types of maple trees, but the sugar maple, found only in New England and bordering Canada, has the highest concentration of maple sap -- 98 percent water to 2 percent sugar.
You may wonder why sugar occurs in the trees. According to Parlapiano it is the trees' food, obtained via photosynthesis -- the process made by water and carbon dioxide when taken in by leaves in the presence of solar energy. "And luckily the leaves exhale oxygen," Parlapiano said, "or we wouldn't be here to make the maple syrup from their sap."

Ranger Tom pours fresh sap from a tree into a collection bucket, which is immediately brought down to the sugar shack for some cooking.
Sap can only be collected three to five weeks a year. "This is the only time the sap is made of only sugar and water," the ranger said.
It's really last year's sugar that has been stored all winter in a frozen state at the base of the tree. As it thaws it flows upward giving the leaves energy to pop out so they can take in more sun and make more food. "It's the trees' breakfast," Parlapiano said.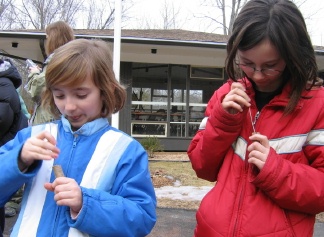 Spring Glen sisters 7-year-old Adrienne and 10-year-old Gabrielle Daur attempt to hollow out pieces of staghorn sumac, which were used as sap taps by Native Americans.
Brooksvale Park has buckets and taps connected to 40 sugar maples. The sap that runs from those trees is collected daily and brought to the park's sugar shack to be boiled.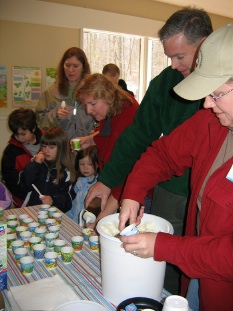 Friends of Brooksvale Park members (right to left) Kirsten Walker and Jim and Gail Traester dish out the maple. A mother from Wallingford stands to the left waiting her turn.

Visitors were treated to a sweet ending of ice cream drizzled with Brooksvale Park maple syrup, bottled just the night before. "It's the freshest available," said Kirsten Walker, a Friends of Brooksvale Park member who helped serve the treat.


When ranger Parlapiano asked visitors how to identify a sugar maple, he was given these answers: leaves, bark, buds and the color of the twigs. Watch as he reveals the real secret, a secret shared by only three trees: the maple, ash and dogwood.