Arts
September 15, 2006
Hamden Homeowners for Tax Relief member Helen Blitzer composed a little tune after the Legislative Council voted down a property revaluation phase-in on Sept. 5. She entitled it, "We're Gonna Vote Council Members Right Out of Their Jobs," and sent it to the HDN.
(Sung to the Tune of "I'm Gonna Wash That Man Right Out of My Hair," from "South Pacific.")
We're gonna vote Council Members right out of their jobs
We're gonna vote Council Members right out of their jobs
We're gonna vote Council Members right out of their jobs
and send them on their way!
They taxed and spent us homeowners right out of our homes
They taxed and spent us homeowners right out of our homes
They taxed and spent us homeowners right out of our homes
because they didn't care!
(Refrain):
We don't have Begina's oodles of money
Her salary's larger than Vice President Cheney's and that's not funny
Bloated education budget has wiped us out -- Sonny!
Let's remember those legislators who didn't care at Election Day
Then they'll learn that not caring about constituents doesn't pay
Make a list of them and vote them OUT -- don't let them stay!
Our votes will drive them away!
So let's vote Council Members right out of their jobs
Sent packing by impoverished homeowner mobs
We're sick and tired of by taxes being robbed
Let's send them on their way!
---
September 13, 2006
Not So Odd, Just Women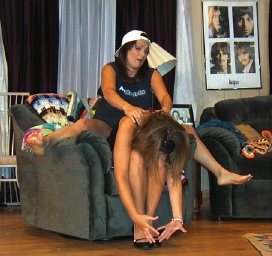 Annie Lisa tries to calm down Maureen Lyden with a neck massage in a hilarious scene of Whitney Players' "The Odd Couple."
Story and pictures by Sharon Bass
In 1985, playwright Neil Simon debuted his gender-flipped version of "The Odd Couple" on Broadway. His original story, which premiered on Broadway in 1968, is about two divorced men -- a fastidiously neat hypochondriac and a sports writer who uses the floor as a garbage -- trying to live with each other's idiosyncrasies in a NYC apartment. Simon changed little in his female twist. The plot, the characters are nearly identical.
Made sense. He won a Tony for the stage production, which starred the great Walter Matthau and the inimitable Art Carney. In '68, it was put on the big screen, again with Matthau teamed with one of the finest comedic actors, Jack Lemmon. It worked. It worked incredibly well. No matter how many times you saw it, you laughed a lot.
That's what I did last night while watching a dress rehearsal for the Whitney Players Theatre womanized "Odd Couple," at Thornton Wilder Hall.
Annie Lisa plays Olive Madison, the slob. Lisa's throaty voice heightens her terrific sense of humor. She is really funny. And moves naturally around the stage, never looking self-conscious.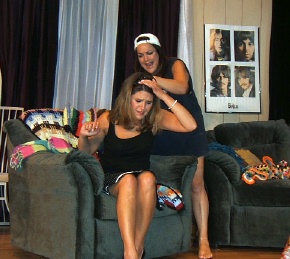 Maureen Lyden as Florence Unger is a burst of crazy, frantic energy. Her husband just dumped her and she is on the verge of a pretend suicide. Lots of good jokes about that. She comes to her friend Olive's house for comfort and the two total opposites wind up living together. And the rest, as it is said, is history. (Except for those who don't know the story.)
It's a lot of laughs and shouldn't be missed. The show opens tomorrow at Thornton Wilder at 7:30 p.m. and plays through Saturday. On Sunday there is a 2 p.m. performance. Tickets are $10/advance, $12/door. FMI, call 281.6007.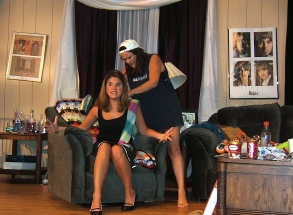 Cast Credits
Maureen Lyden (Florence Unger) is from Hamden, graduated from Ithica College, teaches violin and currently goes to St. Joseph's for grad school. She has starred in several Whitney Players productions: Meg Hardy in "Damn Yankees," Irma/Bonnie in "Anything Goes" and Addapearle, the funny witch in "The Wiz."
Annie Lisa (Olive Madison) is from Ansonia, a Realtor and mother of a 10-year-old. She's an Albertus Magnus College grad, sings in a rock band and starred in the Whitney Players "The Wiz" as Evillene, the wicked witch.
The girlfriends:
Jenn Buonfiglio (Renee) of Killingworth
Tracy Barletta (Sylvie) of Hamden
Sheri Levson (Mickey, the cop) of Hamden
Melissa Waterbury (Vera) of North Branford
The guys:
Edmund Duenkel (Manolo Costazuela) of New Haven
Paul Falzone (Jesus Costazuela) of New Haven
Crew includes assistant director Justin Scalzo, stage manager Sandy Anagnostakis, and Julia Morrow, Almariet Palm, Katlyn Rapini and Jodie Levson, all from Hamden. Lighting, Greg Downing and sound, Kevin Downing. And, of course, the dynamic director, Cindy Simell-Devoe.
---
August 30, 2006
Heavy Hate Draws Store-ful of Fans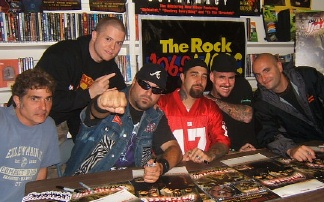 Exile on Main Street owner Al Lotto (far left) with hatebreed.
Story and photos by Sharon Bass
hatebreed's message, uplifting or dark? Depends on the reference. Fans of the Connecticut-based hard-core, heavy metal band say the music brings hope. However, after reading hatebreed's lyrics, one might opine otherwise.
"They're really down-to-earth guys," said Rachael Markel, 20, of Durham. "They're positive music," said her companion, Dan Carey, 21, also of Durham. They and over 200 other hatebreed lovers crammed into Hamden's Exile on Main Street yesterday, where the down-to-earth guys were autographing copies of their fifth album, "Supremacy," just released Tuesday.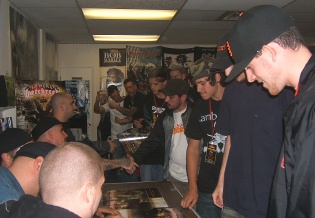 hatebreed devotees wait for their signed CD at Exile on Main Street.
"They're the best hard core out there," said Chris Frodel, 28, of Hamden, waiting on line inside the Skiff Street music shop.
Many of hatebreed's songs are short on lyrics. This one is called "Betrayed By Life":

"In a cold unforgiving world -- alone with fear and weakness, oppressed and dying slowly -- countless people have been betrayed by life. No one is exempt. No one is safe. So many lives will be taken. So many lives have been ruined. So many lives hang in the balance. So many lives have been lost. Betrayed by life. As survivors we are left to mend their wounds, we are left to dry there [sic] tears. We are left to pick up the pieces of those who have been betrayed by life."
"The message overall is be true to yourself and what you believe in, and you can achieve what you like," said Stephen Wayne.
he said he plays a lot of hatebreed on his WCCC 106.9 FM show, "
Wayne Manor
," "I've been a supporter of theirs since day one. It's a type of music that doesn't get enough airtime," the DJ said.
---
August 25, 2006
Sunshine Sets on Larry's


Bernadette Laubach holds Sara while Mathew dances nearby and Sasha sits on her mother's, Christiane Draeger's, lap.
Words and pictures by Betsy Driebeek

About 300 people came to the eighth and final summer concert at Larry's playground Wednesday evening. They listened to the Sunshine Road Show, munched on picnic food and took in the pleasant weather. They also reminisced about the quickly vanishing summer of '06.
Bernadette Laubach of Hamden said she and her two children, 3 and 10 months, loved visiting Larry's. Friend Christiane Draeger said she and her 15-month-old daughter spent a lot of time just playing in their back yard.
Shawn and Michelle Taylor

Shawn Taylor and his mom, Michelle, rode bikes and roller-skated on the Farmington Canal. The Hamden duo also participated in the story times at Miller Library and attended the concerts at Larry's and Meadowbrook.

"These concerts have been phenomenal," said Karen Kennedy, mother of two. "Every summer we come here. The Meadowbrook concerts were great, too. We haven't done a lot of organized stuff, we just enjoy the parks."

"We stayed in Hamden the whole summer. We went to the concerts here and visited with friends," said Olga Dryfoos, who has two young daughters. "One of my daughters went to Munchkins camp and both girls attended the Mini Hawk Sports Camp. They loved it and can't wait to do it again next year."
Jennifer Tucker lives in North Haven where she said "the library cut out the summer reading program and the summer concert series." Therefore, she and her toddler spent a lot of time in Hamden this summer to get what she couldn't get back home.

Wednesday evening's concertgoers did not dash out of the park when the Sunshine Road Show bid adieu. Instead, they lingered in the warm weather, still in the summer relaxation mode aware that fall is just around the corner.
---
August 16, 2006
Words and pictures by Sharon Bass
I grew up on Broadway musicals. When I moved to Dallas from my native New York as a newlywed, I refused to go to the theater. I was used to the best. I was spoiled.
But one who loves theater as I do cannot go forever without it. So eventually I ventured to community shows, which proved to be a gamble. Last night, I saw the final dress rehearsal of Andrew Lloyd Webber's "Joseph and the Amazing Technicolor Dreamcoat," put on by the Whitney Players Theatre Company in Thorton Wilder Hall. I have to say I rolled some pretty sweet dice. The show knocked me out.
Julia Hirsch, who plays the narrator in this biblical operetta, has a fabulous voice. Her range, her delicate high notes were a real treat (I plan to see the show again this weekend). Equally appealing is David Cristensen, who plays Joseph, the son of Jacob. Like Hirsch, his singing and stage presence were all-pro. A pure delight to watch.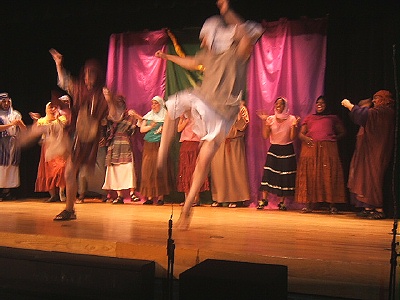 Director Cindy Simell Devoe did an amazing job with her cast of 72, which includes 24 kids. She produced a chorus line that is powerful and friendly and practically flawless. It's really a beautiful production all around. About 100 dazzling costumes were bought on ebaY and through dance and theater catalogs.
The cast started rehearsing in June. Today is opening night. You really shouldn't miss this one. It's a Joe everyone can enjoy.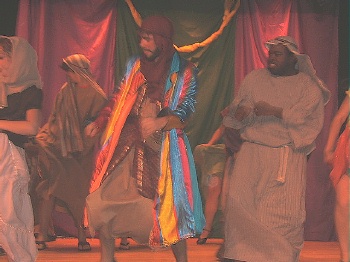 "Joseph and the Amazing Technicolor Dreamcoat" runs Aug. 16-20 at 7:30 p.m. at Thornton Wilder Hall, Miller Library Complex, 2901 Dixwell Ave. Sunday matinee at 2 p.m. Tix $12/advance, $15/at door. Co-sponsored by the Hamden Arts Commission. FMI, call 248.8766.
---
August 14, 2006
Profiles in Peace & Justice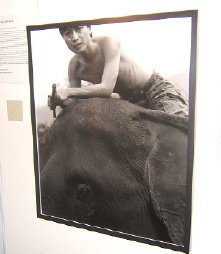 Ka Hsaw Wa of Burman.
QU exhibits portraits of human-rights activists from around the globe
Words and pictures (of the photos) by Sharon Bass
With malignant war taking center stage in the collective conscious, it's refreshing to be reminded that there are powerful leaders who instead fight peacefully and passionately for every human's rights. Albert Schweitzer, a beloved missionary, philosopher and physician, was one such leader.
It's only fitting that a traveling exhibit of 50 photos of international humanitarians opens tomorrow in Quinnipiac University's Albert Schweitzer Institute.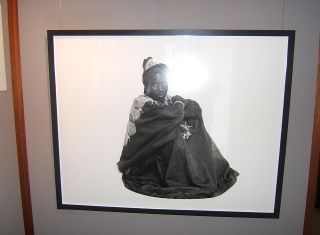 Juliana Dogbadz of Ghana. Was a sex slave since she was 6 and forced to work without food or clothing. She made what was considered a very daring escape when she was 23. Dogbadz then denounced the system that enslaved her, which led to its ban.
"I'd like to educate the general public on people who have taken a serious risk to make a difference in their countries," said institute director David Ives. "To stop something that should be stopped [Apartheid] or begin something that should be done."
Familiar and relatively unknown faces of human-rights heroes are displayed on the stark, creamy walls of the Schweitzer Institute.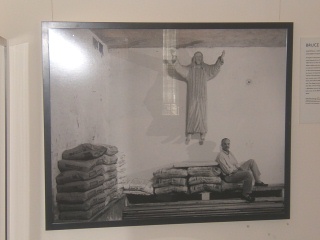 Bruce Harris of Guatemala/United Kingdom. He is called Central America's foremost advocate for street kids. Harris has run Casa Alianza in Guatemala City since 1989. It provides food, shelter, medical care, drug rehab, legal aid and other services to 4,400 homeless children living on the street.
The photos were taken by the late photojournalist Eddie Adams. In 1969, he received the Pulitzer Prize for his picture "Saigon Execution." He photographed 13 wars, from Korea in the early '50s to Kuwait in 1991.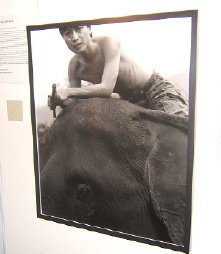 Ka Hsaw Wa of Burman. He is the founder of EarthRights International, which filed a precedent-setting lawsuit against Unocal, a U.S.-based oil company. The suit charges that Unocal hired Burmese government agents who allegedly committed extortion, torture, rape, forced labor and murder against the local indigenous people.
Kerry Kennedy, daughter of the late U.S. Sen. Robert Kennedy, published Adams' work that is on display at Quinnipiac, in her 2000 book, "Speak Truth to Power: Human Rights Defenders Who Are Changing Our World." In it, she profiles such human-rights activists as Archbishop Desmond Tutu, the Dalai Lama, Costa Rica President Oscar Arias Sanchez, Sister Helen Prejean, author of "Dead Man Walking" and Elie Wiesel, Holocaust survivor, author and philosopher.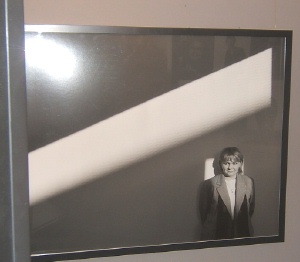 Marina Pisklakoua of Russia. Because of her efforts, the Russian government for the first time tracked domestic violence. It found nearly 15,000 women were killed and another 50,000 hospitalized every year because of the abuse.
The Schweitzer Institute is sponsoring the exhibit in conjunction with Kerry Kennedy's lecture "Speak Truth to Power," in Quinnipiac Alumni Hall, at 7 p.m. Sept. 12. Free. FMI, visit the institute