Whitneyville Before Elvis
February 18, 2008
By Raymond K. Johnson
I learned how to dance in 1952. Dance classes were held in the gymnasium at the Putnam Avenue Grammar School. It was a traumatic experience.
Last October, I met with several classmates at the old school for a small reunion. We met with our kindergarten teacher, Miss Pedersen, and spent some time in the gymnasium reminiscing about events that took place there. The gymnasium today remains unchanged; the hardwood floors have darkened a little over the years but the basketball backboards are still in place and the stage where we performed little plays and sang at our graduation in 1953 look the same. Sometimes the gymnasium was referred to as the Assembly Hall; it depended on what type of event we were attending.
About the only good thing that happened in the gymnasium were the visits by an older man and his wife who gave slide presentations of exotic places they had visited. We would file into the gymnasium and sit on metal folding chairs that had been taken from their storage space under the stage and set up in long rows, reaching almost to the back wall. The man was dressed in his explorer outfit, complete with pith helmet. He and his wife showed the slides and told us exciting stories about African safaris. They showed us pictures of lions and tigers, of boat rides up the Amazon River and of giant pythons and piranha fish that could strip the meat off a cow in a few minutes. All the boys in class wanted to be "Bring em Back Alive" Frank Buck when we grew up.
Everything else that took place in the gym was bad.
When it was raining, we played basketball in the gym. Phil Mueller, Barry Rossberg, Bobby Battle and other kids who were bigger than the rest of us had all the fun. I could stand at the foul line for an hour and never get the basketball all the way up to the backboard. Overhand or underhand, one hand or two, it didn't matter. I was hopeless.
But the worst times of all in the gymnasium were the dance classes.
Sometime near the end of seventh-grade, the school gave the older kids dance classes. The classes were held in the evenings – Fridays, I think. The boys wore suits and ties, the girls wore their prettiest dresses and some had started to wear makeup and lipstick. (According to Jane Heil and Gail Ahlgren, two classmates who were there, Tangee natural lipstick was the most popular at the time.) Many of our parents attended to watch us dance. And to catch us if we tried to run.
The teachers would line us up in two rows on opposite sides of the gym. Someone put a record on the record player and when the music started the boys would walk across the room and ask one of the girls to dance. I don't know how many steps it took to cross the gym, but as far as I was concerned it might as well have been 13 -- the same number of steps you had to climb to the gallows to get hanged. If blindfolds had been available, I would have asked for one.
As we stood there in the gym, 54 years later, there was one thing we all agreed on: Dance classes were the worst part of the eight years we spent in grammar school.
Jane says she remembers "very clearly those hideous dancing classes. Most of the boys were shorter than I was, so that was awkward for me. I remember dancing with Lewis Koplik and Arnold Blenner the two-step. I suppose it was a good way to start to socialize us little animals, but I remember feeling very stiff, awkward, and anxious."
"Arnold Blenner was a guy all the girls liked to dance with," says Gail. "Fred Alling was also a good partner." And she remembers "the pained look on most of the boys' faces."
Good old Arnold Blenner. After 53 years two of the girls still remember him as a good dancer.
We were taught two steps: the fox trot and the box waltz. The difference between the two was similar to the difference between a firing squad and a hangman's noose. The fox trot was a little faster and you didn't have to hold the girl too closely; the box waltz was painfully slow and required much more physical contact. I'm pretty sure I remember dancing to Patti Page's, "The Tennessee Waltz" many times.
Then something happened to me during one of the Friday night classes. I danced with Mary, a girl in my class, and I enjoyed it. (I will refer to Mary several times during the remainder of this story and in the next one. Don't ask what her last name is as I think she would be embarrassed.)
From that dance on, the pace across the gymnasium picked up quite a bit as I tried to get to Mary before the other boys did. I guess that thing that happened to me happened to some of the other boys too, because now when the music started the boys would race to the other side of the room to get to a particular dancing partner. We were not alone with our newfound feelings. Whenever the teacher would announce "Ladies choice," the girls seemed to be wearing track shoes instead of high heels. The sight of 15 or 20 girls heading straight at you made for some sweaty palms.
I guess Jane was accurate in her observation that the dance classes had accomplished their intended objective to "socialize us little animals."
It was early in the eighth-grade when I finally asked Mary if she would like to go to the Whitney Theater with me to see a movie.
Next time: first date.
Raymond K. Johnson grew up Hamden and graduated Hamden High School in 1957. Two years later he enlisted in the Marine Corps, from which he retired in 1979. He now lives in Oceanside, Calif., with his wife, Kay. He is penning his memories of growing up in Whitneyville in this column. Johnson can be reached at rkjohnson1@cox.net.
---
February 11, 2008
By Raymond K. Johnson
(Editor's note: Johnson takes a departure from his usual column with this comical look at his friend Tom, the big football fan.)
On Super Bowl Sunday, I got up at 5:30 a.m. to watch Tiger Woods win the 2008 Dubai Desert Classic. When I told my friend, Tom, he accused me of being a wimp.
You see, Tom is a football fan. No, that's not right. Saying Tom is a football fan is like saying Leonardo daVinci was a painter. Tom does know who daVinci was: he told me one time that daVinci's painting of "The Last Supper" should have had Vince Lombardi in the middle of the group. He said he would have had Mona Lisa escorted from the field if he found her on the sidelines. Tom sees no socially redeeming value in having women on the sidelines, and halftime shows should be a highlight reel of the first two quarters.
Tom's philosophy is if you watch tennis on TV you're a wimp. Play golf -- wimp. Know how to keep score in bowling -- yep, wimp. There is only one sport as far as Tom is concerned, and it's the one where the ball isn't round.
Tom was at the inaugural Kansas City Chiefs game at the new Arrowhead Stadium as an on-duty Kansas City police officer. Ask him about it and he'll tell you that he and the Chiefs owner, Lamar Hunt, were both there. As if they sat together during the game.
Tom will also tell you he has missed only one Super Bowl game, and that was Super Bowl III in 1969. Tom was in Vietnam, out in the boondocks, where he completed his tour of duty without so much as a shower (so he claims).
If you think Tom is going to go into withdrawal after the Super Bowl, you are incorrect. In a week or so, Arena Football season starts. Tom knows Arena Football even better than he knows NFL football. And if you think I'm making this stuff up, read on.
In 2002, the Arena2 Football League was about to announce that its newest team would be home based in San Diego. Tom made a few phone calls and found out the location of the team offices. A few minutes later he was standing at the team secretary's desk trying to purchase season tickets.
He stood there as the owner made the announcement and gave the press the team name, San Diego Riptide. Tom met the new owners, got his season tickets and a couple of hours later dropped by the local watering hole to tell his friends about the new team in town. A couple of months later, Tom and I were sitting in Row 2, right behind the players, cheering for the Riptide.
At 3:17 PST on Feb. 3, 2008, the Patriots and Giants started what was to become one of the greatest Super Bowl games ever. I wanted to hook up with Tom to watch the game but was afraid that if I mentioned the Tiger Woods victory in Dubai it would ruin his day. So, I stayed home and watched the game on TV with the "Law and Order" marathon in the PIP.
Sorry Tom, I'm married and Kay isn't really into football. But she did let me watch the game and she only used the remote during the commercials. Congratulations, Eli.
Raymond K. Johnson grew up Hamden and graduated Hamden High School in 1957. Two years later he enlisted in the Marine Corps, from which he retired in 1979. He now lives in Oceanside, Calif., with his wife, Kay. He is penning his memories of growing up in Whitneyville in this column. Johnson can be reached at rkjohnson1@cox.net.
---
January 28, 2008
Company man
By Raymond K. Johnson
My short-lived career with the W. T. Grant Company continued in the stockroom as an assistant to Willie, the maintenance man/janitor. Willie was a black man. Willie was the best man I ever worked with.
If something got broken, spilled or thrown up on, the call came down to the stockroom, "Send Willie up here." Willie got his mop and bucket and headed upstairs to fix/clean whatever it was that had gone wrong.
On Saturday mornings I went to work early and Willie and I would sweep and Willie would buff the floors with a buffing machine until they shined like glass. Willie said that was one of Mr. Shea's big things -- shiny floors.
It wasn't long before I made my first big screw-up. The buffer was one of those industrial-size things that weighed about 100 pounds and the buffer pad was about 2 feet wide. Lift up on the handle and the buffer went left, push down and it went right. Nothing to it.
One Saturday morning I asked Willie if he would teach me how to run the buffer. Willie thought about it for a minute and decided that I was ready. He showed me how to squeeze the handle and apply a slight downward pressure to make the buffer move to the right, etc., etc. Willie stepped back and I took hold of the handle and squeezed. The buffer took off at the speed of light, went 5 or 6 feet to the right and smashed into a glass display cabinet. I was hanging on for dear life; glass was flying everywhere. Willie was yelling, "Let go!" and I saw my life flash before my eyes. In my two and a half years at Grant's, it was the only time I ever heard Willie swear. We ran for our brooms and had all the glass swept up before the other employees showed up for work.
We were standing there trying to figure out which one of us was going to get fired when Mr. Shea came walking up the aisle -- inspecting his shiny floors. When he got to where we were standing he looked at the cabinet, looked at us, and before he could say a word Willie said, "I broke it Mr. Shea." Mr. Shea said, "I never liked that cabinet. Go down to the stockroom and bring up the new one." That was it. He walked down the next aisle -- looking at his shiny floors.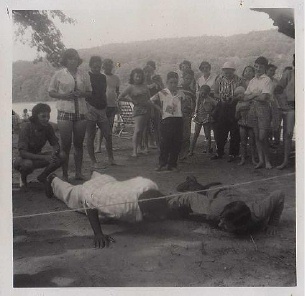 Willie and I in the two-man race at the annual W.T. Grant picnic. Courtesy photo
Willie was the best man I ever worked with.
Eventually, Willie and I wound up working down in the basement in the receiving department. Those were good times. The incoming merchandise was offloaded from the big delivery trucks onto a conveyer belt that went from street level down to where we were in the basement. We offloaded everything and moved it to the big storeroom where I had assembled the tricycles. As long as the conveyer belt was offloaded and kept empty Mr. Shea didn't bother us. That was another one of Mr. Shea's big things -- empty conveyer belts.
I had been working in receiving about a year when Miss Downes told me I was going to be transferred upstairs to work with Mr. Norm Wiston, the assistant manager. He and Walt Crabtree, a management trainee, and I worked together setting up all the displays for the upcoming Christmas season. It was about this time Mr. Wiston began to talk to me about becoming a "company man." That was a really big deal with the Grant Company. It had a good management trainee program and figured if you made it through that Grant had you for life.
The money wasn't bad and there were plenty of opportunities for advancement and transferring to a different store was always an option. I was on a roll. With my .25 cent pay raise I was now making $1 an hour. With overtime I was taking home at least $40 a week. Dad took care of that; he began to charge me $40 a month rent.
My first assignment upstairs was in the record department. Could I get any luckier? I sold the latest 45 rpm records and part of my job was to play the latest hits on one of the little record players that we were selling for Christmas. They even let me do all the ordering and before long. the record department was doing almost as much business selling the "Top 50" hit records as The Music Box, a record store next door to Grant's.
The guy who owned The Music Box was named Joe and I spent most of my lunch hours there talking with him and making mental notes of the big sellers and specials he was advertising. Most of my ordering and sales at Grant's were based on his business. If he sold his record players for $25, I sold mine for $20. If he ran a special on the #1 hit, I would print up a big sign and undersell him. It wasn't long before Joe kicked me out of The Music Box, but I had established the record department at Grant's and all the high school kids would come there for the latest hit singles.
Being a department head required me to dress up and wear a necktie, get a nice haircut and start acting like a company man. I was in the employee restroom one day after lunch straightening my tie and combing my hair. Back then all the boys had either crew cuts or long hair. I had long hair and it took quite some time to get the part just right and then comb the rest back just so.
Anyway, I was standing at the small sink in front of the mirror running the comb under the water and then through my hair when I heard a loud, angry voice say: "Shut the damned water off!" My reply was, "Why, are you paying the bill?" Mr. Roger V. Shea stepped out of the stall and said, "Yes, I am!" That was another one of Mr. Shea's big things -- water conservation.
In February 1959 I got my draft notice in the mail. So did Kenny DeMaio. We talked about it and I decided I didn't want to join the Army, so I went down to the Marine recruiting office and two days later I enlisted in the United States Marine Corps. When I told Mr. Shea about it he said, "Are you nuts?" He had been in the Marine Corps during World War II and Korea and didn't think I was ready for the service. But he told me it was a good outfit and when I finished up my four years I could come back to Grant's and have my job back.
I left for recruit training at Parris Island two weeks later. When I graduated from boot camp and went home on leave, the first person I went to see was Sally Downes, the lady who taught me how many pencils there are in a gross and who had bandaged my bleeding hands that first day in the stockroom.
And when I retired from the Marines 20 years later, the W. T. Grant Company was long gone, having shut down operations in 1975.
Raymond K. Johnson grew up Hamden and graduated Hamden High School in 1957. Two years later he enlisted in the Marine Corps, from which he retired in 1979. He now lives in Oceanside, Calif., with his wife, Kay. He is penning his memories of growing up in Whitneyville in this column. Johnson can be reached at rkjohnson1@cox.net.
---
January 20, 2008
Getting a job
By Raymond K. Johnson
November of 1956 was the beginning of my association with the Internal Revenue Service. The meager allowance that I got from Dad wasn't cutting it anymore.
One Friday evening, a couple of months before Christmas, Dad handed me a piece of paper with the names W. T. Grant and Roger Shea on it. He said they might have a job for me. I had been in the W. T. Grant department store many times; it was in the Hamden Plaza right next to the high school and was one of the main competitors for the Sears & Roebuck store just a few hundred yards up the road. Early the next morning Dad drove me up to the plaza and dropped me off in front of Grant's.
I asked a clerk where I could find Mr. Shea and was directed to the rear of the store and down a flight of stairs to the personnel office, where I met Miss Downes. I handed her the note and told her my name; she had me wait and left the room, returning a few minutes later with Mr. Roger Shea. He was holding the note and told me he was a friend of Dad's. The only question he asked was, "Are you mechanically inclined?" I answered in the affirmative. With that, Mr. Shea told me to follow him and we went to the stockroom.
Mr. Shea handed me a screwdriver and a pair of pliers and pointed to a stack of cardboard boxes. He said my job was to assemble tricycles and wagons for the toy department and pointed at a shiny new tricycle and a bright red wagon that had already been assembled. "Piece of cake," I thought.
Mr. Shea left and I took a moment to look around the stockroom. The place was cavernous, dark, damp and smelled like wet cardboard and concrete. I could hear a radio playing music somewhere in the distance. The stacks of boxes that held the tricycles and wagons reached almost to the ceiling and looked like the pyramids of Giza.
I started on my first tricycle. The instructions were pretty straightforward and in a short time there was a line of tricycles assembled and ready for someone to take to the toy department. In the process I had skinned a couple of knuckles, but they weren't bleeding too badly. A man came into the stockroom and asked who I was. I told him my name and said Mr. Shea had brought me here to assemble wagons and tricycles. He laughed and walked away.
Approximately four hours later, I had about a dozen tricycles and six or seven little red wagons assembled and lined up, ready to go. The place was beginning to look like Santa's workshop. By this time all but one of my knuckles were bleeding and a couple of fingernails were turning a dark purple. Sometime in the early afternoon, Miss Downes came into the storeroom to tell me I could go to lunch. She was impressed with the little lines of wagons and tricycles and asked if there was anything I needed. I held out my hands and asked her if I could have a couple of Band-Aids. From that day on, Sally -- Miss Downes -- and I were friends.
She took me out to the main stockroom and asked the man who had laughed at me earlier in the morning for the first aid kit. She bandaged my cuts and I went to lunch.
During the next four or five weeks I worked after school and all day on Saturdays making tricycles and little red wagons. Hundreds of them. The toy department must have been giving them away because they were going faster than I could assemble them.
I didn't see Mr. Shea for the rest of the month. Every Friday Miss Downes would hand me an envelope with $20 in it. I was rolling in dough. For the 25 hours or so a week, I was getting paid about 80 cents an hour – or about 20 cents a tricycle. I didn't learn until years later that the money came out of Mr. Shea's pocket. He and Dad had made some kind of deal over several drinks at the Sleigh House, the local Dixwell Avenue watering hole.
After Christmas, Miss Downes called me into the personnel office and told me before I could become a fulltime employee I would have to take a test. The test was fairly simple; a few questions to test my spelling, my arithmetic and some on how to deal with customers. The arithmetic ones weren't too difficult but it was my worst subject in school and I was sure I had flunked the test.
Miss Downes corrected my paper and announced for everyone to hear that I had missed only one question. That question was how many pencils are in one gross. I had answered 12. Miss Downes told me the correct answer is 144, and my reply was, "Who would ever want to buy 144 pencils?"
I got the job.
Next time: "W. T. Grant, Part II," "Company man"
Raymond K. Johnson grew up Hamden and graduated Hamden High School in 1957. Two years later he enlisted in the Marine Corps, from which he retired in 1979. He now lives in Oceanside, Calif., with his wife, Kay. He is penning his memories of growing up in Whitneyville in this column. Johnson can be reached at rkjohnson1@cox.net.
---
January 8, 2008
The day I honestly almost drowned
By Raymond K. Johnson
"Stay away from Lake Whitney," was all Dad said.
He didn't mean south of the Lake Whitney dam. Once the water passed that point, it became the Mill River again and although it was technically on private property, it was one of the best places to fish. About 100 yards south of the dam was a metal footbridge. We called it Second Bridge. The fishing there was all right but it was open to view from Whitney Avenue and we had to be on the lookout for the water company police and couldn't really enjoy ourselves.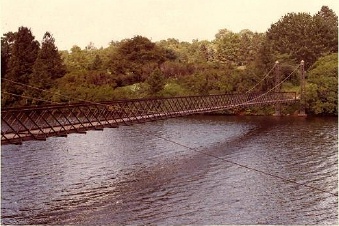 Whitney Avenue bridge.
A little further down Whitney Avenue, at East Rock Park Drive, there was a footpath that led back to Mill River and the best fishing spot of all: Third Bridge. My friend Kenny, my brother Lee, even my sister Louise and I went there often. The Mill River at that point was close enough to New Haven Harbor that it was influenced by the tides. When the tide came in the fishing was great. Everyone had a stringer full of perch in just a couple of hours.
There were a couple of things different about fishing at Third Bridge. The first was fish didn't care for our nightcrawlers but preferred our baloney sandwiches, particularly the bread. We would pinch off a piece of Wonder Bread, squeeze it into a little ball, place it on the hook and drop the line into the water. It wasn't long before we felt a tug on the line and either we had the fish or it had the bread.
The second difference was that we were in an off-limits area and we dropped lines rather than our rods and reels. If the game warden or the water company police interrupted our fishing we didn't have time to reel in our lines before running away. We would just leave the drop line on the bridge and after waiting a few minutes would come back and continue our fishing. The police never took our fishing lines; even the stringers of fish we had in the water next to the bridge were left untouched.
Another advantage of using drop lines was they were easy to carry around. Sometimes if the fish weren't biting we would pack up our gear and climb the Giant Steps up to the top of East Rock Park. It was quite a climb and after that we were ready to go home and call it a day.
And then there was Lake Whitney and the footbridge that went across it to the New Haven Country Club golf course. The footbridge was located just behind the Country Club Pharmacy located on the southeast corner of Whitney and Putnam avenues. The pharmacy shared the "Country Club" name with several other businesses including the Bar and Grille, a florist and a barber shop, to name a few. By 1951, the footbridge wasn't used much anymore by members of the golf course. It was mostly used by the boys who went to the golf course to caddy and in the winter by all the kids who went there with their sleds to slide down the big hill in front of the clubhouse. During the summer vacation months, the fishing was great just under the bridge. There we would fish for sunfish, great fat bluegills that were easy to catch, easy to clean and tasted great. The fish built their nests in the sandy bottom just off the shore and we could walk out onto the bridge, look down and see dozens of them.
One Friday evening my disregard for the law and Dad's "Stay away from Lake Whitney" admonishment finally caught up with me. Fridays were meeting nights for my Boy Scout troop. Dad would take Lee and me to the Country Club Grille for the dinner special -- spaghetti and meatballs. Then Dad and Lee would go home and I would go across Whitney Avenue to meet my friends at the community center next to the First Congregational Church where our meetings were held.
On this fateful evening I got to the church a little early so Kenny DeMaio, Freddy Alling, Peter Achorn, Billy Scott and a couple of others decided to walk over to the footbridge. We were standing there looking down at the sunfish when I spotted a daredevil fishing lure hanging from one of the suspension cables that stretched out from the shore to the bridge. I had to have it. I told my friends that I was going to crawl out on the wire to get the lure. My friends didn't think I should do it but I really wanted that fishing lure.
I went down the shoreline to where the suspension cable was anchored in the ground and looked out towards the bridge. It didn't look that far from where I stood so I grabbed hold of the cable and started out, hand over hand, towards the fishing lure. Once reaching the lure I tried to untangle it from the cable, but the monofilament line was stronger than expected. My arms were getting tired so I wrapped my legs around the cable and tried again. Still no luck, I couldn't get the lure untangled. My arms were really getting tired now and for the first time I thought about falling into the water. I decided I had better crawl to safety -- but which way?
I looked towards shore and it looked a long way away and I thought if I got close to shore and fell I would get all wet and would have a tough time explaining things to Mom and Dad. I looked towards the bridge and could hear my friends yelling for me to stop and get back to shore. My 12-year-old logic told me to head towards the bridge where my friends could pull me up to safety. So I headed towards the bridge.
Kenny DeMaio had already figured out that this wasn't going to end well and took off running up the street towards Whitney Avenue to get help. Peter Achorn ran to get his father, the Scoutmaster. The rest of the kids were shouting encouragement to me as I got closer and closer to the bridge.
My hands were so tired.
Kenny ran into the Country Club Pharmacy and yelled for help. Donny Gourd, who was working at the soda fountain, heard Kenny and ran out of the store and down towards the bridge. At about the same time, I had reached the bridge and reached out with one hand towards my friends who were trying to grab me. I reached out. They reached out. I fell.
Then the thought crossed my mind that I didn't know how to swim! I went down and disappeared into "the ominous darkness of the water," as Freddy Alling would describe it years later.
Donny Gourd reached the bridge where all the kids were yelling and pointing towards where I had gone under. Without hesitating he jumped off the bridge into the water, reached down, grabbed me by the hair, and pulled me up towards the surface. Later Donny would tell me I wasn't moving and he thought I was dead.
Meanwhile, patrolman Clarence Drumm, who was walking the beat at the corner of Whitney and Putnam avenues, heard all the commotion and came running down towards the bridge. He found everyone under the bridge watching Donny Gourd give me artificial respiration. I was not responding. The officer told Donny to step aside and he picked me up and turned me around so I was facing downhill (there was a slight incline in the shoreline under the bridge). Once my head was pointing downhill, Clarence Drumm gave me one or two pushes on the back and out came a gallon of water -- and a complete spaghetti and meatball dinner.
By that time my father arrived. He had run all the way from Francis Avenue to the lake after getting a phone call from Mr. Hammerman, the owner of the pharmacy. (In a phone conversation with Clarence Drumm just a month ago, he remembered the incident well and told me that my father looked to be in worse shape than I did after his run down Putnam Avenue.)
After an ambulance ride to the hospital, the doctor gave me a tetanus shot and sent me home. The next morning a couple of newspaper reporters came to the house to take my picture for an article. My mother would not allow it and sent them away.
From the moment I fell from the footbridge the only thing I have a clear memory of is the ambulance ride and the fact that someone had taken off all my wet clothes and wrapped me in a blanket and I was very cold, very naked and very scared.
Mom and Dad never got mad at me or took away my allowance (that was the big punishment in those days), but the next summer Dad sent me to Buddy Eric's Summer Day Camp where I finally learned to swim. Even now, 56 years later, a couple of times a year I will have a bad dream about the Lake Whitney footbridge.
Thanks, Kenny, and Donny and Clarence Drumm -- I owe you.
Raymond K. Johnson grew up Hamden and graduated Hamden High School in 1957. Two years later he enlisted in the Marine Corps, from which he retired in 1979. He now lives in Oceanside, Calif., with his wife, Kay. He is penning his memories of growing up in Whitneyville in this column. Johnson can be reached at rkjohnson1@cox.net.
---
January 1, 2008
By Raymond K. Johnson
Sometime around the second week in June, usually on a Friday, our teacher would send us home with these words: "Have a nice summer vacation and I'll see you all in September." With that said, we were officially on vacation. Chuck Berry said it best: "Close up your books, get out of your seat, Down the halls and into the street."
We did things a little differently in the late 1940s and early 1950s. Our transportation wasn't Mom's SUV, it was roller skates or a bicycle; skateboards hadn't been invented. Neither had cell phones. If I wanted to talk to Kenny DeMaio, I walked down the street to his house and knocked on the door. There weren't any video arcades or computers or iPods. We went outside and played baseball, cowboys and Indians and tag.
There were no malls to hang around, and trips to the Whitney Theater were reserved for Saturday matinees; the rest of the week we were on our own. And, boy, did we have fun.
As far as parental supervision was concerned it consisted of five or six admonitions from Mom or Dad before we left the house. Mom's big one was "Wear clean underwear," followed by, "Eat everything on your plate," "Say please and thank you" and "Behave yourselves." Dad usually followed those words of wisdom up with, "Listen to what your mother tells you."
One of our favorite summer activities was fishing. My first memory of going fishing was the time Dad took Lee and me out to Andy's Pier at Double Beach where the three of us fished for porgy. Dad bought a package of bloodworms, three drop lines, rented a small rowboat and rowed out into the ocean (you read it right, rowed. This was East Haven, not East Hampton).
Lee and I were still pretty young and had no desire to bait our own hooks so Dad took one of the bloodworms out of the package and began to show us the proper procedure. The worm wiggled, opened up the head part and two black pincers popped out and dug into Dad's finger. Lee's and my vocabulary went up a couple of notches that day and for a moment I thought the boat was going to turn over as Dad jumped about trying to get the worm off his finger. Dad finally regained his composure and started cutting the worms into three or four pieces before touching them. We fished for about an hour and had 20 or so nice fat porgy in a bucket for our trouble. Dad also caught a flatfish that he threw back because it was too small. (It was the biggest fish Lee and I had ever seen.)We rowed back to shore and headed home.
Once we arrived home, Lee and I carried the catch of the day into the kitchen where Mom took one look and pointed towards the back door. She never said a word but we knew what she meant. The three fishermen went to the back porch, gutted and scaled the fish and only then did Mom allow us to bring our catch into "her kitchen." For the most part, Dad's fishing days were over.
There were several small freshwater ponds, the Mill River and Lake Whitney nearby, all with loads of fish just waiting to bite down on a big, fat nightcrawler. But there was one problem -- most of the places I just mentioned were on water company property and off limits for fishing. To kids of our age the "Keep Out" signs meant "Come In."
One place where it was legal to fish was from the bridge over Mill River on Whitney Avenue by the Wilbur Cross Parkway entrance.
One summer Grandpa Kennedy gave Lee and me new fishing rods. They were metal telescoping rods and had shiny new casting reels and we even had a little tackle box to carry all the gear in. The night before our first fishing expedition with our new fishing rods, we got an old coffee can and a flashlight and went hunting for nightcrawlers on the front yard. Grabbing on to a nightcrawler and yanking it from its hole without tearing it in two takes practice. The first few attempts usually result in either killing the thing or letting it go in sheer revulsion at the slimy feel and letting it pull itself to safety back into its hole. We harvested about a dozen or so and put them in the coffee can along with a couple of scoops of dirt. On orders from Mom, the coffee can spent the night on the front porch.
The next morning, with our rods, reels, tackle box and coffee can, Dad took Lee and me up to Mill River. Lee and I baited our hooks with a nightcrawler and cast our lines into the river from the bridge. The water was shallow and from above we could look down and see several fish. They would push the fresh worms around a little and just sit there, refusing to bite. Finally one of them grabbed the worm and the fight was on. A few minutes later Lee pulled his fish up to the bridge and onto the sidewalk. Lee and I looked at it and didn't know what to do. The fish was a sucker. I don't think there is an uglier fish alive. The hook was all the way down its throat and there was no way Lee was going to put his hand in that fish's mouth to retrieve it.
Dad said there was no way that fish was going home with us, so after cutting the line with his jackknife, Lee kicked the fish through the railing and let it drop back into the river. The three of us went home. Dad's fishing days were officially over.
Kenny DeMaio and I used to fish in Lake Whitney. One of our favorite places was a marshy area of the lake just off Treadwell Street, very close to Leeder Hill Drive. Back then there was no Leeder Hill Drive; all that property was part of the Powder Farm, owned by the Winchester Arms Company and definitely "Off Limits" to us kids.
We were fishing there one morning when Kenny hooked a huge pickerel -- by far the biggest fish either of us had ever caught. We were jumping up and down and laughing and couldn't wait to get home and show off the monster fish. Kenny put it on his stringer and we continued to fish, adding a few crappies to our catch. As we got ready to leave we were surprised by a game warden who must have been in the area and heard our yelling when we caught the pickerel. He told us we were fishing on private property and would have to leave. Then he asked if we had caught any fish and without hesitation we both replied in the affirmative. Who wouldn't want to show off a fish as big as the one Kenny had caught?
Kenny pulled the stringer of fish from the water and held them up. Without saying a word the game warden pulled out a tape measure and measured the pickerel. He looked at us and said that the fish had to be 26 inches long and the measurement came up a half-inch short. He then took the fish off the stringer, bent down and put it back in the water and in a couple of seconds the pickerel swam slowly away. The rest of the fish followed.
The warden broke out a notepad and asked us for our names and addresses. Kenny and I gave him the information he requested. He then looked at me and asked, "Is your father Graham Johnson?" I told him it was. He walked us to the street and told us that we were breaking the law and not to come back here again.
When I got home Dad called for me to come into the living room. He told me that he had just had a visit from the game warden who had caught Kenny and me. He then told me that the game warden was Eugene Johnson, my grandfather's brother. Dad tried to keep a straight face but with half a smile he told me what had happened. Uncle Gene knew who I was and drove straight to our house and told Dad everything. He also told him about the big fish and that even if it had been a half-inch longer he still would have released it.
From that day on Dad added another admonishment to the "Parental Supervision" list: "Stay away from Lake Whitney." I should have listened. In part two of this story, you will find out why.
Raymond K. Johnson grew up Hamden and graduated Hamden High School in 1957. Two years later he enlisted in the Marine Corps, from which he retired in 1979. He now lives in Oceanside, Calif., with his wife, Kay. He is penning his memories of growing up in Whitneyville in this column. Johnson can be reached at rkjohnson1@cox.net.