September 27, 2007
By Tony Mentone
The hard-fought 20-20 tie between the Hamden and Guilford football teams at the Hamden Stadium last Thursday night left the crowd buzzing as it filed out.
Buzz #1: Hamden's sophomore place kicker was impressive. Although Kemuel Lawrence missed a field goal with five seconds left, the ball traveled more than 35 yards but was wide. That leg can provide a lot of entertainment for Hamden fans in the future.
Buzz #2: Guilford head coach Scott Benoit was quoted by the local press that "his offense stunk." Maybe the Hamden defense had something to do with that.
Buzz #3: After Hamden's missed field goal, the clock showed .004 left. This gave Guilford another play. If it were an old-fashion clock without 100ths of a second, it would have said .01 left or .00.
Buzz #4: Why didn't they play overtime? The SCC has not adopted an overtime format for football.
I am against any type of gimmick overtime. Baseball, basketball and soccer play OT just like the regular games -- no showdowns, penalty kicks, runners on second base, etc. Although this is exciting for the fans, it is not the intent of the game.
Personally, because of the violent nature of the game, I don't recommend playing a whole extra period. When players are tired, injuries occur.
Buzz #5: As I said before, when Hamden missed the field goal there was .004 seconds left in the game. Guilford took a time out with the ball on the 20-yard line, and Hamden went into a prevent-defense with five defenders lined up at the 50-yard line. Guilford came to the line of scrimmage, snapped the ball and took a knee. No matter how slim a chance it was, why didn't Guilford give its kids a chance to win the game?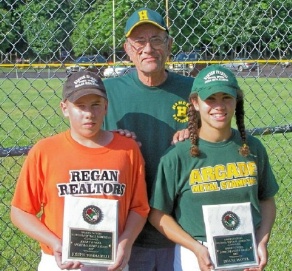 SPORTSMANSHIP
Pictured is Harry O'Neill (center) with the recipients of the 2007 Sportsmanship Award, which bears his name. This year's co-recipients were Joe Tomaselli (left) and Briana Mastel (right).
The award is named after O'Neill because of his many years of service as both a coach and director in HFBSA.








REUNION
As I travel around town, I am always bumping into guys I coached with or against in Hamden Fathers' Baseball/Softball League. Conversation invariably turns to a game or a player we both remember.
This led me to think about having a reunion of former coaches. Anyone interested in serving on a committee, please e-mail me.








WHERE ARE THEY NOW?
Billy Tito (HHS '86) played varsity football and hockey at Hamden High. He won All-District honors in football. He played on the 1986 state championship hockey team defeating Notre Dame in overtime at the Hartford Civic Center. He was named co-MVP of the tournament. He was also named All-State defenseman that year. He went on to play varsity hockey for years at the University of Connecticut, and remains in the school's record books for his accomplishments there.
He received his bachelor's in sociology from the University of Connecticut and his master's in criminal justice from Southern Connecticut State University. Tito is the supervisor of juvenile detention for the state Department of Justice, and lives in New Haven.








BEST OF THE BEST
Last spring, we asked readers to choose the best Hamden baseball players and we got a great response.
Let's try it for football. Categories: 1) running backs 2) quarterbacks 3) receivers 4) linemen 5) linebackers and 6) defensive backs.
Send me your picks and I will give you mine next week.








HUSTLERS SPLIT
The Hamden entry in the Connie Mack fall baseball league split a doubleheader with East Haven last Saturday.
In the first game, Bill Garcia pitched a two hitter for the 13-1 win.
In the second game, Johan Taborda pitched a strong game, getting five strikeouts. Hamden got four singles in the last inning but lost 4-3.
The Hustlers play a doubleheader this Saturday at 9 a.m. against Wallingford at Hamden High School, and a game on Sunday afternoon in Meriden.
Tony Mentone is the former faculty manager and game assistant at Hamden High School. Tony is currently an assigning commissioner for the Greater New Haven Umpires Association and the assistant district administrator of Connecticut District 4 Little League. He also sits on the town's Parks & Recreation Commission. Please send info and announcements about youth sports or Hamden High sports to tonymentone@yahoo.com.
---
September 20, 2007
Are you surprised that the New England Patriots were caught cheating? I'm not. Several years ago the Pats duped the whole state of Connecticut, including former Gov. John Rowland, that they were moving the franchise to Connecticut. It turned out it was just a ruse to get Massachusetts to give them a better deal!
This latest revelation certainly taints their Super Bowl championships and the play of quarterback Tom Brady.
Now you know why I would rather see a high school or college game than the pros.








WHITE ELEPHANT
The Hamden High School girls' softball field is a white elephant. The people responsible for this are those who made the decision to build the new high school on its current site. The athletic facilities then had to be squeezed into a spot that is far too small.
The outfield fences are too close and can't be used by adult leagues. The backstop and the side fences are too close and there is a large drain in left field. Spectator space is very limited. The lights are great but have been used on a very limited basis since the field was built.
Oh, I forgot. The right-field foul line runs into the gate.
The Hamden team practices and plays 10 games a year there and an occasional freshman or JV game is played there as well.
Let's find a way to use this more often. How about youth softball?








CONCLUSION -- THE STATE OF BASEBALL
When your athlete reaches 15 years or older there are still several leagues in which to play. The best baseball is played by American Legion seniors and juniors. The coaches are good, the competition is great and college coaches attend these games. Your athlete is not guaranteed a spot. He or she must try out and be selected. The league's schedule is local and if they don't make the tournament, they play approximately 25 games in a five-week period.
At this level many players opt to play for the "pro teams." The coaching is generally good. The price is sometimes restrictive -- $2,000-$3000 -- but if you come up with the money they will find a place for you to play. They play in many tournaments in and out of state.
I wrote this series as a guide for parents who are confused by all the options available. Do there really need to be this many options? Is this the best situation for the kids? I am not sure.
If you are interested in discussing this further and have some idea of how to condense the process further, please e-mail me. Maybe we can all get in a room and discuss the organization of Hamden baseball.








NEW FEATURE: HAMDEN SPORTS NOTABLE
This new feature will highlight people who contribute in some way to sports in Hamden who did not graduate from Hamden high.
The first sports notable is the Rev. Owen Sanderson. Rev. Sanderson just celebrated the 50th anniversary of his ordination to the ministry. He has spent 49 years in Hamden. He is a member of the Hamden High School Sports Hall of Fame.
For many years, the reverend served as chaplain to the Hamden High hockey team and was present at all games. He works the chain crew at home football games and is a mentor to many of the coaches and players.
Christ Evangelical Lutheran Church is purchasing a new organ in Rev. Sanderson's name. Donations can be sent to the Christ Lutheran Church Organ Fund, c/o Durban Hunter, 54 Winchester Drive, North Haven, CT 06473.








HAMDEN HUSTLERS
Hamden's entry in the Connie Mack fall baseball league beat Middletown 5-3 last Sunday. Kyle Cummings (HHS '08) pitched six and two-thirds innings and had eight Ks. Johan Taborda (HHS '08) came in seventh to get the save.
Cummings had two hits and Max Ginter had two hits including a clutch single in the seventh inning, driving in two runs.
The Hustlers play a doubleheader at 9 a.m. this Saturday at Hamden High against East Haven, and play the Connecticut Bombers on Sunday at a site to be determined.








WHERE ARE THEY NOW?
Mike Cavallaro (HHS '90) played on the 1987 state championship Hamden High hockey team. In 1990, he was a top goal scorer on the team and was named to the All-Area Team.
He runs an independent landscape company and lives in North Haven with his wife.








VOICE OF HAMDEN HIGH HOCKEY SUCCUMBS
Frank Richardson, the voice of Hamden High hockey, passed away this week after a courageous battle against lung cancer. Richardson was born in Leominster, Mass., but he made Hamden his home and the Astorino Rink his second home. He could be seen there any time of the day or night carrying his ever-present clipboard.
Richardson was an avid Red Sox fan and loved the Dallas Cowboys. When they were winning he would greet you with a, "How about those boys?" But hockey was his thing. Rink operation manager Rick Gentile said, "Frank is to hockey what Arnold Palmer was to golf. He just loved the game." If he had six people that wanted to play, he would find a way to schedule and get them playing. Richardson's special love was senior hockey for adults.
Former state youth hockey president Pat Cavallaro has known Richardson for over 20 years. Cavallaro said Richardson's first loyalty was to his family and friends. "If he had a job to do he gave it 100 percent until the job was finished. I will miss him terribly," Cavallaro said.
Richardson loved his family and friends. And he loved hockey. But he loved the players more than the game.
Tony Mentone is a game assistant at Hamden High School. He has been active in Hamden sports for over 40 years as both a volunteer and paid football, basketball and baseball coach. Tony is currently an assigning commissioner for the Greater New Haven Umpires Association and the assistant district administrator of Connecticut District 4 Little League. He also sits on the town's Parks & Recreation Commission. Please send info and announcements about youth sports or Hamden High sports to tonymentone@yahoo.com.
---
September 12, 2007
By Tony Mentone
OPENING DAY
High school fall sports starts this week. Pick out your favorite sport and take in a game. See schedules in this issue.
These are your tax dollars at work. These kids are playing for the pure fun of the game.








WHERE ARE THEY NOW?
Ryan Higgins (HHS '91) played basketball and football at Hamden High. He attended the University of the District of Columbia and received his master's degree from Maryland.
He is married with a daughter and son and lives in Bowie, Md. He works for the federal government.








LEARN TO SKATE
Hamden Parks & Rec offers Learn to Skate classes for all age groups including adults at the Louis Astorino Rink. For more information, call the department at 287.2579.








STATE OF BASEBALL, PART THREE
Your athlete has now reached his teenage years. Hamden Fathers has the Babe Ruth baseball franchise. Although the number has dropped over the last few years, it is still very competitive.
Babe Ruth director Rich Altieri said this year's championship was attended by over 100 spectators. The final score was 3-1 in a well-played game between two Hamden teams. Altieri says he would hate to see this competition end. All games are played in Hamden except for the all-star tournament.
Greater Hamden has a PONY league franchise. Due to low numbers, games are played against rival towns. They also play in various tournaments around the state.
Last but not least are the "pro teams." These teams are run by professional coaches who have a lot of baseball experience. The most prominent in Hamden are the Batters Box run by Bob Turcio, who starred at the University of New Haven and in Italy. O'Keefe Academy, run by Mike O'Keefe -- a three-sport star at Notre Dame in West Haven. He also played at Providence College, and had a four-year run in the Angels organization.
There are also the Owls, run by SCSU team coach Tim Shea. You don't have to stick to Hamden because there are no restrictions and you can play anywhere you want as long as you have the money.
Playing on these teams takes a real sacrifice of finances and social life. The cost is usually around $2,000 and they play 60 to 80 games a year, including out-of-state tournaments. Most times, the players are responsible for these expenses also.
Next week: conclusion.








HAMDEN HUSTLERS
The Hamden Hustlers fall ball team opened up last weekend. The team consists of many players on the high school team.
The Hustlers split a doubleheader against Glastonbury at Glastonbury last Saturday. Hamden won the first game 6-4. Billy Garcia pitched two hit ball for six innings and Kyle Cummings got the save with a perfect seventh inning. Rob Davis and Will Hindinger led the Hustlers with two hits each. Dante Blackmon made several defensive gems at second base.
In the second game, Hamden couldn't get the bats going and lost 3-0.
Last Sunday, the bats came alive as the Hustlers beat West Haven 11-1.Alex Welch tossed a four-hitter keeping West Haven off-balance throughout the game. Davis had three hits and three RBIs. Russ DeMatteis and Cummings had two hits and Daryl Brandon drove in two runs with a double.
Hamden returns to action this week with a doubleheader at 9 a.m. at the Hamden High field against the Wallingford Panthers. They travel to Middletown for a single game on Sunday.








SCOOTER
Two weeks ago, one of baseball's most colorful characters died. Phil "Scooter" Rizzuto played for the Yankees from 1941 to 1956. Rizzuto, a diminutive 5 feet, 6 inches, was the American League MVP in 1950. He was a slick fielding shortstop and retired with a .968 career fielding average.
In his 13-year career as a Yankee, they won seven World Series. Rizzuto turned bunting into an art form. He was inducted into the Baseball Hall of Fame in 1994. After his playing career ended, Rizzuto embarked on a 40-year career as a radio and TV announcer. Although he was definitely a "homer," while announcing Yankee games his down-home style endeared him to everyone. Listening to him was like sitting in your living room watching a game with a friend.
Rizzuto's birthday, anniversary, graduation, etc., congratulations were legendary. His famous "holy cow" exclamation and his references to huckleberries for those he wasn't happy with were very popular.
George Grande, a Hamden resident, spent one year announcing Yankee games with Rizzuto. I asked Grande if Rizzuto was the same way off the air and Grande said, "With Rizzuto, what you see is what you get."
Several years ago I took my son Matt, the family sports memorabilia tycoon, to a card show at the Annex Club in New Haven where "Scooter" was going to be the guest of honor. Typically at these shows, an area is set up for stars to sign memorabilia. In most cases, they don't even pick up their heads to look at you while signing as several aides just shuffle the item in front of them.
As we walked into the show, I looked for the signing area but didn't see one. Not Scooter! He was walking through the show making comments to everyone and behaving like one of the kids. When he saw a baseball card of himself he would turn to one of the kids and say, "Look at that huckleberry."








HAMDEN FATHERS' BASEBALL 13U TEAM
The Hamden Fathers 13U baseball team recently won the 2007 Triple Crown Sports Labor Day Classic, compiling a 5-1 record.
In the semifinal game, Hamden defeated the Stratford Braves 14-5. CJ Carrigan was the winning pitcher for Hamden. Brandon Dadio and catcher Evan Martucci collected three hits each for Hamden. Brian Murphy, Mike Franco and RJ Ugolik, who led the game off with a triple, all collected two hits each.
Ugolik and Brian Rhone turned a double play to stop a late rally by the Braves. This was one of four that they turned to route the tournament.
In the championship game, Hamden defeated the Slammer's national team from New Jersey 4-3. Matt Elia was the winning pitcher with Carrigan getting the big hit, a double in the bottom of the seventh with two outs. After stealing third base Dadio drove him in with an infield single. Again, Rhone and Ugolik turned a double play to stop a threat in the second inning.
Eric Sullivan drove in nine runs, while collecting eight hits for the tournament. Erin Moskal started two games and won them both for Hamden. Franco and Carrigan also collected eight hits for the tournament.
Members of the team included Dan Mathews, Griffin Garabedian, Robert Rodriguez, Brian Murphy, Erin Moskal, Evan Martucci, C. J. Carrigan, Brian Rhone, Mike Franco, Matt Elia, RJ Ugolik, Brandon Dadio and Eric Sullivan. The team was coached by Jeff Garabedian, Jim Dadio and Bill Rhone.
Thanks to coach Rhone for the above info.
Tony Mentone is the former faculty manager and game assistant at Hamden High School. Tony is currently an assigning commissioner for the Greater New Haven Umpires Association and the assistant district administrator of Connecticut District 4 Little League. He also sits on the town's Parks & Recreation Commission. Please send info and announcements about youth sports or Hamden High sports to tonymentone@yahoo.com.
---
September 5, 2007
By Tony Mentone
WHERE HAVE THE DUGOUT ROOFS GONE?
Over a year ago, a plan was hatched to put roofs on the Hamden High baseball field dugouts. An area businessman was going to donate the material and Frank De Lucia, the Post 88 American Legion coach and local home remodeling contractor, was going to donate the labor.
Hamden Fathers' Baseball/Softball League vice president of boys, Steve Pacelli, was coordinating the project. Pacelli said "the school administration was very cooperative and led him through the process." The dugouts were approved with the understanding that the girls' softball field must also be done.
The donor said he could not afford double his original proposal and that is where the project is now.
I have had conversations with lawyers and educators about the provision of Title IX, ensuring equality among the sexes in sports. Many believe, as I do, that the intent of Title IX was never to match items dollar for dollar, but rather to provide "equal opportunity" for both sexes.
The Hamden High baseball field is used regularly by the varsity and JV teams, American Legion, Senior and Junior Babe Ruth, various All-Star games, "pro teams" with paid coaches and football teams.
The softball field is used for 10 high school home games and several freshman games. Also, because of the field layout, roofs would block the view from where people would be watching the game.
If an equipment supplier donated athletic supporters to the baseball team does he have to donate the same to the softball team? Let's be realistic -- they just don't need them!








STATE OF BASEBALL, PART TWO
I apologize to Greater Hamden Baseball for not noting that it has coach-pitched for 4- and 5-year-olds.
If you remember from my last column, your child is 7 years old. What is available? Basically, there are three options: Hamden Fathers' Baseball/Softball, Greater Hamden and the "pro" leagues, as I refer to them. This is a new phenomenon. They cost big bucks and play a lot of games. I will cover these leagues in greater detail later on in this column.
HFBA has been in existence for over 50 years. It has approximately 1,200 male participants at various age levels. It has two Little League franchises and a Babe Ruth franchise. It has been my experience that every team has at least one good coach who knows the game, and several assistants who don't. Because HFBA is the oldest league and has more participants than the others, it gets the better fields.
Greater Hamden has 275 participants and a Pony league franchise. The coaching is comparable to the HFBSA. They play some regular season games out of Hamden.
Recreation supervisor Dave DeMartino, who is assigned baseball for Parks & Rec, would like nothing better than the two leagues to combine. DeMartino said HFBSA is the premier league in terms of organization, but GHBA is close behind.
"Baseball is baseball," DeMartino said, "but combining the two leagues would make it a smooth-running operation." He went on to say that both sides must do a lot of compromising.
Next week, Part 3: baseball over age 12.








CONDOLENCES
We send our heartfelt prayers and sympathy to two Hamden sports notables.
Cosimo "Gus" Melillo's wife passed away this week after a long illness. Melillo is a longtime Parks & Rec commissioner and supporter of American Legion baseball.
Harry O'Neill's son died in an automobile accident. He was an HFBA coach and major league director for many years.








NEW COACH
Javier Rodriguez (HHS '01) has been named the assistant boys' soccer coach at Hamden High. He was captain of the Hamden soccer team in 1999 and 2000. Rodriguez coached and refereed in the Hamden Youth Soccer League. He graduated from Quinnipiac University and is a foreign language teacher at Hamden High School.
Javier joins his brother Joaquin who is the head coach. The varsity team is led by captain Pat Wildes (HHS '08) and Adam Baltavan. Joaquin said the 2007 edition of the boys' soccer team is "very young but very skilled. We play in the toughest league in the state but should hold our own."








WHERE ARE THEY NOW?
A match made in Hamden: James Leddy (HHS '63) and JoAnne Noonan (HHS '65) met in high school. Leddy was a hockey player and JoAnne, although not a varsity athlete, participated and coached in many town leagues.
They married and James became a fireman and eventually the fire chief, following in the footsteps of his father, Francis Leddy, and his uncle V. Paul Leddy. JoAnne became a mother of four and is now a secretary at Quinnipiac University.
James Leddy is running for the Legislative Council's 9th District seat.
Scott Leddy (HHS '87) played hockey at Hamden high and was a captain at Trinity College. He lives in Fairfield and has two children. He is a traitor for Banc of America.
Brian Leddy played two years at Hamden where he was an All-Area athlete in hockey. He went on to Westminster School and played hockey and baseball. Brian attended the University of Vermont on a hockey scholarship. He is a Hamden firefighter and lives in town with his wife and twins, a boy and a girl.
Amy Leddy attended Hamden in the mid-90s, and played softball. She transferred to the Berkshire School in Massachusetts. She played hockey, soccer and softball. She is an accountant in the athletic department at Quinnipiac. She lives in Hamden and is married with one daughter.
Twin sister, Jamie, also attended Berkshire and participated in track. She lives in Roanoke, Va., and teaches in Herndon. Jamie has two children.
Tony Mentone is the former faculty manager and game assistant at Hamden High School. Tony is currently an assigning commissioner for the Greater New Haven Umpires Association and the assistant district administrator of Connecticut District 4 Little League. He also sits on the town's Parks & Recreation Commission. Please send info and announcements about youth sports or Hamden High sports to tonymentone@yahoo.com.