January 28, 2006
Two Down?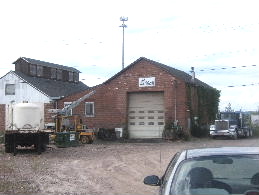 The Farricielli "industrial park."
The ZBA denies appeals from two of the 10 businesses at the Farricielli park
By Sharon Bass
The only thing legal at State Five Industrial Park is the Nextell Tower. Even the so-called industrial park itself is illegal, meaning it doesn't have the necessary permits to exist. The 10 businesses that lease there have been caught between a landlord who won't comply with local laws and a town that insists she does.
Last Oct. 11, the Planning & Zoning Commission voted unanimously to issue cease and desist orders to the businesses. Their options were to either shut down or appeal the ruling.
Four appealed it to the ZBA last Thursday -- State Five, Cardinal Trucking, Milo Fabricators and Modern Materials.
The ZBA has the final word.
Cardinal and State Five -- an office run by Jean Farricielli, landlord of the 2895 State St. park -- were denied appeals. The board gave Modern 60 days "to bring in a certified map showing exactly which piece of earth they're occupying," said Town Planner Leslie Creane. And Milo's request was tabled, while waiting to see if the P&Z will grant the company a special permit.
"We have tried to follow all due process so there aren't any questions," said Creane.
Asked who will close down Cardinal and State Five since they have run out of appeals, she said, "It depends on how cooperative the people are. We can use police action if we need, but hopefully it won't come to that."
Hamden currently has no zoning enforcement officers. They are needed to monitor the site -- and others around town -- for violations, and to make sure that businesses with C&D orders have shut down. Creane said she hopes to hire two officers soon.
Along with the industrial park on the State Street property are a shuttered, illegal landfill and a toxic tire pond, owned by Jean's husband, Joe Farricielli, although the state has prohibited him from the tire pond.
Joe Farricielli owes around $2 million to the state and over $1 million to Hamden in environmental fines. Some think he signed the industrial park -- the biggest money-maker on the property -- over twice, the last time to his wife, to appear he can't pay off his fines. According to Creane, he hasn't paid a dime and probably never will.
"I have worked intensively on researching and enforcing activities on this property for over two years," she said. "I do look forward to when it's all resolved. I wouldn't say it's frustrating. It's actually gratifying to see the process moving forward." Two years ago she said there were 13 businesses at the park; today there are 10 with two supposedly on their way out. While the individual companies have been ordered to get permits, the town planner said, "the ultimate responsibility is with the property owner."
Next step is another meeting with the attorneys, said Creane.
---
January 27, 2006
Primary Time -- Again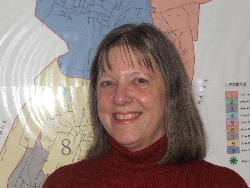 Democratic Registrar of Voters Peggy Rae.
DTC caucus conflicts leading to full-fledged elections
By Sharon Bass
Town officials say it looks very likely there will be primaries in the 2nd and 8th districts for the Democratic Town Committee. Estimated cost to taxpayers: four grand.
"It's a regular town election in these districts," said Town Clerk Vera Morrison of the likely March 7 primaries. As in all elections, regular and absentee ballots must be printed, voting machines need to be set up and extra staff time is needed.
"An election has a lot of details that need to be attended to. It's work," said Democratic Registrar of Voters Peggy Rae. "It's intensive work for two to three weeks."
Feb. 1 is the deadline for the primary petitions to hit Morrison's desk. The 2nd District needs 62 John Hancocks from registered Dems; the 8th needs 76. The petitions are then forwarded to Rae, who verifies the signatures.
The 8th
Anthony Mentone is spearheading the primary effort for the 8th. He and others from his district, who weren't voted onto the DTC at the Jan. 10 caucus, are crying foul play.
"We think our chairman completely screwed up the caucuses. There were more things wrong, you could write a book," he said. "He followed the local rules selectively."
Mentone said DTC Chair Joe McDonagh sent letters to registered Dems saying they have to pre-register if they want to run for a seat "when local party rules say you don't." He also said Councilwoman Carol Noble, who was elected chair of the 8th District caucus, suspended the local rules in favor of the state regs, which allow for nominations to be taken from the floor. About 15 people, including Mentone, walked out in protest. He maintained it was a ploy to get 8th District Councilman Mike Germano's people in.
"You can't walk into the game and in the first inning you find out there's only two outs instead of three," Mentone said. "We don't mind new people, but we've been doing this for years.
"These are the liberal people who say they don't do politics, they don't play politics."
Mentone said he's sure he'll get enough signatures to force a primary. On his slate are John DeRosa, Anne Ramsey, Rose Mentone, Jim O'Brien, Angelo Vitale, Susan Massaro and himself.
Ricky Baltimore, Mike Dolan, Germano, Noble, Gregg Pugliese, Steven Wilson and Marigrace Larke were chosen at the caucus.
The 2nd
Paul Jacques of the 2nd District said he too was peeved at the way his caucus was handled.
"It started when they moved the polling place (from the usual site at Helen Street School to Church Street School) and we weren't advised. If I was chairman of the district I would have discussed it with the rest of the DTC members. I think it was a ploy," he said. Councilman John Flanagan is chair of the district.
"If somebody went to Helen Street by accident they would have gone home," said Jacques. "People can vote from 6 a.m. to 8 p.m. (at a primary). That's the democratic process. I have the right to that. Now I'm going to put it to the people.
"And I want real Democrats on. People who are going to support Democrats," Jacques said, pointing out that some DTC members backed Republican Gabe Lupo for 2nd D councilman instead of Flanagan at last November's general election.
"If that's the case, join the Republican Party," he said, adding he has "more than enough" signatures for a primary. (Rae said based on the petitions papers Jacques submitted, she thinks he's got enough. Mentone has not yet handed in his petitions.)
Jacques' slate includes Deborah Tropian, Michele O'Connor, Shelly Imler, Leslie Jacques, Kristina Vollano, Norma Carr and himself. Those voted in Jan. 10 are Shirley Farm, Flanagan, Harry Gagliardi Jr., Sue Hutchinson, John Simpson, Joseph Velardi and Carmella Vitale.
Chair McDonagh said there was no dirty play in either district's caucus. "I kind of wish we could get back to the business of electing Democrats and stop the petty bickering," he said.
---
January 26, 2006
It's Gotta Come Down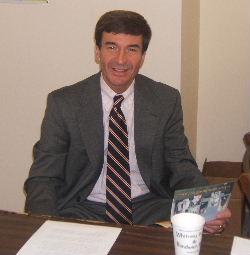 The mayor.
By Sharon Bass
It was really no surprise when Mayor Craig Henrici told the HDN yesterday that the school super's proposed $90 million budget is just wishful thinking.
"I think her request was a wish," he said. At the Board of Education's Finance Committee meeting Tuesday, Superintendent Alida Begina introduced her '06-'07 budget -- a 9.9 percent increase over last year's ("Round 1").
Henrici wouldn't say how much of a hike he'd agree to; only that it would be less than what Begina wants.
The mayor said he's trying to get more involved in the school budget process than some of his predecessors were. Last week, Henrici, town Finance Director Michael Betz and mayoral aide Scott Jackson met with Begina, school Finance Director Tom Pesce, Assistant Superintendents Hamlet Hernandez and Portia Bonner and BOE Chair Michael D'Agostino to talk budget.
"I assume if the Board is going to add or drop a program they'll get input from the (town) administration," said Henrici.
He said he agrees with D'Agostino's idea to submit a budget that is realistic -- as the chair suggested at the Tuesday meeting -- in lieu of one that is destined for the cutting board, like Begina's $90 million proposal.
But Henrici said some increase is necessary. "I just know that everything is more expensive this year (like) utilities and transportation," he said. The school budget is due on the mayor's desk by March 1. After he reviews the document, it goes to the Legislative Council for either an up or down vote. If it's down, it returns to the BOE.
---
January 21, 2006


By Sharon Bass
Both Matt Whalen's and Ann Altman's online Hamden message boards were abuzz yesterday about an "office in the police department" that just got $3,500 drapes in a no-bid deal. The HDN scratched its head and called town Purchasing Agent Judi Kozak.
She said the item was OK'd last November. The nearly $3,500 to dress up Chief Jack Kennelly's windows went for new molding, window tracks, blinds and cornices, said Kozak.
In fact, she said, "there are no drapes." The new window treatments replace 25-30-year-old blinds that reportedly had never been cleaned.
Kozak said when she first saw the price, she told Kennelly it was "excessive," and he agreed to have his department pay about half the window bill. The other half comes out of the Public Works pocketbook, she said.
She said there was a bid waiver for the item, and the chief got an "emergency confirming number, which means we gave him the authorization to go forward with the purchase."
"He followed the process to a T," said Kozak. "I don't know how much of an emergency it was. I trust the chief. When I told the chief (the cost) was excessive, he had no problem. I know I can't have these in my house because they're too expensive. But I am not the chief of police. And he is the chief of police. He deserves a new office."
Hamden resident Whelan, who runs the aforementioned Web site, concurred with the purchasing agent.
"The chief deserves a nice office and if it costs $5,000 or $10,000 to make it an office fitting of a person in that position, then I don't have a problem with that," he said.
But Whelan does have a problem.
"My problem is with the politicians in this town who were screaming during the last election that the town had no money. And now those same people are saying nothing," he said. "The only difference between then and now is it's a different administration."
Kennelly was away due to a family death.
----------------------------------------------------------------
By Sharon Bass
Councilman Curt Leng was supposed to meet with Bridgeport's labor department yesterday about the state of his job for the city. But upon his and his labor lawyer's request, the hearing was postponed until Jan. 24.
Leng was suspended without pay last Saturday from his post as the city's community development director, a position he held in Hamden until being elected to the Legislative Council in 2003. Earlier this week, Leng told the HDN that Bridgeport cited poor work performance and a poor review from the federal Department of Housing and Urban Development -- which funds Leng's $73,000-a-year job -- as reasons for the suspension. Curt denies the charges.
But for now, the 6th District councilman is not talking.
"I talked to my union attorney and he said the labor office and he agreed to a news blackout until the hearing is completed," he said. "And I'd like to respect that."
---
January 19, 2006
Standing by Their (Council) Man


Curt Leng. HDN file photo
By Sharon Bass
Hamden's top Democrats are rallying around 6th District Councilman Curt Leng, who was suspended without pay last Saturday from his Bridgeport city job.
He said his employer cited poor work performance and a poor review from the federal Department of Housing and Urban Development (HUD) -- which funds Leng's $73,000-a-year job -- as reasons for the suspension. The 31-year-old has been the city's deputy director of Community Development for roughly two years.
Tomorrow there will be a hearing in Bridgeport City Hall, which could result in Leng getting fired. He said he's done nothing wrong.
His Democratic Hamden colleagues say they believe him, and are shocked.
"I don't believe it," said Mayor Craig Henrici.
"I can't say I've know him for years, but I've known of him and he's a bright and honest young man," the mayor said, adding that he just learned about Leng's situation yesterday. "Any suspension based on incompetence, I don't believe it. When I spoke to Curt, he said he was going to fight it all the way, and I said, 'Good for you.' It's incomprehensible that he's not able to perform his job."
"I'm shocked. I'm shocked. I never heard a negative comment about him when he was our HUD director. Never. He was always doing a good job," said Councilwoman Carol Noble. (Leng was Hamden's director of Community Development in 2003, leaving that post for Bridgeport when he ran for the Legislative Council.)
She said she's known Leng since 1997 and described him as being "very dedicated, very interested in the people's welfare at all times. Always wanting to involve the community in political activities."
And from Joe McDonagh, chair of the Hamden Democratic Town Committee: "I have not talked to Curt but I trust what Curt said, that when the hearing takes place he will be vindicated."
If Leng is fired McDonagh said, "He would not be the first person fired from a job. I've been fired myself. Everyone has been fired. It doesn't affect his ability to be a good councilperson, which he is." He said about five current councilpeople "off the top of my head" have been fired from a job.
The Employer Says ...
Bridgeport cannot tell its side of the story since it's a personnel issue.
"I'm not fully up to speed on what's happening," said Karen Kaufman, Bridgeport Mayor John Fabrizi's spokeswoman. "I know we're acting on the situation."
But the city's labor relations lawyer said he could respond to general queries. Asked how the city determines whether to put an employee on paid or unpaid leave, the lawyer said it depends on the "severity of the alleged circumstances."
Innocent
"I completely refute all the inaccurate accusations made by the city of Bridgeport and I'm fully confident that the truth will emerge as the process unfolds," said Leng. "And that my name and reputation will be cleared.
"Unfortunately, this is the culture of Bridgeport. And in my opinion that is why they fail to make the progress that other cities in Connecticut make," such as neighborhood revitalization and successful community redevelopment.
The councilman said HUD did a routine monitoring of his department last July. Its report hit Fabrizi's desk last month. According to Leng, the federal agency cited six areas in the city's block grant program with critical shortcomings. Leng is responsible for carrying out the work for part of the grant. Another director oversees the other portion.
"A vast majority of the problems HUD is finding began under the previous director," he said. "Some date back nearly a decade." He said he is not being accused of corruption.
After learning of the shortcomings cited by HUD, Leng said he wrote a 30-page response which faxed and e-mailed to the HUD Hartford field office on Monday, Jan. 9. Two days later, he said, he found out that HUD was coming to Bridgeport City Hall on Jan. 12 for a meeting about an unrelated topic, but the monitoring report was discussed anyway.
Last Friday the 13th, Leng said he had an optical migraine and called in sick. However, he said, he felt better later on and went to his office from 5 p.m. to 9 p.m.
"That's typical for me," he said.
The next day, a Hamden cop came to his Smith Drive home to deliver the suspension letter.
Unlawful Suspension?
A member of the Bridgeport City Supervisor's Association, Leng said his union contract stipulates that a formal verbal warning and then a written warning be issued before he can be suspended. Leng said he got no such warnings.
"I want my name and reputation cleared," he said. He would not say whether he wants to return to his job.
If tomorrow's decision goes against him, the councilman can appeal it to the state Labor Department.
---------------------------------------------------------------------------
Fire Chief Leddy gives the town an A+ in preparedness
By Sharon Bass
The HDN asked Hamden Fire Chief Jim Leddy, "How prepared is Hamden for catastrophes?"
"I don't want to brag but we're one of the most prepared towns in Connecticut," he said.
Glad the HDN lives here.
Mayor Craig Henrici concurred. "I feel very safe here. My office door is open."
Leddy ran down the stuff the Fire Department has for disasters like hurricanes, tornadoes, chemical spills, gas leaks "even a disaster on the level of 9/11. Any type of disaster you could think of, that you don't even want to talk about."
Located in Memorial Town Hall is the Emergency Management Center. It has computers and radios to communicate with surrounding towns and the state. The center is activated only during extreme emergencies.
In addition to the department's 102 firefighters, there's a Civilian Emergency Response Team comprised mostly of volunteers from Hamden. "They're just regular people in town," the fire chief said. They go through a two-month class at Public Works, taught by emergency management people. Students are shown how to operate the EMC, as well as learn about things like traffic control and first aid.
Leddy threw out some numbers:
Hamden has about 1,000 fire hydrants …
And five fire stations …
Each has one engine with meters that monitor chemical spills, gas leaks …
There are two paramedic rescue trucks …
And last year Hamden fire received about 9,000 calls, ranging from false alarms to major fires to medical emergencies.
If terrorists attack Hamden, Leddy said there's a plan.
The EMC is activated. Police and fire work together. Off-duty personnel are called in. They don suits that will protect them from chemical and biological exposure. They use special breathing apparatus. Emergency generators are ready to go for those on life-support. And there's a search and rescue program.
"We evacuate the area that was bombed," he said. "We have buses lined up to transport people to the schools." He said the town has an arrangement for this with Laidlaw, the bus company.
"People should feel very comfortable," said Leddy. "I just hope they don't have to use our services,"
To get more information on how prepared Hamden is to handle horrific events, call 407.5880.
---
January 18, 2006
The R's Take Their Seats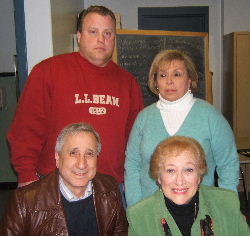 9th District: (clockwise) Craig Cesare, Raeanne Curtis, Anne Balogh, Lee Campo (missing from photo, Len Grabowski)
Republican Town Committee caucuses swiftly
Story and photos by Sharon Bass
"He has what? Three assistants," a man said to a man sitting next to him.
"Yes, and Carl only had one," the man sitting next to the man responded.
Those and other remarks about the Henrici administration were overhead last night at the Republican Town Committee caucuses held in the Miller Senior Center. At 6:30 p.m., people from each of the nine districts sat around tables, waiting to see if they would be contested and, conversely, if enough people would show up to fill the five slots for their district.
"We've had a good turnout," said RTC secretary Sarah Morrill. "A lot of active members."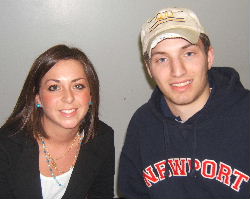 Quinnipiac students and RTC members Brittany Sanders and Michael Vitali.
At a table to the far right sat the 1st District. Brittany Sanders, who ran unsuccessfully for a district Council seat last November, was sitting with her campaign manager, Michael Vitali. They are both Quinnipiac University students.
This is Vitali's first go around on the Hamden RTC. He served on the Wallingford Town Committee in 2003.
"I always like to be involved in the Republican politics in the town," the 20-year-old said. Asked why he chose the Republican Party, Vitali said, "I like the free market. I want to make the most money I can and keep the most money I can. I believe in the least amount of government possible."
He also spoke highly of President Bush.
"I believe the majority of his policies are what's right for this country," said Vitali. "I believe the Republicans who are trying to distance (themselves from Bush) have other motives." He pointed to U.S. Sens. Chuck Hagel (R-Nebraska) and John McCain (R-Arizona) as examples of Republicans who are taking a less radical approach than Bush's in order to be "more palatable" to the voting public, in preparation for the 2008 presidential race. On the other side of the aisle, he said, Sen. Hiliary Clinton (D-N.Y.) is doing the same thing.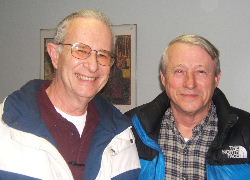 Walter Rochow and Paul Wetmore discussed the mayor's new SUV last night.
The two men talking about Mayor Craig Henrici's three assistants were 8th District reps Walter Rochow and former Fire Chief Paul Wetmore (also husband of councilwoman Betty Wetmore). The topic had switched to the mayor's new town car, an SUV. In campaign literature, Henrici promised he would not drive a town car, to set an example of fiscal responsibility. On Jan. 3, the Legislative Council approved a $30,000 bid waiver for the SUV. Some were against the purchase, saying the mayor relinquished on a campaign promise -- and so soon -- while others contested it for being a "gas-guzzling polluter."
"First of all, for a Democrat who supposedly is very concerned about the environment, he picked a large SUV," said Rochow. Furthermore, he said, to use the excuse that you need such a vehicle to get to emergencies is hogwash. "The police can drive him where he has to go. And how often is that going to happen?"
Rochow said he wasn't disturbed by the broken campaign promise. "I put so little stock in what campaign literature says -- as proved by this -- so it didn't bother me," he said.
Wetmore didn't have much to say. "All I know is what I hear, that they spent X amount of money on a no-bid vehicle," he said, adding that since retiring about 10 years ago from the Fire Department he doesn't hear "as much stuff anymore."
"The turnout tonight and the new faces just reaffirmed the positive feelings I have about the Republican Party in Hamden," said Morrill.
About 40 minutes after the caucuses started, the five seats in all districts were filled, except in the 5th, which has just three reps. There were contests in the 2nd and 4th, according to RTC Chair Mike Iezzi.
"I'm very happy to see the interest level of the people in the party is so high," said Iezzi. "There really is a great interest in rejuvenating our party."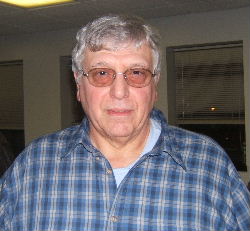 The registrar of the hour, Tony Esposito, at last night's caucuses.
New members include Vitali, Kristen McDonough, a Quinnipiac student, Police Sgt. Gabe Lupo, police officer Angelo DeLieto, Carolynn Cesare, wife of the late Councilman Frank Cesare, and her son, Planning & Zoning Commissioner Craig Cesare.
The 2006 Republican Town Committee
1st District
Amy Iezzi
Michael Iezzi
Kristen McDonough
Brittany Sanders
Michael Vitali
2nd District
Leonard B. Caplan
Angelo DeLieto
Barbara DeNicola
Gabriel Lupo
Mary White
3rd District
Patricia Brown
Sandra Brown
Robert Cocchiaro
Jennifer Cutrali
Sarah Morrill
4th District
Carolynn Cesare
Christine Esposito
Anthony Esposito
Christopher Pappas
Brian Stewart
5th District
Helene Kasha
Colin G. Odell
L. Henry Platt, Jr.
6th District
Joseph C. Bertini, Jr.
Ira Caplan
Alice Fischer
John C. Lang
Richard T. Reilly
7th District
Raffaele DiSanto
Ron Gambardella
Sean Joyce
Gail L. Mitchell
Victor J. Mitchell
8th District
Daniel Potts
Walter Rochow
Edward Sullivan
Timothy Sullivan
Paul Wetmore
9th District
Anne M. Balogh
Liborio Campo
Craig F. Cesare
Raeanna V. Curtis
Len Grabowski
---
January 14, 2006
By Sharon Bass
According to local law, folks only have 24 hours to clear their sidewalks after an ice- or snowstorm. Not 28 hours. Not three weeks. Just one full day. And Mayor Craig Henrici wants you to know he means business this winter.
"The Engineering Department will diligently monitor complaints regarding snow and ice removal," he is quoted in a press release. And violators can be hit with a $25 fine for every day their sidewalk is not cleared.
Get the picture?
Now, if you can't remove all the snow and ice, the town said it's OK to throw an abrasive substance like sand over it to help prevent your neighbors from slipping and falling.
If you see snow or ice on a sidewalk, report it to the new Help Desk at 287.7676 or Engineering at 287.7040.
---
January 13, 2006
UPSEU scraps plan to try to take over a Council 4 Town Hall local
By Sharon Bass
A union that wanted to hold an election this year for a bargaining unit's 90-something members will not.
That is the only statement both sides agree on.
UPSEU was after Council 4's Local 2863 (about 90 Town Hall Workers and school crossing guards) and says it cannot go ahead with an election because Council 4 filed for arbitration with the state late last November, making its bargaining unit untouchable. (2863's contract expired in 2004, and state law mandates periods of arbitration until a new contract is signed.)
While Council 4 won't say whether it did file last November it claimed the real reason UPSEU can't hold its election is because it didn't have enough support from Local 2863.
In any event, there will be no election.
Wayne Gilbert of UPSEU said two weeks ago he called the state Labor Board of Mediation and Arbitration to "double check the window period" -- when an election would be allowed.
"They told me AFSCME (Council 4) had placed the unit into binding arbitration. Once that happens it's a block" to going forward with an election, he said.
Early last November, Gilbert sent letters with authorization cards to Local 2863 members. "We had enough (authorization cards) to file," he said. Asked how many, he said, "I never tell numbers." State law requires at least 30 percent of the members to send back the cards, showing their support, in order for there to be an election.
Gilbert said Council 4 then purposely filed for arbitration to stop an election. "The issue is, are they really having the meetings with the town? Are they really going forward? Or are they using this as a ploy from having the membership have a vote" for new union representation? he said.
Nancy Steffens, a spokesperson for the Labor Department, said she could not verify until next week if and when Council 4 filed for arbitration.
Gilbert's Lying
Kevin Murphy, director of collective bargaining for Council 4, called Gilbert's explanation "a lie. The only reason he isn't going forward (with the election) is because he doesn't have enough cards. Period." Asked how he knows, Murphy said, "I know my members."
He said the union is in arbitration but wouldn't say whether it filed last November, as Gilbert maintained. And Murphy discounted Gilbert's contention that Council 4 entered into arbitration to stave off an election.
"We feel we are doing a good job for our members, and they obviously had no interest in pursuing UPSEU," said Local 2863 president Carol Riccio. "We are busy improving overall working conditions and public service."
"Here's the bottom line for us," said Larry Dorman of Council 4. "USPEU is a raider organization and it operates by trying to foster discontent among union members. That's the real issue. It's very clear that the bargaining unit members of Local 2863 feel we're out here fighting for them."
The local's contract expired on June 30, 2004. Murphy said he's in "active negotiations" with Mayor Craig Henrici, Personnel Director Ken Kelley and labor lawyer George O'Brien on a new one.
Asked again if Council 4 filed for arbitration at the end of November, Murphy said, "Whether we filed or didn't file it's not relevant to the issue. It disrupts the personal lives of our members. I'm not going to continue this campaign because he could not sway enough members to file cards."
UPSEU has three Hamden locals: one for 55 Public Works employees, another for 17 Board of Education nurses; and another for 120 BOE clerks and paraprofessionals.
Gilbert said he might try again for the folks in Local 2863.
"If members contact us again as they did this time," he said he "absolutely" will pursue another election.
"People didn't like the fact that AFSCME told them they couldn't have their grievances appealed. That's what we were hearing. That was one of the more common complaints," he said.
Council 4 neither agreed nor disagreed with the allegations.
---
January 12, 2006
Hamden officially moves forward on building a shelter
By Sharon Bass
It's been 60 years since the town had its own animal shelter. But the no-shelter streak should soon end, said mayoral aide Scott Jackson.
Yesterday, he and Purchasing Agent Judi Kozak had a "mandatory meeting" with a dozen architectural firms about building a shelter at the corner of Shepard Avenue and Rocky Top ("Fido's Angels").
"It was a really quick meeting," said Jackson. "I think people were so shocked (at the brevity) they started asking questions."
The architects were asked to submit by Jan. 24 an informational packet on their background, projects designed and other qualifications pertinent to developing the shelter -- and written "proof" that they understand the nature of the job, said Jackson. Their applications will be reviewed by Jackson, construction manager Tony Civitello and folks from the Citizens Shelter Committee.
"It's an important project so we're trying to move ahead quickly," said Jackson.
Hamden animal control officer Jean Murray said a municipality cannot promise a no-kill shelter because some animals brought in are too sick or injured to realistically be saved. But, she said, euthanasia would be used sparingly.
State law requires towns to take care of abandoned animals. Players involved in Hamden's shelter plan say it will bring in money through adoptions, rabies clinics and other fee-for-services. The Legislative Council just approved a 6-month extension on the lease the town has with the North Haven shelter, for which it pays $10 per day per animal. While Jackson predicted another extension would be sought, he said "it's clear that it will be short term."
---
January 11, 2006
They Caucused and They Partied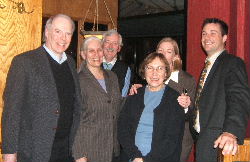 Kicking back at the Sea Breeze last night after the DTC caucuses (left to right), John Morrison, Kath Schomaker, Joe McDonagh, Carol Noble, Gretchen Callihan (behind Noble) and Mike Germano. Photo/Sharon Bass
By Sharon Bass
The HDN caught up with a bunch of Democrats last night at the Sea Breeze Restaurant, at the corner of Dixwell and Whitney. They had just come from their respective Democratic Town Committee caucuses, where seven candidates for each of the nine districts were voted in. There wasn't an unhappy face in the crowd.
Most reported smooth sailing. But not all.
John Morrison, chair of the 4th District, said a slate of seven was agreed upon just prior to the caucus and everything went as planned. Twenty-five to 30 people from the district showed up to vote, he said.
Councilwoman Kath Schomaker from the 5th said about 100 came out to decide who will sit on that district's committee. They used written ballots in lieu of voting with their mouths, to avoid offending neighbors whom they didn't choose. There was a slate plus two contenders.
"The contenders had a good showing of votes, but the slate won," she said.
The 8th District didn't do its thing quite as quietly. After some back and forth, it was decided that state election laws rather than Hamden's would rule.
"We had a very interesting caucus," said Councilman Mike Germano.
Yes, agreed Ricky Baltimore, an 8th District member of the DTC. "Hamden has some illegal rules" that run counter to the state's, he said. The rule in question last night was whether nominations could be taken from the floor. Hamden says no; the state says yes. State law trumps the local.
So Germano challenged the old way of doing things and was backed by a majority to allow floor nominations.
"I believe it's a more democratic way," said Councilwoman and 8th District rep Carol Noble. "I'm so happy with our district. I think they're going to campaign hard for the Democrats in our district."
The 7th District was the last to report to DTC Chair Joe McDonagh, who was waiting ever so patiently at the Sea Breeze. Councilman Mike Colaiacovo, who carried in the endorsed candidate list, said his caucus lasted all of maybe 15 minutes -- there were no challenges and no one from the public showed -- but everyone was hungry. So afterwards they piled into the Acropolis Diner for a bite before heading for the Sea Breeze.
Anyone wishing to primary the endorsed must take out petition papers by Feb.1. If there are any primaries -- and it looks like there might be -- they will be held on March 7.
The endorsed candidates:
1st District
Johanna Becker, Councilman Matt Fitch, Rachel Gillette, Edward Grant, Joanne Iacobellis, Judi Kozak, Gary Schark
2nd District
Shirley Farm, Councilman John Flanagan, Harry Gagliardi Jr., Sue Hutchinson, John Simpson, Joseph Velardi, Carmella Vitale
3rd District
Oswald Brown, Sioney Clarke, Sandra Cloud, Carl Lambert, Collin Lewis, Fire Commissioner Gerald Migliaro, Councilwoman Berita Rowe-Lewis
4th District
Fire Commissioner Henry Candido, Phyllis Epstein, Curtis Johnson, Stephen Mongillo, John Morrison, Joan Rudolph, Andrew Wormser
5th District
Irene Fiss, Laticia Mewborn, Richard Morton, Lester Sarkady, Adam Sendroff, Raymond Sims, state Rep. Peter Villano
6th District
Barbara Anton, Elaine Dove, David Huston, Elliott Kerzner, Councilman Curt Leng, Albert May, Eliot Sheiman
7th District
Councilman Michael Colaiacovo, Michael Crocco, Anthony DeCaprio Jr., Deborah DiLeone, Barry Herman, Police Commissioner Janet Mills, Judith Rich
8th District
Ricky Baltimore, BOE member Mike Dolan, Councilman Mike Germano, Councilwoman Carol Noble, Gregg Pugliese, Steven Wilson, Marigrace Larke
9th District
Marjorie Clark, Mike D'Andrea, Elisabeth Gorman, Jennifer Rignoli, Rosenthal, Anthony Stratton, Don Werner
---
January 5, 2006
Can This Man Do it All?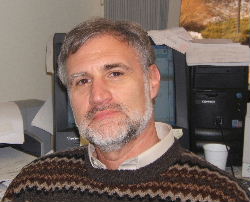 Risk Manager Art Giulietti. Photo/Sharon Bass
By Sharon Bass
When Mayor Craig Henrici named Lew Panzo to be the town and school health-care agent of record, some legislative councilors balked. They said they were unhappy with how Panzo, CEO of Associated Plan Administrators on Whitney Avenue, was chosen, wishing there had been a larger search ("Craig's Choice"). They also suggested that Panzo was given the job because of his monetary contributions to Henrici's campaign, and questioned his suitability in light of lawsuits against his firm ("More Lawsuits Against Panzo").
Furthermore, Councilwoman Carol Noble asked whether the town even needs an agent since it hired a full-time risk manager in 2002, who could potentially do the job of being the intermediary between the insurer and Hamden.
The answer to Noble's question is unclear.
"I have knowledge of health benefits. But I don't think my job description mentions it," said Risk Manager Art Giulietti. "The everyday administration of health and life insurance is done by the Personnel Department. But because of my background in insurance I help, even though my job description doesn't include it."
Asked if he could do Panzo's job as well as his own, he said, "It depends. That's not a simple question to answer." Giulietti said most towns have both a risk manager and an agent of record or insurance consultant.
"You don't need an agent of record to do the bidding, but not every carrier will deal directly with the town of Hamden," he said. Anthem, which handles the town's and school's self-insurance plan, will deal directly with the town, the risk manager said. But Hamden's life insurer, Mutual of Omaha, "to my knowledge is an agent-based carrier."
What about bringing on a different life insurer that would deal directly with the town? "I don't know. I honestly don't know," said Giulietti, who is paid $61,800 a year. The agent of record is paid a commission by Anthem, which starting this July will be negotiated between the town and the insurer ("Secret Agent, Man"), since it ultimately comes out of the town coffers.

Councilman Curt Leng has also voiced skepticism about the agent of record's role, especially during these fiscally tight times.
"With health insurance being the single largest line item in the town's budget, we need to be absolutely certain that we are getting the best bang for our buck," the 6th District representative said. "It's a perfect time to learn more and potentially make adjustments before the mandated changes scheduled for next fiscal year are implemented. I would like to know what the risk manager's role is in the health insurance arena and how he might interact with an agent of record."
Mayor Craig Henrici said an agent of record "is a must. It's my understanding that doing the work the agent of record does is not in Mr. Giulietti's job description," said Mayor Craig Henrici. "I don't think this administration is going to negotiate to put it in his job description."
According to the job description, "The Risk Manager will develop optimum alternatives for protecting Town Assets, including self-insurance program and will administer all aspect [sic] of such programs. This position requires considerable knowledge, skill and ability in workers [sic] compensation, casualty and liability insurance, heart and hypertension, and in safety programs."
Giulietti said most of his time is spent on workers' compensation claims.
-------------------------------------------------------------------------
She Can Help You, Hamden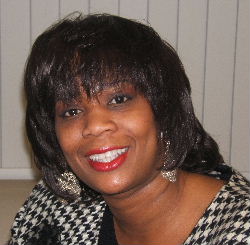 Dial 287.7676 for Darlene Butler. Photo/Sharon Bass
The mayor's new "help desk" -- to open for biz next week -- has a last-minute staffing change
By Sharon Bass
Got a problem you need Town Hall to remedy? Just call 287.7676.
Yup, Mayor Craig Henrici's campaign promise for a "help desk" is materializing, but not without some internal kinks of its own (more about that later).
"I think people are excited about it," he said. "I think people are going to like calling one segregated line."
Darlene Butler, former Mayor Carl Amento's secretary, will be at the other end of 287.7676 fielding residents' problems. (They can also be e-mailed to her, but the e-mail has not yet been set up.) From there, Butler contacts the appropriate department to get the wheels turning. No need to know any other town numbers, except for police and fire. 287.7676 is it.
And, said Henrici, though Butler is delivering the messages to the various departments, they're technically coming from him -- the mayor. Get it?
"People just don't know where to call. They spend a half-day trying to find the right department," said Butler, who will be paid $50,000 a year as a mayoral aide. In addition to the help desk, she will assist Scott Jackson, the mayor's top aide.
"People call the mayor's office for busing issues, school issues, road kill," she said. Butler worked in corporate relations for The Hartford for 18 years prior to coming to Hamden Town Hall.
The Kinks
Tuesday evening, the Legislative Council approved the funding for the new position. In fact, it wasn't until Tuesday that Butler learned she was going to do the help desk. She thought she was going across the hall to work in the Planning Department.
Originally, Holly Masi, administrative assistant to boards and commissions for Planning, was supposed to switch places with Butler. Last December, Masi developed the help desk while still doing her job in Planning. (Masi's job is unionized. The mayoral aide is a political appointment.)
But Masi said she had growing concerns about leaving her secure Planning post for the mayor's office because "the job was too much up in the air. It was funded at zero dollars." She said she had asked for a letter confirming her new appointment, but didn't receive one. Masi said she also expected the funding to be in place before Jan. 1 and didn't want to take the chance that the Council would vote against it.
"She was very concerned about losing her union status," said Henrici. "I told her to think about it and she thought about it."
Over the New Year weekend, Masi said she decided to stay where she is.
"If things had been secured ahead of time and the funding had been there, I would have been in that position right now," said Masi. "I didn't want to make a decision that was contingent on the Council.
"How do you leave a union-protected position for a job with no funding? I can't afford to be unemployed or take that chance," she said.
---
January 4, 2006
The Mayor's Got New Wheels, and Altman's on P&Z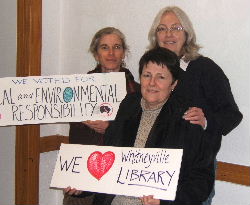 Whitneyville women with a message. (Left to right) Anne Sommer, Margaret Ariori, Deb Smith
The first Legislative Council meeting of the New Year gives Henrici everything he asked for -- but not without a squabble or two
Story and photos by Sharon Bass
At the start of last night's Council meeting -- moved swiftly along by Councilwoman Carol Noble, president pro tem -- three women made a last-minute plea about the mayor's controversial choice of cars.
"There are other alternatives besides a $30,000, gas-guzzling SUV," said Anne Sommer. She, Deb Smith and Margaret Ariori, who all live in Whitneyville, came armed with signs and words to try to dissuade councilors from voting for the big vehicle.
"It makes a statement what the mayor drives," Sommer continued, pointing out that New Haven Mayor John DeStefano's town car is the environmentally and financially friendlier Toyota Prius.
Later on, when the item to approve a bid waiver for the $30,000 in favor of Bob Thomas Ford came up, Councilors Ron Gambardella and Kath Schomaker echoed the women's sentiments.
"Mayor Henrici ran on a platform of greater fiscal responsibility," said Schomaker. Craig Henrici also stated in one of his primary campaign fliers that he would not use a town car.
His top aide, Scott Jackson, defended his boss. "The purchase price is exceptional," he said, explaining that the mayor is working on a car allowance plan for town employees in order to cut down on the size of the fleet. Once that plan goes through, Henrici will probably hand over the new SUV to the police department, said Jackson, and use one of his personal SUVs.
He said the mayor must have a four-wheel-drive vehicle, like an SUV, to respond to emergencies.
"You mention that the town requires the mayor to have a four-wheel-drive SUV. Where does it say that?" said Gambardella.
Nowhere, said Jackson.
"This is an interim vehicle," said Councilman Matt Fitch. Mayor Henrici "is anxious to pursue the car allowance policy."
Noble, who led the meeting because Council President Al Gorman was on vacation, ended the debate. "Give them some time to develop those goals. We need to work with them, not against them," she said.
The motion passed with seven votes; Gambardella and Schomaker voted against it; Councilman Jim Pascarella abstained as Bob Thomas is one of his health insurance clients; and four councilors were absent -- Gorman, Betty Wetmore (sick), Mike Germano (in California for the Sun Bowl) and Willie Mewborn (sick).
And Then There was Altman
Pascarella joined Gambardella and Schomaker in saying no to Henrici's appointment of former Councilwoman Ann Altman to the Planning & Zoning Commission.
After being warned at last week's meeting about making personal statements about commission appointees ("The Mayor's New Car"), Gambardella started off by saying he likes Altman. In fact, he said it about three times.
"The reasons why I don't think Ann Altman would be a good fit for the (P&Z)," he said, are the derogatory remarks she has made on her Web site; a request she sent to the state Board of Accountancy last spring to investigate the integrity of the municipal audit performed during Mayor Carl Amento's regime; and for blatantly displaying a "Henrici" for mayor mug before the primary election at a Council meeting to "humiliate the (Amento) administration."
(In response to Altman's inquiry, on April 12, 2005, the Board of Accountancy wrote: " … it is the opinion of this Board that the nonaudit services provided by Levitsky & Berney to the Town of Hamden did not have a significant or material effect on the subject matter of the municipal audit and the independence of the auditors were [sic] not compromised."
"I am not attacking her personality," Gambardella said. "I like Mrs. Altman. I just don't think she's a good fit."
"Coffee mug?" said Fitch. "This is a very important commission. I am particularly enthused about this appointment. She's highly qualified."
"I, too, will be supporting Mrs. Altman," said Councilman Curt Leng. "But I respect Mr. Gambardella's objection." Leng called Altman a honest, hardworking public servant who pays great attention to detail.
"I cannot support this nomination," said Schomaker, because it would violate her sense of "civility and mutual respect."
Like others, Pascarella said Altman is very bright -- "one of the smartest people in Hamden" -- but nevertheless he did not want to see her on the P&Z. His reason was similar to Gambardella's.
As head of the Hamden Education Foundation, which uses space at the Board of Education building, he had invitations to a fund-raiser sent out last spring. "By a fluke," he said, the Board of Education put the invites through its postage meter instead of using the stamps he had supplied. The amount was $5.30.
On March 30, 2005, Altman wrote a letter to Town Attorney Sue Gruen and sent copies to School Super Alida Begina, Attorney General Richard Blumenthal and state Education Commissioner Betty Sternberg asking whether it's "legal for a Private Foundation to make its home in a Municipal Building … (and) whether the postal meter #8323562 is a public or private postal meter … I am so upset by the continued mis-use [sic] of a Municipal Building that I am asking that a copy of this letter … be sent to the Attorney General."
No improprieties were found on behalf of the Hamden Education Foundation.
Pascarella said the town spent about a thousand bucks on legal fees to answer Altman's questions. "My point is people were inconvenienced for $5.30. I can't for the life of me understand how someone so brilliant could push something so small," he said.
"What we have here," said Gambardella, "is a candidate who won't accept the outcome of decisions. I would encourage my colleagues not to vote for her."
But they did, 7-3.
"Mrs. Altman is like yogurt," said Councilwoman Berita Rowe-Lewis. "You either love it or hate it." She added that Altman is no rubberstamp.
The mayor's other appointments sailed through with just one hiccup for Joe Brandi.
Leng solely opposed Brandi for the Police Commission. After the meeting he told the HDN, "I felt that was the most political of the appointments. Brandi was a regular attendee at (political) fund-raisers (for Henrici). I would prefer to see complete independence rather than the perception that you have to pay to play on these commissions."
The Legislative Council confirmed Joe McDonagh for another term on the P&Z; Meg Nowacki, Janet Mills, Elliott Kerzner, Marty Ruff and Brandi for the Police Commission; Henry Candido, Duane Wetmore, Michael D'Andrea, Gordon Miller and Gerald Migliaro for the Fire Commission; Edith Sokoloff for another term on the Hamden Housing Authority; and Adam Sendroff for the Community Development Citizens Advisory Commission.
Way to Go!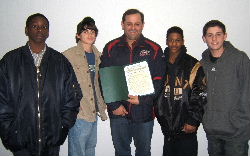 Coach Dominic Rapini, holding the mayor's proclamation, with four of his star players.
And on a high-achieving note, for its phenomenal season the Hamden Hurricanes Jr. Squad received a mayoral proclamation at last night's meeting, recited by Councilwoman Gretchen Callahan. Team coach Dominic Rapini and four of his players -- his son Tom Rapini, Evan Jackson, Mike Tafuto and Vaughn Cabral -- were there to accept it. The squad won the state and New England championships and came out No. 2 in the country in its division, losing just the last game at the nationals in Orlando, Fla.