The Hamden High School Junior Varsity Team began its season in fine fashion beating Notre Dame of Fairfield 4-2 before 500 fans at the Lou Astorino Rink. Coach Chris Richetelli's Green Dragon Squad had nine players contribute goals or assists as Bryan Caplan and Karl Zukufnt did a good job in net.
Hamden found itself down 1-0 when Connor Blackwell, who was flying all game, took a feed from Josh Chapman and beat a defenseman down low. Blackwell's shot rang off the goalie's leg and popped into the air where Mark Fracasso batted it home off the goalie's back to knot the game at 1-1.
Two minutes later, hard-skating junior Matt Morgan -- just back from a shoulder injury -- scored on a fine feed from Ricky Fusco. Joey Coughlin also picked up an assist on the play. The solid Morgan pumped in the goal next to the crease when Fusco fed it to him from behind the net.
The crowd was rocking with less than a minute to go in the first period and only 14 seconds after the Morgan goal. That's when Justin MacGregor fed Jimmy Burt who deked one defenseman and fed streaking Dan Cusano with a fine pass, which the junior center man ripped into the back of the net. Hamden led 3-1 as the first period ended.
The second period saw fine defense on the part of RJ Ugolik, Harley Pretty and Kingsley Birdsall. Coughlin, Blackwell and Burt had several chances but were thwarted by the ND goalie. Johnny Teulings and AJ Gemmel had a couple of fine offensive thrusts and Nick Castaldi, Ryan Coleman, Alex Sullivan and Danny Mendes more than held their own against the Gold Coast Crew.
ND broke through late in the period to close the gap to 3-2 as the second period ended.
The third period saw Hamden apply the offensive pressure on fine passing by all the lines. Blackwell and Fusco moved the puck well with Fusco having a shorthanded bid just go wide, Coughlin and Morgan were robbed by great saves. And Burt put one through the goalie's legs just to have the puck stop on the goal line as the game wound down.
Then, with only two and a half minutes to play, a roar shook the Hamden High Rink. "Let's Go Hamden!" Karen Chapman let out loud and clear. No sooner had the Hamden nurse's voice echoed against the green and gold walls of the rink did her son, Josh, snap a goal mouth shot that trickled its way into the net to give Hamden a 4-2 victory margin. Blackwell and Fracasso had assists on the play.
Ryan Amarone, Brian Richetelli, Joe Quick and Jason Novak took the night off. The team is also coached by Sean Busca.
--------------------------------------------------------------------
Hailey Trasacco scored a game-high 9 points to lead Thomas Vining Construction over NewAlliance Bank 12-2. Veneise Mendez added 2 points for Thomas Vining Construction. Ryenne Carpenter had 2 for NewAlliance Bank.
JD Environmental remained undefeated with a 14-5 victory over Hamden Town House. Amani Richardson led the way for JD with 6 points while Jessica Taylor and Charity Hammond each scored 2. Charleese Smith led Town House with 5.
Nicole Anderson scored 18 points to lead Partyka Chevrolet to a 22-11 win over CSR Properties. Kara Waznis added 4 points for Partyka. CSR was led by Ezra Massey with 7 points and Jahnitza Lopez with 4.
Morgan Rams broke a 20-20 tie with 17 seconds left in the game and McDonald's went on to defeat DiAdamo & Fitch Bail Bonds 24-20 in a well-played game. Rams led McDonald's with 10 points while Alivia Wilson added 7 and Avery Owers 4. Leading the way for DiAdamo was Brittany Needham and Shaquanna King with 5 points each.
---
December 12, 2007

HFBA reports
By Benny Mikula
On Dec. 8 in the 9- to 10-year-old league, Brody Griffin scored 4 points in double overtime to lead RWA to a 18-15 double overtime victory over Batter's Box.
Brad Wetmore scored 8 points, Nick DiGiacomo 4 and Chris Guidone 2 for RWA. Linus Anderson led Batter's Box with 9 points and Matthew Spence chipped in 3, while Xavier Ward and Thomas Montanez played tough defense for the Batters.
Splash Car Wash got 14 points from T.J. Walters and 4 points each from Shemar Reid and David Bowman to defeat Eli's Pizza 24-11. D.J. Foulin led Eli's with 8 points and Desean Nixon added 3. Tarik Black poured in 14 points and Aaron White added 10 to help Sullivan and Son to a victory over PBA. Dereck Webb scored 4 points and Matteau Feliz added two for PBA.
Disorbo's Bakery picked up their second win of the season with 14 points from Trey Jackson and 8 from Osame Elansky. Ty Hubbard led Town Fair Tire with 7 points and clinic "call up" Mike Rapuano added 2 in his debut for the Tires.

In the 11- to 12-year-old league, Sorrento's Pizza had a big comeback to pick up their first win of the season by defeating Unitas Club 23-21. Ahmed Hasan picked up 10 points and Tyler Pavone 8 to lead Sorrento's. Zach Morgillo added 3 and Denzil Carr 2 for the Pizzamakers. Matt Hamilton had 9 points, Val Gissantanner 5, and Keon Simpson scored 4 for Unitas.
Robert Grissett had the high score of the week with 22 points for Ercalano Cleaning in their 38-27 win over Partyka Chevrolet. Kevin Walton scored 8 of his 10 points from his perfect day at the free-throw line, and Cole Perrone and Earl McCoy added 3 each for the Cleaners. Christian Wingate scored 8 points, Richard Grant 7, and Jordan Coley 4 to pace the Chevy's.
Axman Chiropractic was led by Chris Emerson's 10 points and 7 from Nate Bailey in their victory over Mr. Trophy. Drew Catalano and A.J. Brown Ortiz each added 2 points for Axman. Matt Pietrandea scored 3 and Carlton Tillery played tough defense for the Trophy.
---
December 9, 2007
'Thrilling' Win for NewAlliance


Hamden Fathers' Basketball Association girls' scores
By Keith Hodder
9- to 11-Year-Old Girls
Tyla Jade Martin scored the winning basket with 35 seconds left in the game to lead NewAlliance Bank to a thrilling 8-6 victory over Hamden Town House. Danielle Wendland led NewAlliance with 4 points and Tahnajia Daniels added 2. Kathleen Morton, Yumna Elsankary and Charleese Smith each scored 2 points for Town House.
Janelle Cooper and Amani Richardson scored a game-high 6 points apiece to lead JD Environmental to a 14-10 win over Thomas Vining Construction. Leading the way for Vining Construction was Hailey Trasacco and Veneise Mendez with 4 points each.
12- to 14-Year-Old Girls
DiAdamo & Fitch Bail Bonds held off a fourth quarter 12-2 rally to defeat the Hamden Greenies 28-24. Bail Bonds was led by Brittany Needham with 10 points, Ashley Girola 6, Shaquana King and Alysia Carrero 5 apiece and Cassie Knights with 2. Hamden Greenies was led by Sarah Shields with 8 points, Ashley Wendland 6, Kamila Carter and Sarah Cubells 5 each and Ashley Taylor 2.
Nicole Anderson had a game-high 18 points to lead Partyka Chevrolet to a 27-19 victory over McDonald's. Also scoring for Partyka was Kara Waznis with 6 points and Kendrea Threatt with 4. McDonald's was led by Morgan Rams with 7 points, Zoe Fanolis 5, Jessica Napolitano 3 and Alivia Wilson and Gabriella DeSisto with 2 each.
---
December 4, 2007
HFBA reports
By Benny Mikula
In the Hamden Fathers' Basketball Association 9-10 boys' league for Dec. 1, RWA Credit Union defeated Eli's Pizza 20-7 with a solid second-half effort. RWA was led by Brody Griffin with 10 points and Brad Wetmore with 8. Desean Nixon scored 5 for Eli's and D.J. Foulin added 2.
Batter's Box defeated Town Fair Tire 25-6. Linus Anderson led Batter's with 15 points, while Thomas Martinez and Matthew Spence chipped in 2 each. Daniel Draffen, Ty Hubbard and Donald Belcher scored 2 a piece for Town Fair.
Splash Car Wash held off Sullivan and Son Carpet 18-16. T.J. Walters with 12 and David Bowman with 4 led Splash. Tarik Black had 8 and Aaron White 4 for Sullivan. Trey Jackson had the high score of the day with 18 points to lead Disorbo's Bakery over Hamden PBA. Lonnie Newman had 6 for the winners while Lenar Young with 5 and Derek Webb with 2 led PBA.

In the HFBA 11-12 Boys', Axman Chiropractic used a strong team effort to defeat Unitas Club 20-12. Nate Bailey had 8 points and Chris Emerson had 4 to lead Axman. Matthew Hamilton scored 9 and Rory Brewer 2 for Unitas.
Ercalano Cleaning opened the season on a strong note with a victory over WW Tolson. Robert Grisset with 14 points, Robert Brown with 12 and Kevin Walton with 10 led Ercalano. Kyle Waznis had 3 points and Erick Reyes 2 for WW Tolson.
Partyka Chevrolet topped Sorrento's Pizza 21-5. A complete team effort by Partyka was led by Christian Wingate with 6 points and Joe Tommaselli with 5. Tyler Pavone and Mustafa Hamoudeh scored 2 each for Sorrento's.

In Travel League Play, the Hamden 10's moved to 4-1 on the season with a victory last Sunday. Trey Jackson had 17 points, T.J. Walters 7, and Brody Griffin 4 to lead Hamden. The Hamden 11's won their game over Haddam Killingworth, also on Sunday, by 8 points to improve their record to 3-1.
---
December 2, 2007
Female Hoopers Kick Off Season


Hamden Fathers' Basketball Association girls' scores
By Keith Hodder
9- to 11-Year-Old Girls
In the season opener JD Environmental, led by Janelle Cooper's 7 points, defeated NewAlliance Bank 24-10. Also scoring for JD were Amani Richardson with 6 points; Ashley Arroyo and Julieta Garcia Milan each with 4; and Lauren Browning with 3. Leading the way for NewAlliance were Allie Brennan and Ryenne Carpenter with 4 points apiece and Danielle Wendland with 2.
Kelly Butricks led Thomas Vining Construction over Hamden Town House 15-9. Butricks scored 7 points, Hailey Trasacco 4 points, and Veneise Mendez and Kafayat Mimiko each had 2 points. Town House were led by Charleese Smith with 6 points and Domini'que Burgess with 3.
12- to 14-Year-Old Girls
Nicole Anderson had a game-high 14 points to lead Partyka Chevrolet to a 24-15 victory over DiAdamo & Fitch Bail Bonds. Also scoring for Partyka was Kendrea Threatt with 8 points and Shayna Mills with 2. DiAdamo & Fitch were led by Shaquana King with 6 points, Alysia Carrero, 5, and Lanesha Porter and Brittany Needham, 2 each.
Hamden Greenies, led by Sarah Shields with 13 points, defeated CSR Properties 23-14. Also scoring for the Greenies were Sarah Cubells with 4 points and Kamila Carter and Taylor Campano with 3 each. CSR were led by Ezra Massey with 10 points and Mariah Soto and Alison Canelli with 2 apiece.
---
November 15, 2007
Quadruple Finale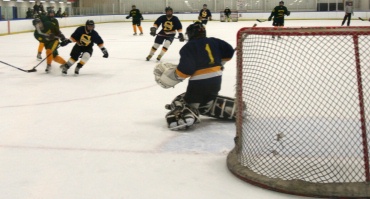 Sam Hughes' slap-shot goal.
Story and photos by Edward C. "Ned" Burt Jr.
The Hamden Midget White Team finished its season with four games.
Game One: The team bombed the Simsbury B team 8-3. Captain Dan Cusano led the way with a hat trick and Dan Wheeler, Matt Kolakowski, Joseph Mortali, Anthony Del Cervo and Ricky Fusco each scored goals. Nick Castaldi had two assists, and one each was recorded by Cusano, Mortali, Kolakowsi, Wheeler and Del Cervo. Several players missed the game with other obligations.
Game Two: Hamden then lost a controversial game to the Outdoor Select Team from Greenwich 3-2. Fusco scored Hamden's first goal on assists by Jimmy Burt and Castaldi. Both Karl Zukufnt and Bryan Caplan played well in net. Harley Pretty, Jason Novak and Johnny Teulings had good games defensively. Sam Hughes made it close with a late goal assisted by Coughlin and Kolakowski, but Hamden fell by one goal. Frankie Maturo and Joey Coughlin were also flying for the Hamden squad.
Coughlin made an incredible pass from behind the net to Cusano with three minutes left in the game. And Cusano did his best imitation of Poppy Ortiz by batting the puck out of mid-air for an apparent tying goal. The referee closest to the play scored it but the striped shirt at the blue line said it was a high stick and therefore no goal.
Game Three: Hamden then entertained Simsbury again and won 12-3 on the back of Hughes' four goals. The rugged winger was all over the ice. He scored from the slot, he scored on a high-octane slap shot from just on top of the right circle, and he scored twice so tight to the goalie that one thought they were going to the homecoming dance together. Cusano added two goals and Teulings, Connor Blackwell, Wheeler, Castaldi, Mortali and Fusco each had one.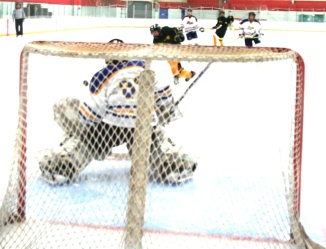 Jimmy Burt scores.
Burt had six assists; Cusano four; Kingsley Birdsall, Blackwell and Ryan Coleman had two each; and Novak, Hughes, Wheeler, Castaldi, Pretty and Mark Fracasso had one apiece.
Game Four: Hamden closed out its season with a 7-1 loss to Mid-Fairfield. Burt had the team's lone goal assisted by Cusano and Mortali.
The players are now gearing up for the high school tryouts, which take place the week after Thanksgiving. Hamden should have a strong team this year with a wealth of experience and many fine young players trying out for Varsity and Junior Varsity.
Hamden is coached by Mike Kopjanski, Ray Andreoli, Tom Murray and Nick Luca.
---
November 6, 2007
Midgets Come Back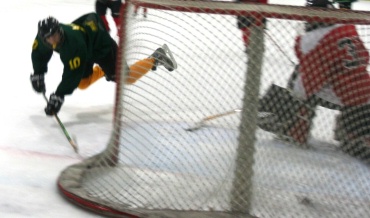 Frank Maturo nets a goal in mid air.
Story and photos by Edward C. "Ned" Burt Jr.
The Hamden Midget White Team has had a fantastic season as it winds down towards high school tryouts. Many players have had outstanding seasons and are destined to make their mark at the high school level.
"We don't want to single any individual players out but we are very pleased with the development of the young players, and the veterans have been nothing but a pleasure to coach, "said coach Ray Andreoli.
"We wish them all the best as they pursue their high school careers," added coach Tom Murray.
Hamden had a made a remarkable comeback recently in a 5-5 tie against the Connecticut Wolves. Connor Blackwell got Hamden on the board as the smooth-skating forward knocked in rebound shots by the ever-hustling Rick Fusco and hard-hitting Mark Fracasso at the 45-second mark of the second period.
Hamden trailed 3-1 when sweet-skating Frank Maturo put in a backhander with 3:22 to go in the period. Fusco picked up an assist on the play. Dan Wheeler was playing his best game of the season on defense as was Jason Novak and Nick Castaldi. Karl Zukufnt was in net for the Hamden team.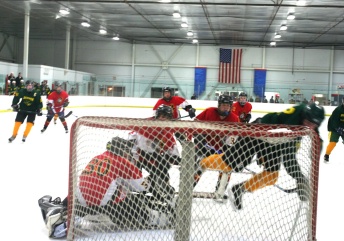 Jimmy Burt scores as he flies.
Hamden found itself down 5-2 with just six minutes to play in the game when Capt. Dan Cusano scored a power play goal on assists from Sam Hughes and Jimmy Burt. Hamden was playing the game without stalwart defenseman Anthony Delcervo and assistant Capt. Joseph Mortali.
Just two minutes and 16 seconds remained in the game when Burt took a feed from Cusano down low and lifted the puck over the left shoulder of the goalie to make it 5-4. Joey Coughlin also had an assist on the play.
Burt was not done.
The hard-skating forward beat a defenseman to the puck in center ice just 83 seconds later, came streaking in towards the goalie and then snuck a shot through the five hole while going through the air Bobby Orr-style to knot the game with just 53 seconds to go for the Hamden team. Hughes and Cusano picked up assists on the play.
Burt's goal along with Maturo's flying hat-trick goal a few nights later made the Midget forwards look like Hamden's version of the flying Wallendas. Maturo was streaking all over the ice scoring at will against the Greater New Haven team. Fusco also added a goal against New Haven but it wasn't enough as Hamden went down in a 6-4 loss. Assist in that game went to Kingsley Birdsall with two and Johnny Teulings, Wheeler, Matt Kolakowski, Fusco, Jason Novak and Harley Pretty with one each.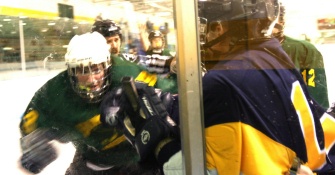 There's Joey (Coughlin).
Hamden traveled to East Haven last Sunday morning. The team started slowly as goalie Bryan Caplan was playing in his first game in net after being called up from the full year team. Caplan played a strong game but found himself down 2-3 entering the second period.
Pretty, the rugged defenseman with a powerful shot, got Hamden on the board with a hard snapshot just inside the blue line two minutes into the second to make it 2-1. Maturo and Ryan Coleman picked up assists on the play.
Cusano then made it 2-2 on a fine play with line mates Burt and Hughes. Cusano took the face off deep in the Hamden zone, which Hughes picked up and fed to Burt out by the blue line while a streaking Cusano made his way up the middle. Burt hit Cusano in stride and the strong-skating Cusano buried the puck in the net to tie the game.
Johnny Teulings then got on the board as Cusano fed Burt in center ice, and Burt sidestepped one defenseman while Teulings broke down the slot with Burt finding him with a saucer pass and Teulings burying it in the net with a quick, hard shot.
With just eight seconds left in the second period, Maturo made it 4-2 with a low hard wrist shot. Maturo was sprung free when Birdsall made a thunderous check and got the puck to Fusco, who made a dart of a pass to Maturo through traffic sending the speedy winger on his way to his goal.
Blackwell added another notch to his belt when Kolakowski dug the puck out of the corner fighting off a double team. Kolakowski then fed it to Fusco and the hard-charging center drew all the defensemen to him and crafted another fine pass through traffic to the Blackwell, who buried the rubber into the twine. Hamden was up 5-4 in this shootout-type game.
Hughes, the hard-hitting, hard-playing forward, then scored on a high slot snapshot with Burt and Mortali getting assists on the play. Mortali finished Hamden's scoring with an unassisted empty net goal with less than a minute to play. And Hamden won 7-6.
The team went on to lose a tough one to Greater Bridgeport 3-1. Hughes had Hamden's lone goal and Cusano the assist. The game included a wild ice brawl near the end of the third period, which resulted in the ejection of players from each squad.
Hamden is coached by Mike Kopjanski, Ray Andreoli, Tom Murray and Nick Luca.
---
October 4, 2007
'Sweeping Shot … Tickled the Twines'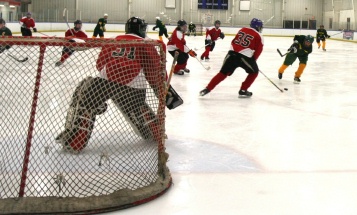 Joe Mortalli shoots and scores.
Story and photos by Edward C. "Ned" Burt Jr.
The Hamden midget White Team had three games last weekend. They beat the Bolton Eagles 7-1 as the Hamden team never let up the pressure. Anthony Delcervo got the team going early on a goal assisted by Johnny Teulings and Joe Mortalli. The tall and strong Delcervo powered his way to the front of the net and powdered a shot inside the right post early in the first period.
Sam Hughes kept up his scoring at the 4:26 mark on assists from Delcervo and Mortalli, as this senior line had an outstanding game. Bad penalties again cost the team, however, letting the Eagles score at the 13:13 mark to make it 2-1.
Mark Fracasso then rammed in a goal on assists from Nick Castaldi and Connor Blackwell. Blackwell was just back from an illness and brought his usual slick moves to the team. Ryan Coleman was skating all over the ice hitting the opponents and creating opportunities for his linemates.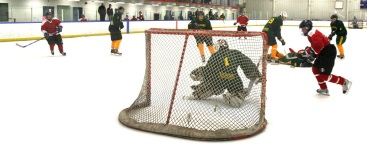 Ryan Amarone glove save.
Ricky Fusco made it 4-1 at the 11:36 mark on assists from Joe Coughlin and Jimmy Burt. Kingsley Birdsall then sent Joe Coughlin up the right wing with a beautiful outlet pass which Coughlin took in and raced down the boards. Linemates Burt and Fusco came charging down the middle as Coughlin tripped over the blue line.
The rugged winger somehow maintained control of the puck as he slid on his belly and made an incredible pass to Burt in the high slot, as Fusco raced towards the net. Burt rifled a goal over the goalie's right shoulder and Hamden had a 5-1 lead with 7:39 to go in the period.
Coughlin scored 40 seconds later on assists from Burt and Fusco and then Burt netted another at the 13:50 mark of the third period on assists from Coughlin and Jason Novak. Mortalli finished the scoring to conclude the Hamden team's 7-1 rout. Teulings and Novak picked up assists on this final goal.
Hamden next played the West Haven Varsity Midget team to a 2-2 tie. Ryan Amarone was outstanding in net. Harley Pretty, Dan Wheeler, Matt Kolakowski along with Castaldi and Birdsall were solid on defense. Coughlin scored an unassisted goal on a turnover and Blackwell had one go off his shin guards and into the net for Hamden. Frank Maturo picked up an assist on Blackwell's goal.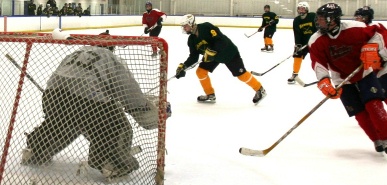 Anthony Delcervo shoots and scores.
Hamden finished the weekend in Cromwell against the Warriors. The team welcomed back rugged captain Dan Cusano, who wasted no time getting on the board. Cusano's first shift back resulted in him taking the puck from a Kolakowski outlet pass, finessing his way deep into the offensive zone and hitting Mortalli with a perfect pass. Mortalli promptly rifled the puck into the net.
Blackwell then scored on a fine individual rush up the right side culminating in a wrist shot just over the goalie's shoulder. It was an unassisted goal and Hamden had a 2-0 lead after four minutes of play. Coughlin went back to back scoring two goals on the same shift to put Hamden up 4-1. Kolakowski, Burt and Fusco had assists.
After the Warriors scored their second goal, Delcervo made it 5-2 in the third period on a fine play. The strong winger/defenseman controlled the puck through two defenders down low near the left circle, maneuvered to the high slot, and let go with a sweeping shot that tickled the twines. Mortalli and Kolakowski had assists on the play.
The game ended as Fusco scored an empty net goal and the buzzer went off. Burt had an assist on the play.
Hamden is coached by Mike Kopjanski, Ray Andreoli, Tom Murray and Nick Luca.
---
September 24, 2007
The Hamden Midget White Team had three games over the Sept. 14 weekend. They dropped one to powerful Southern 8-2. Joe Coughlin had two assists, Jimmy Burt a goal and an assist and Ricky Fusco a goal. Ryan Amarone played solid in net. The team was missing first line center Dan Cusano and gifted winger Connor Blackwell out with injuries and illnesses.
The team bounced back against East Haven on Saturday, Sept. 15, beating the Yellow Jackets 6-2. Coughlin kept up his hard hitting and passing. He cashed in with a well-deserved goal in the first period assisted by Burt and Jason Novak. Sam Hughes was supplying the hitting and Joe Mortali was weaving in and out of the Easties' defense as Hamden kept up the pressure.
Frankie Maturo was robbed in tight a couple of times as the smooth skating forward used his speed to get deep in the offensive zone. Mark Fracasso had a rocket rip off the post and Johnny Teulings played solid defense along with Matt Kolakowski, Dan Wheeler and Nick Castaldi.
Coughlin fought down low in the second period to get the puck, and rifled a pass to Burt in the high slot which the hardworking forward one timed for a goal. The Coughlin-Burt tandem, along with center Fusco, has been producing so far early in the season for the White team.
Harley Pretty delivered a thunderous check and sent a pass up the boards to Anthony Delcervo. The strong-skating Delcervo flashed a pass to the smooth-skating Mortali and the centerman just missed lighting the lamp with a hard shot wide.
It was then Fusco skating hard as always who delivered a fine pass to Coughlin and the hard-skating forward rifled a wrister into the net to give Hamden a 3-2 lead, which is the way the second period ended. Kolakowski also picked up a goal on the play.
Amarone was staying solid in the net but a couple of undisciplined penalties put Hamden down a man early in the third. The Easties were pumped with their bench and fans applauding some early hits in to start the third period, but their enthusiasm quickly dampened. Burt hustled down the ice after a clearing by defenseman Kingsley Birdsall bumped the East Haven defenseman off the puck, twirled and scored a short-handed goal that quieted the East Haven team. Hamden was up 2-1. Birdsall, the rugged, fine-skating defenseman, had the lone assist on the goal.
Mortali then put Hamden on a fine pass from Hughes and tough play down low by Delcervo. Delcervo fought off two defensemen in the corner, got the puck to Hughes who hit a hard-charging Mortali coming down the slot and the soft-handed center scored on a low, hard shot.
Ryan Coleman was banging people up front and making some fine passes to his line mates. Teulings, Pretty and company were keeping the Easties away from Amarone and the Hamden offense kept the pressure on the East Haven team.
Burt finished off a fine game scoring a rooftop goal from below the face-off circle to complete his hat trick. Coughlin and Teulings had assists on the play.
Hamden then ventured off to play Avon on Sunday and came away with a disappointing 6-5 loss. Karl Zukufnt was in net as the Hamden team had several breakdowns and ill-timed penalties that led to the loss.
Burt scored another shorthanded goal on a follow-up by a fine rush and effort by Fusco. The feisty Fusco stole the puck in center ice, got tripped, got up and carried the puck to the goalie who left the rebound for the lurking Burt, who buried it into the net to tie the score 1-1.
Coughlin proceeded to put the Greenies on top with a fantastic short-handed goal. He hit the puck off the boards in his zone, skated past the defenseman to the puck, carried it down the right side and let go with a booming slap shot that nearly broke the twine in the back of the net.
Wheeler and Hughes were hitting everything in sight. Mortali scored another goal assisted by Pretty and Delcervo. Hughes netted two goals with Mortali picking up two assists along with Delcervo on each of the goals. Coughlin and Birdsall also had assists.
Hamden is coached by Mike Kopjanski, Ray Andreoli, Tom Murray and Nick Luca.