---
BOYS SOCCER
10/24 W Notre Dame – WH 4-2
10/27 W Branford 2-1
GIRLS SOCCER
10/24 L Sacred Heart 0-4
10/27 L Branford 0-2
SWIMMING
10/23 W Sacred Heart 97.5 – 80.5
FOOTBALL
10/27 L Fairfield Prep 14 -3
VOLLEYBALL
10/23 L Sheehan 1-3
10/25 L Lyman Hall 1-3
10/27 L Guilford 1-3
FIELD HOCKEY
10/23 L Cheshire 1-2
10/24 L Daniel Hand 1-4
---
October 24, 2006
Joey 'Five Fingers' Leads Team to Victory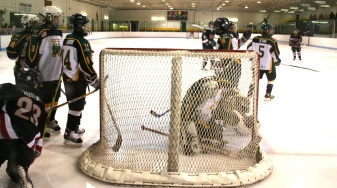 Ryan Amarone and friends stop puck on goal.
Story and photos by Edward C. "Ned" Burt Jr.
The Hamden Bantam A Hockey Team, sponsored by Burt Law Office, played a game last Thursday at Harbor Yard in Bridgeport, losing to the Greenwich Blues 6-2. The team played hard and actually thought they had the game tied at 1-1 early in the second period when the referee called off an apparent goal by Jimmy Burt on an early whistle. Unfortunately for Hamden, Greenwich scored on the next face-off and then a series of penalties ended with Hamden down 5-0.
The team didn't quit and quickly came back on the strength of two goals by Burt. Burt and Adam Devine drove to the net on an RJ Ugolik rocket slap shot with 8:29 remaining in the game as Burt hammered it home under the goalie. Ugolik and Devine had assists.
Burt scored less than a minute later on a fine feed from Joey Coughlin from the right face-off circle, and Burt finished with a backhander as he was flattened to the ice from behind. Ryan Amarone turned in another outstanding performance in net for the Hamden team.
Hamden also got strong games out of Matt Kolakowski, Conor Callahan and Harley Pretty on defense and Ralph Di Fonzo on offense. Jeff Bakos, Connor Walsh and Connor Blackwell were out with injuries.
Saturday evening's game belonged to Joey "Five Fingers" Coughlin as the rugged, talented winger slammed home five goals. Coughlin scored on rebounds, wrist shots and moves that dazzled even his whirling dervish lineate, Adam Devine. Devine picked up two highlight reel goals of his own to go along with two assists.
It was pick your poison time for the New Haven Warriors. Hamden was buzzing in the offensive zone jumping out to a 5-0 lead. Despite letting New Haven back into the game with a sluggish start to the second period, the team slammed the door shut at 5-4 scoring the next four goals.
Ugolik had three assists to go along with his ever-steady defensive play; Callahan pitched in two assists; and the following players added one assist each: Jimmy Wilson, DiFonzo, Pretty, who had another outstanding defensive game, as did Joe Quick who picked up one assist.
Mark Fracasso continued to play hard and well and picked up an assist along with a rocket one-timer off the post. Frank Maturo continued his wizardry on skates gliding past opponents and setting up teammates with his razor-sharp passes.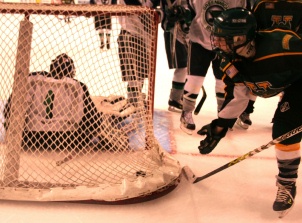 What ref? No goal? Burt asks.
Burt had another strong game scoring two more goals and adding three assists. Coughlin had five goals and an assist; Devine four goals and three assists; and Burt four goals and three assists for the ever-improving squad.
Hamden plays the powerful and undefeated Southern Team this Thursday evening at 8:30 at the Hamden High School rink before heading to the Haunted Shootout Tournament Friday through Sunday in Marlboro, Mass. Southern is led by Hamdenites PJ Vakos and Francesca Sandillo.
Hamden is coached by Jim Miller, Dan Vigliotti and Roger Keyes.
---
October 23, 2006
10 New 'Hall of Fame' Inductees
By Tony Mentone
The third annual Hamden Education Foundation's Athletic Hall of Fame induction dinner was held on Oct. 18 at Laurel View Country Club, drawing more than 250 people.
Vin Iezzi, former high school athletic director, gave an overview of what the HEF has accomplished since its inception. He thanked school Superintendent Alida Begina for her foresight and work, which keep the foundation operating. Kelly Reilly, Hamden High class of '08, gave a stirring rendition of the national anthem.
HEF president Dennis Proto thanked the honorees for their contributions. Legislative Council President Al Gorman brought greetings from the town of Hamden. Mayor Craig Henrici was not in attendance because he is recuperating from surgery. And Mark Robbins, weekend sports anchor at WTNH Channel 8, introduced the inductees. The theme of the evening was family. Each recipient stressed how important it was to have family support.
The inductees:
Dom Balogh (class of 1950) went on to coach and teach at Cheshire Academy, after a distinguished football career as a player. His widow accepted the award in his honor.
Lisa DeGennaro Bailey (1983) played both basketball and softball. After graduating from Hamden, she was awarded a four-year scholarship to New Hampshire College. She currently holds several records at NHC.
Francis H. Callahan (1943) lettered and captained both football and hockey. After high school, Callahan joined the Marines and was awarded several military honors.
Jim DelGrego (1980), a golfer, still plays competitively and has won several club championships in the area. He has garnered many honors as a golfer, including the state individual championship in 1979.

Jack Gill coached swimming at Hamden High for 34 years. Gill was named coach of the year in 1982 from the Connecticut High School Coaches Association. In 1998, Gill was a finalist for the National Swim Coach of the Year for district one.
John Glynne (1973) was an All-State hockey player as well as a soccer player at Hamden High. After graduation, Glynne received a four-year scholarship to the University of Vermont. He went on to play professional hockey with the New England Whalers, the New Haven Nighthawks and the Springfield Indians. Glynne spent two seasons in the International League and then played nine seasons for the German Elite League.
Capt. Yolanda Dee McCray (1994) was an outstanding track competitor in high school and at West Point Military Academy. McCray is presently stationed in Hawaii and works as a criminal law attorney for the U.S. Army Trial Defense Service.
Roger Milici (1960) was a three-sport star for Hamden basketball, baseball and football. After receiving many accolades as an athlete at Southern Connecticut State University, Milici became an educator for 35 years in New Haven before retiring as an administrator in 2000.
Harry Scoble (1976) distinguished himself by being on a hockey team that never lost to a Connecticut opponent. After high school, Scoble played for four years at Babson College. He then went to work in the aerospace industry and currently owns an aircraft manufacturing firm in Connecticut.
Helen (Liz) Conway was given the Community Service Award for her many years as a swimming instructor as well as her assistance at other sporting events. Her son Richard Conway accepted his mother's award in her memory.
Members of the 1976 Hamden High hockey team were also honored on the 30th anniversary of their national championship season.
-------------------------------------------------------------
BOYS SOCCER
10/16 L Jonathan Law 1-2
10/18 W Foran 2-1
10/21 L West Haven 1-3
GIRLS SOCCER
10/16 L Foran 2-3 (OT)
10/18 L Lyman Hall 0-1
10/20 T West Haven 1-1
SWIMMING
10/16 W Naugatuck 94-84
FOOTBALL
10/21 L Wilbur Cross 14-28
VOLLEYBALL
10/18 L Sacred Heart 0-3
10/19 W Foran 3-1
---
Story and photos by Edward C. "Ned" Burt Jr.

The Hamden Bantam A Hockey Team, sponsored by Burt Law Office, had a solid mid-October weekend winning two games and tying one.

The first game saw Tim Lee come up from the B team to help out the depleted A troops. Jimmy Burt got the team going with a rocket of a wrist shot early in the contest on a fine feed from Frank Maturo and Mark Fracasso.

The strong Avon team tied it up and went ahead midway through the second period despite the fine goal tending by Ryan Amarone. They then went up 3-1 early in the third period. RJ Ugolik, the solid defenseman, feathered a beauty of a pass between the legs of an onrushing forward to sniper Adam Devine, who peppered it through the five hole to bring Hamden within one.

The team then found itself down two again and entered the last 13 minutes two men down. Amarone was a stonewall as he turned away puck after puck. Burt, Harley Pretty and Matt Kolakowski had an enormous penalty kill with Burt almost scoring on the two-man disadvantage.

After the penalty was over, Frank Maturo got a pass from Fracasso after Joey Coughlin banged it free in the corner and Maturo deftly deked his way to a goal and a 4-3 deficit with a little over six minutes left. Devine worked his magic as Ugolik and Burt played tic tac toe with a gorgeous sequence of passes from Ugolik at one edge of the blue line to Burt at the opposite face-off circle to the streaking Devine, as he came down the high slot and hammered it home for a 4-4 score.

Amarone once again turned away two point blank shots as time ran out on this thrilling 4-4 tie. The stellar goaltender had 29 saves on the night. This was the last tie the team would have all weekend.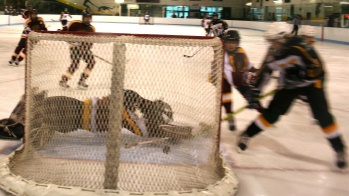 Joey "Bull on Blades" Coughlin jams in goal.
Hamden came out firing against Southeastern in the first of the team's two games on Sunday. Joey Coughlin, a bull on blades, made a nice move and scored a power play goal early in the contest. Joe Quick and Jimmy Wilson had assists.
Jeff Bakos then made it 2-0 as Wilson and Coughlin had assists. The floodgates opened as Burt scored on assists from Ugolik and Maturo, and Burt tallying another jam in power play goal on assists from Fracasso and Devine to put Hamden up 4-0. Devine made it 5-0 on a fine move with assists to Bakos and Conor Callahan.
Amarone was once again playing fine in the net for the Bantam squad. Pretty made two shorthanded kick blocks with each foot in succession and had a great clear as he, Ugolik, Kolakowski, Callahan and Quick played stellar defense all weekend long.
"We are going to put the puck in the net," said coach Jim Miller. "If we keep getting the goal tending from Ryan and the defensive corps keep playing like they are playing, this team can do a lot of exciting things this year."
At 5-1, Ugolik laid a crushing hit in the defensive zone and banged the puck to Maturo up the left side. The crafty winger hit a streaking Burt at the blue line and the rugged center man deked right and put the puck under the goalie's pads with a one-hand backhander along the ice to complete his Hat Trick.
Devine then scored another beauty on assists from Ugolik and a fine pass from Coughlin. Coughlin was rewarded for his hard work on assists from Quick and a fine pass from Devine after the ever-ready center man seemingly deked out the entire Southeastern squad with his nifty moves.
Fracasso scored on assists from Ugolik and Burt. Coughlin took a face-off and bulled his way alone through three defenders to score a great goal, which made it 10-2 Hamden. Burt then scored his fourth goal of the game on fine feeds from Coughlin and Devine for a power play goal, and Devine got his Hat Trick moments later on a jam goal with assists to Coughlin and Ralph DiFonzo.
Kolakowski added a punishing hit for good measure before DiFonzo ended the rout by scoring on feeds from Wilson and Pretty for a dominating 13-2 Hamden victory.
Hamden's second game of the day and third of the weekend pitted it against the powerful Enfield squad. Once again, Coughlin started strong after Amarone had made a few outstanding early saves. Coughlin made it 1-0 on a rebound goal off a Devine slap shot. Pretty also had an assist.
"Just keep skating, we tell the kids," said coach Dan Vigliotti. "Coughlin kept charging the net on that shot and got a goal because of his hustle. It's the type of play this team needs to keep making."
At 1-1, Ugolik made a huge cover check in the defensive zone. Kolakowski rushed the puck deep into the offensive zone and fed it to Burt below the goal line, who fed a rocket pass to Devine who made a roof top backhander that brought the crowd to its feet.
Two men down again as the result of penalties with 9:47 to go in the second period, Burt, Ugolik and Kolakowski led a fearsome penalty kill that was supplemented by Pretty, Fracasso and Callahan. Amarone simply turned away everything in sight.
At 10:57 of the third period, Hamden was down two men again and the Enfield team scored the game-tying goal to put it at 2-2. It stayed that way until solid defender Pretty, with a little over three minutes to play, let go with a knuckling wrist shot through a crowd of players as thick as Times Square on New Year's Eve. The shot made its way over the goalie's left shoulder and into the net for a gorgeous goal and a 3-2 lead. Coughlin also had an assist on the goal.
Amarone then shut won his office for the day as the quiet net minder turned away a barrage of shots to preserve the hard-fought victory. Patrick Lynch played a strong game for the Hamden team filling in for Connor Walsh and Connor Blackwell, who are on the injury list.
Devine had six goals and five assists over the weekend; Coughlin four goals and five assists; Burt five goals and four assists; Ugolik six assists; and Maturo, Fracasso and Wilson three assists each with Maturo and Fracasso also picking up a goal each. DiFonzo and Bakos had goals and Quick had two assists; and one each to Pretty, Bakos and DiFonzo along with Pretty's key goal in game three.
Hamden is coached by Jim Miller, Dan Vigliotti and Roger Keyes.
---
October 16, 2006
Game 1, Tough; Game 2, Tight; Game 3, Easy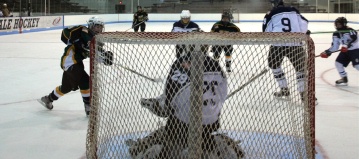 Jeff Bakos makes a shot.
Story and photos by Edward C. "Ned" Burt Jr.
The Hamden Bantam A Hockey Team, sponsored by Burt Law Office, played three blistering games Oct. 7 and 8, losing two and winning one. The team lost to the powerful Greenwich Blues Team 5-3 with goals scored by Adam Devine, Matt Kolakowski and RJ Ugolik. Assists went to Harley Pretty, Joey Coughlin, Jeff Bakos, Mark Fracasso and Jimmy Burt.
Ryan Amarone had another solid game in net that was matched by the diminutive Greenwich goalie, who kept his team in the game which Hamden dominated from the start.
"We just didn't get the power play goals we needed in the first period when we had so many man-advantage situations," said assistant coach Roger Keyes.
Hamden then played New Canaan, another Fairfield County powerhouse. The Green Dragons of Hamden started fast taking a two-goal lead on the back of Devine. The whirling dervish moves of this center man once again thrilled the crowd on his way to a four-goal game.
Jeff Bakos, Kolakowski, Pretty, Joey Quick and Conor Callahan provided some key hits and fine defensive work in killing off a two-man disadvantage midway through the second period. Ralph DiFonzo and Burt also provided some huge muscle-delivering fore-check hits in the offensive zone.


Adam Devine's goal.
Devine scored two in the first period on feeds from Coughlin, DiFonzo on one goal and from Bakos and Quick on the other. He made it 3-1 in the second period on feeds from Fracasso and Pretty. Hamden entered the third period leading 3-2.
Amarone once again had a solid game in net and made some early key saves until the opponent knotted it up 3-3 at the 7:50 mark. Fracasso came out steaming on the next shift and made it 4-3 Hamden at 7:22 on assists from Maturo and Burt.
Once again Devine used his quick wrist shot to know the game at 5-5 with assists to Burt and Ugolik, as the fire power of both clubs was at full blast.
"This game was like a football game where everyone is scoring. Whoever had the puck last was going to win," said Ed "Poppy" Ugolik, the team's general manager. "Unfortunately for us, they had the puck last." Hamden lost 6-5.
The final game of the weekend saw the team visit Ingalls Rink and play the Yale squad. Unlike years past, this year's contest was a total mismatch. Hamden was ahead 6-1 after the first period, 9-1 after the second and won the game 13-1.
Devine had four goals and an assist, Coughlin a hat trick and an assist, Maturo two goals and two assists, Burt one goal and five assists, Bakos a goal and an assist, Ugolik a goal, DiFonzo a goal and two assists and Kolakowski a goal and two assists. Fracasso had three assists, Pretty three assists, Jimmy Wilson two assists, Quick had two assists and Callahan an assist.
Connor Walsh and Conner Blackwell remain on the injured list.
Hamden is coached by Jim Miller, Dan Vigliotti and Roger Keyes.
------------------------------------------------------------
FIELD HOCKEY
10/11 L Guilford 0-4
10/13 W Sheehan 1-0
BOYS SOCCER
10/10 L Fairfield Prep 1-3
10/13 L Sheehan 1-4
GIRLS SOCCER
10/10 L Daniel Hand 0-4
10/12 L Amity 0-5
GIRLS CROSS COUNTRY
10/10 W West Haven 16-45
BOYS CROSS COUNTRY
10/10 W West Haven 19-40
SWIMMING
10/10 W Amity 94-92
10/13 L Cheshire 68-118
FOOTBALL
10/13 L West Haven 7-40
VOLLEYBALL
10/10 L Mercy 0-3
10/11 L West Haven 0-3
10/13 W Career Magnet 3-1
Bantam A Starts Season 1-1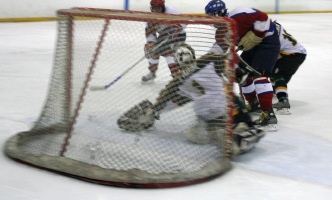 Jimmy Burt gets it in.
Story and photos by Edward C. "Ned" Burt Jr.
The Hamden Bantam A Hockey Team, sponsored by Burt Law Office, got pasted in their opening game by Greenwich 9-2. Ryan Amarone actually stood on his head in net as the score could have been much greater. Newcomer Adam Devine whirled and twirled his way to a goal and an assist, entertaining the crowd with his many offensive moves. Capt. Mark Fracasso added an assist and Capt. Jimmy Burt had a goal and an assist.
"We just flat out did not play as well as I expected," said a disappointed coach Jim Miller. "But as disappointed as I was after the game, I was thrilled with the way they came back on Sunday."
It was last Sunday's (Oct. 1) thrilling 4-3 win over archrival Greater New Haven that had the fans buzzing. Devine, Fracasso and Burt put the team up 1-0 early, as Fracasso did the bull work along the boards off a Devine rebound and fed the puck to Burt in the slot. Burt scored as he had one knee on the ice after being knocked down from behind.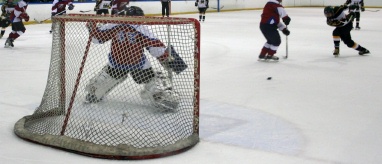 Goalie Ryan Amarone makes a save.
Joey Coughlin, Jimmy Wilson and Jeff Bakos then took charge of the ice banging every body in sight. Wilson and Coughlin were human dynamos constantly clearing pucks on shorthanded situations fore-checking with the tenacity of gnats at a picnic. Frank Maturo, the silky skating forward, set up many chances for his line mates and him as the Hamden team dominated.
Harley Pretty, a strong defenseman, kept the puck in the zone to Maturo down low who juked one player and then fed a soft pass to Devine, who rocketed it home above the goalie's left shoulder for a two-zip lead. Pretty and Maturo got assists on the play.
Amarone was guarded nicely by the defense corps of Matt Kolakowski, who had an outstanding game, Joe Quick and Conor Callahan. R.J. Ugolik and Pretty played big, tough and mean.
At 12:12 of the second period, Quick made a jolting hit on a forward deep in the defensive zone and fed an outlet pass to Coughlin. The strong skating forward made moves around two players in mid-ice and fed the puck to the streaking Maturo, who let rip with a wrister that was deflected in the net by Wilson. Hamden was now up 3-0. Coughlin and Maturo got assists with the goal going to Wilson.
Bakos was banging bodies and Ugolik had an outstanding rink-length rush foiled by a stick save, as the Hamden team was dominating play. "That was the best two periods of play we have had in a long, long time," said coach Dan Vigliotti. "I just don't want to talk about the third period!"
It started out well as Hamden was shorthanded when Callahan, who had an outstanding game, poke-checked the puck to Kolakowsi who fed it to Devine and the whirling dervish made his way into the offensive zone where he fed Fracasso, who banged the puck home with the grace of a racing elephant. Hamden now led 4-0 and what appeared to be a runaway victory actually ended in a 4-3 thriller with Amarone casting aside a barrage of rubber in the final three minutes of the game.
Hamden players Connor Walsh, Connor Blackwell and Ralph Difonzo were injured.
The team is coached by Jim Miller, Dan Vigliotti and Roger Keyes.
-----------------------------------------------------------------
Meet the Captains
By Tony Mentone
Many years ago the Hamden High Athletic Department started a tradition of hanging banners in the gym for each team. If a team wins any kind of championship, the year of the graduating class is put on the banner.
Volleyball senior captains Lauren Kellaher, Jacqueline Daur and Katie Sullivan want their class to be displayed on a banner.
Kellaher has set her goals high and wants her team, the Dragon Spikers, to win the state title. She plans to attend Southern Connecticut State University and is not sure if she will play volleyball there.
Sullivan is also a softball player. She wants to go to college out of state, where she will probably play volleyball on an intramural or club team.
The captains agree their biggest task is keeping spirits high and making everyone feel a part of the team.
"I had 55 players try out and I kept 35, most of them young," said coach Mark Giordano. The Dragon Spikers are 4-8 so far in the season. Their next games are tomorrow at home against Mercy, and Wednesday at home against West Haven.
------------------------------------------------------------------
FIELD HOCKEY
10/3 L Branford 0-4
10/6 T Amity 3-3
BOYS SOCCER
10/3 T Notre Dame 0-0 (OT)
10/6 L Xavier 0-2
GIRLS SOCCER
10/3 W Sacred Heart 0-2
GIRLS CROSS COUNTRY
10/3 L Sheehan 29-36
BOYS CROSS COUNTRY
10/3 L Sheehan 23-33
SWIMMING
10/3 W Hand 98-87
FOOTBALL
10/6 L J. Law 26-48
VOLLEYBALL
10/3 L Sheehan 2-3
10/4 L Guilford 1-3
10/6 W North Haven 3-1
---
October 2, 2006
By Tony Mentone
Hamden High is just one of five schools in the state to have a competitive badminton team. The others are Miss Porter's, Rockville, Simsbury and East Hartford.
Retired coach Dan Hartman called it "the fastest game in the world," and this year's Hamden quad captains -- Anna Rogoulina, Divya Krishna, Megan Hochstrasser and Erika Moody -- agree. The team won the state title in 2002. Last year, they finished third.
Hochstrasser plans to attend Brown University next year and continue to play badminton. Her fellow captains say she is the best player in the state, but Hochstrasser humbly disagrees.
Captain Krishna enjoys the game and is especially proud of the diversity on the team. "We have four Indians, a Korean, a Russian, an Armenian and one player from the Dominican Republic. This makes for a cultural exchange that is extraordinaire," she said.
All the captains except Hochstrasser are also tennis players. "The rules are very similar to tennis," said Moody. "At a competition we play seven matches -- three singles and four doubles. The team with the most wins is the winner."
"The girls are wonderful to work with," said coach John Sudusky. "They have some of the highest GPAs in the school. Badminton is what high school sports is about. We call our own lines and after each match a little get-together with refreshments is held, hosted by the home team."
Hamden won their first match against Rockville 7-0. They are currently 4-0 and have won 26 out of 28 games. They play Simsbury at home this Tuesday, and Rockville away on Wednesday.
------------------------------------------------------------------
FIELD HOCKEY
9/26 W Lyman Hall 3-0
9/27 L Sacred Heart 2-3
9/29 T Mercy 1-1
BOYS SOCCER
9/25 W Law 2-0
9/27 W Foran 7-2
9/29 T West Haven 1-1
GIRLS SOCCER
9/25 L Foran 0-1
9/27 T Lyman Hall 1-1
9/30 L West Haven 0-1
GIRLS CROSS COUNTRY
9/26 L Sacred Heart 23-32
L Law 15-50
L East Haven 15-50
SWIMMING
9/26 W West Haven 90-83
9/29 W Branford 94-92
FOOTBALL
9/29 L Xavier 15-41
VOLLEYBALL
9/27 L Sacred Heart 2-3
9/29 W Foran 3-0