Sports
December 20, 2006
By Tony Mentone
Being the jolly old elf that I am, I volunteered to help Santa open his mail. In the pile I found some interesting requests from people associated with the Hamden Athletic Department:
Mary Beth Miller (athletic department secretary) – Wants all physicals completed by June 2007 so athletes are cleared medically for the season.
Clem Batchelder (boys' basketball coach) – "A couple of 7-foot players."
Joaquin Rodriguez (boys' soccer coach) – "A 100-goal season and a state championship."
Al Navickis (head groundskeeper at Hamden High) – Wants a domed stadium and sunshine on the Green Bowl game.
Bill Verneris (head boys' hockey coach) – "A 30-goal scorer, 25 percent conversion rate on power plays and a 90 percent stop rate when defending power plays."
Tony Castellon (pool custodian) – "Crystal-clear water every day and a new 'robot' to clean the pool."
Hi Jackson (boys' basketball captain) – "An undefeated season."
Jim MacGregor (middle school baseball coach) – "A .500 hitter and a new car."
John Ceneri (girls' head basketball coach) – "Berths in the SCC and state tournaments."
Tony DeAngelo (head baseball coach) – A state CIAC championship."
Kyle Blake (girls' basketball booster club president) – She wants to wake up Christmas morning to find out the team has already qualified for the state tournament.
Tony Gambardella (locker room custodian) – "New lockers to replace the ones moved over from the old building."
Paul Catino (head football coach) – "Two 300-pound linemen."
Chris Wilson (cheerleading coach) – "Clean mats and a repeat of last year's championship season."
Larry Cuomo (longtime ticket-taker and seller) – Wants a ticket booth for the stadium field.
Tony Martone (athletic department business manager) – Wants an automatic turnstile to count the gate.
Trish Sugrue (security guard) – "One million dollars."
Dave DeMartino (Parks & Rec supervisor) – "A smile on everyone's face."
Mike Capone (assistant football coach) – "Antaj Hawthorne."
Merry Christmas to all!
---
December 19, 2006
Bantam Boys' Weekend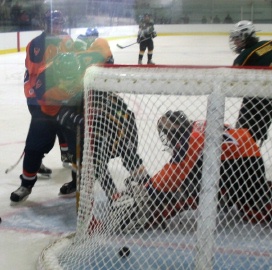 Jimmy "Pants" Wilson jam-pucks home.
Story and photos by Edward C. "Ned" Burt Jr.
The Hamden Bantam A Hockey Team had its holidays screwed up this weekend as the team played more like it was Halloween than Christmas. They saw their six-game unbeaten streak come to an end Friday night with a lackluster 3-2 loss to Darien.
Connor Walsh played his first game of the year and supplied immediate energy to a squad that appeared to be skating on fumes alone. AJ Gemmell scored on a nice wrist shot after making a fine play to keep the puck in the zone. Mark Fracasso and Joey Coughlin had assists. Hamden's other score was by Coughlin on assists from Adam Devine and a fine touch pass over a defenseman's stick by Jimmy Burt.
Hamden next played western Massachusetts powerhouse blades AAA team. Coach Jim Miller, injured in a roller hockey game earlier in the day, was in an emergency room getting stitched up while his Bantam squad was getting lit up by its northern neighbor. The doldrums of Friday night continued for the team as it found itself down 2-0 after two periods.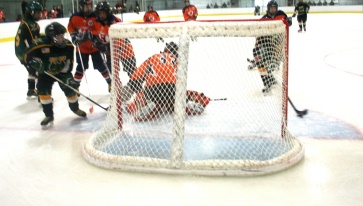 Chappy scores.

Coach Dan Vigliotti and assistant coach Roger Keyes must have said something special during second-period break because the team came out flying in the third. Josh "The Goal Man" Chapman started things going with a goal at 11:04 on assists from Devine and a brilliant effort by Harley Pretty, who also had an assist on the play.

Husky defenseman Pretty kept the puck in the zone at the point four times and made a feed to Devine who rifled the pass to Chapman for the score. Chapman decided he'd take the team for a ride and the crafty lefty banged home another score at 5:25 to make it 3-2. Coughlin and Devine got assists as Coughlin fought off two defenders to free the puck up from behind the net.

Hamden had come storming back with two fine plays by Pretty and Coughlin leading to Chapman's two goals. Hamden then pulled its goalie and Burt came up with a great play to keep the puck in the zone, fighting through two defenders to get the puck to Fracasso who fed Chapman who completed his hat trick at the 23-second mark. And Hamden drove home with a thrilling tie.

Hamden's last game of the weekend belonged to goalie Ryan Amarone and a stellar defense. Pretty, Gemmell, RJ Ugolik, Conor Callahan and Joey Quick limited Wallingford to just nine shots on net -- including four icing attempts as Hamden cruised to a 3-0 victory. While small in number, Amarone made several spectacular saves in his best game since the Haunted Shootout.

Chapman once again got the team going with a bang in goal assisted by Callahan and Patrick Lynch. Pretty played stellar defense along with Ugolik, and Callahan had his best all-around game of the year.

Burt was flying all over the ice as was Connor Blackwell and Fracasso. Walsh delivered hit after hit. Coughlin played his typical rugged game and Devine kept working his magic for the Hamden squad. Jimmy "Pants" Wilson banged home a hustle goal as the fine skating forward charged the net to jab in a goal. Jeff Bakos skated hard and hit hard, as he and Wilson have developed into a fine penalty-killing tandem.

Fracasso finished off the scoring with a well-deserved empty net goal as the game ended with Hamden winning 3-0.

Hamden is coached by Jim Miller, Dan Vigliotti and Roger Keyes.
-----------------------------------------------------------------

Girls junior varsity basketball results

By George Fanolis

Zoe Fanolis led all scorers with 13 as St. Stephen Wildcats (Hamden) defeated St. Mary (Branford) 25-18 in the Greater New Haven Parochial Athletic League competition. Jessie Napolitano added eight while Katherine Rice chipped in four.

St. Stephen defeated Our Lady of Mercy (Madison) in a thrilling overtime game 17-16. High scorer for St. Stephen was Fanolis with six. Napolitano finished with five while Bianca Signore, Rice and Amanda Przyblowski each had two.

Rice scored eight points, blocked six shots and got 12 rebounds to lead St. Stephen to a 19-18 victory over St. Mary. Fanolis chipped in six points while Napolitano added five. The Wildcats are now 3-1 on the season.
---
December 18, 2006
Meet the Captains: Cheerleaders
By Tony Mentone
Hamden High cheerleaders are more than "just a bunch of pretty faces" who provide support for the athletic teams. The young ladies spend a great deal of their time involved in community projects.
Led by captains Jordan (Sparky) Mastroianni, Alyssa (Dee) D'Andrea and Lauren (Erc) Ercolano, the cheerleaders are all over town. They have just finished helping out with the Hamden kids holiday toy drive and the dedication of the Linda White-Epps post office. Every year they participate in the Walk for Diabetes, the Relay for Cancer, the community Halloween party at Keefe and the block party at Rochford Field.
The team also competes in cheerleading meets. Last year they won both the SCC and the state championships. The captains would love to repeat these feats.
Mastroianni started cheering with Pop Warner Youth Football seven years ago. She plans to continue cheering next year at the University of Massachusetts. Mastroianni said she will always remember the camaraderie she has with the other cheerleaders.
D'Andrea, a 12-year cheerleader, also started with Pop Warner. She plans to go to SCSU next year and wants to continue cheering. She thanks all her coaches throughout her career.
Ercolano also credited her coaches for being her inspiration through the years. She also cheered for Pop Warner 11 years ago. She plans to attend Suffolk College and is not sure if she will continue cheering there.
The tri-captains credit HHS coach Chris Wilson with their success. They cannot thank her enough for her support and dedication. "She spends hours and hours with us," the captains said.
-------------------------------------------------------------
Girls' BB Scores

From the Hamden Fathers' Basketball Association
By Keith Hodder
9-11 Girls
DiAdamo & Fitch Bail Bonds led by Alysia Carrereo's nine points defeated CSR Properties 21-15. April Uzzle added six points for DiAdamo and Mariah Soto had four. Kathleen Fedorchak led CSR with a game-high 10 points while Nandi Carter had three and Shayna Mills two.
Inese Aleksjuka had a game-high 10 points to lead NewAlliance Bank to a 20-15 win over JD Environmental. Sarah Cubells chipped in eight points and Brianna Blackmon had two. JD was led by Avery Owers with eight points and Ciara Fennelly with seven.
12-14 Girls
Adebanke Otumba-Payne led CSR Properties with six points as they edged by Ultimate MMA 4 Kids 15-13. Susan Riello and Briyana Green were among four players with two points each. Nicole Anderson led Ultimate MMA 4 Kids with six points and Symone Watson had five.

In a thrilling game, Hamden Greenies led by Destiny Cooper with 15 points defeated Specialized Packaging 19-18. Cooper hit two clutch free throws with less than 20.3 seconds left on the clock to seal the victory. Rebecca Napolitano led Specialized with eight points while Shannon Knox and Currin DeRenzo each added four.
-------------------------------------------------------------
GIRLS BASKETBALL
12/11 W HAMDEN 49 LYMAN HALL 40
12/15 W HAMDEN 60 WILBUR CROSS 36
GIRLS HOCKEY
12/13 W HAMDEN 2 DARIEN 1
12/16 L HAMDEN 1 GUILFORD 4
BOYS BASKETBALL
12/13 W HAMDEN 59 CAREER 47
12/15 W HAMDEN 63 BRANFORD 58
BOYS HOCKEY
12/14 L HAMDEN 2 DARIEN 3
12/16 W HAMDEN 7 NEW CANAAN 0
BOYS SWIMMING
12/15 W HAMDEN 105 SHEEHAN 78
-------------------------------------------------------------
---
December 15, 2006
CONTACTS:
Bill Tavares Media Relations Manager
860.962.4073
btavares@connecticutsun.com
Sarah Emmett Publicist
860.862.4087
semmett@connecticutsun.com
Hamden Named Sun High School Team Of The Week
UNCASVILLE, CT. (December 12,2006) – Hamden High was selected as the first Connecticut Sun High School Girls' Basketball Team of the Week on Tuesday.
Hamden, which finished 10‑12 last year, is off to a 2‑0 start this season. Led by senior Chelsea Blake, the Green Dragons rolled to victories of 81‑38 over Foran of Milford on Dec. 6th and 52-­38 over Shelton on Dec. 8th. Blake had 14 points, 10 steals and five assists against Foran, and 18 points against Shelton.
Each Tuesday during the high school girls' basketball regular season, the Connecticut Sun will recognize one Team of the Week. That team will receive a commemorative plaque, courtesy of the Connecticut Sun and Barker Specialty.
The Team of the Week is the latest in a series of initiatives undertaken by the Connecticut Sun to highlight local girls' high school basketball, where future WNBA starsare already competing. The Sun also conduct a high school tour, host the CIAC Championship luncheon and recognize the four CIAC Class champions during a ceremony at halftime of a regular season game.
---
December 13, 2006
Bantam Boys Doing Fine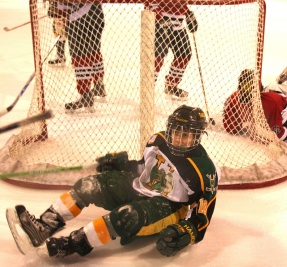 Jimmy Wilson behind the net.
Adam Devine decks cheap-shooting opponent
Story and photos by Edward C. "Ned" Burt Jr.
The Hamden Bantam A Hockey Team, sponsored by Burt Law Office, is on an incredible run of six straight games in which the team has posted five wins and only one loss. The past two weekends have seen the team lose rugged forward Ralph DiFonzo and speedy forward Frank Maturo to the Xavier High School team. The team also lost standout defenseman Matt Kolakowski to Notre Dame's team.
Despite these losses, Hamden has continued on its winning ways. AJ Gemmel, Josh Chapman and Patrick Lynch have been added to the squad and have paid immediate dividends.
"We have a core of solid players and a few outstanding players that have bonded together and are playing great hockey," said coach Jim Miller. "We all just have to keep working hard and playing together and this will be a season to remember."
Hamden started this past weekend by beating the powerful Mid-Fairfield team for the second time in as many weeks. Hamden had a balanced scoring attack in its 5-3 win as RJ Ugolik, Jeff Bakos, Mark Fracasso, Josh Chapman and Adam Devine all scored goals. Joe Coughlin had three assists; Jimmy "Big Pants" Wilson had two; and Devine, Fracasso, Connor Blackwell, Jimmy Burt and Kolakowski all had one.
Fracasso and Blackwell have been skating very well. Wilson and Bakos have been killing penalties. And the defensive corps of Harley Pretty, Ugolik and Conor Callahan has played well with the absence of Joey Quick to injury.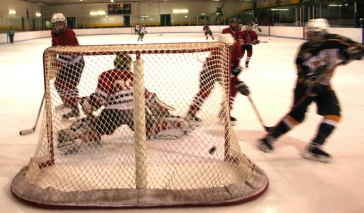 Blackwell goal from Wilson.
Hamden tied Simsbury 4-4 with Devine and Coughlin scoring two goals each. A host of players had assists. The team thrashed Middlesex 7-2 as Blackwell scored two goals, Coughlin a highlight reel goal and Devine tallied four times.
"That goal by Joey Coughlin was incredible," said coach Roger Keyes. "The kid fought off two kids deep in our corner, out skated another and then feathered a pass to himself through the legs of the last defender. [He] got the puck and let do with a thunderous shot. It was the best shorthanded goal I have seen."
Hamden closed the weekend with a hard fought 6-3 win over Ridgefield. Burt and Devine had three goals each as the Hamden team enters the holiday season in fine shape. Fracasso and Pretty had three assists, Coughlin and Chapman four each, Bakos and Wilson two each and Callahan, Gemmel, Lynch and Ugolik one each.
The game ended on a sour note as two Ridgefield players took cheap shots at Ugolik and Devine. Pretty came to the defense of Ugolik, and Devine did his best imitation of Rock 'em Sock 'em Robots in decking the Ridgefield cheap shot artists.
Ryan Amarone had a strong weekend in net for the Hamden squad. Connor Walsh should be back this weekend after being out injured for almost two months.
Hamden is coached by Jim Miller, Dan Vigliotti and Roger Keyes.
---
December 11, 2006
GIRLS BASKETBALL
12/6 W HAMDEN 81 FORAN 38
12/8 W HAMDEN 52 SHELTON 34
GIRLS HOCKEY
12/6 W HAMDEN 5 WEST HAVEN 1
--------------------------------------------------------------

Weekend Girl Hoops
From the Hamden Fathers' Basketball Association
By Keith Hodder
9-11 Year Old Girls
McDonald's, led by Jessica Napolitano with eight points, edged by JD Environmental 18-15. Zoe Fanolis and Hailey Trasacco each added four. JD was led by Ciara Fennelly and Brittany Needham with four points apiece and Avery Owers chipped in two.
Sarah Cubells and Lezlie McEachern each scored four points to lead NewAlliance Bank to an 11-6 victory over CSR Properties. Grace Kiley added two points for NewAlliance. CSR Properties was led by Shayna Mills with four points and Kelly Buttricks with two.
12-14 Year Old Girls
Destiny Cooper scored 25 points to lead Hamden Greenies to a 32-16 win over Partyka Chevrolet. Kendrea Threatt, Ashley Girola and Maria DellaCamera each added two points. Partyka was led by Trinity Barnes with 12 points and Gabriella DeSisto with four.
In a thrilling game, Specialized Packaging defeated Ultimate MMA 4 Kids 12-11. Specialized was led by Currin DeRenzo and Ty-Nay King with four points, while Ezra Massey and Ashley Wendland added two points. Ultimate MMA was led by Symone Watson with five and Nicole Anderson with four.
-----------------------------------------------------------------
HFBA's Saturday Numbers


By John Sheehan
In the Hamden Fathers' Basketball Association 9-10 boys league this past Saturday, Splash Car Wash won over Corner Deli 22-9. Troy Walters had eight points and AJ Brown-Ortiz had six to lead Splash, while Aaron White had seven points to lead Corner Deli.
Batter's Box was victorious over the Hamden PBA. Batter's was led by Elijah Barrow and Kyle Waznis, while Robert Brown and Moreese Mitchell led he PBA. The RWA Credit Union defeated DiSorbo's 24-7. RWA was led by Brody Griffen and Zach Morgillo, while Carl MacCalla and Trey Jackson led DiSorbo's
In the HFBA 11-12 boys league, Eastern Fuel defeated Axman Chiropractic 36-14. Eastern was led by Tyrell Walden-Martin with 14 points and Bryce Barnes with eight, while Nate Bailey and Lorenz Grey each had four points to lead the Axman.
Ercolano Cleaning beat Sorrento's Pizza 24-14. Ercolano was led by Gary Ormand with 11 points and BJ Young with four, while Kyrell Dennison had six and Durrell Barret had four to lead Sorrento's. Unitas won over Lee Partyka 19-15. Unitas was led by Avery Haith with 15 points and Val Gissentanner with two. For Partyka, RJ Williams had six and Adam Olyczk had four.
Mr. Trophy came back to win over WWW Tolson, going 10 for 10 from the free throw line in the fourth quarter. Mr. Trophy, with 27, was led by Ivory Tanner with 10 points and Darren Bowman with four. Tolson, finishing with 24 points, was led by Christian Tillery and Isaiah Barnes each with six.
---
December 5, 2006

First Scores of the Season
By Jack Sheehan
The Hamden Fathers' Basketball Association opened its 2006-2007 season on Dec. 1, with exhibition games from both the boys and girls leagues at the new Hamden Middle School.
Former HFBA and high school players are coaching and working with the kids. They include Ben Mikula, Dan Fiasconaro, Chris DeMateo, Mike Carbine, Trammel Rizzuti and Ben Wallace in the boys league; and Bill Battapaglia, Kelly Hodder and Tori Murphy in the girls.
In the 9-10 boys league, Splash Car Wash won over DiSorbo's Bakery 20-16. Richard Grant and Troy Walters each had six points to lead Splash, while Trey Jackson had eight and Alex Ossa had six to lead DiSorbo's. Batter's Box defeated Corner Deli 29-16.
For Batter's Box James Thorpe had 16 and Damon Taylor had six points, while Robert Brock had 12 and Zachery Burgess had two to lead Corner Deli. The RWA Credit Union was victorious over Hamden PBA 24-8. For RWA, Matt Hamilton had eight and Ahmed Hasaan had six, while the PBA was led by Erick Reyes with six and Moreese Mitchell with two.
In the 11-12 boys league, WW Tolson defeated Lee Partyka Chevrolet 22-18. Tolson was led by Jaquay Black with 11 points and Christian Tillery with six. For Lee Partyka, Joe Tommaselli and RJ Williams each had six. Eastern Fuel beat Ercolano Cleaning 30-14. Eastern was led by Tyrell Walden-Martin with 16 points and Aaron Boykin with five.
For Ercolano Robert Grissett and Gary Ormond each had four. Sorrento's Pizza outscored Unitas Club in the fourth quarter to win 22-16. Sorrento's was led by Durrell Barrett with nine and Thomas Hopkins with four, while Avery Haith had eight points and Hakeem Haynes had four for Unitas. Axman Chiropractic used some good fourth-quarter defense to beat Mr. Trophy 27-24. The Axman were led by Brandon Martin with eight and Drew Catalano with six, while Ivery Tanner had 13 and Cole Perry had four for Mr. Trophy.
---
December 4, 2006

Girls' Hoop Scores
Hamden Fathers' Basketball Association reports on season openers
By Keith Hodder
9-11 Girls
In the season opener defending champions, CSR Properties, got off to a good start with a 14-8 victory over JD Environmental. Shayna Mills led CSR with six points and Nandi Carter added four. JD was led by Ciara Fennelly with four points while Danielle Wendland and Crystal Ortiz added two each.
McDonald's led by Zoe Fanolis' six points defeated DiAdamo & Fitch Bail Bonds 14-9. Jasmine Andrews had four points and Hailey Trasacco chipped in three. April Uzzle led DiAdamo with four points, Alysia Carrero and Camila Garcia-Millan each had two.
12-14 Girls
Ultimate MMA 4 Kids, led by Nicole Anderson with 10 points, defeated Hamden Greenies 25-11. Symone Watson added five while Shaquanna King and Kara Waznis had four points each. Hamden Greenies was led by Taylor Compano with four points, Kendrea Threatt with three and Destiny Cooper and Ashley Girola with two apiece.
Jennifer Pilchik (three points) made a free throw with 2:12 left to tie the score, and Trinity Barnes scored the final four points to lead Partyka Chevrolet to a thrilling 22-18 victory over CSR Properties. Barnes had a game high 14 points and Gabriella DeSisto added four. CSR was led by Sara Winnick's five points and Alison Canelli and Kamila Carter each had four.
---
November 30, 2006
Two Down, One Up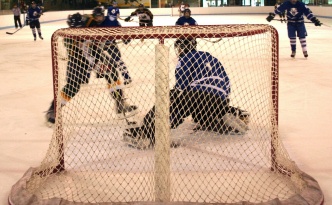 Ralph DiFonzo's shorthanded score.
Story and photos by Edward C. "Ned" Burt Jr.
The Hamden Bantam A Hockey Team, sponsored by Burt Law Office, got off to a great start against Central over the Thanksgiving weekend. RJ Ugolik, the Cary Grant-like smooth defenseman, put Hamden up on its first shift with a hard slap shot 1-0. Jimmy Burt and Matt Kolakowsi had assists on the play. Central tied the game on a power play -- theme that would haunt Hamden all game long.
Jimmy Wilson, Conor Callahan, Jeff Bakos and Harley Pretty were doing overtime on penalty kills as the Green Dragons kept shooting themselves in the foot with penalty after penalty. Wilson almost scored a shorthanded goal on a nice steal as the competitive first period ended in a 1-1 tie.
Ryan Amarone was making save after save. Pretty was supplying muscle on defense along with Ugolik and Kolakowski, but a nice screen shot at 8:56 put Central up 2-1. Then poor coverage in front of the net made it 3-1 at 8:29.
Hamden scored a key goal by rugged winger Ralph DiFonzo at 6:07 of the second to make it 3-2. He came storming over the blue line and let go with a hard, low wrist shot. Assists went to Ugolik and Callahan.
Once again Hamden took a penalty and 22 seconds after DiFonzo's tally had brought them within one, Hamden found itself down 4-2. Amarone then made some fine saves and Callahan was crunching the physical Central forwards along with Pretty and Joe Quick.
Hamden found itself down 5-2 to start the third period. Adam Devine had a slap shot feather its way through the arm of the Central goalie and the crowd could sense the momentum swing. Hamden now down 5-3 came out strong in the third, asserting its fine skating ability, passing and a physical presence that had lain dormant for the first two periods.
Hamden had a five-on-three power play but failed to convert on many chances set up by Burt and Mark Fracasso and a brilliant rush by Kolakowski. Devine was robbed at the end of the power play as was Burt before him.
The Hamden team kept plugging away and ended the game on a nice steal and score by crafty winger Connor Blackwell. The squad was defeated 6-4 in a disappointing showing by the Bantam A team. Connor Walsh remains out on the injured list.
Versus East Haven
The team bounced back in losing to host East Haven 3-2. Hamden came out strong with Coughlin, Devine and Fracasso showing jumps in their strides. At the 5:52 mark of the first period the game was tied 1-1 after a Devine goal assisted by Fracasso and Kowlakowski.
Blackwell, Bakos and Wilson were dynamos on their line with Bakos hitting everything in sight, Wilson skating hard and Blackwell doing everything including showcasing his soft hands with several passes and shots. Amarone was making spectacular saves and the team seemed poised to defeat the Easties for the first time in years.
Hamden soon found itself down 3-1 but with a little over minute to go in the second period, Devine scored again on assists from Callahan and Pretty. Unfortunately, that 3-2 score held up throughout the game.
Versus Greater Bridgeport
Hamden came back strong on the last day of the tournament to defeat the Greater Bridgeport squad 3-2, despite the loss of stellar defenseman Joe Quick due to a wrist injury.
Burt and Coughlin were hitting, Maturo was flying all over the ice and DiFonzo was doing both but again the Hamden squad found itself down 1-0. Hamden then scored on a DiFonzo rebound goal to tie the game 1-1 with 10:30 left. Devine and Kolakowski had assists on the play.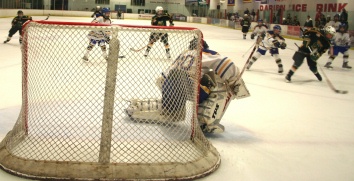 RJ Ugolik ready to shoot.
Maturo put Hamden up on a fine rush with assists to Burt and Ugolik. The game was tied 2-2 as Bridgeport pulled its goalie only to see Devine get an open net goal for the Hamden 3-2 victory. Hamden came in third in the tournament but the team's weekend was far from over.
Versus Mid-Fairfield
Hamden traveled to Darien to play regional powerhouse Mid-Fairfield Saturday night. The team responded to its second game of the day in stunning fashion. The Bantams beat Mid-Fairfield for the first time in many of the players' careers -- 4-3 -- behind the stellar performance of goalie Amarone and a balanced scoring attack.
Ugolik tied the game late in the second period on an outstanding rush and shot. Wilson and Bakos had assists. Callahan, Pretty and the entire defense were playing solid in front of Amarone.
DiFonzo then made it 3-2 with assists from Maturo and Callahan, who fed a beauty of a pass in center ice to the fleet-footed Maturo.
Coughlin scored with 1:39 to go and Hamden took the game 4-3. Devine had an assist as did Fracasso, the rugged winger, who kept the puck in play and fought off two defenders to keep the play alive.
Versus West Haven
The team's last game of the weekend found it home on Sunday hosting West Haven. The Bantams finished up a strong week winning 7-1. Devine had three goals and two assists; Coughlin two goals and an assist; Burt a goal and an assist; and DiFonzo a great steal and shorthanded goal.
Kolakowski had three assists, Ugolik two assists and Pretty and Fracasso an assist each. Hamden is still without the services of Connor Walsh.
"We are beginning to play at a very high level," said coach Jim Miller. "This has been building and we still have a long way to go, but the team is really jelling right now. We'll know better how we stand after the high school tryouts this week."
Hamden is coached by Jim Miller, Dan Vigliotti and Roger Keyes.
---
November 27, 2006
Wet But not Washed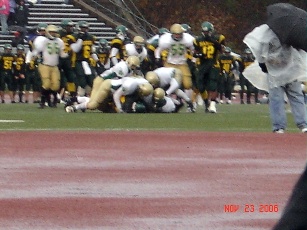 First half action between Notre Dame and Hamden High.
Raindrops drive away most from Green Bowl '06
By Tony Mentone; photos by Matt Mentone
It was a cold, gray, dreary Wednesday afternoon last week when the Hamden High student body headed for the Hamden stadium to heat up the team at the annual Green Bowl pep rally. Ericka Knight led off by singing the National Anthem.
Dan Broder ('07), the master of ceremonies, introduced athletic director Jeanne Cooper and Hamden High principal Gary Highsmith, who welcomed the student body and called for a Hamden victory. The dance team, the band, the cheerleaders and pep squad whipped the crowd into a frenzy as the senior football players were announced.
That night, the football team and cheerleaders carbed up at a pasta dinner held at the Hamden Elks Club, sponsored by the Hamden Gridiron Club.
Thursday, Thanksgiving Day
8:30 a.m. – The rain is coming down at a good clip. Rain, rain, go away. Notre Dame and Hamden want to play.
9 a.m. – The ticket sellers and takers are in place under a tent to protect them from the weather. The rain, now whipped by the wind, continues to fall.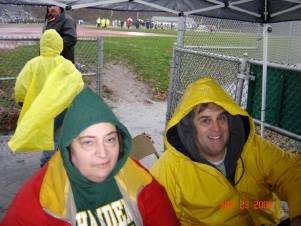 Rose Mentone seems to force a smile as she and Larry Cuomo sell
Green Bowl tickets in the rain.
9:30 a.m. – The teams come onto the field to warm up. Notre Dame is clad in white shirts, because traditionally the losing team from the year before wears white and is considered the visiting team for the day. The steady rain continues. The turf field, which had drainage problems in the past, seems to be holding up remarkably well after this summer's corrective work.
9:45 a.m. – It's really pouring now and not a ticket has been sold.
10 a.m. – It's raining the proverbial cats and dogs. Some of the 500 advance ticket buyers are starting to get to the game, in various states of raingear -- from the Glad garbage bag look to getups that look like Haz-Mat suits.
10:15 a.m. – Still raining pretty heavily. Fans start to show. "What the hell? Am I nuts coming out in this weather?" one man says. "I hope my kid appreciates this," says another. Another man with rubber rain gear from head to toe says, "Football is made to be played in bad weather. This turf stuff really ruins it. We need mud."
10:30 a.m. – Still raining steadily. The Hamden band plays the National Anthem. And the game begins.
Notre Dame scores first. Hamden comes back and ties it up. ND scores twice more before the half.
11:15 a.m. – Halftime. The rain has actually let up a little. Everybody does their halftime thing and as the teams enter the field again, the rain has just about stopped.
11:40 a.m. – The rain returns harder than it has been all day. The ND band bails out saying something about not wanting to ruin their instruments. Most of the crowd is leaving and only about 200 hearty souls remain.
Noon – ND tacks on another two scores but only about 100 people are there to see them. As one fan puts it, "This sucks. It's still freaking pouring."
12:15 p.m. – Still raining! The game winds down in front of maybe 50 people.
Nobody will remember the score. Only those scoring will remember. But everybody will always remember the 2006 Rain Bowl.
---
November 22, 2006
Bantam Boys Deliver Pure Excitement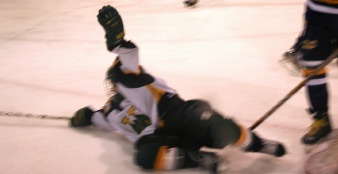 Jimmy Wilson celebrates his goal on his back.
Story and photos by Edward C. "Ned" Burt Jr.
The Hamden Bantam A Hockey Team, sponsored by Burt Law Office, had a strong weekend against powerhouse Southern losing 8-2 in a game much more competitive than the score would indicate.
Hamden got goals from Jimmy Wilson and Adam Devine with assists to Jeff Bakos, Harley Pretty and Jimmy Burt. Pretty had a particularly strong game on defense, and with some better coverage deep in their own zone, the Hamden team may have tumbled the Southern juggernaut.
Nov. 18
Hamden then hosted AAA dynamo, Valley Forge Minuteman, last Saturday afternoon. Hamden came out of the box as fast as Jack Rabbit quick. Devine got the team on the board less than a minute into the game. Joe Coughlin picked up the assist as the rugged winger stole the puck deep in the offensive zone and got off two shots that the goalie rejected before Devine slammed home the rebound.
Burt scored a Power Play goal less than 30 seconds later as the ever hardworking centerman got fine feeds from Devine and Matt Kolakowski to put Hamden up 2-0.
Wilson looked like a diminutive Radio City Music Hall Rockette in scoring his second goal in as many games. Minuteman fans were screaming for a call that the puck was kicked into the net. "It was definitely a kick," said New Jersey state trooper Tim Mathias, a former referee who was at the game. Well, no replay at the Hamden rink and the Green Dragons were up 3-1 with assists going to Bakos and Ralph DiFonzo. Wilson danced his way back to the bench with hands held high.
Kolakowski then tallied a power play goal on a searing slap shot that would make the clergy at Notre Dame proud. Burt and Devine has assists on the play.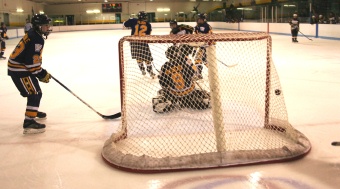 Jimmy Burt with puck in net after shot.
Devine then scored an unassisted goal on a determined effort. This put the score at 5-2 at 11:44 of the second period. Burt then tallied his second of the game on a fine feed from Frank Maturo. Mark Fracasso also picked up an assist.
"Di Fonzo is playing big. The kid is tough, determined and a banger. He is really playing well for us," said assistant coach Roger Keyes.
Devine scored his hat trick on a power play goal set up with fine passes from Maturo and Burt. Burt carried the puck low behind the net, fed Maturo on the right behind the goal line. The fleet-footed Maturo rifled a pass back to Burt, who quickly hit Devine, whose blade came towards the pass in the slot and fired the puck in the net for an 8-2 lead as the second period ended.
Connor Blackwell scored for Hamden as the game ended 9-3. Blackwell was set up by Devine near the net. Pretty also picked up an assist on the play.
Ryan Amarone had another fine game in net for the Dragons. RJ Ugolik had an outstanding game on defense and came to the rescue of his goalie late in the game. Unfortunately for the team, it lost the services of Ugolik and Wilson who decided to join the World Boxing Council late in the game. The boys from Hamden and Valley Forge decided hockey was not the only sport they wanted to participate in that day.
Nov. 19
Hamden traveled early Sunday morning to Albany, N.Y., to play the Bethlehem Eagles without the services of the aforementioned boxers or Coughlin, Callahan or Conor Walsh, who remains out injured.
DiFonzo got the team rolling in the first with a rebound goal off a Devine shot. Joe Quick also picked up an assist on the play. Blackwell had a couple of fine chances for Hamden as the crafty winger used his speed to press in the offensive zone. Amarone kept making saves as the team found itself shorthanded numerous times early in the contest.
Hamden came out of the first down 2-1. Amarone got pummeled to begin the second and the all-world goalie kept the undermanned squad in the contest. Devine then scored to tie the game with assists from DiFonzo and Kolakowski at 9:08.
Fracasso lit the goal light with a power play goal on assists from Devine and Burt at 8:36 of the second to put Hamden up 3-2. The teams battled back and forth in this exciting match with the Eagles tying it with 5:00 minutes to go in the second period.
Pretty then made an outstanding play at the point during a power play to keep the puck in the zone. He fed it to Fracasso who passed to Burt who hit Devine who scored to make it 4-3 with a minute to go in the second period.
Amarone again came up big several times before the Eagles pulled their goalie and scored the game's final goal with 1:32 to go in a 4-4 tie.
Hamden has a busy week coming up with the East Haven Tournament along with its regular schedule.
Hamden is coached by Jim Miller, Dan Vigliotti and Roger Keyes.
---
November 20, 2006
By Tony Mentone
This Thanksgiving marks the 56th edition of the Green Bowl. The traditional high school football battle between the Notre Dame Green Knights and the Hamden Green Dragons stirs up many memories.
It holds particularly sweet memories for me (NDHS '63) because it was here in 1959 that I met my future wife, Rose Velardi (HHS '65). We were introduced by my cousin and her best friend, Rosemarie Mirto (HHS '65). We had a high school romance and were married in 1971. Thanksgiving Day dinner always provided us with spirited conversation.
Fifteen years ago, I was hired by the Hamden High Athletic Department and gave up my shield for a dragon. Since then I really can't get too upset at the outcome.
Good friends Frank Sandillo (NDHS '52) and Gloria Ciccone Sandillo (HHS '55) share the same problem. Their Thanksgiving is always filled with boasting and some good-natured ribbing.
Tom Marcucci (NDHS '67) has put in 37 years as a participant in the Green Bowl, first as a player, then as a coach, now as athletic director at Notre Dame. He remembered 1985. Notre Dame was ahead 20-0 at halftime. Hamden came back in the second half, but ND had the ball third and eighth and needed a first down to ice the game. Everybody at the game thought ND would pass but they handed the ball off to little-used running back Michael Rosadini (NDHS '85), who was stopped at the line of scrimmage but bounced off and got a first down. Marcucci said it was "the greatest 8-yard run I have ever remembered." Notre Dame won.
John Scalzo (HHS '71) recalled his senior year. Hamden had not won in a few years and finally beat ND. He said it was "like winning the Super Bowl." Scalzo also remembered as a youngster going to the game and since it was always the last game of the season, the players would give their chinstraps to the kids.
Vin Iezzi (HHS '65), player, former athletic director at Hamden and retired principal, spoke of an old injury. In his senior year he had a broken arm. His father, sports activist Michael Iezzi Sr., took him to three doctors to get clearance for his son to play. Iezzi said he's sure if it were current times, modern medicine would find a way to get him in the game.
Hamden High Hall of Famer Dr. Richard Diana (HHS '78), orthopedic surgeon and former participant in the Super Bowl, was coming off several good Hamden seasons in 1976 but always lost the Green Bowl. Dr. Diana remembered how distasteful it was to lose. He was so upset that he didn't eat dinner that day. "It was worse than losing the Super Bowl," he said.
Len Mirto (HHS '63) said, "I remember seeing the greatest high school runner I have ever seen -- Nick Pietrosante" (Notre Dame High School running back who later played for the University of Notre Dame and the Detroit Lions). "He was truly a man among boys," Mirto said.
Antonio Aceto (HHS '58), another Hamden High Hall of Famer, recalled the 1957 game. Hamden had lost three straight, but won 19-0 before the biggest crowd Aceto had ever played for.
Matt Mentone (HHS '95) was a member of the Hamden High band. He noted a game when the rain soaked everyone. "My uniform felt like it weighed a ton because of the water," he said.
Joe Tonelli Sr. (NDHS '62) retired after 36 years as Notre Dame athletic director. Tonelli said it has been one of the greatest high school rivalries in the area. "No matter what the records were, this game always brought out the best in both programs," he said.
William LaVelle (HHS '58) also remembered the 1957 game, but for a different reason. He was an inside linebacker and at one point LaVelle was supposed to go outside and the outside backer was to go inside. LaVelle did his job, but the outside guy missed the sign. "Here comes the ball carrier in the spot he vacated. If it wasn't for a shoestring tackle by Tony Aceto, the guy would have scored," said LaVelle. Sitting right behind the bench was LaVelle's mother, dad and girlfriend, Annette, later to become his wife. Legendary Hall of Fame football coach Joe Bruno (HHS '42) was obviously not happy. After the game, the outside linebacker waited for LaVelle outside the locker room to apologize.
Earl Guyer Jr. (NDHS '77) only played two years when injury forced him to play in the band. He fondly remembered his father, Earl Guyer Sr. (NDHS '50), telling stories about this super rivalry.
Rudy Raffone (NDHS '62) is the current Notre Dame soccer coach. He recalled the '62 Green Bowl where ND completed an undefeated season and won the mythical state championship. "The Knights were led by quarterback Buddy Chernovetz and halfback Joe Lenzi running all over the place," Raffone said.
Dom Rapini (HHS '78) talked about a game when Hall of Famer Ron Carbone coached the Dragons. "We were 8-1 heading into the Green Bowl and we needed the win to possibly qualify for the state tournament. There was a controversial extra point call and when we went in at halftime, we were losing 15-14. However, when we came out for the third period, we found that the call had been reversed in our favor and we were ahead 14-13.
"Notre Dame was ahead 26-21 with 34 seconds to play in the game. The crowd of over 11,000 fans was beginning to thin out as our chances of winning began to fade," Rapini continued. "It was fourth down and I remember putting my helmet on for one last shot as ND set up to punt from inside their 35-yard line. The late Hamden corner back Ray Greenlee broke through and blocked the punt and Hamden senior linebacker Jack Durso scooped up the ball and ran it into the end zone for a 27-26 Hamden win.
"We didn't make the playoffs that year. The second spot went to Ansonia after they petitioned up from Class S. But we felt like champions after participating in one of the greatest moments in Green Bowl and Hamden football history."
If any Hamden or Notre Dame alumni have particular memories of the Green Bowl, forward them to me at tonymentone@yahoo.com and I will try to get them in next week.
--------------------------------------------------------------
Hamden Badminton Snatches State Title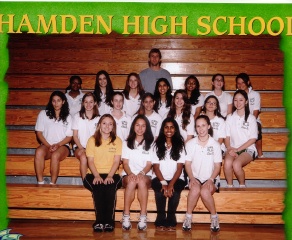 By Tony Mentone
The captains of the Hamden badminton team predicted at the beginning of the year they would win the state championship. They were right on.
For the second time in three years, the Dragons won the Connecticut Interscholastic Badminton League Tournament. The final score was Hamden 13, Miss Porter 10, Simsbury 9, East Hartford 1, Rockville 0.
In the A Flight Single, Divya Krishna was runner-up. Erika Moody and Megan Hochstrasser were runners-up in the doubles. In B Flight competition, Gohar Shahinyan was the singles runner-up while Nisha Tuttle and Eliza Leone won the doubles championship.
For the first time in league history, Hamden won the regular season with a 10-1 record. "The team is anxiously awaiting the state championship sign in front of the school building," said coach John Sudusky. "These kids truly deserve any honors they might receive. They are what student athletes should be about. They have good grades and they are an active part of the school community and they are always well-behaved."
---
November 17, 2006
Chopping Up the Ice For 1 Loss, 1 Win & 1 Tie



Mark's shot goes in with 30 seconds on the clock. Photo/"Ned" Burt Jr.
By Edward C. "Ned" Burt Jr.
The Hamden Bantam A Hockey Team, sponsored by Burt Law Office, had a strong weekend losing 5-0 against powerhouse East Haven, beating the Connecticut Clippers 12-1 and tying Central 2-2.
Hamden actually played East Haven even, until midway through the second period when the Easties simply applied too much pressure that went unanswered by the Hamden troops. "I think Mrs. Ugolik's cooking had something to do with this game," kidded coach Dan Vigliotti, referring to the team's weekly pasta party hosted by Jana and Bob Ugolik.
The team bounced back strong in Champions Rink against the Clippers. The first period ended naught-naught despite Hamden's superior play. Then Adam Devine scored unassisted to make it 1-0 in the second. The Clippers quickly tied the game 1-1. The team was flying all over the ice and Jeff Bakos scored at 10:39 of the second on assists from Jimmy Wilson and Connor Blackwell, which began a flood of goals.
Blackwell had an outstanding game as the crafty forward used his speed and guile to score two goals and garner one assist. Devine had another strong scoring game with five goals and an assist. Jimmy Burt had two goals and an assist. Mark Fracasso and Ralph DiFonzo each had a goal with Fracasso also picking up an assist.
Wilson had three assists, as did Frank Maturo. RJ Ugolik and Joey Coughlin had two assists each with one being counted for Joe Quick, Harley Pretty and Conor Callahan. Matt Kolakowsi had four assists.
"Our young defensemen are coming along," said coach Jim Miller. "And Maturo was flying all weekend long. We are getting fine play from the guys we need and expect it from. If we continue to work hard and improve, this team can win the state title and battle for the regional crown."
Hamden capped off the weekend against mid-state power Central. The crowd was treated to a good, tight, old-fashioned hockey game. Ryan Amarone had a spectacular game in net. The talented, movie-star good-looking Amarone turned away shot after shot in the early going to keep Hamden tied 0-0 after the first period.
Coughlin, Burt, Devine and Maturo were applying pressure upfront with DiFonzo, Fracasso and Burt laying the heavy lumber on the Central team. Pretty, Ugolik and Kolakowski had strong games on the blue line. Wilson used his strong skating ability to kill several penalties as he has over the past several games.
Coughlin got on the board at 15:37 of the second period on assists from Ugolik and Burt. This put Hamden up 1-0 but was matched by Central on the first shift of the third period. And then the boys from Central went up 2-1 with 4:09 left in the game.
Hamden kept coming. Devine, Coughlin, Burt, Callahan -- the Guinness Boys -- kept storming the Central goalie with shot after shot, but like an Irish lass the goalie was rejecting their proposals. Then with 1:23 to go the coaches pulled Amarone from the net.
Ugolik and Kolakowsi made two game-saving plays in mid ice to keep Central from getting clear shots on an empty net. The puck appeared on Devine's stick, just outside the blue line, with 42 ticks left on the clock. Devine made a pass through traffic to the streaking Capt. Burt, who put a move on the goalie only to be thwarted with 32 seconds on the clock.
No problem, said the storming Capt. Fracasso, as the tenacious winger followed up Burt's shot with a stinging wrist shot with 31.5 seconds left, to tie the game 2-2. Amarone got back in the net, made two fine saves at the end of the game and both teams held their heads high as they left the ice with a 2-2 tie.
Connor Walsh remains on the injured list.
Hamden is coached by Jim Miller, Dan Vigliotti and Roger Keyes.
---
November 9, 2006
Bantam Boys Walk on Water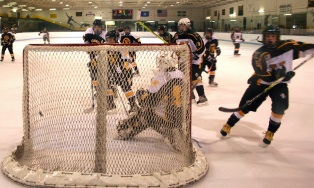 Devine's divine goal with 37 seconds on the clock.
Story and photos by Edward C. "Ned" Burt Jr.
The Hamden Bantam A Hockey Team, sponsored by Burt Law Office, had a strong weekend against powerhouse Ridgefield, losing 2-1 and beating Wallingford 4-2 in a stirring comeback.
Adam Devine scored all of Hamden's five goals over the weekend but the talented center man was not alone. Joe Coughlin, Ralph DiFonzo and the entire team played strong. Connor Blackwell, just back from injury, Jeff Bakos and Jimmy Wilson had their best games all year.
Devine actually scored with 37.4 seconds left in the Ridgefield game to make it 2-1. Hamden then unleashed an RJ Ugolik bomb with Devine, Coughlin, DiFonzo, Jimmy Burt and Frankie Maturo waiting by the net to no avail. Ryan Amarone had another solid game in net for the Dragons.
The Wallingford game was the second of the season for Blackwell coming back from a shoulder injury. The talented forward used his quick feet and soft hands to set up shots for Bakos and Wilson as well as himself. The jump in Blackwell's game was a definite plus for the Hamden squad.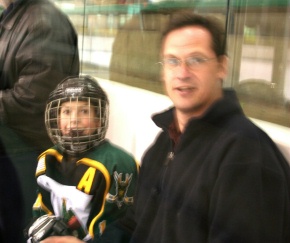 Paul and Patrick Coleman in the penalty box.
The team came out fired up tired of losing tight games in which they have dominated play but fallen short on the scoreboard. Burt started things going with thunderous checks on the first shift of the game, a pace the rugged center man kept up all game.
Coughlin and DiFonzo followed suit and it didn't take long before Ugolik, Harley Pretty, Matt Kolakowski, Joe Quick and Conor Callahan joined in on the defensive side of the ice hitting bodies everywhere. Despite the fact that Wallingford did not record a shot on goal until there was 2:22 left in the first period, the Choate team led 1-0 early in the second period.
Maturo's speed, Devine's cunning and the constant pressure of Coughlin, DiFonzo and Burt could not buy Hamden a goal. Mark Fracasso was flying up and down the ice and got off a blistering wrist shot at 7:25 of the second period. But the Wallingford goalie came up big, time and time again.
Pretty broke up a two-on-one break for the Hamden defense, and Callahan and Ugolik helped kill a two-man disadvantage. Yet, the Green Dragons found themselves trailing 2-0 with less than a minute to go in the second period.
It was then that it happened. A phenomenon witnessed by only those present in the house that Lou Astorino built. "It was like a religious experience," gushed Bob Ugolik. "An awe-inspiring scene," said assistant coach Roger Keyes.
The Hamden fans roared encouragement to their team. Their team took note. The skates glided over the ice as if the Red Sea had just been parted. And Devine & Company led the team to the Promised Land of Victory.
Devine from Burt and Ugolik Score! 2-1 with 14.3 ticks left on the second period clock.
Devine from Ugolik and DiFonzo Score! 2-2 at 13:28 of the third period.
Devine from Coughlin and Kolakowski Score! 3-2 at 3:56 of the third period.
Devine from Ugolik and Coughlin Score! 4-2 at 2:54 of the third period.
And Hamden won 4-2. Kolakowski helped ward off two late rushes by Wallingford with hard, open ice hits wiping out the opposing players.
Devine had scored four goals assisted by five different players in the space of 13 minutes. Hamden, which played so hard and so well, had finished off a tremendous comeback to win its last game of the weekend. Connor Walsh remains on the injured list.
Hamden is coached by Jim Miller, Dan Vigliotti and Roger Keyes.
---
November 6, 2006
Field Hockey, Boys' Soccer Headed for State Tourney
By Tony Mentone
Hamden High's field hockey team has qualified for the CIAC state tournament -- in only its third year of varsity competition.
"The team realized it was no longer a club team," said coach Tina Bouchard (formerly Tina Marci). "Every one of these players worked hard to get here."
The offense was led by junior Jessica Morgillo with 13 goals and four assists. She was third in scoring in the Southern Connecticut Conference. Senior Capt. Carolyn Buggy led the team in assists.
Defensively, Bouchard gives credit to the whole team for their efforts. The Dragons finished the year 5-8-3-0 and are ranked 21st in Connecticut in Class L. They will play Conard at their West Hartford campus today at 2 p.m. in the first round. Conard beat Hamden 3-1 in the first game of the season.
"This is a different team than the first game. We now have a ton of confidence and we are much more skilled," said Bouchard.
Hamden High's boys' soccer team started the season in a crawl and wound up with a sprint to the finish. Hamden needed two wins in its last two games to qualify for the CIAC state tournament.
The first of the two games was against perennial power Notre Dame of West Haven, which only had two losses for the season. Hamden won 4-2 and then needed a win over Branford, ranked No. 2 in the state at the time in Class L. Before a large senior night crowd, Hamden won, 2-1.
Coach Joaquin Rodriguez said, "They finally started to believe in themselves. The coaching staff had stressed all year that they were as good as anybody in the state."
"The captains, Matan Bik, Luis Zapata and Pete Hamasin, have provided the leadership role to get us moving," said Rodriguez. "Once you get into the tournament, it's a whole new season."
Last Saturday, the Dragon kickers beat Brian McMahon in a play-down game 2-1, to advance to the next round. They will play Farmington, ranked No. 2 in the state, at Farmington High School at 5 p.m. today.
------------------------------------------------------------
FOOTBALL
11/3 L Amity 13-20
FIELD HOCKEY
10/30 W Lyman Hall 5-1
10/31 W Sacred Heart 3-0
BOYS SOCCER (play down round in CIAC Tournament)
11/4 W Brian McMahon 2-1
---
November 2, 2006
Despite Injuries, Illness, Hamden Wins One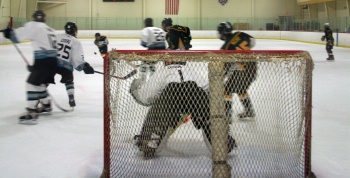 Joey Quick's slap shot on its way. Photo/"Ned" Burt
By Edward C. "Ned" Burt Jr.
The Hamden Bantam A's, sponsored by the Burt Law Office, came back from the Haunted Shootout Tournament in Marlboro, Mass., with two losses and a win.
The team played the undefeated Southern Team last Thursday before heading north for the tournament. Despite having only 11 skaters, the Hamden squad trailed only 1-0 after the first period but fatigue and the relentless Southern attack saw Hamden endure a 10-0 loss.
"Ryan Amarone was unbelievable in net," said coach Jim Miller. "That kid has all the tools to be one of the great ones. He must have had 45 saves in this game. Incredible!"

Hamden's first game in Marlboro was against the powerful Mt. Clare Blues from New Jersey. Hamden, already down Connor Walsh and Connor Blackwell, lost stalwart defenseman Harley Pretty to a high fever. Once again the depleted squad fought hard. Led by Ralph DiFonzo's all-around play, RJ Ugolik and Conor Callahan's defense the Hamden squad held its own against the hard-skating Blues.

Amarone was a rock in net. At the two-minute mark, Adam Devine got a fine ice high pass from Frank Maturo. The elusive Devine scored on a beautiful delay move that froze the defenseman and goalie. DiFonzo also had an assist on the play.

Joey Coughlin and Jimmy Burt then held a fore-checking clinic delivering
punishing checks on each side of the ice, which resulted in a scoring chance for Jimmy Wilson. The versatile Wilson shot just missed the side of the net. Jeff Bakos, ever ready with a thundering check of his own, narrowly missed a tip in as the puck went screeching by him on the Wilson laser dart shot.

DiFonzo kept up his aggressive play, fore-checking and back-checking like a Tasmanian Devil. Amarone kept making saves and Mark Fracasso, himself under the weather, skated hard up and down the ice.

The Hamden team entered the third period up 1-0 when Burt passed to Coughlin back to Burt to Devine for the shot that Burt punched home the rebound for a 2-0 lead.

Amarone came up with save after save. Joe Quick made some nice defensive hits while Matt Kolakowski continued his steady and strong blue line play for the Dragons. DiFonzo, who by all accounts had an outstanding tournament, was hitting everything that moved. Ugolik was playing his typical steady game, and Amarone's gumby-like saves brought even the New Jersey fans to their feet in admiration.

Once again, Hamden's short bench caught up to them as the Blues went ahead 3-2 before Devine scored on a gorgeous backhander with 1:47 to go in the game. Devine had a defenseman draped on his back as he let go with a rooftop backhander from a tight angle to tie the game 3-3. Lady Luck did not hold up for Hamden though as the New Jersey team scored 30 seconds later on its second fluke goal off the back of the Hamden goalie.

Hamden gave it one last shot as Coughlin, playing with an injured wrist,
fought off two defenders to get the puck to Burt in heavy traffic in the high slot, and the rugged centerman let go with a blast that was somehow stopped by the Blues goalie as time expired and left Hamden with a disheartening 4-3 loss.

Hamden next played the Midstate Sharks, and Capt. Fracasso got the team going with a sharp goal at the 6:26 mark of the second period. Fracasso got a pass from Capt. Burt, who had received a fine breakout feed from Maturo. It would not be the last time Maturo was involved in a play last weekend, as the fine skating forward put on a display of speed skating that would make Eric Heiden proud.

Quick and DiFonzo were playing hard as were Callahan, Ugolik and Kolakowski on defense. Pretty was back in the line-up -- a tremendous help to the Hamden back line. At the 3:30 mark Coughlin made a fine pass to Bakos in front but the tough winger couldn't get a shot off. At 2:29, Fracasso got the puck from Burt in the circle and hit Quick at the right point. The rookie defenseman then let go with a slap shot that scorched the back of the net to put the Dragons up 2-0.

Next, Maturo brought the crowd to its feet getting a feed from Ugolik and
darting from his own blue lines -- with moves that brought him the nickname "Sweetness" years ago -- through four different players before juking the goalie and putting Hamden up 3-0 at the 2:06 mark. Midstate finally scored with a little over a minute to go to make it 3-1 going into the final period.

Devine then made it 4-1 on a fine play from Ugolik as Devine hit the
defenseman with a pass and Ugolik fed it right back to the diminutive center who put it in the net. Coughlin also picked up an assist with Ugolik on the play.

Maturo once again carried the puck through three players on the ensuing
face-off, but his drop pass to Bakos resulted in a stellar save by the
opponent's goalie.

DiFonzo and Kolakowski kept up the hitting and the Hamden squad left with a 4-1 victory. They needed to win their last game by three goals to make it to the semi-finals. The game started out fine as Burt fed Maturo on the first shift to put Hamden up 1-0 against the Hudson Valley, N.Y., team.

This game Hamden would play without Fracasso, who came down with a high fever between games. The team played well with Amarone once again shining in net but had to settle for a 1-1 tie and a ticket home without playing for the championship.
Hopefully, Blackwell and Walsh will be back on the Hamden team within the next two weeks. It will be interesting to see what this talented group of youngsters can do with a full squad of players.

Burt Law is coached by Jim Miller, Dan Vigliotti and Roger Keyes.