March 11, 2008
What a Fine, Fine Season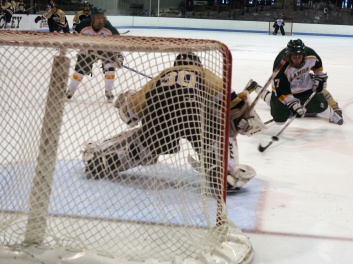 PJ Vakos trips.
Dragons fought mighty hard to the end
Story and photos by Edward C. "Ned" Burt Jr.
Hamden High's run at another state title came to a crushing end Saturday as the Green Dragons lost 4-3 to Notre Dame of Fairfield at Yale University's Ingalls' Rink. The rain and the defeat at the hands of the Lancers shouldn't dampen the team's spirits as their coaches and players can reflect on what truly was an outstanding season.
The team ended with a 17-4-1 record. They played the state's toughest schedule, took on out-of-state powerhouse Mt. Saint Charles, and amassed the highest power rating points in the history of Division I Hockey.
Still, the pain of seeing the season end for these fine gentlemen and outstanding athletes is difficult to convey in keyboard strokes.
"There is just something different about hockey," said Rich Shattuck, a former Shrewsberry Crier forward. "It's just an intense game. Fast, furious, hard-hitting and at the same time romantic and graceful in its speed and finesse. Today's game had it all with two outstanding teams. It's a shame either had to lose. And it is always numbing for a season to end without winning it all."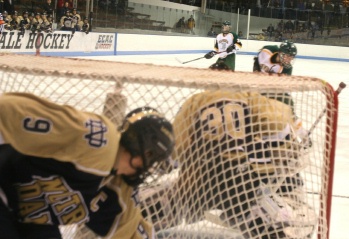 Ron Esposito shoots and scores.
Hamden started each period slowly. The Lancers scored their first goal less than four minutes into the first period. They scored their second goal less than four minutes into the second period. They scored their fourth and winning goal 47 seconds into the third period. The third period goal was a wraparound that somehow found its way into the Hamden net and was a real killer for the No. 1 team in the state.
Anthony Avitable made several outstanding saves for the Green Dragons. Captain Scotty Teulings had an exceptionally strong game as did fellow defenseman Tom Roche. Sean O'Sullivan had his typical smart, fine game and Dan Wheeler, Mike Sanca, Pat MacGregor and Mike Colson also had strong defensive games for the Greenies.
Mike Berezecky was flying upfront until he took a vicious crosscheck to the face. Mike Pierne and Pat McGovern had strong games and several chances for the Hamden squad. PJ Vakos, Matt Cavanaugh, TJ Boyle and Scotty Walsh also had exceptional games for Hamden.
Vakos appeared to have scored for the Hamden team when he rifled a shot in the first period after getting tripped, which knocked the goalie into the net. A whistle had blown though, so no goal was allowed. There was no call on the trip either.
Hamden had two shots just go over the net, and a pass by MacGregor to Pierne with less than a minute to go in the game almost connected to send the contest into overtime.
"Bummer. That's the only word I can think of," opined Ignats Kowalski of the Northwest Hawk's hockey club. "These things happen sometimes. It's just a bummer for the team that comes out on the short end of things."
McGovern scored at the 10:55 mark of the second period to make the score 3-2 Lancers. MacGregor had an assist on the goal. McGovern was a scoring machine for Hamden over the last several games as the crafty junior lit up the nets as if he were on a continuous Fourth of July celebration.
Matt Hickman and Dave Findley had their typical hard-hitting games. Captain Ron Esposito left nothing on the ice trying to lead his team to victory. Esposito had Hamden's last goal with 11 minutes to play in the game which made the game 4-3. Unfortunately for the Green Dragons that would be its resting place.
Walsh and Pat O'Connor had assists on Esposito's goal. It was Walsh who was credited with Hamden's lone goal against Greenwich in their first tournament game last week. Hamden won that game 1-0 with McGovern picking up an assist on Walsh's game winner.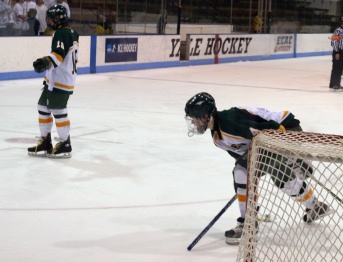 Burt departs as MacGregor picks up shattered stick.
O'Connor scored Hamden's fist goal against Notre Dame of Fairfield knocking home a rebound off a Jimmy Burt shot. O'Connor was flying all over the ice and finished his outstanding career with perhaps his best game of the season.
Burt, one of two outstanding freshmen on the Hamden squad, got an assist on the O'Connor goal. The youngster had a fine game along with fellow freshman standout CJ Carignan, who capped off a fine year with a strong game finishing out their first year of varsity play.
So, while this year's dream of a state championship has been shattered like the stick of a frustrated Hamden player at the end of the game, the legacy of Green Dragon hockey will continue. This year's team added to that legacy by playing a powerful schedule, facing every challenge and giving it their all.
"Hamden will be back," said Spider Simpson, coach of the Brooklyn OOOO-YAAH Club Team. "The program is strong. It wouldn't be normal for the Green Dragons not to be one of the top teams in the state. I expect they will rebound and be right near the top again next year."
Hamden loses 10 seniors and has eight juniors, five sophomores and two freshmen coming back for next year's squad, along with several fine players from the Junior Varsity squad who will undoubtedly help keep the Green Dragons in the thick of next year's race.
---
March 5, 2008
Gold Wins


By Janet Dorr
McClendon's Law Practice's outstanding defense overruled Taxes the Right Way (63-50) this past Sunday in the "Dutch Shultz" 15- to 17-year-old Hamden Boys' Basketball League.
McClendon's Cedric Perkins, with his exceptional shooting (33), led the way. Myles Morrison added (15) and Nicko Mikolike popped in (10). Taxes was paced by Mike Longley (17), Jon Colburn and Tyler McCay eachadded (8) and Tyler Evans added (7).
Spring Glen Paint and Power Wash splashed Abcon Environmental (52-41). Spring Glen was led by James Dudley (14), Brandon Jennings (10) and Jafar Mohmaded (9). Abcon was paced by Jesse Antgahia (14), Koolaid Williams (9) and Aaron Perry popped in (6).
Charles Abatement flipped Country Wide Bank (61-51). Abatement was led by the put-back specialist Jared Jenkins (28), Barry Abraham (10) and Mike Bagley (7). Country Wide's balanced scoring was paced by Aaron Perry (10), Jalon Samuel (9) and Danuel Drayton and Edward Aponte with (8) apiece.
Abatement won the double-header, defeating Ken's Car Wash (50-43). Abatement was led by Trent Jackson (15), Jared Jenkins (10) and Barry Abraham and Douglas Mills each added 9. Ken's was paced by Fathmin Hopkins (21) and Trevor Biggs (15).
In a game down to the wire, Wings Over Hamden outlasted Willow Woods (50-43). Wings was led by Chris Haith (19), Robert Kimble (12) and Chris Meshack popped in (10). Willow Woods was paced by Ismal Cruz Abraham (13), William Mosher (12) and Joshua Pantaji (9).
Cherry Hill Wine and Spirits poured over Country Wide (63-47). Cherry Hill was led by Alex Felix (18), Anthony Carrington (15) and Dell Young (11). Country Wide was paced by Danuel Drayton (18) and Vincent Dixon and Ed Aponte each with (8).
The Law Firm of B, S & W closed the case against Star Pizza (47-33). B, S & W was led by Abdar Akandar (19) and Jamari Matheny and Joshua James each added (7). Star Pizza was paced by the balanced scoring of Maurice Jefferson (8), Kortney Mortin (7) and Bryan Hamilton (6).
The All-Star game ended with Gold Winning (55-49). Gold team was led by Koolaid Williams (15), Quinn Smith (11) and Maurice Jefferson slam dunked in (8). Green team was paced by Gunner Perkins (15), Dollar Hopkins (8) and Vincent Dixon (7).
----------------------------------------------------------------
Stunning Effort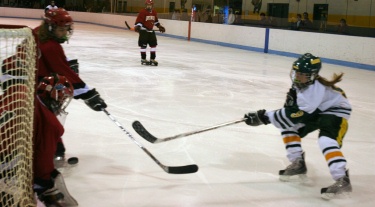 Shannon Callan almost scores.
Story and photos by Edward C. "Ned" Burt Jr.

Hamden High School has been blessed with a great athletic program and a wonderful theater department. Unfortunately, the two don't necessarily mix well as was evidenced in the Girls' Varsity Hockey Team's ouster from the State Tournament on Monday evening. There has never been greater theater on stage than there was before the game, as the coaches huddled with the athletic director and assistant principal outside the rink moments before the dropping of the opening puck.
At the heart of the issue were several of the team's star players who either were not allowed to play in the game or opted not to play in a display of support for their teammates. It was so bizarre that two of the team's players actually warmed up on the ice before the game only to leave and not return before the game began.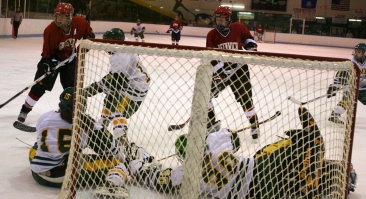 Smith Orser and Jenny Morgan at defense goal.
Did I say drama? Did I say blessed with a great athletic program? Can you say sheer guts, determination and a never-say-die attitude? It was all there for those fortunate to attend Monday evening's game as a depleted team of 11 fine athletes took on powerhouse Greenwich. Eight underclasswomen, two seniors and one junior worked their butts off before losing 5-2 in one of the most spirited games ever seen at the Lou Astorino Rink.
Emily Orser, the strong-skating sophomore defensewoman, along with seniors Britney Sweet and Laura Morgan led Hamden's version of the "Little Engine That Could." And never did one see more effort put forth than by freshmen sensations Colleen Murphy, Amanda DelCervo, Gina Giuletti, Shannon Callan, Jenny Morgan and Britney Sargolini.
"I can't believe the battle in these young girls," said former Davis Pond skating legend Mike Murphy. "To go what they've been through in the last 24 hours and perform at this level is outstanding." And that it was.
Laura Morgan -- sibling of Jenny Morgan and Matt Morgan, who plays for the boys' team -- lit up the crowd with an end-to-end rush at the 3:19 mark of the first period to put the home team up 1-0. The talented senior defensewoman took the puck deep in her own zone, skated past two defenders in the neutral zone, deked another defender at the blue line and outraced another before lifting an odd angle shot that beat the Greenwich goalie to put Hamden in the lead.
DelCervo, a crafty freshman, followed that goal up a minute later with a beauty of a rush herself, only to be robbed of a goal by a brilliant save by the visitor's goalie. Giuletti was flying all over the place; Callan was using her speed and fine moves to set up plays for herself and her teammates; Murphy was skating as if her life depended on it; and Orser was holding down the fort in the defensive zone.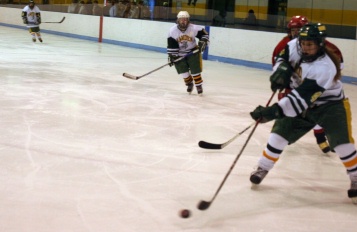 Laura Morgan shoots and scores.
Did I mention Kaitlynn Smith? While the rest of the Hamden squad was performing at breakneck speed flying around the rink as if on a carousel, the Hamden junior net minder made the Greenwich girls spin their heads around as if the Exorcist had visited them with one awe-inspiring save after another.
"That girl is unworldly," said Tom Smith, former goal tender for the Fairfield University Club Team. "She is making saves with every piece of equipment on her body. Man, is she fun to watch."
This sentiment was echoed by many including her mother who was having a hard time standing still watching her daughter keep Hamden's hopes alive.
Greenwich tied the game late in the first period and the teams entered the second period all knotted at 1-1. Orser started strong for Hamden in the second carrying the puck through the defense several times. The multi-talented Orser had several shots on net and hustled back on defense to assist Laura Morgan and the brave Hamden team.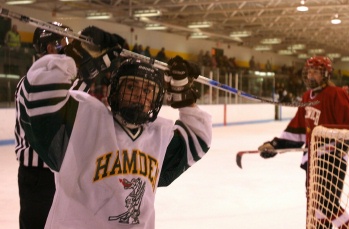 Britany Sweet shows frustration.
At the 7:26 mark Giuletti, the freshman forward, put Hamden on top with a gorgeous roof top goal. She was assisted by another freshman, Jenny Morgan. Hamden led 2-1 and kept the pressure up with the fine play of Sargolini, Callan, Murphy, Williams and DelCervo. The girls kept pouring on the pressure but the Greenwich goalie was up to the task.
Smith once again was making fine saves but the visitors tied the game with only three minutes to go on a fine breakaway that just beat the Hamden goalie through the five hole. Once again the period ended with the score tied 2-2.
It was high drama entering the third period. The winner would move on in the state tourney with the loser's season finished. Neither team wanted their season to end.
The tension in the building matched the excitement. The spirited Hamden 11 marched forward as if the Lightening Brigade had hit the hallowed Hamden ice. These girls showed a determination, ability, a certain magic and class that defy description by mere words.
"This is why I love sports," said retired Col. George Fuller who served in Desert Storm. "These girls have accomplished something tonight -- win or lose -- that will last them a lifetime. They came into the game amidst controversy, were woefully undermanned, and yet gave such a brilliant effort that I am proud to be a witness to it."
The girls ended up on the short side of the score 5-2. But they didn't lose Monday night. What they accomplished and the experiences they can draw from their fine effort made them all winners. Those fortunate enough to have witnessed their efforts applaud them for what they accomplished.
---
March 3 , 2008
Story and photos by Edward C. "Ned" Burt Jr.
The hard-skating Hamden High School Girls' Varsity Hockey Team had a disappointing 4-1 loss to Guilford. This was the championship game of the Central Connecticut Girls' Hockey League. The state playoffs start this week.
The game started badly for Hamden as the Guilford squad scored just 17 seconds into the game. The Hamden offense, led by Jenna Giuletti, Britany Sweet, Chelsea Gelman, Jessica Morgillo and Jenny Morgan, had control of the puck most of the rest of the period but soon found itself down 2-0.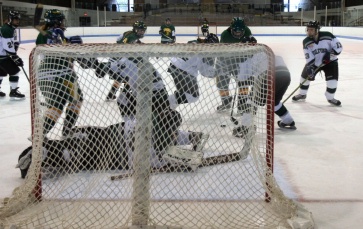 The team scrambles for a loose puck.
Emily Orser, the strong-skating sophomore defenseman, then came across the blue line and rifled a shot that made its way into the net and gave Hamden life down 2-1 with almost six minutes left in the first period. Another of Hamden's sophomore defenders, LeeAnn Esposito, almost scored later in the game on a fine shot.
The younger Hamden team was taking on the more experienced Guilford squad and its outstanding goalie, Nicole Provencher. "I really marvel at the skill level of the girls' game," remarked Dr. John Iannarone, director of Yale Urgent Care who attended the game. "Their skill level is outstanding."
Unfortunately for the never-say-die Hamden squad, it was their first and last score of the game. Despite fine goal tending by Kaitlynn Smith and Sinead Crotty, the Hamden squad found itself on the short end of a 4-1 score. Carolyn Williams played well up front and the Hamden team is young and gifted with the likes of both Colleen Murphys, Laura Morgan, Natalie Whiting, Shannon Callen, Kayhla Violano, Britney Sargolini and Amanda DelCervo.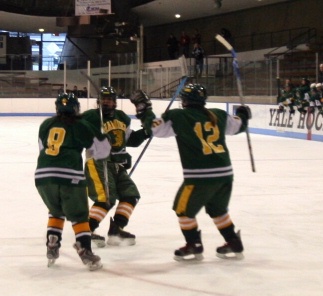 Orser's goal celebration.
Lyndsay Stockwell at forward had a fine game as did Chelsea Callahan on defense. The Hamden team starts its state playoffs this week and may very well find itself in a rematch against Guilford for the state title.
-----------------------------------------------------------------
The Top Seed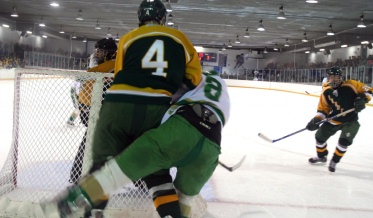 MacGregor and Colson on defense.
Next net: state championship
Story and photos by Edward C. "Ned" Burt Jr.
Hamden High School's remarkable regular boys' hockey season came to an end with a 16-3-1 record. The final two games of the season were like most of the rest. Tight checking, fine defense, four well-balanced lines putting consistent pressure on the opposing team and outstanding goal tending from Anthony Avitable.
The Hamden team beat the Notre Dames of the state in the final two games. They won a hard-fought battle against ND of Fairfield 2-1 on goals by Captain Scotty Teulings and Pat McGovern. Teulings, one of the top scorers on the team throughout the year, was assisted by Mike Pierne and Matt Hickman. McGovern, who has been coming on strong, was assisted by Pierne and PJ Vakos.
"I am very impressed with Hamden," said former Bergen County High School star John Finn. "They have four solid lines with high energy and a defense the likes I haven't seen on the high school level in years. And the kid in net is outstanding."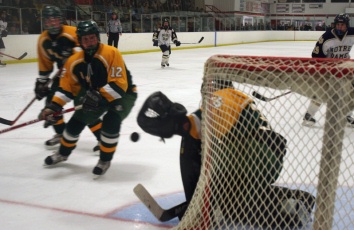 Avitable's glove save with Roche defending.
That would be Mike Berezecky. TJ Boyle and Matt Cavanaugh had another strong skating game for the Green Dragons as did Matt Hickman and Captain Ron Esposito. Hamden was playing without one of its two outstanding freshmen, as CJ Carignan was down with the flu.
Hamden then ended its season against Bill Gerosa's depleted ND of West Haven team. The team was missing stalwart defenseman Francesco Sandillo and other fine players. But it didn't stop them from giving the No. 1 ranked Hamden squad all it could muster.
Pierne got the Hamden team going early, scoring a mouth top goal on a fine pass from Hickman. Sean O'Sullivan also had an assist on the play. The game was all knotted up after the first period as Luke Curachi scored for ND. Assists went to Jon Knobloch and Joe Maresca.
The team battled back and forth as Mike Federico and Anthony Avitable put on quite a show in net for the fans to see. Each team had several fine chances only to be stopped by these two goal tenders.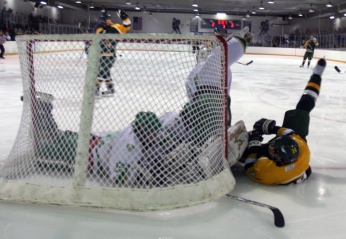 Patty O crashes net.
Pat MacGregor was playing tough on defense along with Mike Sanca and Mike Colson. Dan Wheeler played strong and Pat O'Connor, Scotty Walsh and Jimmy Burt had high-octane games which were good to see out of these fine wingers.
Boyle, Vakos and Cavanaugh were putting on penalty kill clinics each time Hamden had a penalty. Notre Dame was matching Hamden each and every skate-blade glide of the way. Then the quick snapshot of McGovern found the back of the twine in the second period to put Hamden up 2-1. Assists went to Roche and Teulings.
Dave Findley, ever the hard worker, then netted a power Play goal on a beauty of a pass from O'Sullivan to make it 3-1. Roche, who had his best game of the year, picked up another assist.
At the 11:13 mark of the third period, Tom Merola scored for ND to make it 3-2. Assists went to Brian Kachmark and Knobloch. The teams then battled each other for the remainder of the game with Hamden coming out on top 3-2.
The states begin this week with Hamden as the top seed. The 16-3-1 Dragons will host a game Wednesday night at the Lou Astorino Rink against an opponent and at a time to be announced sometime this Tuesday.
-----------------------------------------------------------------
JD Masters Perfection


Hamden Fathers' Basketball Association girls' scores for March 1
By Keith Hodder
9- to 11-Year-Old Girls
Ashley Arroyo hit a jumper with 8.2 seconds left to lift JD Environmental to a thrilling 18-17 victory over NewAlliance Bank to win the Town Championship. With the win, JD completed a perfect season at 11-0.
NewAlliance gave JD all they could handle, was leading 13-4 at the half, and saw their lead disappear in the fourth quarter to 14-13. From that point on, each team traded baskets with the lead changing three times in the final 38.4 seconds until Arroyo hit her game-winning shot. Arroyo along with Janelle Cooper led JD with 4 points and five other players each had 2. NewAlliance was led by Tyla Jade Martin with 5 points, Tahnajia Daniels and Breana Parker with 4 each.

12- to 14-Year-Old Girls
Hamden Greenies, led by a game-high 15 points from Sarah Shields, defeated DiAdamo & Fitch Bail Bonds 27-17 to win the Tournament Championship. Also scoring for the Greenies was Kamila Carter with 5 points, Sarah Cubells 3 and Anna Marie Fortuna 2. Leading the way for DiAdamo was Shaquana King with 7 points, Lanesha Porter 5 and Ashley Girola 4.
Nicole Anderson scored 25 points to lead Partyka Chevrolet to the Town Championship with a 31-23 win over McDonald's. Partyka, leading a close game at the half 12-9, started off the second half by scoring 12 points in the third-quarter to reap the win. Nandi Carter and Kendrea Threatt each scored 3 points to round out the scoring for Partyka. McDonald's was led by Morgan Rams with 11 points while Avery Owers and Gabriella DeSisto added 4 apiece.
15- to 17-Year-Old Girls
Team UCONN defeated Team YALE 28-22 behind the 20-point effort from Nicole Anderson to win the inaugural 15-17 girls' Town Championship. Anna Hoppenstadt added 6 points for Team UCONN and Meryah Everson had 2. YALE was led by Kristen Rogers with 11 points, Olivia Matteo 4, Susan Riello 3 and Symone Watson 2.