Sports
A 2-1 Weekend for the Bantam Boys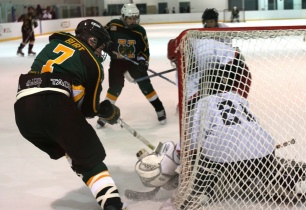 Jimmy Burt's shorthanded goal.
Story and photos by Edward C. "Ned" Burt Jr.
The Hamden Bantam A Team, sponsored by the Burt Law Office, played three games over the weekend. They lost 7-1 and won 4-1 and 8-3, respectively.
It was a cold night at the Greenwich Skate Club Friday night. The Bantam A's traveled to the Golden Rink in Connecticut's Gold Coast and played outdoors in 10-degree weather. Bundled to the hilt, the Bantams got smoked by their Southern neighbors in frigid Greenwich. The team bounced back the rest of the weekend with tremendous victories over West Hartford and Greater Bridgeport.
Adam Devine scored Hamden's lone goal in Greenwich on fine assists by Mark Fracasso and Joey Coughlin. And it was the same threesome that got things going at Veteran's Rink in West Hartford on Saturday afternoon with Coughlin getting the goal and Devine and Fracasso the assists to put the team up 1-0 in the second period.

Ryan Amarone was playing solid in net; Joe Quick and Conor Callahan were
playing tough on defense; and the likes of Josh Chapman, Connor Blackwell and Connor Walsh were leading the offense. At the 13:59 mark of the second, hard-hitting defenseman AJ Gemmell let go with a rocket slap shot that bounced off a defender and into the net to give Hamden a 2-0 lead. Walsh and RJ Ugolik picked up assists on the play.

At the 2:33 mark, West Hartford scored to make it 2-1 and the momentum of the game seemed ready to sway to the West Farms Mall crowd. Yet, the ensuing face-off saw Jimmy Burt score one of his two highlight reel goals over the weekend.
The hard-skating captain banged the puck forward on the face-off, beat the winger to it, fought through a check along the boards by one defenseman and turned low below the goal line. The other defenseman, draped on his back, warded him off with one arm and somehow swooped past him by the side of the net while holding the stick in one hand controlling the puck and reached in front of the net to poke a five hole goal backhanded under the goalie while being leveled to the ground.

Eleven seconds after the West Hartford goal Hamden had its two-goal lead back and "Goal Scoring Machine" Devine made it 4-1 with a rooftop wrist shot at 9:40. Fracasso and Ugolik had assists on the Devine's beauty.

"Jimmy's goal was what that kid is all about," said coach Jim Miller. "Effort and desire to go along with an abundance of talent. He just never quits. It was a great goal by a great kid."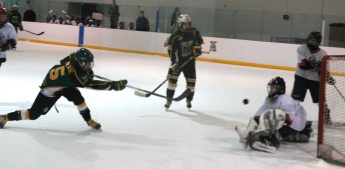 An Adam Devine special.
Hamden then came home to play Greater Bridgeport, who had knocked them out of the Stamford Christmas Tournament on New Year's Day.

Hamden got down 1-0 early before rugged forward Coughlin got Hamden on the board. Devine and Ugolik had assists. Devine, who had an astonishing five goals in the game, then made it 2-1 at the 10:49 mark of the second period with one of his patented rooftop specials. Fracasso and Walsh had assists on the play.

The hardworking group of Jimmy Wilson, Patrick Lynch and Jeff Bakos was
snake-bitten all weekend long as the trio worked hard, created opportunities for one another and outplayed every line the players were matched up against.
"Those guys are doing a great job," said coach Dan Vigliotti. "They do anything we ask of them, kill penalties and almost had several scores this weekend."
Lynch was robbed early in the game when Bakos sent him in alone on a fine pass, but Lynch's backhander was caught by the goalie's leg pads on a double-stack save.

Bridgeport had tied the game late in the second and then Chapman made a fine pass to Coughlin who ripped a wrist shot into the goalie's belly and the ever-ready Devine cleaned up the rebound with five seconds left on the clock to put Hamden in the lead 3-2 entering the third period. Hamden was hit with a penalty on a hard check early in the third.

Amarone made some fine saves to start the period as Bridgeport came out firing. Harley Pretty, who has been playing his best hockey since the Middlesex game the weekend before, stole the puck and made a fine rush that resulted in a face-off deep in the Bridgeport zone. It was time for Burt's second feature.

Burt took this face-off forward, beat two defenders to the puck, came across the front of the net and let go with a soft backhander over the goalie's arms to put Hamden up 4-2 at the 11:18 mark. It was an unassisted, shorthanded goal.

It was then Devine Time. The quick-skating center scored on a play that saw
him get the puck in center ice from Ugolik, pass the puck to Coughlin, who shot
on net and Devine again cleaned up the rebound at the 10:28 mark. Ugolik and
Coughlin got the assists and Devine had his third goal of the game to complete the hat trick at 10:28. He was far from done.

Coughlin and Ugolik hooked up again on the power play as the smooth-skating Ugolik got the puck low to Coughlin who fed Devine out front, and the sharpshooter rifled home a wrist shot in upper-left corner seen only through the eyes of Sniper Devine. It was a beauty.

Devine finished off his Holy Trinity threesome of consecutive goals at the 8:59 mark on helpers from Ugolik and Burt. And Capt. Fracasso finished things off with a goal of his own at the 2:14 mark with Burt and Walsh picking up assists on the play. This goal was scored about two minutes before Fracasso finished off a rousing shift with a clean, thunderous check on a Bridgeport player who had introduced his elbows to one too many Hamden skaters during the game.
"Adam is a goal-scoring machine," said coach Roger Keyes. "He has scored goals for us all year long."
Hamden is coached by Jim Miller, Dan Vigliotti and Roger Keyes.
---
January 29, 2007
Scenes from this Weekend's QU's Banknorth Sports Opening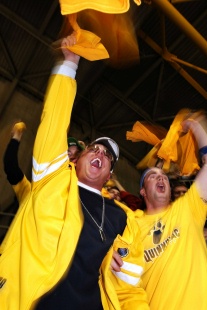 Courtesy photos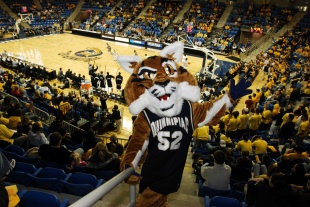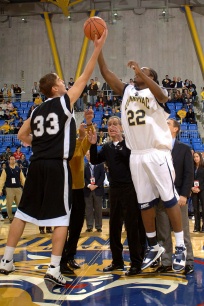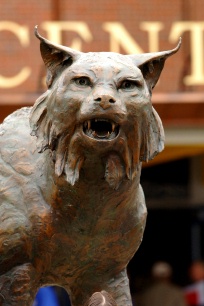 ---------------------------------------------------------------
Boy Points
Hamden Fathers' Basketball Association results
By Richard Shultz
Spring Glen Paint & Power Wash whitewashed Country Wide Home Loans 63-40. Spring Glen exploded for 21 points in the third quarter and were led by Ryan Moore (23), Marquis Winfrey (13) and Aaron Hebron (11). Country Wide leading scorers were Ocie Rivers (11) and Aaron Perry, who connected on two treys for six.
Hamden Memorial Funeral Home streaked by the law firm of B S & W 47-38. Hamden Memorial were paced by Jason Handley (16), Robert Kimble (11) and Bryan "Pork Chop" Hamilton (10). B S & W cagers were led by Jordan Carr (12) and Quinn Smith and Dante Burns with seven points each.
Hamden Elks outlasted Abcon Environmental in a slow-paced game, 37-27. Hamden Elks' Alex Felix led the way with 16 and Chris Haith with 10. Abcon were paced by the inside play of Kris Williams (11) and Jesse Anigala (6).
The Contracting Group, built on great defense, defeated Charles Abatement 46-22. Contracting leading scorers were Jon Coburn (13) and Faheem Hopkins (11). Abatement were paced by Terrance Horton (4) and Cedric Perkins (8).
The McClendons' Bam Carr made a steal at half court and converted the lay-up with 14 seconds remaining to help defeat Skip's Gulf 30-29. The McClendons had balanced scoring with three players -- Carr, Isaiah Derose and Michael Longley each with six points. Skip's were paced by Ed Aponte (6) and Gary Mayes and Trevor Biggs with five apiece.
Star Pizza's offense baked Kens Car Wash 49-40. Star outscored Kens in the fourth quarter 20-11 for the winning margin. Star Pizza leading scorers were Tobin Carburry (16) and Khalais Mills and Maurice Jefferson with nine points each. Kens were paced by Ed Madden (15), Ricky Smith (12) and John Montero (11).
Spring Glen scored 27 points in the final quarter to outlast B S & W 60-54. Spring Glen were powered by Ryan Moore (21) and Marquis Winfrey with three treys and a total of 16 points. B S & W were paced by power forward Jordan Carr (18) and Dante Burns added 15.
Hamden Elks were victorious in their second game of the day by ousting The Contracting Group 60-49. The Elks were paced by three players in double digits: Alex Felix (19), Chris Haith (14) and Ryan Fraiser (11). Contracting were led by Jon Coburn (18) and Sam Garced (16).
Abcon Environmental beat Hamden Memorial 55-51 by scoring 24 points in the last quarter to erase a six-point deficit. Kris "Big Daddy" Williams tossed in 15, Jesse "Du Rag" Anigala, 11, and Michael Homes, 9, paced Abcon. Jason "Go To The Hole" Handley led all scorers with 26 and Robert Kimble tossed in 15 for Hamden Memorial.
Contracting nailed Country Wide Home Loans 42-40 in overtime as Jon Coburn sank two free throws with five seconds left to seal the victory. Faheem Hopkins led a balanced scoring attack with 14, Coburn (7) and Sam Garced (8). Country Wide was led by Jovan Reveron (14) and Lorenzo Forman (9).
B S & W sealed the deal over Abcon with a 19-point outburst in the third quarter to win 46-36. Jordan Carr poured in a season high (28) and Dante Burns along with Terrance Grayson each chipped in six points. Abcon were led by sharpshooter Michael Holmes with three treys (13) and Rasheen Green (6).
Hamden Memorial continued their winning ways by burying Charles Abatement 42-28. Leon Andrade scored 13, Hamilton 10, and Niko "The Hustler" Mikolike chipped in eight points for the winners. Charles was led by Cedric Perkins (12), Aaron Spann two treys and Matt McDonough long-range basket.
The Hamden Elks toweled off Kens Car Wash 48-46 in overtime. Ryan Fraiser of the Elks scored the winning basket as time was running out. Fraiser poured in 18, Alex Felix 12, and Reggie Ulmer chipped in 10. Kens cagers were paced by Ed "Antwan" Madden (18), John "Scrappy" Montero (11) and John "Big Man" Listro (9).
Spring Glen Paint's high-octane offense blew by Skip's Gulf 61-50. Marquis "Magic" Winfrey scored 17, Ryan Moore 18, and Nao Ohdera three, led Spring Glen. Skips was paced by Gary Mayes (24), Jasper Dudley (8) and Big Man Austin Lindsey (4).
Star Pizza rose to the top by defeating the McClendons 57-32. Star's leading scorers were Tobin "Smooth As Silk" Carburry (25) and Mike "Scrappy" Rivera (13). The McClendons' Jared Jenkins tossed in 10 and Bam Carr chipped in eight.
In the third overtime game of the day, Abcon slipped by the Contracting Group 48-45. Abcon buried all four foul shots in overtime by Dan Gibbs and Jesse "Du Rag" Anigala. Gibbs tossed in 12 and Kris "Big Daddy" Williams led all scorers with 20. Contracting were paced by Tyshan Smith (10), Faheem Hopkins (9) and Greg Bellemy with one trey.
Hamden Memorial splashed by Kens Car Wash 43-33. Hamden Memorial was led by Robert Kimble (12), Jason Handley (9) and Niko Mikolike (8). Kens was led by Ed "Antwan" Madden (12), John Montreo (10) and Ben McClain (7).
Spring Glen Paint remained undefeated as they bagged the Hamden Elks 63-46. Spring Glen had two players with at least 20 points: Marquis "Magic" Winfrey (22) and James Dudley (20). The Elks were paced by Alex Felix (24) and Alvin and Alton Fregunson both with long-range jumpers.
-------------------------------------------------------------
Esprit Takes Home the Gold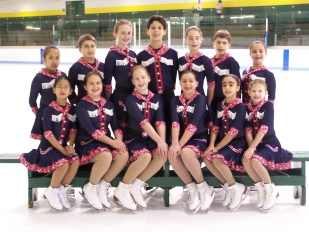 TEAM ESPRIT WINS GOLD AT EASTERN CHAMPIONSHIPS
Team Esprit, representing the Hamden Figure Skating Association, won the Gold Medal in the Open Juvenile category at the Eastern Synchronized Skating Championships held in Providence, RI. Competing in a field of 21 top teams from throughout the Eastern United States, the skaters flawlessly performed a classic routine skated to music from Phantom of the Opera which gained them a standing ovation from the entire audience as well as the top scores from the judges.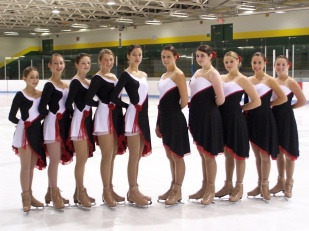 This win follows their Gold Medal performance at the Colonial Synchronized Skating Classic held in Lowell, MA, earlier this month and the Cape Cod Classic in Bourne, MA, in December. Coached by Jillian McCarthy and Sherri Siclari-Maturo, the team members are: Lisa Abbagnaro, Jaimie Gagliardi, Maggie Mayer, Natasha Peavy, Belinda Wenke, Melissa Fruin, Tricia Currie, Lea Faticone, Victoria Miller and Rebecca Houde (left to right in group picture above).
In the Pre-Juvenile division, Team Esprit captured the Silver Medal, also in a field of 21 teams, by skating a spirited routine to country-themed music. Previously this season, they earned a Silver Medal at the Colonial Classic, First Place at the Thanksgiving Classic in Plymouth, MA, and Third Place at the Terry Conners Open in Stamford, CT. Skaters on this line are: Helena Bui, Miranda DiMartino, Alyssa Mason, Lauren Collins, Lindsay Martins, Susannah Frank (first row, left to right in picture up top), Zytka Zuniga, Zachary Duhaime, Erin Shanley, Max Kruger-Dull, Emily McColl, Matthew Duhaime, and Lia Ferri (back row, left to right). The team is coached by Heidi Richetelle and Sherri Siclari-Maturo.
Team Esprit's Juvenile Team skated to a Sixth Place finish at the Eastern Championships in a highly contested division. Previously they earned a Bronze Medal at the Terry Conners Open and placed fifth in their other three competitions this season. They perform a fast-paced routine to music from Hercules. Skaters are Kaitlin D'Agostino, Sandy Hernandez, Nicole Guidone, Serina Capuano, Tory Stosse, Alaina Reed, Ariana Jankovic, Janelle Avelino, Sydney Wetmore, Tasiya Mia, Florette Pursell, Jodie Richetelle, Amie Savakis, Jenny Liu, Mimi Rosenthal, Kristina D'Agostino, Christine Avitable, and Caitlin Pursell, and coaches are Heidi Richetelle and Jillian McCarthy.
-------------------------------------------------------------

More Boys' Scores
By Jack Sheehan
In the Hamden Fathers' Basketball Association 9-10 boys' league for Jan. 20, Batters Box beat The Corner Deli 20-3. Batters was led by Connor Williams with eight and Gerand Nelson with two points. Despite a strong fourth quarter by Splash Car Wash, Disorbo's Bakery held on to a 16-15 victory. Trey Jackson and Alex Ossa each had six points to lead DiSorbo's, while Ernest Harold had four and T.J Walters had two to lead Splash.
Results from Jan. 27. RWA Credit Union defeated DiSorbo's Bakery 34-18. RWA was led by Brad Wetmore, Ahmed Hasaan and Matt Hamilton each with eight points, while Trey Jackson had 12, Alex Ossa four and Carl MacCalla two to lead Disorbo's. Batter's beat the Hamden PBA 21-7. Batter's was led by James Thorpe with 12 and Damon Taylor and Connor Williams each with four, while the PBA was led by Robert Brown, Jordon Cerino and Albert Desisto. Splash was victorious over Corner Deli 18-4. Splash was led by A.J. Brown-Ortiz, David Bowman and Ernest Harold each with two points, while Corner was led by Cyrus Knight, Shinquel Short and D'Hati Burgess.
In the 11-12 boys' league, Ercolano Cleaning defeated Unitas Club 35-19. Ercolano was led by Robert Grissett with 10 and B.J. Young with six, while Avery Haith had 11 and Charles Brewer had two to lead Unitas. WW Tolson beat Sorrento's Pizza 36-20. Tolson was led by Christian Tillery with six points and Taylor Thorpe with four, while Russell Rogers had nine and Durrell Barrett had seven to lead Sorrento's. Eastern Fuel held on to beat Mr. Trophy 27-23. Eastern was led by Tyrell Walden-Martin with eight and Aaron Boykin with seven, while Noah Medor had eight and Robbie Lilly had six points to lead Mr. Trophy.
Axman Chiropractic waited until the final seconds to take their first lead of the game by a free throw and defeat Partyka Chevrolet 30-29. Axman was led by Brandon Martin with 12 and CJ Ochman with four, while Partyka was led by RJ Williams with 16 and Jeremi Yakerson with four.
-------------------------------------------------------------
Female Hooping


Hamden Fathers' Basketball Association girls' scores
By Keith Hodder
9-11 Year Old Girls
NewAlliance Bank, led by Grace Kiley with six points, defeated CSR Properties 15-11 this past Saturday. Emily Battipaglia, Sarah Cubells, Lezlie McEachern and Inese Aleksjuka each added two points for NewAlliance Bank. Kathleen Fedorchak led CSR with four points and Eshana Gaddam with three.
Zoe Fanolis scored a game high 12 points to lead McDonald's to a 22-5 victory over JD Environmental. Alivia Wilson's six and Tiffany Tolsen's four points rounded out the scoring for McDonald's. JD was led by Ciara Fennelly and Crystal Ortiz with two points each.
12-14 Year Old Girls
Led by a game-high 20 points from Currin DeRenzo, Specialized Packaging defeated Ultimate MMA 4 Kids 32-17. Rebecca Napolitano added five for Specialized. Symone Watson led Ultimate with seven while Nicole Anderson added six points.
Destiny Cooper scored 18 points to lead Hamden Greenies to a 24-14 win over Partyka Chevrolet. Lauren Marchetti, Ashley Girola and Kendrea Threatt each added two for the Greenies. Partyka was led by Cassie Knights and Anosha Campbell with four points each while Aliyah West chipped in three.
-------------------------------------------------------------
GIRLS BASKETBALL
1/23 W HAMDEN 62 WILBUR CROSS 49
1/26 L HAMDEN 43 DANIEL HAND 59
GIRLS HOCKEY
1/27 H HAMDEN 0 N.D. – FFLD 3
BOYS BASKETBALL
1/23 W HAMDEN 61 BRANFORD 54
1/26 W HAMDEN 61 FORAN 43
BOYS HOCKEY
1/24 W HAMDEN 4 NORTH HAVEN 2
1/27 L HAMDEN 1 N.D. -- WH 4
BOYS SWIMMING
1/23 L HAMDEN 81 N.D. -- WH 105
---
January 26, 2007
Hamden's Vets Brings in the Win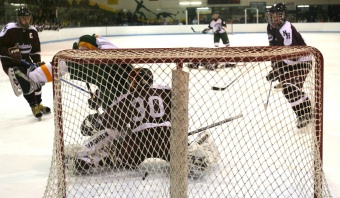 Jack Vets tips in a Pat MacGregor shot.
Story and photos by Edward C. "Ned" Burt Jr.
Hamden High School had all it could handle Wednesday evening in beating North Haven 4-2. Jamie DellaCamera was outstanding in net and once again Jack Vets supplied the firepower to propel Hamden to its seventh win of the season.
Hamden got behind early as the North Haven team came out flying. Mike Henrici, Hamden Mayor Craig Henrici's nephew, put North Haven ahead early as the fine skating forward beat DellaCamera down low. The North Haven squad was strong and swarmed the Hamden goalie but DellaCamera hung tough despite the barrage.
Coach Bill Veneris must have gotten the troops fired up between periods because Hamden came out strong in the second. Stellar defenseman Mike Acabbo made a fine rush up ice and at the 3:36 mark tied the game 1-1. Matt Hickman and Mike Pierne had assists on the goal.
Capt. Jack Vets then put Hamden ahead 2-1 with a hard shot from the top of the left face-off circle at the 6:04 mark. Acabbo and Hickman picked up assists on the play.
The game continued back and forth when North Haven sniper Vinny Weyel tied it up at the 8:17 point. Hamden scored the go-ahead goal when sophomore forward Mike Pierne stepped out of the penalty box, stole the puck and made one of his patented rushes and scored unassisted to make it 3-3 Hamden.
Hamden started the third period with a power play but it was North Haven that seemingly tied the game just 15 seconds into the period. The goal was disallowed though as the net had come off its pins. Vets had a similar goal disallowed for Hamden in the second period.
The teams battled back and forth in the third. Kyle Amarone, Nick Bakos, Ron Esposito, Hickman and Vets were flying for Hamden. The defense led by Pat MacGregor, Acabbo and Tom Roche were playing tough for Hamden, and DellaCamera was making every save he needed to make.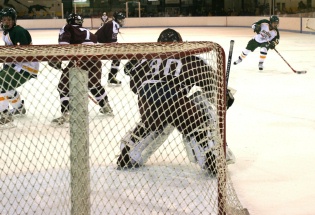 Ron Esposito lets go with a wristshot.
Scott Teulings, the smooth-skating Hamden defenseman, then scored a goal that was waived off by the referee who said the whistle had blown. The ensuing conversation between the referee and one of Teulings' teammates resulted in a game misconduct to a Hamden forward.
DellaCamera then made two outstanding saves in a row -- one with his leg and the other with his glove. Finally, at the 7:00 minute mark of the third Hickman fed MacGregor just inside the blue line and the fine-skating defenseman let go with a rocket of a slap shot that Capt. Vets tipped in with the grace of a Radio City Music Hall Rockette.
Sturdy, hard-hitting forward Vets had positioned himself in front of the net and tipped in the shot as his left leg shot out high and to the left -- similar to one of those famous Rockette kicks. Either way, pretty or rough, Vets will take the goal and Hamden the hard-fought victory.
Hamden is 7-2-2 on the season.
-----------------------------------------------------------------
By Tony Mentone
The Hamden High competitive cheerleading squad finished second out of 25 teams on Jan. 20 at the Tenth Annual Ansonia Lady Charger competition. The Dragon cheerleaders were also awarded the "Overall Spirit" award for the competition.
The team, under the direction of Chris Wilson, is preparing to defend its Southern Connecticut Conference Championship on Feb. 4 at Shelton High School.
Boys' Hockey
The Hamden High boys' hockey team is currently ranked fifth in the
New Haven Register
's boys' hockey poll. The team is currently 7-2-2. This Saturday they face fourth-ranked Notre Dame of West Haven at Bennett Rink at 3:30 p.m. The game will be aired on
sportingnewsct.com
.
---
January 23, 2007
Bantam Boys' Double Kill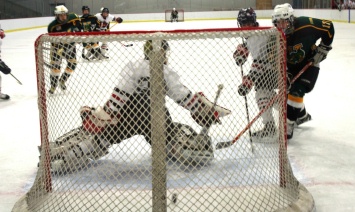 Connor Blackwell tips in goal.
Story and photos by Edward C. "Ned" Burt Jr.
The Hamden Bantam A Hockey Team, sponsored by Burt Law Office, just finished a strong weekend beating Enfield 5-1 and Middlesex 8-3. It was refreshing for the kids after taking a pasting the weekend before.
Adam Devine had another impressive scoring weekend as he has all year. He opened things up at 13:28 in Enfield on a power play goal. Jimmy Burt and Mark Fracasso did the bull work down low with Fracasso making a fine feed to Devine for the score. Burt and Fracasso picked up assists on the play.
Enfield was playing chippy from the start and the referees were letting the farmers from upstate do as they pleased. The game was tied 1-1 when Burt came down the slot and was fed a beauty of a pass by Devine. Burt let go with a five-hole wrist shot and Hamden was ahead to stay. Devine and RJ Ugolik picked up assists on the goal.
Joey Coughlin then made it 3-1 at 11:12 of the second. Devine made another beautiful pass between defenders and the rugged Coughlin banged in the goal. Harley Pretty and Devine had assists on the goal.
Ryan Amarone was making saves and Joe Quick, Conor Callahan, AJ Gemmell as well as Pretty and Ugolik were playing solid defense. Devine then made it 4-1 on a rooftop backhander assisted by Burt and Fracasso.
Connor Blackwell was skating hard as was the line of Jimmy Wilson, Pat Lynch and Jeff Bakos. Josh Chapman was all over the ice and just missed converting on a few chances as the Enfield goalie robbed the ever-ready Chapman a few times.
Coughlin made it 5-1 on assists from Pretty and Callahan at the 4:56 mark of the third. And that's the way the game ended.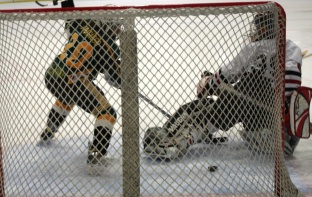 Mark Fracasso scores.
Hamden then traveled to Wesleyan University only to find itself down 2-0 after five minutes of play. The team, which was without the services of Connor Walsh, looked like their Sunday prayers were not going to be answered.
Then Blackwell fought through a defender to establish position in front of the net, and tipped in a pass from Burt to pull Hamden to within one goal at the 5:39 mark. Fracasso and Burt had assists on the goal.
"Blackwell played smart, got into position and was strong enough to stay there," said coach Jim Miller. "And he had his stick on the ice where it should have been."
Coughlin tied the game two minutes later on a fine pass from Devine. Devine and Chapman picked up assists on the play.
Burt, Coughlin, Bakos and Wilson had great back-to-back penalty kills along with Pretty and Ugolik. Callahan and Quick were playing solid defense and then Devine, Coughlin and Fracasso let out a charge on the Middlesex goalie.
The three line mates looked like Three Stooges routine as they came racing down next to one another only to see Devine shoot, Coughlin catch the rebound and bank it off the post through the goalie's legs near the top of the crease, and Fracasso bang it back through the goalie's legs and into the net for a goal. Curly got the goal and Moe and Larry the assists on that one.
Burt then stole the puck on a shorthanded situation and he and Coughlin executed a two-on-one break that saw passes prettier than Jennifer Lopez on a Saturday night. Burt sped down the left side of ice and hit the streaking Coughlin to the right. Coughlin kept charging and drew the defenseman towards him as well as the goalie and rifled the puck back to the charging Burt who ripped it into the net for a 4-2 lead at 6:41 of the second period.
Devine then made it 5-2 on assists from Gemmell and Chapman. Blackwell scored his second of the game on a nice feed from Fracasso. Burt also picked up an assist on the goal.
Devine scored on a feed from Burt. Hamden closed out its scoring when Captain Burt bulled the puck from the boards, fed Captain Fracasso who made a tremendous rush up the ice, and hit Pretty who snuck in low from the left point with a bullet pass, which the rugged defenseman deftly feathered into the net to give Hamden an 8-3 victory.

Hamden is coached by Jim Miller, Dan Vigliotti and Roger Keyes.
---
January 22, 2007
By Tony Mentone
Hamden High's girls' basketball team is a perfect blend of inside and outside power. The team, which has already qualified for the state tournament, is currently 10-2. Patrolling the inside are seniors Melissa Teel, 6 feet, 2-inches, and Justina Udenze, 6 feet, 3 inches. The outside is taken care of by high-scorer Chelsea Blake, 5 feet 7 inches.
Teel started playing basketball in the YMCA boys' league in Bridgeport. She also competes in volleyball and track. Teel plans to play at Western Connecticut State University. She leads the team in rebounds with 99 and blocked shots with 20 after 11 games. Teel credits her parents and family for giving her rides, especially on those snowy days.
Blake is a 5-foot-7-inch guard who plans to play at NYU next season. She leads the team in assists, points and steals. She especially credits her brother Corey, who played basketball at Hamden Hall, for her success. Her favorite players are pros Steven Nash and Michael Jordan.
Udenze wants to attend Utica or Central Connecticut to continue her basketball career. She is Hamden's second-leading rebounder and has 10 blocked shots on the season. Her favorite players are Tameka Catchings and Shaquille O'Neal.
The three seniors hope to make the SCC playoffs and have a good run in the state tournament. They continue their quest on Tuesday at home against Wilbur Cross, and on Friday away at Daniel Hand.
Dragon Notes
Both the Hamden boys' and girls' indoor track teams finished second in the Quinnipiac Indoor Track Championships held at the New Haven Field House last week.
Courtney Dinnan led Hamden with wins in the 1000 and 3200. Cloe Bowery took the pole vault.
The boys were runners-up to Xavier, 125-91.
In girls' hockey, junior Jessica Morgillo was named the
Elm City Newspapers
Athlete of the Week for her game-winning goal in sudden-death overtime, giving Hamden a 2-1 win over Simsbury.
-----------------------------------------------------------------
Scores

& More
Hamden Fathers' Basketball Association girls' scores
By Keith Hodder
9-11 Girls
McDonald's led by Alivia Wilson with nine points defeated DiAdamo & Fitch Bail Bonds 17-10. Zoe Fanolis added four points for McDonald's. DiAdamo was led by Alysia Carrero with five points and Julieta Garcia Millan with four.
CSR Properties held off a fourth-quarter rally by JD Environmental to win 12-11. Kathleen Fedorchak led the way for CSR with four points, while Kristen Riello, Heather McDonald, Eshana Gaddam and Shayna Mills each added two. JD was led by Brittany Needham with four points, Ciara Fennelly three and Amani Richardson two.
12-14 Girls
Adebanke Otumba-Payne led CSR Properties to a 20-14 win over Partyka Chevrolet with a game high 10 points. Briyana Green added four for CSR. Partyka was led by Alyssa Lotto with four points while Lanesha Porter, Anosha Campbell and Aliyah West each added two.

Destiny Cooper scored 26 points to lead Hamden Greenies to a thrilling 26-24 win over Ultimate MMA 4 Kids. Shaquanna King led Ultimate MMA 4 Kids with eight points while Nicole Anderson and Cassie Webb added six each.
All-Star Saturday
Jan. 20 was All-Star Saturday. In the 9- to 11-year-old game the Gold All Stars, led by Hailey Trasacco with 10 points, defeated the Green All Stars 18-10. Also scoring for the Golds was Zoe Fanolis and Jessica Napolitano with four points each. Janelle Cooper led the Greens with four points while April Uzzle, Inese Aleksjuka and Sarah Cubells added two. Other players making the all-star teams were Shayna Mills, Kathleen Fedorchak, Kristen Riello, Nandi Carter, Alyssa Carrero, Mariah Soto, Alivia Wilson, Avery Owers, Ciara Fennelly, Brittany Needham, Emily Battipaglia, Lezlie McEachern and Danielle Wendland.
In the 12- to 14-year-old All Star game, Nicole Anderson and Currin DeRenzo each scored eight points to lead the Green All Stars to a 33-28 win over the Gold All Stars. Also scoring for the Greens was Rebecca Napolitano seven points, Symone Watson six, and Ty-Nay King four.
With seven points, Gabriella DeSisto led the Green All Stars. Also scoring for the Greens was Destiny Cooper six points, Sara Winnick five, Adebanke Otumba-Payne four, and Lanesha Porter, Lauren Marchetti and Alison Canelli each with two. Other players making the all-star teams were Ashley Taylor, Ashley Girola, Briyana Green, Shannon Knox, Kara Waznis, Anosha Campbell, Cassie Webb and Cassie Knights.
-----------------------------------------------------------------
How the Boys Scored
Hamden Fathers' Basketball Association results
By John Sheehan
In the 9-10 boys' league for Jan. 13, Splash Car Wash beat Hamden PBA 21-8. TJ Walters had eight points and Ernest Harold five to lead Splash, while DeSean Nixon had four and Erik Reyes had two to lead the PBA.
DiSorbo's Bakery was victorious over The Corner Deli 25-12. DiSorbo's was led by Trey Jackson with 14 and Alex Ossa with four, while Robert Brock had eight and Richard Kelly had two to lead The Corner.
Free throws were the deciding factor as Batter's Box defeated RWA Credit Union 27-24. Batter's Box was led by James Thorpe with 18 and Kyle Waznis with five points, while RWA was led by Matt Hamilton with 14 and Ahmed Hasaan with four.
The RWA Credit Union beat Hamden PBA 22-14 on Jan. 20. Tyler Pavone and Zach Morgillo each had four points to lead RWA, while DeSean Nixon had five and Tyler Collins had four to lead PBA.
In the 11-12 boys' league, Mr. Trophy held on to win over Unitas Club despite a strong second half from Unitas. Mr. Trophy was led by Ivory Tanner with 18 and Robbie Lilly with four points, while Unitas was led by Avery Haith with 12 and Jeremiah Marion with five.
Ercolano Cleaning beat Lee Partyka Chevy 30-24. Ercolano was led by Kevin Walton with nine points and Earl McCoy with seven, while Matt Isenstadt had 10 and Eric Wyche six to lead Partyka.
Axman Chiropractic was victorious over WW Tolson 32-20. Axman was led by Brandon Martin with 17 and Nate Bailey with six, while WW Tolson was led by Jaquay Black with eight and Isaiah Barnes with six points.
Eastern Fuel clobbered Sorrento's Pizza 25-14. Eastern was led by Tyrell Walden-Martin with eight points and Bryce Barnes with seven, while Durrell Barrett had nine and Thomas Hopkins had four.
Also on Jan. 20, WW Tolson beat Ercolano Cleaning 20-17. Tolson was led by Ysan Frazier with eight points and Christian Tillery with four, while Gary Ormond had eight and Robert Grissett had four to lead Ercolano.
Eastern Fuel was victorious over Unitas Club 25-19. Eastern was led by Bryce Barnes with six and Nigel Tappin, Brian Ortiz and Chuckie Brewer with two apiece to lead Unitas. Axman came back in the fourth quarter to defeat Sorrento's 25-23. Roddy Bunch had 10 points and Brandon Martin had seven to lead Axman, while Durrell Barrett had 11 and Russell Rogers had four to lead Sorrento's. Joe Tommaselli hit a buzzer beater to give Lee Partyka a 29-28 victory over Mr. Trophy. Tommaselli finished the game with six points and Jordon Coley had two to lead Partyka, while Darren Bowman and Jeremy Phillips each had two to lead Mr. Trophy.
----------------------------------------------------------------
Dragon Scores
GIRLS BASKETBALL
1/17 W HAMDEN 66 SHELTON 30
1/19 W HAMDEN 62 LYMAN HALL 52
GIRLS HOCKEY
1/17 T HAMDEN 1 DANIEL HAND 1
BOYS BASKETBALL
1/16 W HAMDEN 68 CHESHIRE 43
1/19 W HAMDEN 91 JONATHSN LAW 48
BOYS HOCKEY
1/17 T HAMDEN 2 EAST HAVEN 2 (OT)
1/20 W HAMDEN 2 WEST HAVEN 1
BOYS SWIMMING
1/19 W HAMDEN 102 MCMAHON 84
---
January 19, 2007
By Edward C. "Ned" Burt Jr.
Hamden High played a high-energy game against rival East Haven Wednesday night at the Lou Astorino Rink. Faithful fans of both schools packed the rink. Those who came early were rewarded as the JV's tied their game with only 10 seconds remaining against Notre Dame of West Haven, when Scotty Walsh tipped in a blast from Pat McGovern for a 4-4 result.
It was a harbinger for the varsity game, next.
Both the Green Dragons and the Yellow Jackets of East Haven came out hitting hard. Matt Hickman, Jack Vets, Nick Bakos and company were banging bodies all over the ice, as were their opponents. Gifted sophomore Michael Pierne was robbed in first period when the Eastie goalie made a sliding-thumb save that astonished the onlookers.
The first ended a naught-naught before East Haven went ahead 1-0 in the second. Hamden answered at 11:56 of the period when the ever-hustling Hickman knocked in a shot by rugged and steady defenseman Mike Accabo. Accabo and Pierne had assists on the play.
The third period saw the Yellow Jackets once again take the lead with a little over four minutes remaining in the game. Hamden goalie Jamie DellaCamera made a number of fine saves before one got through.
Hamden kept up the pressure as Pat MacGregor made a fine rush and shot, and Hamden's forwards and defense -- led by Ron Esposito, Tom Roche and Mike Sanca -- clamped down defensively on the East Haven team.
Hamden came up ice on a Pierne rush that was swatted away by the Eastie goalie. Pierne retrieved the puck, got it to smooth-skating, hard-shooting defenseman Scott Teulings at the point, and Teulings let rip with a slap shot that rebounded to Vets just above the crease. And the multi-talented captain put it home with 1:29 remaining to tie the game 2-2. An overtime period saw Hamden swarm the East Haven goalie and pepper him with shots to no avail. And like the JV's before them, the varsity left the rink with a tie game.
---
January 15, 2007
The Rink's Where It's At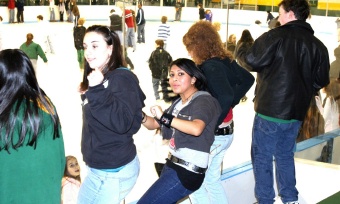 Photo/"Ned" Burt
By Edward C. "Ned" Burt Jr.
I haven't watched the new hit TV show "Friday Night Lights." I am told it has exciting plot lines, pretty girls and lots of action. It would have to go some in my book to top what I saw last Friday night at the Hamden High School rink.
Public skating has come back in a big way on Friday evenings at the Lou Astorino Rink. I was there before my son's hockey game and let me tell you something -- the joint was rocking! DJs had the music pumping to the crowd's delight, folks were dancing in the stands and parents were chitchatting or reading or watching their kids whirl around the ice in a fun-filled, safe atmosphere.
Rink director Rick Gentile and his able staff had plenty of safety personnel on and off the ice to keep matters under control. The rink surface itself had all levels of skaters. Guys like me were hugging the boards, some were flying around in graceful, powerful strides that still amaze me and others were simply hugging others while the blades of their skates glided them about the ice to the tunes echoing off the walls and ceiling of this Mix Avenue jewel.
Public skating sessions are open to all every Friday evening. This Friday, they are giving away CDs in a weekly contest that always has the youngsters keeping their parents at the rink until the very last minute. If you are looking for a great family venture close to home, head out this Friday and have a ball.
For more information, you should contact Parks & Rec at 287.2579.
-------------------------------------------------------------

DiAdamo & Fitch Achieve Biggest Win
Girls' scores from the Hamden Father's Basketball Association
By Keith Hodder
9-11 Year Old Girls
Over the weekend McDonald's -- led by Olivia Wilson with eight points -- defeated CSR Properties 25-8. Hailey Trasacco added six points for McDonald's and Kylie Miller had two. Shayna Mills and Kathleen Fedorchak each scored four points for CSR.
April Uzzle had a game-high eight points to lead DiAdamo & Fitch Bail Bonds to a 25-9 victory over NewAlliance Bank. Also scoring for DiAdamo was Alysia Carrero with seven points, Janelle Cooper with six and Julieta Garcia Millan with two. NewAlliance was led by Sarah Cubells with four and Inese Aleksjuka with three.
12-14 Year Old Girls
With a game high of 12 points, Cassie Webb led Ultimate MMA 4 Kids to a 27-13 win over Partyka Chevrolet. Nicole Anderson added seven points for Ultimate MMA 4 Kids while Kara Waznis scored four and Jahnnitza Lopez two. Partyka was led by Cassie Knights with seven points and Gabriella DeSisto with six.
Specialized Packaging held off a forth-quarter rally by CSR Properties and won 17-15. Specialized was led by Currin DeRenzo with six points while Ty-Nay King, Rebecca Napolitano and Ezra Massey scored three apiece. CSR was led by Briyana Green with seven, Kamila Carter with six and Julia Gardino with one point.
-------------------------------------------------------------
GIRLS BASKETBALL
1/9 L HAMDEN 47 MERCY 53
1/12 W HAMDEN 40 SACRED HEART 27
GIRLS HOCKEY
1/10 L HAMDEN 4 WEST HAVEN 6
1/13 W HAMDEN 3 SIMSBURY 2 (OT)
BOYS BASKETBALL
1/9 L HAMDEN 52 XAVIER 64
1/12 W HAMDEN 53 NOTRE DAME 45
BOYS HOCKEY
1/13 W HAMDEN 4 XAVIER 0
BOYS SWIMMING
1/9 W HAMDEN 102 WEST HAVEN 81
1/12 L HAMDEN 73 CHESHIRE 108
---
January 11, 2007
Bantam Boys Shake Fairfield County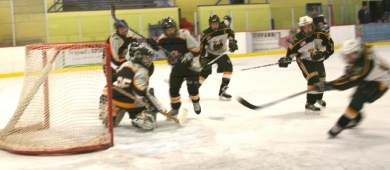 Connor Walsh shoots and scores. Photo/"Ned" Burt
By Edward C. "Ned" Burt Jr.
The Hamden Bantam A Hockey Team, sponsored by Burt Law Office, had a strong weekend losing to powerhouse Mid Fairfield's Tier One team 7-2 and beating Darien 5-4. Hamden actually jumped out ahead of Mid Fairfield on the strength of two Adam Devine goals. Assists went to RJ Ugolik, Joe Coughlin, Conor Callahan and Josh Chapman.
The smooth-skating Fairfield squad erupted for four second-period goals on its way to victory. "We played well in the first and third periods," said Hamden coach Dan Vigliotti. "The second period just killed us. All in all we held up well against probably the second best team in the entire state."
Hamden's game against Darien was one of the most exciting of the season. Prior to its start, fans boisterously cheered their respective squads on. The hard-hitting Blue Devils of Darien came out crunching into Hamden bodies but at 14:29 of the period, Connor Blackwell scored on a fine tip-in on a shot by Coughlin. Callahan and Coughlin -- two hard-hitting Irishmen -- got the assists.
AJ Gemmell was out with a groin injury. Jimmy Wilson, a quick-skating, tough-as-nails forward, was out with a back injury. And the team was also missing goalie Ryan Amarone. Justin Whetmore was called upon to serve as the team's net minder and the kid turned in a stellar performance.
The teams rocked each other back and forth as Jeff Bakos, Joey Quick, Connor Walsh, Mark Fracasso and Chapman applied Hamden's physical presence. And Harley Pretty played tough on defense.
Callahan made a nice check in front of his own net just before Whetmore made a spectacular leg save at the 3:09 mark of the first period. Hamden tied Darien up deep in the offensive zone on a fine play by Walsh. Jimmy Burt won the face-off, dogged after the puck against the boards and fed Coughlin, who let go with a lightning-quick wrist shot that no one saw until it came out of the net to give Hamden a 2-0 lead with only 13 seconds left in the period. Burt had the lone assist on the play.
The excitement kept building. The lone vociferous Darien fan was holding his own against a 12-pack of youth hockey players shouting for Hamden. The Darien players chirped at the Hamden stands, and 30 seconds into the second period Darien scored to make it 2-1.
Whetmore then made a couple of great saves as Darien poured it on the Hamden goalie. Blackwell and Pat Lynch had a nice give and go that resulted with a shot on goal. Devine was motoring all over the ice and Chapman was banging every body in sight.
Ugolik made a thunderous hit deep in his zone, captured the puck and wheeled a laser-like pass to Devine in center ice. Devine streaked in and deked the goalie who somehow made a pad save. The ever-ready Chapman cleaned up the rebound to put Hamden in charge 3-1 at the 12:40 mark.
Ugolik followed this up with a tremendous back check on a breakaway shortly after the Hamden goal and blocked the shot. Ugolik made another block on the next rush and along with Walsh, Pretty and Burt held the Darien squad at bay. Whetmore turned in a couple of more fine saves and then had an outstanding glove save at 7:41.
The crowd was rocking as the kids on each team sped up and down the ice. Body checks were being exchanged, including another great one by Ugolik along the Hamden boards to break up a 2-on-1 break. Whetmore made an arm save at 6:41 and Bakos and Blackwell made nice defensive plays to clear the puck from the Hamden zone.
With just 22.5 seconds left in the second period, Hamden had a bad turnover deep in its zone that Darien converted on to make it 3-2 and tighten the game going into the last period. The decibel level could be heard throughout Fairfield County as the Stamford Twin Rinks exploded with noise.
Whetmore and Ugolik again started the period with fine defensive play and saves but another bad turnover deep in the zone led to Darien knotting the game 3-3 at the 9:20 mark. Burt then made a fine steal of the puck in center ice and the gifted center man came down on the goalie and deked him with the forehand and banked a backhanded shot off his leg and into the net to give Hamden a 4-3 lead -- to the delight of the crowd and his teammates.
Darien would not quit. Just 40 seconds after Burt put Hamden ahead, Darien scored to tie the game at 4-4.Whetmore made a couple of more fine saves and at the 1:22 mark Coughlin scored a beauty of a goal to give Hamden the 5-4 victory.
The play started innocently enough as Burt fed Devine at the blue line. The high-scoring, gifted Devine fed the puck back to Burt who had drifted inside the offensive zone to the right of the goalie up top near the blue line. Coughlin had snuck in from the left sideboards to the left crease and knocked home the beautiful feed from Burt. Devine and Burt had assists on the play.
Whetmore had one more great save in him with only 37.3 seconds left in the game to preserve the hard-fought victory.
"This was one of the finest games of hockey we have seen all year," said coach Jim Miller. "Both teams played clean, hard hockey. It was a tight game that I am thankful we won."
Hamden is coached by Jim Miller, Dan Vigliotti and Roger Keyes.
---
January 9, 2007
By John Sheehan
In the Hamden Fathers' Basketball Association's 9-10 boys league for last Saturday, Disorbo's Bakery beat Hamden PBA 21-12. Trey Jackson had 15 points and Brett Owers had two to lead DiSorbo's, while Robert Brown had 10 points and DeSean Nixon had two to lead the PBA.
Batter's Box hung on to win over Splash Car Wash 12-10. Batter's was led by James Thorpe with eight points and Connor Williams with two, while Richard Grant had five and Luis Alston had two to lead Splash. The RWA Credit Union defeated The Corner Deli 24-13. RWA was led by Brad Wetmore with six and Nick DeGiacomo with two, while Corner was led by Cyrus Knight, Richard Kelly and Zachary Burgess.
In the HFBA 11-12 boys league, Ercolano Cleaning defeated Axman Chiropractic 33-13. Ercolano was led by Kevin Walton with seven points and Marcus Perry with six, while Brandon Martin and CJ Ochman led the Axman. Mr. Trophy beat Sorrento's Pizza.
Eastern Fuel was victorious over Lee Partyka 40-14. Eastern, who had everyone on the bench score, was led by Alex Wetmore with six and Chikezie Iheagware with two, while Matt Isenstadt had four and Eric Wyche had two points to lead Partyka. WW Tolson hung on in the fourth quarter to defeat Unitas 24-22. Tolson was led by Jaquay Black with 11 and Taylor Thorpe with four. For Unitas, Avery Haith had 17 and Brian Ortiz had one.
Coach Wayne Tolson was honored at last Thursday's Hamden High boys basketball game for his years of community service to the town's youth. Tolson has been a coach in HFBA for over 30 years.
---
January 8, 2007
Bantam Boys Chew Up Ice Vying for Championship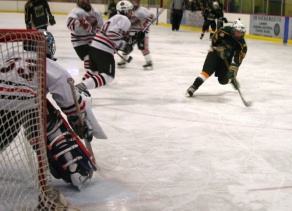 RJ Ugolik shoots and scores.
Story and photos by Edward C. "Ned" Burt Jr.
The Hamden Bantam A Hockey Team, sponsored by Burt Law Office, had a busy week last week playing six games in five days. The team lost to the powerful Southern Team 9-1 as Connor Walsh had the team's lone goal assisted by Jimmy Burt and Mark Fracasso. Hamden also lost to Simsbury 6-3 in a lackluster effort by the entire squad.
Adam Devine scored a hat trick in the Simsbury game with assists to Joey Coughlin, Josh Chapman, Burt, Fracasso, RJ Ugolik and Joey Quick.
The two losses seemed to awaken the team, as Coughlin was named Player of the Game when Hamden defeated Bridgeport 6-1 in the opening game of the Stamford Christmas tournament. Coughlin had two goals and an all-around sound game, as the hard-hitting forward used his strength and skating ability to his benefit. Devine chipped in with another hat trick and Connor Walsh kept up his scoring tear with another goal.
Burt, Fracasso, Harley Pretty and Ugolik had two assists each and Devine, Coughlin and Quick had one apiece. Pretty, Ugolik and AJ Gemmell had strong hitting games on defense. Gemmell's slap shot adds a new dimension to the team's power play as the big defenseman really lets it rip.
Ryan Amarone has been playing stellar in goal. The team's lone goalkeeper has been carrying a heavy load. He made several acrobatic saves in the team's next win over Stamford 7-2. Conor Callahan has steadily improved as a first-year defenseman and his well-timed physical play is proving dividends to the squad.


Burt scores on rush.
Burt was named Player of the Game as the hardworking, talented center knocked a puck out of mid air for a goal and played his usual sound game. Ugolik scored a goal on his cat quick rush that spectators have come to love.
"I scored that one for Poppy," the young Ugolik said about the game in reference, to his grand dad Ed "Poppy" Ugolik. Poppy is recovering from a fall he took at the rink the night before. At press time, he was progressing well according to nurse Paul Ruocco.
Burt had two assists to go along with his goal; Devine scored three goals and an assist; Walsh had a goal; Gemmell scored on a scorching slap shot; Pretty had three assists; Fracasso twp; and Gemmell, Quick, Coughlin and Chapman one assist each.
The next game pitted Hamden against the bigger Mamaroneck, N.Y., team. Mamaroneck has several high school players on its squad as New York allows kids to play high school and bantam at the same time.
The game was hard hitting. Hamden was without Coughlin, which hurt them in the corners. Pretty, Gemmell and Callahan had particularly strong games on defense. They were hitting the opponents hard, particularly after a couple of questionable hits by the Mamaroneck big men on the Hamden players.
Quick had his best game of the year. He cleared the puck with vision, hit opponents off the puck and played smart at the point. Ugolik had his typical solid game. Same with Connor Blackwell, Jim Wilson, Jeff Bakos and Pat Lynch.
Bakos, Blackwell and Wilson did a tremendous job killing penalties for the team throughout the tournament and were particularly strong in this game. And Lynch powered home a slap shot at 13:01 of the third period to put Hamden up 1-0, but the referees disallowed the goal.
Amarone was doing a masterful job in net. He was making stick saves, blocker saves, pad saves, kick saves. He was making more saves than Santa had toys. "The kid was remarkable," said coach Jim Miller. "It was great to see him named Player of the Game."
Ugolik got the puck deep in his zone late in the third period and head-manned it to Chapman at the blue line. Chapman fed a rocket pass to Burt just over the red line. Burt put on a burst of speed to get to the outside of the defenseman and then cut in front of him on his way to the net. And at 5:15, put the puck behind the goalie to give Hamden a 1-0 lead. The crowd and team went wild.
Devine followed this up with a goal at 1:19 to ice a 2-0 victory for the Green Dragons. Ugolik and Walsh had assists on the goal.
Hamden's dream of winning the championship fell in the semi-final game as they lost in a shootout to Bridgeport 5-4.
Fracasso had a beautiful backhanded goal after a steal in center ice. The fast-skating, rugged winger dashed in alone on the goalie and was surprised by a five-hole backhander. Coughlin, back from a one-game absence, tucked home a goal on a fine pass from Devine. Ugolik had a beauty on a great rush up ice that tied the game at 4-4 at the end of regulation.
Burt fed Devine off the opening face-off during overtime and Devine's shot just missed the inside post. Hamden lost in a shootout and were sent home New Year's Day with no trophy.
Hamden is coached by Jim Miller, Dan Vigliotti and Roger Keyes.
--------------------------------------------------------------

Meet the Captains: Boys' Basketball
Girls' team makes record-time qualification
By Tony Mentone
Hi Jackson and Tom Fitzsimons led the 2006-07 edition of the Hamden boys' basketball team. They have contrasting styles and are intent on qualifying for the SCC and state tournaments.
Fitzsimons is 6 feet, 3 inches, and plays the post. He is one of Hamden's leading rebounders. He started playing when he was 5 years old in the YMCA league. Fitzsimons credits his father, Tom Sr., as his inspiration. Fitzsimons is also one of the top decathathletes in the state. New Jersey Nets star Vince Carter is his favorite player.
In contrast, Jackson is a 5-foot-10-inch point guard. He came to Hamden from his hometown of Baytown, Texas, a town of approximately 70,000 outside of Houston. Coincidentally when he got to Hamden High, he found out that Assistant Principal Clydette Messiah was from Baytown as well. Although Messiah didn't know Jackson, she said she knows some of his family. Jackson said Messiah keeps an eye on him to make sure he performs well academically as well as athletically.
For Jackson, basketball has been his entire life. His favorite player is his brother Kevin Kemp. Because of their age difference, Jackson never saw his brother play, but has watched many videos of him. Jackson's father, Hi Sr., a former junior college coach, has also been instrumental in his life.
Jackson said his job as captain is "to make the other players around me play better."
Hamden has a tough week ahead, playing Xavier on Tuesday and Notre Dame of West Haven on Friday. Both games are at 7 p.m. at the Hamden High gym.
Note: The Hamden High girls' basketball team -- with a win over West Haven on Jan. 5 -- has qualified for the state CIAC Tournament. Coach John Ceneri and the Lady Dragons are 8-1. This is the earliest in the season they have ever qualified.
--------------------------------------------------------------
Hamden Father's Basketball Association Girls' Scores


By Keith Hodder
9-11 Year Old Girls
McDonald's built a 14-3 first-half lead and held on to a 16-13 victory as NewAlliance Bank made a second-half run. Olivia Wilson and Zoe Fanolis led McDonald's with six points. Inese Aleksjuka led NewAlliance Bank with six points, while Brianna Blackmon, Grace Kiley and Sarah Cubells each added two.
JD Environmental earned their first win of the season with an exciting 18-13 win over DiAdamo & Fitch Bail Bonds. JD were led by Danielle Wendland with six points, Brittany Needham added five and Avery Owers had four. Alysia Carrero led DiAdamo with six points and Janelle Cooper, Camila Garcia Millan and April Uzzle added two apiece.
12-14 Year Old Girls
Specialized Packaging, led by 12 points from Currin DeRenzo, defeated Partyka Chevrolet 34-13. Ty-Nay King added eight points and Rebecca Napolitano contributed six for Specialized. Partyka were led by Gabriella DeSisto with seven points and Anosha Campbell and Cassie Knights had three each.
Led by Destiny Cooper with a game-high 19 points, Hamden Greenies defeated CSR Properties 25-17. Greenies were also led by Taylor Campano with three and Ashley Girola with two points. Alison Canelli's six points led CSR, while Kamila Carter and Sara Winnick each added four.
-----------------------------------------------------------------
Hamden Fathers' 15-17 League Opens with a Bang
By Richard Shultz
Abcon Environmental splashed in 24 points in the final quarter to defeat Ken's Citgo Car Wash 52-49. Abcon were paced by Kris Williams (15), Jessie Anigala (9), Rasheen Green (9) and Dan Gibbs (8). Ken's were led by Ben McClain (19), Ed "Antwan" Madden (13) and Lanar Squanders (11).
Skip's Gulf high-octane offense defeated Star Pizza 50-36. Skip's' balanced scoring attack were led by Gary Mayes (16), Trevor Biggs (14) and Jasper Dudley (8). Star were led by Khoalis Mills (10), Mike "Scrappy" Rivera (10) and Tobin Carberry (9).
The McClendon's outlasted Country Wide Home Loans 36-32. Big man Jared Jenkins (12) and Bam Carr (10) led the way for McClendon's. Country Wide were paced by Aaron Perry and Ocie Rivers, each with seven points.
Spring Glen Paint and Power Wash hosed down Charles Abatement 53-24. Top scorer Marquis Winfrey (20), Ryan Moore (11) and Aaron Hebron (9) led the way for Spring Glen. Charles' Manny Davis tossed in 13 points.
Defending town champs, the law firm of BS & W, continued their winning ways by holding on and defeating the Contracting Group 32-29. BS & W were paced by Jordan Carr (11), Valon Gjeloski and Mike "Give Me a Smile" Woodhouse, both with seven points. Contracting were led by Jon Coburn (8), Tyshan Smith (7) and Faheem Hopkins (6).
Hamden Memorial buried the Hamden Elks 41-35. Memorial was paraded by Jason Handley (11), Bryan "Pork Chop" Hamilton (9) and Leon Andrade (7). The Elks were led by high scorer of the day, Alex Felix, who poured in 25 points.
In the first doubleheader game, Ken's Citgo splashed back in to the win column with a convincing 69-52 defeat of Skip's. Leading scorers for Ken's were John Montero (21), Madden (18) and Squanders' four three-pointers and 16 total points. The tandem of Trevor Biggs (16) and Gary Mayes (13) led the way for Skip's.
Star Pizza baked Country Wide 33-20. In a low-scoring affair, Tobin Carberry led all scorers with 10 points for Star. Kourtney Morton and Rivera both added six points. Country Wide was led by Jovan Reveron and Josh Pantaja both with six.
The final doubleheader of the day came down to the closing seconds as Charles' Abatement squeaked by the McClendon's 43-40. Charles' gathered momentum. Matt McDonough buried a long-range trey and Tim Weatherspoon's two quick baskets spurred the team to victory. McClendon's was led by Plotke (14) and Bam Carr (12).
------------------------------------------------------------------
GIRLS BASKETBALL
1/3 W HAMDEN 71 AMITY 47
1/5 W HAMDEN 47 WEST HAVEN 36
GIRLS HOCKEY
1/4 L HAMDEN 1 GUILFORD 4
BOYS BASKETBALL
1/3 W HAMDEN 54 AMITY 42
1/5 L HAMDEN 53 WEST HAVEN 56
BOYS HOCKEY
1/3 L HAMDEN 1 ND-FAIRFIELD 2
1/6 T HAMDEN 1 FAIRFIELD PREP 1
BOYS SWIMMING
1/3 W HAMDEN 95 NO. HAVEN/NO. BRANFD 83
1/5 W HAMDEN 104 LYMAN HALL 75
---
January 3, 2007
GIRLS BASKETBALL
12/19 L HAMDEN 40 DANIEL HAND 52
12/27 W HAMDEN 50 FORAN 35
12/29 W HAMDEN 58 CHESHIRE 53 (OT)
GIRLS HOCKEY
12/18 L HAMDEN 1 WEST HARTFORD 2
12/20 W HAMDEN 3 NOTRE DAME-FF 0
BOYS BASKETBALL
12/19 W HAMDEN 43 FORAN 40
12/22 L HAMDEN 45 FAIRFIELD PREP 53
12/28 W HAMDEN 51 CAREER 46
BOYS HOCKEY
12/20 W HAMDEN 6 DANIEL HAND 1
12/27 W HAMDEN 2 TOLLGATE (RI) 1
12/28 W HAMDEN 3 ST. JOHN'S PREP (RI) 2
BOYS SWIMMING
12/19 W HAMDEN 91 SHELTON 74
12/22 L HAMDEN 72.5 FORAN 112.5
---
January 2, 2007
Bantam Boys End 2006 With Thunderous Magic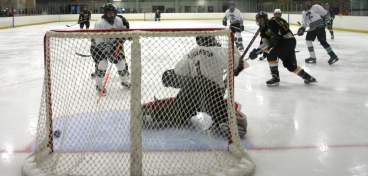 Jimmy Burt's rooftop wrist shot and score.
Story and photos by Edward C. "Ned" Burt Jr.
The Hamden Bantam A Hockey Team, sponsored by Burt Law Office, didn't wear their Santa Claus outfits at Avon Old Farms the Saturday before Christmas. Instead, they brought the 17-4 Avon squad nothing but lumps of coal as the Green Dragons dominated and won a 6-3 game.
Jonathan Quick -- formerly with Hamden Youth Hockey, Hamden High and Avon Old Farms and currently UMass goalie -- graced the team with his appearance. A third-round pick of the Los Angles Kings, Quick came to see his brother Joe play for the Hamden squad.
The team came out firing on the first shift as Joey Coughlin fought off two defenders deep in the offensive zone and got the puck to sniper Adam Devine, who rifled a shot off the pads of the Avon goalie. Josh "Goal Man" Chapman had the rebound figured and swiftly knocked it home to give Hamden a 1-0 lead. Devine and Coughlin had assists on the play.
Not to be outdone, AJ Gemmell kept the puck in the offensive zone on the second shift of the game and got it low where Connor Walsh and Jimmy Burt won the battle of the corner with Burt emerging with the puck. Capt. Burt approached the net and as the goalie went down and scored on a highlight reel rooftop beauty. After two shifts and fewer than two minutes, Hamden was up 2-0. Gemmell and Walsh had assists on the score.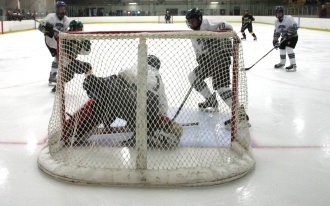 Adam Devine's backhand shot and score.
Hamden had a power play and Burt won the face-off to Devine, who scored on his patented backhander to put the team up 3-0 at the 10:20 mark of the first. Burt had an assist on the goal.
Ryan Amarone, who played his best hockey of the year during the last two weeks of December, made a stellar save at 8:40 against the Avon power play. Conor Callahan, Joe Quick, RJ Ugolik, Harley Pretty and Gemmell were playing solid defense in front of the net minder.
Ugolik blocked a shot and got the puck to Burt who led Devine at the red line behind the defense, and the crafty center man scored a shorthanded goal at the 8:20 mark Hamden was now up 4-0 and that was how the first period ended.
"The red goal light was going off so much I thought Rudolph the Red Nosed Rain Deer was behind the glass," chuckled Ray "Ink" Devine at the end of the first period.
Hamden started the second period shorthanded and Jimmy Wilson and Jeff Bakos, as they have all year long, pestered the Avon team and cleared the puck time after time. Pretty was blocking shots with his skates, stick and body. Ugolik was winning every fight in the corners. And Callahan and Gemmell were laying thunderous hits on the opposition.
Amarone came up with big saves at the 13:21 mark and then again a pad save beauty at 13:06. Connor Blackwell cleared the puck to Wilson who rushed up ice and got the puck deep to Pat Lynch, who hit Blackwell with a bullet pass as he cruised for the net but the Avon goalie made the save.
Avon made a rush that was broken up by Pretty -- one of many solid plays made by the rugged defenseman during the game -- who fed Chapman. Chapman then rifled a pass to Devine at the right-side blue line and then scampered in at the left-side blue line as Devine fed a pass back to him, which Chapman deflected on net. Coughlin was crashing the net and promptly ripped home the rebound for a goal. Devine and Chapman had assists on the play and Hamden was ahead 5-0.
"The entire team played well," said coach Jim Miller. "This is the type of performance we are capable of each and every game. We had balanced scoring, fine defense and goal tending, and we played smart. We are really looking forward to the Christmas tournament in Stamford and then on to the state and regional playoffs if we continue to improve and play like we did this evening."
Hamden kept playing well and Capt. Mark Fracasso finished up the scoring on a hustle steal at the blue line while the team was shorthanded. Fracasso banged the Avon player off the puck, skated hard to the net and let rip with a low five-hole shot that trickled through the goalie's legs and gave Hamden a 6-3 victory.
Hamden is coached by Jim Miller, Dan Vigliotti and Roger Keyes.