Sports
April 23, 2007
Fathers' At Bat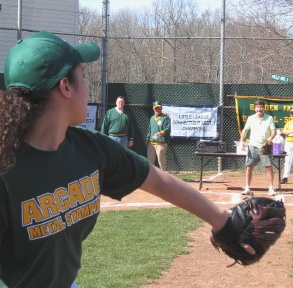 Major gold player Briana Mastel throws a pitch to Mayor Henrici.
Story and photos by Betsy Driebeek
Hamden Fathers' Baseball and Softball Association couldn't have asked for better weather as it kicked off its 54th season Saturday morning. "It's a sunny day and I want to thank [Parks & Rec Director] Frank Rizutti and the parks department for all the work they did in getting the fields ready," said Mike Reilly, 15-year president of the association.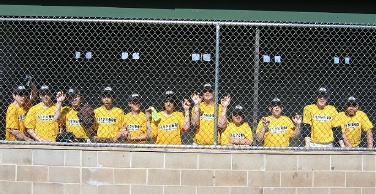 The first game of the season on Bassett Field #1 was to be played by Major Gold league team Glenwood Drive-In (pictured) against Reagan Realty.
According to Reilly, over 1,000 children signed up for the 2007 season and many showed for opening day. Games were played throughout the day on various fields around town.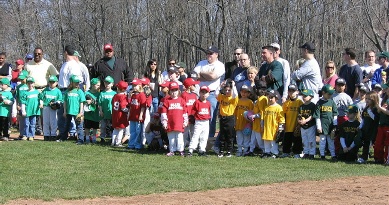 The baseball crowd.
---
March 14, 2007
Hamden 1, Notre Dame, 3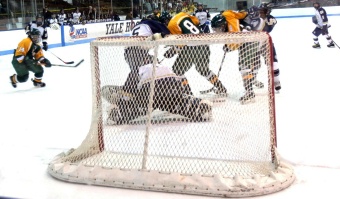 Hickman, Pacelli and Amarone fight for the puck.
Story and photos by Edward C. "Ned" Burt Jr.
Hamden High's season ended for the second year in a row at Ingalls' Rink at the hands of defending state champions Notre Dame of Fairfield. The Green Dragons clearly had the better of the Lancers but were denied time and time again by their Montreal import goalie. The 3-1 score, including an empty netter as time wound down, was as frustrating as it gets for coach Bill Veneris and his hard-playing team.
Anthony Avitable had an amazing game in net. The sophomore sensation let in a goal late in the first period on an unfortunate turnover deep in the Hamden zone. Hamden, led by Pat O'Connor, Jack Vets and Ron Esposito, were applying enormous pressure on Notre Dame.
Shots by Matt Hickman, Tom Roche, Mike Acabbo and Mike Pierne were either just wide, just high or stopped by the Lancers' goalie or defenseman. Pat MacGregor and Hickman just missed connections on a rush as did Kyle Amarone and Pierne.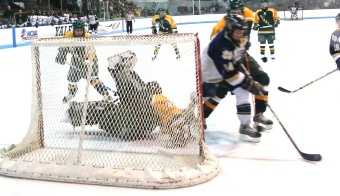 Avitable makes a leg save.
Sean Sullivan had another steady game on defense while J.P. Copela, Mike Sanca and Scott Teulings played well. Greg Pacelli was a rock in front of the offensive net but just couldn't quite connect as the Notre Dame defense did a fine job protecting the front of their net.
Hamden came out in the second period all fired up. They had out shot Notre Dame in the first period and by all accounts had outplayed their Fairfield County opponent. It took just 31 seconds for captain Vets to knock home a rebound -- on a shot from the point by MacGregor -- to knot the game at 1-1. Tom Roche also had an assist on the play.
Hamden was flying and carrying the play when a Notre Dame player was hit hard and fell awkwardly into the boards. He lay motionless on the ice for 10 full minutes while fire department rescue personnel carried him off the ice on a board. Thankfully, he only suffered a mild concussion and was discharged from the hospital that evening with well-functioning limbs.
Unfortunately for Hamden, their player received a penalty on the play and the ice evened out for most of the rest of the period. Notre Dame took advantage with a beauty of a goal on a fine pass from behind the net in traffic and took the lead at the 2:05 mark of the second period. It was a lead they would not give up.
But Hamden did not stop coming. Esposito came in strong and was robbed on a wrist shot from the circle. Nick Bakos was banging bodies all around. And Acabbo and Vets were doing their best to make things happen but it was all for naught. At the end of the second period, Hamden was out shooting Notre Dame by almost a two-to-one margin.
The third period saw both goalies make save after save. A late penalty gave Hamden a power play with a little over two minutes to go. Despite the best efforts of Vets, MacGregor and their teammates Hamden could not get past the Lancers' goalie and with 36.2 ticks left on the clock, Notre Dame scored an empty netter to make the final score 3-1.
---
March 9, 2007
Hamden Narrowly Takes Tri Town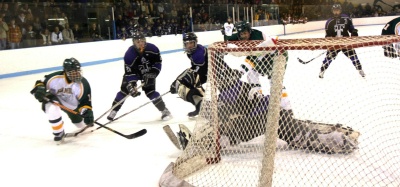 Hickman puts it in.
Story and photos by Edward C. "Ned" Burt Jr.
Hamden High opened its 2007 State Tournament with a thrilling 5-4 victory over Tri Town Wednesday evening, at the packed Lou Astorino Rink. Tri Town struck first at the 2:12 mark of the first when its multi talented forward Derrick Lassard ripped home a pass from Tom Munson and Mr. Varnakard.
Both teams were flying as Mike Sanca, Tom Roche and Mike Acabbo had some thunderous checks but the goalies, Anthony Avitable for Hamden and Justin Richards for Tri Town, were stopping every shot. Pat MacGregor stole the puck deep in the Hamden zone and fed a long pass to Jack Vets as the captain dumped it into the zone and chased it with the venom of a rattlesnake. Vets won the battle down low and fed Mike Pierne, who tied the game with a low wrist shot at the 3:47 mark.
Ron Esposito and Kyle Amarone were skating and hitting hard and Matt Hickman was a human bowling ball as he crashed into everything in sight. TJ Boyle was playing his finest hockey of the year, and Evan Marlow was using his finesse and fine skating ability to create chances for himself and his line mates.
At the 12:40 mark of the first period, Hickman took a pass below the left circle from Amarone and walked in alone to pepper a shot on net that Richards threw back with disdain. The hardworking Hickman kept after it and scored a Beyonce beauty of a goal lifting it up and over the Tri Town net minder for a 2-1 Hamden lead going into the second.
Early in the second Hamden upped its lead to 3-1 on a fine rush and wrist shot by Marlow. Pierne picked up an assist on the play. The Hamden fans were rocking but the kids from Tri Town were far from done. Supported by enthusiastic busloads of fans, the Somers-Ellington-area crew put on a display of hockey magic seldom seen in these parts this year.
The magicians leading the pack were Lassard and his equally talented cohort, Mark Szafir. This elusive, fine-skating twosome single handedly brought their team back from extinction with goals at the 7:45 and 8:19 marks, respectively. They should sign up for Celebrity Dancing because each recorded an assist on the other's goal. All of a sudden Hamden's rink got colder and the hometown fans got quieter as the gentlemen from up north were putting on a show.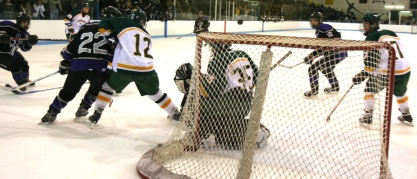 Avitable stops Tri Town magicians.
The Tri Town team kept hammering shots at Avitable that literally had the Hamden goalie spinning around in the net as if he were auditioning for "Exorcist Part 9." As the clock showed 48 seconds left in the period, the sophomore net minder made the save of the game. His back towards the play after sticking aside yet another Tri Town shot destined to hit twine, the spunky Avitable threw up his glove hand and tossed aside a rocket with the back of his hand while spinning back into the play. The crowd went wild.
The teams entered the third tied. Uneasiness permeated through the Hamden side of the rink while the Tri Town contingent sniffed upset over the longstanding tradition of hockey excellence in the state.
At the 3:37 mark Marlow, as he had done all night, commanded the puck onto his stick and rifled a shot at Richards that the goalie somehow saved, but ever-ready captain Jack Vets banged home the rebound and Hamden took the lead 4-3.
It was then Marlow again scoring on a great wrist shot assisted again by Pierne to put Hamden up 5-3, with a little less than nine minutes to play. Hamden seemed on its way to the second round.
Did anyone mention Derrick Lassard of Tri Town?
The kid just wouldn't give up and neither would his team. Lassard took a fine pass from Mr. Palmer, scooted through and around the Hamden defense and scored to make it 5-4 at the 9:38 mark. The teams exchanged rushes and shots. Hamden's defense stiffened as Lassard and Szafir saw more ice time than Hamden cared to imagine.
Tri Town pulled their goalie as Avitable stood tall in making save after save. Every kid on both teams fought to the end of this marvelous game. And, as was a fitting tribute to their never-die attitude, the Tri Town boys scored just after the buzzer ended the game securing Hamden a hard-fought 5-4 victory.
The game was a testament to both teams, their coaches and fans. It was clean, enthusiastically supported by all fans and a credit to Connecticut high school hockey as a whole.
---
March 5, 2007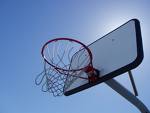 Last Hoops
Hamden Fathers' Basketball Association girls' teams wrap up the season
By Keith Hodder
9-11 Year Old Girls
Zoe Fanolis scored a game-high 14 points to lead McDonald's to the town championship by defeating DiAdamo & Fitch Bail Bonds 24-20. Alivia Wilson added six points for McDonald's while Jasmine Andrews and Jessica Napolitano both had two. DiAdamo & Fitch was led by April Uzzle and Alysia Carrero with five apiece. Janelle Cooper and Camilla Garcia Millan each added four.
Kathleen Fedorchak hit a jumper with 25 seconds left in overtime to lead CSR Properties to a thrilling 12-10 victory over NewAlliance Bank and capture the tournament championship. Fedorchak led CSR Properties with six points while Nandi Carter added four and Kelly Buttricks and Heather McDonald two each. Briann Blackmon led NewAlliance Bank with four and Emily Battipaglia, Sarah Cubells and Inese Aleksjuka each scored two.
12-14 Year Old Girls
Specialized Packaging led by Currin DeRenzo's 13 points won the town championship with a 32-12 victory over the Hamden Greenies. Also scoring for Specialized was Ty-Nay King with seven, Ezra Massey with six and Shannon Knox with four points. Hamden Greenies was led by Kendrea Threatt with eight and Ashley Girola and Ashley Taylor with two each.
Ultimate MMA 4 Kids won the tournament championship with an 18-12 win over CSR Properties. Ultimate was led by Nicole Anderson with seven points and Symone Watson with five. Jahnnitza Lopez, Shaquanna King and Cassie Webb each added two for Ultimate. CSR was led by Briyana Green with seven, Adebanke Otumba-Payne with three and Alison Canelli and Sara Winnick with two apiece.

That's it until next year.
---
February 26, 2007

Girls Hoop to the Finish
Hamden Fathers' Basketball Association's weekend results
By Keith Hodder
9-11 Year Old Girls
In a thrilling tournament semi-final game, CSR Properties held off a four-quarter 8-0 run by JD Environmental to win 15-14. The win put CSR Properties into the tournament finals against NewAlliance Bank. Shayna Mills led CSR with nine points while Eshana Gaddam, Kathleen Fedorchak and Nandi Carter each added two. JD was led by Danielle Wendland with six, Brittany Needham with four and Avery Owers -- whose last-second jumper for the win bounced off the back of the rim -- scored two along with Amani Richardson.
In another game, DiAdamo & Fitch Bail Bonds defeated NewAlliance Bank 14-11. DiAdamo & Fitch was led by Janelle Cooper with six points and Alysia Carrero with five. Inese Aleksjuka led NewAlliance with six points while Sarah Cubells and Grace Kiley each scored two.
12-14 Year Old Girls
In a playoff game for the third-seed tiebreaker, CSR defeated Ultimate MMA 4 Kids 22-15 to earn a spot in the tournament finals. Adebanke Otumba-Payne led CSR Properties with eight points, Briyana Green added six while Sara Winnick and Kamila Carter added four apiece. Nicole Anderson led ultimate with five while Cassie Webb and Shaquanna King each scored four.

Ultimate came back later in the day to defeat Partyka Chevrolet 26-10. Nicole Anderson led Ultimate with 12 points and Kara Waznis and Shaquanna King each added six.
In another game, Sarah Winnick had a game-high 10 points to lead CSR over Hamden Greenies 22-14. Also scoring for CSR was Kamila Carter with six, Briyana Green with five and Alison Canelli and Susan Riello had four points each. Greenies was led by Ashley Taylor's six points and Ashley Girola's and Kendrea Threatt's four each.
---
February 19, 2007
Hamden Fathers' Basketball Association's weekend results
By Keith Hodder
9-11 Year Old Girls
DiAdamo & Fitch Bail Bonds earned a spot in the town championship game by defeating NewAlliance Bank 24-17. Alysia Carrero led Bail Bonds with 11 points while April Uzzle added seven and Camila Garcia Millan six. Sarah Cubells and Lezlie McEachern both scored five for NewAlliance Bank with Grace Kiley adding four points and Inese Aleksjuka three.
McDonald's came from behind and defeated CSR Properties 20-13. Jessica Napolitano led McDonald's with nine points. Jasmine Andrews added seven and Alivia Wilson three. Kathleen Fedorchak led CSR with six and Shayna Mills added five.
12-14 Year Old Girls
Led by 14 points from Adebanke Otumba-Payne, CSR beat Specialized Packaging 29-27. Briyana Green added 10 points for CSR while Sara Winnick and Susan Riello had two each. Specialized was led by Currin DeRenzo with 16 points, Ty-Nay King with eight and Rebecca Napolitano three.
Ultimate MMA 4 Kids defeated Partyka Chevrolet 17-10. Cassie Webb led MMA 4 Kids with five while Shaquanna King and Symone Watson added four apiece. Gabriella DeSisto led Partyka with four while Alyssa Lotto, Cassie Knights and Aliyah West each scored two points.
--------------------------------------------------------------
Quinnipiac Women's Basketball Defeats LIU In Overtime, 61-59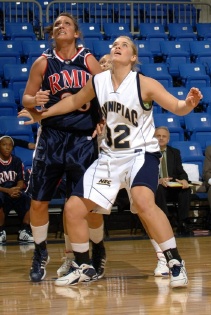 QU's Sarah McGowan. Photo/John Hassett, Quinnipiac Sports Information
Bobcats snap Blackbirds' 13-game winning streak and 12-game home streak
Sarah McGowan (Red Lion, Pa.) grabbed an offensive rebound and made the game-winning put-back with 0.4 seconds remaining in overtime as the Quinnipiac University women's basketball team defeated first-placed Long Island, 61-59, Saturday afternoon at the Wellness, Recreation, and Athletics Center in Brooklyn, N.Y. With the win, the Bobcats improve to 16-8 (10-5 NEC) while the Blackbirds fall to 20-6 (13-2 NEC).
The loss was LIU's first in the last 14 games. They'd also won 12 consecutive games at the Wellness, Recreation, and Athletics Center coming into this afternoon's game. The win also makes up for the TD Banknorth Sports Center-opening loss the Blackbirds handed the Bobcats on Jan. 27.

Courtney Kaminski (Dudley, Mass.) led the Bobcats with a career-high 21 points and 10 rebounds, the first double-double of her career. McGowan also posted a career-high with 19 points and eight rebounds, six coming on the offensive glass. Monique Lee also added 10 boards for the Bobcats, who grabbed 48 rebounds, well above the 31.9 per game the Blackbirds had allowed coming into the game.
Valerie Nainima led the Blackbirds with a gritty 24 points while Brittani Kozik added a double-double with 11 points and 10 rebounds. Mikaelar Whippy also added 15 points and six assists.

McGowan (Red Lion, Pa.) sparked the Bobcats with seven early points. She did her damage with two offensive rebounds, which led to two free throws and a put-back. She also nailed a three prior to the 10-minute mark to twice give the Bobcats a nine-point lead, their largest of the stanza.

McGowan made four more free throws after being fouled following two more offensive rebounds to finish the half with 11 points. Kaminski added six points in the initial half.

Neither team shot particularly well in the half, with the Blackbirds edging the Bobcats, 25.9 percent (7-27) to 25.0 percent (8-32). Quinnipiac made hay on the glass, grabbing 27 boards in the half. Coming into the game, LIU had held opponents to an NEC-best 31.9 rebounds per entire game.

The Blackbirds scored 15 of their 22 points on five three-point field goals. Making two apiece were Nainima and Kozik. The duo managed just two points otherwise.

The Bobcats scored the first nine points of the second half, including seven from Kaminski on two tough short-range jumpers and a three from the top of the key. With the 9-0 run, the Bobcats took their largest lead of the game at 34-22. The lead would extend to 15, 43-28 with 11:49 left in the half.

The Blackbirds had the answer, however, taking their first lead of the half on a Nainima jumper at the 2:14 mark. One of two McGowan free throws tied the game again with 1:36 left and Kaminski gave the Bobcats the lead back one second later by taking the offensive rebound and putting it back up and in. Another Nainima jumper tied the game and neither team could muster another point in regulation, sending the game to overtime.

Brianna Rooney (Guilford, Conn.) connected on a three-pointer on the first Bobcat possession of overtime and Kaminski added another jumper shortly thereafter to make it a five point Bobcat advantage. The Blackbirds again clawed back to tie it on two Nainima free throws inside of five seconds left.

But after Kaminski missed on a shot at the other end, McGowan grabbed the last of six offensive rebounds and laid it in to put the Bobcats up by the final margin.

For the game, Quinnipiac outshot Long Island from the floor, 37.1 percent (23-62) to 33.9 percent (21-62). The Blackbirds had the advantage from the free throw line, 90.0 percent (9-10) to 69.2 percent (9-13). The Bobcats out-rebounded the Blackbirds, 48-35.

The Bobcats return to action Wednesday as they make the short intrastate trip to Sacred Heart. The opening tip is scheduled for 7 p.m. at the William H. Pitt Center in Fairfield.
---
February 14, 2007
Bantam Boys Take Down 2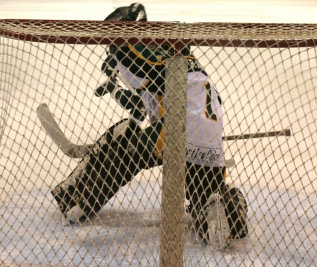 Wetmore makes glove save on penalty shot.
Story and photos by Edward C. "Ned" Burt Jr.
The Hamden Bantam A Hockey Team, sponsored by Burt Law Office, had a successful weekend beating ECHO 7-3 and South Windsor 6-4. Adam Devine had a weekend to remember as the feisty center man scored his 100th goal of the season in the ECHO game.
"If the kid was a rabbit, I hate to think how many bunnies he would have by now," joked coach Jim Miller. "He's scored more goals than Smucker's has berries on vines. The kid is a goal-scoring machine."
Devine tied up the ECHO game on a fine pass and play by Josh Chapman and AJ Gemmell with 7:24 to go in the first period. He then put the team up 2-1 on assists by Joe Coughlin and Jim Burt. Gemmell, the hard-hitting, hard-shooting defenseman, then put the team up 3-2 again on assists by Coughlin and Burt.
Coughlin, the rugged winger, then scored a pretty goal, as Burt fed a soft behind-the-back pass to Devine at the blue line and the crafty forward drew the defense to him and made a sterling pass to Coughlin, who banged it home for a 4-2 lead at the 3:11 mark of the first. Devine and Burt picked up assists on the play.
ECHO would not go away but with 6:24 to go in the second, Burt stole the puck on a shorthanded situation and after deking the goalie out of position, the hard playing captain missed a five-hole backhander that Poppy Ugolik could've made while falling down a rink railing.
ECHO made the game interesting by scoring at 3:47 and getting a penalty shot at 2:06. Justin Wetmore was filling in as goalie since Ryan Amarone was away. The score was 4-3 Hamden as Wetmore awaited the ECHO shooter. There was a hush in the crowd. The ECHO kid came storming towards Wetmore, made a fine move and let go with a rooftop wrister destined to grace the back of the twine.
Flash went the camera and flash went Wetmore's glove hand. The kid made an incredible save. The Hamden team went wild. Coach Roger Keyes was doing his version of an Irish Jig on the bench and Devine scored shortly into the third period to make it 5-3. Harley Pretty, who has been playing such solid defense he often goes unnoticed, and Chapman had assists on the play.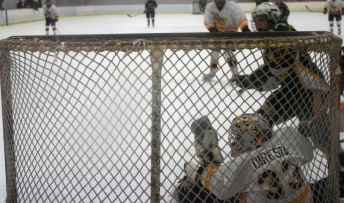 Fracasso scores with two men down.
"Pretty has been a rock on defense. He is physical, always in position, and knows when to join the offense and when not to," coach Dan Vigliotti said about his senior defenseman.
Burt scored at 9:52 on assists from Connor Walsh and Mark Fracasso to make it 6-3 and with 1:15 remaining in the game, Devine scored his 100th assisted by Coughlin and Conor Callahan.
"Every player brings something different to the table. Adam is a goal scorer. He can flat out put the puck in the net. And he has all season long for us," said coach Miller. "It is a great achievement to score 100 goals and we all applaud him for his efforts."
Hamden next traveled to South Windsor and played a rugged game against the Big Boys from up north. Coughlin came out full of hiss and vinegar and scored Hamden's first two goals. Devine picked up an assist on the first. The second was a masterful, unassisted goal as Coughlin grabbed the puck in center ice and banged and moved his way to the goalmouth to jam home the puck and put the team up 2-1.
Jimmy Wilson and Pat Lynch were doing a fine job on the penalty kill and their regular shifts. Connor Blackwell, back from injury, was playing his best game of the year paired up with Coughlin and Devine. Wetmore was playing well in net with Callahan and Joe Quick playing solid defense in front of him. The team was missing the hard-hitting Jeff Bakos.
At 11:51 of the second, Hamden was down 3-2. Capt. Fracasso was flying and banging everywhere. He and Burt teamed up to bang the puck free in the offensive corner. Fracasso gained control of it and fired a pass to Walsh behind the net. Burt went to the high slot where Walsh found him with a bullet pass between two defenders, and Burt let rip with a low, onetime snap shot that tied the game 3-3 at the 7:54 mark. Fracasso and Walsh had assists on the play.
Twenty-one seconds later, Burt and Walsh teamed up to feed Fracasso screeching down the right side. The fiery forward let go at the top of the circle with a snap slap shot that rocketed its way into the net to put the team up 4-3. Then on the same shift, Burt and Fracasso set up Walsh with nice feeds and the hard-hitting winger was robbed on a powerful wrist shot by the goalie.
The teams were tied in the third period before Devine scored unassisted on a speed-like move that seemed even faster looking through the dirt-stained glass at the worn and older rink. Wilson, Lynch and Chapman teamed up to give the team a boost, and Wetmore was making every save he needed to make.
At the 8:34 mark, Fracasso was assessed another hometown penalty by the referee tandem who greeted the South Windsor fans with smiles and handshakes as they entered the arena. A few choice words by Fracasso led to a four-minute minor. Bad idea for the home team.
While Fracasso stewed in the box, Wetmore and Company were holding down the fort. RJ Ugolik was playing his typical outstanding game on defense. Pretty was clearing bodies and pucks. Gemmell was policing the big men. And Quick and Callahan were hitting anything that moved.
Fracasso got out of the box just as two other Hamden guys were whistled for penalties. I thought I was watching a rerun of the Russian Olympic basketball team's victory over the United States when the refs kept giving them chance after chance.
Well, four minutes to stew in the box had Capt. Fracasso all wound up, and not 16 seconds after he hit the ice he laid a thunderous check on a puck carrier in mid ice, darted past another to retrieve the puck, carried it down the left side of the ice with a goliath hanging on his back, cut in towards the goal with the precision of Dorothy Hammil and the grace of Clark Gillies, and proceeded to put a shot somehow over the goalie as he was getting crushed from behind. It was a two-man shorthanded beauty that brought the Hamden bench and fans to their feet in thunderous applause.
Hamden finished the game with a hard fought 6-4 win.
And one would be remiss not to recount the best move of the day, which belongs to coach Jim Miller. Miller and Dan Vigliotti had a harrowing experience on the way to the rink. They were traveling on I-95 when the car next to them turned suddenly onto their lane. Miller slammed on his brakes and his car did two full turns in the middle of the highway before spinning again and ending up facing southbound in the northbound gutter.
"We don't know how we didn't get hit by another car. We just looked at each other, laughed and started the car up again and headed to the rink. So, are we glad we won? Yes. Would we have settled for a loss today? Yes. We're just glad that someone was looking out for us," both coaches said before the game.

Hamden is coached by Jim Miller, Dan Vigliotti and Roger Keyes.
---
February 12, 2007
Uphill Only for HH 'Ski' Grad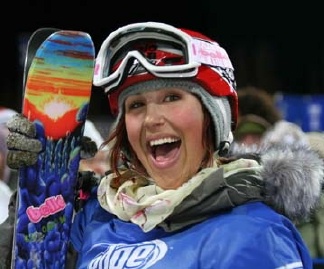 Jen wins bronze medal at the 2007 Winter X-Games in Aspen, Colorado. Photo/Hudak
By Tony Mentone
Jen Hudak (HHS '04) was a soccer and lacrosse player at Hamden High. She was named All-State lacrosse in both her junior and senior years. The Hamden Women's Sports Federation named her "Sportswoman of the Year" when Hudak was a senior. She was a member of the National Honor Society as well as the theater department.
So where is Hudak now? Playing soccer at Yale? Playing lacrosse at Harvard? Guess again. Hudak is a free-ride skier attending the University of Utah.
Jen's father, Paul Hudak, a professor of computer science at Yale University, taught his daughter to ski, but "she skis rings around me now," he said. Paul has been president of the Hamden Youth Soccer Association and was a founder of the Hamden Youth Lacrosse program. He is currently the head girls' lacrosse coach at Hamden High.
At 20, Jen Hudak is one of the most accomplished skiers in the nation. She was enrolled at the Okemo Mountain School in Ludlow, Vt., for her middle school years, and said it changed her life forever. She spent her sophomore, junior and senior years playing soccer in the fall, then going to Okemo to ski and returning to Hamden for the lacrosse season in the spring.
Hudak's mom, Cathy Van Dyke, quit her job as an environmental consultant so she could go with Hudak to the Okemo Mountain School each winter Her mom started teaching at OMS and said she liked teaching so much that she is now a certified chemistry teacher at Southington High School.
In 2006, Jen Hudak won the U.S. National Halfpipe Championship, and the Junior National Halfpipe Championship the year before. She also won the World Junior Halfpipe Championship in 2004. Her skiing has taken her to all parts of the world.
Hudak now lives in Park City, Utah, with her sister Christina (HHS '01), a graduate of Haverford College. It is ironic that they live in Utah because it was there that their parents first met 28 years ago when their mother was working in Salt Lake City and her father was a graduate student at Utah University.
In March, Hudak will ski in Aspen, Colo., and also at the World Open in Stratton, Vt. She recently won a bronze medal at the 2007 Winter X-Games in Aspen.
----------------------------------------------------------------

Weekend BB Scores for the Boys
By Jack Sheehan
In the Hamden Fathers' Basketball Association's 9-10 boys' league for Feb. 10, RWA Credit Union clinched a return to the league championship game with a 23-6 victory over The Corner Deli. RWA was led by Brody Griffin's defense with five steals, Matt Hamilton with nine points and Tyler Pavone with four points. The Deli was led by Robert Brock, Aaron White and Zach Burgess.
Batter's Box remains undefeated with a 23-9 win over Splash Car Wash. Batter's was led by James Thorpe with 15 points and Damon Taylor with six, while T.J. Walters had four points and Richard Grant had three to lead Splash. In a defensive battle, DiSorbo's Bakery held on to beat the Hamden PBA 8-6. DiSorbo's was led by Trey Jackson, Christian Alfano and Alex Ossa, while Robert Brown, Jordan Cerino and Daniel Berrera were the leaders for the PBA.
In the HFBA's 11-12 boys' league, the Unitas Club defeated Partyka Chevrolet 22-14. Unitas was led by Avery Haith with 15 points and Jeremiah Marion with four, while Jeremi Yakerson and Matt Isenstadt each had four points to lead Partyka.
Eastern Fuel beat Axman Chiropractic 20-14. Eastern was led by Tyrell Walden-Martin with eight points and Bryce Barnes with three, while Roddy Bunch had six and Nate Bailey had four to lead Axman. WW Tolson was victorious over Mr. Trophy 35-13. Tolson was led by Jaquay Black with 10 points and Tullio Ossa with six, while Bryson Hebron had six points and Noah Medor had four to lead Mr. Trophy.
Ercolano Cleaning beat Sorrento's Pizza 28-19. Ercolano was led by Robert Grissett with six points and Amaadi Cohe with four, while Kyrell Dennison had six points and Giovanni Gibbs four to lead Sorrento's.
-----------------------------------------------------------------
Hamden Fathers' Basketball Association's weekend results
By Keith Hodder
9-11 Year Old Girls
In a close, exciting game Feb. 10, DiAdamo & Fitch Bail Bonds defeated JD Environmental 14-13. Alysia Carrero led DiAdamo & Fitch with seven points while April Uzzle scored three and Anna Marie Fortuna had two. Ciara Fennelly had a nice game and led JD with six points. Danielle Wendland, Brittany Needham and Avery Owers each added two each for JD.
McDonald's clinched the No. 1 seed in the playoffs with a 17-4 victory over NewAlliance Bank. Alivia Wilson led McDonald's with eight points while Jasmine Andrews and Zoe Fanolis each added four. NewAlliance Bank was led by Inese Aleksjuka with four points.
12-14 Year Old Girls
Led by a game-high nine points from Briyana Green, CSR Properties beat Hamden Greenies 28-9. Also scoring for CSR was Kamila Carter with five while Alison Canelli, Sara Winnick and Adebanke Otumba-Payne each contributed four. Kendrea Threatt led Hamden Greenies with three and Ashley Taylor added two points.
Specialized Packaging earned the No. 1 seed in the playoffs with a 33-11 win over Partyka Chevrolet. Currin DeRenzo led Specialized with 10 points while Rebecca Napolitano and Ty-Nay King each had seven. Lanesha Porter led Partyka with three points. And Alyssa Lotto, Cassie Knights, Gabriella DeSisto and Anosha Campbell each two.
---
February 9, 2007
Rough Week for Bantam Boys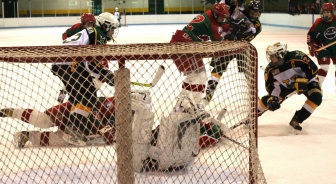 Mark Fracasso goes for rebound.
But they're off to kick butt at state finals
Story and photos by Edward C. "Ned" Burt Jr.
The Hamden Bantam A Hockey Team, sponsored by Burt Law Office, had a busy final week of the regular season. The team lost a tough one to Darien 4-2, Greater Bridgeport, 4-3, the Greenwich Skating Club 7-1 and ended with a 5-2 loss to New Canaan.
Adam Devine got Hamden going against Darien with a tap in goal on a fine pass from Joey Coughlin. Josh Chapman also picked up an assist on the play. Harley Pretty, Joe Quick and Conor Callahan were playing solid on defense, Patrick Lynch was causing havoc all over the ice and Ryan Amarone was playing steady in net.
Devine and Coughlin hooked up again at the 6:27 mark of the first period but the Darien net minder made a fine save. At 5:24, Amarone made a huge glove save on a breakaway. Then Pretty made a fine hustle cover for his defensive partner and dove to break up a two-on-one with just under a minute to go in the period.
At 18.4 seconds though, Darien tied it 1-1 and that's the way the teams entered the second period. Both teams were flying up and down the ice. Pat Lynch, Jim Wilson and Connor Walsh were hustling everywhere. Connor Blackwell was using his fine skating skills and great hands to create opportunities for himself and others. And AJ Gemmell and RJ Ugolik were playing their typical strong games.
At the 5:34 mark with Hamden down a goal, Mark Fracasso made a huge hit in the corner to free the puck up to Jimmy Burt who hit Walsh with a bullet pass, the rugged winger put home to tie the game 2-2. "Fracasso has been flying," said coach Dan Viglilotti. "The kid is tenacious and hits with stealth-like quickness and the subtlety of a 10-ton truck. He is playing great hockey."
The teams entered the third period with a healthy amount of respect for each other. It was the third meeting of the year and each team had won a game by a goal. Amarone, the stalwart goalie, was about to be center stage as the host Darien squad came out firing to start the period.
Amarone glove save at 14:05. Amarone kick save at 13:49. Amarone stick save at 13:31. Save at 13:00. Save at 11:40. Diving, lunging save at 11:27. The kid was as tenacious at rejecting the puck as the Darien team was in hammering towards him.
Save 11:22 and then more again at 11:09, 10:53, 10:42, 10:28, 10:07, 9:43 and 9:40. Somebody check his mother, Laura. We think she just fainted!
"The kid made 14 saves in less than five minutes! What can I say? He was phenomenal. Just like he's been all year long for us," said coach Vigliotti.
The teams continued to play great hockey up and down the ice until an extremely ill-timed penalty behind the play put Hamden down a man with 5:14 to go. Darien scored a power play goal and an empty netter to win 4-2.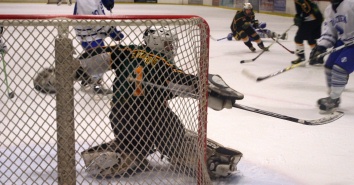 Ryan Amarone makes save.
Next up was Greater Bridgeport. Walsh got things going on the first shift as he scored off a fine pass from Burt. Fracasso also had an assist on the play. Gemmell made it 2-1 Hamden on a blast from center ice at 4:36 of the first period. Wilson and Blackwell had assists on the play.
Hamden then picked up another undisciplined penalty and before you knew it the score was 3-2 Bridgeport. Devine scored another goal assisted by Ugolik and Burt with just 21.7 seconds left in the period to tie the game at 3-3. Hamden ended up losing 4-3.
Another frigid trip to Greenwich and the powerhouse Skating Club drubbed Hamden again 7-1. Bakos broke his collarbone on a vicious hit from behind and Blackwell was also out with an injured collarbone. Burt had Hamden's lone goal on a fine pass and play by Fracasso. Walsh also picked up an assist on the play.
The team's final regular season game was against another strong New Canaan squad. Hamden lost 5-2. Burt had a goal and assist and Gemmell a goal and Fracasso and Walsh assists. The team ended the regular season with 25 wins, 24 losses and 8 ties.
"I have no doubt that we play the toughest, most ambitious schedule of any team in the state," said coach Jim Miller. "We played the best teams -- many of them more than once -- and the kids did a great job. They should be proud of themselves. Now onto the state tournament."

Hamden is coached by Jim Miller, Dan Vigliotti and Roger Keyes.
---
February 5, 2007
Girls' Hoops



Hamden Fathers' Basketball Association scores
By Keith Hodder
9-11 Year Old Girls
In a close exciting game Feb. 3, NewAlliance Bank, led by Inese Aleksjuka with five points, defeated JD Environmental 17-15. Grace Kiley, Sarah Cubells and Brianna Blackmon each added four points for NewAlliance. JD was led by Avery Owers with six, Brittany Needham with five and Ciara Fennelly with four.
April Uzzle scored a game-high eight points to lead DiAdamo & Fitch Bail Bonds to a 15-4 victory over CSR Properties. Alysia Carrero added five for Bails Bonds. CSR was led by Kristen Riello with two points.
12-14 Year Old Girls
Led by a game-high 14 points from Ty-Nay King, Specialized Packaging defeated Hamden Greenies 40-23. Currin DeRenzo added 10 points and Rebecca Napolitano eight. Destiny Cooper led Hamden Greenies with eight while Maria DellaCamera added six and Kendrea Threatt three.
Ultimate MMA 4 Kids, led by Nicole Anderson with eight points, defeated CSR 26-15. Also scoring for Ultimate were Symone Watson with seven points, Shaquanna King with five, Cassie Webb with four and Barbara Federicks added two. CSR was led by Adebanke Otumba-Payne with 10 points and Shayna Mills and Kamila Cater with two points each.
--------------------------------------------------------------
Boys' Basketball Numbers
By Jack Sheehan
In the Hamden Fathers' Basketball Association's 9-10 boys' league for Feb. 3, with a strong second-half surge The Corner Deli defeated Hamden PBA 16-13. The Deli was led by Aaron White with 10 points, Richard Kelly with four and Robert Brock with two, while PBA was led by Robert Brown with nine and Jordan Cerino and Erik Reyes each had two.
Batters Box beat DiSorbo's Bakery 29-15. Batter's Box was led by James Thorpe with 11 and Connor Williams with eight, while Trey Jackson had nine and Christian Alfano had four to lead DiSorbo's. RWA Credit Union was victorious over Splash Car Wash 20-16. RWA was led by Ahmed Hasaan with eight and Nick DeGiacomo with two points, while Richard Grant had 10 and David Bowman had two to lead Splash.
In the HFBA's 11-12 boys' league, with playoff implications involving four of the top five teams coming down to the last week of the regular, undefeated Eastern Fuel came back in the fourth quarter to beat WW Tolson 22-20. Eastern was led by Eric Wells with seven points and Aaron Boykin with four, while Ysan Frazier had six and Christian Tillery had four to lead Tolson.
Mr. Trophy came back in the fourth quarter to beat Ercolano Cleaning 28-25. Mr. Trophy was led by Ivory Tanner with 14 and Jeremi Phillips with the game-winning three points. Ercolano was led by Marcus Perry and Kevin Walton each with seven points. Sorrento's Pizza made a valiant effort to catch Lee Partyka but was cut short 29-28. Partyka was led by Jeremi Yakerson, Joe Tommaselli and Christian Wingate each with four points, while Durrell Barrett had 15 and Kyrell Dennison had six to lead Sorrento's.
Axman Chiropractic outscored Unitas Club in the fourth quarter to clinch a return to the league championship game with a 28-23 victory. Axman was led by Roddy Bunch with nine, Brandon Martin with eight and Nate Bailey with six, while Jerimiah Marion and Brian Ortiz each had eight to lead Unitas. Axman will face Eastern Fuel in the championship game. The remaining teams will take place in a single-elimination tournament.
-------------------------------------------------------------
By Richard Shultz
Spring Glen Painting and Power Wash drowned The McClendons 52-39. Spring Glen's power washer, Ryan Moore, led the way with 17 points, Marquise Winfrey added 12 and James Duddley chipped in 12. The McClendons was led by Bam Carr (12), Jarred Jenkins (10) Isaiah Derosa (6).
B, S & W Law Firm threw the book at Ken's Car Wash 58-40. B, S & W newcomer, Jason Morris, led the way with 21 points, Jordan Carr (17) and Dante Burns (12). Ken's was paced by Ed "Antwan" Madden (19) and John Montreo (18).
Hamden Elks # 2224 hung tough in the last quarter defeating Charles Abatement 54-30. Hamden Elks was led by Ryan Frasier (16), Alex Felix (11) and Reggie Ulmer (6). Cedrick Perkins led the way for Charles with (19), Aaron Spann and Jordan Collins both with four.
Star Pizza overcooked The Contracting Group in overtime 48-45. Star Pizza's main chef was Khaalis Mills (23), and Tobin Carberry was shooting 75 percent from the free-throw line with 12. Outstanding defense was displayed down the stretch by Matt "Pink Spiked Hair" Persico. Contracting was paced by Tyshan Smith (18) and Jon Coburn (11).
In overtime, Hamden Memorial raked Skip's Gulf over the coals to win by one free throw 53-52. Memorial was led by Jason Handley (22) , Niko Mikolite ( 17) and Tyler Johns (4). Skip's was paced by Gary Mayes (25), Ed Aponte (12) and Cameron Brown (5).
Abcon Environmental foreclosed on Country Wide Home Loans 57-39. Kris "Big Daddy" Williams tossed in 15, Jesse " Du Rag" Anigela (14) and Dave Hill (2) to lead Abcon. Country Wide was paced by Javon Reveron (11), Skotti Huckaby ( 10) and Zachary Maxey (2).
B, S & W overruled The McClendons for their second win of the day 43-37 in a hard-fought battle. B,S & W was powered by a balance scoring attack of Jordan Carr (9) and Valon Gjeloshi, Codia Yard and Joshua James all with four. McClendons' cagers were paced by Jared Jenkins (12) and Bam Carr (10).
Spring Glen Painting remained on top of the league with a fourth-quarter scoring bonanza over Skip's 54-48. Ryan Moore led all scorers with a career high 32 for Spring Glen, and Nao Ohdera with Bryan Reynolds both chipped in four. Skip's offense was led by Clyde Ferris (11), John Montero (7) and Lamar Squanders (6).
Star Pizza mixed the winning recipe against Charles Abatement 48-40. In a hard-fought battle, Star was well balanced with Tobin Carberry (15), and Twin Towers Khaalis Mills and Maurice Jefferson both with eight. Charles was led by the nasty defense of Matt McDonough and Timmy Weatherspoon and was paced by scorers Aaron Spann and Cedric Perkins (13 each), while Colin McDonough's clutch-free throw in the closing moments gave a ray of hope to the team.
-------------------------------------------------------------
By Edward C. "Ned" Burt Jr.
"Dorothy, are we in Hamden?" I sort of asked myself as my car climbed the steep grade to the new Quinnipiac University sports complex on Sherman Avenue. Breathtaking is a word to use when you see a beautiful woman or a landscape that defies description. The new TD Banknorth Sports Center is both.
I was fortunate to attend the second annual Face-Off Luncheon last Friday afternoon held in the University Club, part of the magnificent new structure. The Quinnipiac and Yale hockey teams -- men and women -- were playing each other.
I sat with my good friends Bill O'Brien, Dan Gooley and several others connected with the university and the New Haven sports scene. Quinnipiac president John Lahey welcomed everyone with his typical engaging style. Mayor Craig Henrici had a proclamation making it "Dick Gagliardi Day" in Hamden.
Dick is the legendary athlete, coach, teacher and athletic director who has served Hamden, Yale and Sacred Heart Academy over the years with distinction. Hockey coaches for the men's and women's teams spoke, and Hamden High coach Bill Veneris and Notre Dame of West Haven coach Bill Gerosa were also there.
So were Mike Millbury of the Boston Bruins, former standout Hamden athlete and world champion weightlifter Mike Katz, Ray Peach, Pat Healy and Quinnipiac top administrators Kathleen McCourt, Lynn Bushnell, Don Weinbach and Val Belmonte.
Everyone in the know gave Quinnipiac athletic director Jack McDonald due praise for helping the university's drive to build such a tribute. Why even a Yale administrator in attendance praised the facility while joking that he was glad it was an overcast day because he realized that on a clear day the Bobcats new sports complex would be looking "down" on Yale. If Yale had known this was going to be the case perhaps it would have blocked Quinnipiac's entry into the ECAC, he said to roars of laughter from the 100-plus at the luncheon.
Whatever one thinks of the town-gown relationship Quinnipiac has with Hamden, this facility is a gem we all should be proud of. Leaving the new facility and driving down the hill overlooking Lockwood Farm and my beautiful hometown of Hamden, it made me proud to live in such a fantastic area. But I was tinged with a hint of sadness. I realized that I was descending from the mountains of Bridgadoon and I instantly felt as if I were Gene Kelly longing immediately to return. And return I shall -- and I urge all of you to do likewise.
Ned Burt serves on Quinnipiac's Athletic Development Committee and is an adjunct faculty member.