September 25, 2006

Meet the Captains
By Tony Mentone
The Hamden girls' soccer team hopes to rebound from last year's 6-10 record. Tri-captains senior mid-fielder Megan Harpe, senior mid-fielder Jenna DeNicola and junior mid-fielder Katelyn Vaughan agree they want to qualify for the state tournament.
DeNicola sat out last year due to an injury and is happy to be playing again. "I love soccer because it is a mental and physical challenge. You must be in great shape but also have to try and understand the strategy of the game," she said.
Harpe, who has been playing soccer since she was 11, had five goals and five assists last year. She said the most important thing for a captain to do is make sure players keep in mind it is a team-oriented game and keep pulling for each other.
Vaughan, the junior, is the quiet member of the group. She had one goal and five assists last year. Coach Gary Collins has started a tradition of junior captains. "Vaughan has the ideal work ethic to be a great leader," the coach said.
The Hamden team has one of the most competitive schedules in the state. Eight of the 10 teams they will play qualified last year for the state tournament. Hamden started with a 0-2 record, but hope to rebound this week with two away games -- against Foran today and Lyman Hall on Wednesday.
Tony Mentone is a member of the Hamden High School athletic department.
--------------------------------------------------------------
FIELD HOCKEY
9/18 L Pomperaug 0-4
9/20 L Sacred Heart 1-2
9/21 T North Haven 1-1
BOYS SOCCER
9/19 L Fairfield Prep 2-4
GIRLS SOCCER
9/19 L Hand 0-2
9/21 L Amity 0-1
BOYS CROSS COUNTRY
9/19 L Xavier 17-38
GIRLS CROSS COUNTRY
9/19 L Mercy 24-31
SWIMMING
9/19 W Sheehan 101-74
9/21 W Foran 100-74
FOOTBALL
9/21 L Guilford 20-40
---
September 18, 2006
By Tony Mentone
The Hamden High Field Hockey Team is only in its third year of varsity competition. Last year, the Dragons were 4-10-1-1. For those of you not familiar with field hockey stats, the last column indicates "losses in overtime." Despite the record, coach Tina Marci is aiming to qualify for the state tournament. Last year's leading scorer, Jessica Morgillo, is back and hopes to lead the Dragons again in scoring.
The team is led by tri-captains Caroline Buggy, Alyssa Traverso and ice hockey player Jaime Callan. Buggy is a senior center mid fielder and is also captain of the softball team.
Buggy said she was attracted to field hockey "because it was basically a new program" and it motivated her to learn and fight for her position. Her personal goal as captain is to promote team unity and to get all the players supporting each other.
"For those who have never seen a field hockey game, come to a game. It's fun and exciting. It combines ice hockey, soccer and lacrosse," she said.
The team played strong in its pre-season scrimmage against Wethersfield. It dropped its home opener to Conard 3-1. Its next home game is today at 6 p.m. against Pomperaug.
Tony Mentone is a member of the Hamden High School athletic department.
-------------------------------------------------------------------
By John Carusone
At noon this Friday, the Mike O'Keefe baseball-softball facility will open for amateurs and hopeful professionals. The 109 Sanford St. facility is state of the art. The pitching machines can be programmed with a pitch selection including fastballs 65-90 mph, changeups, splitters, curves and sliders. So unlike other facilities, which eject only fastballs, these machines can be programmed as if they were actual pitchers throwing to a catcher's signs unknown to the hitter.
Facility owner Hamden's Mike O'Keefe has just completed a Triple AAA minor league season. He has played with the LA Angels, Boston Red Sox and Atlanta Braves. His statistics are impressive. He was a two-time Double AA all-star with the Angels and Red Sox. He has a career 280 average with 86 minor league homeruns.
His highest BA was 330 with 15 homeruns and 91 RBIs in 2001. He hit 289 with 21 homeruns and 78 RBIs in 2002. He led the Red Sox Double AA affiliate Portland Sea Dogs with 19 homers in 2004. As I said in a previous column, he hit a double against the pitcher whom most baseball experts consider to be the top pitcher in the majors, Johan Santana of the Minnesota Twins.
O'Keefe's batting complex will be staffed by professional instructors. The softball facility features the slo-pitch game along with a fast pitch machine that will throw a rise ball and a sinker at top speeds. I do hope Hamden coaches and players will experience what I already have. This is a tremendous opportunity to really learn how to hit.
---
September 15, 2006
By Tony Mentone
Hamdenite Paul Carr was always a fierce competitor as a volunteer coach for both Hamden Fathers' Baseball/Softball Association and the Hamden Regional Youth Basketball League.
Nothing has changed since Carr was diagnosed with ALS (Lou Gehrig's Disease) earlier this year. "I will not stand on the sidelines as a bystander in this fight against ALS," he said.
He has pledged to raise $25,000 in the ALS Association's Walk to D'Feet ALS. Carr and his wife, Kate, will participate in the event on Sept. 17 at Lighthouse Point Park in New Haven. Registration is at 9 a.m. and the walk is at 10 a.m. During the walk, there will be a clown, magic show, moon bounce and a raffle. Afterwards, it'll be hot dogs and chips for all.
Carr would like to invite all his friends and former players to participate in the walk. "Whatever you can give will help. I greatly appreciate your support and will keep you posted on my progress," he said.
To send a donation, make a check payable to The ALS Association and mail to: Paul Carr, 99 Colonial Drive, Hamden, CT 06518. For further information, visit www.hrybl.com.
---
September 12, 2006
By Tony Mentone
The Hamden High boys soccer team wants to continue the tradition they started last year by going 13-3 and qualifying for the State CIAC Tournament.
Luis Zapata is a senior forward tri-captain who scored 17 goals and had 12 assists last year. Zapata started playing youth soccer at 5 years old. "I fell in love with the game and its beauty," he said. "I was born in the United States but my background is Chilean and Colombian and I never thought about playing anything else but soccer. Assistant coach Haskos has helped my game tremendously."
Ironically, when Zapata started playing at 5 his first coach was a 17-year-old high school player named Juaquin Rodriguez -- his current high school coach.
Tri-captain Matan Bik was born in Israel and also started playing when he was 5. He came to the United States in 2000 and continues to play here.
Bik is a center-midfielder and scored four goals with 10 assists last year. "Soccer is the biggest sport in the world. As a sport it has it all -- excitement, suspense, strategy, action. I just love soccer," he said.
Hamden's third tri-captain is Peter Hamasian, a senior forward who scored three goals with six assists last year.
"Pete is a quiet kid who leads by example," said coach Rodriguez. "He is a very hard worker." Hamasian wants to win the SCC Quinnipiac Division title and go deep into the state tournament. The Quinnipiac Division is considered one of the strongest in the state because of perennial soccer powers such as Xavier, Notre Dame of West Haven and Fairfield Prep.
Hamden boys soccer season opens on today at 6:30 p.m. at Branford High School's McVeigh Field.
Tony Mentone is a member of the Hamden High School athletic department.
---
August 28, 2006
Arcade Metal Takes the Gold Again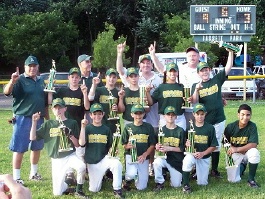 Team has undefeated season at 21-0
By Bill Rhone
Arcade Metal Stamping won its fifth straight Major Gold Town Championship by defeating Lee Marlow in the best two out of three series at Bassett Field.
The first game was a pitcher's dual between Erin Moskal for Arcade and three pitchers for the lawmen, Max Coassin, R.J. Ugolik and Brandon Dadio. (The games were played June 19 and June 20.)
Moskal gave up two hits, both by Ugolik, and struck out eight, while the trio of Lee Marlow pitchers gave up two hits and struck out nine. In the third inning, Arcade's Anthony Capasso drew a walk and went to second on a passed ball. After an Eric Shields strikeout, Steve Monaco drilled a double in the left field corner for the first run of the game. In the fourth inning, Arcade scored its second run on consecutive walks by Dan Mathews and Briana Mastel and a clutch two out single by Eamon Detoro. That was all the scoring Arcade would need as Moskal pitched a complete game.
In the second game, Arcade scored quickly, with Eric Sullivan leading off with a line drive up the middle followed by an RBI double by Brian Rhone. After a Moskal single and three walks, it was 5-0 after the first half-inning. In the third inning, Rhone again led off with a double and was driven in by Mastel, who scored on a walk and two passed balls. In the fourth inning, Arcade finished its scoring with a Sullivan single with bases loaded driving in two runs. In the fifth inning, Marlow got on the board with a Coassin homerun, but the damage was already done as Brian Rhone scattered five hits to pick up the victory on the mound.
Not only did Arcade win its fifth straight town championship but this year's team did it in grand style by going undefeated and compiling a 21-0 record. Moskal and Rhone were both 8-0 on the mound with Mastel contributing five victories. The team was led in homeruns by Rhone with five, and Moskal, Sullivan and Dan Mathews with three each. Nine players on the team hit at least one homerun. Five players -- Rhone, Moskal, Detoro, Sullivan and Mathews -- made the 11/12-year-old all-star team, which finished second in the state.
Members of the Hamden Fathers' Baseball League team include Eamon Detoro, Eric Sullivan, Eric Shields, Erin Moskal, Brian Rhone, Anthony Capasso, Briana Mastel, Paul Monaco, Steve Monaco, Mike Vivenzio, Greg Castaldi and Dan Mathews; and coaches Paul Moskal, Burt Leventhal, Dave Castaldi and Bill Rhone.
---
August 21, 2006
By Tony Mentone

Bruno Massaro & Sons, coached by Mark Lombardozzi, recently won the 2006 Hamden Fathers' Baseball Association Babe Ruth League Championship. Massaro defeated Unitas Club, coached by Mark Giordano, in a best of three series at Legion Field.

Massaro drew first blood, 9-4. Tom Roche was the winning pitcher with relief help in the seventh inning from John Powers.
Unitas won game two, 7-4, setting up a winner-take-all third game. Steven Teague earned a complete-game pitching victory.

Game three featured M.J. Lombardozzi pitching a complete-game five-hitter for a 9-1 Massaro win. Trailing 1-0 in the fourth, Massaro put together doubles by Lombardozzi, Powers, Dan Wheeler and Matt Burdick, for a 3-1 lead.

Massaro put the game away in the next inning, scoring six times. Unitas put men on base in the seventh but Lombardozzi hung on for the win.

Massaro compiled a regular-season record of 11-3-2. The elder Lombardozzi's assistants were Steve Wheeler, John Rego, Mark Burdock and Steve Wheeler Jr. Unitas, the 2005 league champion coached by Giordano, was assisted by Bill Garen, Dan Hovick, and veteran Ralph "Babe" Antonio.
Tony Mentone is a member of the Hamden High School athletic department.
---
August 1, 2006
By Tony Mentone
With an estimated crowd of 300 cheering every pitch, the Hamden Fathers Majors Little League all-stars and the Glastonbury Nationals battled for state supremacy Monday night at the Great Hill Athletic Complex.
Hamden drew first blood in the first inning on a double by Brian Rhone, a passed ball, and Matt Elia's sacrifice fly. In the third inning, Hamden scored three times. Mike Franco had a two-run single and D.J. Carignan followed with a run-scoring hit.

Starting pitcher Carignan had eight strikeouts through the first four innings. In the fifth, Glastonbury hit three homeruns to pull ahead 6-4, and added a solo homer in the sixth.
"It was a great ride," said Hamden coach Bill Rhone. "The kids played their hearts out and learned a lot. It's a shame they missed by one game, but we are just as proud of them for being second in the state."
Glastonbury will represent Connecticut in the New England Championships at the Giamatti Center in Bristol beginning Aug. 6. The New England winner will proceed to the Little League World Series in South Williamsport, Penn.
Tony Mentone is a member of the Hamden High School athletic department.