ReelReviewer
December 15, 2006
'Apocalypto'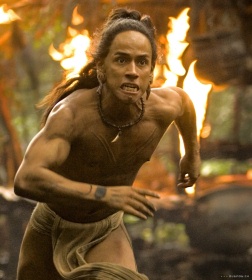 Rudy Youngblood stars in the visually stunning, but too graphically violent "Apocalypto."
By Shawn French

The big question in Hollywood last weekend was how much impact Mel Gibson's anti-Semitic meltdown would have on his newest directorial effort. The "Braveheart" star didn't earn many friends with his drunken rant against Jews after his OUI arrest. And he didn't improve matters much when, in his first public statement after his arrest, he blamed his outburst on Jews giving him a hard time about "The Passion of the Christ." Then after Michael Richards had a similar implosion, going ballistic on a couple of African American hecklers, Mel came to his defense. I'm sure that helped a lot.
But would audiences avoid the latest creative endeavor by the famously off-kilter director with a torture fetish? The results were mixed. "Apocalypto" did take the top spot at the box office, but earned a modest $15 million -- about a third of the production cost.
Like his last offering, Mel decided on a foreign language (Yucateca) film and per usual, he delivers a hellaciously violent and bloody movie. The story is set during the decline of the Mayan civilization, but Gibson seems to blur the line between Aztecs and Mayans, adding lots of Aztec traits to the Mayan people and mucking up the timeline in ways that I can't discuss without giving away the ending.
The main action follows Jaguar Paw (Rudy Youngblood) and the slaughter of his people by another Mayan tribe. The hunter must escape his captors and return to his village in time to save his pregnant wife and young son from a certain death. It's a compelling story and the film is truly beautiful at times. The locations are gorgeous and Gibson shoots visually interesting movies. The costumes, which include more facial piercings than Ozzfest, are also amazing.
But this film has the same sort of problems his last did. He doesn't relay enough information to the viewers. Many of the characters never have their names spoken and it's never actually said who the people attacking Jaguar Paw's village are, to mention but a couple of examples. He got away with cutting storytelling corners in "The Passion" because even atheists like me have been force-fed the story enough that we know all the details. But when making a foreign language film set in a time and place that average viewers don't know much about, a little background info would have been helpful.
Gibson loves his violence and pulls no punches in this movie, delivering a level of gore that is on par with the "Saw" films, except more realistically portrayed. In the opening sequence alone, audiences see a tapir impaled, hacked open and the pieces tossed to the hunters, one of whom takes a chomp out of the pig's testicles. (Come on, Mel, we're trying to eat nachos over here!)
Plus there are at least four hearts shown being ripped out of human victims' chests, numerous heads stuck on stakes, off-camera gang rapes, babies torn violently away from their mothers, a tumble into a mass grave, a panther gnawing someone's face off in graphic detail and a village slaughter scene that is absolutely brutal. Mel has a gift for milking every last bit of agony from a scene, which I guess is nice if you're into that sort of thing.
But the biggest failing of the movie is that it suffers from the same flaw as the director -- violent mood swings. The humor, especially in the opening act, is Three Stooges level. Then after a prolonged massacre scene comes a surreal second act that's like a bad opium trip as the prisoners are transported through the jungle. Then it's back to horrific violence and some solid action sequences before the film halts to an abrupt and unsatisfying conclusion. And some of the subtitle translations were jarringly Americanized, immediately taking the viewer out of the story. I'm just not buying a Mayan warrior laying down an F-bomb.
There were enough good elements to the film that I walked away disappointed but not completely let down. Remove three-quarters of the gore and actually tell the audience what's going on and this could have been a great film. My wife, on the other hand, had no use for it at all. If I hadn't been reviewing the movie, she would have happily left alongside the other half-dozen who walked out midway through. I can't say I'd blame her.
Shawn French can be reached at Chaosstrm@aol.com.
---
December 8, 2006
'Turistas'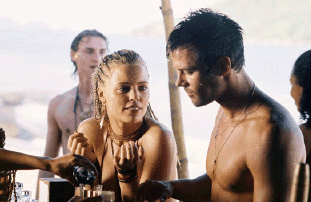 The stump from "Las Vegas" and the evil chick from "Alias" team up as stupid tourists in "Turistas."
By Shawn French

Some movies just aren't what they claim to be. One of the more jarring examples in recent years is "Turistas," which advertises itself as a horror movie, but isn't at all.
In the hands of master filmmakers, misleading the audience can be an effective tool. The first half-hour of "Psycho" was classic misdirection, with the film appearing to be about embezzlement until the person we thought was the lead character gets the shower treatment at the 30-minute mark. And "From Dusk Till Dawn" was initially advertised as a bank robbery flick, with no mention of vampires. Holding a little something back in the trailers can definitely be a good thing, but the film should bear some resemblance to the advertised image of it.
"Turistas" was promoted as a film about tourists in Brazil who get captured as part of an organ theft ring. And while that is a small part of the story, it's not so much a horror flick as it is an action movie -- and not a very good one at that.
Josh Duhamel ("Las Vegas") stars as Alex, the stereotypical dumb American. While traveling through Brazil with his sister (Olivia Wilde) and friend (Beau Garrett), their bus topples over and the 30 to 40 passengers evacuate just before it rolls off a cliff. The three Yanks handpick the young and beautiful people to band together with to survive, leaving the ugly, weak and the young to die on the side of the road -- much like high school.
With their new companions, including Brits Liam (Max Brown), Finn (Desmond Askew) and the Portuguese-fluent Aussie Pru (Melissa George), the beautiful people head out on foot in search of a beach party (don't ask). They are drugged during a night of heavy drinking and awaken on the beach with everything stolen -- no money, passports or credit cards. Even two of their new friends are missing. Through the end of the first act, the movie is annoyingly similar to "Hostel." It seemed to be following that story, point by point.
But in "Hostel" things really start getting interesting after the drugging. "Turistas," on the other hand, just sort of wobbles along from scene to scene, never seeming quite sure where it's heading. The aggressively stupid characters decide that the correct thing to do is to walk to a local village and then peg a kid in the head with a rock (don't ask). The locals don't take too kindly to this and the tourists have to be rescued from the mob by a native drinking buddy from the night before. He offers to take them to his uncle's safe house in the jungle to lay low for a while and, being idiots, they agree.
There they find a house equipped with surveillance cameras, medical equipment and a desk drawer full of passports. Eventually the movie gets around to the organ theft story, but much of the film is spent on total filler. The second act is mostly pretty people dancing and the third act is pretty people swimming while ugly people swim after them. Side note: Is there anything more boring than an underwater chase scene?
Director John Stockwell ("Into the Blue") delivers a film with beautiful scenery, but without purpose. He never commits to a genre or establishes a mood, and the movie falters further off track as it progresses. Much of the action is so underlit and poorly framed that you can't even tell what's happening.
It might be worth half watching if you stumble across it on HBO sometime, but it's not worthy of big-screen bucks.
Shawn French can be reached at Chaosstrm@aol.com.
---
December 1, 2006
'Tenacious D in: The Pick of Destiny'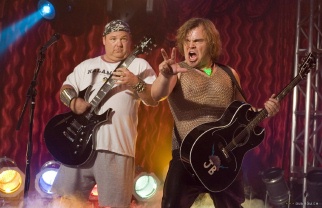 Jack Black and Kyle Gass pursue the Pick of Destiny.
By Shawn French

One thing I struggle with as a critic is distinguishing between good movies and movies that I like. My tastes are a little out there and some of my favorite films wouldn't be appreciated by a wide audience. A perfect example is "Tenacious D in: The Pick of Destiny" -- a movie that I absolutely loved. But can I give it a flat-out recommendation? Not quite.
Tenacious D, the mock rock duo of Jack Black and Kyle Gass, are an acquired taste. They're like a lowbrow version of Spinal Tap that's quite a bit heavier on the rock than the mock. The film tells the story of how JB, a small-town boy from Kickapoo, travels to California and hooks up with KG to form the world's greatest rock band.
The early scenes in Kickapoo feature a teenage JB (played to perfection by Troy Gentile) rebelling against his father (Meatloaf) in a dueling song about the merits of rock 'n' roll. His father is convinced that rock is the Devil's music and tans young JB's hide after a hysterically inappropriate song during dinner. With nowhere else to turn, JB prays to his Ronnie James Dio poster for guidance. The rock icon comes to life (playing himself in the cameo) and sends the boy to Hollywood to pursue his rock 'n' roll destiny.
It's clear from the start that this is going to be a very strange film and it gets progressively weirder as it goes. At one point, JB gobbles down some roadside shrooms and gets whisked away to a dream sequence straight out of Sid and Marty Krofft as he flies through the clouds on Sasquatch's back. The film also features several Monty Python-esque animated sequences. At this point in the review, there are probably two main reactions: some think this sounds funny and others might describe it as complete idiocy. Both sides are right, of course. It's basically "Harold and Kumar Go to White Castle" as a rock opera. If that doesn't appeal to you, take a pass on this one.
Once JB and KG hook up in Venice Beach, they face eviction and can only keep their apartment by writing a great song and winning an open mic contest. After noticing that all famous rock legends seem to use the same guitar pick, the duo receive a quest from a guitar store clerk (Ben Stiller) to travel to the Rock and Roll History Museum and recover the famed Pick of Destiny -- a magical pick crafted from the Devil's tooth in medieval times. Along the way they cross paths with a would-be pick thief (Tim Robbins) who lost a leg to the museum's high tech security system years earlier.
The film is loaded with Tenacious D music and Black is at his best when fully unleashing his unique brand of manic silliness. There are some truly epic songs in there, including a final act rock-off against the Devil that is one of the greatest things I've seen onscreen in a long time. Funny, funny stuff.
Because it's Tenacious D, there's also plenty of discussion of vintage rock and the key elements of any true rocking band (the power slide is a recurring theme). There is quite a bit of recycled material from Tenacious D's early years and "Pick of Destiny" doesn't quite have the unrelenting comedic weight of the "Borat" movie, but I was laughing throughout. There are a couple of incredibly funny moments that I'll let you discover for yourself. While it might not be a film for everyone, those in the target audience will likely laugh themselves silly.
Shawn French can be reached at Chaosstrm@aol.com.
---
November 27, 2006
'Casino Royale'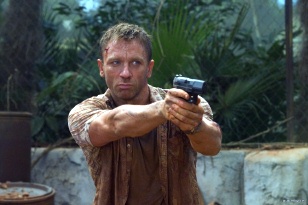 Daniel Craig breathes new life into the 007 franchise.
By Shawn French

Bond is back.
After a disappointing (but profitable) last few installments in the 007 franchise, producers decided to go the route that's worked well in recent years -- they reinvented the character with a prequel. "Casino Royale" was the first James Bond novel written by Ian Fleming and tells the story of a young Bond's first big mission.
Bond films traditionally open with an elaborate action sequence in an exotic location before the opening credits. But not this time. "Casino Royale" begins with a vicious brawl in a bathroom. It's filmed in monochrome and has a brutal realism not before seen in this franchise. Director Martin Campbell ("Goldeneye") sends an early message to the audience that this is not your parents' James Bond. When the secret agent later orders his trademark martini and is asked, "Shaken or stirred?" he growls back, "Do I look like I give a damn?"
Even the chase scenes are more up close and personal. One early sequence has our scrappy hero pursuing bad guy Mollaka (the insanely nimble Sebastien Foucan) through a Madagascar construction site and provides the best on-foot chase scene since "Ong-Bak." At one point, when the fleeing Mollaka leaps through a small hole near the ceiling Bond just lowers his shoulder and bulldozes straight through the wall. Try that, Roger Moore. When the duo reach the top beams, things get crazy with some spectacular stunts. The choreography is inventive and it's a truly great action sequence.
Unfortunately, things slow down after that. At two hours and 24 minutes, it's the longest Bond film to date and it really starts to drag by the two-hour mark. The construction chase is the action highlight of the film and it takes place in the opening act. Much of the story revolves around a Texas Hold'Em game. I realize that gambling is a staple in the franchise, but there's only so much excitement that can be gleaned from a card game. And after establishing the new Bond as a punch first, ask questions later type of guy, it makes the lengthy casino sequences even tougher to endure. It just doesn't seem to fit his new persona.
And the villain is completely forgettable. Le Chiffre (Mads Mikkelsen), the terrorist banker who cries blood, lacks the style of classic Bond bad guys. When he captures 007, instead of the traditionally elaborate death machine audiences have come to expect, Le Chiffre just ties him naked to a chair and beats him in the crotch with a length of rope. Interesting, but it's not exactly sharks with lasers on their heads.
The movie is also completely devoid of gadgets, which I kind of liked. It grounded the character in reality and made him more reliant on his fists to settle disputes.
Craig delivers a 007 that is a far more complex character than its predecessors and he's already signed on for a 2008 sequel. This story sort of paves the way for the character to become more polished and akin to the Bond we're familiar with in future movies. Hopefully the filmmakers will make that transformation gradually over the course of several films because the new brooding, troubled 007 is a vastly superior character.
Shawn French can be reached at Chaosstrm@aol.com.
---
November 17, 2006
'Stranger Than Fiction'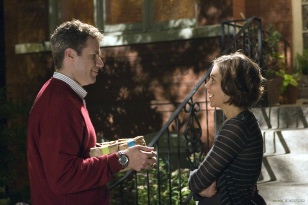 Will Ferrell and Maggie Gyllenhaal have great chemistry, but faulty script in "Stranger Than Fiction."
By Shawn French

Let me first say that I love Will Ferrell. The "Saturday Night Live" alum is one of my all-time favorite comedians and I'm up for seeing pretty much any movie he makes. I even sat through "Night at the Roxbury." He brings a palpable humanity to even his most bizarre characters, with none of the manic weirdness so common in comedians. "Elf" wouldn't have been a fraction of the film it was with anyone else in the lead.
That said, his latest offering just isn't very good. And the shame is that it's a clever concept for a movie and the cast is excellent.
Ferrell plays Harold Crick, an obsessive compulsive IRS agent who lives a solitary life. All this changes one morning when he starts hearing a narrator in his head discussing his life and "imminent death." He begins a desperate hunt to find the author -- crazy recluse Kay Eiffel (Emma Thompson) -- and talk her out of killing him. Along the way, he recruits the help of a literature professor (Dustin Hoffman) and falls for the bakery owner (Maggie Gyllenhaal) he is currently auditing. Tony Hale (Buster from "Arrested Development") costars as one of Crick's coworkers.
Charlie Kaufman ("Being John Malkovich," "Eternal Sunshine of the Spotless Mind") could have done wonders with this story. But newcomer Zach Helm is no Kaufman.
There is no more difficult type of fiction to write than stories that alter established reality. You have to examine an entire world of possibilities to make sure that the changes you make are logically consistent. The movie world needs to have rules and the rules need to make sense. These types of stories are headache inducing to write because they require so much tweaking and fine-tuning to create a finished product that passes the logic test.
The premise of this film is inherently flawed for one main reason (and a slew of minor ones). Once Harold Crick starts hearing the voice in his head, he essentially stops living the story Eiffel is writing about and starts living a different story about a guy who hears a narrator's voice in his head. If Charlie Kaufman had written this movie, the novel-within-the-story likely would have been about a man who hears the narration of his own life. That would have internal logic and would have made a much better film.
But the rules in "Stranger Than Fiction" are completely erratic. Sometimes he can hear her narrate; sometimes she's just narrating to the audience. Sometimes her writing controls his actions; sometimes his actions control her writing.
Helm's screenplay ambles along without answering any of the important questions about how this movie world works, and the inconsistencies just keep piling up. Eventually he paints himself into a corner and rather than go back and rewrite the script to address those issues, he just cobbles together a half-assed ending and calls it a day.
Some elements did work, like Crick's conversations with the professor. They are funny as they try to narrow down what type of story he's in. Also, Ferrell and Gyllenhaal have great chemistry and they're adorable together. The whole auditor/baker relationship would have made a fine romantic comedy. But it's a subplot in this movie so their relationship doesn't have time to evolve at a rate that feels even vaguely realistic.
And there are repeated claims throughout the film that Eiffel's book is brilliant, poetic, ironic and an instant classic of American literature. While we don't get to read the book, we do hear a fair amount of narration and we meet the main characters. We know it's about a stuffy IRS agent who learns how to experience life with the help of a free-willed baker -- and then dies. The ending is ballyhooed as being so brilliant that it might be worth dying for. If you're going to build up the story-within-a-story to that extent, you really need to back up those boasts. The movie keeps telling us it's a brilliant novel, but it never once shows us anything that would support those lofty claims.
I really wanted to like this movie. I expected to like it. And I could even forgive some of the logical inconsistencies if it was an entertaining ride. But it's just not. The writing is routinely flat and Ferrell and Thompson are both absolutely wasted. Why even hire on two great comedic actors if you're not going to give them anything to work with?
Shawn French can be reached at Chaosstrm@aol.com.
---
November 10, 2006
'Borat!'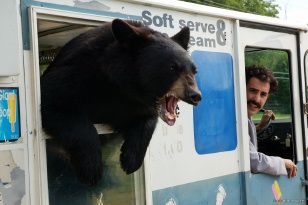 Borat travels America with his ice-cream truck and guard bear.
By Shawn French

While British comedian Sacha Baron Cohen may not be a household name in the states, he's had a small and loyal following for his "Da Ali G Show" on HBO. In each episode, unsuspecting subjects were interviewed by one of his three alter egos: Ali G is a painfully stupid British wannabe rapper; Bruno is a flamboyant Austrian fashion reporter; and the best of the crew is Borat, a backwater journalist from Kazakhstan who is a bigoted, anti-Semitic horndog with an inexplicable childlike charm.
Baron Cohen, who is Jewish, has taken plenty of heat over the Borat character, largely from those who entirely miss the point. The butt of the joke isn't Jews or women or any of those targeted by the bumbling Borat -- it's the Americans he interviews. Those who can be made to believe that in Kazakhstan (the ninth largest country in the world), women are property, baking bagels carries a death penalty and, as he gets one country bar to sing along, it's OK to "Throw the Jews Down the Well."
Borat is a Trojan Horse, bypassing his interviewees' defenses with his exuberance and broken English and then blindsiding them with wildly inappropriate comments that are mistaken for cultural barriers. The result is a new form of comedy -- raw, improvised social satire that is unrelentingly hysterical.
For Borat's big-screen debut, he tours America with a camera crew and his "producer" Azamat (Ken Davitian) in an ice-cream truck on his quest to soak up all our country has to offer -- and wed Pamela Anderson. The film is a combination of produced bits and interviews with unwitting subjects. He mangles the National Anthem at a rodeo (an incident he barely escapes), releases chickens on a New York subway, is tutored by humor and etiquette coaches, attends a high-society dinner, visits a Pentecostal ministry and interviews a panel of feminists during his journey. The reactions vary from bewilderment to anger and Baron Cohen frequently found himself fleeing as police were called. But the scary part is how many Americans agreed with him, from the gun dealer who advises him on which type of firearm is best to shoot a Jew to the car dealer who tells him how fast he would need to drive to kill any gypsies he runs over.
What elevates the film above the standard "Punk'd"-style pranks is that Baron Cohen doesn't break character -- ever. There are no winks to the audience, nothing to indicate that he's anything other than a bumbling Kazakh journalist. Even as situations escalate out of control, as they frequently do, he's dedicated to playing out the scene.
The marketing employed the same guerrilla tactics as the movie, with Borat showing up outside Kazakhstan's embassy in D.C. and then leading a swarm of reporters to the White House so he could deliver an invitation for "Premier George Walter Bush" and fellow "American dignitaries" like OJ Simpson and Mel Gibson to attend his movie premiere.
By the time the credits roll, there's something to offend everyone, but the film is painfully funny. I don't recall ever laughing this hard in a theater and my wife, who definitely isn't the target audience, is convinced it's the funniest movie she's ever seen. Strangely, despite a huge publicity campaign that involved a "Saturday Night Live" cameo, magazine covers and numerous late night talk-show appearances, Twentieth Century Fox made a last-minute decision to drastically cut the number of screens "Borat!" was released on after it scored poorly on a tracking survey. Whoops. People were sitting on the stairs in the packed screening I attended and the film grossed a whopping $26 million over the weekend on just 837 screens -- about a quarter as many as "Santa Clause 3."
The film will expand to more theaters this weekend and the sensational word-of-mouth buzz should keep "Borat!" in the top spot for at least another week. What's interesting is how unapologetically positive the reviews have been. On www.rottentomatoes.com, which compiles reviews from critics around the country, "Borat!" has a 94-percent positive rating -- two points better than Scorsese's latest. Among major critics, the result is 100-percent positive, which is unheard of for an undeniably offensive comedy.
Sacha Baron Cohen is the new Andy Kaufman. He's a great satirist and a fearless comedian, willing to do whatever it takes to get a laugh. It's not only a must-see movie, it's a must-own. It's also one of the rare films that I'll see for a second time on the big screen. Bottom line, this may very well be the funniest movie ever made.
Shawn French can be reached at Chaosstrm@aol.com.
---
November 6, 2006
'Saw III'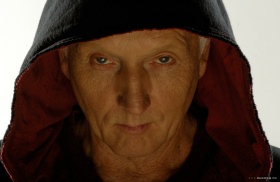 Tobin Bell is back as the Jigsaw killer.
By Shawn French

The recent resurgence of graphic horror flicks has been blasted as either a sign of a morally defunct society or the cause of that society -- depending on which critic you listen to. Most of these films are dismissed as mindless gore for the sake of gore, but I've come to the defense of several such films in the past, including the original "Saw" and "Hostel."
I don't mind gory movies as long as there's a worthwhile story that requires cringe-inducing scenes.
But in the case of "Saw III," the critics are right. With a script that was written in less than a week and a mess of a story arc, this movie has nothing but nausea to offer. It's the most graphic film in the series (it took seven revisions before the MPAA reduced the NC-17 rating to R), and the once-interesting villain has devolved into an illogical, hypocritical, uninteresting old crazy guy.
In the franchise's third installment, we find the Jigsaw killer (Tobin Bell) on his deathbed, trying to survive long enough to run one final round of "games." His sadistic protégé, Amanda (Shawnee Smith), spirals further into madness as her mentor fades away and victims get mangled in an increasingly nasty collection of traps.
The main action focuses on two victims. Lynn (Bahar Soomekh) is a captured doctor with a necklace of explosives tied to Jigsaw's heart monitor. If he dies, she dies. And Jeff (Angus Macfayden), whose son was killed by a drunk driver, is run through a series of grotesque puzzles. To survive, he must face off with (and forgive) those he blames for the accident -- the drunk driver, the judge who let him off easy and a witness who fled the scene.
The original "Saw" introduced an interesting villain, with Jigsaw seeking out miserable people and then, in his own deranged way, helping them realize the value of their lives. It was a violent film, but it wasn't about violence. The gore served the story. In "Saw III," the story serves the gore.
The storyline is all over the place, loaded with flashbacks that try to explain away some of the more talked about plot holes of the earlier films. And the final 15 minutes are just ridiculous, with Jigsaw babbling endlessly over montages as multiple twists are revealed, each dumber than the one before it.
And just once, can we have a character in a horror movie that isn't aggressively stupid? Several of the traps in this series could have been easily bypassed if the characters had a brain between them. Jigsaw seems to be the only one capable of thought, and his plans in this film are absurdly convoluted, requiring dozens of things beyond his control to play out exactly as he wants them to. It's just sloppy writing.
I wanted to like this movie. It just wasn't possible. Like most horror franchises, each installment gets progressively worse. And by trying to add so many twists, this film actually undoes some of the things the first "Saw" did right. The established methodology of Jigsaw is that his tests are all passable and those who succeed go free. That was the core premise of the franchise, which is what made it interesting. Compromising that in the name of a plot twist is embarrassingly inept storytelling.
One weekend into its run, "Saw III" has already grossed $33 million -- more than three times what it cost to make. "Saw IV" is already in pre-production and should be out by next Halloween. I hope the filmmakers can turn this franchise around, but based on the last two installments, I wouldn't bet on it.
Shawn French can be reached at Chaosstrm@aol.com.