Family Fries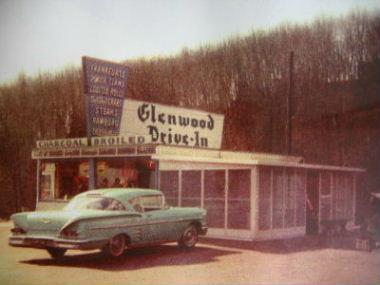 Courtesy photo
Story and photos by Betsy Driebeek
In a simple brick-framed building set back from the road at 2538 Whitney Ave. stands the venerable Glenwood Drive-In. Three generations of the Stone family have been serving up grilled and fried fare there for generations of repeat patrons. Some employees can even boast that they are second generation.
"A lot of the people who come to Glenwood Drive-In now were brought in by their parents when they were kids," said Karen Brown, a third generation Stone, who handles the day-to-day operations behind the scenes along with her dad, Wayne.
Repeat customers and word of mouth have kept Glenwood comfortably busy for 50 years, Brown said. Except for sponsoring town sport teams, the drive-in never advertises.
I happened on a family of four sitting on stools in front of the window one Saturday afternoon. When I asked the patriarch, Matt Eigner, "Do you come here often?" he said, "Well, I was here yesterday."
Although it's not the Cheshire man's usual pattern to dine at Glenwood on a daily basis, Eigner's wife, Kim, said they go there about every two weeks. "And we always come by after getting our Christmas tree," she said. Matt Eigner said he's a 15-year dining vet of Glenwood.
Not only are they regulars, but their menu choices are consistent as well. The Eigner parents always have hot dogs and an order of onion rings, while one son has a hot dog with fries and the other a hamburger with fries.

Employee Turnover Rare
Brown boasts that the generational phenomenon crosses over to Glenwood employees. "Paul Conte has been working here for 35 years. He is our day manager and works the grill Monday through Friday. His son Paul works the grill on weekends. We call them 'Big' Paul and 'Little' Paul," said Brown.
She pointed to Emily Hernandez at the cash register and her brother Charles serving drinks. Brown says their father, Rick, used to work at Glenwood.
Employees stick around. Brown said many kids start working at the drive-in while in high school and continue on through their college years. Two-year employee Jean Claude Bouvier, studying at Southern Connecticut State University to be a high school physics teacher, has the distinct job of greeting the patrons, listening to their orders and shouting them in the direction of the grill and prep areas.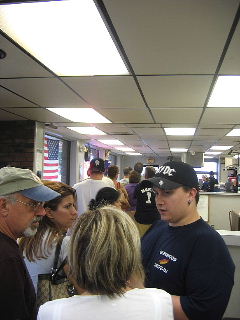 Jean Claude Bouvier takes a customer's order.
"One dog -- burn it. One burger -- LT. One French. One ring. One slaw," Bouvier yelled into Hernandez's ear, while he was manning the drink fountain.
"When I'm over here [at the fountain] you stand over there," Hernandez told Bouvier, pointing away.
"And when I'm back here, then you stand over there," he joked.
I asked Bouvier if the menu items he continually shouts out repeat over and over in his head when he's not at the restaurant. "I did have a nightmare once after working three or four days in a row," he said. "In my dream, I was yelling and yelling the orders and I couldn't stop. Then I finally woke up."
Bouvier sees his share of regulars. He noted an elderly father and son who frequent the restaurant at least three times a week, and always order burgers. "Occasionally, one will branch out and have a hot dog," Bouvier said.
Brown said many town employees have frequented Glenwood over the years, like the mayors and the chiefs of police and fire. Mayor Craig Henrici, who grew up in town, was asked to reminisce about Glenwood.
"I used to ride my bike there as a boy. If you didn't have enough money for the fried clams, Glenwood's tartar sauce with French fries was just as good," he said.
Sen. Joe Lieberman has added Glenwood to his list of good diner spots in Connecticut. He wrote the Stone family a letter after a visit in 1992 telling them that Glenwood is a good place to meet constituents.

The Family Stone
The earliest record of a structure at 2538 Whitney Ave. in the "Greater New Haven Directory" is of a "Dairy Isle." The book dates back to the mid-'50s and shows that a Westgarth Trayner owned the Isle.
Seems Dairy Isle only lasted one year, as the subsequent directory displays Glenwood Drive-In on the property, owned by a Nathan Sokoloff. Brown said it was a hot dog and fry joint with limited hours and that's where her grandfather, the first Stone, came into the picture.
While working for Tip-Top Bakery, Rocky Stone delivered bread to Glenwood. In 1955 after suffering a heart attack, Stone bought the drive-in, lengthened the hours and added fresh seafood to the menu. Brown said it took a few years for Glenwood to catch on.
The building was just big enough for a grill and six seats, but most people purchased the food and took it out to their cars. A phenomenon that remained steady until the early '80s, said Brown.
Stone's son Wayne Stone worked after school until closing time at Glenwood. That proved to be beneficial. Rocky saw only a few years at his food venture before he died and Wayne, at 18, was there to take the helm.
"He knew the business but not the daily operations," Brown said. "With help from his mother and aunt he learned the daily operations and soon Glenwood began to prosper under his direction."
First, Wayne Stone added a screened-in porch to the small eatery, but still needed more space. So he built a new structure behind the original so as not to interrupt business. That new building is the current one, having been expanded a number of times to accommodate the growing clientele.
Wayne Stone has four children. Brown and her sister Kelly Ciccone said that they did not spend a lot of time as kids hanging around Glenwood, but both remember distinctly waiting forever for their dad to finish work so he could take them places.
In their teens, the kids started to help out at the drive-in and three of them, Robbie Stone, Brown and Ciccone, currently work at the restaurant with their dad.
Of course, Ciccone works on the side of the building with her name on it, "Kelly's Kone Konnection." "I started working at the Glenwood at 17," she said. "I worked the cash register. After working for a few years my dad came up with the great idea to add on an ice cream parlor. He asked if he built it would I manage it. I said yes right away and within a few months we had the foundation poured." The Konnection opened in 1985.
Ciccone graduated from Ice Cream University in Hastings-on-Hudson, N.Y., and regularly attends ice cream seminars and conventions all over the world.
Now there is a new generation of Stones, five of them, ranging from two months to 12 years. Brown said her son has grown up at Glenwood.
"He came to work every day until he went to school," she said. "He still comes to work with me on vacations and over the summer. The customers all know my son and ask me all the time for updates. He is still too young to know what he wants to do with his life, so I am not sure if he will work here. Maybe in the summers he will, but who knows."
Ciccone said she hopes the new Stone generation will keep Glenwood in the family.
Brown said customers tell her that their kids love to play "Glenwood" at home by yelling out orders. With any luck, Rocky Stone's great grandchildren will play the real game and keep the family business going, serving the great grandchildren of his customers.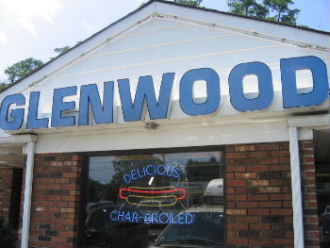 ---
July 20, 2006
The Best of Crops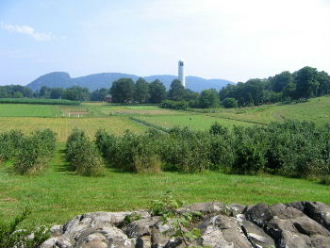 This was shot from atop a large basaltic boulder on Lockwood Farm, which scientists believe was plucked from Sleeping Giant by a moving glacier 10,000 years ago and laid to rest on its current spot.
Lockwood's Plant Science Day is Aug. 2
Story and photos by Betsy Driebeek
Discovering the best variety of crops that gives the biggest yield for Connecticut farmers is a big part of the daily work at Lockwood Farm. Currently, scientists there are researching grapes, personal-sized watermelons, heirloom tomatoes, calabaza squash and other produce.
They've been doing that for nearly 100 years. The 75-acre research farm is located at 890 Evergreen Ave., and is part of the Connecticut Agricultural Experiment Station in New Haven. Produce grown there is donated to local food banks, said station director Louis Magnarelli.
For the first time the Mt. Carmel farm is growing rapeseed, which yields a vegetable oil, and soybeans. "With the high price of gas, high-yielding seeds from these products might eventually be used in bio-diesel fuel, an alternative energy source," he said.
Rapeseed is used as a cover crop, which prevents soil erosion when nothing else is growing in a field, said Magnarelli. "Once it is plowed into the soil the rapeseed kills microscopic worms that destroy crops, especially strawberries and fruit trees. And now it might be used for bio-diesel fuel. That's the way things ought to work in science -- multiple uses of the same crops. It's a winner," he said.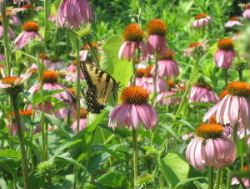 Farm Roots
In 1910, Annie McLaughlin sold 19.5 acres of land to the experiment station, which marked the beginning of Lockwood. The money came from the estate of William R. Lockwood of Norwalk for agricultural research. Seventy-five years later, the rest of the farmland was purchased.
A major corn discovery was made by Donald Jones at Lockwood Farm in 1917. "He was our Babe Ruth," said Magnarelli. "He was a tremendously productive scientist." Jones had grown the "double-cross" hybrid corn. "Those plants were superior, yielding more animal feed and in turn more animal meat [for human consumption]."
In 1955, the farm held a "Donald F. Jones Day." Henry Wallace, vice president under FDR from 1941-1945 and a longtime supporter of Jones' work, came to speak.
According to the agricultural station's 125th anniversary booklet, Wallace said: "The marvel is that Connecticut, which is about 38th in corn acreage, should have, during the first 20 years of this industry, done perhaps a hundred times as much for corn as the Great Corn Belt Experiment Stations in states where they grow 50-100 times as much corn as Connecticut, and where their experimental farms are far larger, their appropriations greater, and their scientific personnel more numerous." This Lockwood corn is still used today.
During World War II, the annual station report of 1942 stated: "With more than 90 percent of the world supply of rubber now controlled by Japan, all possibilities of producing a natural supply in the Western Hemisphere are being explored … One of the most promising of temperate zone rubber plants is the Russian dandelion … A small plot at the Mount Carmel farm has produced a good stand of plants …"

A New Reason to Visit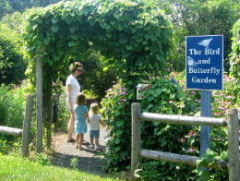 The Drufvas, neighbors of Lockwood, often take walks on the farm.
There's a new addition at the farm -- a butterfly and bird garden. It displays plants and flowers that attract the colorful winged creatures.
On the first Wednesday of each August, Lockwood holds its Plant Science Day. The event's focus has changed little over the decades, according to this 1917 announcement:
"The Board of Control of the Connecticut Agricultural Experiment Station invites you and all your friends who are interested to the annual Field Meeting at the Mount Carmel field. The object of the meeting will be a survey of the field experiments in progress, an informal report of the station work done within the year or now in progress and discussion of any matters of interest to farmers, which may come up."
The only difference is everyone's welcome, not just farmers, said Magnarelli, who was a pioneer in isolating Lyme disease from ticks, mice and raccoons in the 1980s.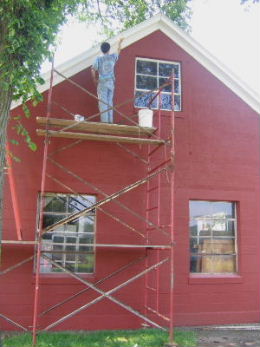 Matt Harris of Hamden spruces up the barn for the farm's science day.
This year Plant Science Day is Aug. 2. There will be barn displays, exhibits, 70 field plots and a challenge for kids. And speakers are scheduled to discuss:
Monitoring and managing insects in lawns
Recent gypsy moth outbreaks in Connecticut
Organic farming in Connecticut
Managing the toughest lawn weeds
Grapes and wine in Connecticut
Mini watermelons and Japanese plums
For more information, visit http://www.caes.state.ct.us.
---
July 10, 2006
It's Dickerman Time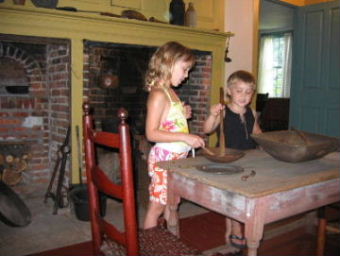 Hamden siblings Rachel and Alex Hird test out Dickerman's kitchen equipment over the weekend.
Words and pictures by Betsy Driebeek
It's summertime and that means the Jonathan Dickerman House on Mt. Carmel Avenue is open for visitors once again. The Hamden Historical Society is conducting weekend tours of the home and cider mill.
When Jonathan Dickerman built his house in 1792 it was across the street from its current location, under the Sleeping Giant. The state took ownership in 1924 during the formative years of the Sleeping Giant Park, and at one point used the house as a ranger station.
Lois Casey, a 20-year volunteer docent at the site, said in 1961 the western end of Mt. Carmel Avenue was to be straightened out. In preparation the state gave the house to the town. The water company owning the land across the street from the home gave that to the town. This paved the way for the historical society to move the Dickerman House on a sled-like apparatus across the street in 1962, said Casey.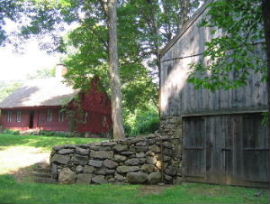 A society brochure states that the house "reflects the conservative tastes and plain living of Hamden farmers in [the late 18th century]."
In 1992, the Talmadge cider mill was brought in from another location. Volunteers dismantled it piece by piece at its West Woods Road site and then reassembled it after the mill reached its Mt. Carmel destination.
Though 'tis the season for Dickerman, Casey said the highlight of the year for her is in the spring when Hamden third-graders visit. "Their thank you letters are a delight to read because they are so sweet and so sincere and it's amazing what they remember," she said. "And some say, 'I'll be back in the summer with my parents.'"
The house is open July to early September on Saturdays and Sundays from 1 p.m. to 4 p.m. Special arrangements at other times may be made in writing to P.O. Box 5512, Hamden, CT 06518.
---
June 22, 2006
Grim Prognosis for 2556 Dixwell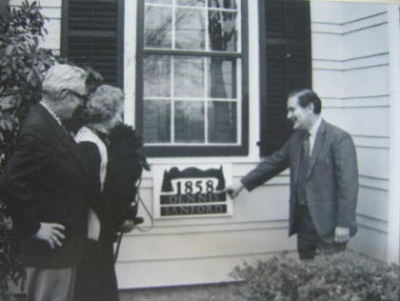 In this 1973 photo, Mr. and Mrs. Malcolm Munson admire the historic plaque on their home, newly refurbished by historical society member Thomas Penna (right). Courtesy of the Hamden Historical Society
By Betsy Driebeek
Foiled again. That's how some people in town feel about the imminent demolition of the pre-Civil War home at 2556 Dixwell Ave. Another piece of Hamden's past, to be seen in photographs and memories only.
"It's not historic because George Washington slept there or Lincoln gave a speech on the patio, it's the architecture. We're losing a lot of the old architecture," said Al Gorman, president of the town historical society and member of the Hamden Historic Properties Commission.
Last fall, Hamden dentist Doug Rollins purchased the property at 2556-2565 Dixwell Ave. to build an office building for his and other health professionals' practices. When contacted, Rollins referred questions to his attorney, Bernie Pellegrino.
Gorman said before the purchase, Rollins met with the Historic Properties Commission to explain his plans for the property. In turn, Rollins listened to the thoughts of the commissioners. "We tried to encourage adapted use of the building, to take our suggestions and discuss them with his architect. He professed that he liked old houses which left us wishfully thinking, for a while," said Gorman, also president of the Legislative Council.
But, he said, that "while" was cut short when Rollins sent a letter to the commission stating that after much thought, the home could not be used in his plans.
"I've seen those plans," Gorman said. "It is a two-story building, a bastardization of lots of designs to keep everyone happy. We wanted him to keep it to the scale of the neighborhood and incorporate the home into the plan."

Preservation Worthy?
Peter Haller, who has fought for preservation for years, was the only person to speak against the project at last week's Planning & Zoning meeting. (The commission is expected to vote on Rollins' site application June 27.)
The Whitneyville resident said there are 60,000 square feet of land on the property. "It makes no sense that it can't be worked with," Haller said.
Pellegrino told the P&Z Commission that professionals had inspected the house and deemed the structure unsalvageable. "Economics aside, if anything was done to the house, little of the original structure would be left. So much needs to be replaced that the foundation would be the only thing left," he said after the meeting.
Haller disagreed. "It's common to have the damage that this house has and be saved. Ever since the urban renewal of the '60s it has been a common excuse for developers to say, 'A building is exhausted and can't be retrieved.'
"I don't think [Rollins] has shown the community any effort to save the building," he continued. "Those of us who want to save the house want to see facts, data, economics of restoring the building [and] an architectural drawing of the big building [that will go up behind the house] -- or why it can't be done. He was never pressured to do so prior to [receiving a letter from the historical society]. I think P&Z and the town dropped the ball."
The house was built in 1858 by Dennis Sanford. He farmed the land across the street, which was formerly the Meadowbrook Golf Course and is now the site of the new middle school.
According to the 1986 edition of Martha Becker's "Hamden Our Architectural Heritage," it is a "simple Greek Revival house. Although its original clapboards have been replaced by layered shingles, the entry, gable window and six-over-six sash that are characteristics of the style have been retained."
Because the house is over 100 years old it sports an historical society plaque bearing Sanford's name and the 1858 date.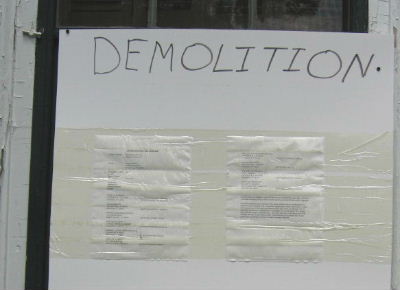 "DEMOLITION" covers the plaque. Photo/Betsy Driebeek
But that plaque is now hidden by a large piece of white cardboard with the word "DEMOLITION" handwritten on it. Below that is a typed notice stating that an application for a permit to demolish the structure has been filed with the Building Department, and anyone who objects to the demolition can submit notice to the department. (The demolition permit is to be issued Aug. 9.)
So far, only the historical society has submitted a letter in response to the application. While public input must be allowed, building inspector Robert Labulis said there's nothing he knows of that can stop the wrecker's ball.

Any Hope?
There doesn't appear to be any.
"We haven't had good success with saving houses set for demolition in Hamden," said Joe Pepe, historical society archivist.
"There is nothing legally we can do short of talking with [Rollins] and purchasing [the house] from him," said Gorman. "I hope that Dr. Rollins goes back to the architect."
Haller wants the demolition delayed to allow time to garner support to salvage the home. "If [the house] is going to be saved it has to come from leaders of the community to talk and try to figure something out," he said.
He said state Rep. Peter Villano (D-Hamden) and state Sen. Martin Looney (D-11) have called him in support of saving the house. E-mails seeking comment from the legislators were not responded to.
When asked about the likely demolition of 2556 Dixwell Ave., Mayor Craig Henrici said, "It certainly appears that way. There is nothing legally the town or an individual can do. It is sad when you lose a historic residence or building. On the other hand, the owner has his rights also. It is unfortunate that this issue did not come up at an earlier point in time."
The last chapter in Becker's book is called "Lost Hamden." It contains pictures of houses that have been "demolished by owner" or moved out of town. Many of those sites are now vacant lots, shopping centers or parking lots.
In the next revision of the book, one might very well see that the picture of 2556 Dixwell has been moved from the front section of historic homes still alive to the back.
---
All We Need is a Miracle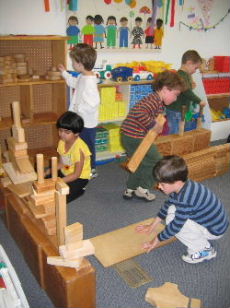 Learning the old-fashioned way at Mount Carmel Nursery. Photo/Betsy Driebeek
By Sharon Bass
Marcy McDonough had a hard time fighting back tears yesterday. She was talking about the imminent closing of Mount Carmel Nursery School, a venerable Hamden institution that opened its door and heart to children in 1950. McDonough has been a teacher there for 10 years. Her twins, now at Hamden High, are alums.
"It's a very emotional situation," she said of the little nursery school at 3845 Whitney Ave. "It's hard to put on a happy face."
"But you have to," said Paula Mergen, a teacher's aide for the past year. Her two children also went there. "I think it's so sad that this home for the children won't be here anymore. I knew my kids were in fabulous hands. You'd talk to them about their day and they loved Mrs. Frappier and Mrs. McDonough."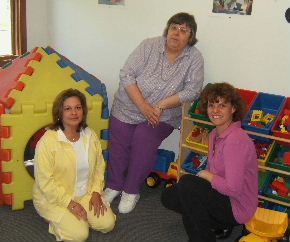 Teacher Marcy McDonough (left), director Maureen Frappier
and teacher's aide Paula Mergen. Photo/Sharon Bass
June 2 is the last students' last day. McDonough, Mergen, director Maureen Frappier and the parent board of directors didn't want there to be a last day. Ever. But after many unsuccessful efforts to keep the school afloat -- fairs, open houses, fliers posted around Hamden and other towns, advertising -- reality sunk in. The school that has given many Hamdenites their educational start in life must say goodbye.
Enrollment has dropped, said Frappier, who's been at the school for 19 years. Today there are 39 children ages three to five who attend the nursery school. At its peak, there were 50. For a small school, the decrease is huge and painful.
It's a nursery school, not a daycare center. Children attend two to four hours a day. Some go twice a week; some four times. That worked a half-century ago when many mothers stayed home to raise their offspring. But today parents want full-time care, every day. Also, there is now more pre-kindergarten offered through the public schools for free.
"We knew it was coming," said Frappier. "We could see the writing on the wall. My main concern now is to make everything as wonderful as we possibly can for the rest of the school year."
In fact, neither Frappier nor her two teachers seem to be thinking much beyond the moment. Asked what they will do next, they collectively shrugged.
The Hamden Women's Club (now defunct) opened the nursery 56 years ago in the basement of the also defunct Mount Carmel library, at the corner of Whitney and Woodruff streets. It would move three times over the years.
"They wanted it to be a unique school to serve the community," said Frappier. "Every child is a unique individual and should be taught that way."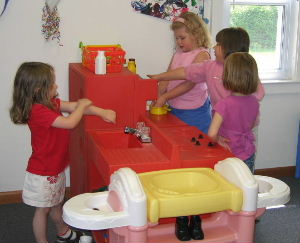 Photo/Betsy Driebeek
Mount Carmel Nursery School's final destination is a rented house that was transformed into one big room and filled with wooden blocks, books, art supplies and a play kitchen. And no TV.
"Creativity is so important," said Frappier. "There's so much more for them to explore and experiment."
Mayor Craig Henrici was exploring and experimenting at the school in the late 1950s.
"I remember Rose Conte, God bless her soul," he said yesterday upon learning his alma mater was closing down. "Mrs. Burgess made sure we all washed our hands before we ate anything. And I remember snacks and naptime."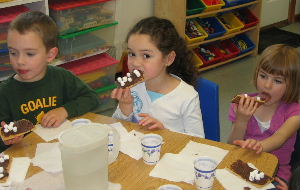 Photo/Betsy Driebeek
Henrici sent his two oldest kiddos there in the 1980s. "I feel very sad. It's an institution in Hamden," he said.
Literally minutes later, Public Works Director John Busca entered the mayor's office.
"It was the 'it,'" he said, after being fed the news. "It was fabulous. My kids went there -- they were potty-trained, of course -- and they loved the teachers." Busca said he was president of the board during his children's tenure there. And the place was rocking.
"It was political. You had to know someone to get in," he said. "Back then there was a two- to three-year waiting list."
"We tried everything under the sun to keep the school open," said Frappier. "The way of life has changed so dramatically over the years."
The little nursery needs a big miracle, she said. And nothing short of one, to stay alive.
---
May 12, 2006
Still Farming After All These Years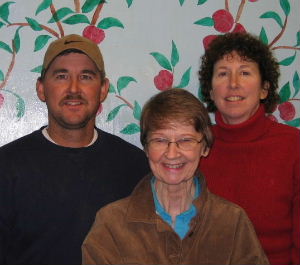 Anne Hindinger with her son, George, and daughter, Liz, in front of a painted apple tree.
Story and photos by Betsy Driebeek
Opening day for the famous Hindinger Farm on Dunbar Hill is today. So the other day I went to talk with the Hindinger family -- mom, Anne, daughter, Liz, and son, George. Dad, William, wanted to be there for the interview but was not feeling well.
While they were readying for the new season, I told them of two interesting experiences I had at their farm.
First, I related the time I was 36 weeks pregnant and pushing my 2-year-old son in a toy car around the kid's play area. That evening my water broke and out came child number three.
"Oh, I can't tell you how many people have told us something like that," said Anne." One woman came to pick strawberries saying, 'I've just got to get the baby out of here.'"
The second experience etched in my mind occurred on September 11, 2001. Stunned as we all were that day, I went to Hindinger's to sit under the warm blue sky atop Dunbar Hill with its expansive views. My children played as I sat on a picnic table finding solace, wondering how the events of that morning could have been possible.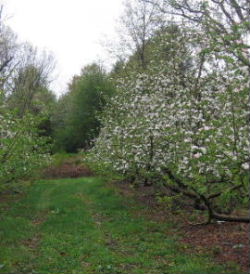 Solace at the farm.
"You weren't alone," said Anne. "One woman told me, 'I didn't know where to go but felt I could ground myself here.'"
Of course, people do go to Hindinger Farm to buy produce, feed the goats, observe a beehive and attend the annual festival. This June the family will put on a strawberry fest.
The farm was not always open to the public. William Hindinger, great great-grandfather to Liz and George, established a self-sustaining farm there in 1893. It was dairy along with turkeys, pigs, chickens, fruits and vegetables. Over the generations, the family farm dropped everything but the fruits and veggies.
Eighteen years ago, the Zoning Board approved the Hindingers' request to carry items other than their own produce. "This gave us the ability to sell more, and also protected us from an act of God wiping out crops," said George.
The zoning change also allows the Hindingers to open up earlier in the season, when they don't yet have their own crops to sell. Liz buys produce from other farm markets.
Getting the stand ready for this week's opening day started at the close of the 2005 season, a few days before Christmas. The family works six days a week pruning the fruit trees, cleaning, organizing and fixing things it couldn't get to during the retail months. George planted the first crop of corn on April 3, and Liz has just started planting flowers.
They sell 60 percent of their fruit through retail now and 40 percent wholesale. "We have 50 acres of fruit and couldn't possibly sell it all here," Liz said. All the vegetables grown on the farm are sold at their store.
---
April 3, 2006
Fifty people came out yesterday for the annual "History of the Giant Hike," learning about Indian legends, summer cottages, WPA tower work -- and the struggle to stop the quarrying of the head. It was organized by the Sleeping Giant Park Association.
SGPA member Gilbert Spencer began the afternoon hike with an Indian legend of how the hills of the state park got their shape. Quinnipac Indians called the rock formation -- shaped like a person lying down -- "Dead Indian," he said.
The Indians believed that an evil spirit named Hobbomock stamped his foot near Middletown, and that caused the dog-legged turn in the Connecticut River where it diverts its course from Hamden. A good spirit then cast a spell on Hobbomock, putting him into eternal sleep before he could do further damage.
Right before the brisk trek up the tower trail, Spencer joked that the "Giant" is starting to sit up as the incline in the trails is getting a little steeper "after 70 years of hiking. It takes me longer to get up to the top."
The group started up the path and stopped after 200 feet to look at a plaque honoring Edgar Heermance, founder of the first blue blaze hiking trail in Connecticut. A portion of this trail can be found in Sleeping Giant and is part of the larger Quinnipiac trail.
SGPA member Tom Vocelli (pictured above) stopped the hikers in front of the next plaque, near the chin of the giant. This one commemorates the fall of a young boy, Arnold Dana, in June of 1875.
He and three friends had hopped the "Mt. Carmel Trolley" from New Haven to go for a hike. They decided to climb the head. Dana fell 100 feet, his friends leaving him for dead as they sought help. Dana fully recovered, however, and in the 1930s became president of the very young SGPA.
Association members who joined yesterday's hike told the crowd that climbing the head via the rocky chin opposite the plaque is dangerous and unadvisable. But there were people doing so, some with ropes, some without.
The tower at the top of the trail is from the WPA (Works Project Administration, established under President Franklin Roosevelt) era. Harry Webb of the Spring Glen section of Hamden was the project superintendent and had stone masons and white-collar folks working for him from 1936 until completion of the tower in 1939.
An iron web is affixed to a window in honor of Webb, while a dog-carved stone on the opposite side of the tower honors the architect Russell T. Barker.
"The tower celebrated its 50th birthday in 1989," Vocelli told the hikers. "Then it was shored up in the '90s as it was showing effects of its age and the elements."
While the group took in the view of the refurbished tower, Spencer showed pictures and told stories of the many cottages that once graced the top of the giant from the late 1880s until 1953.
Hikers then passed old well sites and went over ox-cart trails to the quarry at the head of the giant. "This is where the Sleeping Giant Park Association began, formed to save the head from being gouged out," Vocelli said.
The Mt. Carmel Trap Rock Quarry Company (later Blakeslee Associates) operated a quarry from 1912-1933, during which time much of the head of the giant was blasted, excavated and extracted to be used in road construction.
In 1924, a "friends group" calling themselves the Sleeping Giant Park Association was established for two reasons: to rescue the head and to buy land and deed it to the state as a state park
By 1929 the group had deeded 840 acres to the state but "saving the head was a challenge," Vocelli said, "until two events facilitated that goal. In 1928 there was a massive rockslide, which killed two immigrant laborers. And in 1929, the stock market crashed bringing the Great Depression. Car purchases were down, trap rock [for road building] was piling up and not being used."
Finally, after a court battle, the association won and celebrated the salvation of the head in 1933 under the presidency of Arnold Dana.
For more Sleeping Giant History try "Born Among The Hills -- The Sleeping Giant Story," by Nancy Davis Sachse. To learn more about SGPA hikes and for general information, click here.
In the 1920s, the Spring Glen neighborhood came to be. Homes were built. Sidewalks were put in place. Nature took a backseat to development.
Today there's virtually no open space left in the neighborhood. Except for one very pretty, very serene and very meaningful-to-many piece of land. The address is 277 Thornton St., a well-hidden three-plus acres among the suburban sprawl. There's a pond there, called Johnson's Pond, which generations of townsfolk have used for skating and ice hockey. It's also home to many species of birds and other wildlife.
But it could soon be transformed into another home with another driveway. And that's not sitting well with some folks.
"It's been a place where I watched birds for years," said Florence McBride, who has lived on Woodlawn Street since 1970. "I would like to see it preserved as open space in its natural condition."
McBride lives five to 10 walking minutes from the property, where she said there are 120 species of birds. "It means an enormous amount to me. It's important for people who live in densely populated areas. Nature is a spiritual source," she said. The land abuts the Regional Water Authority property, which is off limits to the public.
The Hamden Land Trust would also love to see the open space remain untouched. It tried to acquire the property about five years ago with the help of a state-matching grant. But according to town assessment records, on Feb. 3, 2000, two weeks before the deal was to go through, then-owner Mary Thim sold it instead to Terry Boyle for $55,000. Now Boyle wants about $300,000 for it.
"The land trust has long had an interest in it because it's a piece of property that has been used by people in the neighborhood for generations," said Curt Johnson, vice president of the trust and a lawyer with the Connecticut Fund for the Environment. "It's a very pretty piece of property. People and birds have been enjoying it."
Since the land is privately owned, Johnson said about the only thing that can be done to salvage it is to have it appraised to find out the fair market price, and then try to negotiate with Boyle. "Our perception is that the (asking) price is very high," said Johnson, who lives in Spring Glen on Filbert Street. "(Boyle) hasn't had any significant offers. It's been on the market a long time."
Strong support from the neighborhood, town, state and water authority would be needed to help finance an appraisal, he said. "That's not something the land trust is willing to do (on its own) based on Terry Boyle's lack of cooperation," said Johnson.
Of course, Boyle can always say no to a lower price.
"It's a little three-acre parcel that someone is going to build a single house on," said Boyle. "If they're (neighbors, land trust) worried about it they should buy it." He said a lot of littering goes on down there, which he cleans up regularly. (When the HDN visited the property over the weekend, there were a couple of drink containers and food wrappers on the ground -- and lots of chirping birds overhead.)
Boyle said he bought the property to build "my own personal house." But then decided to buy a house in northern Hamden. He wouldn't say why he nixed his plan to build.
"When a property flips around like this among profiteers there's not a role for us," said Hamden Land Trust president Tom Stavovy. "We stand by our convictions that that property merits conservation because of the pond and the excellent various forms of wildlife and plant life."
Frank Abbadessa, an agent for De Podesta Real Estate which is handling the sale of 277 Thornton St., said it's been on the market "maybe a couple of months. The land alone is $299,900. If you want a house built, it's $625,000 for a colonial. There is a pond."
Abbadessa said it's listed as such: "A prime lot located in the heart of Spring Glen. 3.2-acre parcel. Has a pond for winter skating. And awaits for the estate of your dreams. Close to the village, Yale and bus line. Right near the water company property."
Compared to the unsuccessful attempt five years ago, this time around it might be even harder to keep the land from becoming the "estate of your dreams."
"There's significantly less state open-space money now," said Johnson. However, there is one other possibility if Boyle won't negotiate if an appraisal is done.
"The State Appellate Court has upheld the power of a town to purchase land for open space," said Johnson, stressing that is not something the land trust would get involved with. "We do not advocate for eminent domain use. We are a land trust that works collaboratively with land owners."
The town of Hamden would have to ask the court to establish a fair-market price and then try to take it by eminent domain. It's worked before. Next door, in fact.
Johnson said the town of North Haven used the power of eminent domain around 2000 to acquire the Peter's Rock property for open space. The private owner was proposing a major development at the site.
Like the fight for Peter's Rock, it will also take a lot of perseverance and work to keep 277 Thornton St. the little paradise that McBride and many others so cherish. Not to mention money.