April 28, 2008
Meet Vin Klein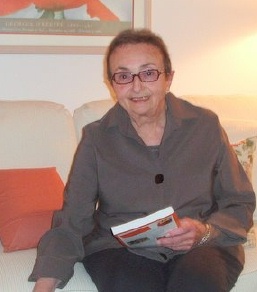 An awesome organizer
Story and photos by Joanne Iacobellis
Vin and I met a few years ago when she joined the Kenwood Valley Neighborhood Association. She was concerned about the widening of Whitney Avenue in front of her condo complex to accommodate increased traffic flow. Fencing was installed and trees were planted to provide a sound and sight barrier.
Vin was born in Fall River, Mass., and received her undergraduate degree in math from Brown University and her master's in elementary education from Western Reserve University, now known as Case Western Reserve.
It was in college that Miriam Levin became known as "Vin."
"On the first day of college I was getting acquainted with my dorm mates and was the only one without a nickname," she said. "Someone looked at my name tag (Miriam Levin) and announced, 'We'll call you Vin.'It stuck." To this day she receives mail addressed to Vincent Klein (Klein is her married name).
Vin was married and has three daughters. Her second girl -- or "Irish daughter," as Vin calls her -- was born in Dublin, Ireland. This I thought was fascinating, since I spent my professional career in obstetrical nursing. I wanted to hear more.
The year was 1953. Obstetrics was not practiced as women have come to experience it in the last 20 to 25 years.

"At my last appointment, my gynecologist informed me that he would not be at the delivery, having to give exams in London," Vin recalled. "The doctor who would replace him looked very young but was highly experienced."
When she went into labor in the middle of the night, Vin's husband stayed behind to watch their young daughter so Vin took a cab from their house in Stillorgan to the Hatch Street Nursing Home in Dublin.
"The Hatch Street Nursing Home had once been someone's home and was now a private facility for birthing. When I got there, maybe at 2 a.m. or 3 a.m., I was greeted at the door by a nurse wearing her nightgown and bathrobe. I was taken up a flight of stairs to a little room called the Surgery, with a single bed, a chair or two and a cabinet with some supplies," said Vin.
The nurse sat down to keep her company and support her in labor. "It turned out to be an easy delivery," said Vin. "The replacement doctor arrived about five minutes before Sarah was born, cut the cord, shook my hand and said it was nice to meet you."She never saw him again. To Vin, he looked to be about 15 years of age.
The newly delivered infant was placed in a crib. "I do remember that she started to cry, but no one thought to hand her to me. In a little while, the baby and I were escorted to a room back down on the first floor." Vin, the baby and a private nurse shared that room for about a week. In the United States, this concept is called "rooming in."
There was no central heating in Ireland at that time. "A maid came in every morning to get the fire going again in the fireplace," she said.
It was also the era before Pampers, which hit the market for the first time in 1961. "I'm not sure," said Vin, "but I think the nappies [diapers] must have been washed by hand. Every morning before her bath the tiny naked infant was held over a pot, hoping she would urinate or more."
Career change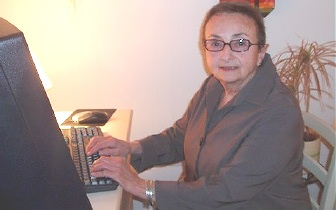 After retiring from teaching and education administration, Vin heard of "coaching" as a profession and began studying for that. "I am very organized and I have learned that you can coach others to be more organized," she said.
Originally started as Vest Pocket Officein 1993, Vin changed the name of her business to Your Organizing Lifeline, when a client told her, "You are my lifeline."
I asked Vin about her clients. "They are mostly women, usually people with home-based businesses or home offices. Some are just interested in becoming more efficient in paper and space management," she said. "If my clients are in business, I try to enhance their productivity. If they are overwhelmed by incoming mail, I help reduce clutter. I also pay bills and organize closets. If anyone is considering moving to a smaller space, I help her make choices."
Vin is incoming membership chair for the National Association of Professional
Organizers. She also publishes a newsletter called "Your Organizing Lifeline," helpful tips to improve your life. In her spare time, Vin can be found working out at Results Plus, a personal training center; taking water exercise classes at the Cheshire pool; participating in a book discussion group; or volunteering at the Long Wharf Theater. She has a back row seat to see all of the productions. All of this at the young age of 82.
Vin, you are awesome!
(Writer's note: In 1946 Yale-New Haven Hospital, then known as Grace-New Haven Community Hospital, was the first in the nation to offer rooming in to mothers.)
Joanne Iacobellis is a lifelong Hamden resident whose professional career was in nursing management. She is currently the president of the Kenwood Valley Neighborhood Association and co-president of Concerned Citizens For Hamden Neighborhoods. She can be reached at JoJo3030@comcast.net.
---
February 22, 2008
Meet the Rev. Doug House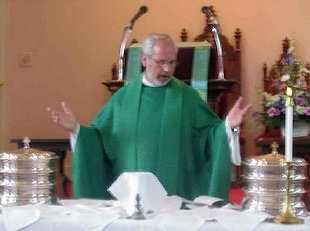 Courtesy photos
"Rounding the bases and going home are akin to living life and going to heaven"
By Joanne Iacobellis
I first met the Rev. House four years ago when we spoke about the cul de sac for Kenwood Avenue. He also shared my concerns about the increase in traffic through Kenwood and exiting onto Sherman Avenue, alongside the church.
The Mount Carmel Congregational Church, located at the corner of Sherman and Whitney, is a landmark and cornerstone of the Kenwood area. Deeply rooted in the history of Hamden, the church was founded in 1757. As the Rev. House remarked: "The town of Hamden has grown up around it. In its time, it has served as a place where people come together -- a meeting place." The church is currently undergoing structural re-enforcements of its steeple and the interior is being repainted.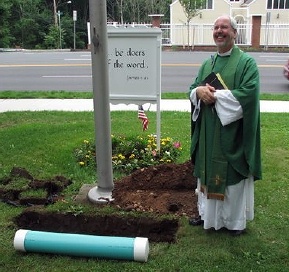 The reverend and the time capsule.
Last year the church celebrated its 250th anniversary. It was a year of activities cumulating with the planting of a time capsule containing memorabilia from the anniversary. The time capsule will be opened in 2057. The Rev. House is the 57th pastor of the church, having been called here in 1989 from East Hartland, Conn.
Born in Brattleboro, Vt., where his father was superintendent of schools, the family moved to Guilford, Conn., in 1962. The reverend attended Hamden Hall Country Day School, and received a bachelor's degree in communications from Southern Connecticut University. A master's in divinity followed at the Union Theological Seminary in Richmond, Va.
Richmond was also home to the Atlanta Braves Triple-A affiliate, the Richmond Braves. The Rev. House fondly recalls walks on summer evenings to the local park to see the Braves play. He had become a Northern fan.
He had also become a football enthusiast, the New York Jets being his favorite team. Why the Jets, I inquired.
He replied: "I have been a Jet fan since the mid '60s. When I was a kid at Hamden Hall, the athletic director at the time had played a little with the Jets. His name was Nick DeFelice. He was the one who got me interested in the Jets. Then Joe Namath was signed, and he became my hero for a number of reasons that would only make sense to a 9-year-old boy at the time. One of my fondest memories was getting to meet Joe and introducing him to my youngest son."
Pastor House is in the process of writing his first book titled "The Theology of The Game." He said it is about baseball, life and God, and how they interplay for us. He went on to say, "I began writing this about seven years ago when I discovered that the lessons of life are easily drawn from baseball metaphors. For instance, rounding the bases and going home are akin to living life and going to heaven."
The Rev. House and his wife, Sandy, have three adult children: Ian, a U.S. customs officer on the North Dakota-Canada border; a married daughter, Heather Carry, who is studying to be a physician's assistant at Quinnipiac University (her husband, James, is a Wallingford police officer); and another son, Scott, a junior at Post University majoring in criminal justice.
When not busy with church activities, the reverend can be found at the University of Bridgeport teaching a class in public speaking or teaching the freshmen first-year seminar.
I asked Pastor House how history would remember him. "This is a tough one," he said. "I never thought about it from that perspective. I do hope that I am remembered as a pastor who preached the word of God in ways that challenged the comfortable and comforted the challenged.
"A I guess in the final analysis, that I was a good pastor to my people."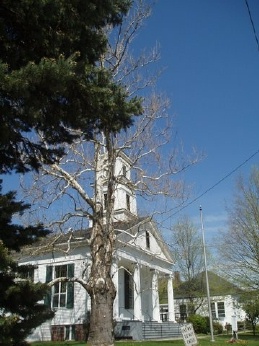 Pastor House's church. Photo/Joanne Iacobellis
Joanne Iacobellis is a lifelong Hamden resident whose professional career was in nursing management. She is currently the president of the Kenwood Valley Neighborhood Association and co-president of Concerned Citizens For Hamden Neighborhoods. She can be reached at JoJo3030@comcast.net.
---
January 22, 2008
A Hamden Heronettes' synchronized swimmer
By Joanne Iacobellis
I have known Emma since the day she was born on that Easter Sunday almost 13 years ago. Emma, or Em as I call her, was my neighbor. Her parents and older brother lived next door. Em spent much of her first summer outdoors, watching her mother garden and her brother play. I would look out of my window and see her in her carriage, or more accurately just see her feet constantly kicking in perpetual rhythm. I thought she would either be a dancer or a swimmer.
By the time Em was a toddler, she was swimming in the backyard pool with her water wings on. As she and her brother got older, the pools each summer got larger. At age 5, Emma was already a strong swimmer. She attributes that to her grandparents' in-ground pool, which she enjoyed each summer.
When she was 6, Em began dancing at the Neighborhood School of Music in New Haven. Three years later, she joined the Hamden Heronettes. The Heronettes is a synchronized swim team of about 25 girls, 8-18. The team first competes locally in Connecticut, then regionally with New Jersey, New York, Massachusetts, Pennsylvania and Ohio. If the team places well in regional meets, they compete on the national level.
I asked Emma why she does synchronized swimming. She thought about it and replied, "I want to do synchro because it is a fun sport, and I believe it helps me to be a better person by overcoming its difficult tasks and learning new skills. I love to swim and dance, and synchronized swimming combines the two -- a perfect match for me!"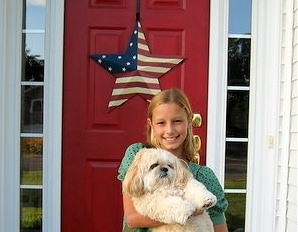 She continued. "Dance helps with synchronized swimming, it helps me to be flexible, coordinated and graceful. It has also given me strength and endurance for swimming."
Emma trains three to four days a week, three hours a day. She is coached by Teena Marie Griggs, the head coach, and her assistants Marisa D'Amico, Anna Montgomery, Anna Delvecchio, Genna Varone and Majorie Aridito. Emma has heard of Esther Williams. "She was the synchro queen," she said.
However, her coaches are her true idols. Last summer at the Nationals, Em placed 10th for her solo of "Winnie the Pooh." She has been named to the United States Swimming Talent ID Program.
To Emma, it is not only about swimming. "It takes teamwork to do this sport," she said. She credits her partner Kristen Stadalnick for their success and 12th-place finish at the Nationals last year.
So what does the future hold for this young talent? Her dream is to make the U.S. Olympic Team and compete in 2012. She just might do it.
See you in London, Emma.
Joanne Iacobellis is a lifelong Hamden resident whose professional career was in nursing management. She is currently the president of the Kenwood Valley Neighborhood Association and co-president of Concerned Citizens For Hamden Neighborhoods. She can be reached at JoJo3030@comcast.net.
---
January 3, 2008
Meet Ginnie Dowd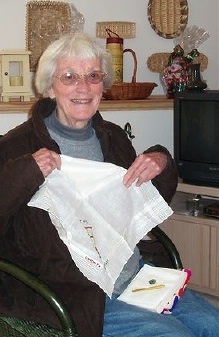 Retired schoolteacher, neighborhood historian
Story and photos by Joanne Iacobellis
When I need information about Mount Carmel or the Kenwood area, where I live, I ask my neighbor Ginnie Dowd. Gin, as she likes to be called, has lived here for 48 years. Hamden, especially northern Hamden, was still very rural when she arrived.
Kenwood Avenue had not been built; it was still Sherman, and it ran down to Whitney Avenue between the Mount Carmel Church and parish house. Life was very quiet in this segment of town. Ginnie's boys attended the Mount Carmel School located at Whitney Avenue and Woodruff Street. Traffic was minimal. There were no stoplights. Ginnie's kids walked to class.
The school is now gone, replaced by the senior housing center. A portion of that structure is the Mount Carmel School building. The Sleeping Giant was in the background, visible from the deck. It reminded Gin and her husband, Bob, of their home in Durham, N.H.
In 1959 -- the year Gin arrived in town -- John DeNicola was the first selectman. A mayor/council form of government was not established until 1964. Gin began her teaching career in the Hamden school system, serving one year at M.L. Keefe and then transferring to Bear Path, where she taught sixth-grade and stayed until her retirement in 1983.
In 1959, Gin shopped at Hamden's first mall, the Hamden Plaza. Hamburgers sold for around 15 cents at the McDonald's across the street. The Hamden franchise was the first in Connecticut. It was a quieter time.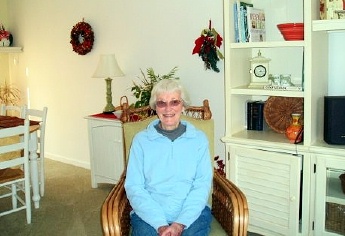 Gin in her Kenwood home.
One of Gin's fondest memories is of the class of 1974. They had picked "Treasure Island" for a class reading assignment. They then wanted to recreate the island, which they did in a papier-mâché mockup. The students made figurines to represent the characters, which were dressed in full costume. Gin remarked on how great it was to see the boys in her class sewing right alongside the girls. She told me that one of the boys is now a physician and another is a lawyer.
At their graduation, the class presented Gin with two handmade handkerchiefs. One is embroidered with "Uncouth Missile 74," a reference to "Treasure Island"; the other with "Picnic 74." Ginnie keeps the handkerchiefs neatly folded in a small box.
Once into her retirement years, Gin got involved in outdoor issues in Hamden. She joined the boards of the Sleeping Giant Park Association and Hamden Historical Society, was one of the original members of the Farmington Canal Rails to Trails group and served on the Inland Wetlands & Watercourses Commission.
Gin also found time to pursue her love of hiking. She is a member of the Connecticut chapter of the Appalachian Mountain Club. This has taken Gin on hikes all over the United States as well as Norway, England, France, Austria, Iceland and Newfoundland.
Gin still hikes every Wednesday morning with a group of friends called the Huff 'n Puffs. If I look out my window I can see them meet at Gin's house to embark on 3- to 4-mile hikes. Gin remarked that "five of the 12 members are all in their 80s." She smiled and said proudly, "I'm the oldest." Gin will be 85 years young this spring.
Joanne Iacobellis is a lifelong Hamden resident whose professional career was in nursing management. She is currently the president of the Kenwood Valley Neighborhood Association and co-president of Concerned Citizens For Hamden Neighborhoods. She can be reached at JoJo3030@comcast.net.