---
In Your 'hood
September 28, 2005
Not In Our Woods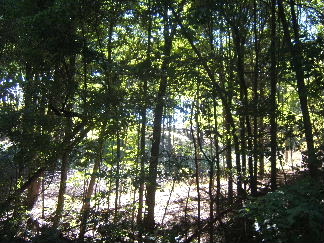 The site of the proposed hotel.
West Woods rezzies say NO, NO, NO! to hotel
By Sharon Bass
Whitney Avenue. Dixwell Avenue. State Street. That's where a hotel should be built. Not on a narrow, winding, wooded road in northern Hamden, say members of the West Woods Neighborhood Association.
"We didn't have any idea they were going to put up a hotel there. We were sort of stunned that they are using that site," said Don Mitchell, who's on the executive board of the association and bought a house in the area five years ago. "I like to hike a lot."
His sentiments are reverberating around the neighborhood as the town considers a proposal to build a 101-room hotel on 5.69 acres on West Woods Road, behind Talbot's, next to the Farmington Canal trail. Last Thursday, the Inland Wetlands and Watercourses Commission harshly questioned West Woods Development, the people behind the project. The commission's concern is the environmental impact the project would have, especially on the Mill River.
The harm to the environment is just one of many gripes harbored by those opposing the hotel. They cite the intrusiveness of such a large project on their quiet road. The trees that would have to come down to make way for it. The potential death of the trout that live in the Mill River. And they question how such a hotel could survive, fearing it would turn into a dorm for nearby Quinnipiac University, which is hurting for student housing.
Hotel opponents seem determined to do whatever it takes to keep the project from seeing the light of day. They're coming out in large numbers to the Inland Wetlands meetings, hoping their appearance and words will make a difference. They're focusing on it during association meetings. In fact, Rebecca Luty said she plans to vote on Nov. 8 for the mayoral candidate who speaks out against the proposed hotel, regardless of his political party or stances: either Democrat Craig Henrici or Republican Dick Reilly -- or possibly Mayor Carl Amento, if he decides to run on the Green Party line.
"I think it's a residential neighborhood primarily and that's how I want to keep it," she said.
"I'm not sure why it's needed. I don't know where all the room reservations are going to come from. Who's coming to northern Hamden to fill these rooms?" said fellow association member Les Faiman. Besides, he added, "the traffic on Whitney Avenue is horrendous as it is."
"If it doesn't go, it will become a dorm for Quinnipiac," said Mitchell, who lives about a mile from the site.
Luty, whose husband, Bill Luty, has been fishing on the river for about 15 years, agreed. "I think the need is from Quinnipiac College. And I'm very tired of Quinnipiac College getting their way and having no regard for people who live in the neighborhood," she said.
Preparation and fortification
Al Dobie, president of the West Woods association, said he's getting ready for the next Inland Wetlands hearing on the hotel, Oct. 13. He said he's sending the developer's revised plans, which were submitted at last week's meeting, to the state Department of Health's Water Safety Division.
"My hope is they will be able to interpret the revised plan submitted by the developer to see if in fact he has corrected all the conditions that we are worried about," said Dobie. Such as measures to cool down the water as it travels from the hotel's parking lot during the hot-weather months into the Mill River. Warm water can kill trout, which thrive in cold temps. And plans to prevent pollutants from going into the river.
At the Sept. 22 Inland meeting, the developer's experts argued that the river is not a wild trout stream; that it's stocked every spring. Dobie et al disagree.
"What we're focusing in on now is strictly Inland Wetlands," said Dobie. "If it gets to the Planning & Zoning level, we will also get people from the Farmington Canal trail society, who are very upset about the trail fronting on a major hotel property rather than through the bucolic views of Hamden.
"It's just another pecking away on the rural aspect of the neighborhood," he said.
Faiman said about half the "mountain" would have to be blasted off for the hotel.
"Right now it's a nice forest. Nice trees," said Mitchell. "When they take the top of the hill off and level it off they'll put on retaining walls behind the hotel to anchor it, keep it from land-sliding."
To further fuel their anger, they say there's speculation that another hotel is planned for across the street, next to Dickerman's Ale House on Whitney Avenue. "But that was just talk," said Faiman.
Luty said she heard the rumor. "How many hotels do we need?"
Zero, according to the West Woods Neighborhood Association.

---
September 24, 2005
Balmy, Starry Night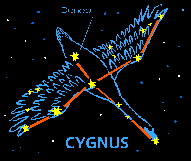 By Kirsten Walker
Throughout the summer many have watched the swans on Lake Whitney and been awed by their beauty, grace and calm. Friday night there was another "swan" that caught people's eye. It was not on the water but in the skies over Brooksvale Park.
The park and the Astronomical Society of New Haven (ASNH) teamed up to present "Starry, Starry Brooksvale." The event drew about 40 stargazers on the balmy autumn evening, to learn more about what's above and beyond.
The "swan in the sky" the small crowd was watching is called Cygnus, which can be found flying southward down the Milky Way. Made up of bright stars with names like Deneb (the brightest), Vega, Altair and Alberio, all seemed impressed as they "connected the dots" and saw the "swan" appear.

ASNH member Bob Carruthers told viewers that Cygnus is also known as the Cub Scout Star because Alberio, a beautiful double star, looks blue and gold (Cub Scout colors) when viewed through a telescope. Part of Cygnus, minus the extended wings, is called the Northern Cross.

Nearby, ASNH member Jack O'Connor, age 80-plus, shared a view of Alberio made possible by his hi-tech scope.

"Mine is computerized. I put in the coordinates and it goes to the site. It's powered by a battery-powered automobile charger," he explained.

His hi-tech telescope is light years away from the one he said he made in his youth. "I was 15 when I became interested in astronomy. I made my first one with a 6-inch paper tube and some mirrors," O'Connor said with a chuckle.

Al Washburn, a teacher at North Branford High School and ASNH member, told a group of children that even though the stars in the Big Dipper look close together on the handle, they could be millions or billions of miles apart.

Hosted by the Friends of Brooksvale Park, "Starry, Starry Brooksvale" was made possible by Ray Kaville and the guidance of the ASNH. It was a bright note on which to end the workweek.
Kirsten Walker can be contacted at kirsten@kmw.com.

---
September 19, 2005
Mo's Back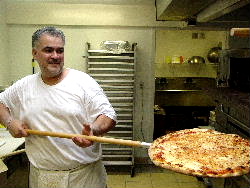 There's Mo with a bubbly pie in his new shop.
Story and photos by Kirsten Walker

Last Wednesday, Modestino's Apizza at 1909 State St. hung out its shingle and rolled out a pizza pie. But it was neither the family business' first shingle nor pie.

Owned by Modestino and Maryann Roca, the pizza restaurant was closed for a few years after a series of unfortunate circumstances, including a fire. "Mo," as Roca is known, kept much of the equipment in a storage trailer until he and his wife could recoup and reopen the shop.

There was never much doubt the couple would get back in the pizza biz. Right after they married 18 years ago, they began working for family at New Haven's landmark Modern Apizza. In 1989, they opened Modestino's Apizza just north of the Department of Motor Vehicles on State Street. Now they're firing up their ovens just south of the DMV, in the same building that housed the well-known Rose Garden for many years.

"We're committed to the East Rock neighborhood. Our friends, neighbors and loyal customers are here. It feels so good to be back," said Maryann.

Just behind the counter, Mo was busy shaping dough, spreading the sauce, sprinkling on the mozz and preparing to slide the large pie into his 600-degree oven. When asked if he sets a timer he responded by tapping his forehead. "It takes about 6 minutes. I know, I just know."

Mo credits his Uncle Gigi for teaching him the art of making a good pizza. When Mo was 12, Uncle Gigi took him under his wing at his shop, Gigi's Pizza on Chapel Street in New Haven. Mo was hooked.

It was last Friday night when Mo and Maryann were telling the Hamden Daily News their story, while a steady stream of customers were either stopping in or calling to place orders. Their daughter Tiffany, a seventh-grader at Hamden Middle School, was helping take orders. And daughter Olivia, a fourth-grader at Ridge Hill Elementary School, was putting together pizza boxes while nibbling on a slice.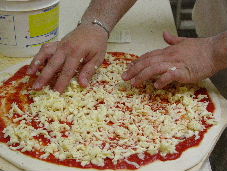 Plain mozzarella seemed to be the popular order of the evening along with some antipasto and stuffed breads. Asked what their favorite pizzas are, Maryann immediately said, "Sliced tomato, white (no tomato sauce), with chicken, fresh basil and garlic." Mo's favorite? "Modestino's special of course," he said laughing. That's a bacon, mushroom, onion, pepper, sausage and pepperoni pie.

Foxon Park Sodas, a necessary staple at pizza parlors in New Haven County, sit in a cooler. The Modestinos plan to install a steam table with entrées such as lasagna and other pasta dishes, as well as broccoli rabe.
They've also just put up their first Web site. Visit them at www.modestinos.com.

---
September 15, 2005
Is One a Shoo-In?
By Sharon Bass
One wore shiny black and white shoes. Another wore black sandals. The third wore conservative brown lace-ups.
They are the 5th District council candidates: Democrat Willie Mewborn (shiny shoes), Green Kelly McCarthy (sandals) and Republican Henry Platt (conservative shoes). Last night the trio engaged in a forum at Whitney Center as part of the Whitneyville Civic Association's monthly meeting. Their footwear well exemplified the personalities they were about to expose.
They spoke a little about who they are, why they want to serve the town and then answered questions from the audience of about 25.
This is Mewborn's and McCarthy's first run for public office. Platt has made four unsuccessful bids for council and has never been elected to a post.
Platt spoke first but had few words, except to say he's lived in Hamden and before that in New Haven for decades. Each time he spoke, unlike his opponents, he stood up.
"I find that people generally ask me two questions about why I'm running and why I'm running as a Green," said McCarthy, a young woman with a master's in religion from Yale who tutors children for a living.
"When we moved to Whitneyville we were greeted by a very loving community. It was amazing to us," she said of her and her husband, Aaron Gustafson. The two started the Hamden Green Party and are co-chairs of the state Green Party. "We need a strong, intelligent representative with a fresh attitude (on the town council)."
McCarthy said she became a Green because that party's platform best mirrors her own values and political beliefs. "A third party in this town would provide balance and accountability to the town," she said.
A Hamden resident for 28 years, Mewborn talked of his life as a grandfather and father of a 12-year-old. He is a deacon at Emanuel Baptist Church and is on the board at Gateway College.
"And I've done a lot in the community for young people and seniors," he said. "I'm also a legal person for the young and homeless. We need more parks," more community policing. He said he's running for council because "I love my community. I'm a jack-of-all-trades. I fix my own house. At this stage of my life, I feel my time is running out and I want to do something for my neighborhood."
The first question was a double-header: What is the status of Hamden's disaster plan, with a reference to Hurricane Katrina, and what is the state of public education.
"I honestly don't know what our (disaster) plan is," said McCarthy. "I'd hazard to say it's not great. Every community would be wise now to have a plan."
About education, she said, "The NCLB (No Child Left Behind) laws are just a disaster. I work with children who are not meeting the standards. What's needed is more funding." However, McCarthy said public ed should not be funded through property taxes.
"I was in the tornado" that hit Hamden in 1989, said Mewborn. "Getting to education, I have a 12-year-old and I'm for education. I talk to kids every day about staying in school."
"In 1989, we had a tornado and it did a fair amount of damage," said Platt, a senior citizen. "A few years after, there was a huge flood that swamped four states." But, he said, Connecticut is hilly, unlike Louisiana, so "we're not in danger."
"OK, as far as citizenship," Platt continued, "in California, they … if someone doesn't want to talk during the 'Pledge of Allegiance' that's all right but ... " He was trying to respond to a California federal judge's controversial ruling yesterday, that reciting the "Pledge of Allegiance" violates the constitutional separation of church and state because of its reference to God.
"NCLB works well if you have students who want to learn," he switched gears. "There is an old saying, 'You can lead a horse to water but you can't make it drink.'"
Next question: "Are the three of you going to be able to work with a new mayor and legislative council?"
"If I can work with Mayor Amento, I can work with anyone," Platt quipped. The audience booed.
"I don't have a lot of time to play politics," answered Mewborn.
"As a Green Party person, I'm always the odd man out," said McCarthy. "It's likely we'll see a new mayor. I'd like to see a little less infighting."
How about bike lanes?
Platt said bicyclists get in his way.
McCarthy said she very much favors bike lanes. "It's a no-brainer. It's a strip of paint," she said.
"I don't think it's quite as easy as my opponents think it is," said Mewborn. "Some of the roads are too narrow. The cars go too fast. I think it needs to be studied."
The last query of the night came from Steve Marsh, the zoning and environment officer for the civic association. He was also the town's solid waste and recycling coordinator from 1992-2004.
He asked the candidates for their take on mayors appointing friends and campaign managers to head town hall departments.
"I hope to get something done without playing politics," said Mewborn.
"I would try to find out if this person can do the best job," said Platt. "If we can find a man who can do a wonderful job for Hamden, I'd settle for him."
"We're now essentially a city that's still dealing as a small town," said McCarthy. She cited the difficulty in finding and retaining a finance director as an example. "It's a huge responsibility" that has little job security because it's a political appointment. She said it should not be political.