In Your 'hood
December 12, 2005
It Depends Where You Live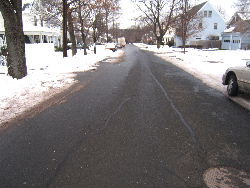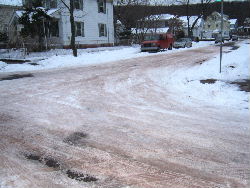 Ardmore Street in pretty Spring Glen. The corner of Cook and Webb streets in southern Hamden.
The streets of Hamden 48 hours after the snow
Words and pictures by Sharon Bass
What a difference a neighborhood can make. As evidenced by a random photo shooting of street surfaces around town yesterday -- two days after Friday's snowfall -- where you live does count.
Roads in middle- to upper-middle-class Spring Glen were clean enough to eat off. Those in the working-class 2nd District were both slushy and icy. And the streets in the poorer section of the East Side (the lower 6th District) were just about right for cross-country skiing.
"I think it's the quality of who's on the job," said 4th District Councilwoman Gretchen Callahan. She said she doesn't think it has as much to do with the wealth of the area as the will of the person doing the snow plowing.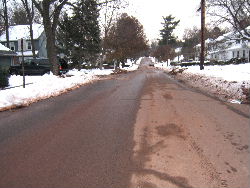 Another example of Spring Glen's well-plowed roads: Ridgewood Avenue.
Callahan's territory includes Spring Glen. "They did a great job. I couldn't be more pleased with what I saw. Our streets are great," she said.
But in other areas of town, she saw roads she wasn't so pleased with. At 11 a.m. yesterday, Callahan said she drove up Armory Street, which is in the 5th District, "and it was terrible, terrible, terrible. And then I went up to where Albertus Magnus College is and that was OK, but not great."
"Spring Glen has gotten special treatment forever. I don't know why," 2nd District Councilman John Flanagan said last night, as he was penning a letter to Public Works Director Joe Velardi saying "the south half of my district is unacceptable and there's no excuse for it."
"South of Church Street, poor. North of Church Street, OK," said Flanagan. "Circular, Bradley, Gorham and Helen streets were terrible, and Concord and Beacon weren't very good either."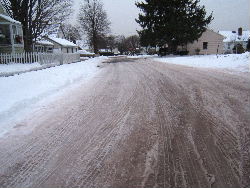 2nd District's Langer Street. Nice and slick.
He partly attributed the poorly plowed areas to cars parked on the street during the parking ban. "I don't think a lot of people know about the ban, which was established under Mayor Clayman. That's why I think we should do as other cities do. We should post (notices of parking bans) on trees and utility poles." Hamden bans parking on the odd-numbered side of the street during snowstorms.
"The other thing that doesn't help is careless people plowing driveways and putting the snow into the streets. But that's a small part of the problem," said Flanagan, who's so far lived through 33 winters in the 2nd District.
Like his female colleague on the Legislative Council, he also thinks it has something to do with the town worker doing the plowing. "It varies from storm to storm," he said. "So I do attribute it to whoever's driving the trucks."
He said cars parked improperly during a snow ban should be towed away, making the owners fork over money to learn a lesson. "It would just take once," the councilman said.
However, a longtime 6th District resident said the streets in her neck of the woods are always badly and barely plowed -- year after year. Requesting anonymity, she said the reason is the neighborhood. It ain't wealthy.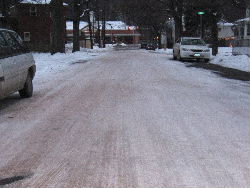 Merritt Street in the 6th District, where the roads are rich with snow.
---
November 30, 2005
Dig This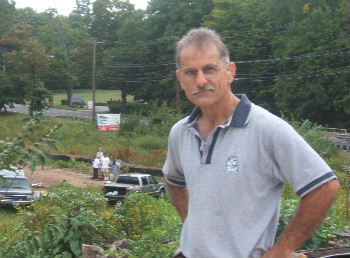 State archeologist Nick Bellantoni and his volunteer diggers (below) last September. Photo/Sharon Bass
Historic remnants found at Whitney Avenue development site
By Sharon Bass
Late last summer, an amateur archeologist saw some interesting stuff at a site on Whitney Avenue that's being developed into condos. So a pro was called in to take a look and ultimately a dig.
The pro -- state archeologist Nick Bellantoni -- spent four days on the property in September with about a dozen volunteers, shovels, trowels, brushes and hand tools. They came up with Native American artifacts dating back 3,000 to 4,000 years.
"This was a campsite that was probably occupied two seasons of the year," said Bellantoni. People came to fish in the nearby brook that feeds into the Mill River, he figured. "They moved around where nature provided food." He said it's unknown whether the site was used just once or if many stopped there over many years.
Today that property, at 3594 Whitney Ave., is being turned into Trailside Village, an "active adult" community of 56 market-rate condos and a separate office building with 3,000 square feet of retail space, said Dean Fiske, the developer and owner of Ravenswood Construction in Cheshire. He said the project should be completed in two years.
When HDN went to the site on Sept. 26 to interview Bellantoni, he asked that the story not be published until the end of the year. He feared looters would come by. But now the coast is clear. Everything historic has been removed. Looters would find only dirt and modern-day building materials there.
The artifacts found by Bellantoni and his team of University of Connecticut students and volunteers from the Friends of the Office of State Archeology are now safely stored at UConn for the time being. Fiske actually owns the stuff that was unearthed: stone tools, knives, spear points for hunting and cutting meat and broken fragments of pottery vessels probably used for cooking. The fate of these treasures is up to him. Fiske said he doesn't know what he'll ultimately do with them.
"We found evidence of stone tool manufacturing. Chips of stone that were struck from a block of rock to create stone tools," said Bellantoni, who's also a professor at UConn. "We have enough information now to develop a research strategy down the road."
The findings are being catalogued and analyzed. They can't be definitively dated, the archeologist said, because "we did not recover anything that would allow for a radio-carbon analysis." That's a lab process that can identify age through organic remains like bone, shell or charcoal. None of those materials were found at 3594 Whitney Ave.
Bellantoni is also unsure which tribe(s) used the site as a campground.
"When you go back 3,000 years we don't know who they are as far as tribal entities. But we can say they're ancestors of Native Americans," he said. "In that area there was historically the Quinnipiac tribe. But this dates back earlier."
Apparently, it's not uncommon to find remains from people who roamed Connecticut thousands of years ago. "I review hundreds of development projects in the state. Many of them have archeological sites on them," said Bellantoni. "We've left a lot in the ground that testifies to our past. There's quite a lot of history in there."
---
November 14, 2005
Regulating Studentville
Town councilmen and residents cook up ways to deal with Quinnipiac students who live among us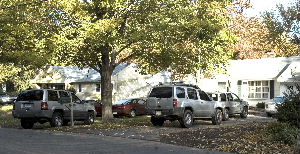 Student housing next door to John Wilson's Forest Street home.
By Sharon Bass
After years of mounting tension between the town and Quinnipiac University over students living off campus, two initiatives are about to kick off that might help quell the rift.
The Legislative Council is forming a new subcommittee on university relations. And a neighborhood activist has just started a town-wide group, Concerned Citizens for Hamden Neighborhoods, for anyone who has gripes about living near students -- and wants Quinnipiac to be more responsible and responsive.
"We just want a little more communication with Quinnipiac about its plans for the future and growth and student housing," said 9th District Councilman Bob Westervelt, a Dem who was re-elected in the Nov. 8 Democratic landslide. He and Democratic Councilmen Matt Fitch and Mike Germano, who will serve as chair, will sit on the new committee.
"There has to be more solutions than just buying up single-family homes," said Westervelt

Joanne Iacobellis is the brainchild of Concerned Citizens for Hamden Neighborhoods. She is president of the Kenwood Neighborhood Association.
"I am thinking of the new group as a steering committee from which a town-gown group would be formed," she said last Friday at Eli's during a meeting of residents unhappy about students living among them. They included Toni Anastasio of Highland Avenue, John Wilson of Forest Street and two women who asked to be anonymous for fear of student retribution. They live on Marion Avenue and Cumpstone Drive.
No one is saying it's all the kids' fault -- kids will be kids, after all. The frustration is more directed at Quinnipiac's expansion, seemingly unlimited student growth and university officials not willing to come to the table to discuss the issues. Folks also complain that kids living off campus violate town zoning rules by having more than four to a house, make noise into the wee morning hours and litter their streets with beer cans and other junk. To make matters worse, Hamden has no zoning enforcers (the last one, Bruce Driska, left the post last Thursday).
"They've shut us out," said one of the women who asked not to be identified. "Until we have dialogue we won't get anywhere."
"They don't understand what it's like," said the other. "They're transients. We're not." She said she had planned to grow old in her home but is now having reservations. "If Quinnipiac and zoning don't get it together, some of us will move out."
Said Iacobellis, "I guess Quinnipiac feels they don't have to (respond to neighbors)." She said she's made many attempts, including sending a letter to QU President John Lahey, but has never received a reply.
"Quinnipiac has more students than they can house," said Iacobellis, "and are forced to live in the community." She believes 100 houses in town are used as mini dorms.
Wilson said what irks him most is that people who are buying the houses aren't abiding by Hamden's zoning laws. He said students occupy the house next door to him and another up the street. "Their driveway abuts my bedroom and I hear cars coming in and out all night," he said. "Me and my wife sleep with sound machines." Wilson said the kids blast music from their cars and there are regularly six cars in the driveway -- with some parked on the lawn, a zoning no-no.
"At two in the morning. At three in the morning, I hear them come home," said Anastasio. "The loud conversations on the lawn. The spinning of the tires." She said she's called police six or seven times. But police intervention is not a permanent solution.
Anastasio said she also worries about what could happen to home values. She said she and several others on her street just put additions onto their houses, and wonders if that was a waste of money.
"The house next door was just sold last year and work was done inside. The investor told me he was going to rent to students," she said. "It's traffic. It's parking issues. My other concern is what else they're going to bring in. I just put a lot of money into my house and if I have to sell it, I will go over the edge."
The people congregated at Eli's spoke for many Hamden residents when they asked, What does Quinnipiac plan to do about all this?
QU Responds
University spokesman John Morgan said it's not true that neighbors are being snubbed.
"Quinnipiac has always had a strong cooperative working relationship with the town of Hamden and looks forward to working with the new administration and the Legislative Council's subcommittee," he said.

Via e-mail, Morgan answered some questions from the HDN.
1) Asked about the new residents' group, "Concerned Citizens for Hamden Neighborhoods," he said he had no comment.

2) Asked about the school's enrollment and plans to cap it, he said, "Quinnipiac currently enrolls 5,200 undergraduates. Five years ago, we had nearly 4,900 undergraduates. For the last several years, we have brought in a freshman class of about 1,300 students and we don't have any plans to increase undergraduate enrollment."

3) Asked how many undergrad students live on- and off-campus, Morgan replied, "Approximately 3,000 undergraduates live on campus. The off-campus number is 2,200, which includes those students who live at home with their parents."

4) Asked how many undergrad students choose to live off campus, he said, "Quinnipiac guarantees on-campus housing to freshmen, sophomores and juniors."

6) Asked for the number of dorm rooms available for undergrads and if any are empty, Morgan said, "Quinnipiac has 11 residence halls. There are no empty rooms at this time."

7) Asked if there is housing for graduate students, he answered, "Quinnipiac does not provide housing for graduate or law students."

8) Asked if the university has a 5-year growth plan, he said, "Yes, our five-year master plan is on file with the Planning and Zoning Commission."

9) Asked if there are QU staffers who oversee students who live off-campus, Morgan said, "Yes, the Residential Life staff is responsible for overseeing students who live off-campus in Quinnipiac-owned residences."

10) Asked how many off-campus houses QU owns, he said, "28."
Ideas, Ideas
The group at Eli's came up with some ways to help stem the problems. One is to tweak zoning regs to allow only those 25 years of age and older who are unrelated to live four to a home. Another is for Quinnipiac to build a new campus -- in another town.
"You can't put all of this in suburban Hamden within a 15-mile radius," said Iacobellis.
Councilman Fitch said when he campaigned door-to-door for his re-election this year, people on every street said they want to see the Kenwood neighborhood group expand throughout Mt. Carmel. "This sort of stuff that's going on here would not be tolerated in Whitneyville," he said.
Fitch said he sees eight students per house, which is double the allowable limit.
"It's an economical thing. These students are getting gouged by landlords," the councilman said. He also noted that the university-owned homes are better maintained and rules better enforced.
"It's not ideal but it's better than what's going on in the other houses," Fitch said. "The university policy of 'come one and come all' and they give you two years of housing and you're out on your ass is bad for students and residents, and good for the university's" financial health.
Councilman Westervelt agreed. "People don't like that homes are being turned into student dorms. It's not good for neighbors."
---
October 28, 2005
Watching the 'Other' End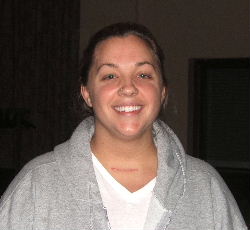 Brandee Huston of Welton Street at a block watch meeting last night.
Photo/Sharon Bass
By Sharon Bass
It's called the "other" south end of town. Where State Street leaves New Haven and becomes Hamden. It includes Webb, Cook, Benton, Welton, Atlas and Merritt streets. It's part of the 6th District. Last night it gave birth to its first-ever crime watch. (The other "other" south end is around lower Dixwell Avenue.)
More crime is being spotted and reported in the 6th. Undercover cops recently made drug busts there. Kid gangs are hanging out in the 'hood, running amok in neighbors' yards. Smoking pot. Fighting. Bikes are stolen left and right. Radios are ripped out of cars. Cars speed where children play. Those who live there say it's all going downhill -- and fast.
Enter at-large Councilman Curt Leng. He's running for the 6th District Council seat this November. He decided a block watch is in order. At 7 p.m. yesterday, he had gathered together residents and community police officers in the Saint Steven School gym. Sgt. Gabe Lupo, who has started other block watches, Leng's Republican challenger, Ira Caplan, Deputy Police Chief Jack Kennelly and a couple of dozen residents, including former Hamden cop, 83-year-old Andrew Balzano (also Leng's grandpa), talked about the need for a watch and how to pull one off.
"Your job is to be to observe what's going on in the neighborhood and call the police," Lupo told the people. He spoke highly of the 11-year-old Cherry Ann Street watch, which has a large active group.
"What I expect from you people is to advertise the block watch," he said, adding that he hopes attendance will be double at the next meeting in November.
Lupo also expects people to call the police if they see suspicious people, fights, burglaries, drug use or sales or hear loud noises. He said too often people either don't report crimes or wait too long to do so, giving the criminal plenty of time to flee. Calls can be anonymous; the number is 230.4000. Lupo also gave out his direct number, 230.4063. But said that's mostly to leave tips.
"We're here to be bothered. That's our job. We encourage you to call us," the sergeant said. "You'd be surprised at how many arrests we make from that type of call. Do not fear the police."
"A lot of idiots speed up and down (Welton) street," said a woman. Lupo said radar could be set up to catch the speeders. But, he warned, "be careful what you ask for. You just might get it. Don't tell me if you get caught (speeding) that you're a resident" and shouldn't get a speeding ticket. He said that happens.
Another resident said there are drugs around Cook and Webb streets. "We have made several drug arrests there," said Lupo.
Since most of the questions were about traffic problems, Leng asked the people to talk about the more serious problems, the ones he said he's been hearing from constituents.
That led to a stream of comments, some heated, about kid gangs. "They're smoking marijuana. They're very violent," someone said.
"Two of my husband's bikes have been stolen," said another.
A woman said she's put fencing around her house to keep the children out. "Where are the parents?" she asked.
Caplan replied. "I'm a high school teacher. If it was me, my mother would have picked me up and thrown me through the window. Literally." He then said he had to leave to say goodnight to his 2-year-old daughter.
"Let me cut to the quick," said Lupo. He talked about the four known juvenile street gangs in town: the Hometown Violators, the Outlaws, the Goon Squad and Young World. They're middle and high school kids, he said.
"They live all over town. These are Hamden kids. Not from another town," he said. He urged people to report graffiti, kids dressed alike (a sign of gang membership) and if they're congregating outside.
"Maybe it's nothing. Maybe it's something," said Lupo, advising it's best to make that call.
Community police Officer Stephen Rossacci warned not to approach the kids. "They might spit on you. Call the police," he said.
Rossacci said they are predominantly rappers and have recorded some of their music. He and Lupo talked about how these children feel they need to belong to something. Many live with just one parent, who might work two jobs.
"We've got to give these kids something to do," said Lupo. Winter will keep many off the streets, but spring will bring them back on.
"Let's face it, it's cool to be a gangsta," he said, noting that gang members typically wear baggy clothes to simulate prison wear.
Brandee Huston, who is Leng's cousin, has lived all her 22 years on Welton Street. When she was a kid, she said the neighborhood was "close-knit. It was the safest. Now nobody sits outside anymore. Everybody's separate now. We're barely in touch."
Her grandfather, Balzano, has lived in the 'hood for all his 83 years. He owns the house Huston lives in and another house on Benton, where he resides.
"Everybody moved up from New Haven to Hamden," he said. "You see they want to better themselves, and if they don't have to work they don't."
Several years ago Balzano, who was a Hamden cop for 27 years, said he was in his back yard looking at birds through binoculars. "I heard glass breaking. I see at the factory (at 175 Welton St.) maybe 75 feet away from me kids breaking windows with rocks," he said.
He said the children broke about "1,000 windows" in all and no one tried to stop them.
According to police documents, this past summer about 20 reports were filed about crimes in the area. These included stolen bicycles and cars, vandalism (particularly broken car windows), animal cruelty and marijuana possession.
---
October 17, 2005
The Sun Shines on Brooksvale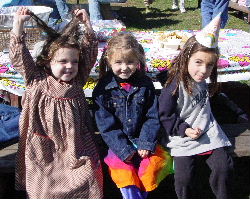 Harvest Carocci (center) and "silly" friends celebrate her fifth birthday at the 6th Annual Brooksvale Festival.
Story and photos by Kirsten Walker
If you told anyone last Friday that Brooksvale Park would be filled on Sunday with anything other than mud and puddles, they would've called you nuts. The rain came down all week (as you all know) in quantity and speed unseen for ages. So the 6th Annual Brooksvale Festival was postponed for a day in the hopes that Sunday would be dryer and nicer. And it was.

Brooksvale ranger Vinny Lavorgna, naturalist Tom Parlapiano, the park staff, Parks & Recreation and dozens of volunteers went into hyper speed late Saturday and early Sunday morning to pull it all together.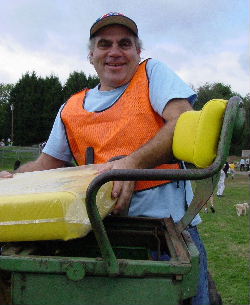 Ranger Vinny checking out the tractor.
At 11 a.m. the festival went on for its sixth year -- and the people came. Thousands of them. The mud was there but the park staff did a great job covering pathways with wood chips and hay. Still, puddles crept up here and there, but most folks were good sports and walked around them. Actually, some children thoroughly enjoyed them. Many even noticed that the inches of rain filled up a previously dry pond leaving some mallards very happy. And more than one person commented that winter's around the corner and so is ice-skating.

The Environmental Expo under the big white tent held fast in the wind gusts, which according to the weatherman, cleared 45 mph at times. Some of the smaller tents had to be tied down and others just taken down.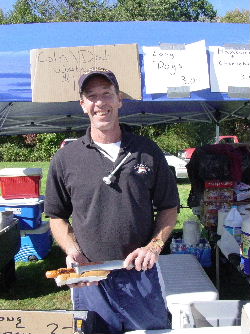 Guy from Glenwood.
Connecticut Audubon's Birds of Prey program in the Big Red Barn was once again a big hit thanks to sponsorship by Regan Realty. Each session was filled to overflowing. Big hits were a tiny screech owl and a European barn owl shown by a handler who explained the threats they face, and the way humans and these precious birds can coexist.

Overflowing, and this time not with water, was the outpouring of effort from the Friends of Brooksvale Park, Friends and Family of Blue Trail, Quinnipiac University, teacher Elissa Lupi's Hamden Middle School crew, the Hamden High School Girls Cross Country Team and lots more. It took dozens of volunteers to help with the craft tables, pony and hay rides, games and tickets sales, not to mention setting up tables, running errands, picking up trash, helping with lugging and sorting and generally gopher-ing.

The food vendors did a steady business offering everything from Joe Grate's and Peg's Catering barbecue treats and Glenwood's l-o-n-g hot dogs to Duck Soup's "so thick you can use a fork" chili, JRoo's hot pizza and The Friends of Brooksvale's popular bake sale table.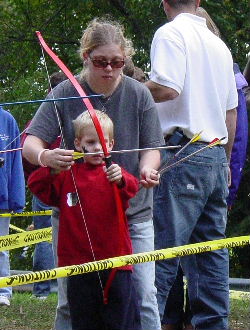 The Hamden Bow(wo)man teaching her art.
And there was music, lively blue grass music to tap your foot to. Plus the Hamden Bow(wo)man shared her skills to a line of young and old Robin Hood-to-be's. And the long hayride line was worth the wait as it is every year.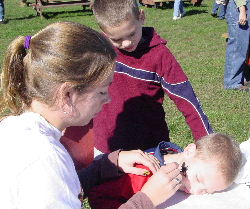 Bobby and Joey Eliasson of Hamden take turns getting their faces painted by Amy Walker. Batman symbols were a big hit with the boys.
Once again the town of Hamden enjoyed a splendid day in one of its beautiful parks. And autumn was officially welcomed in grand style. To see more pics of the festival click here.
---
October 14, 2005
Leave it to the Kids
But the town and the YMCA can't, as they take over a once-clandestine bike park, built by children for children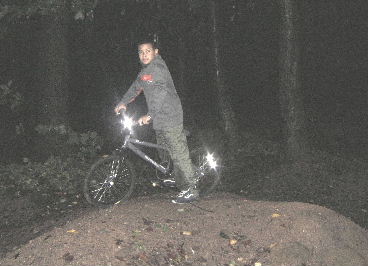 Feeling like the king of the hill. Jordan White at the Hamden bike park.
By Sharon Bass
Jordan White jumps on his BMX and peddles off to a kid-made bike park, behind the Hamden Dog Park at Bassett. It's raining but that doesn't deter him. It's nearly 6 p.m. and growing dark. But that doesn't bother him, either.
The 10-year-old who lives on Hartford Turnpike performs jumps and rides in circles. He says he loves the freedom and exercise. He says he's a happy boy out there in the wooded park that children quietly built out of dirt over the last decade. Hardly anyone knew.
But now that the word is out (it was discovered a couple of years ago when the dog park was being developed), big people in Town Hall and the Hamden/North Haven YMCA are taking over. They're going to legitimize it. They're going to staff it. They're going to fence it in. They're going to insure it. They're going to charge bikers to use it.
But to the relief of bikers like Jordan, the hills and valleys the children designed and built for jumps and tricks won't be leveled. They did such a good job with their own little hands that a national magazine rated it one of the top 10 unknown BMX -- bicycle motor cross -- bike parks in the country.
If the deal between the town and the Y goes through, they'll still have their little piece of heaven. It just won't be the same. Such is life in this litigious, highly regulated society.
Town Planner Richard Stoecker is one of the key people involved. He's negotiating with Sean Doherty, executive director of the Y. The idea is for the Y to lease the one- to two-acre town-owned parcel for a buck a year. Last May, they formed a bike park task force. The mayor's assistant, Jackie Downing, also sits on the committee.
"It's a program that fits into the Y's mission, building strong kids, strong families, strong communities," said Doherty. "A nice collaboration with the town. This was a need in the community."
A Simple Park That's Getting Complicated
While he predicts there will be user fees, he said the Y doesn't turn away people unable to pay. So there'd be financial assistance for park use. Doherty estimates it will cost $15,000 a year to operate the BMX bike park. The Y would provide staff, who would be trained in CPR and first aid, and set operating hours. The town would pay for a fence to enclose the park and lock it up during non-operating hours.
"We're also talking about constructing a clubhouse" with a phone and a concession stand, Doherty said. The Y is applying for state and private grants. He said he's "pretty confident" the park will be ready for legitimate use by next spring
According to a draft lease agreement, just issued this week, the Y will be required to buy public liability insurance of at least $1 million for any one accident, $2 million in the aggregate; and $500K for property damage.
"It's in its infancy stage. Nothing's been approved at this point," said Doherty. The first public hearing on the lease agreement is scheduled for Oct. 18 at 7 p.m. in the Legislative Council Chambers. It will be a Planning Committee-only meeting
The proposal has to go through the town's risk manager, the Planning & Zoning Commission and finally the Legislative Council.
"I think it's just one more recreational avenue for kids," said Stoecker. "It's been said that the at-risk kids don't get involved in organized team sports. The key thing is it's already there (the park). It's an up-and-coming sport. We'd like to get kids more active. Get them away from the TV."
He said when the park was discovered a couple of years ago, the town was going to dismantle it. But that idea was scrapped.
NIMBY
Elaine Dove, a member of the Spring Glen Civic Association, lives less than a mile from the park at Bassett. She said she's not too happy about it and what the town and Y are doing.
"One of the things I'm concerned about is this is a regional kind of activity and that Hamden will have its own property degraded," she said. "It's up against a beautiful golf course. Right now kids are using this thing unofficially. They don't have legal status to be there. These BMX bikers come from all over."
Dove said she went to Town Hall this week looking for a map of the bike trail, but couldn't find one. She wanted to see its exact location.
Even with the Y taking out insurance, she said she still thinks there will be a "huge liability for the town." Her neighborhood association is keeping an eye on the project.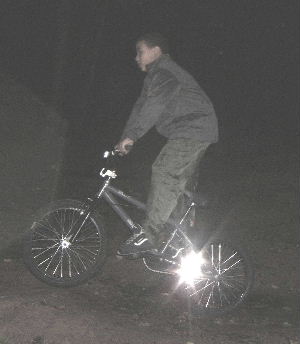 Jordan White has been using the Hamden bike park for a few years now. He had been going to the one at New Haven's Edgewood Park. "Then I found out about this (one) from a guy named Ray.
"It's fun to go and you get to see all the dogs hanging around," said Jordan, who bought his new $300 BMX bike with his own savings. When the town threatened to tear down the Hamden bike park, he said the place got "kind of deserted." He and other young bikers returned to Edgewood.
His mother, Cynthia DeLouise, said she has spent many hours at the "illegal" Hamden bike park watching her son. She's talked to lots of kids and parents and said most live in town.
She also reports clean behavior. "There's no evidence of alcohol or drugs. I find the fact that they did this (built the park) independently is phenomenal. When you look at 10- to 12-foot-high jumps, it's unbelievable what these bikers have done. They should be on the Y's design committee," DeLouise said.
In fact, Doherty said he's looking for volunteers to help with the construction. If interested or have ideas, give him a ring at 248.6361, ext. 16.
Jordan will likely be one of the first to dial that number. Like the child bikers before him, many who are now in their 20s, he said he feels a sense of ownership in the park. While there yesterday, he got off his bike and wandered around looking for something.
"I wish I had a shovel," he said, his eyes glued to the ground. Asked why, he said, "So I can remove some of the water" by the jumps. He wanted to do some maintenance.