At Chat in Hamden
August 29, 2006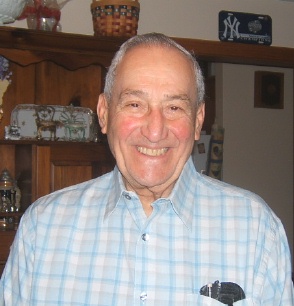 Photo/Sharon Bass
Pat Corso, 80, former Democratic Hamden councilman, former schoolteacher, former Marine

By Sharon Bass

On Hamden's Edwards Street, in his mother's bed, Pat Corso was born eight decades ago. He grew up on Arch Street. It was during the Great Depression and Corso's family, like so many others, was hard hit.

World War II greeted him barely out of high school and he joined the Marines. When Corso came home, he earned a teaching degree from Teachers College of Connecticut (now Central Connecticut State University) and taught industrial arts for 35 years, first in Bridgeport then at the former Whalen Jr. High School.

From 1989-99, he represented the 7th District on the Council. Corso currently sits on the Veterans' Commission. He lives on White Drive with his wife, Gloria, where he recently chatted with the HDN.

Hamden Daily News: Tell me about World War II.
Pat Corso: I joined the Marines when I was still a senior in high school. Two days after graduation I was sworn in. Two weeks later I went to Parris Island in South Carolina [for training].
HDN: Was it hard leaving home?
PC: Well, you know actually ... we got a warning from the drill director right from the beginning. He said to us -- and I'll clean it up a bit -- your soul belongs to the devil and your butt belongs to me. He didn't say it quite that way. But he meant it.
HDN: How rough was boot camp?
PC: This is Marine Corps disciplinary training. It's strict adherence, righteousness, dedication. This is what the Marine Corps is based on.
HDN: Describe a typical camp day.
PC: Reveille was about 5 in the morning. You went over and shaved and got your personal things taken care of. You cleaned up the barracks before you went to breakfast in the mess hall. You march over there as a group and you marched back again. You had very little free time to yourself. And if you did it was a little time after dinner meal. It was all marching. Weaponry. Rifle training.
HDN: You grew up during the Depression, huh?
PC: It was a time of very little. My father's business went under. He and his brother had a fruit business in New Haven. And my father had difficulty finding a job.
HDN: How did the family survive?
PC: My mother went to work. Back in those days, mama didn't go to work. I was the oldest [of three]. I found a way through a variety of jobs. I worked for the WPA [Works Progress Administration] for a while. That was the WPA actually that built Hamden High School. It did not cost this town a dime for Hamden High School.
HDN: What kind of work did your father get during the Depression?
PC: He had a variety of jobs. After the fruit business, he worked for the quarry. He worked for a dairy. He worked for the state for a while. He was a night watchman. In fact in the building they're just tearing down, the old Johnson building, he worked there.
HDN: You had little money, but what did you have a lot of?
PC: Family togetherness. My grandparents lived next door to us so we were very close with my mother's family. My father's family lived in West Haven and we saw them occasionally. At the time you didn't realize how difficult it was.
HDN: Then you joined the Marines. How long did you serve?
PC: 26 months.
HDN: Did you go overseas?
PC: Yes.
HDN: Did you fight?
PC: Not really. I was in Guam. I got there just after it was secured. There was still patrols going through the island. I made a patrol looking for diehard Japanese. They were hiding up in the jungles.
HDN: Did you find any?
PC: Not on the patrol that day. That day was clear.
HDN: Were you scared?
PC: Because we were kept so busy, we didn't have time to think that much about it. You were so tired at night you looked forward to lights out. We were up again early in the morning. This was right in the middle of World War II, when it was at its height and everything was accelerated.
HDN: Then you graduated college and became a teacher. What got you involved in local politics?
PC: I've always wondered if I should hate him or not. John Carusone. Let me say this first, as a teacher I felt I shouldn't have any political affiliations, so for many years I was unaffiliated. Until a friend of my brother was running for probate judge and he talked me into signing up as a Democrat. I would have been a Democrat anyways, because my father was. My father actually was a Democratic constable. It was similar to a sheriff.
HDN: So how did former Mayor Carusone rope you in?
PC: John Carusone called me up one morning. I was sick in bed. I was feeling lousy. He says, 'We need somebody to run in your district [the 7th].' I said, 'John, don't bother me.' He kept pushing and pushing. I said, 'Look, give me a couple of days to think about it.' That night he calls me again. He was getting ready for the next [mayoral] election. So I said to him, 'How much work is it?' 'Well, it's not that bad,' he says. 'How much paperwork?' 'Oh, we have a secretary. There's not much paperwork.' Finally I yielded and I said yes. This was like on a Monday. He says, 'Well, you have to be at the Town Hall at the Democratic convention on Wednesday.' [laughs]
HDN: This was 1989. Who was the committee chair?
PC: Bill Lavelle, I believe. Yeah, he was the chairman at that time.
HDN: What was your first race like?
PC: I ran against a Republican. This district had been Republican for a while.
HDN: And you buried him.
PC: Yes.
HDN: What was that first term like?
PC: It was a learning experience because there wasn't really anybody who cared to help me. It was a big disappointment. You feel like you don't know what's going on. I read everything they put in front of me. It got to be a challenge. But I was bound and determined. I'm not a person who runs away from challenges.
HDN: Do you recall any particularly controversial votes?
PC: Not too many of them because at that time there were only about three Republicans. So we had control.
HDN: What made you keep running?
PC: I had a lot of support and I always won by a very comfortable margin.
---
August 11, 2006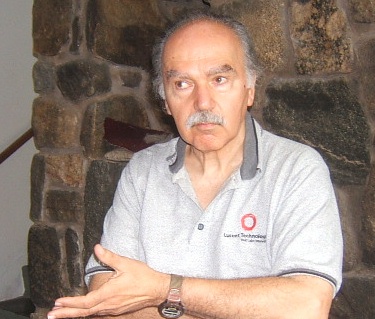 Photo/Sharon Bass
George Alexander, 67, from Budapest to Cuba to Rutgers University to Hamden
By Sharon Bass
Last month, George Alexander sent a "Guest Column" to the HDN about terrorism and Israel. As is this cyberpaper's practice, he was telephoned to verify his identity before his piece was published. A few minutes later, the Hungarian Jew -- who said he lived in a Nazi ghetto and lost both his parents during the Holocaust and did the rest of his growing up in Cuba with his grandmother and eventually became an electrical engineer in the United States -- agreed to be interviewed at his Gorham Drive home.
Alexander and his wife, Esther, have lived in their odd-shaped cement-block house, well hidden by a thick overgrowth of greenery, since 1965.
His last job was with Proton Energy Systems in Wallingford, which makes hydrogen generators. Here's Alexander's story.
George Alexander: I was there during the Second World War.
Hamden Daily News: In Hungary?
GA: In Hungary. We were forced from our original apartment. We were forced to go into the Budapest ghetto. My father was taken away for forced labor to the Russian front, where he died. Or actually he disappeared. The Red Cross was totally useless in intervening. And basically my grandmother brought us up.
HDN: Why?
GA: Because my mother was in the hospital and from what I heard, basically, they killed her there by injecting air into her veins.
HDN: Who killed her?
GA: The hospital personnel. The Hungarian Nazis.
HDN: Do you have siblings?
GA: I had a sister who decided to stay in Hungary. She was older than me. My grandmother had a son, my uncle, who was already living in Cuba and then she took me [to live in Cuba]. We couldn't come to the United States because of the quota system. It's a joke in a way, when you're talking about the immigration laws or lack of immigration control nowadays, in the '50s it was highly restricted as to who could come to the United States and where you were born. For example, my grandmother was born in a place that became Romania after the First World War. So she was considered Romanian even though she was from Hungary. So she couldn't come and I couldn't come [to the United States]. By that time the communists were taking over Hungary.
HDN: Do you remember what it was like living in the ghetto?
GA: I remember the apartment [where he lived beforehand]. As a matter of fact, my daughter's got pictures of it.
HDN: Do you remember the ghetto?
GA: We lived near one of the walls. It's a fenced-in area, a walled-in area. I have some memories of being in a large room with a lot of people. For some reason, I seem to remember that the food we ate was spaghetti.
HDN: Did you live in fear?
GA: I was too young to know that.
HDN: Oh, good.
GA: And actually before we went to the ghetto we went into some protected house. Both the Swiss and Swedish government bought houses in Budapest. And they bought these houses so the Jews could take refuge. They allowed people to stay there for weeks or a month and eventually the Hungarians decided this was not the right thing. So they closed all the houses down. The Hungarians are strange people. They have been around for 1,000 years. One of my heroes is Attila the Hun. See, I felt he came from somewhere in the East, you know he was [part of a] tribe that came and they showed Europeans that there's more to it than being controlled by very early and backward Western civilization.
HDN: You said Hungarians are very independent people.
GA: The Hungarians were very independent. When Hitler took over Austria the Hungarians said that no we don't have to be taken over. We can manage our own way. They would take care of their own Jews with deportation. And only after the Nazis invaded Hungary, I think in 1944, that's when things got really bad.
HDN: The ghetto?
GA: Yes. You see there was an Hungarian Nazi Party and they in some ways were worse than the Nazis.
HDN: Before World War II, was your family poor?
GA: At that point we were not really poor. We were middleclass. My grandfather had some sort of toy store. My father was some sort of salesman someplace.
HDN: Why did your uncle move to Cuba?
GA: He saw that the communists were taking over [Hungary] and he felt going to Cuba was … I mean, you couldn't go anywhere you wanted to. It's not like you had a choice of moving somewhere else. Europe was still closed. And then the United States was closed pretty much. There was one possibility that I was going to Israel but my grandmother did not want me going by myself.
HDN: So you went to Cuba.
GA: It was gorgeous. Cuba is very nice.
HDN: Castro wasn't in power yet. What was it like then?
GA: There was already fighting and I mean there were shootings. We lived near the presidential palace and the school bus got caught in crossfire. [Fulgencio] Batista was the head of the government, president. Castro was in the mountains. And the guerillas coming into Havana, hiding, trying to overthrow the government. And they were shooting on the street. I left the year before Castro took over [1958]. I belonged to a youth organization. See Cuba, unless you were involved in counterrevolutionary or revolutionary activities, nobody bothered you. There was no pressure.
HDN: And you weren't involved.
GA: No, I wasn't involved. Cuba is very liberal in a sense. Despite the fact the Catholic Church basically owns the religious aspect, everything else was very liberal. For example, at 9 or 8 you could buy beer. You walked to an open bar and you drank it, no matter what age you were. Cigarettes were sold to us [as kids]. And I think as the result of this liberalism you didn't have any teenage drunks. In schools, we didn't smoke. There was no interest in it. I smoked a cigar once. A green cigar with this horrible taste. But there was no incentive to either drink or smoke because you were allowed to. I was most surprised when I got to college about the Saturday drunkenness of some of my classmates who literally were practically dying they were so drunk.
HDN: So you moved from Cuba to New Jersey to go to school.
GA: Yeah. I came to go to Rutgers.
HDN: Where you said you got your first taste of American racism.
GA: You could go to Woolworth in New Brunswick, N.J., and I didn't participate but there was a sit-in at the Woolworth counter because they would not allow nonwhites to sit at the counter.
HDN: In your column, you passionately write about Islamic terrorism and Israel.
GA: In the United States right now, I see the right is supporting Israel and the right sees that it needs to be defensive against people who want to destroy Jews. And the left is not, for whatever reasons. And instead of speaking out against the wrongs in the world that the fanatic Islamic are producing, they always have an excuse for that. So this is a big change. In other words, we went from in the last 50, 60 years a fascist enemy of the Jews to a, I don't want to say communist because the communists are gone, but basically a leftist activist type of left hating the Jews. All you have to do is watch television. If you look at 'Democracy Now' or National Public Radio, if you listen to what they're saying and how they manipulate what they present and what they don't present, you can see that.
HDN: Could you give me an example?
GA: They put suicide bomber into the same category as the victim because they both happened to be teenagers. They interviewed the mother of the suicide bomber and then they interviewed the mother of the teenage girl who got killed. And they talk to them as equals. I have no problem with reporting on that. I have a problem with the questions they ask. Or the questions they don't ask.
HDN: Like?
GA: How can a mother send a teenage child to kill themselves? They don't ask that. They ask about the greater glory of this and the greater glory of that and ideals. But they never ask the human aspect saying, 'How can you as a mother send a child to die?' You understand what I'm saying?
---
August 4, 2006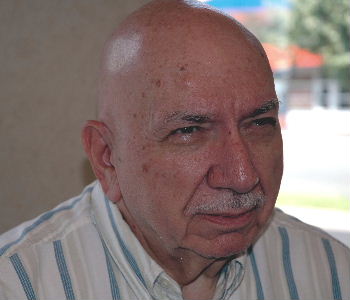 Photo/Ellen Andrews
John Aftosmes, 71, lifelong chef to the rich and poor
By Chris Clark
John Aftosmes runs Hamden's only soup kitchen in the basement of St. Ann's Church on Dixwell Avenue. He has been cooking since he was 9, when he began flipping hamburgers in his father's kitchenette. He holds an impressive résumé of chef jobs. In the 1950s, the Hamden man worked at the Congressional Country Club in Bethesda, Md., where he served Presidents Eisenhower and Richard Nixon. Today he serves 75-125 struggling people a day.
Aftosmes said he loves his work. When you hear him speak about the soup kitchen, there is no question he is connected and devoted to the people who eat his food.
Hamden Daily News: Can you talk about some of the jobs you've held in the past? I know you worked at the Congressional Country Club in Maryland.
John Aftosmes: Yes, I was a chef for many years. I worked in Washington, D.C.; I worked in Hot Springs, Ark. Also here in the New Haven area, I worked in a restaurant on State Street. I worked at the Ramada Inn in North Haven. Then I was in food service. I worked at Albertus Magnus College. I was food service director at Fairfield University.
HDN: Do you find there's a stigma about eating at the soup kitchen?
JA: No. We have a cross-section of everybody. We have some working poor who have jobs but can't make enough money. We have seniors who can't make ends meet. We do have maybe one or two homeless who come in. The majority of the people who come in have places to live. They just, unfortunately, don't have enough money to cover their expenses.
HDN: About the Congressional Country Club, was that an interesting job?
JA: Oh, yeah. Well, it was my first chef job. So that's one you don't forget too easily. I met a lot of big people. President Eisenhower, Richard Nixon, they were both members there.
HDN: Do you find your current job rewarding?
JA: Oh, yeah. I took it mainly because the father at the church was in a situation where he didn't have anybody. The original pastor who had operated the soup kitchen had retired. The father had two churches. He had St. John and he also had St. Ann's. And he said, 'I know nothing about cooking.' I had known him for 37 years so I just jumped on it and that's sort of how I went into it.
HDN: Do you get donations from a lot of places in town?
JA: Sixty percent of our funding comes from private individuals. Forty percent comes from the Catholic Church, civic groups, FEMA.
HDN: Does the town give you any money?
JA: No. A couple of federal and state agencies make up the rest. Most of our purchases come from the food bank. That's about it.
HDN: What's your yearly budget?
JA: Well, we do about almost $100,000. The majority of that goes for utilities. Oil this year killed us. Next year will be the same. Also the electricity and the gas. Even though we are in the church, we accept the responsibility of the gas. They lend us the building.
HDN: Do you find you get a lot of support from the people in town?
JA: Oh, yeah. A lot of support and a lot of respect.
HDN: Do you have volunteers?
JA: Yes, we do. In fact, right now we're looking for more volunteers. We have people come in at 9 in the morning. They work for us; they help us serve our meals from about 11:30 to 1. We've lost some due to illness. We're looking to replace some of the people who have left and pick up some of the slack. We do have openings. We're looking for people who want to come in and donate five hours a day once a week.
HDN: So what sort of hours are you talking about?
JA: 9 to 1.
HDN: Once a week?
JA: Once a week or twice a week. We have some who come in twice, but the majority come in one day. And they'll prepare salads, cut up vegetables, peel potatoes. They prep for me in the back while I'm cooking. They may make fruit salad. Right now we get donations from the synagogue up the street. Their congregation plants a garden and according to their faith they must share half of it. So they take half the bounty for themselves and the other half comes to the soup kitchen. We [also] have youngsters who come in. Now the Keefe Center has a work program through the city of Hamden. We have about seven to nine kids who come a day. They get paid through the town.
HDN: Are you open just on weekdays?
JA: Monday through Friday. When the father first opened the soup kitchen he had masses on Saturday and Sunday. So it was difficult for him to come down and set up, so they just made it a five-day operation and that was more convenient for him. And for me, too. I have my weekends free.
HDN: And not many chefs do.
JA: No. It's much better.
HDN: Is there anything else you would like to say about the soup kitchen? I would assume you could use donations, right?
JA: Oh, yeah. Any kind of financial donations. We are very lucky. We have a very, very loyal base of people who contribute every year. It's amazing. It really is. When you see that people really care. We have one fundraiser a year. That's usually in November. And other than that it's private donations. My number at the soup kitchen is 562.5700. Call from 9 to 2 and I'll be glad to take people who want to volunteer. We can work them into the schedule.