A Chat in Hamden
May 25, 2006
Barbara Tito, 63, Hamden tax collector, Hamden High class of '60, on the ball and charming
Photo/Sharon Bass
By Sharon Bass
With the average assessed home value having jumped 89 percent this year and a mil rate that wasn't brought down enough to prevent a major tax hike, Hamdenites are anxious. Some are scared they won't be able to foot their bills. They're angry, crying that the mayor and Legislative Council chose to create new positions, give pay raises to select employees and didn't chisel much away from the ever-escalating school budget.
Despite the gloomy picture, Tax Collector Barbara Tito said it might not be as bad as it looks. At least not for some. She said a smattering of property owners might actually see a bit of tax relief this year because of the lower mil rate on cars. But most won't.
Tax bills go out at the end of June, are due July 1 but people have a month to pay without being penalized. If the tab isn't paid by Aug. 1, 18 percent yearly interest is tacked on, effective July 1.
The Town Council recently commended Tito for her high tax-collection rate -- over 98 percent. She is in charge of bringing in property, motor vehicle and business equipment taxes.
Hamden Daily News: So, how did you get started in town government?
Barbara Tito: I served one term on the Board of Ed and in November of 1979, I was asked to become tax collector. It was a political appointment by Mayor Dick Harris. I was tax collector for six years during the Democratic rule. Then [Republican] John DeNicola became mayor, and I believe it was in January of 1986 he came in and told me he was letting me go and putting in his own political appointment.
HDN: And you came back.
BT: John DeNicola was only in for two years and then [Democrat] John Carusone was elected mayor. The morning after his election, he called me and asked me if I would come back and be tax collector.
HDN: Why did you return?
BT: I think it was my love for the job. I love the work. I love the people. I just loved what I did. And I certainly had a good rapport with John Carusone. I had known John for a number of years.
HDN: What happened later on when Republican Barbara DeNicola became mayor?
BT: It's an appointment by charter but it is in the union [now]. So it's the best of both worlds.
HDN: What did you know about tax collecting before taking the job?
BT: I knew nothing. The approach I took was I had a nucleus in the office. I sat down with every employee in the department, learned what they did and how they did it. And I was able to learn the position.
HDN: How do you collect taxes?
BT: In a variety of ways. No. 1, we're going to mail out the bills. And I would say, if I had to guess, maybe about 94 percent of the people will pay those bills. Now, it's the last 6 percent of the people that become the difficult job. After the tax-collection period is over in July, what we do is send out delinquent bills. That will happen in September or October. And we'll get another percentage of people who will pay those bills.
HDN: How many delinquent notices do you typically send?
BT: I would say we probably send out 10,000 reminder bills …
HDN: That represents just 6 percent?
BT: We've got 72,725 bills. You get a separate bill for property and cars. Some people have two or three cars. Now, if people don't respond to the reminder bill we send out another reminder. And obviously we need to be aggressive in the collection process, because if we're not we're not going to meet our budget projection at the end of the year.
HDN: And if they still don't pay?
BT: If you do not pay that bill, a lien is going to be filed on your property. And that's statutory. We have to.
HDN: What about unpaid car taxes?
BT: If you don't pay that we can do a variety of things. We are going to report you to the motor vehicle department, which we do on a regular basis. That stops you from being able to register your car. So that's a very effective tool. We do put a lien on motor vehicles as well. We don't take the car back. We put in effect a mechanic's lien. So if you own real estate, you're not going to be able to refinance that house or sell that house without taking care of that lien on the car. And that's something I've done for the last five or six years and it's been extremely effective because people have been refinancing one and two and three times on their properties.
HDN: How many liens have you put on real property over the years?
BT: We have 19,279 real-estate bills and I end up putting 600 liens. We send them a letter with the town attorney's signature telling them if they do not pay [their bills] we refer them to outside attorneys. At that point the attorneys begin the foreclosure process.
HDN: How many actually go through foreclosure?
BT: Almost none. Almost none. I would say in all the years I've been here -- 25 years -- if we've had 10, that would be a lot.
HDN: How much higher will bills be this year?
BT: I think the mayor said the average increase will be about $1,000. And that is going to be offset by their motor vehicle taxes. We're going down to 27.95 [mil rate]. We're currently at 43.24. So someone with a motor vehicle valued at $1,000, where they were paying $43.24, they're going to be paying $27.95.
HDN: That's not much savings.
BT: If their real-estate bill went up $400 and their car went down $200, their net increase is only going to be $200.
HDN: Would that be a typical scenario?
BT: I haven't seen enough of them to actually know. Mine personally is going up $900. We have two older cars so it's insignificant.
HDN: I'm wondering if that will be the more typical case. What is the average motor vehicle tax bill?
BT: I don't know what the average is. I know that, say a newer SUV one or two years old can be anywhere from $800 to $1,000.
HDN: Do you think it's going to be tougher to collect taxes this year?
BT: I would not expect any difference than our [usual] tax-collection rate. You have to remember that 25 to 30 percent of those bills are paid by banks through people's escrow, so people aren't even going to see that bill. I think the other bills people are going to pay. They are not going to not pay their bills. Are they going to be happy about it? I don't know.
HDN: Are there payment options for those who truly can't pay?
BT: We do have people we will work with. In other words, if somebody calls us and says, 'The first half of my bill is $1,500. I don't have $1,500. Can I go on a payment schedule?'
HDN: And?
BT: We're very taxpayer friendly. That is my philosophy here.
HDN: Would you elaborate on that?
BT: What would happen is, if you tell me you can't pay your bill by July, I'm going to explain to you there's a state statute that requires us to collect interest. Interest is 18 percent, and that's set by state law. That's a burden, an incentive.
HDN: How many payments are allowed?
BT: The most we can divide them into is 12 months. We don't encourage people to do that because they're incurring the interest charges. Most people when they understand they're paying 18 percent interest will find an alternative. And decide to pay that bill on time.
HDN: In your experience here, how many do you feel really can't pay?
BT: Very, very few. I think the majority of people prioritize and it becomes a matter of if I own a home that's one of the costs of owning a home. Is it going to affect other things that they do? Probably. They're going to have to put aside an additional $800 or $400 or $1,000 for taxes. That means that money is not going to be spent on something else.
HDN: Then you believe there's unfounded angst now about the tax hike.
BT: I think the majority of people have not seen their tax bill or have not calculated it.
HDN: So they're worried maybe for nothing?
BT: Maybe for nothing.
HDN: The Council has lauded you for doing a really good job bringing in the money. What is your collection rate so far for '05-'06?
BT: The latest number I have is from May 11, and we're at 98.4 percent.
---
May 11, 2006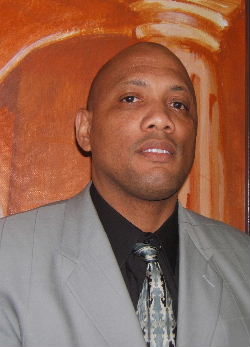 Lyndon Pitter, 40, director of Highville Mustard Seed, father of four, divorced Photo/Sharon Bass
By Sharon Bass
Brilliant visionary?
Or brilliant con artist?
Depends on who's talking -- about Lyndon Pitter, founder of the Highville Mustard Seed Charter School in Hamden.
In 1998, the New Haven Advocate named Pitter the "best suburban activist." Last October, the state began investigating him for financial and other wrongdoings. On April 13, Attorney General Dick Blumenthal demanded the charter school board to "immediately" remove Pitter, after it was discovered he lied about having a college education and submitted forged diplomas to the state. Last year, six of his seven board members and his CFO walked out, saying they could no longer put up with the director's mishandling of money.
Then listen to his new board members -- particularly Chair Mitchell Young -- and some school parents. They praise Pitter. They seem to worship him. They say he's created a school in a class of its own. They will defend him, it seems, no matter what.
When board members discussed removing Pitter last month, per the AG's written command, they eagerly gave him another title -- director of strategic planning and resource development -- instead of making him leave. They said they could not imagine the school without Pitter. So he remains at the Leeder Hill school, in his director's office under a new title.
It was agreed for this interview that Pitter would not answer questions about the investigation. So he was asked to talk about who he is.
He talked about his mother.
Hamden Daily News: You grew up in Jamaica?
Lyndon Pitter: Yes, m'am.
HDN: And when did you leave Jamaica?
LP: Long time. Probably 1989. Young man. I went to New York and I could not deal with the noise and I couldn't deal with the fact that you have to lock your door at night.
HDN: Isn't Jamaica like that?
LP: Yes, Jamaica is like that but it's a little bit different in the sense that if you live in an area, people know you. So people protect you. If you are a community leader, people will protect you.
HDN: What about your parents?
LP: My father left Jamaica when I was two years old, and came to the United States. And never returned. And my mother, who is a butcher, she would get up at 3 o'clock in the morning or 2 o'clock in the morning to go to the slaughterhouse. They would then kill the cow and clean it. She was a real tough lady. There's a very gentle side about her in the sense that, you know, outgoing and caring, but I think one of the most hardworking person I have ever seen in my entire life. You imagine that she gets up at 2 a.m., leaves the house at 2 a.m. in the morning and she would go to the country and go to the slaughterhouse and do what they have to do. Then she comes home at 6 o'clock. Then she makes breakfast. Then she wash clothes. Then she would clean the veranda. Then she would cook the dinner and put it in the thermos. And then by 10 o'clock she's going to the [butcher] shop to work. And she stays there till 6, 7 in the evening. Then when I get off at school I would have to stay at the shop with her, and she would make one of the fridges into a bed so if I needed to sleep, I would sleep on top of the fridge. We weren't allowed to cut the meat or do anything. All right? So that's the routine, and it goes from Monday to Sunday.
HDN: You couldn't stay home?
LP: No, she's very protective. We have to spend the entire day with her. And you know, we talk about life and we talk about seeing people coming in [the butcher shop] and give them meat and wouldn't collect any money. One of the most famous stories was a lady named Ms. Rutty. She would come every Saturday; she only eats chicken. She would come and collect her chicken from my mom and never pay. And I couldn't wonder why. And after a while Ms. Rutty disappeared. And when I started to do community work, I walk and visit this house and there I look and saw Ms. Rutty. She was on her bed. Could not move. Her toenail was this long [indicates about a foot in length]. She was in a deplorable condition. I told her my name and she remembered everything about me. That I was born premature. So I spend the day. I comb her hair, cut her toenail -- I had to use a pliers. I didn't give her a shower or bath, though.
HDN: That's some story.
LP: The dignity of the person is what my mother always talked about. You do nothing that makes a person feel less than who they are. When she gives the meat to people, she would hide because she didn't want us to know that she's giving it away for free because she doesn't want that person to feel as if they are not valuable. Or if they come in the shop, they must wait until everybody else is gone before she would sell them. No, they are just as important as the person who was going to be buying. So this was her philosophy. One, you do for yourself. No. 2, you work hard and you make no one feel less than they are.
HDN: Is she still alive?
LP: Yes, she is still alive. We talk all the time. She's my closest friend. My mother was my main influence. And there were a couple of priests who were my main influences also. My mother is very, very determined. She never gives up on anything.
HDN: Are you like that?
LP: I think pretty much so, but I think she does a much better job than I do. She is very straightforward. She would tell you her mind. Not that her tongue is loose but she will tell you straight up so you won't have any misunderstanding in terms of what she would talk about.
HDN: I see.
LP: I should tell you this story. One day this guy came to the [butcher] store. It was on a Saturday. Two guys. They actually came to rob her. One was standing outside and one was inside and I was sitting on the fridge. So the guy came to her and said, 'Give me all the money.' So she turned to the man and said, 'Did you give me any money to put down?'
HDN: Did he have a gun?
LP: Yes, he had a gun. And he said [again], 'Give me all the money.' And she said, 'Well, if you give me money to put down I want you to come and take it.' So he pull his gun and point the gun at her and say, 'Give me the money.'
HDN: And you're watching this?
LP: I remember it vividly. It's probably one of the most unsophisticated gun I've seen. And he point it at her. And he pull the gun and ready to shoot her and I decided to run out of the shop. I just collapsed outside and they decided to leave at that time.
HDN: Some mother.
LP: That's my mother. Never afraid of anything and full of determination and one of the most benevolent person you would ever find on the face of the Earth.
HDN: And tough.
LP: If you go to school and mess up, by the time you go home you get your ass kicked. She was a disciplinarian and firm because one of her things is the gun culture in Jamaica and a ganja [marijuana] culture. And all my friends would smoke and I could never dare smoke because if I smoke, my mom would really take care of me. She would come home and would check [his breath] to see if she could smell ganja. So I couldn't smoke. I couldn't play football on the street. She wanted to make sure her kids came out OK. She doesn't believe in babysitters.
HDN: Why did you leave Jamaica?
LP: Some of it I don't want to get into. I had no intention of coming to America. While growing up my favorite toy was the short-wave radio. I used to listen to BBC, Voice of America and I would know all the things that are happening in the world. The United States was getting very, very scared that Jamaica was becoming too close to Cuba so we were going to become Communists. You get brainwashed, you know? I was really scared about some of this stuff they were saying.
HDN: You eventually wound up at St. Ann's Church in Hamden.
LP: Right. When I first got here, I was looking for a rosary on my way to Stop & Shop and I went to St. Ann's. And Father Bonadies came out and said, 'Why do you want a rosary?' And I said, 'I want a rosary for meditation.' And he said, 'No black person comes here and asks for a rosary.' I said, 'As far as I'm concerned I don't care about who comes in and asks for a rosary.' And we start a conversation about Catholicism and things like that. And he said, 'Gee, you know what? I just applied to get a deacon and they turned us down. And so I'm looking for an auxiliary minister, would you consider it?' That's how I ended up at St. Ann's.
HDN: Who are you?
LP: I think I'm the kind of person that people underestimate.
HDN: In what way?
LP: In many ways. People thinks I have political aspiration and that's never the case. You know, somebody asked my daughter the question, 'How do you feel black?' And she was puzzled by the question, so she turned to the person and said, 'How does it feel to be white?'
---
April 27, 2006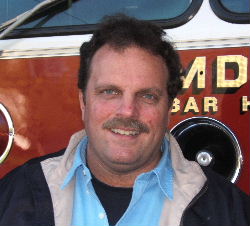 Tim Sullivan, 45, former Hamden fire chief, retired, still hanging around the station Photo/Sharon Bass
By Sharon Bass
When Mayor Lillian Clayman chose 35-year-old Tim Sullivan to be her fire chief in 1996, she got some hell. Opponents said he wasn't qualified. While he had only been on the force for nine years at the time, he had served the prior three as deputy chief. So Clayman had a nugget. And the Legislative Council swallowed it unanimously.
Fast forward to today. Mayor Craig Henrici has tapped 32-year-old Assistant Fire Marshal Brian Badamo for the top job. The appointment is getting big-time hell. Unlike Clayman, Henrici doesn't have a nugget. Like Sullivan, Badamo has been on the force for nine years but has not been able to advance up the ranks. Badamo couldn't make lieutenant last year. Opponents are crying he's wholly unqualified.
With the contentious appointment thick in the Hamden air, the HDN asked Sullivan what he thinks about it and what it was like being chief. He joined the department in1987, was appointed deputy in 1993 and chief three years later. Here's what Sullivan said from the basement of the Dunbar Hill volunteer fire station.
Hamden Daily News: So, what are your thoughts about the Badamo appointment?
Tim Sullivan: I know Brian very well. Brian was hired when I was fire chief. And Brian's father was appointed assistant chief when I was appointed chief. I don't think now is the right time for Brian to be chief.
HDN: You say you know about 60 percent of the current fire force. What are you hearing?
TS: A lot of people aren't pleased with the appointment. They think there are other people there who are better suited and they weren't even afforded the opportunity to be interviewed for the job.
HDN: Why do you think Badamo got the appointment?
TS: My impression is that he worked very hard for Craig Henrici for mayor. And I believe Craig believes Brian would make a good fire chief. I believe Craig believes that. I'm not saying I believe it. And I think Mayor Henrici wants to take this fire department in a certain direction, and I think that because he knows Brian so well maybe he thinks Brian is the man that will do that for him. However, I feel there are other people more suited for the job. I just wish the mayor had looked at other people.
HDN: What's the Hamden Fire Department like?
TS: I think it's not just Hamden but within any career fire department, you have a bunch of close-knit individuals who work together and watch each other's back.
HDN: How has it changed since you got involved in '87?
TS: There's a lot more people with higher education on the job. There's a lot of people on the job who have experience from not only Hamden but other towns. They're more advanced, highly trained. A lot of these people get training in their off time.
HDN: Tell me what it was like being chief.
TS: It started out when I was assistant chief. The only reason I applied for it was because Paul Wetmore was the chief and I enjoyed working with him. But during that period the town was after the firefighters union to lower the minimum-manning clause. And this was when Craig Henrici was president of the Council and Mayor Clayman was mayor. And their perception was that the overtime was out of control and something had to be done about it. And when I say overtime, that doesn't mean time and a half. Firefighters only get straight time when they come back and replace an off-duty firefighter. Anyway, that account, the 'sub-straight' account, was running up close to a million dollars a year.
HDN: What happened?
TS: They subsequently negotiated with the fire union at that time to lower the minimum-manning clause [of 23 fighters per shift], and the union disagreed with that. The union thought it was a safety issue. And it went to binding arbitration, state of Connecticut, and they ruled in favor of the firefighters union to keep it at 23.
HDN: Can a fire chief lower the department payroll?
TS: No, it's contractual. If the contract calls for 23 firefighters then the chief in his budget has to fund the 23 firefighters.
HDN: What happened after the state ruling for the union?
TS: The firefighters union contacted OSHA and cited several safety violations within the town of Hamden -- firehouses, fire equipment and so forth -- basically to bolster their argument about safety issues. And some of them were valid concerns.
HDN: And some weren't?
TS: Well, there were just some things that, you know, when OSHA comes in they go through the place with a fine-toothed comb.
HDN: But you said just some of the union's claims were valid?
TS: They were all valid concerns. Otherwise OSHA wouldn't have cited the town for it. We spent the better part of two years trying to get those violations corrected. Then the Council on its own did a study of the fire service to bolster their side of the argument. Mayor Henrici was [Council] president. They hired a guy to do a study and I think they paid $10,000 for it. And I went over the statistics with the guy and he came up with a report that basically said if you want to lower the overtime, hire more firefighters. They didn't recommend reducing the overtime. That report was run through the shredder in the Council office, because it didn't say what they were hoping it would say.
HDN: Did you have an adversarial relationship in general with the Council?
TS: I think the Council had a problem with the firefighters' overtime and they would question us constantly with our [fund] transfers to make up for the overtime during the year. One year I was only funded $250,000, and I clearly needed a million dollars to get through the year. We just went back to the Council every couple of months asking for the funding to maintain the minimum-manning clause in the contract. There was friction and unfortunately, Chief Wetmore and then myself were caught in the middle of it.
HDN: So in 1996 you became chief. Any surprises?
TS: There's a lot of things that go on that you wouldn't think the fire chief does. It's not just go to fires. But I sat in for three years on contract negotiations on the last fire contract. You deal with grievances from the firefighters union. You gotta meet certain training requirements. It's not just firefighter training; it's medical training. I learned a lot as assistant chief. And something new we had to deal with was females in the fire service in the '90s.
HDN: How many are there now?
TS: There are three I believe.
HDN: You were there when the abduction of a firefighter occurred and Brian Badamo's crew was implicated. What did you know?
TS: I'm not going to confirm or deny an abduction took place. If something happened, it was handled internally and therefore I don't want to comment on it, even though I'm retired. It was an internal matter then, as far as I'm concerned, it's still an internal matter.
HDN: Is that why people don't want to give direct answers to who was involved?
TS: Right. If this was a public matter …
HDN: Why didn't it become a public matter?
TS: You're inferring that it happened and I'm saying it was an internal matter.
---
April 17, 2006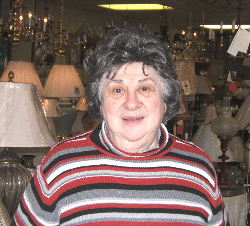 Jackie Kaywood, 72, Hamden small-business survivor, straight as an arrow, cup is at least half full Photo/Sharon Bass
By Sharon Bass
Frank Sinatra and other oldies croon from speakers. Fleets of lamps, ceiling fans, chandeliers and mirrors fill nearly every inch of the 7,000-square-foot mom-and-pop shop in Highwood. But it's just mom now running the show at The Lamp Shoppe.
Jackie Kaywood, who lives in Woodbridge, and her husband, Sam Kaywood, opened the 993 Dixwell Ave. light store 37 years ago. She said she was Sam's employee. When he died in 1990, Kaywood found herself in charge of everything and everyone.
Hamden Daily News: Though you and your husband started this business together, you say you worked for him.
Jackie Kaywood: I worked for him, not with him. I was not his partner. He was the male chauvinist that I was very proud of to be his wife. And that's how it was -- and it was good with me.
HDN: So how did your work here differ before you took over?
JK: I paid the bills but he told me how much to pay, you know? And I did a lot of the shopping but he had to approve a lot of the buying.
HDN: That was OK with you?
JK: That was OK with me. I don't have an ego that I needed to be equal or half or 50. He was a good man, he was a honey. He was good to the kids. Just a generally generous man and I was glad to be his wife.
HDN: When he passed away, you were saddled with running the shop. What was that like?
JK: Well, I have two adult sons and I said to them, 'Sons, what are we going to do with the business?' And they says, 'Mom, hang in there for a couple of months so we can make a decision.' And that was 16 years ago.
HDN: No decision made yet?
JK: [laughs] It's OK. It's all right. I made some mistakes but it's OK. You learn by them. I did, anyway. And sometimes it was really rough, in the beginning [after Sam Kaywood died].
HDN: How so?
JK: Business went down. In the late '80s, there was a surge in business. We did fantastic. But '90s we had like a little recession, if people want to call it that. So with the recession there was low cash flow, but nevertheless the expenses are always there. And thankfully, my vendors they knew me, they knew my husband and were telling me, 'Don't worry. Don't worry. When you can pay us that's fine.' And so they held onto me and continued shipping to me. And then as business got better I was able to pay. And it's been good. You look up. You don't look down.
HDN: Has the new Home Depot substantially eaten into your business?
JK: I'm sure I've lost some. But I'm not working and concentrating on them. I'm concentrating on my own shop. Good luck to them. I don't have any hard feelings. There is a market for Home Depot. There are people who would only shop Home Depot. That's fine. And I have my trade, my market and they all pretty much want the service. They want the individual attention. I just spent maybe 20 minutes to a half-hour with a woman, who totally did not know what she wanted. That's OK.
HDN: What makes your lamps different from Home Depot's?
JK: Our lamps are different because they are better quality. I hate to say that because their lamps are good for their money market. But when a person spends $200, $300 for a lamp, not only do they expect it to be a superior product but also they want the service that goes with it.
HDN: Do you only use vendors from the United States?
JK: They're worldwide, most of them. Unfortunately, a lot of my vendors get from offshore, Far East, maybe. Whereas at one time, almost everything was made in Brooklyn [N.Y.], New Jersey, Texas, South Carolina. Today that's not the case. There are still a few houses that we buy from that are strictly made in the USA. One company, their boxes was red, white and blue and proudly [labeled] made in the USA. And then on the lamp I find a little teeny, tiny sticker that said, 'Made in China.' So I called him. I said I'm sorry, that doesn't go with me. He apologized [saying] the boxes were made in this country. I said that's misleading. So I will take them out of the boxes; my customers will never see that. So anyway, then the boxes stopped coming in 'Made in the USA.'
HDN: Sounds like you're a tough businesswoman. Are you?
JK: I'm tough. But I'm ethical and I like to be fair and I want people to treat me fairly. It's not necessarily the bargain that's worth the sale. I want to buy with confidence that the people who are selling to me know the product, they'll be behind it. And then I like them to say, 'Hello, Mrs. Kaywood.'
HDN: Why lamps to begin with?
JK: We come from a mom-and-pa grocery store on Edgewood and Gill and then Orchard and Elm, New Haven. And after eight years of working seven days a week, 7 in the morning till 7 at night, it was tiring. Our lease was up and it was time to make a change. So I told my husband we need to make a change. He was going to open a fabric shop but then one day he said, 'What do I know about fabrics? At least I know how to fix lamps.' So this is the birth of the lamp shop of Hamden.
HDN: Are you thinking about retiring?
JK: If I retired, what would I be doing?
HDN: What is your relationship like with the town?
JK: I'm not political but I do support whoever's in office. As a matter of fact, [Economic Development Director] Dale Kroop, he's a honey. He's a honey of a man.
HDN: What has Kroop done for you?
JK: A lot with advice. A lot with being there. He has done what a lot of organizations could not do with this neighborhood [Highwood].
HDN: So it's been good for the most part.
JK: I have made my own place in the sun. There is a place for everybody. I like to believe so. It's just the idea of one finding their place and willing to either stay with it or look forward and up. Your glass is either half full or half empty. HDN: Not hard to guess where yours is.
---
April 10, 2006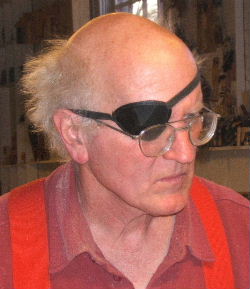 Bill Brown, 60, Eli Whitney Museum director, educator, imaginer
Photo/Sharon Bass
By Sharon Bass
The first time I had a conversation with Bill Brown was last Thursday during Hamden's Eli Whitney Museum's Annual Leonardo Challenge. Intrigued, I went back for more. More of Brown.
The museum director, known for his highly unconventional and delightful mind, summed himself up in one word: educator. Not what I expected to hear.
I also didn't expect to hear that Brown attempted suicide when he was a young boy. He said he was raised by an alcoholic mother and a "very conventional" father. He said teachers told him he had little to offer the world.
Look at Bill Brown now.
Hamden Daily News: You have a master's degree in social work and you run the museum. What do you call yourself?
BB: An educator. I would consider social work as legitimately part of education. I'm interested in the ideas of what children need to learn and how they learn things.
HDN: And that's what this museum is all about.
BB: Absolutely. It's historically appropriate. [Eli] Whitney felt it was important that he train workers to develop skills that they could learn in no other place. It's a kind of practical education that needs to be understood, appreciated.
HDN: Are you also an artist?
BB: Not really. I'm inventive. I'm a designer.
HDN: Of what?
BB: A designer of learning tools for children. We're an experimental learning workshop in which the word 'experiment' is quite literal. Recognizing that you can collect information from your attempts to do things and [get] feedback on that information and solve problems. Creative problem solving. It's a fundamental kind of thinking, not necessarily one that is taught in school.
HDN: What's your take on mainstream public education?
BB: I think teachers are incredibly hardworking. I think it's unfortunate that we're burdened with No Child Left Behind legislation that asks that they narrow what they measure with children. It's good to have aggressive high standards. On the other hand, it's not for want of capable teaching that children falter at standards. It's a much more complicated problem.
HDN: Like the pressure on children of varying backgrounds and strengths to do well on the same standardized tests?
BB: It's a fascinating time in that the whole world has changed enormously and children have access to information in forms that nobody ever dreamt of. Any kid with Google can enter the Harvard libraries and look at things you could never see before ... It's a change time. You should know. Your newspaper is understanding that it may well be that people will get their news in a different way than ever was done before. I'm not unhappy with the media change. I think much of the new media is stimulating. And education is caught in this change time, and we pretend that in No Child Left Behind that all children are going to be readers and writers and that's how they're going to think. But there isn't real evidence in the broader culture that all children are going to be readers and writers.
HDN: And so you do it differently at Eli Whitney.
BB: I got started in this business because I was a school social worker and I kept getting sent 9-year-old boys who were in trouble because they weren't reading and they weren't paying attention in their classrooms. It occurred to me that they were in many ways brilliant, at least in ways that interested me. They were often ingenious problem-solvers. They were often great mechanics. It turns out if you look at people like [inventor] Eli Whitney, he was not a very adept fourth-grader. He didn't learn to read until he was 12, OK?
HDN: Today, he would have been left behind.
BB: He would have been left behind. And it turns out that if you look at the history of inventors and mechanics, they were often restless, impatient learners. Not ready to sit still in a classroom.
HDN: And you?
BB: Oh, I was one of those students who was nothing but frustration to my elementary schoolteachers. I am profoundly dyslexic and my handwriting was incomprehensible. I came from an accomplished family and the teachers would say very unkind things about … well, among other things that I was going to end up being a truck driver.
HDN: How did those words affect you?
BB: Well, I listened to them and thought perhaps they were right. And it's kind of a personal thing to have to reveal but when I was very, very young, when I was 9 or 10, the conclusion I had was that since I felt that I knew the answers and I could solve most of the problems they were talking about, but [the teachers] were somehow unhappy with my way of solving it, that I must be wrong. And when I was 9, I tried to hang myself.
HDN: Ah.
BB: I did, because it was an obvious conclusion that I was as bad as they said I was. I was simply morbidly upset that I couldn't satisfy any of the people's expectations. What drives my work is, I don't think it should be given wrong information.
HDN: Can you explain that?
BB: I think it's true that I was not a very good student, but I actually worked very hard and had good ideas and was a pretty good thinker. And I've had an advantaged life in that I have capable, loving parents and terrific -- well, my mother was not so loving -- but my grandmothers were terrific. And I had a grandmother who read to me every day when I was 5 years old and 6 years old. I was hungry for words and I couldn't get them and she just intuitively knew to spend time with me. I had all of the opportunities that normally might stimulate someone into being able to read more. But it's never happened.
HDN: What about your father?
BB: My father was an executive in a glass business. He was adept with his hands but a very conventional businessman.
HDN: Were you encouraged to be inventive and freethinking?
BB: Oh, my mother was sort of poetic. And she was a wily bridge player. She was kind of a reckless alcoholic and was inventive in explaining things. [slight chuckle] But, no, my father was always very cautious. The inventive part is just something that has grown in me as I got older. But I had a good education. I never read much faster than an able fourth-grader. I did well in graduate school [Columbia University]. But I worked very hard. And the thing that frustrates me is we know much more now about the complexity of learning but we still seem to narrow our expectations. We still seem to hint that all kids should pursue a conventional college education because that's our idea of what education is. And that's true for some, but not for everybody. I actually think that there are other ways to do well in life. I think we need more artisans and electricians. We forget to reward them. We forget to invest in their education as energetically as we invest in that narrow spectrum of kids who actually attend college.
HDN: How does the 'Bill Brown School' at Eli Whitney educate?
BB: We're curious about how kids learn something and we invent a project that captures a kind of opportunity. It's neat. It works. When I think about education, I think about practical confidence and projects and opportunities to show kids ways of thinking with their hands. I'm always a little alarmed when I find kids thinking that to use a hammer is somehow of lesser importance than to use a scalpel or to use a pen. I happen to have as much respect for the craftsmen cabinetmakers I know as I do for the craftsmen surgeons that I know. The two things are not that far apart.
HDN: They both use their hands and tools. What else?
BB: And they're both understanding in a deep and organic way how either the body works or how wood works. They bring to each touch of the project they're working on an enormous amount of synthesized experience to make things work. It takes just as long to train a fine woodworker as it takes to train a surgeon. A surgeon has to have a different intellectual preparation, to be sure. But one shouldn't completely measure them in different ways.
HDN: What about daVinci's works draws you?
BB: Early on in my work I realized that the books of Leonardo daVinci were an enormously lucid blueprint of a mind at work. It turns out that you can find every fascination that every inventive child has some place in the notebooks of Leonardo. So over the years I've probably taken 150, maybe 200 of his drawings and converted them into projects for kids. We produce about 70,000 projects a year. That's 140,000 hands.
---
April 3, 2006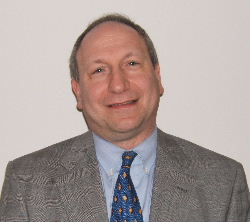 Jim Pascarella, 46, at-large councilman, insurance man, coach man, bachelor man Photo/Sharon Bass
By Sharon Bass
The interview with Councilman Jim Pascarella was brief. He and the HDN were scheduled to meet in the Legislative Council office at Government Center at 4 p.m. last Friday. Pascarella was 10 minutes late. No biggie, normally. But the LC office was to close exactly at 4:30 p.m., and there was the threat of being locked in for the night if the interview went overtime. It did, by 10 minutes. (Thanks, E.P.)
Hamden Daily News: When did you move to Hamden?
Jim Pascarella: '98. That's when I bought the house on Stratton Court.
HDN: Why did you get involved with the Hamden Education Foundation?
JP: It's a funny thing. It's a funny thing how you evolve into things. A couple of years after I moved to town, my nephew was playing football at the high school. I got involved in the Grid Iron Club, where we had done a lot of wonderful things, established a weight room and done all of these other terrific things for the team. Then from there is when Dr. [School Superintendent Alida] Begina was setting up the education foundation and requested that I hop on because they knew what we had done at the Grid Iron Club. And at that time, I had left the Grid Iron Club and joined the [football] coaching staff as an assistant.
HDN: Where did you coach?
JP: Hamden High School.
HDN: Are you still there?
JP: Yes. I don't really coach. I'm an assistant to the coaching staff.
HDN: Coaching. The Hamden Education Foundation. Do you have a special interest in children's issues?
JP: I've always been interested in children's issues, education issues. I have probably more interaction with students, because of football, than I do with the education foundation. Predominantly, because with football you're there in the high school with kids, one on one. I love that. I really do.
HDN: Do you have children?
JP: No. That's ironic. I'm unmarried. Never been. And I don't have any children. Total bachelor. I live alone.
HDN: What grabs you about education?
JP: I was a product of public education. I'd gone through the North Haven system. I went to Fairfield U. And, essentially, my father had passed away when I was almost 3 years old, and my mother raised us alone. And she was an educator. She was a teacher in Hamden for over 30-something years. She taught at Ridge Hill. Currently she's the computer teacher at St. Rita's.
HDN: Your mother still works?
JP: Yes.
HDN: How old is she?
JP: She'd kill me if I told you that. (laughs) I'm the youngest. I have a brother who's 49.
HDN: Well, that's great that she is still so active.
JP: Yes, she's fairly dynamic. She's very dynamic. She's terrific.
HDN: What would you like to tell me?
JP: One of the best stories I have is, we had brokered a deal with Southern Connecticut sort of as an intermediary with the Board of Ed, which they now have 82 tutors, I guess it is, teaching in the second grades, which I think you're aware of. When we cut the ribbon on that arrangement we were at Dunbar Hill, Church Street School, excuse me. And it was a reading day. The president of Southern was there. A bunch of us each took a group of kids and we were reading Dr. Seuss to a group of second-graders. Well, I had a kid who was a riot. I was president at the time of the foundation. So I sat down and he says to me, 'So you're the president. Where did they park your limo?' And I said to him, 'I didn't bring a limo with me today.' He says, 'Where is your security detail?' He was [asking] completely serious questions. You just love stuff like that. And that's the reward. You're making an immediate positive impact.
HDN: Last year was the first time you ran for elected office. Why'd you do it?
JP: Well, frankly, you know I was interested in the Board of Education. It seemed like that would be an easier job. And then I was talking with some folks and they indicated I might be better suited for the Council than the Board. Because the Board just deals with the education and the Council deals with a bigger, broader issue.
HDN: Who suggested you run for the at-large Council seat?
JP: Oh, God, there was a number of people.
HDN: Some of the school board people?
JP: Some of the school people thought it might be nice if I were there.
HDN: You were a Carl Amento supporter running with almost all Craig Henrici people. You also are supportive of a school super, who is not popular in this town. How did those positions affect your campaign?
JP: I think there's a lot of misinformation about both people, quite frankly. For instance, there was ... and it has stuck because the Board never really responded to it. But a lot of people think the superintendent has a dry-cleaning allowance in her contract. That's total fiction. There's no provision in her employment contract for a dry-cleaning allowance. (Editor's note: The HDN had sent a Freedom of Information request to the school department about such a dry-cleaning allowance. A response came late March saying Begina's dry cleaning was never paid for by the taxpayers.)
HDN: What else?
JP: There are things that have just been allowed to sit there. I think a lot of folks don't understand the education process. They look at the dollars that goes toward education.
HDN: I don't think it's always the bottom line people balk at, but instead how the money is allocated. We do have a relatively top-heavy school administration with a lot of six-digit salaries. And the first place budget cuts are usually made is to student services and needs, like textbooks, instead of trimming the administration.
JP: Philosophically, I actually can understand that. At first blush, I think there's a logic to that. I can't disagree with that. I think quite frankly the mission of any profession is to do the profession appropriately and properly so that you accomplish the goal of what your profession is prior to personal enrichment.
HDN: Students need textbooks and small class sizes more than an army of administrators.
JP: Keep in mind, there's only three people at the Board of Education that are not part of a union. Three administrators [Begina and Assistant Superintendents Hamlet Hernandez and Portia Bonner]. Everybody else is part of the administrators union. So when you look at that you have to consider that. There's a clause in their contract -- which, again, a lot of people don't know -- which I don't know why it's there, quite frankly, but it is.
HDN: What does it say?
JP: That if an administrator's position is eliminated they would immediately revert back to a classroom position at the pay they were making as an administrator. So if you have an administrator who's the director of whatever and they're making $95,000 and they went back and became a math teacher or whatever at the high school, they make $95,000.
HDN: Has the Hamden school system ever eliminated a retiring administrator's position?
JP: That's a good question for the Board of Ed to really review. I don't want to give the impression that I agree with everything that goes on over there. I've always had difficulty in the past with the way the Board of Ed would lobby for their funding. It was a philosophy that existed prior to the change of the present leadership there. I always felt it would be best to get out to the public and explain the drivers of their budget as opposed to threatening that we're just going to eliminate the programs.