General News
July 23, 2007
'It's Going to Be Gorgeous'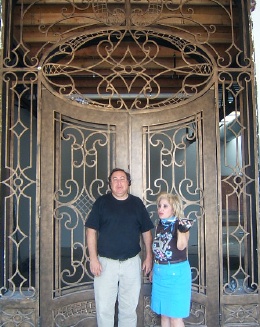 Developers Arthur Seidenfeld and Fereshteh Aghilabady at the gateway to their food haven.
Paradise on its way
Story and photos by Sharon Bass
Everything about the upcoming Paradise Village Center says international -- the workers, the building components and the purpose of the $4 million-plus project at 1717 Dixwell Ave.: food. Plans are to draw at least 40 vendors and restaurants that offer up edibles from around the globe.
American chains are discouraged. There are more than enough of them along Hamden's Dixwell Avenue.
Early Sunday afternoon, about a dozen Italian and Albanian laborers were busy renovating the inside and outside of the 42,000-square-foot building and the abutting 3,000-square-foot structure. "We work every day," one worker said in broken English.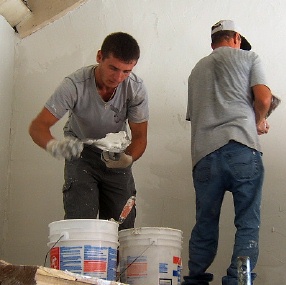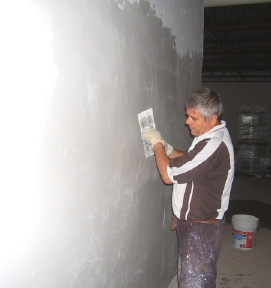 A little while later, the three New York developers behind the project arrived: Arthur Seidenfeld of Queens, Fereshteh Aghilabady of Manhattan (also Seidenfeld's personal partner and the project designer) and Morris Zarifpour of Long Island (pronounced "Lawn Guy Land" by the natives). They began hatching their Quincy Market-esque idea for the old decrepit Rite Aid building nearly three years ago. They bought it for $750,000 in November 2004 and figured it would cost under a million to turn it into their gastronomical paradise. The final price tag will be at least five times that.
The front door is on Mather Street, in the heart of the Highwood neighborhood, which Economic Development Director Dale Kroop has targeted for revitalization. Paradise Village is expected to be an integral part of that renewal. It's been approved by the land-use commissions and Seidenfeld said it needs just one more permit.
On the naked ground in front of the building, which will eventually be paved for parking, were boxes and boxes of unpacked marble fountains and columns imported from China. Seidenfeld said they will be installed around the exterior of the building within two weeks.
The front steps have been redone with exquisite, colorful Mexican and Italian tiles. The entrance is a $20,000 wrought iron door from Mexico.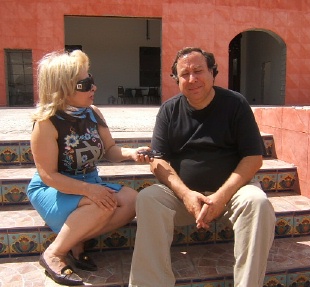 Seidenfeld and Aghilabady on their imported-tiled front steps.
"I love old buildings, the high ceilings," said Aghilabady, who speaks with a thick, charming Persian accent. "We were thinking of fixing it and selling it but I became attached to the building. It's my baby. It's going to be gorgeous."
Paradise will be ideally 70 percent food and 30 percent "other," such as a gift shop, arts and crafts booth and possibly a book store, said Seidenfeld. "I don't anticipate any chain stores," he said.
The developers said they plan to have a nightclub with live music in the basement and outdoor concerts with seating. There will be an elevator.
And, reportedly, they're getting bites.
"We have interest from several local restaurants," said Seidenfeld. "We have several deposits already and we have numerous leases in the works. And I get about three e-mails a day from local residents asking when we're going to open."
That should be early 2008, he said.
---
July 12, 2007
A Plaque of Neglect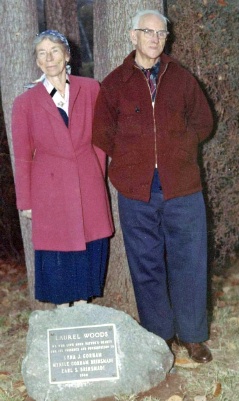 Myrtle Gorham Brinsmade and Earl S. Brinsmade stand by the plaque in 1960. Courtesy photos
By Jim Maresca
It was my great pleasure to grow up in Hamden in the 1950s and 1960s. My wife and I are now living in North Carolina. On a recent visit to Connecticut I, of course, had to take a nostalgic walk through my old neighborhood.
I grew up on Brinsmade Road in a neighborhood we called, at the time, "Down the Valley." The "hill" was Dunbar Hill.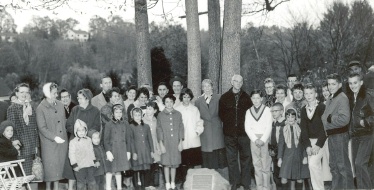 Local families at the "Laurel Woods" ceremony 47 years ago.
As I walked to the corner of Benham Street and Gorham Drive during my last visit, I remembered the dedication and ceremony the local families put together to honor the original caretakers of "Laurel Woods." Those caretakers were Lena J. Gorham, Myrtle Gorham Brinsmade and Earl S. Brinsmade.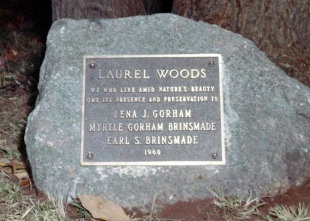 The dedication ceremony was in the spring of 1960. I was 11 years old. Until I left Hamden in 1975, that small island was always taken care of by the neighbors.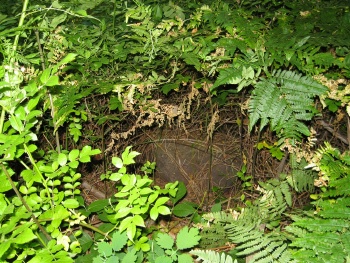 As you can see from the recent photo above, the plaque installed during the ceremony is now hidden by neglect or just forgotten. I felt it was a part of the town's history and that just maybe the Parks & Rec Department or some part of the municipality might have a few bucks to at least clean up the area so the plaque and its purpose might not be forgotten. I'll bet the current residents don't even know it exists.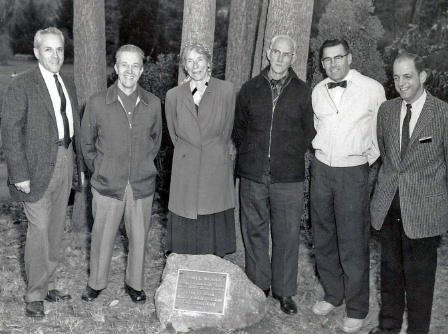 The Brinsmades flanked on either side by neighbors.
I will always feel blessed for having had the privilege of growing up in Hamden. It will always be home to me.
Jim Maresca lives in Wilmington, N.C.
---
July 10, 2007
'He Was a Great Guy, What Else Can I Say?'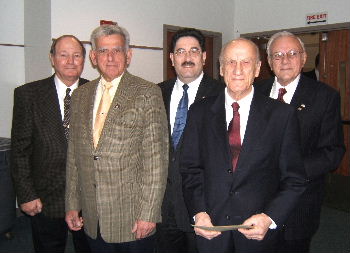 Former Mayor John DeNicola (back, left) stands with other formers at Henrici's 2005 inauguration. File photo
By Sharon Bass
A never-ending line of mourners walked by John DeNicola Jr.'s casket yesterday to pay their last respect to the former Hamden pharmacist, councilman and mayor who passed away last Friday at 72.
Like many inside Torello & Son Funeral Home on Dixwell Avenue, Mike Iezzi said he knew DeNicola just about all his life.
"He was a good man. A good politician," said Iezzi, chair of the Hamden Republican Town Committee. He said he worked on DeNicola's successful 1985 bid for mayor. (John's father, John DeNicola Sr., was Hamden's first mayor from 1965-67; and his sister Barbara DeNicola was the town's ninth, 1997-99.)
Paul Festa said he also grew up with DeNicola. Festa lived on Concord Street and his buddy John on Dante Place when they were kids.
"He was a great guy, what else can I say?" said Festa. Not having a TV at home, he said he'd go to the DeNicola homestead, where Barbara still lives, to watch theirs "and to play ball."
"I knew [DeNicola] since grade school," said former Police Chief Jack Ambrogio. "I practically lived at his house." Asked for a memory or two, Ambrogio softly said, "There are too many memories. Too many."
"I always admired him. I thought he was a kind, generous person," said former Mayor Carl Amento, who was an assistant town attorney when DeNicola served on the Legislative Council in the early '80s.
"I had a lot of respect for him," said Craig Cesare, a Planning & Zoning commissioner. "The DeNicolas are a great family."
Democratic Councilman John Flanagan said though he was on the "opposite side politically, we were always friendly and exchanged jokes. He was a good guy."
Flanagan's wife, Mickey, said DeNicola, who ran DeNicola's Circular Pharmacy, helped her out as a young mother. "He was always kind and available and knowledgeable," she said.
DeNicola Jr. appointed now-retired Bob Nolan police chief in the mid '80s. "Towns have families like the DeNicolas. They gave so much to the town. He was the boss," said Nolan.
"He was a great brother, a great father and a great son," said Barbara DeNicola. Her brother's funeral is at 10 a.m. today at Blessed Sacrament Church at 321 Circular Ave. Just up the street from the former DeNicola's Circular Pharmacy.
---
---
July 9, 2007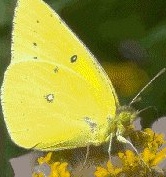 Brooksvale Flies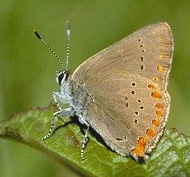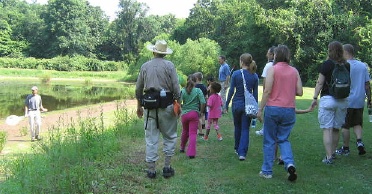 Brand searches for butterflies and dragonflies in the dry bed of Brooksvale's duck pond while hikers look on.
Words and pictures by Betsy Driebeek
Andy Brand, a member of the Friends of Brooksvale Park, led a group of 22 on a butterfly hike Sunday morning. He said there are 50-70 species of butterflies in Brooksvale. By hike's end, 13 had been netted, observed and set free.
Such as:
1) The coral hairstreak
2) The silver-spotted skipper
3) The little glassywing
4) The cabbage white
5) The great spangled frittilary
6) The red admiral
7) The orange sulpher
8) The Delaware skipper
9) The northern broken-dash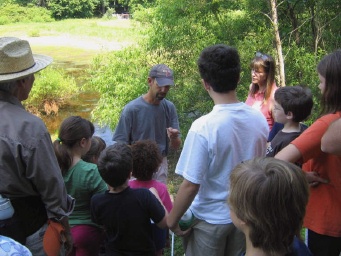 Brand and the butterfly group.
Besides butterflies, Brand showed hikers seven species of dragonflies as well as various beetles, bugs, frogs and newts that call Brooksvale home sweet home.
---
July 2, 2007
Big Bangs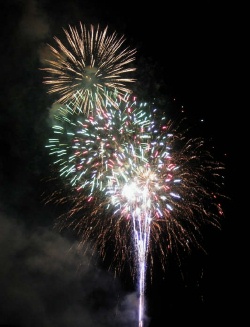 HDN's Betsy Driebeek captures highlights of Hamden's 14th annual fireworks ignited at Meadowbrook on June 29 and drawing about 30,000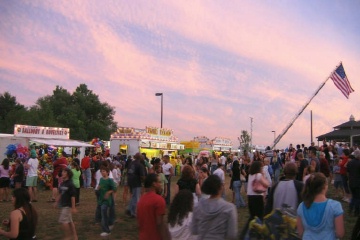 Before the fire display, the sky puts on its own show of beauty as people patronize food stands.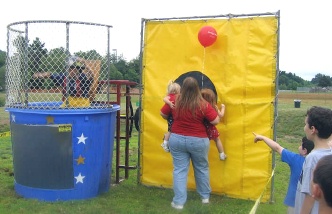 To raise money for the fireworks, volunteer firefighters set up a tank to dunk their own. One dollar for three throws; $5 to walk up to the tank-release button and push it. After letting her grandchildren spend $4 -- 12 throws -- with no luck, Beth Lubenow of Hamden pays another $5 to let Rachel, 2, and Alyssa Handy, 3, push the button. And firefighter Erica Nastri (in tank in above pic) takes a dip in the water.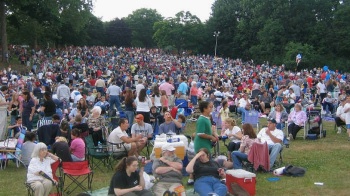 About 30,000 wait for the show to begin.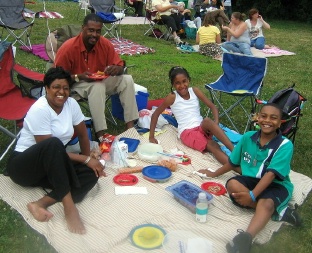 New Hamden residents (left to right) Traci Turner-Moore, Carl Fairfax Jr., Amirh Moore, 10, and Carl Fairfax III, 11, experience Hamden fireworks for the first time.