"I am very proud of where we are now and looking back 82 years to our founding members, I think they would be very proud as well," he said.

The pine picnic area appears behind the silhouette of Ross Lanius.
Ross Lanius, head of volunteer projects, said, "The Giant is being used, really used. It is literally worn out." High school students, Boy Scouts working on their Eagle projects and adults who can handle heavier jobs help with bridge building and trail moving, he said.

Trails maintenance chair Dom DeGennaro said volunteers logged 488 hours this year, cleaning and clearing the trails and carting out 427 pounds of trash.

Park manager Lori Lindquist reported that 118,000 people visited the park this year and only a few minor injuries occurred.

The association has 2,500 members. Funding comes from member dues, contributions and merchandise sales, said treasurer Phil Rapuano. Some of the money raised was used this year to acquire 4.6 acres near the foot of the Giant and 10.63 acres near the horse trail, according to John Kotchian, park expansion chair.

"Our mission is to acquire land on the Giant as it becomes available. In order to do that we need the money," said secretary Dag Pfeiffer.

"This has got to be the windiest annual meeting we ever had," Miller said closing the meeting. And with that, members went on a fall foliage hike in the gusty Giant wind.
--------------------------------------------------------------
Raining Apples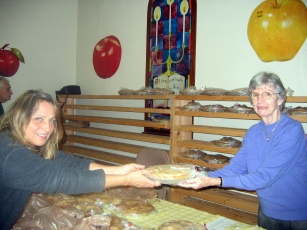 Phyllis Civitelli of Hamden (left) purchases an apple pie from fellowship member Jean Copeland. Photo/Betsy Driebeek
By Betsy Driebeek

Apple pies, apple crisps, apple pancakes, apple cider, apple sauce and apple skivers (Swedish doughnuts made in cast-iron pans) made their way to Dunbar United Church of Christ Saturday for the 38th annual Apple Festival, presented by the women's fellowship.
"Despite the weather, we've had a wonderful turnout," said Rev. George Manukas of the Benham Street church. He and his wife, Janet, greeted folks at the door and took their food orders.

The fellowship baked 800 apple pies this year. They started in August. "As soon as the apples are in we get together once a week and bake pies," said Barbara Walters, who has been in charge of the festival for the past 25 years. "One year we baked 2,000 pies; that was when we were all young and full of energy. Now the young people are all working."

The women's group also sold jugs of cider, jams and jellies, handmade crafts, jewelry and stuff from "grandpa's shed" and "grandma's attic." Proceeds from the day went to local charities.
---
Dog Day Halloween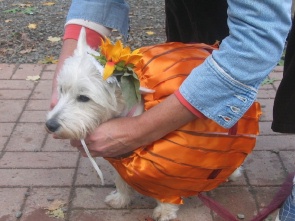 Louise Elizabeth puts on the last bits of her pumpkin costume with a little help from her companion, Gloria Lipman of Hamden.
Words and pictures by Betsy Driebeek
On any given sunny Sunday afternoon, you might find 20-25 dogs enjoying themselves in the Hamden Dog Park at Bassett. Chances are they would not be wearing any clothing.
But this past Sunday was different. Canines were in their Halloween best. They came to party at the park to raise funds for the Hamden Responsible Dog Owner's Group via contributions and the sale of bandanas, dog biscuits and T-shirts. Dawn Tiedemann, coordinator of the RDOG, said about 35 pups showed up.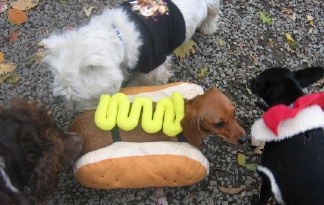 You want mustard on that? Peanut (the hotdog) belongs to Lisa Rohner of Wallingford.
RDOG member Kathy Tessier said the town doesn't pay for the poop bags provided at the park, which cost $1,000 a year. The money raised will also go to signage and gating.

Volunteers get together for town-dumped gravel spreading, mulch and weed work and general cleaning. "If people picked up after themselves and their dogs, the upkeep of the park would not be so dependent on volunteers," Tessier said.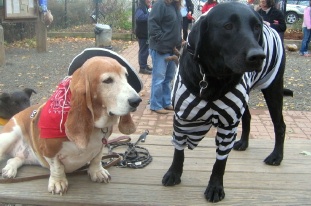 Aurora (sheriff) and Rosie (her prisoner), pets of Kathleen Charest of Meriden.
Although the park's in Hamden, there were plenty of dogs visiting from out of town. According to Dog Fun Directory, only 26 Connecticut towns have dog parks.
-----------------------------------------------------------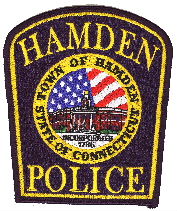 SIT Seizes Narcs
From Capt. Ron Smith:
On Oct. 27, the Hamden police Street Interdiction Team investigated an anonymous tip that narcotics were being delivered to 2297 Whitney Ave., Apt. 38. Furthermore, officers received information that a wanted felon was involved.
While conducting surveillance in the parking lot of 2297 Whitney Ave., police spotted a man leaving Apt. 38 and walking towards a parked vehicle. Information was developed about the activity going on inside the apartment. When the occupants opened the door, officers observed crack cocaine packaged in small Baggies and drug paraphernalia in plain view. Heroin and $1,125 were found nearby. The SIT seized 3.2 grams of heroin and 2.2 grams of crack cocaine. The estimated street value of the narcotics is $350.
Four were arrested; one from Hamden. Stuart Benson, 19, of 2297 Whitney Ave., Apt. 38, was charged with possession of narcotics, possession of drug paraphernalia, conspiracy to possess narcotics and conspiracy to possess drug paraphernalia. Benson was detained at police headquarters on a $25,000 bond.
---
October 27, 2006
Lamont Does Wilder

Hit the arrow to hear Ned Lamont's opening statements last night.
By Sharon Bass
"It's not just about the war," said state Rep. Brendan Sharkey (D-Hamden), introducing the man of the hour inside a packed Thornton Wilder Hall yesterday.
Yes, Democratic U.S. Senate candidate Ned Lamont's platform is about much more than the Iraq War, Sharkey said. Universal health care, corporate responsibility, environmental protection, fiscal responsibility, education reform -- critical domestic stuff the Bush Administration has either eroded or ignored while pouring billions into a no-win war.
A fairly pumped-up Lamont took over the mic and reiterated his talking points to the full house of children, politicians, World War II vets and political bloggers, who enthusiastically greeted him during his Hamden campaign stop just 11 days before Election Day. The candidate is challenging Republican Alan Schlesinger, Green Ralph Ferrucci and "Connecticut for Lieberman" Joe Lieberman.

P&Z Commissioner Ann Altman tells Lamont she's very glad he's running.

Hamden High student Jesse Chevan, 16, asks the candidate what can be done to help middle-class families pay for college.

Lamont responds to Don Werner's concern about the severe under-funding of the VA healthcare system.
-------------------------------------------------------------
Keefe in Costume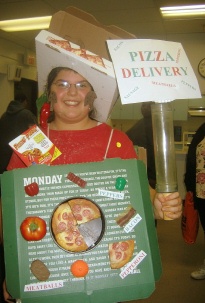 Pizza anyone? Hamden Middle School student Jennifer Pilchik, 11.
Words and pictures by Betsy Driebeek

If you were a kid with a costume, Hamden's Halloween party at the Keefe
Center was the place to be last night. The annual event usually draws
about 200, but high school resource officer Robert Dunham estimated many more.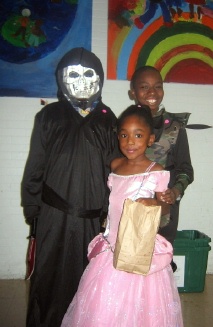 Nine-year-old Ridge Hill School friends Leniko Huggins (left)
and Evans Genece with Evans' sister Ashliegh, 5.
There was also quite a police presence at the party as the force is the main sponsor. "It is a very good thing for the community and we look forward to it each year," said Detective Stephen Rossacci of the department's youth division. "Kids see us in a different way here when we can tell them how nice their costumes are."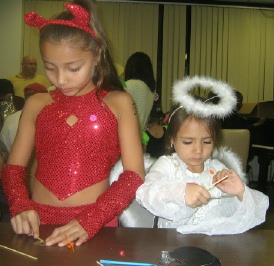 West Woods School sisters Veneise, 9, and Jaylexia, 5, work on a
Halloween craft. Their mother bills them as the "Heavenly Devils."
Kids from infancy to about 12 were entertained by a haunted hall, a magician, arts and crafts and illuminated ghouls, ghosts and goblins from the Eli Whitney Museum. There was a costume contest and food.
Volunteers galore ran the activities: 18 Hamden High cheerleaders, folks from Parks & Rec and Southern Connecticut State University students. The event was also sponsored by Hamden Youth Services.
---
October 20, 2006
Closing Shop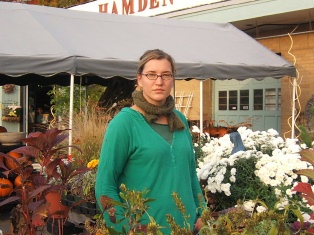 Manager Alexis Brown poses among the last flowers. Photo/Sharon Bass
By Sharon Bass
Sixty years ago, the Hamden Garden Center was born in a Thornton Street garage. Then it moved to Skiff Street. In 1950, it reopened at 2415 Dixwell Ave. And stayed put.
Until now. At the end of December, it will no longer be.
"It's tragic. It's too bad for the town and everyone else," said Jeff Allard, who bought the garden shop eight years ago. "It's a town institution. Believe me, I don't want to be the guy who closes it. But at the end of the day, you do what you have to do."
It's not that the center is raking in fewer bucks. In fact, Allard said, sales are up this year. But there's no place to grow -- and for a plant and tree business that's imperative, he said. Especially when competing with the likes of Home Depot. While the corporate chain, which opened earlier this year down Dixwell Avenue, has not eaten into Allard's plant sales, it has made a dent in his hard goods, such as tools and chemicals.
In order for him to thrive, he'd need to expand to accommodate more live green stuff and parking. And he said he can't.
"We're pretty much landlocked at this point and that's how we made the decision," said Allard. "We knew this from the first day we owned the place. It's too small." He's got a third-acre while a full acre is needed but is not available. The land behind the center is now owned by LA Fitness. "So that's spoken for," he said. The former Duchess site next door is too expensive. "You only do business eight months a year," he said of the garden business.
The property has been sold to "an unrelated business," Allard said, not wanting to disclose its nature.
"It takes a certain kind of passion," Alexis Brown, the manager for the past three years, said of running the garden center. "It becomes all of your life, 12 hours, seven days a week. And neither she nor Allard has that passion to dedicate their lives to the shop.
The landscape design end of the biz will continue. Allard said he also sells real estate for Calgani.
"Our mission is to liquidate the inventory," he said. Trees, shrubs, perennials and pottery are now half-priced. As the end of December draws closer, Brown said more stuff will be discounted.
"I knew Jeff wanted out two years ago," she said. "I said, 'Let me try.'" But Brown said it became clear it was too much work to keep the place going. Still, she said, "there's a lot of good that came of this garden center.
---
October 12, 2006
Kids damage a Hideaway house and vehicles while owners are away
By Sharon Bass
Today, 10 Hamden teens are to appear in New Haven Juvenile Court for trashing a house while the owners were on vacation last summer. They were all arrested last week and are under 18, said Hamden police Capt. Ron Smith.
One of the arrested kids was paid $100 up front to walk the owners' two dogs and was given a copy of the house key, said Susan Berton of 12 Hideaway Lane -- the house that was turned upside down while she and her family spent two weeks in Florida in mid-August. Apparently, the boy and his friends threw three consecutive parties from Aug. 17-19. The Bertons returned home Aug. 20. At 6:30 p.m., they called the police.
"I freaked out. I really did," said Berton, who has three kids. "I went through the house because I heard that there were people living here. So I stripped everything. Lysol'd everything. I went nuts. I was just so upset. I had known the boy for years. I just never thought he would do something like this. Especially with his parents four houses down the street." Plus, she said, he had taken care of the dogs before.
According to Berton, the dogs were traumatized. The family pickup was taken out for a joy ride and totaled: $8,800 in damages. The engine on Berton's son's dirt bike was cracked: $3,300 in damages. The home stereo speakers were destroyed. Two previously unopened bottles of liquor were nearly bone dry. The carpet was stained. Bathroom tiles were cracked.
"When we got home my son had taken off to the gym and someone had told him there were parties while we were gone," she said. "My husband and I had found a couple of spots on the carpet. Like they spilled something and never tried to pick it up. They blew the engine [of the pickup]. They destroyed the front end. One of the stabilizing bars in the front end was completely twisted. How they did this, I'll never know."
Berton said she obtained some info from myspace.com, where the teens exchanged messages about the parties. Those posts have since been removed, she said. Also, she said neighbors told her they heard loud music and saw kids smoking cigarettes on her deck on those August nights.
Capt. Smith said police interviewed neighbors and the kids before making last week's arrests. The teens were charged with criminal trespass in the second degree, "with intent to cause damage to property in an amount exceeding $200," he said.
Most disturbing to Berton, however, was the trauma to her dogs during the partying. Her next-door neighbor told her the dogs were "going crazy. Just crazy. They were barking and barking," she said.
"There was a question about what happened to my dogs," said Berton. Nobody interviewed said the dogs were abused, "but I can tell you that my female was not right when I got home. She was definitely traumatized. For two weeks, she just followed me. When I'd go to the door she would just sit there with her ears back. And my male dog [normally kept in a cage], when we got back [from vacation] I had my hands up in front of me to stop him from coming into the living room and he just cowered."
And there was other collateral damage. Berton said not only did she lose respect for the boy whom she paid to care for her dogs, but her relationship with his parents has since soured. She said she was supposed to give him another $100 upon her return, but didn't. She said she didn't even ask him to refund the prepayment.
---
October 9, 2006
Words and pictures by Betsy Driebeek
Cub Scouts tested their driving skills and racing abilities at Brooksvale
Park Saturday morning during a Cubmobile Derby. The event for the 7- to 11-year-olds was sponsored by the Connecticut Yankee Council, Sleeping Giant District.

Keep going.
Twelve cubmobiles -- handmade by the boys -- were entered in the derby. Teams of two to four boys pushed their fellow seated Scout as he steered through six courses: the UPS Man, Mall Parking Lot, Race Day at Lime Rock, the Autoparts Store, Trip to the Big City and the Drag Race.

Faster, faster. Almost there.
While there may have been a little bit of competition in the air, the day was really a time for the Scouts to "do their best" and have fun.

Reaching the finish line.