March 30, 2006
Still Their Own Hilly Haven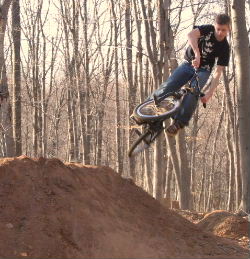 Ben Garner doing it up at the local bike park.
Plans for the YMCA to run a child-made bike park seem to have vanished
Story and photos by Betsy Driebeek
Last October, the director of the Hamden/North Haven YMCA said he was "pretty confident" that the hidden BMX park across from Bassett field would be in his organization's hands by this spring. A deal was to be worked out with the town. The children who maintain and use the park would no longer be kings and queens of their little bike haven.
Then something happened. Nothing.
Actually, one thing has changed over the last five or so months: the trees are bare. But there is still no sign identifying the location of the park, no locked fence, no staff, no clubhouse -- stuff the Y had planned for the park. It was also going to charge a user fee.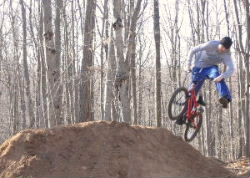 Watch mom, no legs! David Twohill jumps with only his hands on the bike.
All the better for dedicated bikers like Ben Garner, 14, and David Twohill, 13, who were at the park yesterday plotting and performing their jumps. "I love it" that the Y didn't take over, they said in unison. The boys said they make it to the park every day, sometimes with seven to 15 other bikers.
Several calls to Y director Sean Doherty were not returned.
The initial plan discussed last fall called for the Y to lease the town-owned property for $1 a year and provide CPR-trained staff during set operating hours. The Y would provide liability insurance and the town would fence in the area to keep it locked during non-business hours. The course, which was built by bikers over the last 14 years, would remain as is. But it would no longer be free to use.
Town Planner Leslie Creane said about three months ago she met briefly with Doherty and Hamden Risk Manager Art Giuletti to discuss the project, and left the meeting wondering how all the pieces would fit together.
"I haven't seen anything come through this office since," she said, in reference to an application.
Elaine Dove, a neighbor and member of the Spring Glen Civic Association, vowed her group would keep an eye on the progress of the BMX park. She said the association has also heard nothing about the project since last October.
---
March 29, 2006
Story and photos by Sharon Bass
It was like looking for a needle in a haystack. Except the needle was Leslie Hurd's school ring and the haystack was the island of Maui.
Hurd's lost-and-found ring story is one of beating the odds and experiencing the goodness of others.

The story began last June, when Hamden High junior Hurd and family took a three-island vacation: Oahu, Kauai and Maui. Hurd said she would take her new class ring off her finger when she'd go to the beach, and didn't realize it was missing until she got back to her Forest Court South home.

The 16-year-old gymnast and dancer said she called the airlines, hotel and rental car companies her family used on the trip. No luck. "I figured I would never see it again. We gave up looking," she said.
Hurd said her 14K gold ring cost about $350. It says "2007" in the middle,"gymnastics" on one side, and there's an image of ballet shoes on the other. Inside the ring, "Hamden High" is inscribed. It's topped with a green stone.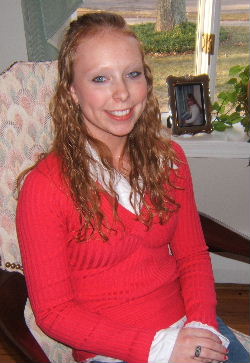 Leslie Hurd is at one again with her Hamden High ring.
It was that personalization of the ring that her mother, Sandy Hurd, credits with it being back on her daughter's finger. "They never would have found her without the word 'gymnastics' on it," said Sandy.
Sometime last month the Luciers, a family from Marysville, Wash.,


were vacationing in their condo at Kaanopoli Alii, a hotel on Maui. The same hotel the Hurds had stayed in eight months earlier. One of the Lucier boys found the ring in the bushes outside their condo. They did some research and wound up calling the HHS athletics department having seen gymnastics engraved on the ring.
On March 17, Leslie Hurd received a small padded envelope in the mail. "I was really grateful. Most people wouldn't take the time" to look for the owner of a ring, she said. "They have three kids."
To thank the Luciers, the Hurds are sending them two UConn hats, a Huskies T-shirt and the book, "Absolutely Positively Connecticut," by Diane Smith, excerpts from her WTNH-TV series.
---
March 24, 2006
Posted at 12:49 p.m.
Two Teens Charged With Last Night's Fires
By Sharon Bass
At a brief press conference late this morning in front of police headquarters, Lt. Tim Wydra said two Hamden teenagers have been charged with setting yesterday's fires. Erick Morton, 18, of 74 North St. was arrested for torching four cars and a Dumpster behind Sleepy's. Justin Williams, 19, of 46 Rainbow Court was taken in for the break-in and fire at the Spring Glen School.
Both teens are being held on $500,000 bond and are to appear in Meriden Superior Court on April 6.
Wydra said police are looking into whether the teens were involved in the March 21 break-in and arson at the new middle school and the vandalism on March 13 at Hamden High and Aces, at 261 Skiff St.
"They conspired together," the lieutenant said, in committing the crimes. The fires were reportedly set simultaneously. Asked if either has a criminal record, Wydra said Williams has a "background," but would not elaborate. "I can't comment on the particulars at this time."
Morton was arrested first at around 9 p.m. yesterday, as he was seen trying to flee from the burning cars and Dumpster behind Sleepy's on Dixwell Avenue. Williams was apprehended later at his home.
Williams was charged with first degree arson, first degree burglary, reckless burning and criminal mischief for the school break-in and fire. He was also charged with three counts of conspiracy to commit reckless burning, one count of conspiracy to commit arson, four counts of conspiracy to commit criminal mischief and interfering with a police officer in the Sleepy's incident.
Morton was charged with reckless burning, third degree arson, four counts of criminal mischief and interfering with a police officer for the arson behind Sleepy's. He was also charged with one count of conspiracy to commit arson, conspiracy to commit burglary, conspiracy to commit reckless burning and criminal mischief for the school incident.
Police Chief Jack Kennelly said he was "really impressed with the way the investigation was conducted last night."
----------------------------------------------------------------------------------------
Arson Suspect Arrested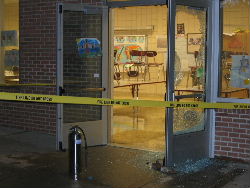 Spring Glen School's art room after someone broke in and started a fire.
Two more fires set last night; police investigating possible link to recent middle school arson
By Sharon Bass
Hamden police and fire rushed to Spring Glen School last night where a fire was set in an art room in the back of the building. Meanwhile, a half-mile away, three cars parked by Sleepy's on Dixwell Avenue were ablaze, said Fire Marshal Brian Badamo.
A young male was spotted running away from the burning cars. "He was captured fleeing from the scene," said Deputy Police Chief Tom Wydra, who showed up at Spring Glen around 11 p.m. He said the man was arrested but would not release his name, age or address.
"We're trying to conduct an investigation," he said. "We are certainly going to try to link these [incidents] together." He said police are looking for other suspects.
According to Badamo, a custodian inside Spring Glen called the Tower 1 ladder company on Ridge Road to report heavy smoke in the art room. A cinderblock had been thrown through one of the outside glass doors of the room, completely shattering it. Apparently, the suspect(s) entered the room and torched a box of either magazines or newspapers, triggering the sprinkler system, he said. Left behind was smoke and water damage.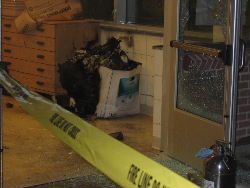 The contents of the box next to the chest of drawers had been set on fire.
Today an art show was scheduled at the school. Mark Albanese, facilities director for the school department, was at the scene last night. He said he was unsure whether the show would go on.
"This kind of incident costs the taxpayers money," said Albanese. "It's a shame. It's beyond general vandalism. Everyone expects vandalism [at schools], but when you take it to this step, it's at a different level. It's beyond a childish prank.
"It's not just the brick and the mortar," he continued, as firefighters worked behind him inside the art room. "It's the kids and their school and their projects."
Badamo said the three torched cars are "total losses." One was used for parts; another belonged to a customer of Hamden Auto, which is next to Sleepy's; and the fire marshal was unsure about the third.
The fires come on the heels of the March 21 break-in and arson at the new middle school. Also, on March 13, police reported there were break-ins and vandalism -- but no arson -- at Hamden High and Aces at 261 Skiff St.
Wydra said he hoped the investigation and arrest(s) would put an end to the recent rash of arson and vandalism.
Check the HDN later today for an update.
---