General News
January 31, 2006
Possibly Hamden's Biggest Pot Bust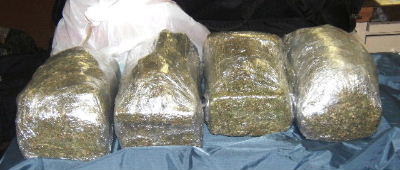 These 5-pound "loaves" of pot were confiscated last night.
Cops find 40 pounds of marijuana and thousands in cash in "stash house" next to middle school
Story and photos by Sharon Bass
Every day hundreds of children walk by 425 Mill Rock Road, an apartment house 30 feet from the driveway by the Hamden Middle School gym. When police confiscated about 40 pounds of pot and thousands of dollars in cash from there last night, Chief Jack Kennelly kept shaking his head.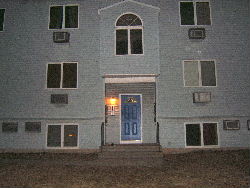 425 Mill Rock Road
"What's very concerning to us is that it's so close to the school," he said standing on the front stoop of 425 Mill Rock Road around midnight, as officers rummaged through the apartment that was used as a "stash house" -- a place intended to stash drugs rather than live in.
"It makes us wonder how many kids are exposed to this every day," Kennelly said. And how often violence often goes hand-in-hand with drug trafficking.
"He's operating a drug factory here," said Deputy Chief Tom Wydra. "Scales, weights, packing material."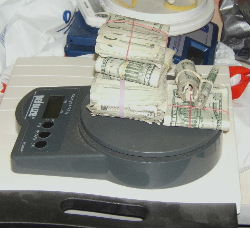 Clifton Tomlinson, 44, was arrested and held on $1 million bond in the town lockup for the 40-pound marijuana bust. He also has a residence at 215 Jaffrey St., Apt. 17, West Haven, where police last night found $700 in cash but no drugs, said Sgt. Gabe Lupo, head of Hamden's street crime division.
"I conservatively estimate this as the largest or one of the largest seizures of marijuana in Hamden," said Kennelly. "Now we're entering a different era. We're finding larger quantities" of drugs.
Lupo said he had received information about Tomlinson. Yesterday at around 5:30 p.m., his unit set up a surveillance in front of the Mill Rock Road house. Lupo said he was told that Tomlinson carried marijuana in a knapsack.
Around 7 p.m., Tomlinson walked out of his house carrying a knapsack, the sergeant said. At the same time Michael Lawhorn, 41, of New Haven pulled up in a van. He and Tomlinson got into Tomlinson's car. The police approached, smelled pot and Tomlinson admitted he had some.
Wydra said 4 pounds of pot packaged for resale were found in the car. Both men were arrested; Lawhorn was released with a promise to appear in court. Then a search warrant for Tomlinson's Hamden apartment was executed.
Inside the "drug factory," cops found 2- and 5-pound bricks of pot, lots of plastic bags and drug paraphernalia.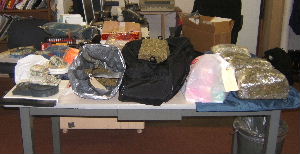 The evidence, at police headquarters.
"It's the largest arrest and closest arrest I ever made near a school ground," said Lupo.
Lupo's men -- Brian Stewart, Angelo DeLieto and Nate Youngberg -- were assisted by the patrol division and detective bureau. Every inch of the stash house was searched.
Tomlinson was charged with operating a drug factory, possession of marijuana, intent to sell, possession and intent to sell within 1,500 feet of a school. He is to be arraigned in Meriden Superior Court today. He is considered a flight risk, said Kennelly, explaining the $1 million bond.
Wydra said about 12 years ago Tomlinson was arrested by the Hamden police for having 2 pounds of pot. Other criminal history was not available last night.
----------------------------------------------------------------------
By Sharon Bass
Former New Haven Mayors Bill Celentano, Richard Lee and Bart Guida and Quinnipiac University president John Lahey all got the gold ring. This year Henry Candido will be getting it too from the Boys & Girls Club of New Haven.
For the past 72 years, the club's alumni association has given gold rings to people for community service.
"I believe that you always give back to the community in which we live. To me it was a pleasure to serve the town of Hamden and the people," said Candido, who was just appointed to the Fire Commission and is a former councilman. He also spearheads community fund-raisers.
Brian Havens, owner of North Haven Funeral Home, and Frank Redente, assistant director of the Farnum Neighborhood House in New Haven, will also receive rings at the annual dinner April 24.
"Henry is a very giving person. I've known Henry for 45 years. Henry would do something for you, it didn't matter what your party affiliation was," said Chuck Bonoff, the man who nominated Candido for the gold ring. Bonoff of Westview Street sits on the Boys and Girls Club alumni committee.
"[Candido] never asked anything in return," he continued. "That's the way he was brought up."
According to John Velleca, chair of the Gold Ring Diner, 10 names were submitted this year. "It isn't what they did in athletics," said Velleca, a gold ring recipient himself. "It's all the good they did for the people."
The dinner will be held at Della Notte in East Haven on April 24 at 6:15 p.m. Tickets are $35. Proceeds go to the Boys & Girls Club of New Haven. For more info, call Bonoff at 387.8559 or 500.6241.
---
January 29, 2006
Thanks For The Service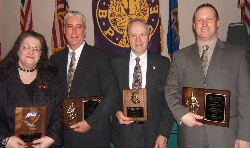 Town Clerk Vera Morrison, fire Capt. Robert Surprise, volunteer firefighter Jim Wetmore and police officer Stephen Rossacci.
Hamden Elks award four at annual dinner
Words and pics by Sharon Bass
On the menu Saturday evening at Elks Lodge 175 was chicken piccata, rice pilaf, a vegetable medley, ice-cream cake, Town Clerk Vera Morrison, fire Capt. Robert Surprise, police officer Stephen Rossacci and volunteer firefighter Erwin "Jim" Wetmore.
The first four items were created by two Yale University chefs. The last four items were honored for their service to the town of Hamden, at the Elks annual awards dinner.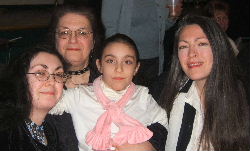 Three generations of Morrison women: (from left) Holly Morrison (Vera's daughter), Vera with granddaughter Maya, and Lisa Morrison (also Vera's daughter).
The Elks named Morrison the citizen of the year; Surprise the firefighter of the year; Rossacci the cop of the year; and Wetmore the volunteer firefighter of the year.
About 240 people squeezed into the hall. There was barely space between tables. Each paid $15, with proceeds going to the Connecticut Children's Hospital. Fellow firefighters and cops showed up. Police Commissioners Meg Nowacki, Janet Mills and Marty Ruff were there. Former Mayor Carl Amento and Hamden Chamber of Commerce director Nancy Dudchik also took seats.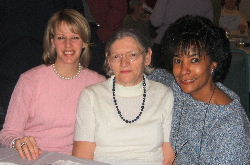 Nancy Dudchik, Meg Nowacki and Clydette Messiah, an assistant principal at Hamden High.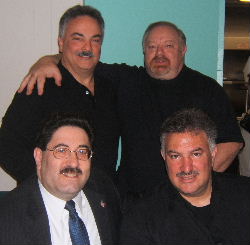 Clockwise from top: Police Detective Mark Consorte, "friend" Rick Simonelli, police Sgt. Gabe Lupo and former Mayor Carl Amento.
The only no-shows were Mayor Craig Henrici and Attorney General Richard Blumenthal. Both men cancelled.
Surprise, with 25 years in the department, was honored first.
"All I am today, I owe to my mother," he said. "Being a firefighter is the greatest job in the world." Surprise dedicated his award to his two sons, one daughter and wife.
Wetmore, who's spent the last 51 years -- and ticking -- as a volunteer firefighter, and Rossacci, a seven-year veteran on the force, delivered short speeches, thanking their families.
Last up was Morrison. Known for her meaty speeches, she came through again.
"I can't tell you how honored I am to be here," the town clerk said. Morrison has been a councilwoman, a PTA member and has served on many civic and town groups. "You do all these funky little things and try to make a difference."
She talked about how happy she is in her "new" office in Government Center, and told the crowd of public-safety types that she hopes there will be a new police and fire headquarters. The audience clapped.
But she wasn't through.
"Vera means truth in Latin. I try to be truthful to people, or as my son says, 'Here comes truth, justice and the American way.'"
The Chiefs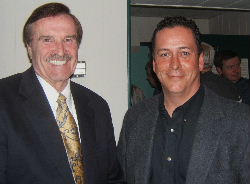 Police Chief Jack Kennelly and Deputy Chief Stephen Cahill.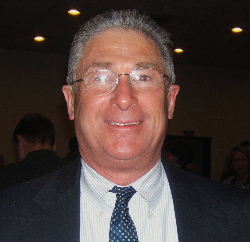 Fire Chief Jim Leddy.
-------------------------------------------------------------------------------
On Jan. 26, Hamden police conducted age-compliance checks at two Whitney Avenue bars under a state grant designated to crack down on underage drinking.
Here's what they got.

At Dickerman's Ale House, 3307 Whitney Ave., the following people were arrested:

David Malmo, 20, of 13 Van River Road, Pompton Plains, N.Y.
Daniel Stephens, 20, of 5 Wedgewood Ave., Chelsford, Mass.
Jamie Lewis, 20, of 429 Peakham Road, Sudbury, Mass.
Amanda Allard, 20, 11 Lladmal Drive, Lincoln, R.I.

At Jack Rabbit Slims, 3000 Whitney Ave., the following were arrested:

Nicholas Powell, 18, of 28 Flat Rock Rd. Ext., Branford, Conn.
Erica Neiman, 20, of 1079 Mayflower Court, Martinville, N.J.
Kristyn Greenstein, 20, of 405 Lakeshore Drive, Brick, N.J.
Nicole Perez, 20, of 142 West 26th St., Bayonne, N.J.

All of the above were charged with simple trespass for being under 21 in a bar, and fined $92.
Also arrested at Jack Rabbit:

Sean Iodice, 19, of 326 Hall Ave., White Plains, N.Y.
Kristin Bessoni, 20, of 258 Old Farm Road, Newington, Conn.

In addition to the simple trespass charge, they were arrested for presenting false identification. They are due in Meriden Superior Court on Feb. 10.
-----------------------------------------------------------------------
Lessons to Be Learned From the Arch Street Fire
By Sharon Bass
With tragedy can come education. Hamden Deputy Fire Marshal Brian Badamo turned a recent fire -- that destroyed a local home -- into a lesson about safety during a fire.
Last Friday just before 6 p.m., flames destroyed a single-family house at 50 Arch St. Six adults and two children ran out of the building as their home -- and everything inside it -- burned. It took firefighters two hours to extinguish.
There were no pets and no one was injured.
Badamo and Fire Marshal Mark Barletta are investigating. Badamo explained why the fire got so out of control so quickly, and what would have helped to contain it better.
It started in the kitchen where a pan of oil was heating up for French fries. The occupants of the house -- a family whose names are not being disclosed -- apparently forgot about it and fire broke out.
"The reason it spread so fast," said Badamo, who was at the scene, is that a window to the right of the stove "broke out due to the intense heat. That induces oxygen into the fire area and enhances the fire.
"The flames rolled out of the window and started to lick up at the eaves of the top of the house and it entered the attic space from the exterior," he said. "Then we're fighting basically two fires. You're fighting a first-floor fire and an attic one."
And when the occupants fled outside to safety they left the front door ajar, Badamo said. "In this instance, they were so worried about getting out they just didn't think to close the door behind them, " he said.
If the door had been shut and the window hadn't broken, the fire wouldn't have spread as fast and there would be less damage, he said.
"That's why we tell you to keep the bedroom door closed if there's a fire. So if you're inside of the room you can keep the fire out for a short period to try to escape (through a window, fire exit)," he said. "On the flip side, if the fire is in your room and you can get out, we want you to close the door. It will hopefully help contain the fire."
The American Red Cross has put the family in a hotel for a few days, is providing food and clothes and making sure the kids get to school.
---
January 26, 2006
Safer Now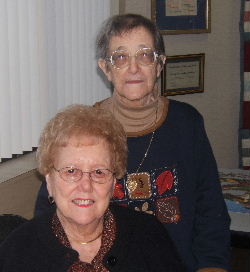 Viola DeLucia (front) and Alice Negri, Davenport-Dunbar rezzies.
Security at Davenport-Dunbar has been beefed up since the murder last year of an elderly man, but other crimes still plague residents
Story and photos by Sharon Bass
It's been five months since 78-year-old Edward Gordon was slain in his Davenport-Dunbar apartment. Though he was killed by a woman he knew and to whom he opened his door, those living at the elderly apartment complex at 125-135 Putnam Ave. understandably called for heightened security.
So a block watch was established -- two signs are posted outside and there are monthly meetings. The 370 residents got letters right after the murder warning them not to open their doors to strangers, plus other safety tips. Lots of peepholes for apartment doors have been requested and installed. Police say they patrol the parking lot quite often, especially at night. And the building is locked 24/7.
Residents say they feel safer.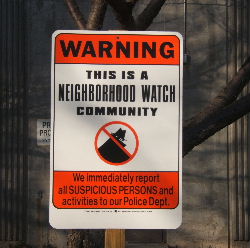 One of two signs now posted outside the elderly complex on Putnam Avenue.
"I feel secure because now we have a block watch and everybody's involved," said Viola DeLucia, 82. "And I knew that man who was murdered. He was my girlfriend's brother."
Ditto, said her friend and fellow rezzie Alice Negri, 84. The women were working together on a 1,000-piece puzzle in a recreation room when interviewed.
While their building seems secure from outside intruders, other concerns -- personal aides stealing from apartments, cars vandalized and stolen from the parking lot -- have heightened since the homicide.
Last Friday, about 25 residents held a private meeting to air their grievances, said Davenport-Dunbar administrator Dorothy Holohan. However, she said, the complaints that came out of that meeting -- some of which were given to her in handwritten letters -- were not about safety issues. Not one, she said, was about theft or other "inside jobs."
"Someone said we were told that we would never get a rent increase. That person moved in 15 to 20 years ago," said Holohan reading from a letter. "Someone else said they weren't getting enough heat. Somebody complained that the toilets run over and nobody told them where the turnoff is."
She said the reason "nothing was said about security is because we don't have any security issues. There's no crime in here." Holohan suggested that residents who think their money and belongings have been stolen probably forgot where they put them.
"As we get older sometimes we don't remember as well," she said. "It's hard to accept that we misplace things."
According to Deputy Chief Tom Wydra it wasn't a case of forgetfulness when an aide who was hired to clean an apartment there was recently arrested for stealing money from a resident.
Negri said on another occasion a private aide was seen in someone's apartment and stole the occupant's pocketbook. She said the purse was never recovered.
"People have been complaining that their aides are stealing from them," said DeLucia. "A lot of peepholes are being put in.
"A lot of cars have been broken in and stolen and just recently, too," she added. "Some don't report it because they're afraid their insurance will go up." The women said they did not attend last week's resident meeting.
Wydra said there have been three to four larceny complaints from Davenport-Dunbar since Gordon's murder. With the exception of the theft, they were about stolen and vandalized cars. He said that's actually a low number of complaints "considering there are hundreds of residents there and a large parking lot. We continue to conduct many, many deterrent patrols in that parking lot."
Asked if there have been more calls to the police since the murder, the deputy chief said, "I can't answer that definitively. Most of the calls there are falls and medical calls."
Shirley Aldeia, the food manager at Davenport-Dunbar, empathized with the elderly residents. "It's a tough situation. They can't defend themselves," she said. "Everybody's been told they don't open the door for anybody (they don't know). Everything is locked up."
---
January 24, 2006
Looks like the same man robbed two Hamden Subways over the weekend
By Sharon Bass
A robber hit the Subway shop at 1350 Dixwell last Friday at 9:15 p.m., taking an undisclosed amount of money, said Hamden police Lt. Tim Wydra. The man reportedly told a Subway employee that he had a handgun, but didn't produce one. No one was hurt
A man with an identical description hit the Subway in the Hamden Plaza the next evening at two minutes after 9, taking an undisclosed amount of money. Wydra said the man had a handgun, but didn't show it to the employee(s) during the robbery. No one was hurt.
Eyewitnesses from both sandwich shops identified the robber as a black male, 5 feet, 8 inches, wearing a blue bandana over his face and dark clothing. Age was difficult to estimate because of the bandana.
Asked if the police have any leads, Wydra said since the case is under investigation "I don't want to say something that could possibly hurt it."
Things looked back to normal at the Subways yesterday. The sandwich makers seemed relaxed and said they could not comment about the robberies.
If you have information about the robberies, no matter how seemingly small, please call the detective division at 230.4040.
------------------------------------------------------------------------
Feds Bust Another Hamden Man for Crack
By Sharon Bass
In less than one year, four Hamden men have been federally indicted for distributing and/or possessing cocaine. The latest is William Tisdale, aka "Chill-Will," aka "Chill," aka "Ball Head," who was charged last Friday by a federal grand jury in New Haven.
The 37-year-old who lives at 327 Mill Rock Road was charged with three counts of possession with the intent to distribute, and distribution of 5 grams or more of cocaine base, or crack cocaine. Tisdale's case has been assigned to U. S. District Court in Bridgeport.
"He's been incarcerated since September on federal narcotics charges," said Tom Carson, a spokesman for the United States Attorney in Connecticut. He wouldn't say where Tisdale is imprisoned.
"That's nothing that we can comment on in the indictment stage," said Carson. "We're limited at this stage because everyone is entitled to a fair trial."
If convicted, Tisdale faces 10 years to life in prison and a fine of up to $8 million.
The Federal Bureau of Investigation's Safe Streets Task Force investigated the case.
On Nov. 16, 2005, Terrence Steele, aka "T-Fur," was charged with conspiring with a New Haven man to distribute 50 grams or more of crack. Steele was 32 at the time of his indictment. He lives at 65 North Road.
Craig Hines, 26, of 279 Park Road was charged on May 3, 2005, with intent to distribute more than 5 grams of crack. He was also indicted for being a felon in possession of a firearm and using a firearm in an attempt to carry out a drug offense.
And Thomas Durham, aka "TD," was sentenced on March 7, 2005, to 95 months in prison followed by five years of supervised release for possessing with intent to distribute 50 grams or more of crack cocaine. Durham, who was 34 at the time, lived at 301 Morse St.
---
January 20, 2006
Only One Way Out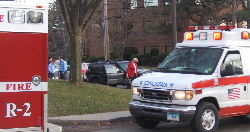 The accident scene. That woman with the blonde hair and red jacket is Anne Ramsey.
A motorist exits Government Center the wrong way causing multiple-car accident
By Sharon Bass
A woman got injured, her two small children were shaken up and a car got a banging seemingly because someone went the wrong way on a one-way. The one-way in question is the entrance to Government Center.
Yesterday former Councilwoman Anne Ramsey was about to turn right onto that one way, the right way. She said she slammed on the brakes of her Chrysler when she got to the tip of the Dixwell Avenue entrance. Someone was coming out, the wrong way, and drove away.
"So I stopped because I couldn't get in," she said.
When Ramsey screeched to a halt, so did the Grand Cherokee Jeep behind her, and then the BMW behind the Jeep. The BMW hit the Jeep; Ramsey's car wasn't hit. Two fire trucks, one ambulance and two police cars came to the scene. The woman driving the Jeep was taken to a hospital. Her two little kids were physically OK, but naturally upset. Their father came to get them.
The man in the BMW did not want his name used. He said he was traveling at about 20 mph on Dixwell Avenue by Government Center when "I slammed on my brakes and slid about 10 feet on the road."
Ramsey pointed out how prominent the one-way signs in the parking lot are.
---
January 18, 2006
Jobs, etc.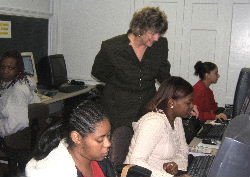 Sue Hutchinson, standing, looks at her class' accomplishments at the end of Day 1.
Hamden effort to help single parents move from welfare to work shows promising results
Photos and story by Sharon Bass
For 40 bucks a day, a single parent on welfare can get a real chance to break out of the state shackles. It's happening down at the Keefe Community Center.
Yesterday, another 10-week "More Than Just A Job" class started there in a room of 12 black computers and 12 black chairs. In its seventh year, MTJAJ helps custodial parents on welfare become employable. The effort's success comes from doing more than teaching computer skills (the focus of the program). It also comes from the truly realistic approach it takes.
MTJAJ is run by Hamden Community Services. The $2,000-per-pupil cost is paid for by a federal grant.
"You can train a person to work, but if they don't have housing or daycare …" said Community Services Director Vanna Francia.
"That's why it's more than just a job," said Sue Hutchinson, a program specialist for the town's Economic Development Department. She, Francia, case manager Ida Ortega and job developer Ralph Severino teach the predominantly female classes that go from 8:30 a.m. to 3:30 a.m., Monday through Friday. Of the 200-plus students who have gone through the back-to-work-and-more program, Hutchinson said just three were men.
The latest class kicked off with just eight students, but she said she expects four more. Twelve is goal. The women are taught how to successfully manage their lives to better the odds that they'll make it -- as well as become computer proficient. They learn stuff like how to write a resume and cover letter; how to get to work on time by organizing your life; how to interview for a job, done through mock interviews during class time.
Participants are also guaranteed childcare, help with transportation, landlord and substance abuse problems and access to the community center's food bank. By creating structure and trouble-shooting obstacles to sustained employment, MTJAJ boasts a high success rate. Hutchinson said over 90 percent of her graduates work full-time. Some have advanced to a managerial level.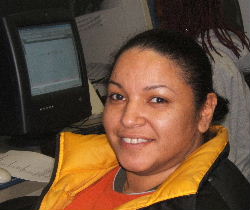 Betsy Galan on her first day of school.
Betsy Galan of New Haven is one of the new students. The 38-year-old mother of a boy, 10, said she is pinning quite a bit of hope on the class. She said she's been through a lot and sounded determined to make it this time.
"You know what I love about this class?" Galan said. "It's small."
In addition to MTJAJ, she's studying for a GED. Galan said she didn't know what kind of job she wanted. She was a certified nursing assistant at one time but gave it up. "I hated that shit," she said.
She also graduated from a culinary arts school, but said it offered no job assistance and she couldn't find employment.
However, her biggest disappointment was not being able to finish the federally funded Nontraditional Occupations for Women program. Galan was learning how to build houses, and said she loved it. Couldn't wait to get out and build.
But her hopes were dashed when, sitting in a car, she was shot twice. One bullet went into her armpit and came out of her chest. The other hit her in the leg. She was injured and couldn't continue with the class.
"I wanted to do that so bad. I wanted to build stuff so bad," she said.
"What I tell them when they come in is that I lived through the '60s and the women's liberation," said Hutchinson. "I want these women to be independent and self-sufficient."
"And have some money to pay the bills," Galan piped in.
MTJAJ requires that students either have a high school diploma/GED or are studying for it. And that English is their first language "because I don't have Spanish-speaking employees and the budget is limited," said Hutchinson.
Galan promised to report back to the HDN when she wraps up the program to let readers know how she made out.
---
January 14, 2006
Remembering MLK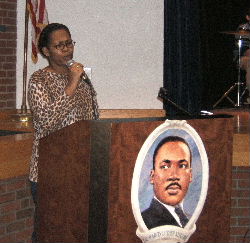 Chivonne Pullen from St. Paul's U.A.M.E. Church sings words of praise.
Hamden puts on a fitting tribute to the King
Story and photos by Sharon Bass
With boundless energy and displays of varying emotions, Rev. Sallie Lowry, from Parks & Rec, ran the town's Martin Luther King Jr. Day celebration yesterday in Thornton Wilder Hall.
Between the singers, the musicians, the poets and the local celebs, Lowry kept the audience entertained with her humor and words of adoration for the greatest civil rights leader this country has ever seen.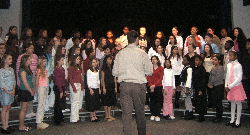 The Middle School Choir with director Scott Ferguson.
The Hamden Middle School Jazz Band did an awesome job performing at the beginning and again at the end of the event. Same for the Middle School Choir. Joining the children in the hour-long celebration were Mayor Craig Henrici, Police Chief Jack Kennelly, the Hamden High Black & Hispanic Student Union, firefighter Victor Jackson, Councilwoman Betty Wetmore and Keith Kountz, the guy from Channel 8, as keynote speaker.
18-year-old Melissa Reid, a member of the Black & Hispanic union, read a poem she wrote inspired by King, who was assassinated in 1968. Entitled "Time for the Truth," it ends with these words:
It's time for a change
It is time to speak out once again
It is time for actual equality
It is time for the end of these terrorist wars
It is time for our president to stop his lies
It is time for the truth.
Then Blessing Offor, also a union member, played the piano while singing a tune he recently composed. "Vessel": "Make me a vessel, lord, make me a vessel … Make mine the voice that speaks wisdom … make mine the feet that walks your path … Give me courage like the one called courage."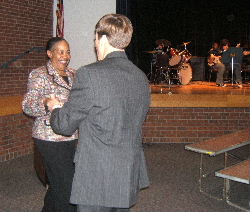 Rev. Sallie Lowry drags a reluctant mayor onto the floor for a little dancing.
The Black & Hispanic union president, Quinton Bright, read an excerpt from King's 1963 "I Have a Dream" speech, and then spoke of how the man has affected the quality of his life. Bright said if not for King blacks still wouldn't be allowed on school buses.
"I would not have white friends," he told the audience. "I could not walk down the same hallway. We have come a long, long way since 40 years ago … but we have some serious work to do to finish what Dr. King started."
Firefighter Jackson told the children to "never forget. Just never forget." He said King did "the lord's work, a true role model." He called the hero's 1963 speech the most powerful.
Lowry returned to the podium and talked about her son, Charles, who was killed in a car accident last November. Charles' artwork is on the front and back of the little brochure that was handed out at the celebration. One picture is of a peace bird holding what looks like a banner in its beak. The other is a pencil rendering of MLK Jr.
"I don't want you to feel sorry for me," she told the people, "because I'm going to make it." She then asked the standing audience to hold hands and everyone sang "We Shall Overcome."
---
January 10, 2006
Fido's Angels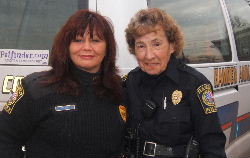 Gina Cahill and Jean Murray protect the town's animals.
Cahill and Murray on the animal beat; all they need is shelter
By Sharon Bass
In a white trailer on Dixwell Avenue at the edge of Hamden, two self-described animal lovers share a narrow, rectangular office filled with dog food, toys and collars. Jean Murray, 76, and Gina Cahill, 45, are definitely in their environment. Not only do they get to work with critters most of the day, they get the sweet satisfaction of saving about 200 dogs every year.
"I love animals and I've got the scars to prove it," said Murray, who was canine-bitten "at least five times" as a child.
"I'm an animal lover," said Cahill. "I had nine animals at one time." Today she has seven.
Their office is in the Highwood Police Substation.
The only thing the female duo said they're missing from their lives as the town's two and only animal control officers is a shelter to call their own. They bring abandoned and abused pets to the one in North Haven. But that should be remedied soon. Last year, the Legislative Council approved an animal shelter for Hamden. The project went out to bid last month, said Murray, and tomorrow there is to be a meeting at Government Center about it. The women said the shelter is slated to be built at the corner of Shepard Avenue and Rocky Top and will generate income in adoption fees, rabies clinics and other services. The town pays $10 a day per animal to use North Haven's shelter.
Murray and Cahill also hope when the bid goes out again for veterinarian services a local animal doc will be chosen. "We wouldn't do as much running around," said Murray. New Haven Central Hospital for Veterinary Medicine on State Street currently has the contract.
Lucky Encounter
Murray's been on the animal beat for 26 years. Asked how much training she needed, she held up a long pointer finger and said, "One day." The only real criterion, she said, is a love for animals.
Cahill's been at it almost four years. It was after meeting Murray that she thought about joining up.
"She lost her dog and I found it and she got interested" in the job, said Murray, who moved to Hamden in 1947 from her native Stoke-On-Trent, England. An American soldier she met during World War II and then married brought her here.
Cahill said it was around five or six Christmases ago when her rottweiler went missing for a week. Someone found the dog and brought it to Murray. In turn, Murray asked the Hamden police if anyone wanted the rottweiler. And one of the cops said Stephen Cahill (now a deputy chief), who happens to be Gina Cahill's husband, had lost his rottweiler.
"When Jean brought that dog home my daughter and I were jumping up and down, hugging and kissing Jean," said Gina Cahill. "I thought, 'What a good feeling that woman must have.' That's when I said to Steve, 'What are the qualifications for the job?'"
All in the Family
Stephen Cahill is not the only town employee who's related to one of the animal control officers.
Murray's middle son, Joe Murray, is a Hamden police sergeant. Her youngest son, James Murray, worked for Public Works for 23 years, recently retiring due to illness.
Sgt. Joe Murray is Stephen Cahill Jr.'s boss. Cahill Jr. (son of Gina and Stephen) is a police dispatcher. Wait, it gets better.
Deputy Chief Cahill is the boss of his wife (at work) and Murray. "When we get home, I'm the boss," said Gina.
On A Typical Day
A typical day could be anything, said Murray. Calls come in about stray dogs, cats caught in trees, skunks and other wild critters in people's yards, a pet being abused or neglected. They rescue animals from burning buildings. They play with pets they put in the shelter to socialize them to make them more adoptable.
The female duo is always on call, 24/7. They dress like cops, but they're not. They carry pepper spray, nightsticks and tazers. They serve arrest warrants to people who are suspected of abusing or severely neglecting their dogs.
"The part I like the best is when I know I was able to save an animal," said Murray. "It gives you a thrill."
The women recounted some of these thrills.
"I got a seagull the other day with its wing hanging off," said Murray. She took it to the vet to be mended.
About two years ago the duo responded to a call about a deer running around someone's property. They put the deer in a crate and took it to the New Haven animal hospital.
"That animal wasn't old enough to be without its mother, so we considered it an orphan," said Cahill. The deer was nursed back to health and released on West Rock.
Then there was the case of the homeless dog that roamed around Southern Connecticut State University for three years. "We could never catch her. They become like wild animals" when they're on the loose that long, said Cahill.
But when the female dog gave birth to five young ones, she settled down, allowing the animal officers to catch her. They brought her and her babies to the shelter where all were adopted.
"She turned out to be a sweetheart, that dog," said Murray, who recalled another success story.
Some years ago, before Cahill's time, two German shorthair pointers were stuck in a storm drainpipe. "I go down the pipe with a flashlight and I see four eyes," said Murray. She couldn't pry the dogs out so she had Public Works dig up the street and drill a hole in the pipe. The pointers were returned to their New Haven owners.
Another time Murray was called about a skunk that had gotten its head caught in a hockey net on someone's driveway. "It must have been wrapped around his neck 10 or 12 times," she said. "And I'm talking to him softly while clipping the net. He got loose, looked back at me as if he was saying goodbye and left. He never sprayed me."
"He didn't spray you?" said Cahill. "They usually do."
Cahill had a gruesome story to tell. Last summer she went to a house fire to try to save 10 dogs. But it was too late.
"They were all burned to a crisp. I had to bag them to be cremated -- God knows why," she said. "I never had to do that before and so I had to grab them by the feet and the meat of the animal fell off the bone and it freaked me out."
The women agreed the job is at times sad, at times happy and at times rewarding.
But even at its saddest, it beats the old days. Murray said six, seven decades ago, Hamden's animal control officer used to euthanize dogs by putting a bag over their heads, tying the bag to a car tailpipe and running the car until the animals were poisoned to death by carbon monoxide.
"We've come a long way," she said. When an animal needs to be euthanized these days it's done so by a vet, personally carried in by one of Hamden's two official animal lovers.
Dog Laws
The women mostly deal with dogs. That's because they are the only animals for which there are local ordinances.
One: a dog is not allowed to roam free. Two: a dog can't be left out all night barking. Three: a dog cannot be treated cruelly, such as left out in frigid temps, beaten or starved. Cahill said she found a dog outside one winter. The chain it was hooked up to was frozen in the snow; its water was frozen. The dog couldn't move. She released the dog and carried it to safety.
It was one of those sad-turned-happy days on the job.
---
January 7, 2006
By Sharon Bass
If your home or business was damaged during October's nonstop rain, a low-interest loan from the feds may be your ticket.
Hamden Deputy Fire Chief Clark Hurlburt said the Small Business Administration is still considering applicants whose houses and businesses were flooded. Originally, the SBA disqualified New Haven County from its disaster relief funds, awarding money only to Litchfield, Hartford and Tolland counties for the rain that fell from Oct. 13-18.
"People may not be aware of this," said Hurlburt. "A lot of times insurances may not pay for the damage with flooding. Flooding is one of those acts of God type of things they try to back out of."
SBA will loan up to $200,000 to repair primary residences, $40,000 to replace personal property like furniture, and $1.5 million to businesses for damaged real estate, equipment and inventory. Interest rates start at 2.68 percent for homeowners and renters, and 4 percent for business owners, with up to 30 years to repay. Terms are set by the SBA based on applicants' financial condition and amount of loss their insurance won't cover.
Hurlburt said the Hamden Fire Department responded to about 70 residences and three businesses that were adversely affected by the rain. But he said there may be more and encourages all to contact the SBA at 800.659.2955 or visit its Web site.
---
January 6, 2006
Headquarters on Wheels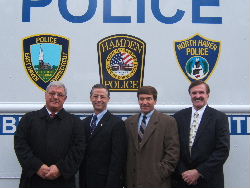 East Haven Police Chief Lenny Gallo, East Haven Mayor Joseph Maturo, Hamden Mayor Craig Henrici and Police Chief Jack Kennelly in front of the command center.
The new police command vehicle is debuted
Story and pictures by Sharon Bass
It weighs 25,500 pounds, is 30 feet long and 12 feet high and cost about $225,000. It's a super-duper-equipped police van complete with computers, satellite TV camera, copy machines, phones, bathroom, microwave and coffeepot. Hamden and North and East Haven will share it with the primary purpose of cracking down on drunk driving.
Yesterday, the new command vehicle was unveiled to the public and press at the Public Works garage. It drew the usual suspects: Hamden police commissioners, Mayor Craig Henrici, Police Chief Jack Kennelly, former Police Chief Bob Nolan and the other towns' police chiefs and top guns.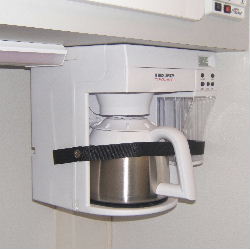 The coffeepot.
"God forbid something happened to our dispatchers, we can work out of here," said Hamden Lt. Robert Maturo of the rolling mini-headquarters.
East Haven Police Chief Lenny Gallo said 25 years ago such cooperation between the three towns would never have happened. He said the command van is "to remain peace and order and to rid the streets of people who will not obey the law."
According to Hamden Lt. John Cappiello, the van will be used in roadblocks to catch those driving under the influence; at hostage situations; and for homicide and other lengthy investigations. Suspects will be processed inside. And police will have a warm "home," where they will work together, catch a bite to eat and have a bathroom at their disposal.
"At a normal homicide scene, officers are there for hours and hours," said Hamden Capt. Robert Maturo.
Kennelly expects the van will be put into commission in a week or two. He said Nolan and the other chiefs first looked into getting such a vehicle in 2002.
The command center was purchased with a $120,000 state grant, $11,400 from each of the three towns and some Homeland Security money. It was built by Farber Specialty Vehicles in Columbus, Ohio. For now it will be kept in the Public Works garage until a suitable permanent shelter can be found. Because of all the high-tech equipment, it needs to be stored in a temperature-controlled space, said Maturo.
"We're just looking for a safe environment for it," he said. "Keep it out of the elements. It's not a vehicle that can be left out in the heat." It will most likely be parked inside an existing structure in Hamden that will either be purchased or leased.
-----------------------------------------------------------------
By Sharon Bass
At 7:17 a.m. yesterday, a call came into Hamden police headquarters from a Valley Road resident. A young man had been sitting on a motorcycle in front of the caller's house for a couple of hours, said Lt. Robert Maturo. And the caller was suspicious.
So three officers went to the scene where they saw Christo Sakelarakis, 21, of 33 Lexington Ave. perched on the bike. As soon as Sakelarakis saw the police he ran. The cops chased him -- two on foot, one in car. And Sakelarkis kept running. He bounded through people's yards and across Route 15. He got away.
But not for long. "They eventually ended up finding him," said Maturo.
Sakelarakis had abandoned the motorcycle and a backpack outside the Valley Road home, owned by an acquaintance, who according to Maturo, wanted nothing to do with the suspect.
Turned out everything Sakelarakis left behind was hot -- including the backpack and the bike. Inside the pack, police found a PR 25, which is a collapsible baton, a DVD player and some other electronic equipment. All the items and the motorcycle were traced to a Hamden resident. Maturo did not want to release the name or address of the victim. Sakelarakis apparently broke into the person's garage and stole the loot.
"He just grabbed anything, a set of keys that were hidden in the car," said Maturo.
Sakelarakis was arrested for burglary, criminal trespass, carrying a dangerous weapon, interfering with and resisting an officer, larceny and walking on a road in an unsafe manner. He is being held in the Hamden lockup on $5,000 bond. He is to be arraigned today in Meriden Superior Court, and appear in court again Jan. 17.
---
January 2, 2006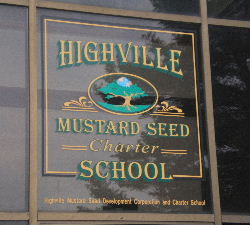 As the probe into the Mustard Seed school continues, a new management team has taken over; also the BOE takes the charter school to court
By Sharon Bass
The three-prong state investigation of the Highville Mustard Seed Charter School is taking longer than expected. About twice as long.
On Nov. 17, 2005, Attorney General Richard Blumenthal and the state Auditors of Public Accounts joined the ongoing Department of Education probe into Hamden's only charter school ("The Mustard Gets Hotter").
Over six weeks ago, Karen Flanagan, an attorney for the ed department, said it would take at least a month. Last week, she said it would be at least another two weeks before it's concluded. She had called the investigation "huge" and unusual.
"For the state to be taking this amount of time, any objective and reasonable person would realize this is serious and not some casual investigation," said former Highville Chief Financial Officer Dezroy Stewart.
The state is looking into Highville executive director Lyndon Pitter and his wife, Nadine Pitter, associate director, for a number of alleged financial improprieties, including misuse of the school's credit card and not repaying salary advances. Both Pitters are on paid administrative leave.
In early September 2005, six of the seven board members -- including Chair Berita Rowe-Lewis, also Hamden's 3rd District councilwoman -- abruptly resigned, citing in documented letters financial and management problems at Highville ("Dear Mustard Seed, I Quit"). Stewart said he also quit for the same reasons.
While the top administrators are on leave, the new Board Chair Mitchell Young said a management team has been formed to run the school at 130 Leeder Hill Drive: Alan Jones, the chief administrative officer, Lawrence DiPalma, the curriculum director and interim director, and Stephanie Cervoni-Leng, teacher and board member.
"I am not really at liberty to talk to you because Mitch is the spokesperson for the school," said Cervoni-Leng, wife of Councilman Curt Leng, when asked for comment.
The Pitters Aren't Going Anywhere
Reached through his Wallingford phone number, Pitter said he and his wife intend to return to the school if allowed, once the state probe is over. Asked if they sold their home at 3 Whispering Pines Drive, Pitter wouldn't answer, but he did say he has no plans to leave the state.
"I don't want anyone to think that I'm going to crawl under a rock," said Pitter. "I never professed to be a perfect human being. Period. All I do is do my job."
Asked why he thinks the state is investigating his wife and him, Pitter said, "To be honest I have no idea. They're doing their job.
"I am very much committed to my work and to the mission of the school and therefore, as far as I'm concerned, there's no one that is going to intimidate or attack my credibility or fabricate any story about me because I've worked damn hard to bring the school to the level at which it's at," he said. "There is nobody else around town that can show a similar record of that level of (student) achievement."
Young questioned the depth of the state probe. He said an investigator from the Attorney General's Office spent 45 minutes at Highville and that was it.
"The state has no power over Highville," he said.
Otherwise, the chair said the school is doing well. "We just did a testing in the fall. We tested every grade. No other school in the state of Connecticut does that," said Young. In math and science, he said fourth- and eighth-graders tested "well above grade level." Language arts results were not as good. The school has 300 students -- 200 from New Haven, 80 from Hamden and a handful from Wallingford. And 110 are in the preschool.
BOE v. Highville
On another note, tomorrow the Board of Education is appealing two lower court decisions -- both in favor of Highville -- in state Supreme Court about busing preschoolers to the charter school. While state statute says school districts have to provide busing for charter students, the BOE contends the law does not pertain to preschoolers, according to Young.
"In this case the Attorney General and the state Department of Education are on our side," he said.
The law does not specify the age of charter school kids who are to be bused by the local school system. It reads: "The local or regional board of education of the school district in which the charter school is located shall provide transportation services for students of the charter school who reside in such school district pursuant to section 10-273a unless the charter school makes other arrangements for such transportation."
Pitter, who said he sued the BOE several years ago over the matter, claimed racial discrimination is at the root of it.
"I think the children at Highville are being discriminated against by the Hamden school system. And I base that on the simple fact that for five years they have provided busing for preschool kids and all of a sudden they stopped," he said. "All I can say is that 98 percent of the kids at Highville are black. I'm sure they would not do that to a school that's predominantly white. As far as I'm concerned there's no legal basis whatsoever that they shouldn't provide the busing. The Hamden BOE has not given me any credible information."
Calls to Superintendent Alida Begina last week were not returned; central office has been closed for vacation.