Carusone At Bat
March 28, 2008
Richardson is a Traitor and Other Rumblings
By John Carusone
Let's comment on some current topics that are wide-ranging in the fields of politics, TV and sports. First politics.
Everyone knows that politics is a game of shifting alliances. That's natural and is to be expected. But there are two individuals on the national stage whose antics have become an embarrassment to all politicians. I've already mentioned our junior Republican Sen. Lieberman in past columns, but have you noticed that he has become McCain's "sancho Panzo," according to New York Times columnist Frank Rich?
Do you remember the satiric MAD magazine and the cover boy Alfred E. Newman? Now who does he remind you of?
And now New Mexico Gov. Bill Richardson is coming close to dethroning Lieberman for first place. Everything Richardson has done in public life is due to the Clintons. Energy secretary, special envoy to North Korea, United Nations ambassador and governor -- all because the Clintons supported him. And whom does he endorse? Why Obama, of course. The word on the street is that Richardson could not get a commitment from Hillary Clinton for secretary of state, but Obama has apparently given him that commitment. I guess James Carville wasn't that far off when comparing Richardson to Judas and the 30 pieces of silver. I was thinking of writing a sequel to JFK's "Profile in Courage." And what would the title be? Why "Profiles in Shame." The first two chapters belong to Lieberman and Richardson.
As far as local politics, kudos to Mayor Henrici for fully funding the BOE budget and giving new Superintendent Rabinowitz a great start in Hamden. That's a class act by Henrici.
Now to TV. I wonder where the TV critics get their "expert" analysis from. I have just witnessed another episode of the TV miniseries "John Adams" starring Paul Giammatei in the feature role. The critics have panned Giammatei, but lauded the series. Well, in this writer's opinion Giammatei gives the performance of his life in the role of John Adams. One of the critics goes as far as to state that Giammatei "does not look like Adams." Well, who does?
Is there anyone better than HBO's Bill Maher? Maher does an opening monologue then follows it with a guest panel that includes individuals from all walks of life. HBO's "Band of Brothers" has to rank as the best World War II series of all time.
Let's move on to sports. Isn't it shocking that UConn's men's basketball team continues to lose games they never should have lost? Remember George Mason. And this year losing to West Virginia in the Big East tourney and to San Diego State in the NCAA tourney. I wish I had an answer. Is it because Hall of Fame Coach Calhoun doesn't have his team ready? Is it just plain stage fright on the part of the players? I just don't know. Now next year on paper UConn should be a final four team. Everyone on this year's team is returning and prized recruits are coming in.
I'm going to go out on a limb and make a prediction. Next year UConn will win their third NCAA Championship.
John Carusone was mayor of Hamden from 1987-1991, assistant school super from '69-'82 and a legislative councilor from '65-'69. The Hamden native is now retired but stays active in town affairs -- and has a lot to say about them. (Note: The views expressed here are not necessarily those of the Hamden Daily News.)
---
March 24, 2008
By John Carusone
In the spring this young man's fancy turns to the horsehide-wrapped spheroid and the angular piece of quality ash. Of course, I am referring to the start of baseball season. So many seasons have come and gone with yours truly. So many stars have come and gone. Watching Joe DiMaggio and Ted Williams just to mention a couple I was privileged to watch in person. This year the anxiety of Yankee and Red Sox fans as the season begins is going to be something to behold.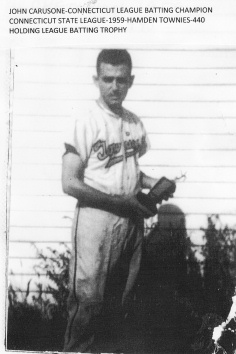 There is something missing in Hamden, however. No longer does Hamden have a summer baseball team. In the 1940s, '50s and '60s, Hamden had teams that were the envy of the state. The Hamden Boys Club, the Hamden Plainsmen, the Hamden Medics, the Hamden Collegians and the Hamden Townies were all championship-caliber teams, winning titles in the Shore Line League, Greater New Haven League and the Connecticut State League, to mention a few. During this time, TV was in its infancy so Hamdenites flocked to Hamden's Rochford Field to watch the town team play. Rochford Field was considered the finest baseball field in the state. A grandstand, concrete dugouts and a clubhouse added to the ambience of the field. So many memorable moments occurred at that field.
Over 2,500 fans flocked to the field in 1952 to watch us Hamden American Legion Post 88 lose to Norwich in the state legion semifinals, with yours truly relieving in that game.
In 1957 I remember watching then-East Haven Mayor Hank Luzzi, my teammate on the Hamden Collegians, hit the longest ball ever out of Rochford Field traveling 470 feet and landing in the driveway of the newly opened Whalen Junior High School.
Yours truly, Gus O'Connor and Dan Mulvey are the only others ever to clear the fence. Playing on that Collegian team were former Philly and Red Sox pitcher Tom Casagrande and former Senators and Yankees outfielder Dick Tettelbach. Perhaps the saddest day ever at that field took place in 1954 when Hamden medic Ron Bernadini was struck in the head and killed by a pitch thrown by Dick Newberg. That incident led to the policy of all players at all levels wearing batting helmets.
In the 1990s, the field rapidly declined due to the bastardization of the field by the Amento Administration and school authorities led by Superintendent Alida Begina. So much inaccurate information was released in order to quicken the exit of the middle school out of that neighborhood -- and Rochford Field also became a casualty of the massive disinformation campaign.
One particular statement will always be in my mind because of the outright untruth of it. School authorities claimed that cinders had been buried in the field and were there as a result of years of illegal dumping. No way. Rochford Field when built in the 1930s was ringed by a state-of-the-art cinder track. Hardly a hidden dump site.
John Carusone was mayor of Hamden from 1987-1991, assistant school super from '69-'82 and a legislative councilor from '65-'69. The Hamden native is now retired but stays active in town affairs -- and has a lot to say about them. (Note: The views expressed here are not necessarily those of the Hamden Daily News.)
---
March 17, 2008
By John Carusone
Two political contests, one national and one local, deserve some comment. First to the current national debacle called the Democratic primary and caucus process. Under the present rules -- presided over by Howard Dean, clearly the least effective National Democratic chair ever -- we are witnessing a contest where everyone is a winner and there are no losers.
Can you believe getting 35 percent of the vote gets you one-third of the delegates? The Republicans are salivating over the possibility of actually winning the White House again, even with the Bush presidency at the lowest ebb ever.
The Dem far-left has bent over backward to show how "fair" they are. The obvious results are disastrous. I should remind them that politics is not "fair." The good guy does not always win. The right thing does not always happen. The Republican playbook is all about winning elections and unfortunately that's the direction the Democratic campaign is now headed. McCain will continue to see his numbers rise exactly as they are doing now.
Now the far-left part of the party is pushing Ralph Nader, the man who made George Bush president, to run again. I long for the good old days of Connecticut and National Democratic Chairman John Bailey. Here's a man with his own set of rules that gave us candidates like Abe Ribicoff, John F. Kennedy and Lyndon Johnson. Can you believe the Democratic National Committee eliminated Florida and Michigan from the process?
Now onto the local contests coming up next year. Rumors have always played a part in any local election. Is the incumbent running again? Who's not running? This is early in that process, but in town the rumor has Mayor Henrici not running for a third term. Names of possible replacements are already circulating. Sixth District Councilman Curt Balzano Leng, former Fire Chief Councilman Jim Leddy and former Police Chief at-large Councilman Jack Kennelly are the first names to surface. Also to be considered here is the future of Dem chair Joe McDonagh.
I suppose that as a former Democratic mayor I could give advice to all the prospective candidates. So let me give some.
In 1966 when I was elected as the sole Democrat on the town's first council, I had the opportunity of meeting the legendary Bailey. I asked him for the secret of being a successful politician. He said, "Just do your job." The best political advice I ever got. And I did become mayor. If there is a multiple primary, I believe the Dems will lose control of Town Hall for the first time since the late '90s. Last year the Republicans ran a one-issue campaign on taxes, but were united as a party and they almost pulled it off.
Elections in Hamden have always taken twists and turns. I believe this coming year will be one of those years.
The Dems can turn this around at both the national and local levels. Let's see what party leaders come up with.
John Carusone was mayor of Hamden from 1987-1991, assistant school super from '69-'82 and a legislative councilor from '65-'69. The Hamden native is now retired but stays active in town affairs -- and has a lot to say about them. (Note: The views expressed here are not necessarily those of the Hamden Daily News.)
---
March 7, 2008
Early's Truth Coming to a Small Screen Near You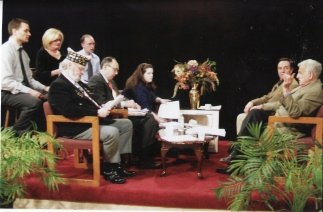 Seated (left-to-right) at a Citizens Television taping about Sgt. York are Fred McCarthy, American Legion leader, Bob D'Angelo, grandnephew of Sgt. Bernard Early, Courtney O'Donnell, great granddaughter of Cpl. William Cutting (Otis Merrithew), Paul Musco and yours truly. Back row (left-to-right), David Kornacki, grandson of Pvt. Joe Kornacki, Karen Scott, granddaughter of Sgt. Early, and Kevin Early, grandson of Sgt. Early. Courtesy photo
By John Carusone
We have just finished taping "Fact or Fiction-The Military Saga of Sgt. Alvin York." The program will air on March 13, 20 and 27 at 9 p.m. on Channel 26. I urge all residents to watch the show, since many previously unknown facts will be brought to the public's attention for the first time. Here's a sampling.
Soldiers who took part in that famous battle in 1918 who saw York get a lion's share of the credit, under the prodding of David Kornacki's grandfather Joseph hatched a plan in the 1920s to kill York. The plan was never carried out. Courtney O'Donnell's great grandfather Otis Merrithew was also offered a DSC (Distinguished Service Cross) in the 1930s by 82nd Regimental historian Col. T.E. Buxton, if he would keep quiet about the truth of the purported exploits of York. I believe that's called blackmail. Buxton, a strong supporter of York, was pictured in the movie "Sgt. York" as York's commanding officer who gave York two weeks off to go home to speak to God. During a previous battle York was threatened by Early to fight or Early would "blow his brains out." Kornacki noted a family story that purportedly his grandfather threatened to shoot York if York did not shoot Germans.
When Early was awarded the DSC in 1929, President Herbert Hoover sent a telegram to the Early family with the words: "The DSC means damn slow coming." Courtney O'Donnell will be submitting an affidavit stating the German luger pistol that was handed to her great grandfather Otis Merrithew when the Germans surrendered was in the family until the 1980s when it was pawned. In a previous column, I noted that Hoover offered scholarships to the Early brothers and sister since he was quite aware of the shortcomings of York's version of what happened on Oct. 8, 1918, in the Argonne Forest.
We intend to make this tape or DVD available to all Connecticut cable access regions. It will also be shown on cable access channels of a number of New England states where relatives of soldiers who took part in that battle are living now. Bob D'Angelo, of our committee, has already contacted seven such relatives. The tape and DVD will also be sent to the York Foundation in Tennessee and we hope to get a response from them. The History Press has contacted me and wants us to publish the true accounts of that battle.
All of this because our government and the French government are planning a monument in France at the purported site of the battle with only the name of York on it. Our committee's purpose is to see to it that every one of the 17 soldiers who took part in the battle receives equal recognition on that monument including the six who were killed outright.
John Carusone was mayor of Hamden from 1987-1991, assistant school super from '69-'82 and a legislative councilor from '65-'69. The Hamden native is now retired but stays active in town affairs -- and has a lot to say about them. (Note: The views expressed here are not necessarily those of the Hamden Daily News.)
---
March 1, 2008
By John Carusone
Let's talk about some national and local issues that are on the front burner. First to The New York Times story regarding the alleged affair Sen. John McCain had with a lobbyist over eight years ago. It is clear the story was designed to hurt McCain. However, I feel the only hurt goes directly to the Times for printing the story using unnamed sources as their "experts."
I can recall a similar situation I had as mayor when a local newspaper ran a story that unnamed sources were unhappy with a certain decision I had made. I knew full well that the sources were disgruntled individuals who did not receive appointments they thought they deserved. Yet the story appeared and I couldn't defend myself. That's shoddy journalism whether it's The New York Times or a local paper.
The second media story comes from Fox News. Can you believe what a commentator said when trying to compare President Bush's unpopularity with Lincoln's? Let me quote exactly what he said: "Lincoln, just like Bush, was the most hated president in American history WHEN HE LEFT OFFICE." Are you kidding? Didn't that yokel ever hear about the assassination of Lincoln? And for the historical record, this President Bush in history will be ranked with a pimple on Lincoln's you know what.
And now for local news. I was originally disappointed when newly elected East Haven Mayor April Capone-Almon came out swinging against improvements to the Tweed airport. I spent time with the mayor during her campaign and have been her father's friend for many years. All who have studied the Tweed issue know that responsible expansion and improvements to the airport will reap economic benefits to this entire region and mostly to East Haven.
For four years, late New Haven Mayor Ben DiLieto and I sparred over this issue. He had sued Hamden over our proposed mall claiming it would detract from New Haven's business climate. I considered suing New Haven over its unwillingness to support improvements to Tweed. Isn't it interesting to note that current New Haven Mayor John DeStefano changed New Haven's position to one of support for the airport and it hasn't had any negative political impact on him?
I was so pleased to note that Mayor Capone-Almon has begun talking to Tweed officials. This new development, I believe, will bode well for the entire region in the future.
John Carusone was mayor of Hamden from 1987-1991, assistant school super from '69-'82 and a legislative councilor from '65-'69. The Hamden native is now retired but stays active in town affairs -- and has a lot to say about them. (Note: The views expressed here are not necessarily those of the Hamden Daily News.)
---
February 21, 2008
By John Carusone
Wow! The Yale grad students whom I was able to help with their master's thesis in environmental planning -- Meg Arenberg and Haley Gilbert -- gave me a copy of their thesis. What a fantastic job! These out-of-state students have put together the finest neighborhood study of the East Rock neighborhood I have ever seen.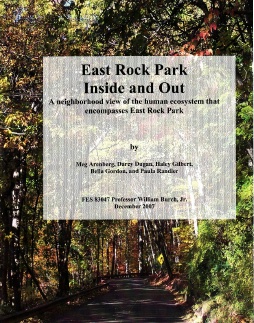 Not only is the thesis first-class, but a map showing the area neighborhoods comes with the text. Neighborhoods such as Whitneyville, Hartford Turnpike, East Rock North, East Rock Park, Upper State Street, lower State Street (my stomping ground) Fair Haven and Cedar Hill are shown.
The map and illustrated text will be made available to both the New Haven and Hamden park departments to be given to interested residents. The students, under the direction of Professor William Burch, have to be commended for their efforts. There is so much history connected with this area. This work fits closely on the heels of Hamden historian Rachael Hartley's monumental work, "The History of Hamden, Connecticut." While the thesis concentrates only on the East Rock neighborhoods, it supplements Hartley's writings on the same neighborhoods.
A second event this week needs comment. I am referring to the disgraceful congressional hearing in Washington on Roger Clemens' alleged steroid use. I didn't think that even with the poisoned political temperature in Washington that this issue would become a political gunfight between Republicans and Democrats. But it did!
Republicans took dead aim at Brian McNamee, the trainer, and Dems took dead aim at Clemens. So who won? I don't know, but I do know that Clemens lost big time. His excuses were laughable. He didn't know his wife took steroids. By the way, I am sure you know where a steroid injection is given. Clemens said Andy Pettite "misremembered" conversations he had had with him. In this writer's humble opinion, Clemens should have taken the option of telling the truth. Remember, a good portion of his pitching records took place BEFORE HE BEGAN TAKING STEROIDS. That might have saved him a space in the Hall of Fame. Now that will never be.
But there is a reality to all of this that must be stated. I believe hundreds of players, pitchers and hitters have taken steroids. Owners knew it. Managers knew it. The long HRs and the solid records brought paying fans into the ballparks. Remember the scene in the movie "Casablanca" where the inspector (Claude Raines) states he was shocked "to find gambling going on in this place." That statement fits to a T the owners and managers during this era.
Do you really believe they all were "shocked?"
John Carusone was mayor of Hamden from 1987-1991, assistant school super from '69-'82 and a legislative councilor from '65-'69. The Hamden native is now retired but stays active in town affairs -- and has a lot to say about them. (Note: The views expressed here are not necessarily those of the Hamden Daily News.)
---
February 14, 2008
By John Carusone
I have always prided myself on being a pretty good prognosticator of the national political scene. Well, it does appear now that most political predictions I made were wrong except one. And I have lots of company this year with most polling organizations, national pundits and talking heads sharing the same ignorance.
No one predicted the Barack Obama surge. No one predicted the McCain Republican victory. I was right on target with the antics of our junior Republican Sen. Lieberman. I said from the beginning that he was angling to be on McCain's ticket or to be a candidate in a McCain victory for a cabinet position. Now he says he intends to go to the Republican convention. He now has the "prize" of being the most unprincipled politician I have ever met.
Now what about Hillary Clinton and her talk of "inevitability?" She still might win the delegate count, but in order to gain the nomination she might have to depend on the superdelegates. Should that happen, many influential superdelegates have stated quite publicly they would resign from the Democratic Party. No more brokered conventions for them.
Remember what all the pundits were saying about conventions? They were sure that it would be the Republican Party that would enter their convention with no clear frontrunner. Again the "experts" were wrong.
I'll try again and hopefully not be wrong again. As far as the Republicans, they are not in love with McCain, but see him as the only electable Republican. And the Democrats are absolutely in love with both candidates. Each candidate has boatloads of supporters. Obama has made African-Americans feel for the first time in history that one of their own has a real chance of becoming president.
Hillary has made the majority of women feel for the first time that a woman can be president. Frankly, no matter who wins, the election will be historic. We at the Carusone household are Clinton supporters. We feel strongly that she alone can withstand the "swift boat" tactics the Republicans will throw at her. She's been attacked so often she simply is not bothered by it.
But Obama will be the recipient of one of the dirtiest campaigns in American history. Don't you think the Republicans will bring up the issues of race and religion? We all remember what Bush Sr. did to Dukakis with his Willie Horton commercials or the devastating attacks on Tennessee Congressman Harold Ford in his Senate run. These people will do or say anything to get elected.
Now is the time for all Democrats to think long and hard over who would be the strongest Democratic candidate. But I'm going to go out on a limb and make a prediction. I do not believe either Democratic candidate can beat John McCain. I also see both houses of Congress becoming overwhelmingly Democratic and veto proof. At least it's now clear that the neocons of the Republican establishment will no longer determine the direction of this country.
John Carusone was mayor of Hamden from 1987-1991, assistant school super from '69-'82 and a legislative councilor from '65-'69. The Hamden native is now retired but stays active in town affairs -- and has a lot to say about them. (Note: The views expressed here are not necessarily those of the Hamden Daily News.)
---
February 7, 2008
By John Carusone
The Cpl. York saga continues. On Monday, March 3, public access TV will tape a one-hour show delving into the entire York escapade. Appearing on the panel will be yours truly and Karen Scott and Kevin Early, grandchildren of Hamden hero Sgt. Bernard Early, Bob D'Angelo, grandnephew of Bernard Early and Fred McCarthy and Abner Oakes of the Hamden Veteran's Commission and Legion Post 88.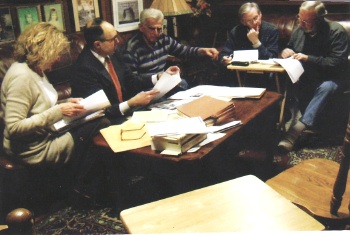 Karen Scott, Bob D'Angelo, yours truly, Abner Oakes and Fred McCarthy at a meeting. Courtesy photo
As a result of that meeting, my task was to review the war drama "Sgt. York," starring Gary Cooper, to determine how closely the movie actually reflects what really happened.
Well, the historical verdict is clear. This movie is a self-serving story based on York's diary. York had complete script control, was able to name Cooper to play his role and was given an additional $50,000 to begin a bible school in Tennessee.
The movie was made at the urging of President Roosevelt in order to drum up public support for our eventual entry into the second world war. In fact, it was designed to be a political docudrama with little attention to the actual facts of the famous battle in 1918. Let me list some of the more obvious factual errors in the movie.
The initial scene showing scores of men being slaughtered never happened. The purpose of the patrol, headed by Sgt. Early, was to locate and help the famous lost battalion. The gobble-gobble sequence where York kills scores of Germans never happened. The entire battle sequence where only York is shooting while "the rest of the men were guarding prisoners" never happened. The scene when a captured German lobs a grenade that kills York's screen buddy "pusher" never happened. What's sillier about this scene is that the German has an American hand grenade with a kill distance of 25-50 yards. Only pusher is killed. Yours truly has experience with hand grenades and machineguns, so let me continue about the machineguns in the battle.
In the movie, a captured German officer says 25 machineguns were in the battle. York later claimed 35. The actual total was two to four. Interviews in 1929 with surviving German soldiers verified the lower number. York's movie and real-life explanation as to how he exposed himself to 25 to 35 machine guns and was unscathed was because, "the good lord was watching me."
York supposedly killed six to 10 Germans with his pistol when he was charged by a German bayonet attack by "killing the last man first just as he did hunting turkeys in Tennessee." This scene was so preposterous that the event was even left out of York's Medal of Honor citation. I have also fired a 45 pistol. That weapon has a kick like a mule. To get off consecutive accurate shots is just plain hard to believe. In the movie ad, York has a German luger pistol. Apparently Warner Bros. technical advisors did not know the difference between a 45 and a luger or the difference between an American and German grenade. The Germans used a grenade with a wooden handle known as the "potato masher."
Let's put this entire York saga in perspective. In 1918, America needed a hero and York fit the PR image. In 1940, America needed a hero to prepare America for our entry into World War II. York fit the bill again. The actual facts of the day in this writer's opinion can conclude that York received far more credit than he deserved and Hamden Sgt. Bernard Early received far less credit than he deserved.
When we finish taping the program, I will notify readers when the show will be aired. Our research has come up with startling facts and comments from soldiers who were there that day. Our goal is to have the town of Hamden get behind our efforts to straighten out this tale and then to involve other communities who also had soldiers in that battle who went unrecognized. Already, the Waterbury Republican has noted an interest because of feature stories it broke years ago about this battle.
John Carusone was mayor of Hamden from 1987-1991, assistant school super from '69-'82 and a legislative councilor from '65-'69. The Hamden native is now retired but stays active in town affairs -- and has a lot to say about them. (Note: The views expressed here are not necessarily those of the Hamden Daily News.)
---
January 31, 2008
Move BOE to Old MS; Dig into Charter
By John Carusone
There are two burning issues now before the Henrici Administration that need to be addressed so that long-term damage can be avoided. I'm speaking of the final decision as to where the Board of Education will be located and charter revision. Let's talk about the BOE situation first.
Let me begin by stating two indisputable facts. Over the next 10 to 20 years the school and town administrations are going to grow. One need only look at the BOE and town to note that both sides have experienced administrative growth sometimes even on a yearly basis. State and federal mandates must be observed by both bodies. A move to Government Center by the BOE will eventually result in a space jam unlike anything the town has ever seen. What do we do then?
Who will be the winner in a game of facility chicken -- the town administration or the BOE? There is a solution to this which can benefit both sides well into the 21st century. The BOE should move lock, stock and barrel into the old middle school. For those who don't remember, from 1959-1969 the BOE was located in the former Sleeping Giant Junior High School, a facility clone of the present vacated middle school.
The part of the building that will be unused should be dedicated for community use. That move will once again maintain an educational presence in the neighborhood. Putnam Avenue central office should be sold outright, and the former Hamden Community School should be demolished. Once this move occurs, there will always be adequate space in Government Center for expected town growth. This is a financial win-win for both parties.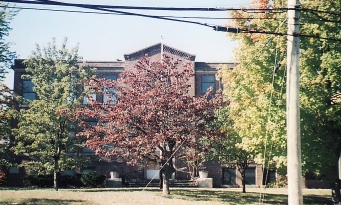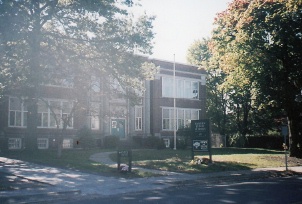 Hamden Community School and 60 Putnam Ave. Courtesy photos
The second issue is that of charter revision. There can be no further delays in forming a charter revision committee so that recommendations can be on the next municipal election agenda. Our present charter is a mess, plain and simple. Why are the town fathers apparently reluctant to begin the process? Can it be that the issue is political power? "Will a commission remove or reduce what powers I have as an elected or appointed official?" be the barometer used by some in power?
At this time in our history it is time for the Henrici Administration, the Republican minority and the Democratic legislative majority to put politics and power aside and place the long-term interests of Hamden first on the agenda. While there are many housecleaning items to be addressed, such as budget date submissions as Mayor Barbara DeNicola had to face, there are hugely important decisions such as the role of the legislative council and the mayor regarding financial matters. Since the Board of Finance was eliminated in 1965 and budget power transferred to the council, there has been continued controversy between both bodies no matter what party was in control. This issue has to be addressed. Both the executive and legislative branches were supposed to be coequal. Are they?
I trust all elected officials will closely examine my suggestions and recommendations.
John Carusone was mayor of Hamden from 1987-1991, assistant school super from '69-'82 and a legislative councilor from '65-'69. The Hamden native is now retired but stays active in town affairs -- and has a lot to say about them. (Note: The views expressed here are not necessarily those of the Hamden Daily News.)
---
January 25, 2008
Henrici Town Hall Plan Just Like Mine
By John Carusone
Kudos to the Henrici Administration for coming up with a solid plan to reopen historic Town Hall. The Police Department will be coming in along with some town offices. An addition next door will supplement the needed space. The outbuildings will be demolished to make room for parking and the addition.
The Henrici plan has some parallels with the plan I proposed in 1990. We intended to renovate Town Hall back to its 1924 status and build an addition next door for both the town and police department. The outbuildings would also be demolished. A space in the addition would have been reserved as an historic location for memorabilia from many Hamden administrations. The Town Hall itself keeping some offices there would have had the finance department being renovated back to being the courtroom and the purchasing department being renovated back to the jail.
All of this was lost when the Amento Administration chose to abandon Town Hall and purchase a 20-year-old white elephant, Center One, and move all town offices there. The flimsy and disingenuous reasoning for the purchase still confounds taxpayers. It was claimed that because Town Hall was old and needed work it made more sense to abandon it and move to Center One. There is an historical analogy here that clearly exposes that claim. Just suppose in 1950 when President Harry Truman proposed that because the White House was old and needed work it should be abandoned and moved to purchase a 20-year-old office building on Pennsylvania Avenue. He would have been laughed out of office. Yet here in Hamden that reasoning was accepted quickly before any real questions could have been asked. It was stated that Center One was in great condition.
It was claimed that the building would pay for itself since there were tenants in the building. All left disputing that claim. It was also determined that for the first time in Hamden history the town purchased the building accepting without question the sellers' asking price. No town appraisal was made. Later it was determined that according to the building's assessed value, the town overpaid by nearly a quarter-million dollars. If Center One had been kept on the tax rolls, over $10 million in taxes over a 40-year period would have by itself paid for Town Hall renovations.
When all of this was happening, I wrote a series of articles which I titled, "Center I - A Hamden Tragedy." There is no question that the decision to purchase Center One forever ended Hamden's quest of historical continuity. At least now the Henrici Administration is trying to use Town Hall for some municipal functions.
John Carusone was mayor of Hamden from 1987-1991, assistant school super from '69-'82 and a legislative councilor from '65-'69. The Hamden native is now retired but stays active in town affairs -- and has a lot to say about them. (Note: The views expressed here are not necessarily those of the Hamden Daily News.)
---
January 18, 2008
By John Carusone
Recently two national events have received unbelievable media attention. I am referring to Roger Clemens and the Democratic primary contest in New Hampshire. First to Clemens.
A little dose of baseball history is required here. Let me begin by making a completely accurate statement about major league pitchers. Ever since baseball became the national pastime, pitchers have resorted to finding ways to defeat the hitter by developing gimmick pitches. At the turn of the 20th century, about a dozen baseballs were used in a game so that by the early innings all the balls were worn and scuffed so that it was nearly impossible to throw a straight ball. Some pitchers added to the ball their own scuff marks using material such as sandpaper. Even the great Hall of Famer Whitey Ford was suspected of throwing such a pitch.
Then came the "spitball" in which the ball was rubbed with a liquid substance, such as Vaseline or sweat, that would cause the ball to sink as if it was falling off a table. Both of these pitches were eventually outlawed but the pitchers who used them never had their records expunged. Ed Cicotte's 209 wins and Gaylord Perry's 312, which got him into the Hall of Fame, were never questioned. Legendary player/manager Billy Martin in his book "Wild, High, and Tight" clearly wrote that many major league pitchers including some managed by him would have a small amount of Vaseline in their crotch where no umpire would dare check. Why wasn't he called to testify before a grand jury or Congress? Now Clemens has had a dark shadow cast over him which does appear now to be a "he said, he said" contest.
What should we do? If the baseball gurus decide to asterisk Clemens' records, why then don't these same wise men do the same for the scores, and probably hundreds of pitchers who at one time or another did the same thing?
And now to the Democratic primary in New Hampshire. It's unbelievable to me that in my lifetime I am seeing two top candidates in Obama and Clinton. A black man and a woman are leading the pack and I believe that one of them will become our next president. But there is a parallel in history.
In 1960, JFK was fighting to become the first Catholic president. With his election a barrier fell. Now the country is poised to break yet another.
The devastating presidency of George Bush is finally coming to an end. Even though history moves slowly in evaluating presidents, it is clear to many noted historians that no longer will history books refer to Warren Harding as our country's worst president. He has now moved up a notch to make room for Bush. A recent political pundit had an interesting comment as to why the turnout for the election in both parties was so large. He noted that because of the Bush years, more citizens than ever are taking part so that never again will there be anything like a Bush presidency. Did you notice in the last Republican debate not one candidate mentioned George Bush, but Ronald Reagan numerous times?
John Carusone was mayor of Hamden from 1987-1991, assistant school super from '69-'82 and a legislative councilor from '65-'69. The Hamden native is now retired but stays active in town affairs -- and has a lot to say about them. (Note: The views expressed here are not necessarily those of the Hamden Daily News.)
---
January 10, 2008
By John Carusone
There are two recreational projects in Hamden that get used more than any other facility. Yet both were controversial and nearly did not have enough public support to become reality. I'm speaking of the ice rink and the Farmington Canal walkway.
The ice rink was first proposed in the late '50s when Hamden was considering an addition to the high school. There were those who favored a swimming pool as part of the addition. An ad hoc ice rink committee was formed, headed by local druggist Nate Hammerman. On that committee were hockey coach Lou Astorino, George Raccio, Donald Coutts and Al McMahon.
The swimming pool supporters won out and there would be no ice rink. No high school in Connecticut had an ice rink. Swimming enthusiasts pointed out that Hamden had nearly a dozen outdoor ponds that froze in the winter so why an ice rink?
In 1965 yours truly was elected to the first town council and almost immediately the rink supporters and then the entire athletic community came to support not just an ice rink, but a new football stadium as well. That project coupled with a second high school addition did pass and Hamden had its rink. The rink nearly was not built when it was determined that an additional 4-acre parcel owned by a Hamden family was necessary. I was contacted by a neighbor that it was her husband's parents who owned the parcel. I set up a meeting with Mayor John DeNicola Sr. and council education chairman Bing Humphrey, who very quickly negotiated the purchase of the property.
The Farmington Canal walkway was like the rink controversy. The idea of a walkway that linked parts of New Haven to all parts of Hamden was opposed by many in town, especially northern Hamden residents, who feared it would become a trail that thieves would use (as one resident opined at a hearing, "Thieves will steal TV sets in New Haven and use the trail as a getaway route.")
When I was elected mayor in 1987, Hamden resident Virginia Dowd contacted me to talk about the abandoned Boston Maine Railroad line that would make a perfect hiking-biking trail. We scheduled a walk of the canal that once was a true transporting canal that went all the way to Northampton, Mass. The town of Cheshire had already developed its portion of the canal. The activist group, Rails-to-Trails, was committed to the hiking-biking concept, but needed town and state support.
My administration jumped at the idea and immediately joined a lawsuit by the citizen group to prohibit the railroad from selling portions of the canal to local business interests. The previous administration had already cooperated with the railroad and sold one parcel.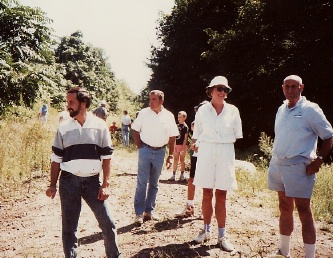 Tour of the Canal just prior to purchase. Assistant Town Engineer Vin Deangelis is followed by PW Director Ed Vailette and members of Rails to Trails. Courtesy photo
My CEO Betty Smith, state Rep. Ron Smoko and I met approached Gov. Bill O'Neill with a plan. We would buy the entire Hamden section from the railroad. Smoko was able to secure a $1.5 million grant and we bought a railroad!
Today, the rink and canal walkway help give Hamden its well-deserved reputation as one of Connecticut's finest towns.
John Carusone was mayor of Hamden from 1987-1991, assistant school super from '69-'82 and a legislative councilor from '65-'69. The Hamden native is now retired but stays active in town affairs -- and has a lot to say about them. (Note: The views expressed here are not necessarily those of the Hamden Daily News.)
---
January 3, 2008
Since the recent assassination of former Pakistan Prime Minister Benazir Bhutto, some Hamdenites have asked whether Hamden ever had to confront the issues of religion and ethnicity in politics and government. Well, for sure, we haven't assassinated any of our leaders. But for much of our early history, religious and ethnic background was very important.
Gender also played a major role here. From our incorporation as a town in 1786 until 1955, all selectmen were male, Protestant and Yankee. Many were Congregationalists and members of the Mt. Carmel Congregational Church. Current Mayor Craig Henrici, I believe, is a member of that church. In 1955, Catholic Irishman Herb Hume became the first of his faith and ethnic background to become first selectman.
Over the years, friction between ethnic groups occurred. Democrat Larry O'Brien, running to be Hamden's first mayor in 1965, was defeated when droves of Hamden Catholic Irish deserted him after hearing and believing the untrue rumors that he was a "left-footed Irishman," or a Protestant. That election saw Republican John DeNicola Sr. win after he had to endure a bruising, intra-party battle between Yankee and Protestant elements of his Republican Party. For generations, Hamden's police department was dominated by Protestant and Yankee affiliations. Membership in the local Masons was a must in order to get a promotion. The composition of the Hamden Democratic Party was mainly controlled by an Irish Catholic element.
During the 1960s, much of this began to change in both parties. After the DeNicola Sr. victory, the former Yankee-dominated party had to share power with the Italian-Catholic element. I still recall a meeting DeNicola Sr. had with my father in the early 1950s with a proposal that Republican Italian-Americans and Democratic Italian-Americans form an independent party. My father rejected that idea and advised DeNicola Sr. to seek his party's nomination, which he eventually did and won.
Republican Lucien DiMeo became the first mayoral candidate to run a female for town clerk, Carol Shank, who won three elections. Since then every mayor has had a female in that office.
The first Italian-American to serve as school superintendent was Dr. Frank Yulo. African-American Dr. Paul Taylor was the first black Board of Education member. Republican female Corrine Ambrose became the first BOE chairwoman. Bill Minor became Hamden's first African-American department head.
We have certainly come a long way in Hamden since our early days. It's a political fact of life that our local politics is a generation ahead of our national level. We have elected two female mayors, Lillian Clayman and Barbara DeNicola. I have always felt that the pluralism of Hamden's present political and governmental scene contributes to our strength as a community.