Carusone At Bat
By John Carusone
Can you name the most successful, popular and profitable commission in Hamden today? If you guessed the Arts Commission headed by Mimsie Coleman you are correct. On a budget of $110,872, this group has raised close to $1 million in grants and sponsorships.
The Arts Commission has renovated Thornton Wilder Hall, purchased a baby grand piano for the hall, upgraded electricity at Meadowbrook and purchased a portable stage.
It commissioned the first community public art sculpture, was awarded a Hamden Rotary Club grant, which allowed the commission to collaborate on the design of the Meadowbrook Pavillion, and sponsored arts programs for all ages that have attracted thousands -- the latest being the Iarussi concert which packed the high school auditorium. Commissioners are now collaborating with City Wide Open Studios to fill the old middle school with visual arts on Oct. 28 and 29.
The members of this commission are from a group of varied backgrounds. There's Evelyn Skelly, who has served with great distinction on the Arts Commission since 1981. She also served on the Board of Education. Other members are Lisa DeGrand, an event planner, architect Deb Dozier, teacher Donna Elkin, communications person Joyce Gherlone, daycare administrator Judy Goldberg, musician Sarah Heath, dancer Willa Horowitz, actress Lois Jason, postal employee Charles Estep, actor George Moore, administrator Tracey Nista, musician Rachel Pepper, former teacher Sandy Schiff and arts teacher Stacey Sandler.
Putting together all of these talented individuals is coordinator Coleman, who holds a journalism degree from the University of Missouri. One of the most important appointments I made as mayor was to nominate Mimsie to serve on the commission. At that time, the commission was advisory. We gave it commission status and from that point on nothing but good has happened for Hamden in Hamden. The summer concert series began and has continued to this day, attracting citizens from across the entire region.
The recent Iarussi concert had few politicos from the Hamden scene. Mayor Henrici could not attend due to his hip surgery. I did attend along with former Mayors Carl Amento and Barbara DeNicola. I was disappointed that more of the current elected and appointed officials did not attend. I hope the current pols understand that the Arts Commission is drawing raves from not just Hamden, but across the state. Come on pols. Let's see more political support for this group. Let's face it, for every local dollar given to the commission, $10 comes back in return.
Thanks Mimsie and the Arts Commission for that show and the hundreds of events since.
John Carusone was mayor of Hamden from 1987-1991, assistant school super from '69-'82 and a legislative councilor from '65-'69. The Hamden native is now retired but stays active in town affairs -- and has a lot to say about them. (Note: The views expressed here are not necessarily those of the Hamden Daily News.)
---
October 18, 2006
Secretary Susan Rocks
By John Carusone
With the state election only weeks away I want to focus on one of the Democratic candidates for office, Secretary of the State Susan Bysiewicz. This is not to take away attention or support from gubernatorial candidate John DeStefano and the state ticket, or Ned Lamont in his U.S. Senate bid. Certainly Attorney General Dick Blumenthal -- who has done such a stellar job in finally eliminating the illegal State Street dump -- deserves all the accolades he can get.
But let's talk about Susan.
A graduate of Yale University and the Duke University Law School, she has revolutionized the Secretary of the State's office and done it in a manner the late Democratic chairman -- legendary John Bailey -- would have advised her. Let me explain.
In 1966, Bailey was in Hamden to talk about the upcoming state election. Area-elected Democrats were invited to meet him at the Ambassador Restaurant in the Hamden Mart. I was the only elected Democrat in Hamden at that time, serving on the Town Council. At the end of the meeting, I asked Bailey a question. Now remember, Bailey had developed a strategy to elect a Jewish governor, Abe Ribicoff, and a Catholic president, JFK.
I asked, "Mr. Bailey, what's the secret of being a successful politician?" His response was clear and profound: "Do your job." What he was saying, as only he could do, was that once elected be the best you can be regardless of political affiliation.
His sage advice clearly shows that Susan Bysiewicz has been and continues to be the most effective state secretary in Connecticut's history because she just does her job. There is no Democratic or Republican agenda in her office. Let me list some of her accomplishments; it is a lengthy list.
Bysiewicz has increased voter registration and participation. She has provided secure, accurate and accessible voting technology. She has supported government reforms that protected the integrity of the electoral process. She has helped create new jobs by promoting small- and minority-owned businesses through technical assistance. She has operated her office in a fiscally responsible way. She has expanded the public's right to know and provided greater public access to records. She has provided greater consumer privacy, promoted cultural diversity and supported the increased involvement of women and minorities in government.
Wow. All of this since Bysiewicz took office in 1999. And she also authored "Ella," the biography of Connecticut's first woman governor.
Most of my readers know I am a Democrat. So perhaps some will not pay attention to this obvious endorsement of Susan Bysiewicz. But for those who look upon this as a partisan endorsement, I say just look at her record. Do any of my readers disagree with any of the programs she has supported? I frankly doubt it. She is, in my opinion, a classic example of what every successful office holder hopes to be.
She just does her job and that benefits all citizens regardless of party affiliation. I don't believe she ever met John Bailey, but she has the same instincts. And that's been good news for Connecticut citizens.
John Carusone was mayor of Hamden from 1987-1991, assistant school super from '69-'82 and a legislative councilor from '65-'69. The Hamden native is now retired but stays active in town affairs -- and has a lot to say about them. (Note: The views expressed here are not necessarily those of the Hamden Daily News.)
---
October 11, 2006
Republican Lies, Sex & Illegal Wars
By John Carusone
"The crack has now become a canyon." So stated noted Republican strategist David Gergen referring to the latest gaffes of the Bush Administration. The National Intelligence Estimate (NIE) report, Bob Woodward's book "State of Denial" and the Foley affair have put the spotlight directly on the outright dishonesty and deception of the administration.
First, the NIE conclusion that there is complete agreement that the unnecessary war in Iraq is increasing the chances and opportunities for terrorists all over the world to kill Americans. Fighting this "war" has caused the unnecessary deaths of nearly 3,000 kids. And now over 70 percent of Iraqis want the United States to get out of their country.
And where is our junior senator, Joe Lieberman? Right there with the Bush gang. And Woodward's book clearly shows that the Bush crowd knew about a pending attack on U.S. soil three months before it happened. Their shoddy attempt to blame Clinton with the phony ABC docu-drama written by rightwing supporters of Bush has been exposed for what it is. George Tenet and his chief of staff Kofer Black personally notified Condoleeza Rice of the pending attack. Her first response was, "I personally don't recall this meeting." When White House records showed that in fact such a meeting had taken place, her next response was, "Oh, yes, I do remember, but they (Tenet and Black) never mentioned the attack would take place on U.S. soil."
I can't wait for Tenet's book to come out. Reportedly he will dispute her claim, and some have implied he will give back the Medal of Freedom the Bush gang gave him when he left the CIA.
And did you notice the latest trip to Iraq by Rice who said, "We're making progress in Iraq." Of course, when she made this statement, she was riding in an armored humvee, wearing a steel helmet and flak jacket and surrounded by armed Marines. Now, that's real progress!
And now to Congressman Foley. It is clear that for the past three years the Republican leadership has known of his highly sexual e-mails to young page boys. You have to be really disgusted that Fox News and Bush spokesman Tony Snow, who labeled the e-mails "naughty e-mails," have attempted to downplay this entire disgraceful episode. Foley's $100,000 contribution to the Republican National Committee clearly was his attempt to buy silence from the leadership -- and it worked until now.
How's this for hypocrisy? Foley's vote for impeaching Clinton was done with this statement, "Clinton has a vile sex addiction." Not to justify Clinton's sexual conduct, but who really has a vile sex addiction, Foley or Clinton?

Look at the record of this crowd: Cunningham, DeLay, Ney, Abramoff, Libby, Halliburton, Hastert, Rove, etc. They are vying for the title of the most corrupt administration in American history. Remember, this is the gang that pushed to impeach Clinton because he lied about a consensual sexual affair with an adult.
How about lying about a war that has caused so much misery and has caused America to be viewed favorably by only 18 percent of the world?
How about lying to cover up a pedophile in order to keep his seat safe and keep Republican control of Congress?
How about lying about a meeting that could have prevented 9/11, had action been taken?
How about a president who had just received a devastating intelligence report stating the Iraq situation was getting worse, yet went public that very day stating that everything was improving in Iraq and we should "stay the course?"
November is fast approaching. Let's hope there are enough Americans who see the disastrous chain of events as being devastating to our country. A country once viewed all over the world as a pillar of democracy, now viewed in such a negative way.
John Carusone was mayor of Hamden from 1987-1991, assistant school super from '69-'82 and a legislative councilor from '65-'69. The Hamden native is now retired but stays active in town affairs -- and has a lot to say about them. (Note: The views expressed here are not necessarily those of the Hamden Daily News.)
---
October 4, 2006
Henrici's Right on the $$; Send the BOE to Newhall
By John Carusone
Two local issues that deserve comment are the current property revaluation controversy and what to do with the former middle school now that it has been abandoned.
The Henrici plan to do the reval all in one year is a sound financial decision that has already had a positive financial outcome for taxpayers. The town has been notified that its very precarious bond rating will not be lowered again as it has been twice since I left office.
In my first term, Standard & Poors raised our bond rating from A to AA -- a modern high for Hamden. While Moody's set our rate at A1. As a result of those ratings, a $10 million-note sale the last week of my administration drew a record low of 3.8 percent, a full two points lower than other area communities. This saved taxpayers millions of dollars in lower interest payments until 1998, when multiple operating deficits resulted in a shrinking fund balance and caused our bond rating to be lowered for the first time.
In 2004, our bond rating was dropped again. This is the situation that Mayor Henrici is now trying to avoid. He is poised not only to hold the present rate, but to try to get it back to our once high position. Although supporters of a reval phase-in have done a thorough professional job, the long-term financial benefits to Hamden will far outweigh any short-term solutions now. Rating agencies are going to be impressed with this administration's plan to put Hamden on a solid financial footing even it there is some voter discontent. Henrici is being a leader here. Councilman Curt Leng has also been impressive in his attempt to get all the facts on the table.
Now onto what to do with the abandoned middle school. In a previous column, I offered my opinion as to what should be done and I have not changed my mind. First, the Board of Education should move into the old middle school along with the Steps program. For those who question that proposal, may I remind them that at one time the BOE was located in Sleeping Giant Junior High School. Moving the school administration into the middle school would preserve the educational presence in the Newhall neighborhood.
The current BOE building (the former Putnam Avenue School) should be sold as valuable commercial property and the proceeds used for either the pension fund or capital expenditures. The unused portion of the old middle school should be given to the community for recreational and civic use, making the former community school (Newhall) unnecessary. That building should be demolished thereby eliminating the operating cost from the budget.
I trust my suggestions will receive appropriate attention. I do hope the opinion that part of the property become industrial will receive no community or administrative support. Living next to a factory will lead to immediate deterioration of the neighborhood, lessening property values and resulting in a declining grand list.
John Carusone was mayor of Hamden from 1987-1991, assistant school super from '69-'82 and a legislative councilor from '65-'69. The Hamden native is now retired but stays active in town affairs -- and has a lot to say about them. (Note: The views expressed here are not necessarily those of the Hamden Daily News.)
---
September 27, 2006
By John Carusone
Well, the silly season is upon us so let's give some early recognition to campaigns that deserve it -- even if it is negative.
The first prize for the most dishonest-ever campaign ad -- since LBJ's 1964 commercial implying a vote for Goldwater would cause an atomic war -- goes to Republican Congresswoman Nancy Johnson. Her recent ad completely and falsely depicts Democrat Chris Murphy as being hesitant to track a phone call from New York to a "suspected terrorist" in Pakistan until the "paperwork" has been filed.
For the record, FISA allows up to 72 hours to get a court order after a wiretap has taken place. On top of this, the end photo op of the commercial shows Johnson saluting the flag with veterans. What chutzpah! She has voted against major veterans' benefit bills.
On to Lieberman. His campaign can best be described as pathetic. So much so that his once commanding poll lead has now shrunk to two points over his Democratic challenger Ned Lamont. Such political luminaries as Republican Jack Kemp and former New York Sen. Al D'Amato are campaigning for Lieberman and drawing flies for an audience. If Lieberman had any class at all he would drop out of this race and support Lamont and lose with dignity, thereby preserving any chance of getting a powerful Washington position in 2008 if the Dems control the White House.
Now to DeStefano and Rell. Rell's latest gaffe of taking three public positions on upcoming debates made her look foolish. TV polls showed a 3-1 sentiment against her flip-flopping. It was clear from the polls that she feared a one-on-one debate with DeStefano, finally agreeing to two. She has never been involved in such a major campaign where she is the main player. This race will tighten up soon as the public gets a chance to see the two face to face. And what is her record? Just that she isn't John Rowland.
But wait a minute. Isn't she the lieutenant governor who for nine and a half years had an office next door to the most corrupt governor in Connecticut history? Is it possible that she didn't see the no-bid, multi-million-dollar contracts handed out to Republican cronies? Come on! If she didn't know what was going on, she has to be the densest political candidate of all time. If she did see what was going on, she should have divorced herself from Rowland.
Two candidates on the Democratic ticket should be watched closely -- Attorney General Dick Blumenthal and Secretary of the State Susan Bysiewicz. Both have higher political ambitions. Should DeStefano lose the race for governor, Bysiewicz will be a leading candidate next time.
Blumenthal's future is a bit more uncertain. Will he jump into the gubernatorial race, the Senate race if Dodd decides not to run again, or await a Democratic White House victory in 2008 and seek a federal judgeship? One thing is for sure. Both will win this November.
John Carusone was mayor of Hamden from 1987-1991, assistant school super from '69-'82 and a legislative councilor from '65-'69. The Hamden native is now retired but stays active in town affairs -- and has a lot to say about them. (Note: The views expressed here are not necessarily those of the Hamden Daily News.)
---
September 20, 2006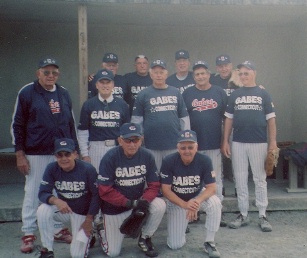 Johnny C is front row center. Courtesy photo
It's One Game After Another
By John Carusone
What do you think a 70-year-old man who has survived a bout with colon cancer and rotator cuff surgery in the same year is doing for recuperation? Resting and building up his strength?
Well, not so. This year I have so far played in over 100 games of slo-pitch softball and even in April -- one month after surgery -- played in an exhibition basketball game against the famous Harlem Magicians. (Yes, I did hit a three in that game.
We just returned from the regional Cape Cod Senior Slo-Pitch Tourney where our 70-year-old Connecticut team played against the top competition from Canada, New York and New England. We were 3-3 making it to the medal round.
We played three consecutive double headers in three days. In the prelim round we were beaten by Rhode Island and the Massachusetts Cape Cod combine. We then beat Ontario, Canada and a New York combine to advance to the medal round. Observers considered the first game against South Shore from Massachusetts the most exciting ever of slo-pitch between two very talented teams.
We had a 12-7 lead going into the bottom of the seventh. South Shore scored five runs to tie the game. Let me recap that inning. Hit after hit scored two runs and two more plus a walk loaded the bases with none out. The next batter tripled scoring the tying three runs and left a runner on third -- the winning run with no one out.
And what was our strategy? We intentionally loaded the bases with walks hoping to set up force plays at all bases. The next batter hit a scorching line drive to first baseman Bob Reilly -- one out. The next batter hit a scorching line drive to shortstop Bob Justo -- two outs. The next batter hit a long fly ball to left field that left fielder Chucky Tremonti made a circus catch. We won the game in extra innings. We lost in the finals to Eastern Massachusetts, the eventual tournament winner, a team that had three former Red Sox farmhands.
To top all of this, I have played in the over-50 league in Milford and will shortly be playing for the league championship. There's more. My over-60 team the Wallingford Cardinals are in first place in the four-team Wallingford league. All in all there's a 20-year age difference in the leagues I play in. So with all due respect to those who thought that R&R was the way to go after surgery. I guess I am a poster man for proper diet and exercise.
When I am not playing, I swim 20 to 30 laps a day in my pool and do two miles a day on my treadmill. And to top it off, my wife, Sylvia, and I joined LA Fitness Gym and work out regularly. I just had my first physical after the operations. The outcome was spectacular!
This fall, I'll be playing in the Milford over-50 slo-pitch league. Those games continue through October. I'll also be active in the Wallingford over-60 basketball league. Those games will be played on Monday, Wednesday and Friday all the way through April. We will once again play exhibition games at Quinnipiac University and the University of New Haven, as well as playing other senior teams from around the state. Our basketball program is headed by former Lyman Hall all-stater and UNH Hall of Famer Mel Horowitz. Mel's sister Cheryl has become the first woman to play in the Wallingford over-60 senior softball league, playing on my team, the Cardinals. She has also received local, state and national recognition for her athletic achievements.
How's that for senior athletic competition? And it's not over. Next year I'll be heading to Kentucky for my third Senior Olympics, having already participated in Louisiana and Virginia.
John Carusone was mayor of Hamden from 1987-1991, assistant school super from '69-'82 and a legislative councilor from '65-'69. The Hamden native is now retired but stays active in town affairs -- and has a lot to say about them. (Note: The views expressed here are not necessarily those of the Hamden Daily News.)
---
September 13, 2006
Baseball, Rummy & Other Snakes
By John Caursone
How about some potpourri?
As you are reading this column I will be returning from the Cape Cod Regional Senior Tournament. We have a 70-year-old all-star team from Connecticut that competed. I'll report the results in another column.
A little baseball here. My neighbor Dennis O'Keefe recently invited me to his son Mike's new baseball and softball training facility on 109 Sanford St. Mike has just returned injured from his Triple A season. He drew raves this year by slamming a double against the best pitcher in baseball -- Minnesota Twins Johan Santana. Dennis asked me to try out the baseball pitching machines and I willingly accepted. Now it's time to brag.
The machines throw from 65 to 90 mph, throw splitters, sliders and curveballs. And guess what? I hit every pitch, most with authority from both sides of the plate. Dennis and Fire Commissioner Henry Candido will attest to that. I'll be there on Sept. 22 at his grand opening. Someone once said hitting a baseball is like riding a bike. You never forget.
Now for some hockey news. One of Hamden's great players from the 1940s recently passed away. Ted Shay was the all-time scoring leader for many years at Hamden and at Yale. He was one of my softball teammates in the early '60s and was simply a great athlete. His father, Norm, was a legend unto himself operating one of the most well-known sporting goods stores in Connecticut.
It's too bad the current Hamden Hall of Fame Committee doesn't recognize other greats from that era, like hockey giants Emil Santello, Mel Jordan, Lou LaFontaine, Joe Barile, Butch Ives and Canadian Bernie McKinnon.
Now let's talk about Donald Rumsfeld's latest diatribe against those Americans who oppose the war in Iraq as similar to those who appeased Hitler prior to World War II. What's really frightening about this is we know Rumsfeld is incompetent, but he is also ignorant about American history. Trying to equate today's critics of the America First Committee headed by U.S. Sens. Nye and Lindbergh was best described by MSNBC consultant Ron Reagan as "garbage."
Let's go back a bit in history and try to show Rummy how off base he is. There was another famous American who criticized American involvement in Vietnam. Here is his quote:
"Never has so much military and economic and diplomatic power been used so ineffectively and after all this time, and all this sacrifice, and all of this support, there is still no end in sight, then I say the time has come for the American people to turn to new leadership not tied to the mistakes of the past."

According to Rumsfeld, this individual would fit his definition of appeaser. And who is this individual? Why none other than Richard Nixon running in the '68 race against Humphrey.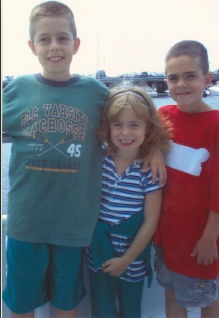 And now for some fun news. My 8-year-old grandson Spencer had an odd birthday request for my wife, Sylvia, and me. He wanted a snake. So we bought him one. He now has two snakes since his cousins Delaney and Addison also gave him one. They are both corn snakes and will grow to 4 feet. They eat frozen mice once a week and are kept in environmentally safe conditions since he and his brother Scotty and sister Jenna also have two cats.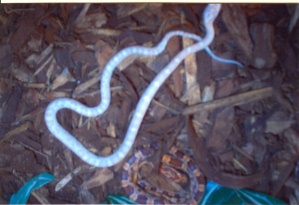 Gary is camouflaged in the picture while Fred is a snow corn snake, all white and quite visible. One thing is for sure. I hope Spencer does not have visions of me with his pets on my lap while we are watching a Yankee game.
---
September 7, 2006
Ortega's Turn
By John Carusone
It's official! Two local boxers have been inducted into the Connecticut Boxing Hall of Fame. Last December I nominated Hamden's Nathan Mann and new local Gaspar Ortega for induction into the hall.
I already wrote a column about my former State Street neighbor Nathan Mann who fought Joe Louis for the national heavyweight title in 1938, but lost. He came back to defeat George Fitch for the New England heavyweight title and came within one fight of getting a second shot at Louis in 1948, before he retired after being defeated by Fairfielder Bernie Reynolds for the New England title. I saw that fight.
My dealings with Ortega began two years ago when local businessman A.J. Raccio contacted me about my senior softball team playing the local police to benefit the Hamden Youth Boxing Program. Ortega and his son Mike are quite active in that program already, training upcoming middleweight Elvin Ayala who now sports a 16-0 record and is well on his way to a national ranking. Mike is presently a noted boxing referee and an employee of Parks & Rec. Gaspar Ortega had already been inducted into the National Boxing Hall of Fame in 1995. He fought the likes of Emile Griffith, Benny "Kid" Paret (beating him twice) Carmen Basilio, Kid Gavilan (of bolo punch fame) and Tony DeMarco. During his career he was 131-39-6 with 69 KOs.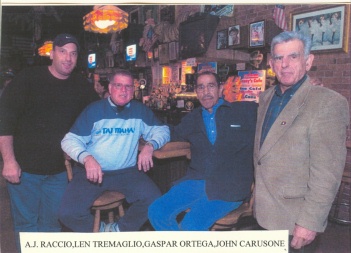 (Left to right): A.J. Raccio, Len Tremaglio, Gaspar Ortega and John Carusone. Courtesy photo
The small-world part of this story began to unfold after our game with the police. It turned out that one of my senior basketball teammates, Len Tremaglio, owner of Len's Sports Bar in Wallingford, was Ortega's main sparring partner after establishing a fine record as a fighter. Len was 8-0 with the legendary Whitey Bimstein and Fred Brown as his trainers. He fought and defeated such ranked fighters as Dick Tiger, Billy Bellows, Rory Calhoun and Nick Gerard. He was featured in The RING magazine. After a crushing defeat by Lloyd Garrad, Len retired and became one of the most sought-after sparring partners.
I arranged a meeting with Ortega and Len at Len's bar. Mike Ortega also showed up. What followed was the most memorable night I have ever had talking about the boxing game as it was then. Ortega signed pictures and regaled the crowd with his exploits and experiences in the ring. His first comment to Len was, "You were the hardest puncher I ever faced. Why did you retire?"
Ortega told us that his largest purse was $14,000 with occasionally $4,000 in TV revenue. Yes, there was a fight where the crooked boxing crowd wanted a fight thrown, but he refused. Both Len and Gaspar opined that Rocky Marciano and Joe Louis in their prime would have defeated Ali. The Connecticut Boxing Hall of Fame began in 2005 with the legendary Willie Pep in the first class of inductees. I met Pep when I was mayor and he is a story unto himself. This year's dinner will be at Foxwoods on Dec.1. Just as I talked with Fred Schmidt about the early days of baseball, the conversation with Ortega had the same effect. When you talk to individuals who have played major roles in American history you get a firsthand exclusive you can't get from a history book.
John Carusone was mayor of Hamden from 1987-1991, assistant school super from '69-'82 and a legislative councilor from '65-'69. The Hamden native is now retired but stays active in town affairs -- and has a lot to say about them. (Note: The views expressed here are not necessarily those of the Hamden Daily News.)