December 30, 2007
For Susan & Dick: Plan for Higher Office
Also, a sneak peek at Johnny's upcoming book
By John Carusone
It's time for New Year's resolutions. So allow me to make some for others.
For Mayor Craig Henrici: Keep working to get Hamden's credit rating back up. This year he was able to stop the nearly 15-year drop and keep the rating stable. Also, it is time for charter revision. I hope that Henrici is able to get the process moving so that we can move into the 21st century.
For the local Republican Party: To make every effort to develop a once-again competitive party.
For local hockey buffs: To make sure that the greatest Hamden hockey players include early Hamden Olympians Don Geary and Hugh "Red" Young.
For Secretary of the State Susan Bysiewicz: Begin active planning for future state and possible national openings.
For Attorney General Dick Blumenthal: Ditto
For local attorney Hugh Manke: Make sure Joe Farricielli's infamous tire pond is covered, and his equally infamous total dump site becomes quality, tax-producing property.
For the national Democratic Party: To get behind a winning candidate like Hillary Clinton to end the awful Bush era. Also, to reverse the Bush "war" on science. It is so clear that global warning is a scientific fact and stem cell research must become national policy.
For the Congress now "controlled" by the Democratic Party: To please show some backbone and stop caving in to the Bush Administration.
For the Connecticut American Legion: Keep working to discover the documents that will prove conclusively that the real hero of the "corporal" York fiasco was Hamden hero Sgt. Bernard Early.
For all the national Republican candidates: To stop the hollow debate as to which of them is the most religious. You are insulting the intelligence of mainstream voters.
And finally, to yours truly: To publish in 2008 my book, "The People and Politics of Hamden, Some Personal Remembrances."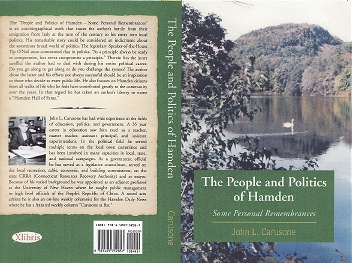 John Carusone was mayor of Hamden from 1987-1991, assistant school super from '69-'82 and a legislative councilor from '65-'69. The Hamden native is now retired but stays active in town affairs -- and has a lot to say about them. (Note: The views expressed here are not necessarily those of the Hamden Daily News.)
---
December 23, 2007
Remembering a Fine Service Man
By John Carusone
My good friend Wayne Tolson recently passed away from the effects of ALS (Lou Gehrig's disease). Last year my UNITAS Club honored Wayne with a "Distinguished Service Award" for his service to Hamden.
For over 30 years, Wayne was a coach for the Hamden Fathers' Basketball Association. He also coached the Hamden team in both the Wallingford Summer League and the Farnam Pre-Season League. Wayne was a member of the 1960 Hillhouse basketball team that won the 1960 New England basketball championship. He had organized a basketball squad to play my team when I was mayor.
Wayne served on the board of directors for a number of community organizations. He was an organizer of the Sleeping Giant Day Care, and served on the Hamden Quality Education Task Force.
Wayne was married for 41 years to Walterine Tolson. They have one son, Wayne Jr., daughter-in-law Madeline, and a 2-year-old grandson, Wayne M. Tolson III.
Wayne was a lawyer by profession, specializing in civil rights issues where he was awarded many professional distinctions.
I have always felt the reason Hamden was and still is a quality town is because of individuals like Wayne Tolson. He is going to be sorely missed not just by his family but by the town. We are all better off because of Wayne's service to Hamden.
John Carusone was mayor of Hamden from 1987-1991, assistant school super from '69-'82 and a legislative councilor from '65-'69. The Hamden native is now retired but stays active in town affairs -- and has a lot to say about them. (Note: The views expressed here are not necessarily those of the Hamden Daily News.)
---
December 20, 2007
By John Carusone
I enjoyed teaching far more than any other vocation I had. Whether it was students at Deer Run School in East Haven where my wife, Sylvia, and I first met, or history students at Hamden High, or Chinese mayors and high-level bureaucrats at the University of New Haven, or graduate students at the University of Bridgeport, SCSU and Fairfield University, I recently had a similar outstanding experience meeting with two Yale graduate students majoring in environmental science. The students, Meg Arenberg and Haley Gilbert, contacted me through their professor to consult with them on their thesis project on East Rock and the State Street corridor.
It was so interesting for me to relive for the students the history of the area, having been born here and having family ties going back to 1897 when grandpa first arrived from Italy. The thrust of the students' thesis is to delve into the concept of community safety and environment. We have met twice now and I have put them in contact with Rick Kamp of the East Side Civic Association who will go into detail about the effect of the Quinnipiac River on the area and the environmental destruction done by the infamous State Street landfill.
We talked about the political dynamics of this Hamden area. At one time if you lived on the west side of State Street you tended to be Republican and on the east side (our side) you tended to be a Democrat. Also to be noted was that State Street was the first Hamden neighborhood to be settled in 1686. It was then called Neck Lane. Historic home "Appledore" at the corner of State and Benton was the first historical home in the area. It was built by William Linton, the engraver for Charles Dickens.
East Rock was our playground during our youth. Climbing the giant steps to get to the top without using the road was a favorite activity. During the war the road was blocked by soldiers so we told them how to get to the top unnoticed. Riding our bikes down "dead man's curve" with no brakes was so daring as the retaining wall at the edge was only 2 feet high. Sheep's Lot at the Hamden Ridge Road side was a favorite tobogganing site. It was called Sheep's Lot because at one time herds of sheep were used to eat the grass instead of cutting it. Swimming and ice skating in the clay pits on the other side of the railroad tracks were terrific activities.
The Yale students also got a chance to view the film I produced in 1976, "The History of Hamden, Connecticut." I expect to meet with the students as they begin to write their thesis. What's so inspirational to me is that with all the negative news stories about today's younger generation, how knowledgeable these students are and how deep they are. They ask questions I would have expected from more experienced citizens. A few years back I taught Asian students at HHS and Asian mayors and bureaucrats at UNH. I was so impressed with their overall academic standing. In some cases they outdid American students, especially in the field of environmental issues.
Now I can say with authority and enthusiasm these students are on par with any students I have ever dealt with of any ethnic group. This country will be in good hands when these environmentalists assume power in the future. Thanks, Yale, for sending them to me.
John Carusone was mayor of Hamden from 1987-1991, assistant school super from '69-'82 and a legislative councilor from '65-'69. The Hamden native is now retired but stays active in town affairs -- and has a lot to say about them. (Note: The views expressed here are not necessarily those of the Hamden Daily News.)
---
December 12, 2007
By John Carusone
The Republican contest for president gives former New York Mayor Rudy Giuliani a slight lead, but it's been declining for some very good reasons. "Family value" Republicans are ducking for cover as more and more of Giuliani's sleazy background comes into public view.
His three marriages escaped political hits for a while, as more Republicans focused on his electability. But now it is known that New York taxpayers forked out $250,000 for police security while he had 19 separate Hampton's trysts with his then-girlfriend Judith Nathan.
At the same time, remember the same New York taxpayers had to pay the same amount for his second wife at the mansion. So this guy who has now cheated on two wives finds himself trying to explain away without success his latest sexual escapade. Is it any wonder that his nickname on the campaign trail is the Energizer Bunny?

His children from former marriages will have nothing to do with him publicly and will not support him. Further, it has been exposed by campaign watchers and verified by many independent media outlets that Giuliani has used misleading, inaccurate and false statistics when comparing New York under his tenure to other major cities. Stats on crime, budgets, and taxes and on and on have all been false. Even the Republican Wall Street Journal has reported on these misleading statements.
Fellow business partner Bernard Kerik has been indicted on multiple criminal charges. Giuliani's response was an insult to all citizens who value honesty and integrity. He praised Kerik for the "good things he had done" and citizens should balance those deeds against the latest charges. That's like praising Al Capone for all the "good things" he had done for Chicago. It has also been reported that Giuliani's law firm lobbied on behalf of legislation that the Bush Administration calls a threat to anti-terror efforts.
Giuliani is the only Republican candidate who continues to be connected to and lobby for his firm while campaigning for the presidential nod. A short while ago, he skipped important security briefings to make speeches and rake in thousands of dollars. Can you believe this is the best the Republicans have to offer?
He does, however, have one major media supporter. Of course I am referring to "family values" channel, Fox News. Most of what I have referred to in this piece received scant if any coverage at all. Fox commentators have been given daily "talking points" from producers as to how to downplay Giuliani's personal baggage and praise his electability. By the way, the "family values" channel has added another X-rated program to its evening schedule. "Do You Tell the Truth" pits average people being asked, while on a lie detector, such questions like: "Have you ever had an affair?" "Have you ever had a nude photo of yourself taken?"
But they are for Rudy. Remember the saying, "It takes one to know one!" It's amazing to me that Giuliani has accepted the endorsement of televangelist Pat Robertson who claimed that 9/11 was God's punishment for America's support of the Jews.
John Carusone was mayor of Hamden from 1987-1991, assistant school super from '69-'82 and a legislative councilor from '65-'69. The Hamden native is now retired but stays active in town affairs -- and has a lot to say about them. (Note: The views expressed here are not necessarily those of the Hamden Daily News.)
---
December 6, 2007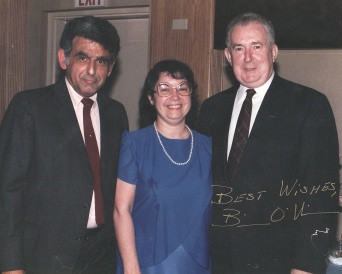 Yours truly, my wife, Sylvia, and friend Gov. Bill O'Neill. Courtesy photo
My Friend & Hamden's: Gov. O'Neill
By John Carusone
Another political giant passed away recently. I'm speaking of longtime Connecticut Gov. Bill O'Neill. He was so good to Hamden in so many ways. In 1984 he became the first governor in Connecticut history to close down a landfill.
His DEP commissioner, Stanley Pac, had determined that landfill operator Joseph Farricielli should not be punished for bringing illegal garbage from West Haven, but recommended that Farricielli apply for a permit to create a garbage landfill which would have become the largest landfill in New England. The East Side Civic Association became involved at that time. O'Neill recommended that the permit be denied and it was. That was the first time Farricielli had suffered a defeat.
In 1989, while O'Neill was governor and I was mayor, Hamden was struck by an F-4 tornado that damaged over 44 blocks in Hamden. Within one hour of that tornado striking Hamden, O'Neill was on the phone asking me what assistance I would need. He was just plain spectacular. He sent 66 DOT crews with equipment to help clear debris. A battalion of National Guard engineers to help with reconstruction, and state police with dogs to help search for victims and to prevent looting were in place by 8:30 p.m. That was only about two hours after the storm had hit. He personally came to Hamden twice to see the progress and to find out what else he could offer.
O'Neill was also responsible for Hamden buying a section of the Farmington Canal with a $1.5 million grant. A $3 million grant gave us the Thorpe Drive sewer project. There were so many more state grants we received thanks to Bill O'Neill. Perhaps the one which received the least attention but helped us to maintain our tax rate was a $750,000 grant to make up for lost interest due to us having to upfront tornado costs before FEMA kicked in. A $100,000 grant to build a veterans' memorial also came from Bill O'Neill.
He and I became close personal friends during our time in office. He attended my 1989 inauguration and posed for pictures with my family. He nominated me for appointment to the CRRA Board, perhaps the most prestigious board in Connecticut. I was confirmed by the Legislature and served on the board during my time as mayor.
On so many occasions he and I would chat about politics and his desire to run again in 1990 for governor. A number of O'Neill's supporters suggested that I run with O'Neill as lieutenant governor. He was being challenged by Hamden Congressman Bruce Morrison, a close personal friend of mine. However, there was no question that I would support O'Neill because of all he had done for Hamden. Eventually O'Neill dropped out of the race and Morrison became the nominee
O'Neill simply was a great governor and a great man.
John Carusone was mayor of Hamden from 1987-1991, assistant school super from '69-'82 and a legislative councilor from '65-'69. The Hamden native is now retired but stays active in town affairs -- and has a lot to say about them. (Note: The views expressed here are not necessarily those of the Hamden Daily News.)
---
November 29, 2007
By John Carusone
There is some interesting sports potpourri to write about this week. First, I have to comment on the Barry Bonds fiasco. There is no doubt that Bonds has been a steroid user. But it is also clear that scores of other major leaguers have also been users. This fact has been known for years by every owner and the commissioner.
After the strike of 1994, the owners needed fans to come back to feed the team treasury. Homeruns flew out of the park in record numbers. Even mediocre players like Brady Anderson hit 55 out of the park. What a joke to target Bonds. I can't wait for former Sen. Mitchell's report. Reportedly, he will name many others.
Now another milestone in yours truly's baseball and softball career. I will be playing in my 60th consecutive year beginning in April. I'm going to play in three age brackets. I'll be playing for GABE'S in the over-50 league in Milford, for the Wallingford SILVER BULLETS in the Wallingford over-60 league, and for EDGE TECHNOLOGY in an over-70 tournament entry team. All this will add up to over 90 games this season. Any senior interested in playing should contact me.
Fellow columnist Tony Mentone recently wrote a column about the greatest Hamden football players. Let me say at the start that I have, over the years, been a football watcher with my only playing experience being for the State Street Tigers of the old Hamden Rec League.
I watched my first Hamden football game in 1944 and saw the great Johnny Jetmar play. He is the only player to be named to two all-state teams, in 1943 and 1944. He also was an all-district baseball and hockey player. I played baseball against him when I was beginning my career and he was at the tail end of his.
For QB, only Dom Balogh, in my humble opinion, another all-stater, belongs as the all-time great. He was my baseball and softball teammate because he, like Jetmar, was such a talented athlete. Linemen Jim O'Brien and Joe Sette belong on any all-time team. O'Brien had a solid career at BC and played in the NFL for the Detroit Lions. Sette was recently inducted into the New Haven Gridiron Hall of Fame.
For running back, all-stater Tom Ritchie and SCSU Hall of Fame player Tom Sacramone belong. Another lineman all-stater Gerry Pannella belongs on the team defensive back. Joe Bucci, a baseball teammate of mine and a recent inductee into the Gridiron Hall of Fame, should also be there.
As for the great Notre Dame players, how about John Bredice? I believe he went on to the Philadelphia Eagles of the NFL and Jim "Bones" Kenney, who had a solid college career. Well, there are my choices. I'm curious to see if any of my readers have some of their own.
John Carusone was mayor of Hamden from 1987-1991, assistant school super from '69-'82 and a legislative councilor from '65-'69. The Hamden native is now retired but stays active in town affairs -- and has a lot to say about them. (Note: The views expressed here are not necessarily those of the Hamden Daily News.)
---
November 21, 2007
By John Carusone
I have just begun watching Ken Burns' spectacular documentary on World War II. What is so impressive about this film is the attention paid to the home front and what it was like. So much of it comes back to me even though I was just 5 when the war began.
When the Japanese attacked Pearl Harbor my first memory is of neighbor Frank Wirtz wearing a white civil defense helmet circulating through the neighborhood tapping on windows that didn't have darkening shades. My mother put blankets on the windows. There was no TV then so war news came over the radio and newspapers. I remember the letters sent by my uncles that had redacted words and phrases all the way through. Censors read your mail first.
Victory gardens were in everyone's back yard. Ration books determined how much of anything you could buy. My father worked in Winchester making the gunstocks for the M-1 rifle. He brought home rejected stocks for all the kids in the neighborhood, so by just adding a fake barrel we all had guns to play war with.
My dad was almost deported back to Italy. I found out about this years later. Even though he had served in World War I he was not an American citizen. In 1943, thanks to Winchester manager Thomas Boak, my father did receive his citizenship and was allowed to stay in the United States.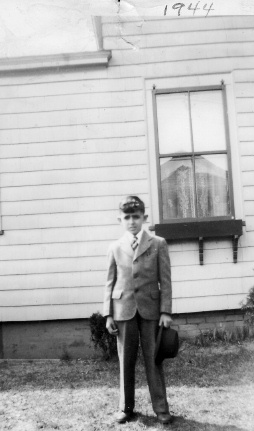 June 1944, at the time of the D-Day invasion.
My mother worked in Snow-Nabstedt and was on the committee that brought Marine hero and boxing champ Barney Ross for a bond rally at the plant. I remember the trains that regularly delivered military equipment. Preceding each train was a train carrying soldiers with rifles and fixed bayonets guarding the equipment trains as they passed through. The soldiers eventually got to know us and allowed us to pass over the tracks to the clay pits, where we swam almost daily in the warm weather.
An artillery battery was placed on the top of East Rock Park. Road travel up there was impossible, but we were able to climb the giant steps to get to the top. A military DUK (amphibious vehicle) was placed on the corner of Park Road and State Street so we could view it. There was an annual air show at Tweed. I remember the Grumman Wildcat performing dog fight maneuvers to the amazement of us watching.
I also remember the nightmares I had regularly. Always it was German soldiers occupying our neighborhood marching down Webb Street and stopping at Benton. I saw that image in the weekly movie tone news. Every Sunday we went to a matinee and saw our first visual images of the war. What was also eerie about that time was that there were no boys over 18 in the neighborhood. All were in the service. The most poignant memories are with the families who had gold stars in the window. The Hearns and the Travaligno neighbors on Atlas Street both lost sons in the war.
I will never forget April 1945 when my brother Dick and I were walking on State Street with our cousin Julia on our way to a local doughnut shop, when a man charged out of a building shouting, "Roosevelt is dead!" We turned around, went home and turned on the radio to hear the bad news ourselves.
I also remember the regular pots and pans collection. All metal was donated to the war effort. This was a time that will forever be etched in my memory.
John Carusone was mayor of Hamden from 1987-1991, assistant school super from '69-'82 and a legislative councilor from '65-'69. The Hamden native is now retired but stays active in town affairs -- and has a lot to say about them. (Note: The views expressed here are not necessarily those of the Hamden Daily News.)
---
November 13, 2007
Let's do an election postmortem. Incumbent Craig Henrici won re-election by a smaller than expected margin. I expected a 3,000-plus plurality. The actual margin was 651 votes. What caused the drop? I think I know.
Henrici ran well behind the ticket. Just look at the town clerk race, where incumbent Vera Morrison won by over 4,000 votes.
On election night, I spoke to some party checkers who informed me that they were surprised that so many unaffiliated voters showed up to vote while the number of Democratic and Republican voters was about the same as in previous elections.
There is a political truism that states if voter turnout is light that usually favors the incumbent since the "kick the bums out" mentality does not exist. And vice versa. Let me give you two examples.
In 1973, the DiMeo-Adams voter turnout was heavy all day long. Challenger DiMeo beat incumbent Adams by 7,000 votes. In 1987, my election against incumbent John DeNicola Jr. had a heavy turnout nearing 60 percent. I won that election by 3,000 votes.
How then does that reconcile the 2007 election that had only a 41 percent turnout?
If you accept the anecdotal evidence, Dems and Repubs had normal turnouts, but the unaffiliated voter came out in larger than normal numbers. It's obvious they liked the Democratic under-ticket but voted by a wide margin for Republican mayoral challenger Ron Gambardella. Could Dems have noted that trend early?
Of course they could have if they had an Election Day strategy of pulling voting sheets every hour after 9 a.m. and comparing party and independent turnouts. What would have shown up immediately was the larger than normal independent vote, which was a sure sign that the unaffiliated vote was going to Gambardella. The Dems could have countered that by working on their base to get more Dems out to vote. And should have used the "mom and pop" strategy of personally calling voters instead of doing robo calls to generate a higher Dem turnout.
On a side note, kudos to Secretary of the State Susan Bysiewicz for making voting easier and less time-consuming.