August 30, 2006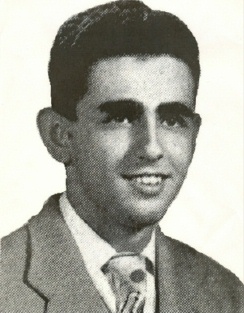 Johnny Goes to High School
By John Carusone
With my granddaughter Emily heading for high school, I couldn't help but remember my very inauspicious beginning at Hamden High School in September 1949.
The building was far more intimidating than the comfortable State Street School I came from. My mom, Josephine, had served on Superintendent M.L. Keefe's building committee in 1929 lining up Hamden graduates of Commercial High School in New Haven to support the first Hamden High. Current Councilman Matt Fitch's grandfather, George, served as Hamden Third Selectman and his father, George Jr., later served as high school principal.
The school was built with $750,000 of Roosevelt WPA dollars. There was no mart or plaza then, only Peters' Farm Orchard. There was no middle or junior high school. You went directly from eighth-grade in your elementary school to high school. Just prior to eighth-grade ending, the school system sponsored a sub-freshman day. We were all bused to the high school to see what it looked like so we would not be strangers in the fall.
Upper classmen baited us with where to find a "bucket of steam" or where the third floor elevator was (there was none). I was 13, the youngest member of the class and very slight, so much so that my brother Dick who was entering his junior year was nicknamed "Moose" while I was given the nickname "Mouse." Being 4 feet, 7 inches and slightly over 100 pounds showed I really deserved that nickname. It was uncomfortable for me, going from a graduating class of 13 at State Street School to a freshman class of 313.

The high school had a four-track academic course offering. There were the general course, commercial course and college A and B. Our placement was decided in eighth grade when we were given a battery of tests. I was absent that day so I entered Hamden High unplaced. I was sent to meet guidance teacher Bill Flaherty. He immediately decided that since I came from State Street, I belonged in the general course.
That was my first experience with Hamden High's caste system. If you came from Spring Glen or Mt. Carmel you were in college A or B. At the bottom were State Street, Newhall and M.L. Keefe ( in Highwood). My math teacher Wayne Flagge was surprised to find out how well I knew the multiplication tables, and I was placed in the college B track where I had such solid teachers as Mrs. North for algebra and Miss Russell for geometry.
My second unfavorable experience as a 13-year-old freshman was being invited to meet the high school baseball coach Joe Pickett after school one day. He wanted to meet the members of the all-star elementary baseball team. He took one look at me and remarked, "Don't come out this spring until you grow up a little bit."
What a year! There were so many interesting classmates and teachers at that time. Tom Ritchie (No. 44) became our all-state football player and some years later nearly restarted the Korean War. Tom became an Army officer and was stationed at Panmunjon, Korea. During a meeting of North and South Korean negotiators, some of the North Korean vehicles developed flat tires. They outright accused Tom and broke off negotiations that day. Patty Festa, my lifelong friend, had her brother Bob shot down during the Korean War and was a POW for over two years. Her father, Joe, ran for Hamden Town Clerk in 1965. My classmate Pierce Robertson was killed in Vietnam.
Principal Wilfred Moody was an individual I never heard speak. English teacher Joe Tierney, a member of the 1928 Olympic team, later became a nationally published poet. He became a lifelong friend and political supporter, once publishing a poem about our response to the 1989 tornado. Teacher Bill Dyckes wrote the Hamden fight song and developed the green and gold color scheme. For many years I would talk with the DeMaios who owned the Weathervane Restaurant, and certainly Sal DeMaio who painted the murals in the entrance hallway of the high school.
Eventually things did straighten out for me at Hamden High. We had our 50th reunion and are now heading for our 55th. In 2004, the Hamden Educational Foundation honored me as a distinguished alumnus of Hamden High. I think that shows all those teachers did a great job.
John Carusone was mayor of Hamden from 1987-1991, assistant school super from '69-'82 and a legislative councilor from '65-'69. The Hamden native is now retired but stays active in town affairs -- and has a lot to say about them. (Note: The views expressed here are not necessarily those of the Hamden Daily News.)
---
August 23, 2006
By John Carusone
There is an age-old proverb that reads: "The minute you think you're indispensable, you aren't." I can't think of a better description of defeated Senate candidate Joe Lieberman.
His appearances on talk shows, his public statements and his overall demeanor suggest pompousness the likes I have never seen in any losing political candidate of any party. According to Lieberman, the Democratic Party that defeated him is "out of step with the mainstream." You have it wrong, senator. It is you who is out of step with the mainstream since over 60 percent of Americans agree with Lamont.
Lieberman linking the war on terror to the civil war in Iraq echoes VP Cheney's talking point. That view is not substantiated by any intelligence, including the bipartisan 9/11 Commission that totally debunked that point of view. Iraq is a foreign policy blunder of epic proportions. If being in Iraq is keeping terrorists out of America, how is it that terrorists were planning to blow up over 20 aircraft even while we are in Iraq!
The two are absolutely not connected. By the way, thank God for British intelligence that took out the terrorists. Isn't it amazing that the Bush crowd, with all the billions spent on terror, didn't know a thing about the impending plot? Not only are we losing the war in Iraq, but we are also in danger of losing the war on terror. The $300 billion we have squandered in Iraq could have been used to upgrade port, chemical plant and airport security.
The rightwing is attempting to portray the Lieberman defeat as a victory for the terrorists. Their latest ad has to be the ugliest attack on true American heroes that I have ever seen. Can you imagine triple amputee Max Cleland, who lost his limbs in Vietnam, Jack Murtha, a 37-year decorated Marine combat veteran, and John Kerry, a wounded Silver Star veteran, being pictured as weak? And, of course, the architect of this trash is none other than five-time draft dodger VP Cheney, whose only experience with firearms was to shoot and nearly kill his buddy while chug-a-lugging a few beers on a hunting trip. Sen. Lieberman, unbelievably, claims his primary loss was a victory for al Qaida. This statement by Lieberman is just plain pathetic.
This Bush gang is sacrificing the lives of so many kids in order to keep up the appearance that progress is being made in Iraq. Sen. Lieberman is right there with them trying to fool voters that all is well in Iraq. That's why he was beaten and that's why his ill-advised run as an independent will also fail. His first ad as a general election candidate fails to mention the word Democrat. Remember, this is the man who just prior to losing to Lamont flooded the airwaves telling all who would listen what a good Kennedyesque Democrat he was. If ever there was a description of political hypocrisy, Lieberman's antics fit the bill. He has now been endorsed by former embattled House Speaker Newt Gingrich and Bill Kristol, a conservative commentator. Lieberman is clearly on the Bush team.
There's a Kenny Rogers' song that makes the point "know when to fold." The senator should listen very carefully to those lyrics before he continues down the road to certain defeat and before he embarrasses himself any further. The latest polls show Lieberman with a five- to 11-point lead over Lamont. These polls are bad news for Lieberman. Remember, the first primary poll showed him leading Lamont by 50 points. That lead obviously evaporated as will the present lead.
Lieberman should be concerned how he will be viewed in history. Will it be as a statesman who served his state and country? Or will it be as a petulant, selfish, sore-loser candidate?
John Carusone was mayor of Hamden from 1987-1991, assistant school super from '69-'82 and a legislative councilor from '65-'69. The Hamden native is now retired but stays active in town affairs -- and has a lot to say about them. (Note: The views expressed here are not necessarily those of the Hamden Daily News.)
---
August 16, 2006
A Giant Man of the Cloth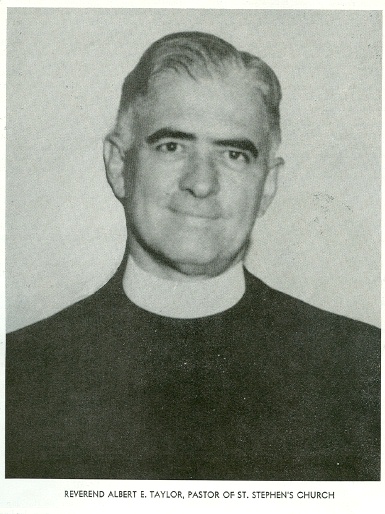 Rev. Albert E. Taylor, former pastor of St. Stephen's Church. Courtesy photo
By John Carusone
I am completing my book, "The People and Politics of Hamden - Some Personal Remembrances." One of the most interesting persons of the last 50 years has to be the first pastor of St. Stephen's Church, Father Albert Taylor.
He came in 1953 from Naugatuck, and as I stated in a previous column, was involved in the creation of Hamden's youth sports programs. With much of the talk today about the problems of many priests, he was a giant of a man. He was a stickler for being good citizens and good Catholic youth.
In order to play for the CYO basketball team, Father Taylor required us to attend confession before each game. Well, boys will be boys, so we devised a scheme to get out of going. And what did we do? Why, our last sin was always "I lied." He picked right up on that so we devised the sore throat routine. Go into the confessional with a sore throat and lower your voice so you were hopefully unrecognizable. His direction was clear. As I started confessing with the sore throat, he interrupted me: "John, clear your throat."
Our next scheme was to go to St. Stanislaus Church where there was a Polish-speaking priest. One of our guys went in first and after a few agonizing seconds, in perfect English, the priest shouted, "You did what?" So much for fooling anyone!
Father Taylor was a great baseball fan of the Hamden Townies and would faithfully attend every game. Against Naugatuck in a key state league game he came with my father, Dom, my mother and First Selectman John DeNicola Sr., himself a staunch Townie fan. My first time at bat I hit a three-run homer against star pitcher Al Zonas, now a Hamden resident.
The second time I nearly hit another but it was caught against the fence at Naugatuck's recreation field. That knocked out Zonas, who was replaced by 6-foot-7-inch, 230-pound John Crotty, later a Dodger farmhand. When I came up again, his first pitch at nearly 100 mph hit me square in the ribs and knocked me silly. While lying on the ground trying to catch my breath, out of the stands came my father, Father Taylor and First Selectman DeNicola. Rushing in from second base was Naugatuck legend and coach Ray Legenza.
It was getting ugly. Father Taylor kept shouting, "Damn, he hit John on purpose." He looked down at me and figured he shouldn't be cursing and immediately changed his comment to, "Dom, he hit John on purpose."
Legenza and DeNicola started to bump each other. It was then that Josephine Carusone, as only she could, shouted, "Stop acting like boys. You are all grown men." That broke up the tension. Later in the hospital my x-ray showed two separated ribs. We lost that game 10-6.
Father Taylor's moxie in selling the old church on State Street and buying property on Ridge Road infuriated parishioners in the old neighborhood who accused him of being a "Republican in priest's clothing." After all, Ridge Road was Republican country while State Street was a Democratic stronghold. The new church was built and he even managed to get sidewalks on Ridge Road, infuriating residents who thought their historic trees would be cut down.
"Not so," said Father Taylor. "Just have the sidewalks go around the trees." And they did.
This was a remarkable man. In 1967, I was awarded the Hamden Jaycees' Distinguished Service Award as Hamden's "Outstanding Young Man." And who nominated me for the award? Why, Father Albert Taylor.
John Carusone was mayor of Hamden from 1987-1991, assistant school super from '69-'82 and a legislative councilor from '65-'69. The Hamden native is now retired but stays active in town affairs -- and has a lot to say about them. (Note: The views expressed here are not necessarily those of the Hamden Daily News.)
---
August 9, 2006
By John Carusone
I have always been a student of history. History is our greatest teacher. The Roman Cicero put it best when he said: "Without a knowledge of history we will always be children." Industrialist Henry Ford took the opposite point of view. He said: "History is bunk. The only thing that is important is what is happening now."
Let's relate those two philosophies to some of our past presidents.
Recognized historians like Bruce Catton, Michael Beschloss, Doris Kearns Goodwin, Steven Ambrose, Douglas Brinkley and Robert Caro help us to see some of our presidents in a historical context, not in current, everyday scenarios. For it is in a historical perspective that the true value of presidents comes into plain view.
Pompous asses like O'Reilly and Limbaugh seem to feel that it is only their narrow point of view that should prevail. I am reminded of O'Reilly's statement in response to a question that proposed that Gore had wide responsibilities as Clinton's VP.
"Oh, no," puffed O'Reilly. "Thomas Jefferson and Teddy Roosevelt had greater responsibilities."
Is he kidding? Jefferson was John Adam's VP and at that time were of different parties. They despised each other and did not communicate until later in life, mostly by letters. They both died on July 4, 1826. Jefferson spent much of his time as VP making wine. Roosevelt became VP when Republican Party bosses kicked him out of New York where as governor, he was goring too many Republican oxen. He almost resigned as vice president to return to private law practice.
Who were the great presidents? Certainly, the opinions of Fox News have no credibility among recognized historians. Bush equal to Truman? FDR and Lincoln lead every major historian's list. Thomas Jefferson and Teddy Roosevelt are up there, too. Woodrow Wilson and Truman rank quite high.
I used to ask my history students to play a "What if?" game of history.
What if FDR had caved into the rightwing harangues of radio's Father Coughlin (the Rush Limbaugh of the '30s) and decided not to continue with his plan to develop Social Security?
What if Harry Truman had not intervened in Korea in 1950? Would there be only a communist Korea today?
How about his firing of MacCarthur? If he didn't do it, would we have faced World War III, a nuclear war? Suppose he hadn't dropped the atom bomb on Japan? How many more Japanese and Americans would have lost their lives had the war continued?
What if Thomas Jefferson decided not to go ahead with the Louisiana Purchase? Where would we be as a nation?
How about Woodrow Wilson's lonely plea not to cripple Germany economically after World War I? Did ignoring him lead to Hitler? What kind of a nation would we be if Lincoln had decided to negotiate with the Confederacy prior to Gettysburgh? If McKinley had not been assassinated, TR would not have been president. Would we have a Panama Canal today?
I think you get my point. It is only after much time has past that we can, with historical accuracy, grade our presidents. At the same time historians can discern trends that could be disturbing to our present leaders. There can be no objective doubt that the war in Iraq is headed in a very wrong direction. Remember in LBJ's time the war in Vietnam was headed in the wrong direction and he ignored all the troubling signs until it was too late to survive politically. Today in history, LBJ could have been ranked quite high but instead is hovering near the bottom due to the Vietnam fiasco.
Does Bush have the courage that LBJ did not have during Vietnam to recognize the very troubling signs in Iraq? It looks to me that Bush subscribes to the Henry Ford philosophy. Bush should read Robert Caro's books on LBJ. Perhaps he still has time to extricate the United States from Iraq before the situation gets worse.
Bush should also read LBJ's former Secretary of Defense Robert McNamara's book admitting that the Vietnam War was a mistake.
John Carusone was mayor of Hamden from 1987-1991, assistant school super from '69-'82 and a legislative councilor from '65-'69. The Hamden native is now retired but stays active in town affairs -- and has a lot to say about them. (Note: The views expressed here are not necessarily those of the Hamden Daily News.)
---
August 2, 2006
Our Cowboy Prez Sure Brings on the Wars
By John Carusone
The Middle East crisis is on everyone's radar. Including mine.
First and foremost, how is it possible that any country, even an Israel basher, could criticize Israel for what it is doing? What country in the world would tolerate a neighboring country lobbing rockets indiscriminately into populated areas of your country? No country, of course. Hezbollah are international criminals and thugs as are Hamas on the Gaza border. Could any of this been avoided? I think so. Let's go back to the last month of the Clinton Administration.
Clinton had nearly successfully negotiated an end to the Palestine-Israel conflict. But a last-minute rejection by Arafat stymied the deal.
When the Bush Administration came to power it adopted an ABC policy -- Any Policy But Clinton's. Its position was to throw away a fantastic opportunity to continue negotiations with only bits and pieces remaining to be negotiated. Its official position was to leave further negotiations to the parties without American involvement. Bush et al were not about to give Bill Clinton credit for his Herculean effort to bring the parties together.
I believe historians will reflect on this missed opportunity and rank it with the Iraq invasion as two of the worst foreign policy blunders in American history. A final settlement between Israel and the Palestinian Authority would have dampened the radicals of that area to a degree where time and economic progress would have relegated them to third-party status. Hezbollah and Hamas would today not be major players on the world stage.
What about today? Is there a viable political or diplomatic solution to be found? Perhaps in Lebanon there is a window of opportunity to develop a NATO operation on the Lebanese border to protect Israel from its ugly neighbor. However, in my opinion, it will only get worse. Iraq is in the midst of a civil war. Three countries will probably emerge, one for each of the religious sects. All three will be America and Israel haters. It was not surprising that the newly named government of Iraq joined with the other Middle East radicals to condemn Israel for defending itself. Do you recall Chalabi telling anyone who would listen to him before the war that the new Iraq would be an Israel supporter, even signing a peace treaty with Israel?
And now the new Iraqi prime minister is making overtures to Iran to develop a friendly relationship.
The Bush Administration has made a mockery of American diplomacy. We are loathed in western Europe thanks to our cowboy foreign policy and of course, Rummy's characterization of "old" Europe. We are hated in the Middle East. China is well on its way to surpassing us economically, buying most of America's debt.
Bush's performance at the G-8 summit was an embarrassment to all Americans. Or do we expect the White House's explanation that Bush's back rub of the female German chancellor just shows what a regular guy he is? In many legal circles his actions could be considered sexual harassment. His attempt to get British Prime Minister Tony Blair's attention with a "Yo, Blair!" is reminiscent of a greeting at a college frat party.
How about press secretary Tony Snow's characterization of those killing 100 Iraqi civilians a day as "young rowdies." Two more years of this administration's "foreign policy" could set us back to pre World War II standards, when fascism took hold in parts of the world. How would you describe the emerging political forces in the Middle East today? Even the moderate Arab states are feeling that rightwing pressure. And Sen. Joe Lieberman says, "Stay the course."
John Carusone was mayor of Hamden from 1987-1991, assistant school super from '69-'82 and a legislative councilor from '65-'69. The Hamden native is now retired but stays active in town affairs -- and has a lot to say about them. (Note: The views expressed here are not necessarily those of the Hamden Daily News.)
---
July 26, 2006
Mid-20th Century Home-Boy Batting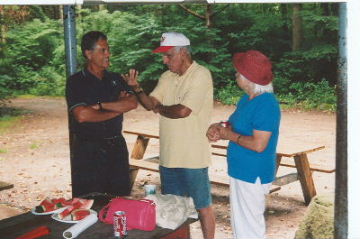 Ken Perrone with John and Sylvia Carusone. Courtesy photo
By John Carusone
Ever since I read Roger Kahn's "Boys of Summer," which chronicled the afterlives of the 1950s Brooklyn Dodgers, I have been reminded of the many Hamden teams of the '40s and '50s that entertained so many.
Remember, TV was then in its infancy and so droves of fans would come every Sunday to Rochford Field to watch the Hamden Boys Club, the Hamden Plainsmen, the Medics, Townies and Collegians. And the Townies again in the '60s.
The Boys Club was coached by Einar Robertson of Foote Street. His son Pierce was my State Street School and Hamden High classmate. He died in Vietnam on his second tour of duty. Starring for the Boys Club were Fred DeDominico; Dom "Sonny" Balogh -- better known for making the 1949 All-State football team as a quarterback; Johnny Jetmar -- Hamden's only two-time football All-Stater as well as being All-District in baseball and hockey; and Johnny Troiano, later a Detroit Tigers farmhand.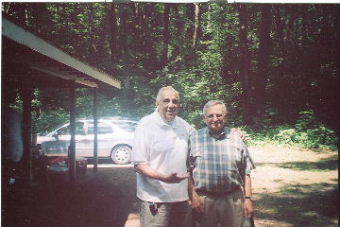 Mike Johnson and Lou Cardillo, former Hamden Plainsmen. Courtesy photo
The Hamden Plainsmen emerged in 1948 and immediately caught everyone's attention. Pictured are two of those players from that team. They are third baseman Mike Johnson and second baseman Lou Cardillo. We recently had our yearly reunion picnic of all the Hamden teams at Brooksvale. This event is truly a chapter out of the lives of Hamden's boys of summer.
Watching the Plainsmen was a real treat for my brother Dick and myself. At that young age, all I ever wanted was to be a member of a Hamden town team. We used to match every Plainsman with a St. Louis Cardinal since we were both Cardinal fans. Mike Johnson was always Whitey Kurowski and Lou Cardillo was always Red Schoendienst. A sidelight here. In 1950 the Cardinals ran a tryout camp at Rice Field in New Haven with Kurowski running the show. You had to be 17 and have a birth certificate to prove it. I just went with my trapper's mitt (a first baseman's glove of the '40s '50s) and hit a half-dozen infield rounds with Kurowski.
In a bizarre coaching tactic, Kurowski asked me on the return throw to home to aim high as he went up the line toward me. He ducked every time and my throw to home was perfect. I'll never forget his comment to me: "Nice job, kid." When he found out I was 14, his last comment was, "See you in a couple of years, kid."
The Hamden Medics of 1954 won the GNHL that year and went all the way to Battle Creek to play in the national finals. That club was led by Ken Perrone and Paul Zavorskas who defeated the Cuban professional team. We co-captained the 1958 Medics in the Shoreline League, which we won. Perrone has become the all-time winning coach in Massachusetts with his Salem State club winning over 1,100 games. That 1954 team suffered a tremendous tragedy when star player Ron Bernadini was hit in the head by a pitch thrown by Dick Newbergh. We wore no batting helmets then. As a result of that tragedy, batting helmets began to be worn all the way to the majors. Newbergh later became a Pittsburgh Pirate and coached my nephew Matt at Hand High School.
What a thrill it was for me to become a Hamden Collegian, Medic and Townie. We played in the Shore Line and the Connecticut State leagues. So many great players took part then. Infielders Bill Marioni, Ed Appicella, Hal "Boomer" Eddy and Ed Lewis gave us the all-star 1959 infield. Pitchers Paul Zavorskas, Gerry Doherty, Clyde Henderson, and Joe Guglielmo gave us a starting rotation that today would be on any major league team. Catchers Don Noto and Tony Lombardi were just plain solid.
All these great players clearly qualify as Hamden's "Boys of Summer" for the exemplary players they were and the lives they have led.
John Carusone was mayor of Hamden from 1987-1991, assistant school super from '69-'82 and a legislative councilor from '65-'69. The Hamden native is now retired but stays active in town affairs -- and has a lot to say about them. (Note: The views expressed here are not necessarily those of the Hamden Daily News.)
---
July 19, 2006
Lieberman, the Traitor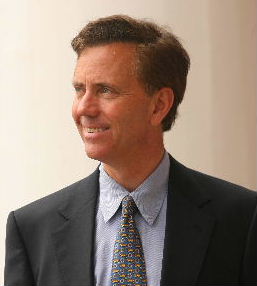 U.S. Senate primary candidate Ned Lamont. Courtesy photo
By John Carusone
This is a column I thought I would never write. I am endorsing Ned Lamont to be our next junior senator from Connecticut. After watching Lieberman's total negative debate tactics I couldn't help but wonder where is the man I supported all these years for every office he ever ran for? This is not that Joe Lieberman.
This Joe Lieberman has put himself first over the country and the state. As an independent you are nothing but a spoiler. I believe he will lose the Aug. 8 primary. By running as an independent, he will give the Republicans a chance to steal the Senate seat and save George Bush -- clearly a Lieberman ally and supporter. I can recall two local incidents where incumbents could have run as independents, but chose not to in order to have a unified party.
The first individual is me. After I lost the 1985 mayoral primary to Gloria Sandillo, I could have run as an independent since both of us had defeated incumbent Peter Villano. I decided not to do that in order to preserve party unity so Democrats could win in the general election.
Last year incumbent Carl Amento chose not to run as an independent in order to preserve Hamden as a Democratic town. In both cases, we decided not to become spoilers and we put the town first.
Lieberman has not done the honorable thing. By running as an independent he is willing to risk losing a Democratic Senate seat to a Republican.
Lieberman's negative debate tactics were a far cry from his kissy-huggy debate with Vice President Cheney. I believe his poor showing that night might have cost Gore and himself the plurality they needed to get over the Florida debacle. It's no secret that Gore wants nothing to do with Joe Lieberman. Lieberman should recall that Ralph Nader ran as a spoiler and clearly took votes away from the ticket.
And isn't Lieberman planning to do the same thing? Critics of Lamont's "one issue" campaign fail to mention how he has criticized Lieberman for his solitary Democratic support of the Bush energy bill. That bill was characterized by Sen. John McCain as the "no lobbyist left behind bill." How could you look at gas prices today and not be aware that Lieberman's support of that bill -- which was written in secrecy in Cheney's office by the energy lobby -- calls into question his claim of being "tough and principled."
The senator calling those who criticize the war "unpatriotic" is an outrage. Where were you, Sen. Joseph Lieberman, during the Vietnam War? I'm sure you now know that those who criticized that war were correct. Have you read Robert McNamara's book where he admits he was wrong in prosecuting that war? How many more kids are going to be killed and maimed before the majority of the House and Senate stands up and says no more -- just as they did to end the Vietnam tragedy?
Lamont will do just that. Lieberman will "stay the course" and stick with the Bush, Cheney, Rumsfeld, Rice, Wolfkowitz crowd. It's interesting that on these major issues Lieberman echoes Karl Rove's talking points. This is the same man who used Clinton's personal behavior to propel himself to national recognition. There's a bumper sticker that makes the point quite succinctly: "Clinton lied, but no one died."
John Carusone was mayor of Hamden from 1987-1991, assistant school super from '69-'82 and a legislative councilor from '65-'69. The Hamden native is now retired but stays active in town affairs -- and has a lot to say about them. (Note: The views expressed here are not necessarily those of the Hamden Daily News.)
---
July 12, 2006
By John Carusone
I recently watched my 10-year-old grandson Scotty 's North Branford Little League team win the North Branford baseball championship. I couldn't help but reflect on how Hamden's peewee programs began.
Certainly hockey was first in that program development. Hamden's recreation director Harry Thompson organized that program which attracted national attention. As of 1953, there had been sporadic attempts to organize peewee baseball and basketball. In 1948, Hamden hired Matt Barberi as the first male PE instructor. He organized the elementary baseball and basketball programs. He had replaced Christine Keane the elementary PE teacher whose specialty was dodge ball.

I always remember her "costume" consisting of pantaloons or bloomers to the knee. In 1953, Father Albert Taylor, the newly installed pastor of St. Stephen's Church, asked me to join a group meeting to discuss the organization of preadolescent baseball and basketball. He had organized such a program in Naugatuck where he had previously served as pastor. In 1953, I had been a member of St. Stephen's championship basketball team and was also a pitcher for Hamden American Legion Post 88.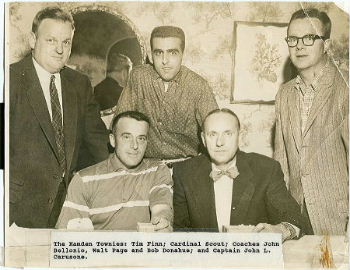 I went to the meeting with my father, Dom.
At that meeting were Walter Page, John Bellonio, Bob Donahue, Cardinal scout Tim Finn, Sid Victor, Michael Iezzi Sr. (a rec league was named after him) -- father of Republican Town Chairman Mike Iezzi Jr. -- Jerry Zaretsky, Pearl Harbor survivor and father of five daughters, Al Oneto, Al Ocone and rec director Thompson. Page, Bellonio, Donahue and Finn all had sons destined to star in the program, with young Finn ending up in the Cardinal minor league.
The rules for the first peewee baseball programs were simple. There were no minor leagues. Each team had so many 12s, so many 11s, and so on to the 8-year-olds. The basketball program would only be for 11- and 12-year-olds. A peewee diamond was constructed at Bassett Field and basketball would be played at the Putnam Avenue School gym, which had a wood floor. Iezzi's Acme Chrome and St. Stephens were among the first sponsors in the leagues.
In 1957 with the construction of Michael Whalen Junior High School, all peewee basketball was played there. Myself, my brother Dick and SCSU legend "Topsy" Del Gobbo refereed six games every Saturday for $3 a game. Newly appointed rec director Bob Fitzgerald, for whom the Bassett Field clubhouse was named, took the peewee program to greater heights.
I have vivid memories of my first experience in coaching peewee athletes. We practiced at Botwinik Field, now the Porcelin-Specrail business establishment. That field was recently named after me, as it is located across the street from the family homestead on Welton Street. As all coaches know, you always like to show your players your talents so I gladly took batting practice with the kids and proceeded to break every window at Botwinik's. The owners then installed a huge net to protect the windows -- and gave me a stern warning.
The second memory that came to me was triggered by the recent Picard-Sacred Heart confrontation.
We were in a 0-0 game with no hope of hitting the opposing pitcher. I had a runner on third and at an opportune time had him steal home. He did and was successful. As I ran down the third-base line to congratulate him I was sucker punched by a fan who turned out to be the father of the opposing pitcher.
Initially there was much controversy over whether boys this young should be involved in competitive sports. In 1962, for my first master's thesis for SCSU, I followed a group of youngsters who had gone through the entire program. None showed any ill effects and all had positive life experiences to completely debunk the critics. A recent New York Times article focused on injuries to young athletes. What the article failed to mention was that injuries occur at all levels of baseball, including the major leagues.
John Carusone was mayor of Hamden from 1987-1991, assistant school super from '69-'82 and a legislative councilor from '65-'69. The Hamden native is now retired but stays active in town affairs -- and has a lot to say about them. (Note: The views expressed here are not necessarily those of the Hamden Daily News.)
---
July 6, 2006
By John Carusone
Let's talk about the Lieberman campaign and the Bush gang and their fight against "terrorism."
Sen. Lieberman continues to amaze me with his sophomoric negative campaign against challenger Ned Lamont. Lieberman's latest barrage simply takes normal political happenings and turns them into negative shots against Lamont. Here are some concrete examples:
"Lamont joined with Republicans to recommend a $150,000 cut from the BOE budget." Let me take you back in time in Hamden during my first term on the Council. There were 12 Republicans and myself on that council. A headline from that time could have read, "Carusone joined with Republicans to cut $$$ from the school budget." What wasn't stated in the Lieberman ad is that boards of education never get all they recommend. It never happens.
What the Lieberman ad leaves out is what the BOE increase was that year. Greenwich has never been cheap with their schools. The same tactic is used about Lamont's votes on other budgets. I thought this type of ad had gone the way of the dinosaur. Apparently not for the Lieberman campaign. I got a phone call this week from the Lamont headquarters asking voters' preferences. I managed to figure out that according to Lamont supporters, voter dissatisfaction with Lieberman is high and Lamont is getting the support from many Dems. Lieberman has 18 years in the Senate. I am sure he has supported a number of Dem programs over the years. That's what he should be talking about, not bashing Lamont with silly ads.
Now to the Bush crowd's war on terror. The latest major announcement from AG Gonzalez is mind boggling. The "arrest" of a half-dozen wackos who "planned to blow up the Sears tower" was given the full media treatment. But, of course, the AG did not want to mention these wackos had no money, no explosives, no knowledge of how to make bombs, no terrorist support, no nothing. As one official was forced to admit, this plan was only "inspirational, not operational."
But they got the full media blitz. This was almost as bad as the reason given for the illegal wiretapping of American citizens. One of these illegal taps uncovered a plot to "blow up the Brooklyn Bridge." What finally was admitted was this was from another wacko who planned to use a blowtorch to do the job.
It should be plain to the American public that these phony hyped plots are designed to take away attention from the unbelievable debacle taking place in Iraq. I recently spoke to a 22-year-old soldier who just returned from Iraq. His was in a transportation unit ferrying supplies from place to place. At least once a month over a one-year period, men and supplies from his unit were blown up by roadside bombs. Never did he see the face of the enemy. According to the young soldier, this "war is un-winnable" and he was sorry he voted for Bush in the last election. It's getting worse every day not better, he said.
The entire world is witnessing the worst foreign policy blunder in American history. Vietnam is now our friend and trading partner. Whatever country or countries come out of this debacle, it or they will be American haters for decades if not centuries. We will have created the most sophisticated terror training areas of all time. Then sadly the real war on terror will begin. And Sen. Lieberman supports this policy!
Now the administration for obvious political reasons adopts the Democratic Senate plan to begin a troop phase withdrawal, but changes the timing of that plan to coincide with the November midterm elections. How many more kids are going to be killed or maimed in this dishonest war?
John Carusone was mayor of Hamden from 1987-1991, assistant school super from '69-'82 and a legislative councilor from '65-'69. The Hamden native is now retired but stays active in town affairs -- and has a lot to say about them. (Note: The views expressed here are not necessarily those of the Hamden Daily News.)