Arts
October 30, 2006
No Artist Left Behind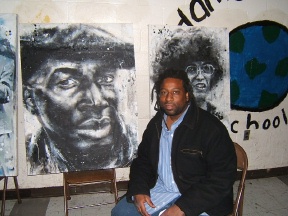 Portraitist Katro Storm, a former Hamden Middle School student, was one of 300 super-creative talents that enthralled and delighted thousands.
Words, pictures and videos by Sharon Bass
Again we were reminded the human imagination has no boundaries. Set artists completely free to create and the results can be spellbinding, as was witnessed by thousands this past weekend at the old middle school.

Ellen Volpe of West Haven makes a fashion statement.
The Newhall Street building was the fortunate venue for the third and final weekend of the ninth annual celebration put on by New Haven's Artspace. Called City-Wide Open Studios, the challenge asks artists to go nuts with their gifts while complementing the chosen environment. The result was simply breathtaking.

Gales Ferry artist Matthew deLeon is "The Looking Glass." His body is swathed with honey to adhere small pieces of glass.
About 300 Connecticut painters, sculptors, jewelry makers and performance and installation artists took over the empty building and transformed it into a huge gallery. They used every inch -- bathrooms, classrooms, hallways, staircases, the band room, the cafeteria, the gym. What had become a rundown building over the years was reborn into a paradise of color, shape and sound.

Mimsie Coleman with Erich Davis of New Haven, who erected "The Ladder" out of discarded desks, chairs, filing cabinets and lockers. "It represents people working together to achieve a common goal," he said.
"This was an immense undertaking," said Hamden Arts Director Mimsie Coleman. The ever-self-effacing woman gave big kudos to Public Works for cleaning the 180,000-square-foot school. She also credited the mayor's office, Economic Development Director Dale Kroop, Parks & Rec, Youth Services and the Fire Department.

Glenn Williams, who lives in Spring Glen, and his acrylic painting-in-progress, "The New World."
Big kudos also go to Coleman and, of course, the myriad artists who spent about two weeks creating their onsite exhibits.

The ultra-mellow "Mechanical Mushin Zen Den," courtesy of Branford "conceptual installation artist" Sid Werthan. His video "Visit Me at Night" plays behind him.

Whitneyville's Greg Garvey resurrected the band room in his "Requiem for a school left behind." He found 12 iMacs in good working condition and thousands of pieces of sheet music collecting dust at the school -- and created a "lamentation for the loss of a vital part of the educational experience."

"I really don't describe myself," said Katro Storm, a portraitist living in New Haven. "I leave that up to people."

John Bent of New Haven makes potty art.

Bludrum, an outdoor sound experience.
---
October 20, 2006
'Deep Inside of Me'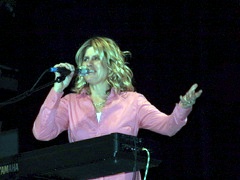 Linda Bonadies. Photo/Greg Golda
Local soft-rock musician finds her way and is working on a second CD
By Erin Elfeldt
Happily married, the mother of three and a graduate degree in music under her belt, Linda Bonadies thought she had it all. Well, almost all. The Hamden woman said something was missing. Then she made a self-discovery that changed her life.
"I can't tell you where I was or what triggered it. I just remember in a moment it became so clear. It was deep inside of me, it had been there for so long and I didn't know it," she said.
In college, she studied to become a composer, but didn't find it as rewarding as she thought.
"It was very frustrating because I would spend hours working on a piece, and then someone else would take on the role of sharing it with the public and it would sound nothing like how it had sounded in my head," said Bonadies, 43.
So she pushed aside music, thinking it was either composing or nothing for her, and took a job doing publicity for the Bushnell Performing Arts Center in Hartford. Then the kids came and she left Bushnell to become a fulltime mom.
But Bonadies said she started getting sick a lot, felt lost and became depressed. "I was struggling and slowing losing who I was," she said.
Then she sat down at the piano again. And things started to change.
In spring of 2001, she said she realized it was in her music where she would find herself. Slowly, Bonadies said the prison walls built by the stressors of life began to fall. The daily grind became more pleasant and her inner spirit was given a chance to breath, she said.
"A lot of my songs are about self-discovery after getting tangled in life for too long, that you have forgotten how to live," the local musician said.
Just months after Bonadies began her new career of songwriting, 9/11 happened. As a native of Summit, N.J., not far from New York City, she said she felt connected to the tragedy that took about 3,000 lives.

"It seemed like everyone I talked to either knew someone who had lost someone, or lost someone themselves. I was a songwriter now and I knew I needed to write to write a song about it" she said.
Two weeks after the terrorists' attacks, Bonadies made her first public performance. She sang her 9/11 tribute song, "Our Town," at her church, Dunbar United Church of Hamden.
Today, she said she dedicates eight hours a day to her work when her kids are at school. Her studio is in a small local church with a piano.
"It is just so peaceful here and the acoustics are great. I feel empowered. It is a great creative atmosphere for me," she said.
Although Bonadies said she still battles stage fright, it is something she is determined to overcome to be able to connect with her audience.
"My success is measured on my ability to connect, it gives me a personal sense of fulfillment when I can bring people to that place I am in the song," she said.
Her desire to connect is evident in her first CD titled "No Regret," which includes 10 of her original songs, resembling a soft-rock genre. Her message is "no regret," which she hopes will inspire those who listen to her music. She's currently working on a second CD.
Although most who have bought her first CD live in Connecticut, Bonadies said it's gone abroad. A British cab driver wrote to her saying, "To be honest, I have not been able to remove it from my car. Listening to your album over the last few months has really helped me out to no end. Thank you."
For more information about Bonadies, visit www.lindabonadies.com.
---
October 16, 2006
Lotsa Bubbles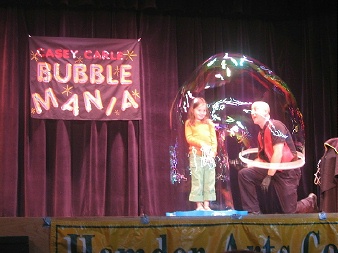 Carle and Wintergreen Magnet student Victoria McNally, 5, inside one of the artist's creations. Photo/Betsy Driebeek

By Betsy Driebeek

Connecticut's own "Bubble Man," Casey Carle, returned to Thornton
Wilder Hall this past weekend to open the Hamden Arts Commission's 19th annual Saturday afternoon family entertainment series.

"Bubbles aren't just for popping anymore," said Carle, who has been
bringing his BubbleMania show to international audiences since 1990. "I'm just an artist with soapy water."

Using simple wands, Carle created a crystal ball, spaceship, ice-cream
cone and popping popcorn. Showing the audience that anything with an
opening can be used to blow bubbles, Carle used a rubber band, strawberry basket and a paper-towel roll to blow a few.

He then asked the audience for other bubble-blowing objects. He was given a cup holder, a wedding ring and a sneaker. Yup, bubbles were made from all, the laces providing the "wand" on the sneakers.

Carle also created a square bubble. Try that one at home.

For his finale, he encased audience member Victoria McNally in the "Human Bubble."
---
October 2, 2006
Thanks, Mims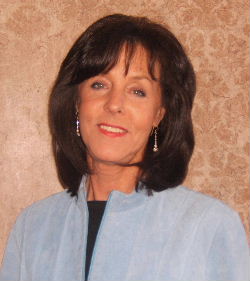 Mimsie Coleman. File photo

Arts Coordinator Mimsie Coleman brings powerhouse voice to Hamden High

By John Carusone

The Hamden Arts Commission under the leadership of Mimsie Coleman presented a concert this past Saturday, featuring tenor Roberto Iarussi with soprano Christina Holms, Hamden native violinist Artemis Simerson and pianist Stephen Sulich. The event drew a packed house in the Hamden High auditorium and was interrupted many times by shouts of "Bravo," which resulted in multiple encores including the Neopolitan favorite "O Sole Mio."

Iarussi was then off to Lincoln Center for his national debut, although he has already sung for the great Pavarotti on his birthday, for First Lady Laura Bush, and has won the Andrea Bocelli Fellowship prize.

Coleman deserves all the accolades she can get. This show featured one of the most upcoming tenors on the world stage. His vocal range was reminiscent of the great Mario Lanza. It was also rumored that he has been or will be tested for a movie role portraying the great Lanza.

Soprano Christina Holms was solid in her supporting role to Iarussi. Not only did she sing classical arias like "Quando m'en vo" from LaBoheme written by Puccini, but added a marvelous selection reminiscent of the great Judy Garland with her rendition of "Over the Rainbow."

Hamden violinist Artemis Simerson opened the program with a beautiful rendition of "Intermezzo" from "Cavalleria Rusticana."

I was honored to attend a post-reception affair at Colonial Tymes where I had an opportunity to talk with the performers. I have to say how impressed I was meeting these individuals who will shortly become national and international stars.

It was a great night for Hamden.