Arts
January 29, 2008
'Eleven Zulu'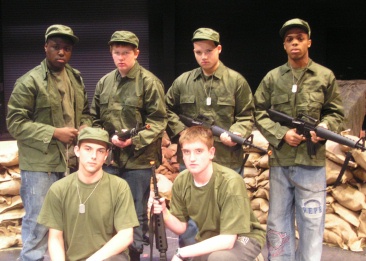 (Front) Jeff Roberts and Stephen Humes; (standing) Marcus Burkett, Brad Macdowell, Chris Reyes and Tremar Bowden. Courtesy photos
The Hamden High Theater Department will present the award-winning play "Eleven Zulu" on Jan. 31, Feb. 1 and Feb. 2 at 7:30 p.m. Sean Clark's play is about a group of soldiers guarding a broken-down armored personnel carrier in Vietnam in 1971. The women in their lives appear throughout the action in the men's thoughts and fantasies.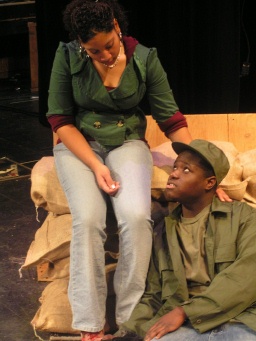 Jessica Payne and Marcus Burkett.
The production is directed by Tim Brown and features Tremar Bowden, Jeff Roberts, Stephen Humes, Bradley Macdowell and Chris Reyes as the soldiers, and Tiara Neal, Allye Vitello, Jessica Breda, Ashley Petrillo, Jessica Payne and Yekaterina Satanina as their wives, girlfriends and mothers.
This serious drama won the 16th American College Theatre Festival and The Kennedy Center 1984 Lorraine Hansberry Playwriting Award. It contains language and action that might be inappropriate for younger audience members.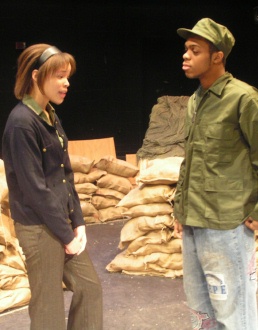 Tiara Neal and Tremar Bowden.
Tickets are $10, $5/students and seniors on Jan. 31, and can be reserved by calling 407.2040, ext. 3102.
---
November 21, 2007
Velvety Goodness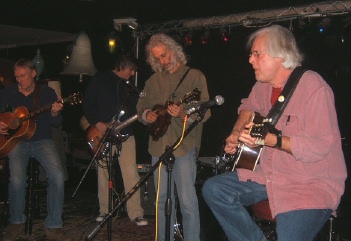 The middle-aged Sparrows (from right) James Velvet, Dick Neal, Johnny Java and Johnny Memphis at The Space last night. Photo/Sharon Bass
By Sharon Bass
What particularly grabs me about local singer/songwriter James Velvet is how happy and content he seems when performing. No signs of "God, how many times have I sung this one?" He's in his 50s and has been on stage countless times. Yet, he's like a musician three decades his junior just experiencing the high of singing live to a crowd.
Last night at The Space, Hamden rezzie Velvet didn't disappoint. For 30 minutes, he and his folk-rock acoustic band, Lonesome Sparrows, made the small, cozy audience happy. And content.
The Sparrows sang of intimate relationships, national politics and local stuff, such as in the Velvet-penned tune "King of New Haven." (I never figured out who the king is.)
Velvet, a peace activist, also gave it to Bush and his boys in "House for Sale."
"There's a house for sale in Washington, D.C. … There's a party going on and you're invited if you're a registered lobbyist … You can keep … a hopeless war afloat in Washington, D.C."
After the Sparrows wrapped up, Dan Vecchitto, 23, said they made him realize that you don't have to be young with multi-colored hair and heavy-metal jewelry to be a talented musician
"After you watch a band like that you wonder what talent lies beneath the everyday people you see on the street," said Vecchitto, an acoustic guitarist from Meriden. "[The Lonesome Sparrows] don't look like musicians. They look like regular, middle-aged guys.
"It's not the kind of music I listen to," Vecchitto said, "but it's still very easy to watch and enjoy. They seem like they're really happy playing."
The Space regular Carey Tharp, 47, called the Sparrows an "excellent band with very good variety and sound."
The Lonesome men include Dick Neal on dobro, mandolin and banjo; Johnny Memphis on guitar and fiddle; Johnny Java on bass; and Velvet on guitar and lead vocals.

Lonesome Sparrows perform a Velvet original at The Space. -- Sharon Bass