July 22, 2006
Words and pictures by Betsy Driebeek
Arts Commission Coordinator Mimsie Coleman was in the mayor's office at 9 a.m. yesterday trying to decide if the Four Tops, scheduled to play Meadowbrook that evening, should be moved indoors.
"We had to decide by 9 because of the amount of time it would take the band to set up their extreme amount of equipment," Coleman said. "We were checking every weather-related Web site. I was talking with Dr. Mel on the phone [WTNH Channel 8]. It was a total gamble and nerve-racking once we made the decision. We just crossed our fingers and watched the weather reports all day long."
With a severe thunderstorm watch for early evening, the Four Tops crowd was small at first. But as the threat seemed to evaporate, Meadowbrook started filling up. Deputy Police Chief Bo Kicak, who stood guard at the stage during the show, estimated the crowd at 10,000.
Only one of the original Four Tops remains -- Abdul "Duke" Fakir. The group sang the well-known hits such as "Baby I Need Your Loving," "Bernadette," "It's The Same Old Song," "Ain't No Woman Like The One I've Got," "Reach Out I'll Be There," Standing In The Shadow Of Love" and "I Can't Help Myself (Sugar Pie, Honeybunch)."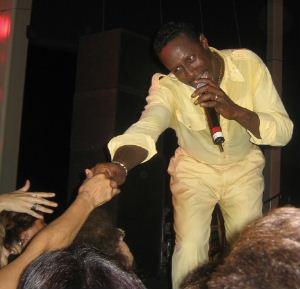 Theo Peoples reaching out to the ladies.
Mid-concert, three Tops took a seat at the rear of the stage while the fourth, Theo Peoples a former Temptation who joined the group in 1997, crooned "Always and Forever" up close and personal to the ladies standing at the foot of the stage.
Throughout the concert, the Tops satisfied their fans with handshakes and kisses and at the end, a few sweaty towels to boot.
HDN reporter Betsy Driebeek can be reached at betsydriebeek@hamdendailynews.com
---
July 19, 2006
Whatever, at The Space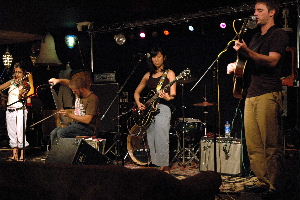 Adam Arcuragi.
Story by Chris Clark; photos by Ellen Andrews
Open Mic Night at the Space has been a staple of the New Haven music scene for years. Almost every Tuesday night, listeners are treated to a wide variety of musical acts for just a $5 cover charge. Everyone gets a chance to play whatever kind of music they want, with whatever kind of instruments they want.
When I got to the club last night there was a decent gathering of musicians eager to grab some stage time. Venue owner Steve Rodgers put out a signup clipboard and they rushed over to get their names down in ink for a 10-minute performance slot.
Aside from the local signups there were two featured acts, both of which are touring bands. The first feature was Adam Arcuragi. Adam is a singer/songwriter/guitar player who was accompanied by three other musicians -- another guitarist, a fiddle player and a guy who played the saw. I have never seen a saw used as a musical instrument before. It was done by sliding a bow across the side and stretching the metal body back and forth to make the right pitch noise. They opened the show to a crowd of about a dozen.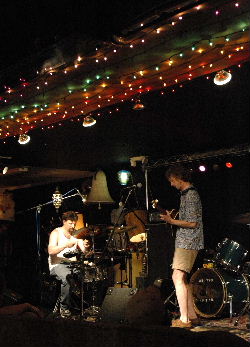 Jim Goodin & Will Romano.
After Adam finished their set the locals began to hit the stage. One included a band called Whackshack. This group was made of three young guys. Their stage setup was one guy sitting in the middle playing an acoustic guitar, while the other two stood on each side of him and "sang" (to use the term loosely) some of the strangest lyrics I have ever heard. Every once and a while one of the two guys on the side would grab a bongo drum or a bass guitar and hack in with the guitarist in the middle.
As Rodgers put it after their set was over, "Sometimes you just have to ask yourself, What the hell?"
Other local artists included a very talented acoustic singer/songwriter named Sean Fournier, an unbelievable blues guitarist named Ron Anthony and frequent Space performer Robert Messori. These acts caught me completely off guard. It's inspiring to see such musical talent among people who live in your area.
The last featured act was Jim Goodin & Will Romano. They used an acoustic guitar with a lot of added effects, and a drum set made of random pieces including a whole guitar. The drummer would hit these random pieces creating some very unusual rhythms while the guitarist laid down some trippy lines. They were completely instrumental. I guess you could call them a jam band.
Open mic nights are great because you never know what you're going to get. It's also great for artists to have a club where they can play whenever they feel like going public with their talent. I've seen many friends show their creative side at open mics.
Next Tuesday there will not be an open mic. Instead, there will be a standard show featuring The Alternate Routes, Bill Carleton, Mike Greenberg, Will Dailey and Meika Pauley.
---
July 17, 2006
Tough Gamble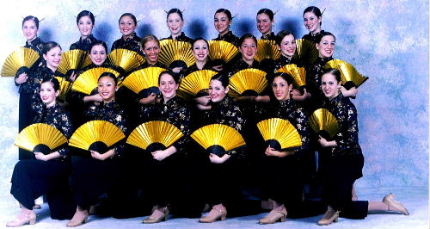 The Hamden dancers: (front row, second from left) Pauling Huynh (next to her) Kelley May and (fifth from left) Jeanette Esposito; (second row, second from left) Carissa Laudano (fourth from left) Kristiane Trasacco (next to her) Katie Esposito (next to her) Jennifer Canelli and Melissa Maturo; (top row, second from left) Emma Downing (fourth from left) Christine Furtak and (next to her) Danielle Trasacco. Courtesy photo
Just back from a win in Las Vegas, local girl edges a little closer to her ultimate desire
By Sharon Bass
Like every child, Emma Downing has a dream. One she's been chasing for most of her 15 years on Earth. The Hamden High incoming junior wants to be a professional dancer. And she may have slid one step closer this past Saturday, when she and a group of area teens learned they came in second in a national competition in Las Vegas.
Emma and other students in the two highest-level classes at the American Dance Experience in Hamden were invited to the Dance Educators of America nationals. They competed against dancers from across the country plus Panama, Canada and Mexico. The event was held at the Alexis Park Resort & Villas.
Last April, Emma and company placed first in a regional contest in Stamford with their tap number, "Asian Drums." They were asked to do a repeat performance in Las Vegas last Tuesday.
"It's just so much fun. I just love doing it. I love getting on the stage. It gives a lot of enjoyment for other people," said Emma, 15, daughter of former Mayor Carl Amento's chief aide Jackie Downing. "I love being congratulated, but even if I don't, it's still a lot of fun."
Right after celebrating her second birthday, Emma said she began studying at the Dance Experience at 128 Church St. Why so young? "Well, both my parents were in technical theater and I guess they wanted to see what their first child would do, performing or what," she said.
Now Emma wants to earn her bread and butter on stage -- a risky career decision of a field that's overwhelmingly competitive. But it's desire not practicality and caution that drives young artists.
These days she takes two dance classes a week. She knows ballet, tap and jazz and a bit of pointe. "But my strongest is tap. It's really different and it's probably more difficult for people to catch on quickly. But I've been doing it for so long," said Emma.
She's also been competing "for so long." When asked if this was one of her first competitions, she said, "Oh, gosh, I've been doing this for seven or eight years. It's tense, exciting, you end up hanging around with people you've never met before. There are people with headsets hanging around. And you're stretching and practicing dance steps."
"Asian Drums," described by Emma's mother, is a "fast-paced, technically difficult tap number punctuated with fans that flip from metallic gold to silver with the sharp snaps of the dancers."

For their performance at the nationals, the dancers were awarded a gold medal. They were up against 12 other groups.
---
July 15, 2006
Swingtime in Hamden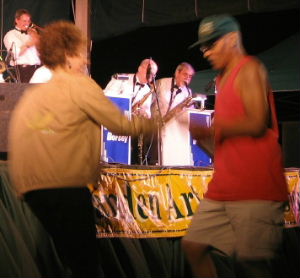 Joan Shannon of Branford and Earl Cornish of New London came to Hamden to hear the Big Band Sound and were moved to boogie-woogie.
Words and pictures by Betsy Driebeek
The Jimmy Dorsey Orchestra came swinging into town last night, for another Friday evening performance sponsored by the Hamden Arts Commission and Quinnipiac University.
The orchestra played Jimmy's and his younger brother Tommy's music, the brothers having been gone for almost 50 years now. Nancy Knorr brought the vocal sounds of Helen O'Connell, who was hired by Dorsey in 1939 to sing with male vocalist Bob Eberly.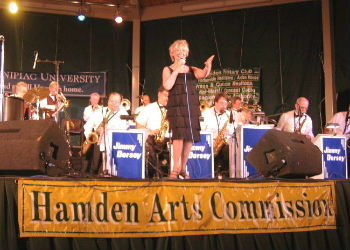 "Helen O'Connell," aka Nancy Knorr.
They performed what current director Bill Tole said was the signature song for the group, "Tangerine." They also played "So Rare," which Tole said "was the last hit and basically the last big band hit. A new singer was coming into the music scene. That's right, Elvis."
The Dorsey Orchestra threw in a little boogie-woogie, which brought a few dancers up to the bricks in front of the stage. When the orchestra was done with the fast-paced "J.D. Boogie Woogie" and its reprise, Tole, who plays trombone, commented: "The temperature was just raised five degrees up here."
---
July 8, 2006
Last Night at Meadowbrook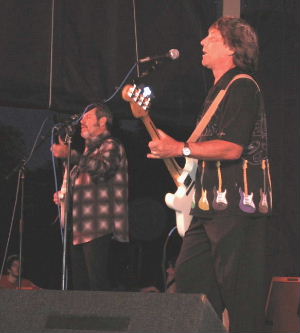 Roots' Chris Merrell (left) and Rob Grill.
Words and pictures by Betsy Driebeek
The Hamden Arts Commission's 2006 free summer concert series kicked off with Rob Grill and The Grass Roots. The band came to fame in the late '60s and called it quits in 1975. However Grill, the only original member, formed a new Grass Roots in the early '80s and came to Meadowbrook Friday night playing some of the band's original hits like "Sooner or Later," "Two Divided By Love," "Don't Pull Your Love Out On Me Baby," "Mamacita," "Temptation Eyes" and "Midnight Confession."
"We keep touring because we seem to know all the words of all the old Grass Roots songs," Grill told the crowd. "And you guys seem to know them, too. So if we're confused we'll let you help us." And Grill did give the crowd its solo moments.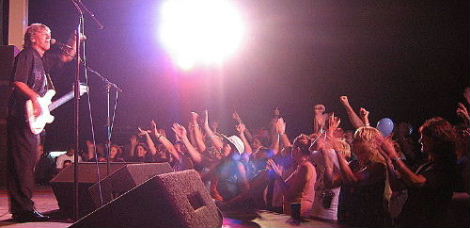 Opening for the Roots was Murder Mystery, a band from New York City. Arts Commission Coordinator Mimsie Coleman, who orchestrates the concert series each summer, is the mother of two of the three band members -- Jeremy 25, on guitar and vocals, and Laura, 21, on drums and vocals.
---
July 6, 2006
Words and pictures by Betsy Driebeek
Musician Mark Rust came to town yesterday to open Hamden Parks and Rec's outdoor summer concert series at Larry's Playground. But since it had rained earlier and not wanting to chance a repeat performance, the event was held in Thornton Wilder Hall instead.
The change in venue did not stop kids and their significant adults from finding Rust and his guitar, banjo, fiddle, hammered dulcimer, mountain dulcimer and spoons.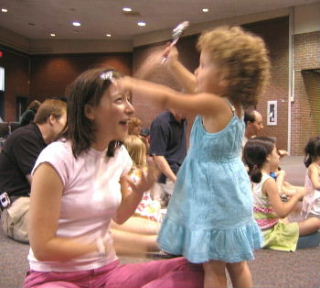 Two-year-old Juliette Markman apparently thinks the spoons sound better on mom's head.
After teaching the audience how to play the spoons -- specifically the shuffle, drum roll and horse gallop -- Rust dumped spoons near the edge of the stage so the members of the "Greater Hamden Spoon Orchestra," as he called it, could grab their requisite two.
"They look like regular tablespoons," he said, "except there is one difference: THESE ARE MARK'S SPOONS. Don't leave with them."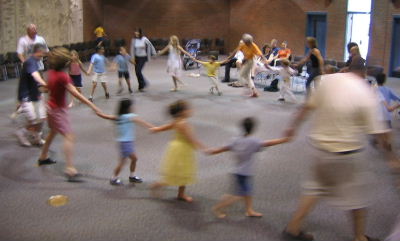 Rust later had the audience dancing a reel with their chosen partners, and closed the show by leading the group in one big line dance.
---
June 29, 2006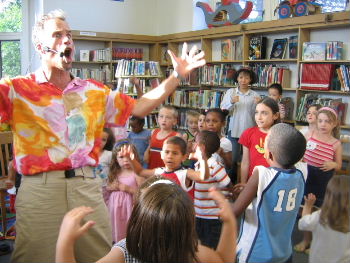 Les Julian teaches the "Do The Dragon Dance." Photo/Betsy Driebeek
By Betsy Driebeek
Local recording artist Les Julian performed his engaging and interactive children's music show at the Brundage Community Library Tuesday afternoon.
Some songs had the 27 kids dancing, like "Jump Right Over The Moon" and "Do The Dragon Dance."
Others had them pondering, "Does a tuna fish? Does an alligator cry crocodile tears? Can you teach a dog gnu tricks?" Julian sang from "Animal Questions."
Many of his storytelling songs are drawn from childhood experiences. For instance, he said when it stormed his brother would take him up to the attic where the sounds were amplified. Hence Julian's number, "Rhythm of the Rain."
Julian penned a clever tune about his favorite veggie -- CHOCOLATE. "Well, the cocoa bean comes from a plant and the sugar beet is a vegetable," he told his audience.

The performer will return to Hamden July 12, during Parks and Rec's Family Summer Concert Series at Larry's Playground (corner of Waite Street and Ridge Road).
---
June 16, 2006
'Longevity is What I'm About'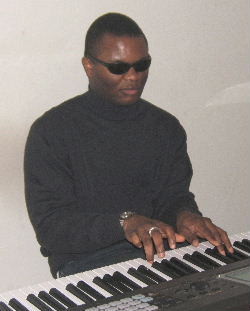 Blessing Offor at home. File photo
Hamden High's Offor performs at The Space tomorrow night
By Sharon Bass
Emerging musician/composer Blessing Offor really wants it. He knows he has to in order to make it in the music biz. The Hamden High junior is well aware of the odds stacked against him. But he wants it bad.
So Offer has started out by making a local name for himself by playing at school and community events, and has two upcoming Hamden gigs. Tomorrow at 8:30 p.m. he will take over The Space for roughly two hours, singing tunes he's penned and playing the 88s. He's trying to raise money to cut a demo CD. There will be a raffle, silent auction and donations are enthusiastically accepted.
"My music has been called 'new Motown.' It's like jazz fused with the whole Temptation-Stevie Wonder thing going. And then whatever element it is about pop music that attracts people," said Offor, an affable, cool kid -- not to mention a truly gifted artist (this reporter has heard him perform a few times). "But I don't like to use the phrase 'pop' very often because longevity is what I'm about, and pop doesn't make you think of anything long-lasting."
He's got an impressive backup band. Tommy Lee, former Mighty Purple member, on bass guitar; Jeremy Simmons on lead guitar; Paul Garcia, also a former Mighty Purpler, on drums; and Michelle Ferrucci and LaShawna Sayles on backup vocals. The Space owners Steve Rogers and his brother John Rogers started Purple years ago and keep it going.
Raffle prizes are hour-long lessons with the musicians, said Offor. The highest auction bidder will be entitled to one original song composed by the 17-year-old "and I'll perform it wherever the winner would like."
Offor is also opening for Average White Band on July 28 at Meadowbrook. It's part of the Hamden Arts Commission concert summer series.
---
June 5, 2006
Eli's Art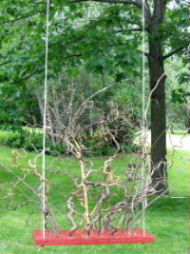 Care to go for a swing?
Words and pictures by Betsy Driebeek
Despite Saturday's rain and Sunday's clouds, the second annual Art and Garden Fair at Eli Whitney Park got its chance to shine yesterday afternoon.
The triangular park is bordered by Whitney Avenue, Davis Street and Eli Road in Whitneyville. "You think it's a median and you drive right by and don't notice it," said Mimsie Coleman, coordinator of the Hamden Arts Commission and one of the event sponsors. "The purpose of the fair is to show off this wonderful green space and bring life to it by combining temporary site installations of sculpture with hands-on art for the kids," she said.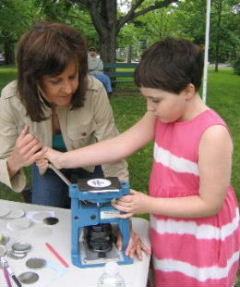 Mimsie Coleman helps 8-year-old Bia Cassano
of Hamden make a button pin.
Treasurer of the Whitneyville Civic Association -- the other event sponsor -- Susan Sternberg said via a posted sign: "Our hope is that this summer exhibit becomes a continuing annual event and one that can be an outdoor experiment station for artists to play with ideas that relate generally to the outdoors or specifically to this park."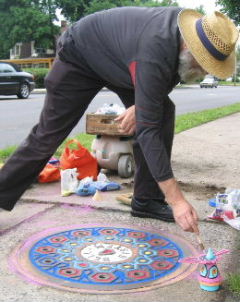 Artist George Clarke of New London said he has wanted to paint manholes and gas meters for the longest time but knew that was a no-no. Last year, after conferring with his muse, he said he discovered that colored sand could decorate the manholes and not cause permanent scarring.
There were craft tables for kids to make button pins and flower petal cloths, and various mural projects set on plexiglass or foil that will later be displayed in the lobby of the Miller Cultural Center.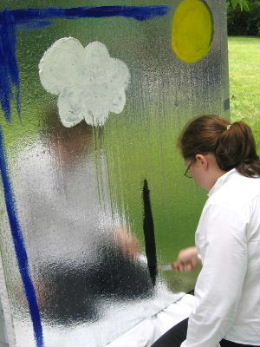 Kelly Pfeiffer, 11, of Hamden contributes her artistic
talent to this foil mural, soon to be displayed in the
Miller Cultural Center.
If you missed the fair you can still catch some of the art that will remain on view until July 31.