Arts
April 25, 2006
The Sound of Silk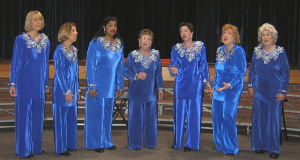 The Silk 'n Sounds doing it up in Hamden. Photo/Betsy Driebeek

By Betsy Driebeek

If I had ever been asked, "Can you hear silk?" I would have said, "No, you feel silk." But at the recent Goldenbells-sponsored Silk 'n Sounds a cappella performance, the blend of women's voices felt like silk to my ears. Not only that, their harmonies brought tears to my eyes. The beauty they created was phenomenal.

Under the direction of Hamden resident Christine Hayes, 30 Silk 'n Sounds members -- dressed in blue velvet with brightly decorated collars -- performed at Thornton Wilder Hall Saturday night.

Early in the show, member Dorothy Hopkins told the audience there are four different voices in the group. "The tenors sing high notes, the bass sing low, the leads sing the melody and the baritones are leads -- with an attitude," she said. The baritones responded with groans. "See, I told you they had an attitude."

The women sang using animated gestures that made their barbershop style lively. Hayes led them with great energy throwing her whole body into the directing.

They sang "Edelweiss," "Let Me Be There," "Lollipop," "Dream A Little Dream of Me," "Over the Rainbow," "California Dreamin'," "What a Wonderful World," "Under The Boardwalk," "That Old Feeling" and "You Make Me Feel So Young." The latter two they will sing this week at a Burlington, Vt., a cappella competition.

In the middle of the show the women broke into quartets and other smaller singing groups. Hayes stepped in to sing a number of times with the "Short and Sweet" quartet.

At one point, a ruse was pulled when a gentleman from the audience was asked to sing on the mic while the ladies sang in the background. And boy could he sing "Lida Rose." It turned out the gentleman was John Danbury, husband of Silk member Donna Danbury. He sings in the University Glee Club in New Haven.

Although Silk 'n Sounds is based in Hamden's Spring Glen Church, members come from many towns. The group belongs to the larger Harmony Inc., the international organization of women barbershop singers.

An "open sing" membership drive will be held for three weeks starting May 16. "We will be giving basic vocal and barbershop quartet lessons," Hayes said. "By the third week we will be singing a whole song. Even the current members don't know which one it is yet." Hayes said anyone interested in the open sing should call her at 407.1115.

HDN reporter Betsy Driebeek can be reached at betsydriebeek@hamdendailynews.com.
---
April 24, 2006
A Banjo Moment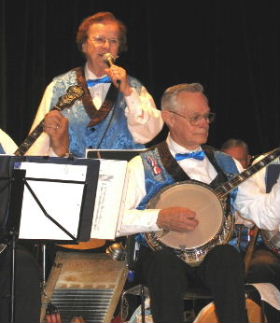 "Red Hot Mama" sings Alexander's Ragtime Band. Photo/Sharon Bass
By Betsy Driebeek
The Elm City Banjo Society brought its toe-tapping vaudeville, riverboat, jazz, Broadway and all-American music to Thornton Wilder Hall yesterday afternoon. A free event sponsored by the Goldenbells Festival.
The music began with a medley of songs that had most folks in the audience moving their lips from the start: "Has Anybody Seen My Gal," "Ain't She Sweet," "That's My Baby," "Whispering," "Chinatown," "Four Leaf Clover" and "Bye-Bye Blues." "That one's the national anthem of banjo bands," said director Bob Hadley of Wallingford.
Supporting the 13 banjos were a clarinet, trombone and set of drums. At times, banjo players abandoned their instruments to sing a solo; Hadley abandoned his for a washboard.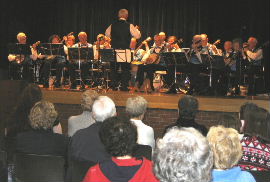 Photo/Betsy Driebeek
Upon leaving, audience member Rich Parks of Hamden said, "They really played to this group."
"They give such a good, good performance and they're a happy group," said Dorothy Levitsky of North Haven. "I try to see them whenever I can."
Dick Reilly, Henrici's Republican challenger last November, said he loved it, as did his lady friend Anne Balogh. "It was a lot of fun," she said echoing the sentiments of the 100 or so people in the audience.
The Elm City Banjo Society was formed in 1988. Members live in Hamden, North Haven, Wallingford and as far away as Avon, Bethlehem, Middlebury and Ivoryton. The group jams every Tuesday night in Wallingford and invites banjo players to join in. If interested, call John Zamparo at 281.1531.
---
April 15, 2006
Battle of the Bands: Round 5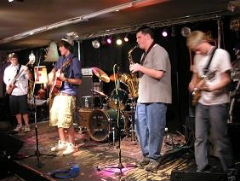 Midnight Curfew.
Story by Chris Clark; photos by Dave Amrani
Round 5 Thursday was probably the most diverse of all the rounds. Six bands competed on this final preliminary night in The Space's Battle of the Bands. Here's my review.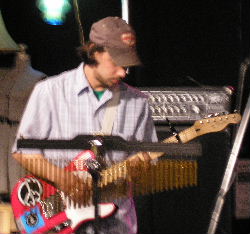 Cory Robert was a solo act. Just a guy with his guitar and a lot of effects pedals. He would start off with a mellow, repetitive guitar line and then use a loop effect to make it repeat while playing the lead over it. It was cool how he could add so many layers to a song completely on his own. But, as you can imagine, it got repetitive. He used thunder and lightning sounds as well, which created a cool ambience. While this is the kind of music you might enjoy listening to while reading or sleeping, it was boring to watch and the crowd never really got into his set.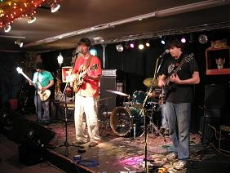 When Gravity Sings played a slower type of indie-rock that was like a mix between Bright Eyes and Weezer. They hit the stage with good energy and kept it up throughout their set. Their songs were very catchy and well written. They knew to change paces enough so their set didn't become repetitive. They definitely put on a good show.
Midnight Curfew brought a new style to the table that I wasn't expecting at all. They were a college rock band of the same style as Dave Matthews. Although they didn't have the biggest draw, their fans were dancing and that made their set much more enjoyable. The saxophone added a nice dimension to the music and their songs were catchy and well written. Musically, they were as tight as they could be and they sounded like the kind of band you would hear on a college rock radio station.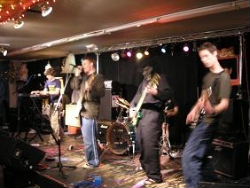 Ory'Hara were one of the most unusual bands in the entire competition. Their music is hard to classify, but it had clear elements of prog and punk rock. They played fast and hard, and they had people dancing who hadn't even come to see them in the first place. Two of their members sang and both were incredible. This is impressive given that many bands don't even have one singer that good. Their bassist wore a gorilla mask and rocked on his instrument as well. They had both style and substance. I'm still amazed at how they were able to play so well, and so together, while dancing around as much as they did.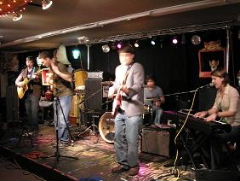 Brian Jarvis Band would have sounded better if they didn't have to follow the best act of the night. They played typical sounding indie with heavy acoustic guitar. They were all very talented musicians and they played this style well, but after a while it began to sound bleak. There would be brief alterations here and there, but it always reverted to the same formula. They did play a tight set, but unfortunately it sounded like the same song over and over.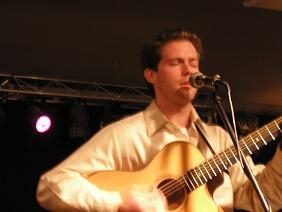 Brian Bourque was another solo performer. Apparently he does have a band, but he decided to do a solo acoustic thing. It was a good way to end the evening. His songs were slow and mellow. He had a soothing voice and his strumming style on the guitar reminded me of Billy Bragg. The songwriting could not have been better. The lyrics were clever and the melodies solid.

At the end of the night, the judges (I'm one of them) met to decide the winners. They were When Gravity Sings, for attendance, and Ory'Hara, by the judges' vote. What put Ory'Hara over the top was they were so original and still so accessible. Their songs were kind of different, but you couldn't help but tap your foot to them. One of the other judges compared them to System of a Down. They had the great tunes as well as the showmanship. I mean, they did have a gorilla playing bass. They earned it.

The 10 Battle of the Bands winners -- two from each of the five preliminary rounds -- now move on to the final showdown April 29. Two winners will be selected from that group, the same way as they have been in the previous rounds, and go on to win the cash prize as well as a free photo shoot and recording time. Every act has earned their place in the finals. This is going to be a close call.
---
April 14, 2006
Battle of the Bands: Round 4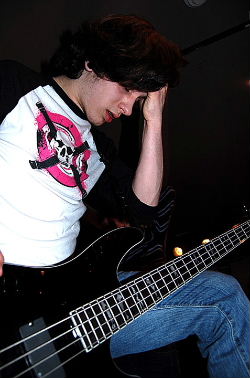 Until We Fall
Story by Chris Clark; photos by Liz Braun
When I first heard that Wednesday night's Round 4 of The Space's Battle of the Bands was going to be all hard rock, I had a completely different idea of the bands that would be there. There was a surprising amount of talent. Here's the breakdown: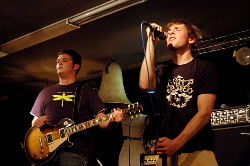 Eleven West opened the show with the expected style -- emo. I am not typically a fan of this genre. My personal bias took over when they started in, but soon enough I actually found myself enjoying the music. They were tight as a band and were all clearly talented musicians. The singer took barely any time to warm up and harmonized well with the guitarist. Most of their songs were slow and melodic; a good way to start off the night. For the first 15 minutes I watched them with undivided attention, but after that, all of the songs started to sound the same and my mind began to drift.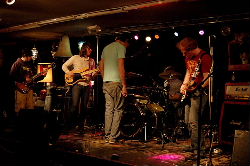 Taken to the Sky followed the same musical lines as Eleven West. The only difference was that Taken mixed in elements of speed metal in their emo-driven rock. They were also sort of loose musically. They were trying to play precise, halting metal riffs, but they couldn't seem to hit their marks on time -- and you really have to in order to make it work. This band could definitely improve if they were to utilize this style.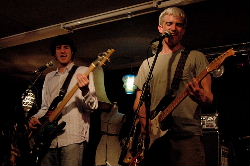 The Sabotage was one of my three favorite bands of the night. After the first two acts, they provided a welcome change of pace. The Sabotage played indie-rock in a way that reminded me of The Strokes. They weren't the tightest musically, but they had energy, and in rock 'n' roll that really is more important. These guys knew how to rock and their songs were good. They were one of the few bands in this entire Battle that I would like to listen to on a CD.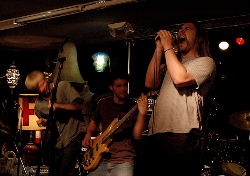 Reptillicus have a weird name. I enjoyed their set because every time you started to get a handle on their sound, they would throw you a curve ball. I'm still not sure if I even liked them. Every song sounded different from the last. During their 30 minutes on stage they ranged from hard rock and metal to funk to Latin, and they even had an accordion on one song. What's more, they knew how to play each style. They were tight on every song and were, without a doubt, the most musically talented band of the night. The thing that ruined them for me was their jam-band vibe -- songs went on way too long. They were good, but they were repetitive and that made it hard to appreciate what a good band they actually are.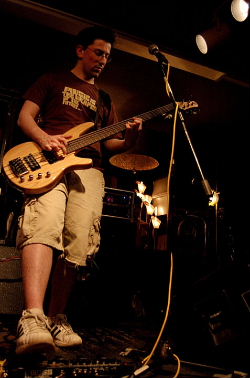 Bushwhack were younger. They started off by holding up a huge banner that read "Bushwhack," to shield them from the view of the crowd. Right as they started into their first song, the banner dropped to the floor revealing the band. They played synth-heavy melodic rock with no vocals. Having no vocalist was a very smart move because I can't imagine lyrics adding much to their music. The songs held up on their own and surprisingly, they held my attention throughout the whole 30 minutes. The keyboard player had one keyboard with lights strapped around his neck, like a guitar, and played another one conventionally set up flat on a stand. It's easy to say they were the showmen of the night. But they didn't depend on lights and jumping around to make their show. The music was enough to grab the audience's attention and I could easily see myself sitting down to listen to them on a CD. A great band and a great set.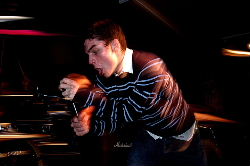 Until We Fall were the final band of the night. By this point, everybody was tired and downing free coffee refills from the side bar. But as soon as Until We Fall took the stage, all of the weariness left the room. These "suburban white dudes from Hamden" started into their first song as if they were on top of the world. Right away you knew that these kids were having fun and you couldn't help but share in the vibe. Usually I don't like screamo, but this band transcended the genre. They were just good, and they are so young, too. The songwriting was solid and they were tight. Impressive.
What made Round 4 different from the first three is that there were only two of the original judges present, including me. A third judge from The Space was added to balance things out, but with such a small gathering of people, it's hard to come to a group decision.
The two original judges were myself and David Apuzzo of David Apuzzo Photography. Until We Fall won the draw, although Bushwhack was not far behind. With Until We Fall out of the picture, our decision for the talent pick came down to three bands: The Sabotage, Reptillicus and Bushwhack. We ruled out Reptillicus based on that fact that they appealed to us for the same reasons as Bushwhack and Bushwhack was better tonight.
The decision between The Sabotage and Bushwhack was a tough one, but in the end, we chose Bushwhack. The way I figure it, if Until We Fall hadn't won the draw, Bushwhack would have and then Until We Fall would have taken the talent vote. So either way, those two bands deserved to move on to the finals more than any of the others.
---
April 12, 2006
Art League Does it for the 51st Time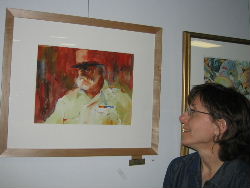 Susan Nally with her watercolor, "The Legionnaire," judged to be "Best In Show."
Story and photos by Betsy Driebeek
"In The Park." "Breath Of Spring." "Summer Cottage." "Vineyard Marshes." "Time to Relax."
It's also time for the Hamden Art League's 51st Spring Art Exhibit -- 94 works of art on display at the Miller Senior Center. The five titles above are names of paintings in the show, which will run through May 2. As is every year, it's being done in conjunction with the Goldenbells Festival.
On Monday night, the exhibit was debuted with a reception, judge's critique and awards presentation. The sole judge, David Dunlop of Norwalk, gave out 21 prizes donated by area businesses and residents.
There was no "honorable mention" category scheduled, but Dunlop felt the need to recognize what he called "close calls." Six more pieces of art fell into that category.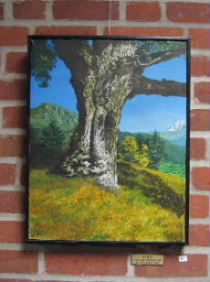 $50 went to Nanette Fresher for her oil
painting, "Un arbre."
The judge led the crowd of artists and their families and friends from one winning piece to another, explaining the qualities that led to his decision.
HAL publicity chair Suzan Frisbie said she was impressed with how Dunlop "was so succinct about defining the elements that were so [meritorious] in each painting and how it influenced his choice."
"Best In Show" winner Susan Nally of Hamden and HAL treasurer said, "This was a big surprise. I just arrived back from Nashville today, by car, to attend the reception. I found a message from [a fellow member] on my answering machine telling me that I had won 'Best in Show.' I'm so glad I rushed back."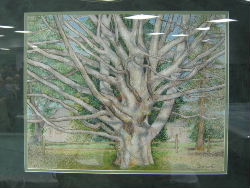 $200 went to Dolores Gall for her oil pastel, "Silver Beech."
Arts Commission Director Mimsie Coleman stood in for Mayor Henrici at award time. "The mayor congratulates all the winners," she said. Coleman presented the $250 "Mayor Craig B. Henrici Award" to Nally.
Town Clerk Vera Morrison -- in the building to swear new people into the Disability Rights and Opportunities Commission -- stopped in to give a few words of praise.
"I see this show every year as the premier event of the opening of the Goldenbells festival," she said. The attendees clapped. Morrison continued. "I want to thank you for the many years you have done this in our community."
HDN reporter Betsy Driebeek can be reached at betsydriebeek@hamdendailynews.com.
---
April 7, 2006
Unchained Imagination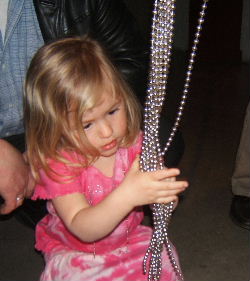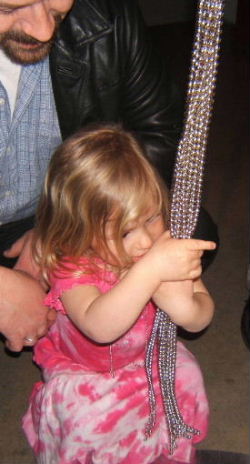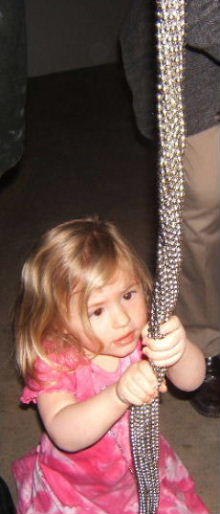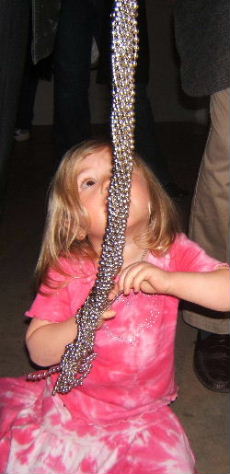 3-year-old Lorelei Goodall explores the chains.
New art exhibit at Eli Whitney is a smash
Story and photos by Sharon Bass
It is truly amazing what the super-creative mind can do. Can see. Can make out of an everyday item -- like a ball chain.
A stunning example of this is on display in unimaginable shapes and subjects at the Eli Whitney Museum, in a show entitled "The Rein of Invention." Yesterday was opening night, kicking off the 12th Annual Leonardo Challenge to raise money for the small museum. Every piece of chain art was up for sale through a silent auction, with all proceeds going to Eli.
Gleaned from the museum's written description of the exhibit: "Chain is as ancient as Hepaestus, the artisan god of the forge. It is an essential tool of the blacksmith's art … Forge a link. Add to it. Multiply it. The sum or product will always be more than the parts. Rigid materials flex. Iron rises and falls in pounding waves to moor a ship. Gold cascades over a dancing shoulder. Forged beads blow across the page."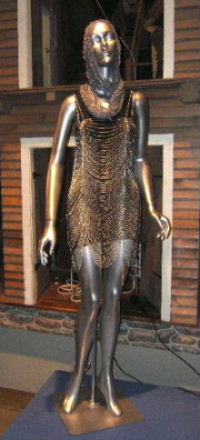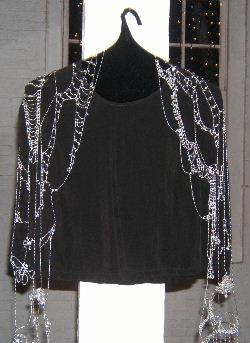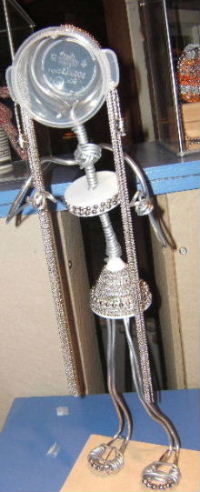 The brass dress, silver shawl and long-haired woman are made primarily from ball chains.
That's what the artists did. They made jewelry and clothes and gadgets and toys and indefinable objects of art out of ball chains. And they did it for the love of art. Not only will they receive no money for their work, but like everyone else they paid the $45 admission fee last night. The event drew a record-breaking crowd of 370 who were fed brie, beef, chicken, French bread, wine and baked desserts.
But the passion of the night was certainly not about food.
"Oh, I love this. I love this every year," said Duncan Goodall, father of 3-year-old Lorelei Goodall who seemed fascinated with a bunch of long hanging chains that fell just short of a mirror planted on the floor below. "There's so much creativity exhibited here." (Museum director Bill Brown is Goodall's father-in-law.)
"I think it's amazing. I love it," said Chris Beardsley of Mill Rock Road. "It's such a collection of creativity." His contribution was a Mona Lisa created by varying colored chains (below).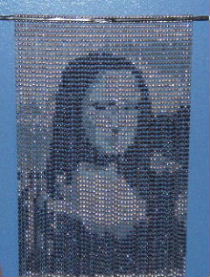 Ann Altman, a Planning and Zoning commissioner, bid on an intricately chain-woven shawl and a creation called "The Big Drip." The Drip was made of plumbing supplies -- aluminum vents shaped like a doughnut, little brass pieces that looked like water faucets and fine beaded chains that represented water exiting the faucets.

Artist Nancy Eisenfeld (left) and Ann Altman with the "The Big Drip" hanging behind them.
"The quality of the work is extraordinary," said Altman. "And the generosity of the artists is wonderful."
Her artist/friend Nancy Eisenfeld created the Drip.
"This is just such fun. I love doing this," said Eisenfeld of North Haven.
Eli director Brown said $26,000 was raised. The pieces will be on display through April 29.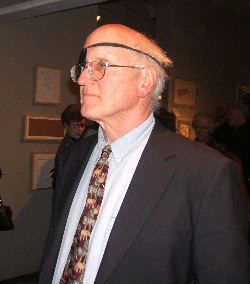 Museum director Bill Brown basking in his evening's glory.
Asked why he thought this was the most successful Leonardo challenge, Brown said it was definitely in the chains.
"There was something about the chains that was magical. It makes us feel uncomfortable about next year," he said, fearing it might not be as popular.
For the last 12 years, Brown said he and a few others have come up with a common object and challenged artists to do stuff with it. This year's ball chain was the director's choice. "I realized it's one of those things we make in Connecticut that everybody gets from us," he said. "It was especially important that it was from Connecticut." He said the oldest bead-chain manufacturer in the nation is in Milford. Prior years, pencils, springs, matches and wooden ice-cream spoons have been used.
Brown takes the art challenge beyond art. It's a dilemma he's presenting to his artists. "It's a way of understanding invention," he said. "A lot of minds working on the same thing solving problems."
As the director spoke, a man walking by said to him, "This is I guess the best ever."
"The most refreshing thing is to see where it's going to take you," said the director, the artist, the thinker, the unquenchable inventor.
-------------------------------------------------------------------------
Battle of the Bands: Round 3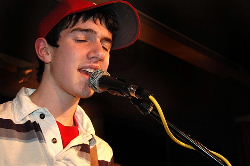 Winning high school band Aurora.
Story by Chris Clark; photos by Liz Braun
Round 3 shaped up to be one of the best nights thus far. It's good to see that although this is a competition, there is no bitterness among the bands. Here's my review.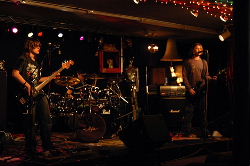 Code Y are fairly young and did a great job opening the show. They started off slow and hesitant, but it didn't take them long to start rocking. Their sound was a grungy '90s rock sort of thing with obvious heavy metal influence. It made me laugh when I saw the bassist wearing a Spinal Tap T-shirt. What struck me about this band is that they are so young and talented. They were one of the tightest acts of the night, their songs memorable and well played. As musicians, they were ahead of their years. This band will be turning heads in the future.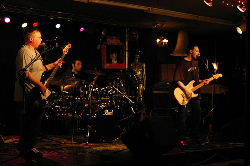 Electric Mudd had a hard act to follow, in my opinion. Although they grabbed my attention when they started in, overall their set was loose. Loose can be a good thing if you use it right, but this band's songs sounded too much alike. The singer had a nervous, off-key voice that couldn't hold the audience's attention. The one thing I have to say is that underneath the loose musicianship, the songwriting was good. They had some solid material and if they could just learn to play it better, they would be a better act.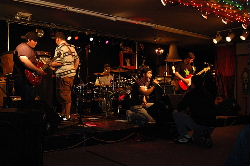 Safe From the Storm was a hard rock/screamo band. They had a good amount of energy, but at times it seemed forced. Now, I'm not a fan of the screamo genre at all, but this band had a hard-rock overtone that made it more listenable than other bands of the same style. I was disappointed that they only switched up styles once when they played a funk song. They have obvious talent in playing different styles, but most of the songs ran along the same line.
Aurora was the clear winner of the attendance vote. Before they got on stage, practically the whole room had moved to the front to stand and watch. What was even more impressive is that Aurora are all high school kids. I've been playing in a band for years, so I know that drawing over 30 kids on a school night is not an easy thing to do. They had good energy on stage, despite some technical difficulties that slowed them down. All their songs were slow and mellow with funk influence. The one thing I didn't like was that they didn't try to break from this style at all, and the songs became monotonous by the end. Overall, it was a good set.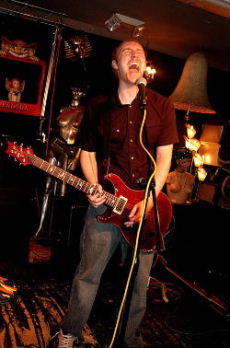 First Ave was probably my favorite of the night. They played a heavy sort of indie rock. The songs weren't very fast, but they were really loud and had a lot of depth. As far as the music, it couldn't have been any tighter. It was almost like listening to a CD. I heard practically no flaws and all of the band members were more than competent on their instruments. The singer had a great stage presence and played his guitar parts well. Their songs were catchy and fun. Although they did use screaming as part of their vocals, they kept it to a minimum and actually used it quite well to harmonize. I'm not sure why, but they kind of reminded me of a far less crappy Fallout Boy.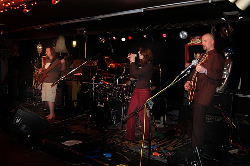 Accelerate to Zero was the final band of the night. They were comprised of three metal dudes and a girl singer. Their first song started in low-key and mellow, but it quickly picked up. They played straight up heavy metal, complete with songs about vampires and whatnot. They were decent for the style. The singer's voice was out of control, but the music was very tight and they had some solid material.
When the judges (I am one) met in the back to decide on the winners, it was clear that Aurora had dominated the draw. We were all happy about that because even though they wouldn't have won the musical pick, they deserved their place in the finals. In the end, the talent vote went to First Ave. A few of the other judges liked Safe From the Storm and I could have easily gone with Code Y. But First Ave was the one band that we all agreed on. They just played a nearly flawless set.
Next week is Round 4 on Wednesday night, followed by Round 5 on Thursday night. Round 4 will include Until We Fall, Bushwhack, The Sabotage, Taken to the Sky, Reptillicus and Eleven West.